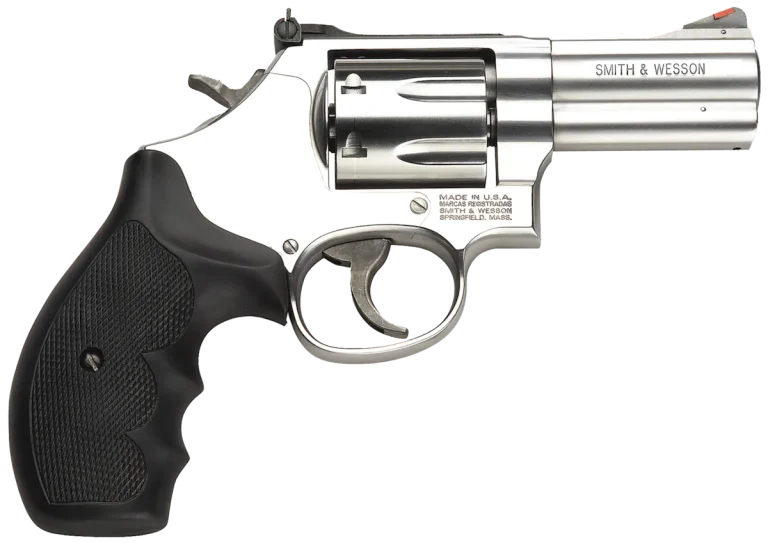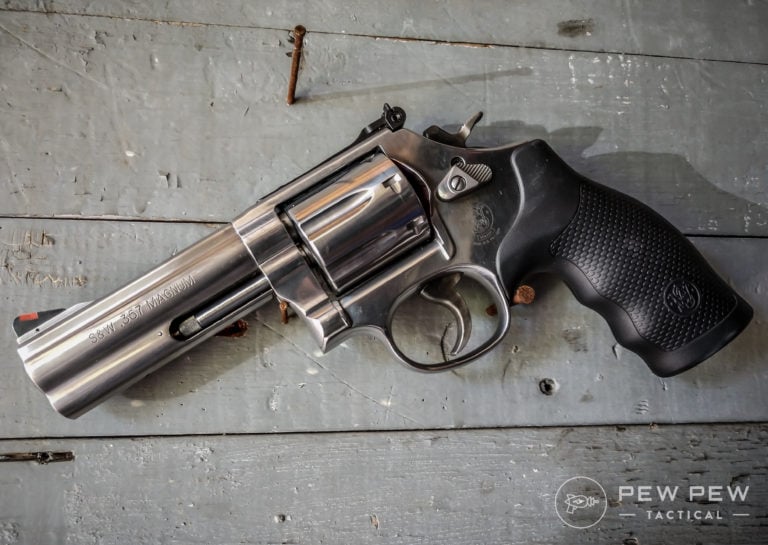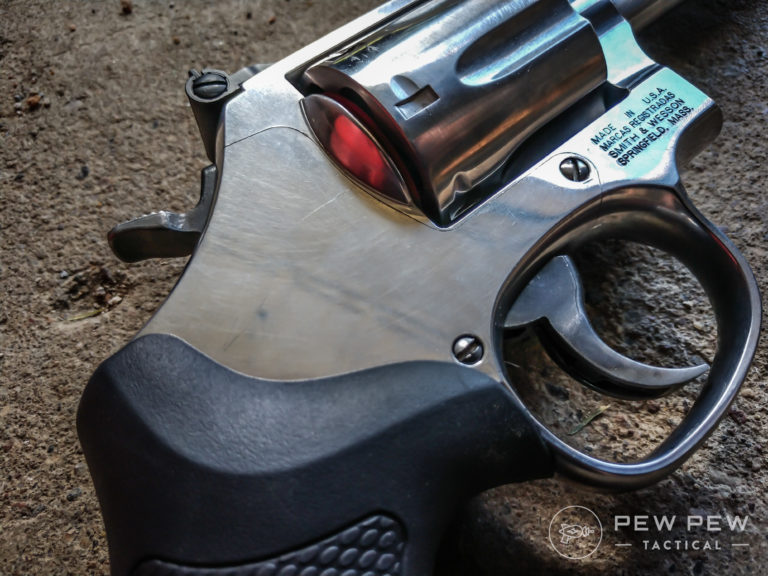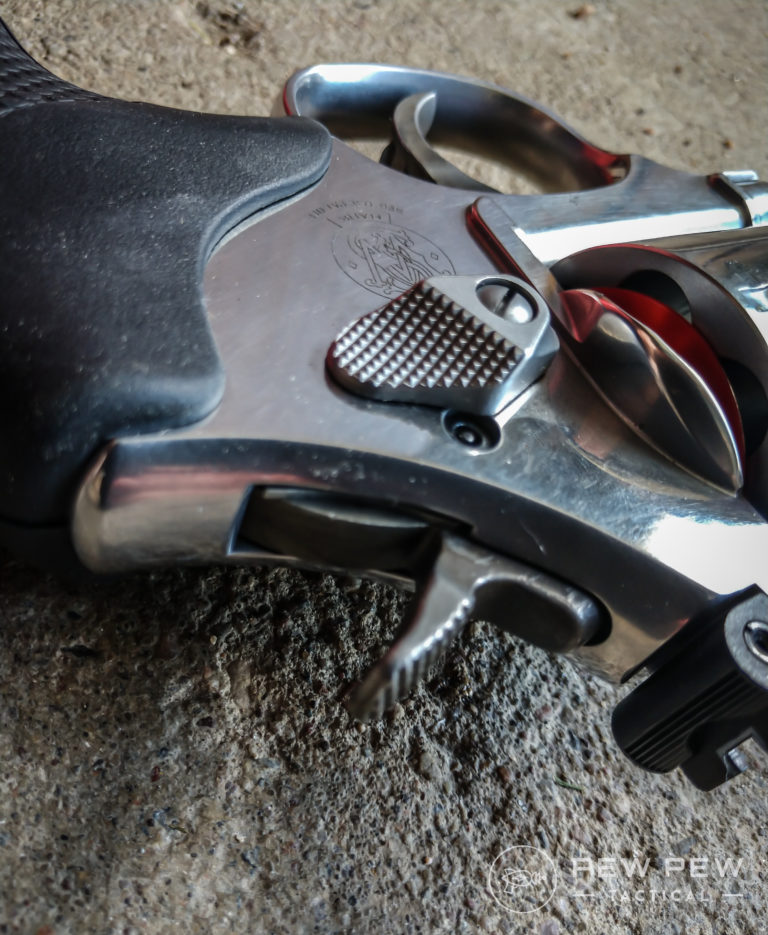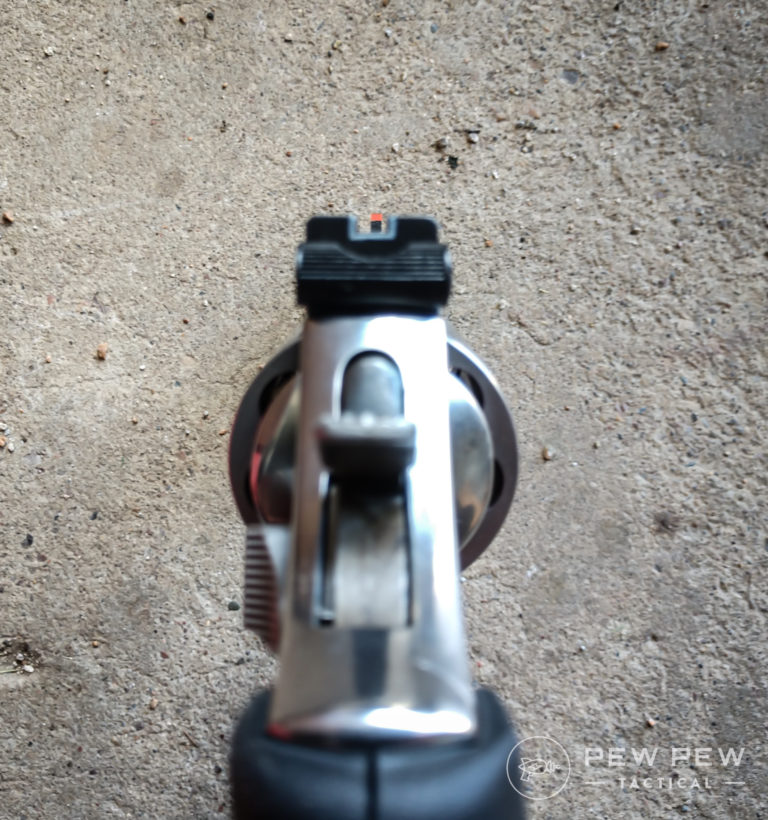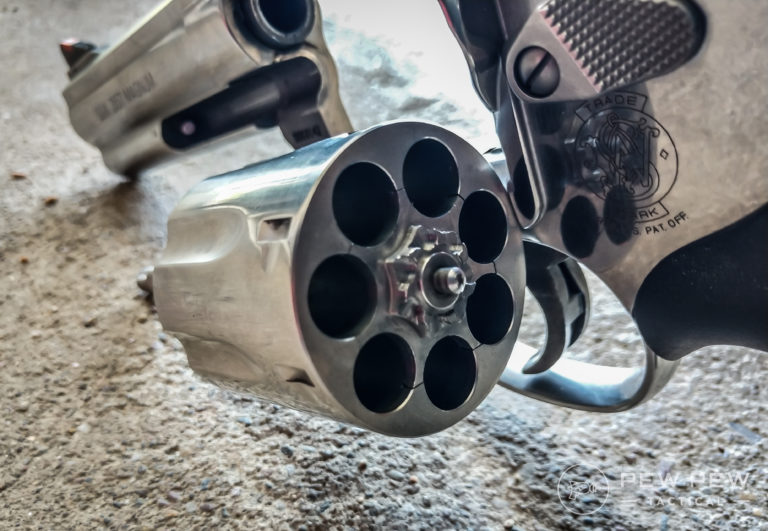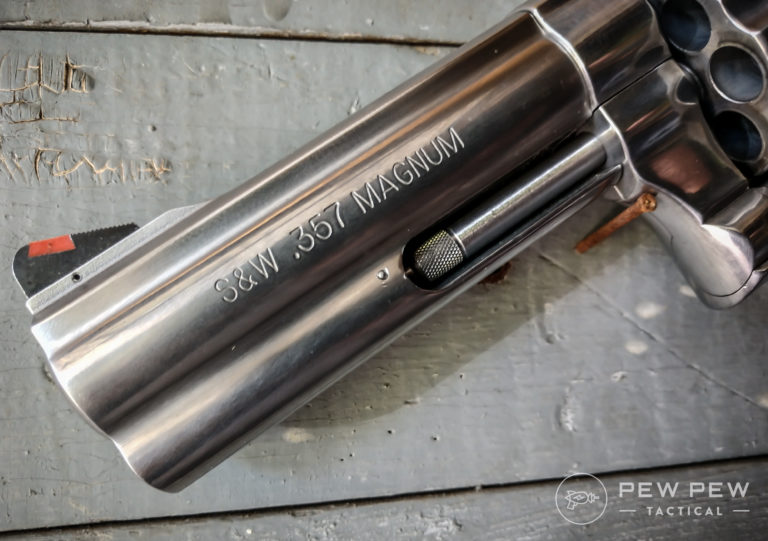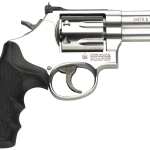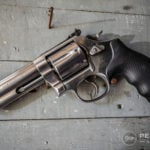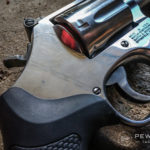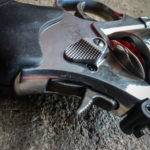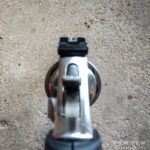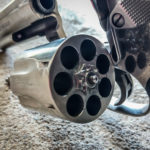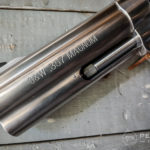 Multi caliber revolver

Crisp, clean trigger
Heavy in the front

Takes more practice for better accuracy
Editor's Note:
The Smith & Wesson 686 Plus is our go-to recommendation if you're looking for a first revolver. Reliable, takes both .38 Special and .357 Magnum rounds, soaks up the recoil, and looks great to boot!
Read full review
Smith & Wesson 686 Plus For Sale - Compare Prices
Smith & Wesson 686 Plus Specs
Action
Double/Single Action
Barrel Length
2.5in / 3in
Magazine Included
Cylinder
Caliber
357 Mag - 38 Special
Overall Length
10.6in / 7.5in / 8.3in
Smith & Wesson 686 Plus Features

7 round cylinder

Full length ejector rod

SA/DA

Integrated red ramp front sight

Adjustable rear sight

Stainless steel construction
By The Numbers - Smith & Wesson 686 Plus
Accuracy
Not the most accurate for a carry gun.
Reliability
Had an ejector rod issue but overall reliable.
Customization
Grips are pretty much the only part you can change yourself.
Ergonomics
Well done ergonomics. Solid grip, but wish it was more balanced. Has added weight on the front.
Overall
Hands-On Reviews & Related Post
Smith & Wesson 686 Plus Variations & Comparables
4.5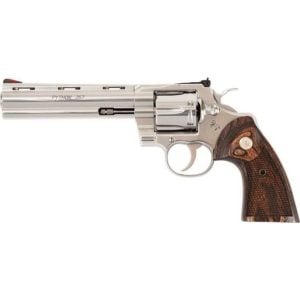 VIEW DETAILS
It disappeared for a bit…but it's back. The Python has made a triumphant return and builds onto Colt's Snake Gun series. This revolver is a decent wheelgun that admittedly had some kinks on first launch, but those seem to be worked out. It offers a modern stainless steel barrel while keeping to that classic Python look. It's accurate and a stunningly fun gun to shoot.
Read More
4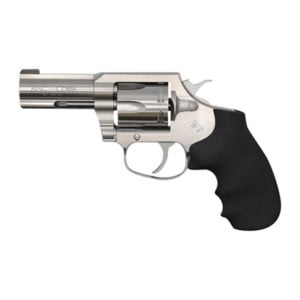 VIEW DETAILS
The King Cobra is Colt's revival of the medium-framed magnum revolver from their older "snake gun" lineup. While it may be a fairly standard 6-shot, 3-inch barreled revolver, it comes in at a price point similar to that of its competitors. This means you get the name value that comes with owning a Colt product without having to pay a premium for it.
Read More
final verdict
"The Smith & Wesson 686 is a fantastic revolver with utter reliability, comfortable ergonomics, and beautiful aesthetics. Its accuracy and customization are par for the course. But for a personal protection gun it's perfect and comes in different barrel lengths and even a Plus model with 7 rounds of .38 Special or .357 Magnum." – Kat Ainsworth Stevens
Community reviews
There are no reviews for this product yet.
Add your own rating and help other Pew Pew users pick the right guns