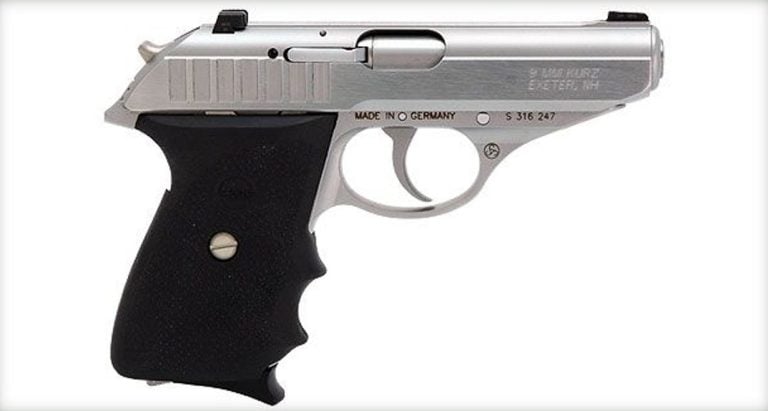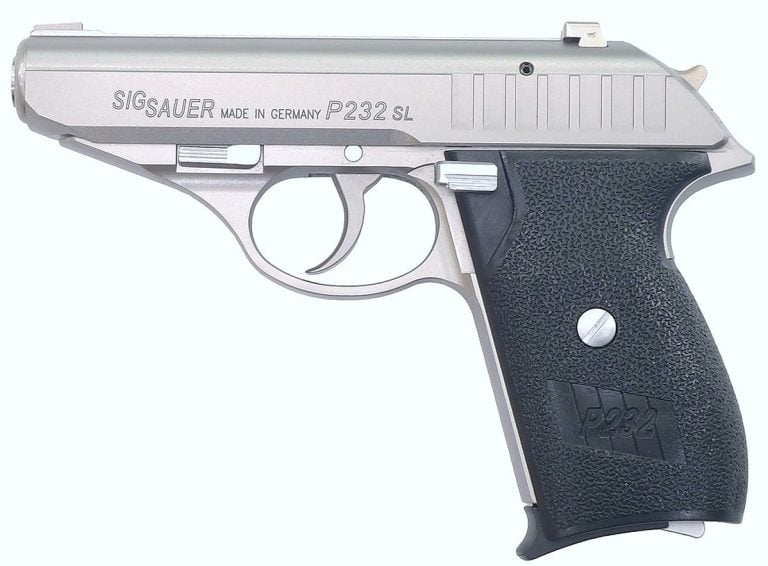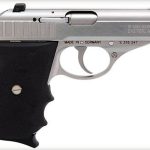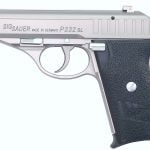 4
Concealable

Sexy

Extremely well-made
Direct blowack

Heel magazine release
Editor's Note:
In the late 1970s, Sig set out to make a concealable law enforcement pistol before the era of easily concealable 9mm guns. After a long run, Sig updated the pistol in 1996, creating the P232 model. These are direct-blowback, fixed barrel, single-stack .380 ACP pistols that bear a similarity to the Walther PPK. It features a DA/SA trigger, a frame-mounted decocker, a heel magazine release, and a standard capacity of 7+1. It was available with a blued finish and aluminum frame, as well as an all stainless frame and finish version.
Sig Sauer P232 For Sale - Compare Prices
Sig Sauer P232 Features

7+1 capacity

Direct-blowback

Stainless or aluminum frame available

Frame-mounted decocker

Heel magazine release

Fixed front and rear sights

3.6" barrel
By The Numbers - Sig Sauer P232
Accuracy
A fixed barrel and solid single-action trigger help maintain a pretty fair degree of accuracy.
Reliability
The P232 is a very reliable, but as with any blowback .380, extremely underpowered ammo may cause issues.
Customization
The only real options here and grips, sights, and a few assorted trigger springs.
Ergonomics
These guns feel amazing in the hand. I deducted half a point because the heel-release is dated and takes getting used to.
Overall
Although it is dated, the P232 is still a reliable and viable option for those looking for a concealed carry gun in .380 ACP.
Hands-On Reviews & Related Post
Sig Sauer P232 Variations & Comparables
Sig Sauer P232 Upgrades & Accessories
final verdict
There is something to be said about an elegant single-stack .380 from the days of yore. Guns like the PPK have been presented in media as slick, classy guns fit for spies and royalty alike. But dare I say the Sig P232 is a better PPK? The trigger is better, the fit and finish is better, and yet the smooth-as-velvet lines still remain. Admittedly, the heel magazine release can be a bit of a turn-off, but this gun isn't for tactical applications, it is for that trip to the opera with your better half or that summer barbeque everyone has been waiting for. But really, at the end of the day, these are still very capable guns with solid accuracy and relatively good triggers that just happen to look amazing.
Community reviews
There are no reviews for this product yet.
Add your own rating and help other Pew Pew users pick the right guns