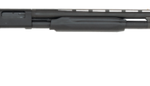 Easy change barrels

Interchangeable chokes

Huge aftermarket

Affordable
Middle of the road fit and finish
Editor's Note:
The Mossberg 500 has withstood the test of time and is the gold standard when it comes to pump-action shotguns for the everyman. They are reliable, easy to maintain, versatile, have a huge aftermarket, and are extremely affordable. It is likely the most popular shotgun in the United States, and for a good reason.
Mossberg Model 500 Field For Sale - Compare Prices
Mossberg Model 500 Field Specs
Magazine Type
Fixed / Tube
Muzzle
Choke Tube / Non-Threaded
Stock Material
Synthetic / Wood
Mossberg Model 500 Field Features

Interchangeable Accu-Chokes

Anti-jam elevator

Ambidextrous tang safety

Twin action bars

Dual extractors
By The Numbers - Mossberg Model 500 Field
Accuracy
With the correct choke and ammo choice, this gun will put them there
Reliability
One of the most proven shotguns on the planet
Customization
60 years of production have ensured a great aftermarket
Ergonomics
An ambi tang safety makes this a bit more friendly toward lefties than other shotguns
Overall
For the money, you aren't going to find a shotgun that is better across the board
Mossberg Model 500 Field Variations & Comparables
4.5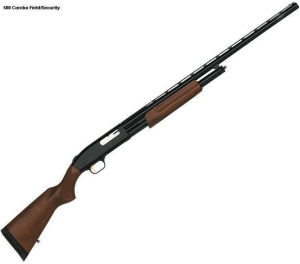 VIEW DETAILS
Usually coming in at under $400, the Mossberg 500 Field/Security pump-action shotgun is one of the most versatile guns you can buy for the money. This gun comes with two barrels, a 28-inch field barrel with interchangeable choke tubes and an 18.5-inch security barrel with a fixed choke. Having both barrels allows you to have a do-all gun that can cover anything from hunting to sporting to home defense. Mossberg makes the barrel change process simple and easy, with a single screw making the barrel swap a 60-second affair that takes no tools. The ambidextrous tang safety makes this gun intuitive for most users, but the rest of the gun is pretty standard fare when it comes to ergonomics. The Mossberg 500 has been the gold standard for basic shotguns since the 60s, and it has the aftermarket to prove that. If you need a shotgun to cover all the bases, this is it.
Read More
Mossberg Model 500 Field Upgrades & Accessories
final verdict
For those looking for a budget bird or sporting shotgun, the Mossberg 500 should be a strong consideration. The 60+ year-old design has been proven and withstood the test of time. These guns are dead-reliable, extremely versatile, customizable, and will last for generations. A 3-inch chamber and 28-inch vent-rib barrel ensure that you will be ready to go right out of the box, just add ammo. Easy to swap barrels means you can swap your 28-inch barrel for an 18.5″ security barrel in a matter of seconds. If you want one shotgun to cover all your bases, it is hard to go wrong with a Mossberg 500.
Community reviews
There are no reviews for this product yet.
Add your own rating and help other Pew Pew users pick the right guns