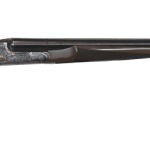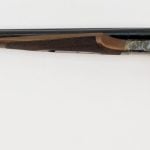 4.5
Case hardened receiver

Excellent external finish
Editor's Note:
The CZ Sharp-Tail is an evolution of CZ's previous Ringneck side-by-side shotgun. Redesigned with a smaller, more compact action, the Sharp-Tail brings more consistency and longevity while maintaining its devilishly good looks. A color case-hardened receiver complements the Turkish walnut stock and high gloss black hard chrome barrel finish. A selectable mechanical trigger and pistol grip help ensure a smooth handling and shooting experience. The Sharp-Tail comes with 5 chokes, a single extractor, and is available in 12, 20, 28, and .410 gauge, all with 28-inch barrels.
CZ Sharp-Tail For Sale - Compare Prices
CZ Sharp-Tail Features

28" barrels

5 flush-fit chokes

Turkish walnut stock and fore end

Color case-hardened receiver

Single extractor

Single selectable mechanical trigger

Black hard chrome barrel finish
By The Numbers - CZ Sharp-Tail
Accuracy
The long barrels and inclusion of 5 chokes allows the user to fine tune their setup to ensure clean hits on clays or birds.
Reliability
The newer action utilizes different springs for a stronger more consistent lockup.
Customization
You can get another set of barrels and change the chokes, but that is about it.
Ergonomics
The gun is balanced relatively well and points great, but my model was extremely stiff to break open at first.
Overall
The Sharp-Tail feels like you are getting a high-quality shotgun without paying over $2000. My only complaint was how difficult mine was to break open at first.
Hands-On Reviews & Related Post
CZ Sharp-Tail Upgrades & Accessories
final verdict
For those who want an elegant side-by-side shotgun without completely breaking the bank, the CZ Sharp-Tail is worth a look at. The color case-hardening, deep walnut furniture, and black hard chrome barrels definitely make this gun look like it costs a lot more than it does. It swings well, points well, shoots well, and makes for a great clay buster or a nice weekend bird hunter. My only complaint was the stiffness of breaking open the action, especially when brand new, but that is the difference between a $1000 shotgun and a $2500 shotgun, I suppose. There doesn't seem to be much middle ground between cheaper $600 dollar side-by-sides and ones that go from $2500 up to infinity, but the Sharp-Tail is definitely one of those rare in-between options for the person who is looking to maximize the bang for their buck.
Community reviews
There are no reviews for this product yet.
Add your own rating and help other Pew Pew users pick the right guns