Olight continues its trend of budget-friendly, Nordic named lights with its newest flashlight, the Odin.
Boasting a max output of 2,000 lumens and a sub-$200 price tag, the Odin looks to be an affordable option for those seeking a robust rifle light.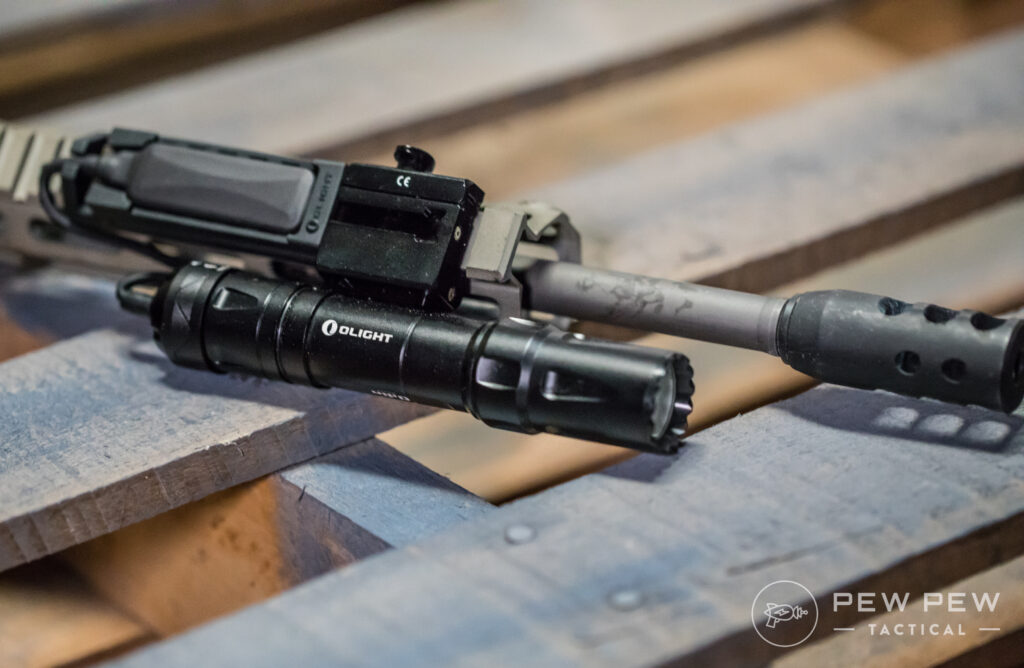 While Olight is mainly known for its pistol lights, including the teeny tiny, Mini 2 Valkyrie, the Odin takes on the rifle realm. With it, Olight promises to bring the most powerful weapon-mounted light to rifles.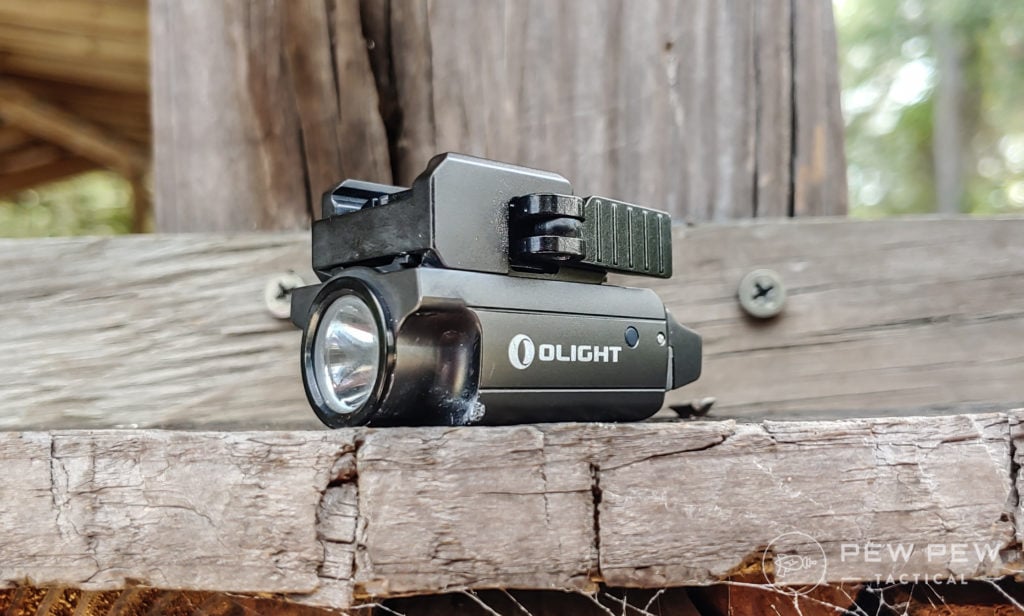 The question is, does the Odin hold up?
Let's dig in and find out.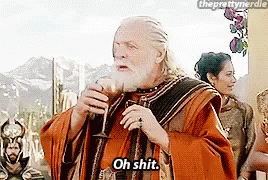 Table of Contents
Loading...
Stats and Specs
The Olight Odin is designed with long guns in mind and is sized appropriately. Included with the light are a Picatinny rail mount, switch, and switch mount.
160
at Olight Store
Prices accurate at time of writing
Prices accurate at time of writing
It weighs 7.62-ounces and comes in at 5.37-inches in total length. While the max setting nets you 2,000 lumens, the battery life goes quick at that rate. You get an 8-hour runtime on the lowest setting, which is just 300 lumens.
Both the high mode and low mode are user-controllable.
Mount and Switch
The Odin's mount is one of the more interesting facets of its design. You can attach it to your normal Picatinny rail in various ways. The light itself can be removed via a lock and button switch.
Handy!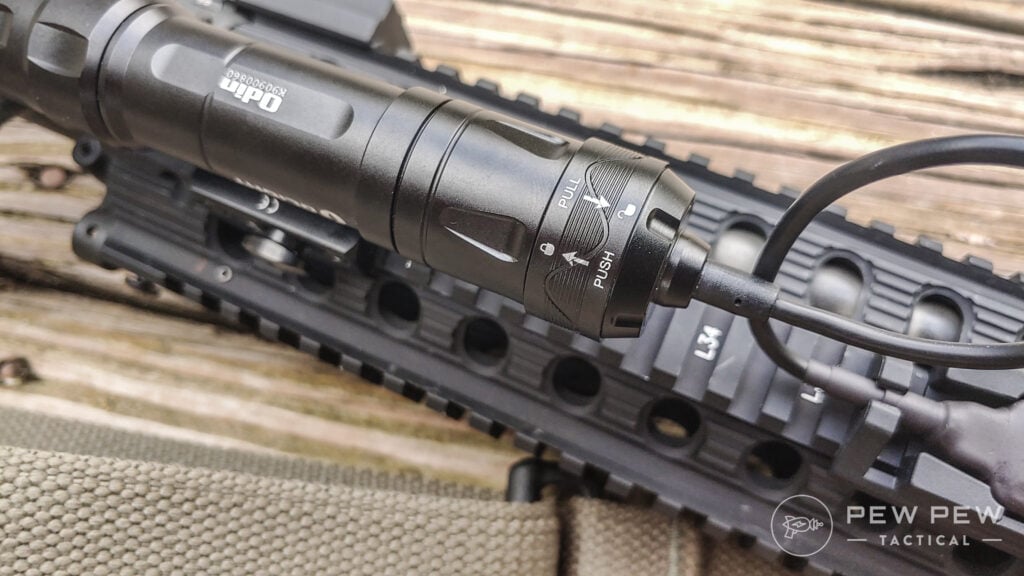 The switch looks almost like a means to tighten the light to the rail. At first, I thought it was a quick-detach type design. In some ways it is, but not for your rail.
The switch has two positions — locked or unlocked. Once unlocked it pushes a button that releases the light from the mount.
What does that mean for you?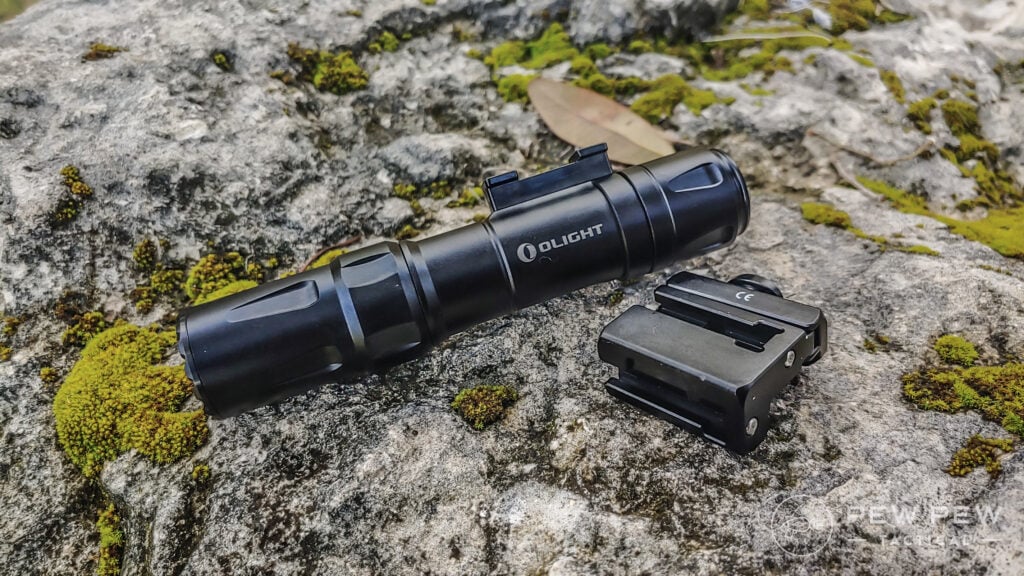 It gives users the ability to mount the light almost any way you want. Swap it around to mount on the 3 or 9 o'clock position or flip it for a 12 o'clock positioning.
At 12 o'clock, you can swap the light to the right or left side of the gun at will.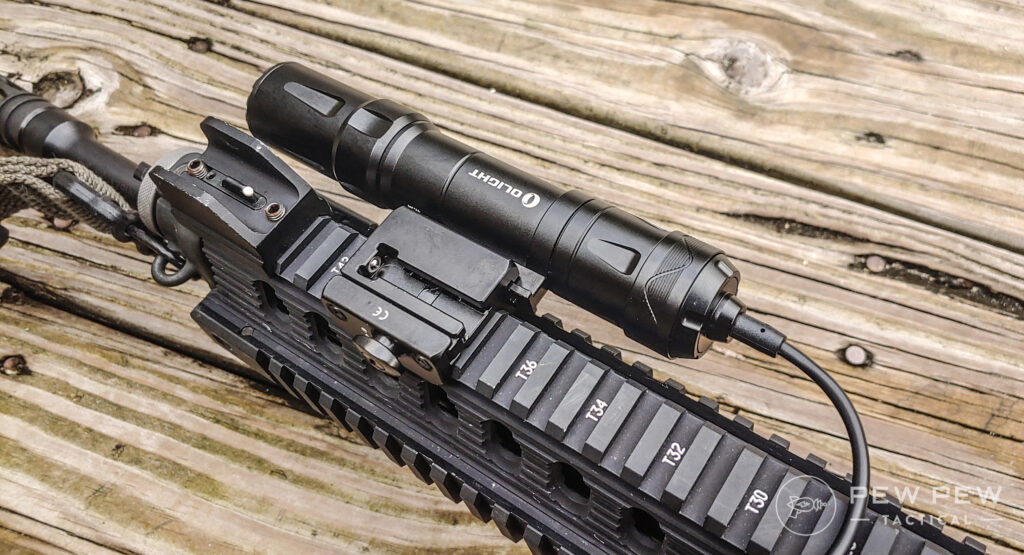 The mount is unique, and it seems to be modular. I think that kind of flexibility is cool, but it does make it bulky.
It would be nice if Olight made a direct-attach mount for M-LOK rails. This might kill some of the ability to maneuver the light but would make the mount smaller and slicker on a modern rifle.
Removing the light from the rifle is easy to do without nixing the whole mount. Need just a light? No problem.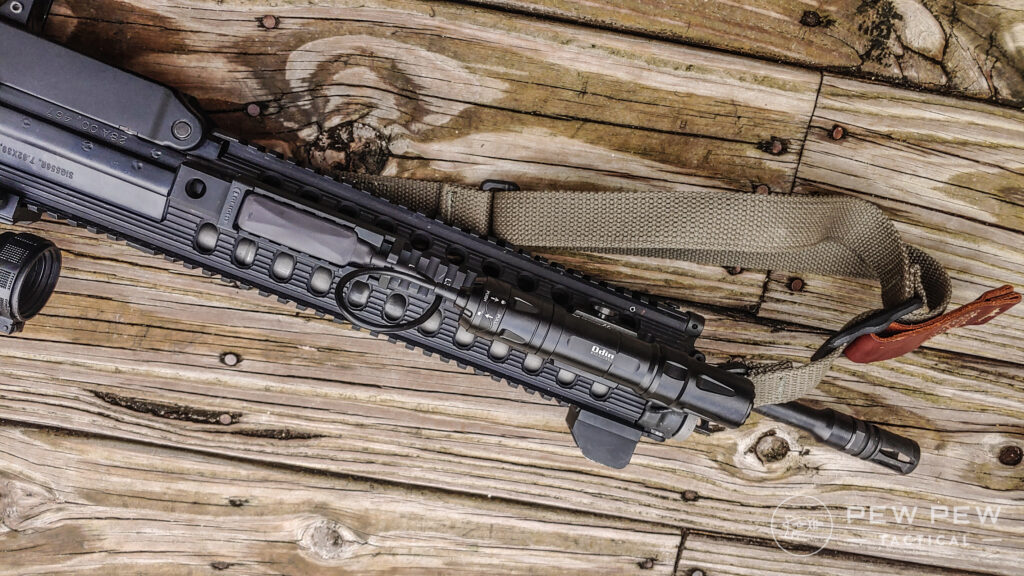 Pop it off and light up the room while the mount stays in place.
While I'm not sure if Olight sells spare mounts, theoretically you could move one light between multiple rifles with extra mounts.
What's the downside?
The mount uses super tiny Allen screws. I hate needing a specific sized tool to attach my light. Smaller screws also have me wondering about long term durability.
Another unique feature of the Olight design is the switch, which attaches magnetically to the rear of the light. I first read that and thought, "Well it better be a strong magnet."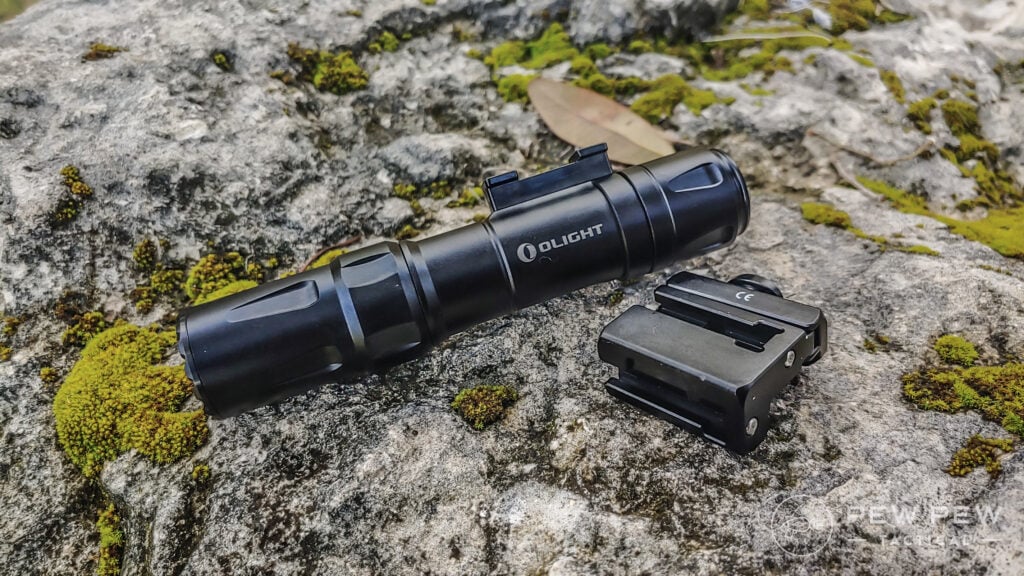 Luckily, it doesn't need to be because there is a locking collar to it. Both the switch and switch mount are standard and easy to use.
Using the same two settings for constant and momentary, switching between the two modes depends on how long you hold the button.
A quick press is constant while press and hold are momentary. The switch does offer good feedback and clicks nicely under deliberate pressure.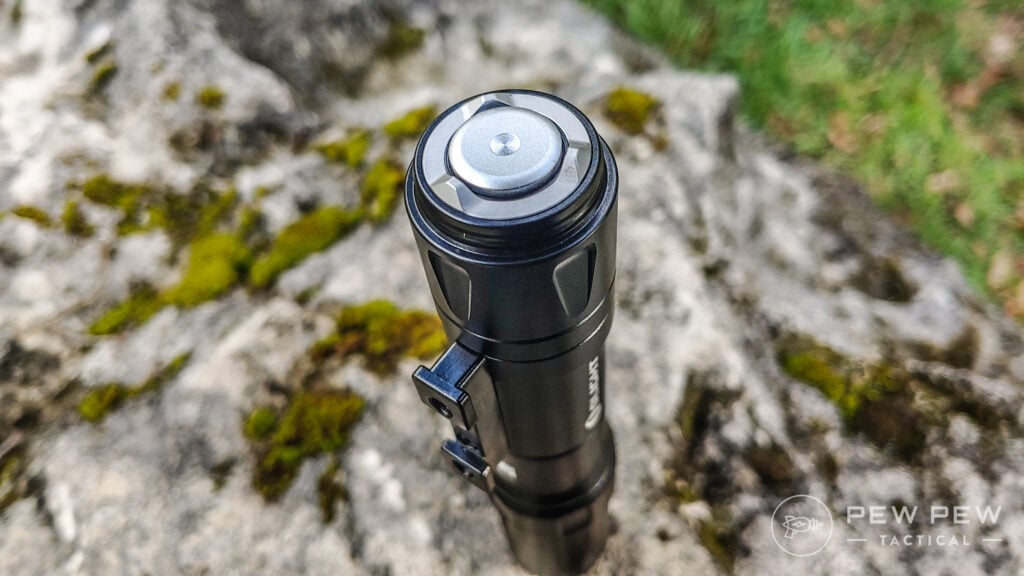 All good things come with at least one downside and for the switch that equals options. The Odin does not allow you to pair it with other brands.
You have to use Olight's magnetic mount. No Unity buttons, Surefire compatibility, or other fun stuff.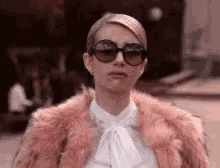 Output
Max lumens is a real big term with Olight. They advertise the max lumens of their lights, but rarely explain what exactly that means. I reviewed both the Mini Valkyrie and the Pro model and I had the same issue.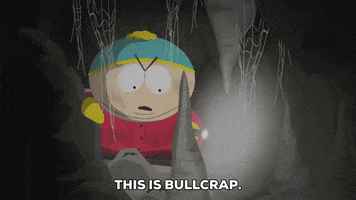 The Odin is capable of 2,000 lumens for approximately 2 minutes. Then it drops to 1,000 lumens, then to 760 lumens, and then finally to 300 lumens.
I will give it up to Olight, they seem to be transparent about this now. The back of the Odin box does give you the rundown on how the lumens decline with time.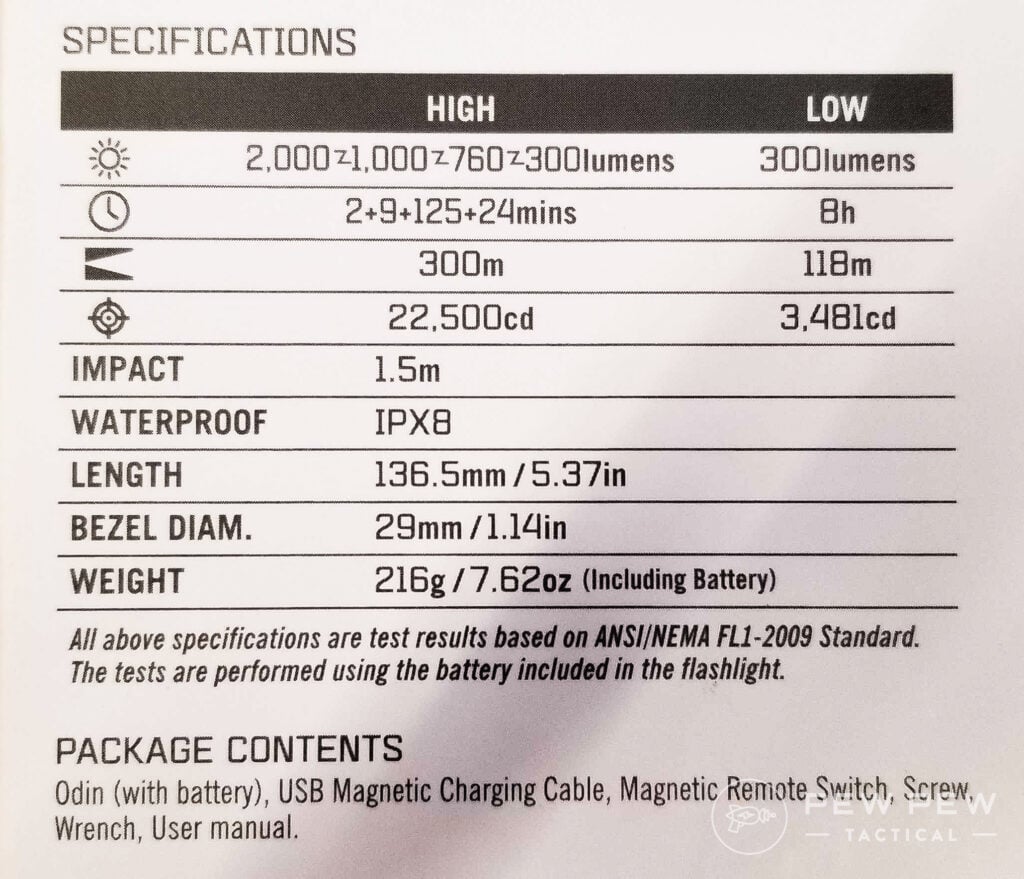 I'm still not a fan of this performance, though. I prefer a constant one-lumen setting, even if it's below 2,000 lumens. One setting is much easier to control.
The Odin packs 22,500 candela and when backed by 2,000 or 1,000 lumens you get decent performance at range. It keeps up with Surefire and Streamlight…. that is, until the lumens drop.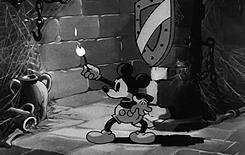 For the Odin, the max range is listed at 300-meters. Like most light companies, this is optimistic in the real world where different light sources are always present.
The Odin uses a customized 5,000 MAH rechargeable battery to power it. The battery will last a total of 8 hours at 300 lumens.
That's not a bad runtime.
It's potent enough for indoor use and as handheld light for basic non-tactical tasks.
Battery Life and Drain
One common complaint I hear about Olights is the parasitic drain.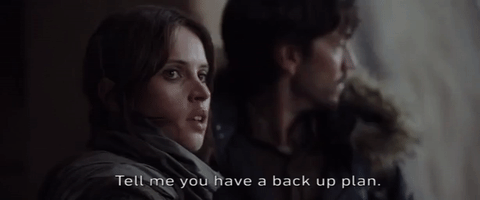 Essentially the battery drains rapidly when it's not in use. I tested this on both the Mini and standard Valkyrie and it wasn't an issue.
It's not a problem on the Odin either. I fully charged the light 25 days ago and the light has maintained a charge, even while casually sitting around. Because of the prevalence of complaints I figured it was worth mentioning.

Ergonomics
The light can be used with or without a switch and the momentary and constant modes remain the same. Though Olight includes both the switch and a switch mount that's designed for Picatinny rails, there is another option — 3M double-sided tape.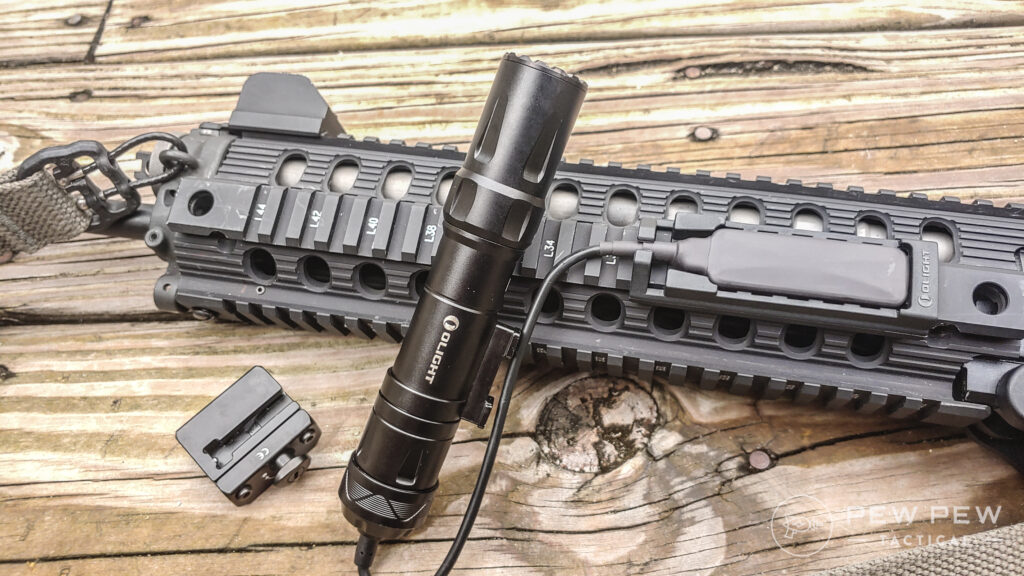 I found the switch size to be standard at around 2-inches long. The tactile controls provide great feedback. The cord is also a decent length. You can manage where you want the switch in regards to where you want the light easily enough.
Without the switch, you have a big button that's easy to activate and plenty clicky. You can feel and hear the feedback. The button is surrounded by three little triangles to seemingly prevent negligent light discharges.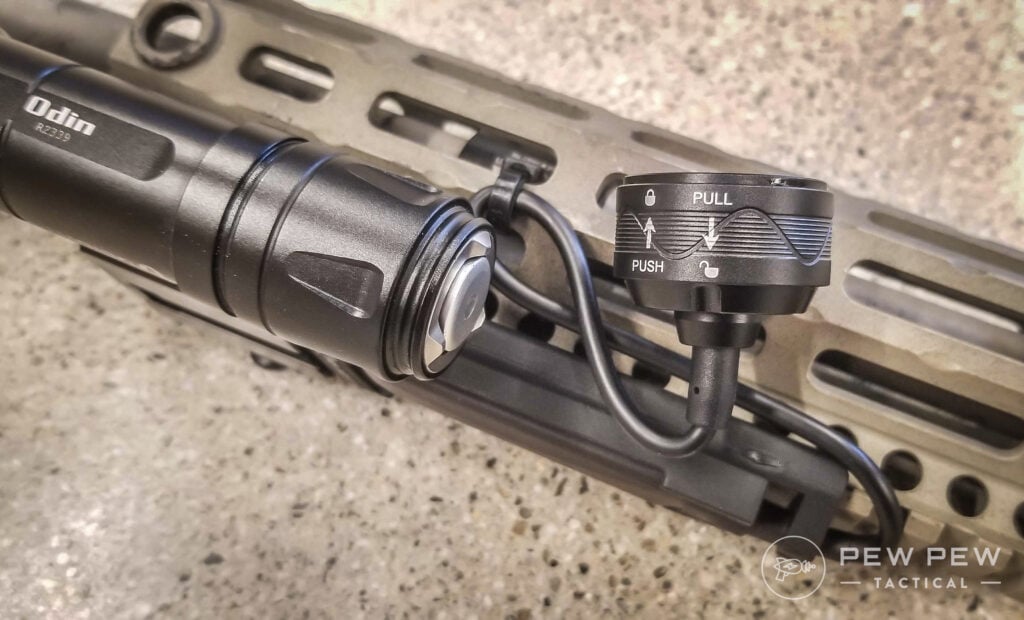 The ability to place the light in various positions is a genius move and the mount itself is great. This makes it easy for rights and lefties to get the light just right. Not to mention, it makes things easier when you want to run laser units or mount the light on super small guns.
Guns like the Banshee are short and sweet with top-mounted 12 o'clock positioned lights working best. Guns like my SIG 556R feature nice long rails which means I can eliminate most barrel shadow with a far-out mount.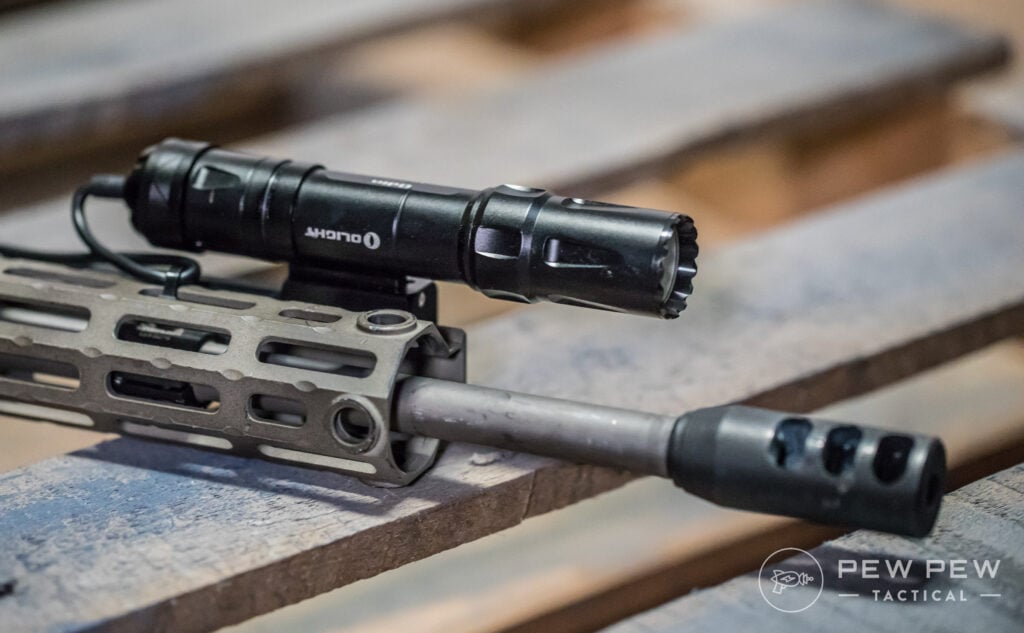 The light weighs an appropriate 7.62-ounces including the battery. This makes it a little heavier than comparative Surefires and Streamlights, but lighter than the OWL and Modlite OKW.
The weight is noticeable on smaller guns. On full-sized rifles, however, it's hardly a bother.
Switching between modes with the tail cap is simple. Barely press and release to start at low. Fully press until you hear the click to go full power. Hold either for more than a second and it's a momentary light that powers off when released.
Night Time Testing
It's a light! Let's use it at night! I did a few tests at 25-, 50-, and 100-yards to see how easy it is to see a target at this range.
I fully charged the light and gave it 1-minute rest between each range to ensure I was getting the max 2,000 lumens of light.
25-Yards
The light speaks for itself. You can easily see the target, as could I at this range. 25-yards is nothing but a warm-up though.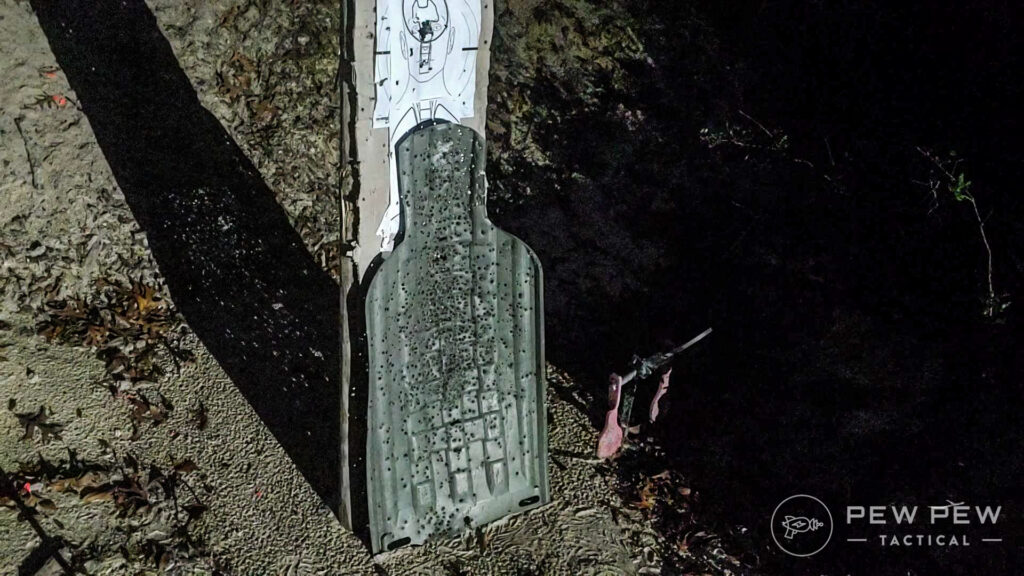 50-Yards
At 50-yards, I could still see the target without the need for an optic. With a 3X prism, I could see the target and could see the fine details of it.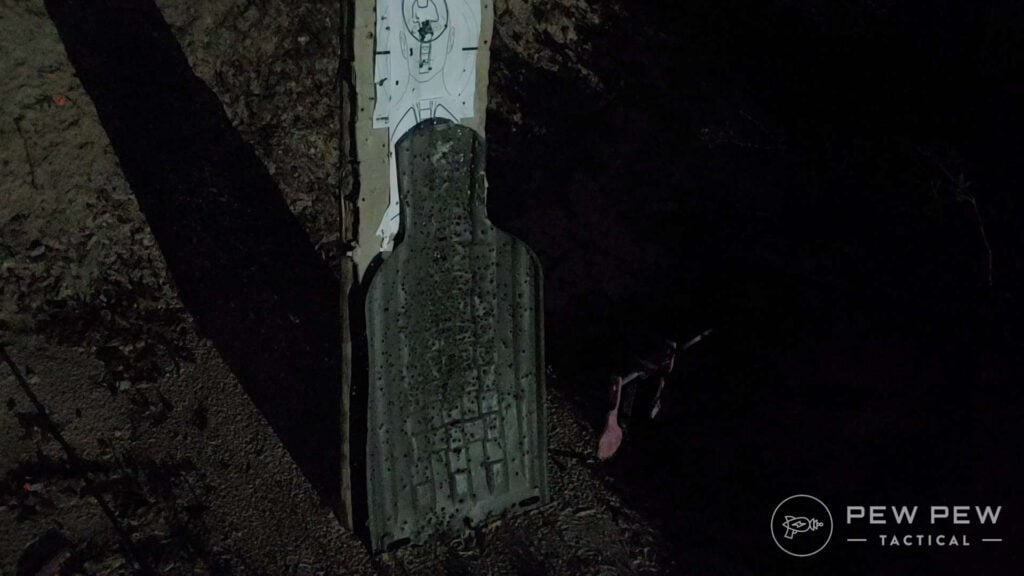 100-Yards
At 100 yards, seeing the target without an optic was a challenge. I could take out a black blob and that was it. With the optic, I could see the target enough to tell it's shape and size, but it lacked fine details. I was slightly disappointed at the clarity and visibility at 100-yards and expected to see a bit more behind the optic.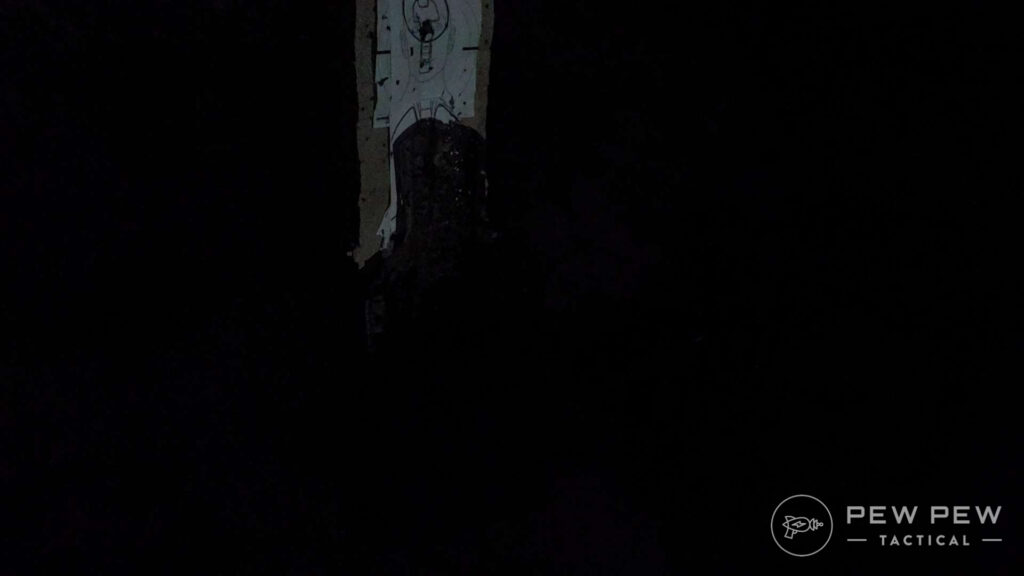 Photonic Barrier
I set up a 675 lumen Gerber Cortex to create a photonic barrier. This would help me see if the Olight Odin could overcome it.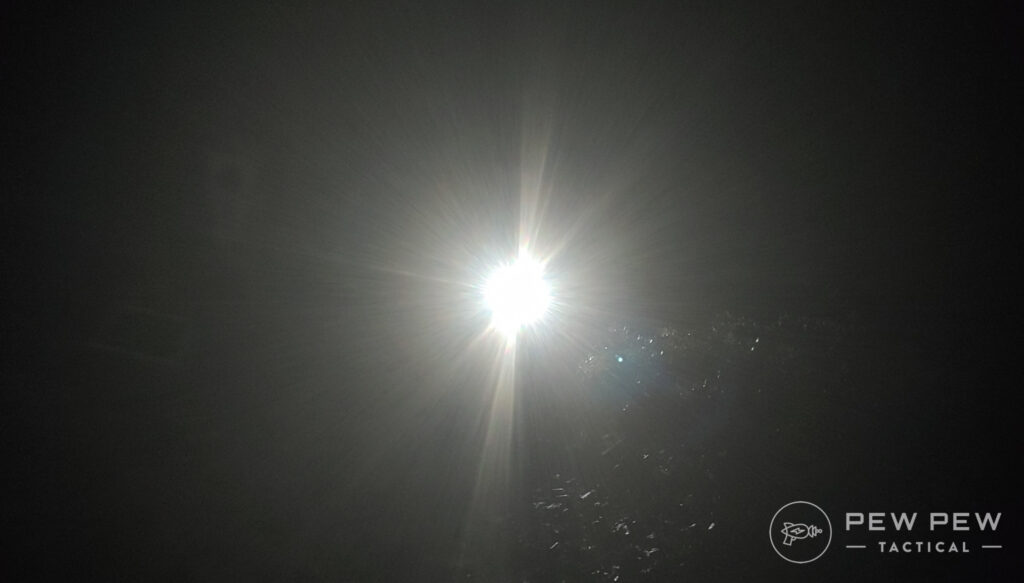 As expected, 2,000 lumens blow 675 out of the water. Anyone shining a weaker light on you will quickly be blinded and overcome with light.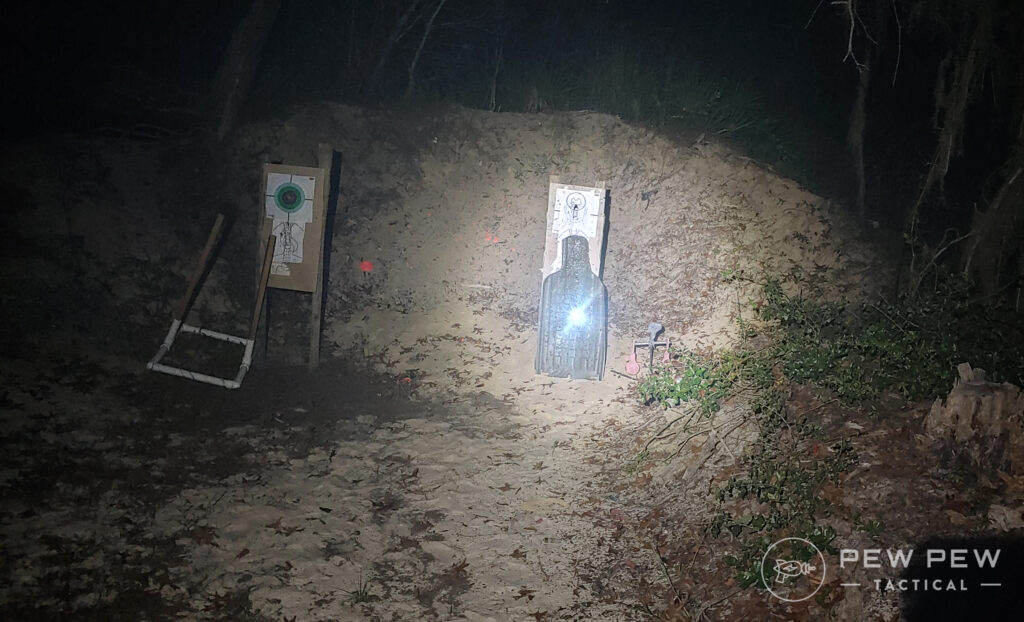 Water
The Odin is IPX8 rated which is a step up from the pistol grade light. IPX8 means the light can be submerged up to one meter for at least 30 minutes. For 99% of all weapon light users, that's ideal and tough enough.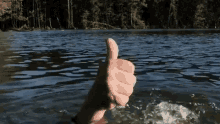 If you gotta go deeper and longer than that you might be a Navy SEAL. I'm guessing you'll figure it out and I don't think JSOC is buying Olights to solve that problem.
Obviously, we trust but verify. My previous Olight waterproof experience was top notch so I had plenty of faith as I filled up a Tupperware container to dunk the light. I filled it up, tossed it in, and set my phone timer to 30 minutes.
Just enough time to play some Ghost of Tsushima and eat some Pizza Bagels.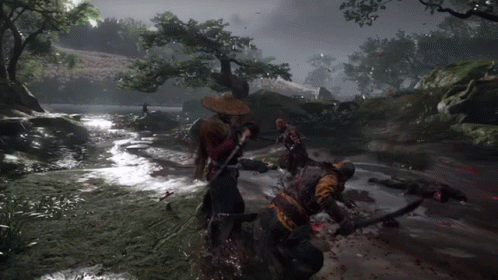 Approximately 30 minutes later, the light was still shining in its mini bath. I disassembled the light after drying off the exterior and looked for internal dampness.
I found none.
The Odin seems decently sealed against the elements.
Drop and Shock
The Odin is rated for a 1.5-meter drop test. 1.5-meters is just about 5-feet. Easy enough to replicate.
Let's drop it!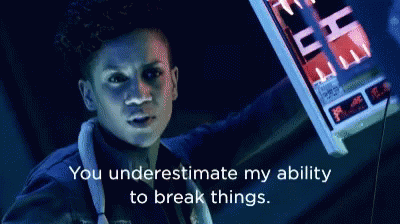 From 5-feet I dropped it straight down, and on both sides. Three times each drop. The first set on hard ground.
After nine drops, I checked the light and it still functioned and worked like a charm. No issues found here.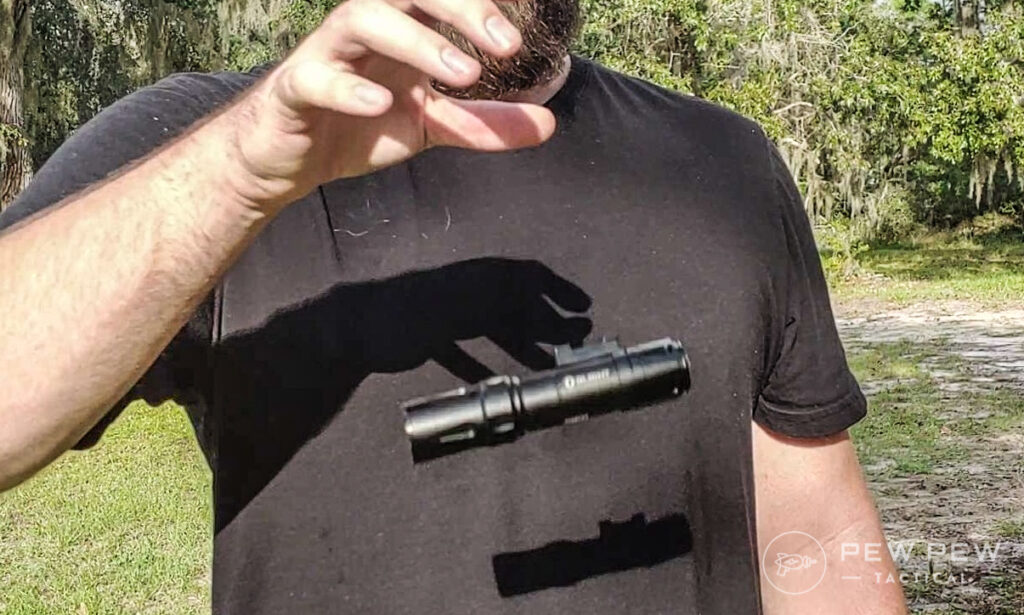 I moved to dropping the light onto cinder blocks next. Wanting a good ole fashioned drop test the hard way, I repeated the same three drops on each side for a total of nine drops onto a cinder block.
Again the light bucked and bounced, but kept on shining through. The light came on and off the mount without issue, and the mount reattached to the gun without issue either.
The little Odin seemed to be quite resilient.
Range Time
In these trying times of ammo shortages, I've been combining the things I'm testing as much as possible. With that in mind, the range test was done alongside Blackwater's new Sentry Shotgun.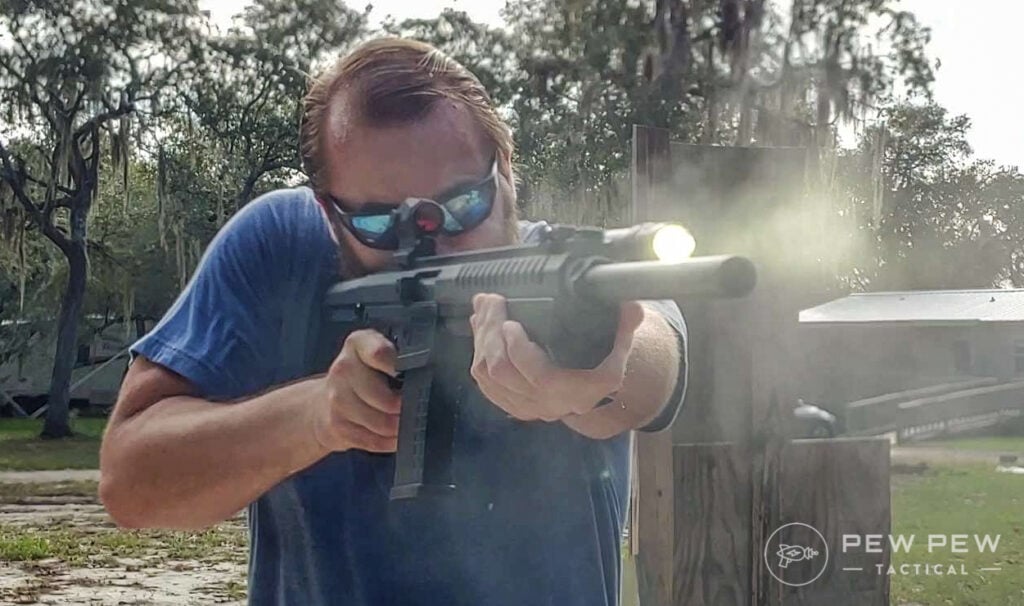 A 12-gauge pump-action shotgun is a pretty good test platform for checking out recoil. I strapped the Odin in and powered through 200 rounds of cheap birdshot and 50 rounds of Rio 00 buckshot over the course of two afternoons.
I turned the light on and left it on, checking between magazines to see if the light ever shut off. I also used my cell phone in selfie mode for the buckshot, to see if the light ever just flickered between shots.
The light remained on for every round fired. No flickers or failures.
I did notice over time the mount holding the light seemed to loosen. I went in to investigate further. At this point, the light became extremely hard to remove from the mount. I had to tap it off gently with a nylon hammer. The light would also not reinstall.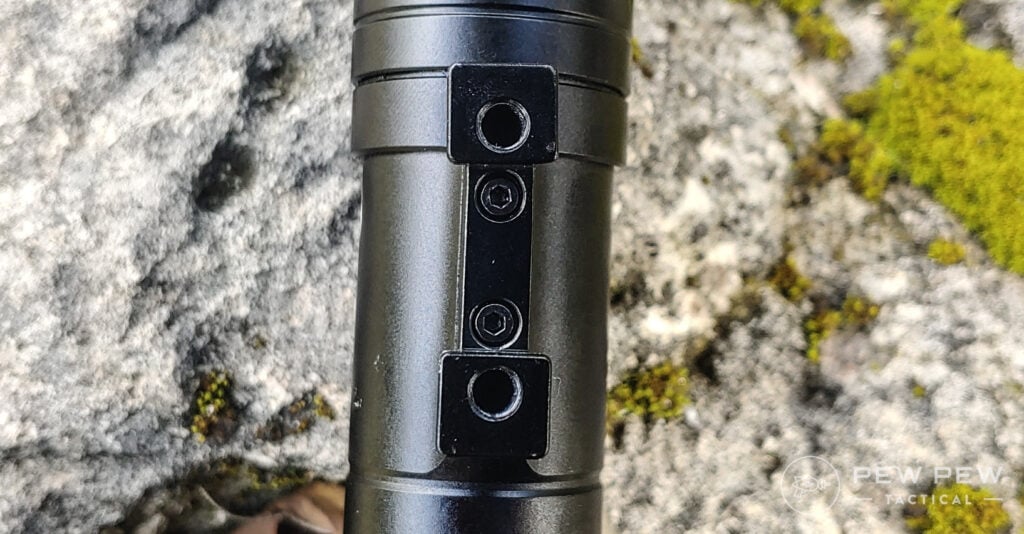 The light to mount works via a T-shaped bar that attaches to the Odin via two Allen screws. This portion became loose under fire. I tightened it, but the light still wouldn't return the mount.
Upon closer examination, it appeared the T-shaped metal beam that attaches the light to the mount was bent at the rear end. Forcing it back onto the mount didn't seem to be a wise idea.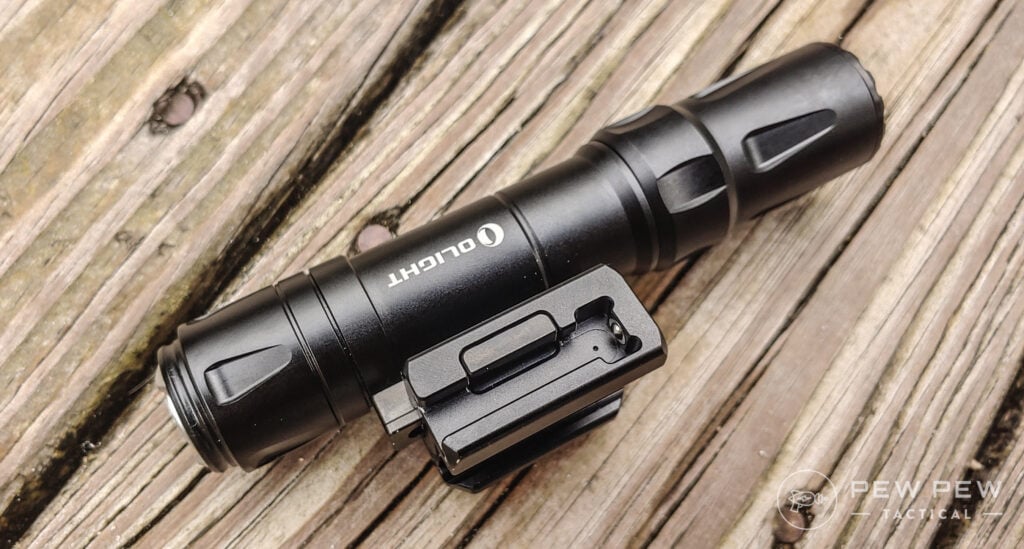 This has since turned the Odin into a handheld light for the time being. The T-beam piece seems easily replaceable. Hopefully, Olight has more on hand to send if this happens to consumers.
By the Numbers
Reliability: 2.5/5
The light and switch seem solid and live up to their stated resistance levels for drop, shock, wand waterproofness. It took some abuse. However, the mount is a big detractor. You buy the Odin to be a weapon-mounted light and if it can't be mounted you aren't getting what you paid for.
Ergonomics: 4/5
Straight up, it's easy to use. The switch and tail cap deliver good feedback and the momentary and constant modes are easy to activate. I took off one star simply for the weight.
Looks: 5/5
The light looks clean and the finish seems tough. Overall, the design is quite standard for weapon lights. No issues in the looks department.
Bang for Your Buck: 2/5
I can't say I'm a big fan of the transitioning lumens. I'd give it more slack if it went from 2,000 to 1,000, but going all the way down to 300 is not my cup of tea for a long gun light. The price at Olight is about $160. A Streamlight HL-X is about 40 bucks cheaper and a better light in my opinion. Another big issue is how quickly the mounting bar broke.
Overall Scores: 2.5/5
The Olight Odin is bright, with a warm beam and solid ergonomics. I wish it had better performance beyond 50-yards and I don't like the declining lumens. The light itself seems tough, but the mounting bar seems to be a serious weak point. Let's face it, 250 rounds is not a high round count. The Odin should keep on kicking well past that. If the mounting bar can be strengthened this could be a decent light.
Conclusion
The Olight Odin brings 2,000 lumens to the table in a durable design that withstood our drop testing and water submersion. While the flashlight held its own, the changing lumens and the mount leave a lot to be desired. I would have preferred to see a more consistent rifle light without the mounting issues.
Olight fans seem to be quite rabid and there seem to be a lot of them. While I can't say I'm among them yet, I'd be willing to hear your arguments. Maybe you know something about them I don't!
160
at Olight Store
Prices accurate at time of writing
Prices accurate at time of writing
Has your Odin remained strong? Thinking about picking one up? Let us know below! In the meantime, if you're on the hunt for a new light and this one just isn't doing it for you, check out the Best AR-15 Lights!