With ammo prices at a recent memory high, training and keeping your skills fresh is more expensive than normal — but still just as important.
Thankfully, there are other alternatives such as dry firing, manipulation drills, cool stuff with lasers, and now the Mantis Blackbeard.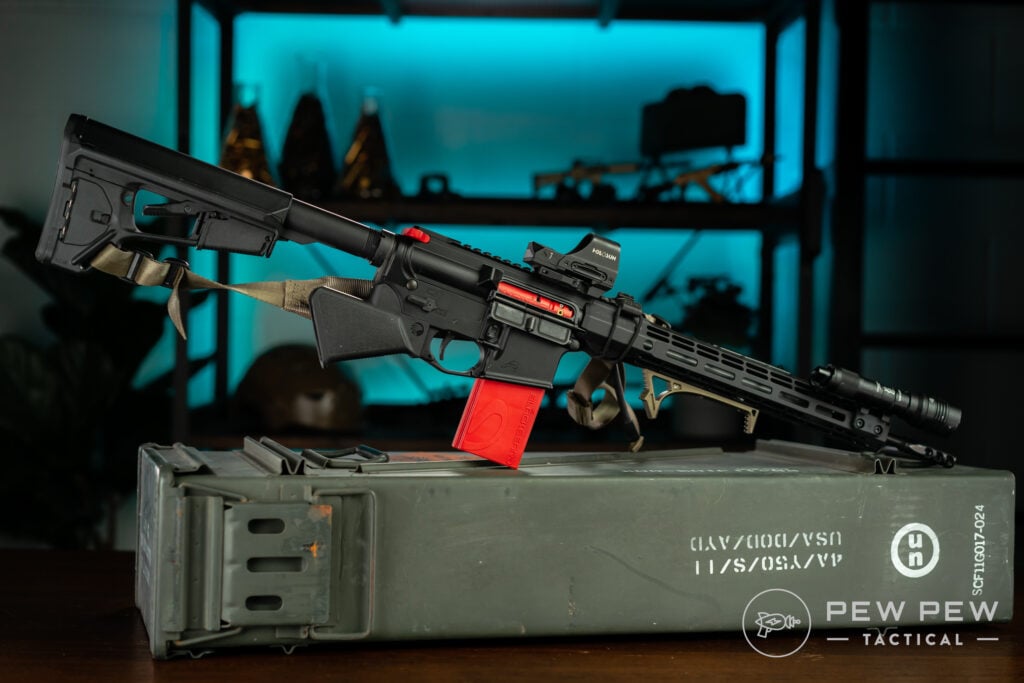 An auto-resetting AR-15 for dry fire drills sounds like a pretty amazing way to keep fresh in these trying times, but can the Blackbeard deliver?
We put it to the test to find out!
Table of Contents
Loading...
What Is The Blackbeard?
Basically, this is an auto-resetting dry fire system for your AR-15. Install the BCG/CH, install the magazine, and away you go.
Pull the trigger as fast as you can and as often as you like and the system will flash a laser down your barrel and onto the target showing you where you "hit."
A piston will reset the hammer so you can take another shot.
How Do You Use It?
Man, I just told you. You drop it in and shoot it. No, really — it is that easy. In terms of set-up, there is basically none.
As long as you know how to remove your BCG from the upper, you can install it in seconds.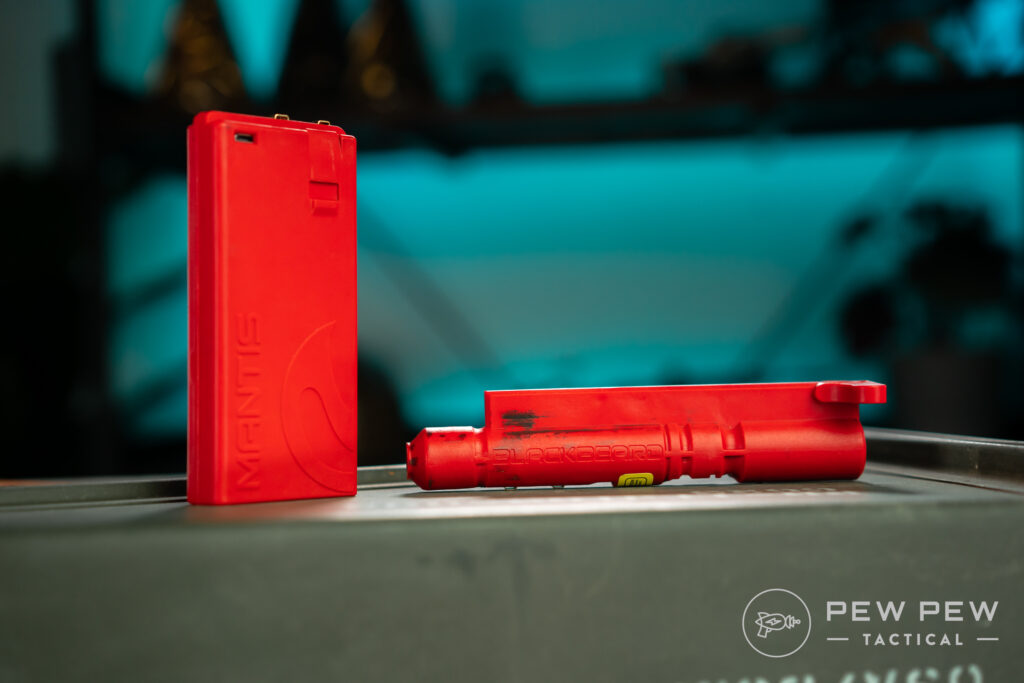 No trigger mods, no fiddling, no weirdness, no hidden surprises.
As for using it to train better — the first thing I did was a mock house clearing. Because I mean, what else are you going to do first?
Tell you what though, there isn't a nicknack in the house that didn't get at least double-tapped.
It's surprisingly more useful than it sounds also. Getting to really feel what the angles are in your home is a lot different than dry runs with an empty rifle.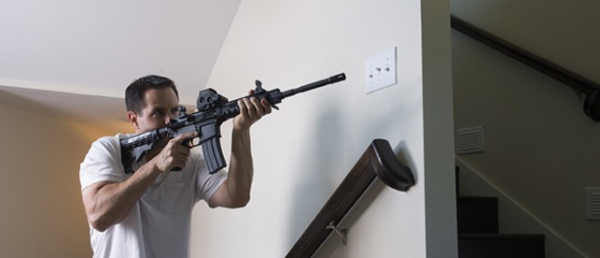 Outside of that, I spent a lot of time doing basic transitions and target acquisition. Moving from target to target in a static environment and putting dots on paper.
Range Report
When the system works, I really like it. It's a very cool idea and it can actually help you train.
I would love to pair this system with some reactive targets like the LaserLyte system.
I picked the green laser model though and it seems that the LaserLtyes don't work with green — but green is easier to see on normal targets.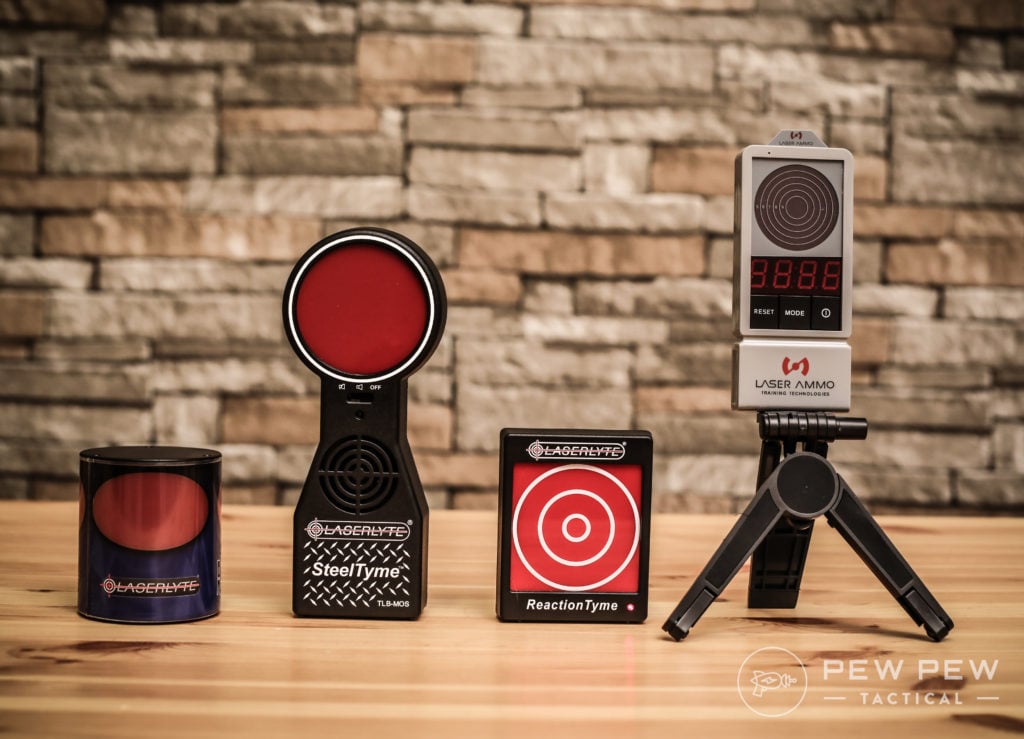 If I was picking again, I would grab a red laser Blackbeard.
Set some of these up on target stands or in the house and go to town. You can knock out a huge amount of training in a short amount of time.
And with the cost of ammo being so high right now, the $200ish spent on the Blackbeard plus the money on the targets will be recouped in about… two training sessions.
The only gripe I have after using it is that I wish the battery pack/magazine was modeled after a 30-round mag.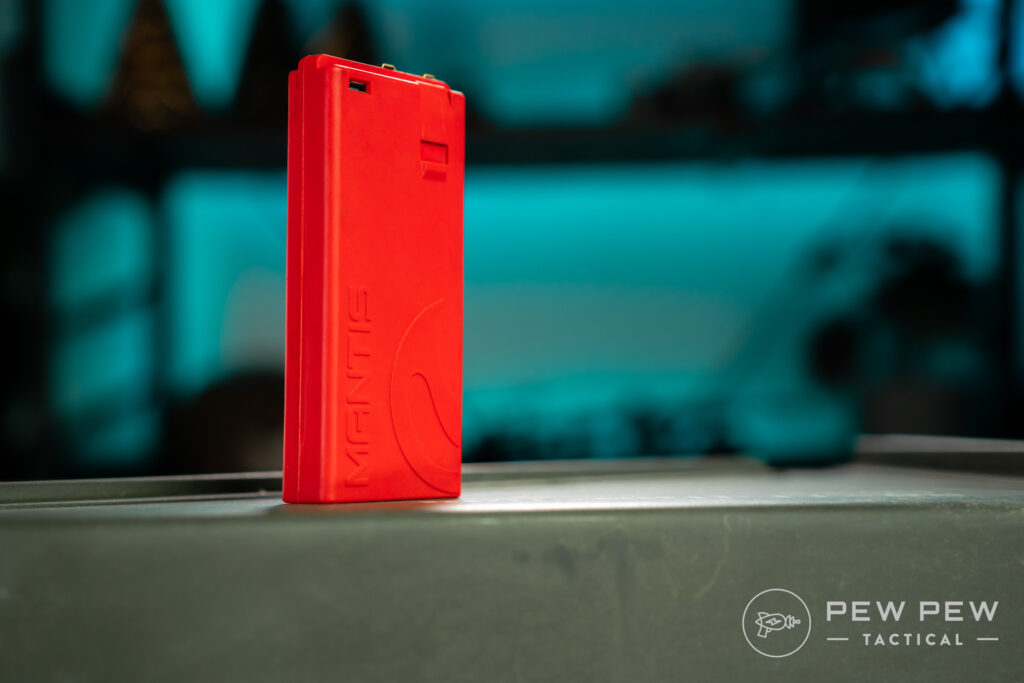 As they are right now they are about the size of a 20-round AR mag.
I think that 30-round sized batteries/mags and selling extras would have been perfect for training reloads and dry fires.
Does It Help?
Even without getting to set up reactive targets, I can safely say that yes, it does help.
Dry fire training is the best bang for your buck you can get and the Blackbeard makes AR dry fire training a lot easier, smoother, and more real.
Training Suggestions
Other than LARPing through my house, and I really do recommend that as a training tool, I spent most of my time with the Blackbeard doing drills the exact same way I would do live-fire drills.
Failure to stop drills, box drills, 1 to 5 drills, 180 drills (MUCH safer to do dry firing than live firing), all of these, and more work with the Blackbeard just like they do with real ammo.
If you're not sure what these drills are, take a look at some of the Best Shooting Drills where we go into detail!
The green dot is bright enough and lasts just long enough on target that you can see your "hits" clearly.
While you can't review after like you might on paper with real ammo, you at least know at the moment if you missed or not.
It's kind of like shooting steel, but quieter, safer, and less pingy.
I would never say that the Blackbeard can replace live fire training, but it can absolutely augment it and give you another option when ammo is in low supply or you just don't want to make the drive out to the range.
Problems
All of those nice things said…I had some major problems.
While the idea behind the Blackbeard is awesome, the construction and manufacturing have some issues.
The unit I tested the most was actually the second Blackbeard Mantis sent me. After about 50 shots the first BCG unit just seized up and died.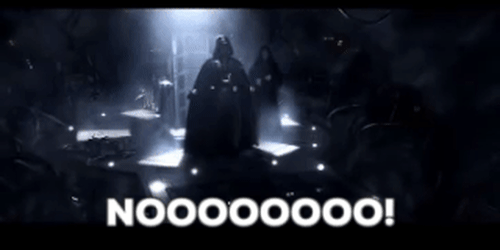 Thankfully, the second BCG worked perfectly for at least 500 or so cycles. I hope it will last a lot longer, but so far that's how much I've used it.
But the problems aren't limited to one DOA unit.
The "magazine" is the battery pack for the Blackbeard. They are rechargeable via mini USB ports…if the ports are accessible.
Both of my batteries/magazines have ports that are grossly misaligned in the shell. The first battery/magazine's port was so far off that it was impossible to use.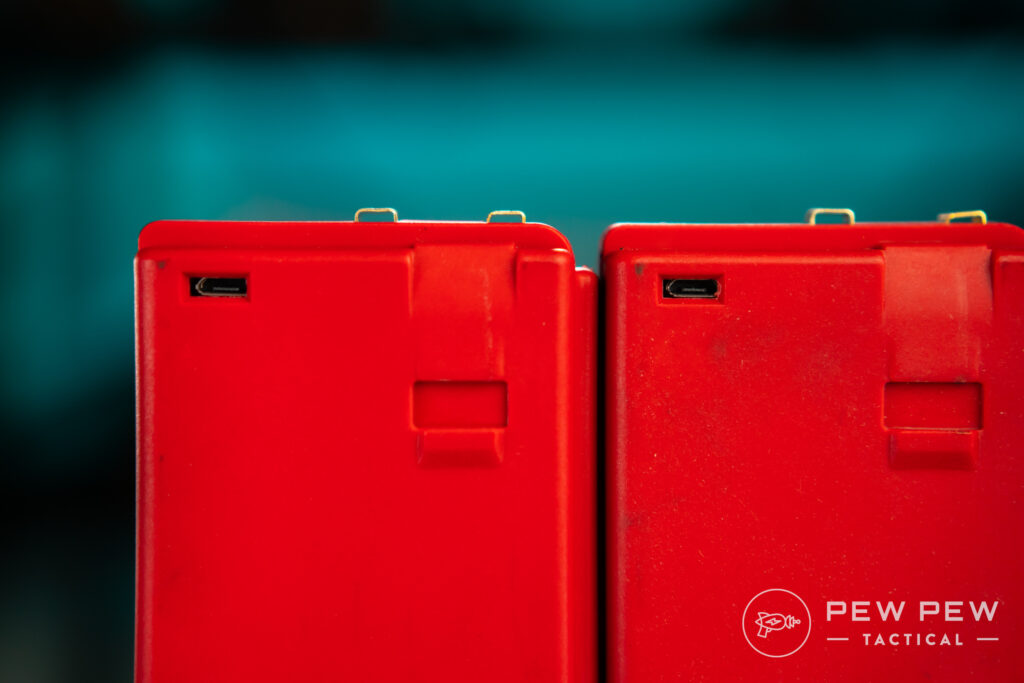 I emailed Mantis to ask what I should do and the answer was that it's a known issue with that production run and that it's fixed the next run.
And to fix mine, I should open the shell and shove the port into place. I did that and it did work but…come on.
The second battery/magazine I got has the same issue, but not as bad and I was able to move it into place without having to crack it open.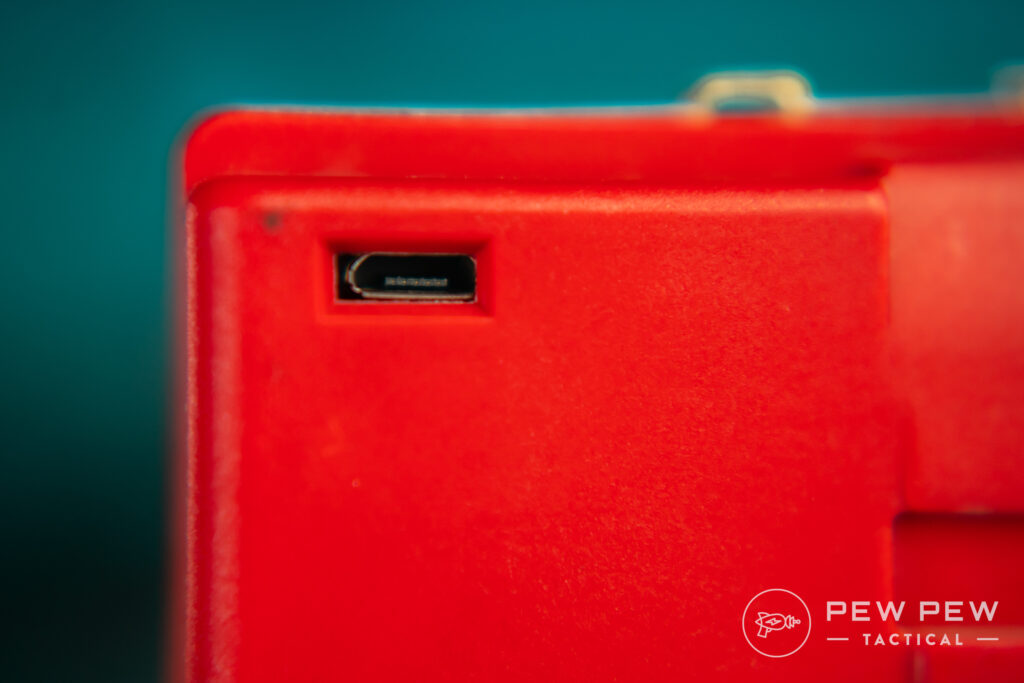 A glaring lack of quality control like this does not induce confidence in me.
Recommend?
I…do recommend the Blackbeard. I think.
The idea is awesome and as a training tool this really works. And since ammo is so expensive and it doesn't look like it's coming down soon, the price is easy to justify.
However, I would say that you should go into it expecting there might be an issue with your unit.
I don't know how many more units are in the production run that have the jacked-up ports, but it's likely non-zero.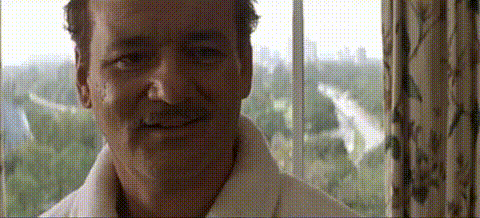 If you get a Blackbeard from the fixed production runs, I think you'll be set. But right now it's a roll of the dice.
If you do end up having problems with it, Mantis is very easy to work with and has a great customer service department to help you out.
What do you think? Leave your rating below.
Conclusion
The Blackbeard isn't as good as it should be. I can't deny that and in my opinion, Mantis has dropped the ball a bit on this. Granted, I don't know the full story and there are always challenges in production.
But to my mind, these should be sold as blems at best until the ports on the batteries are fixed and the DOA issues resolved.
At the same time, when it works — it really works. The idea is awesome, the training is solid, the price is fair considering how much you'll save in ammo, and it's just fun on top of it all.
If you own an AR-15 for home defense, I would strongly recommend the Blackbeard — just expect there might be some quirks when you get it.
What do you think of these laser systems? Let us know in the comments! Need more dry fire worthy lasers in your life? Check out our guide to the Best Laser Targets & Ammo and our review of the Mantis Laser Academy.