Do universal holsters universally suck?
That's a good question, and the answer is categorically a big no. A lot of them certainly suck, but not all of them.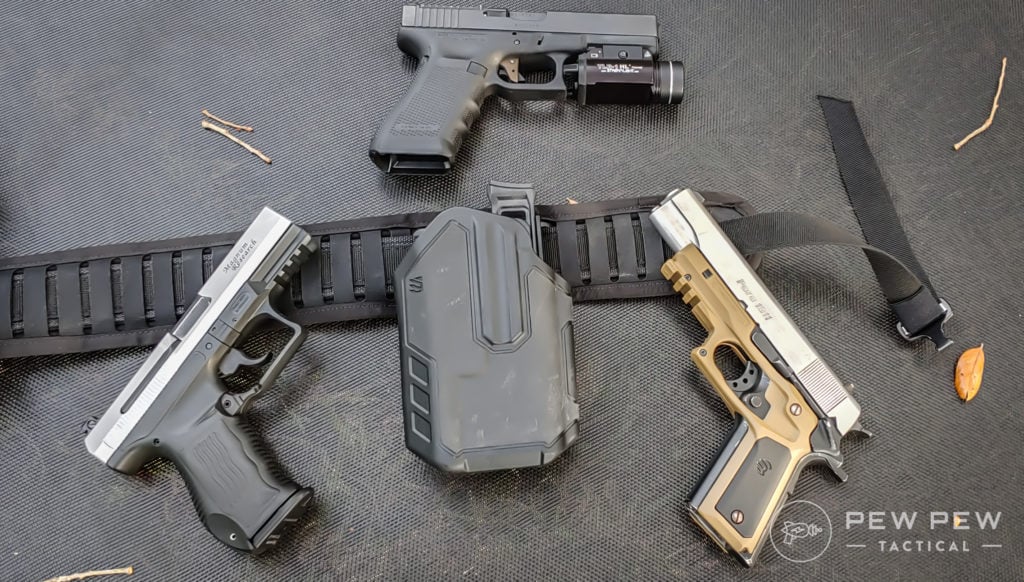 As a gun writer, I get lots of guns to test and evaluate. These include plenty of handguns, and it's hard to test a firearm without a holster, it's also expensive to buy a new holster for guns I'm sending back to the providing company anyway.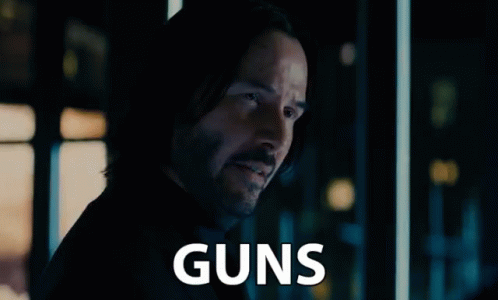 This has lead me to find a variety of multi-fit holsters that work. In my time and experimenting, I've found five that I universally enjoy. Each has its purpose, and each one is capable of holding a multitude of different guns.
These five holsters most certainly don't suck.
Best Universal Holsters
1. Blackhawk Omnivore
Poor Blackhawk has had a helluva time recovering from that time Tex Grebner shot himself in the leg with a 1911.
Besides that, the SERPA holster was mostly declared unsafe and fell out of use quite hard after a few more NDs occurred. That didn't stop Blackhawk from trying to be innovative with the Omnivore.
The Blackhawk Omnivore took a few of the good ideas that the SERPA had and introduced them to a holster that only needs a rail or light to house your gun.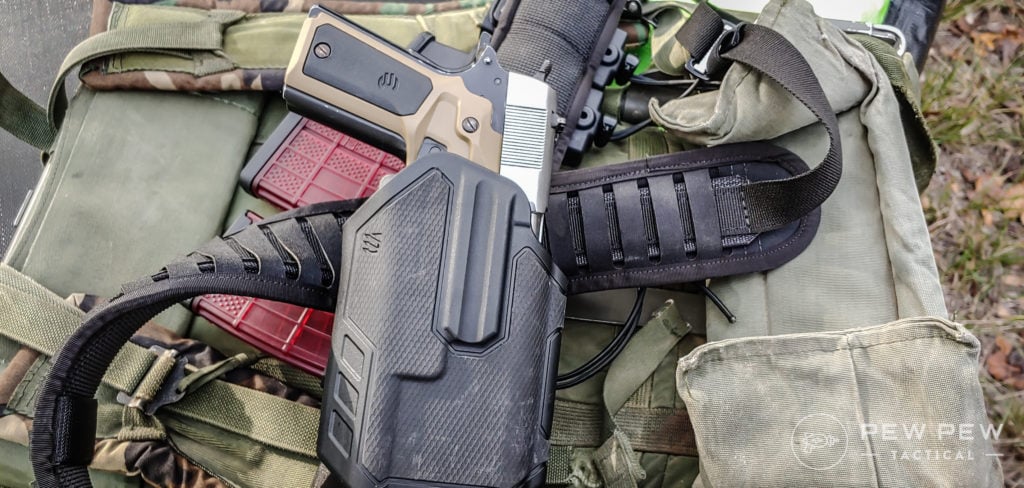 Blackhawk gave the Omnivore the same mounting system as the SERPA and does allow the use of SERPA leg rigs, paddles, belt loops, and more. The Omnivore is also made from polymer.
It comes in two models, a light-bearing model and a standard rail model. This holster can house over 150 guns, as long as they are outfitted with a rail or flashlight.
The simpler railed model uses a small block that attaches to the rail and is then the basis for the holster's retention.
The light-bearing models are made for the Streamlight TLR 1 and 2 and a separate model for the X300 lights from Surefire. The standard model is okay, but the light-bearing model is so much more innovative and useful, in my opinion.
From where I'm standing, the ability to drop a light on nearly any gun and then drop it in my Omnivore is quite valuable.
The Omnivore is a level 2 holster that uses active retention. Instead of the dreaded trigger finger release, the Omnivore uses a thumb release. Press the release down as you grip your gun and draw your weapon.
It's a bulky holster, so don't expect to conceal it. For the range, or hunting, or open carry of any kind, the Omnivore is a solid choice.
I keep the Omnivore on my Battle Belt, and that's perfect because one day, I may carry a Polymer 80 Glock 17, or maybe a Magnum Research MR9, or perhaps a railed 1911.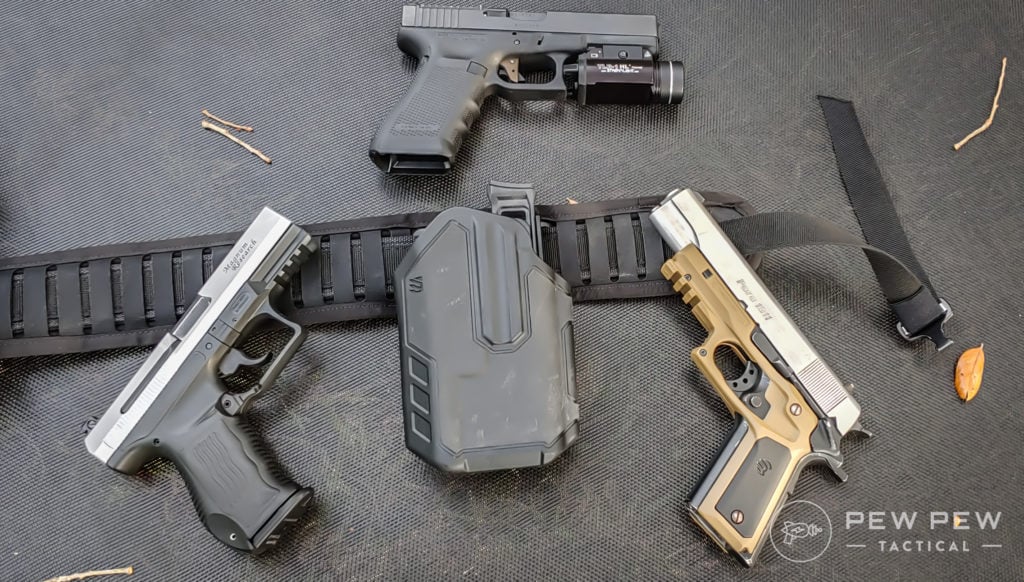 I have all the choices. Also, the Omnivore works with 1911's equipped with Recover Tactical rails, which was a pleasant surprise. All I have to do is move my TLR 1 from gun to gun.
40
at Amazon
Prices accurate at time of writing
Prices accurate at time of writing
It's simple, and the holster is effective and customizable, and sturdy enough for daily use.
The Omnivore is also affordable and makes it a solid get in my line of work.
2. Desantis Inner Piece 2.0
Usually, bad universal holsters are made from nylon, but good ones can be made from nylon, too, apparently.
That's what I learned with the Desantis Inner Piece 2.0. This soft holster is made from ballistic nylon and is designed for appendix IWB carry.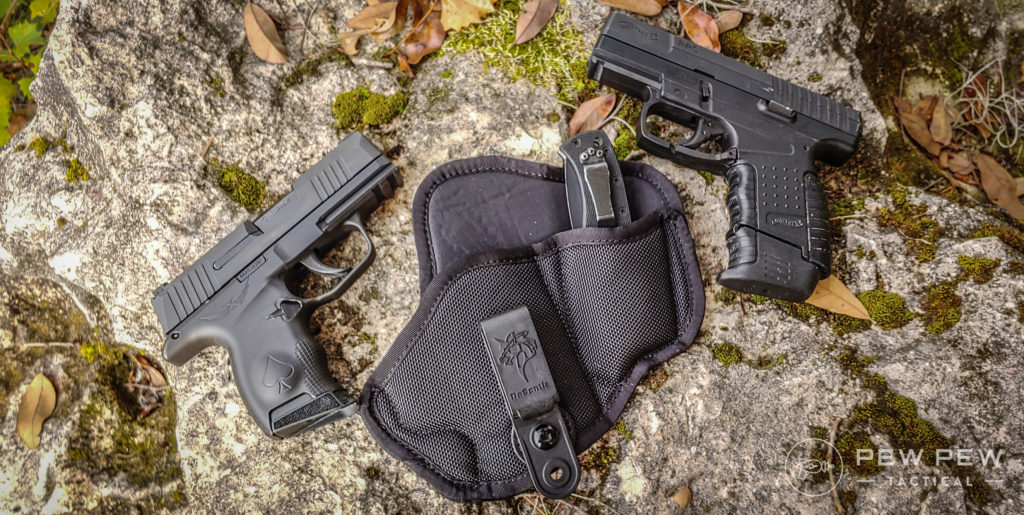 You'll find that the pocket is large enough to accommodate a variety of small guns. It's not an authentic universal holster, but more like a small gun universal holster.
The Inner Piece 2.0 fits weapons like the Springfield Hellcat, Glock 43, SIG P365, Walther PPS, and many more.
Its ballistic nylon holster allows multiple guns to fit and remains malleable and lightweight.
Not to mention, it's very comfortable. It's one of the few holsters that will enable me to forget that I am wearing a holster.
This holster's also tuckable and uses a single clip design that ensures it's very low in profile.
The Desantis Inner Piece 2.0's clip can rotate, and this allows you to adjust the cant of the clip, which is what will enable you to position the holster anywhere with little worry about where the clip falls.
It's fitted with a clip that is also adjustable for height, and you can move the holster up and down to the right mix of comfort and access. In addition, there is a built-in magazine pouch that allows you to carry a single spare.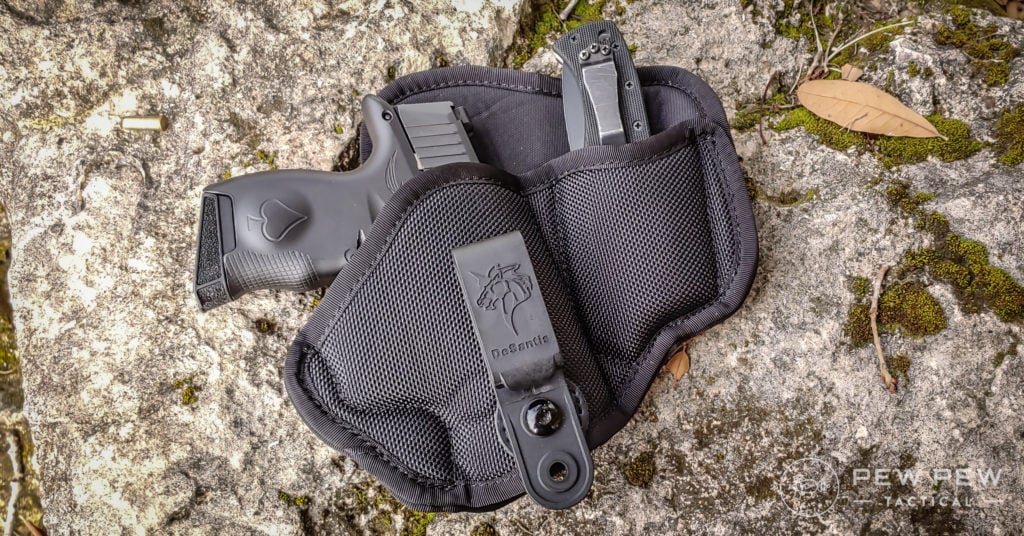 Plus, I found this pouch capable of carrying a small knife or flashlight. A good pocket knife can ruin the lines of your pants, or for the ladies, a knife can be impossible to carry discreetly.
Jeans without pockets suck but are prevalent in women's fashion. If you are packing a Desantis Inner Piece 2.0, you can stash a gun and knife without anyone being the wiser.
25
at Amazon
Prices accurate at time of writing
Prices accurate at time of writing
If you have a rotation of carry guns, then the Desantis Inner Piece 2.0 is undoubtedly an excellent singular holster option. Some of us change our weapons like we change our shoes, but that doesn't mean you have to change your holster.
3. Phalanx Defense Stealth Operator
This was the holster that first made me realize that universal holsters don't have to suck. The Stealth Operator isn't my favorite name, but it's one of my favorite holsters.
This holster is a Kydex rig that comes in OWB and IWB models and both compact and full-size variants.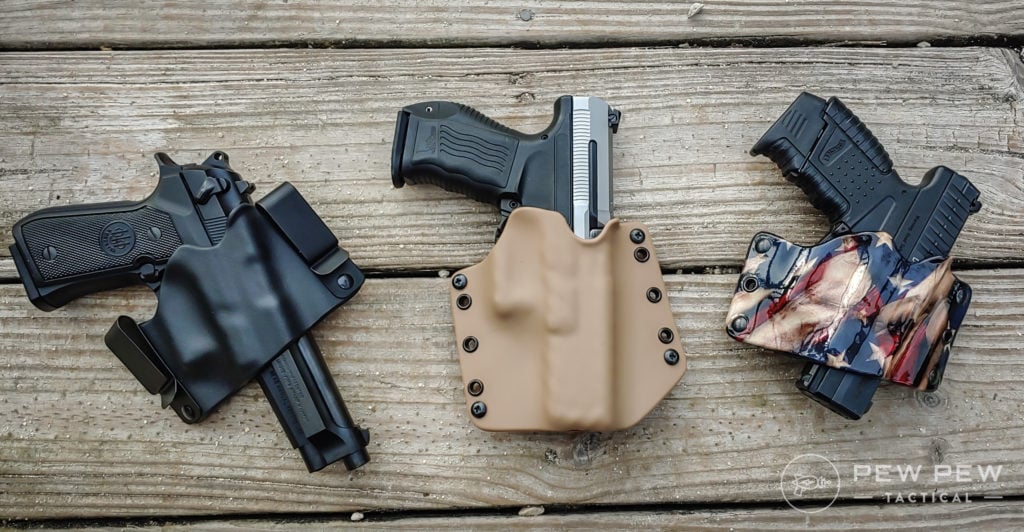 I owned both the OWB compact and full-sized variants for years and found them through a local gun store. Gainesville is just a hop, skip, and a jump away from me and is where Phalanx Defense is located.
It's an excellent shop, and they've even taken me on a tour of their historic building.
The holster is the star of the show, though. It's a very low profile design that's small enough for concealed carry and sits tight to the body.
The Stealth Operator is a holster system that utilizes a tightened frame with a particular point that locks the gun into the holster by the trigger guard.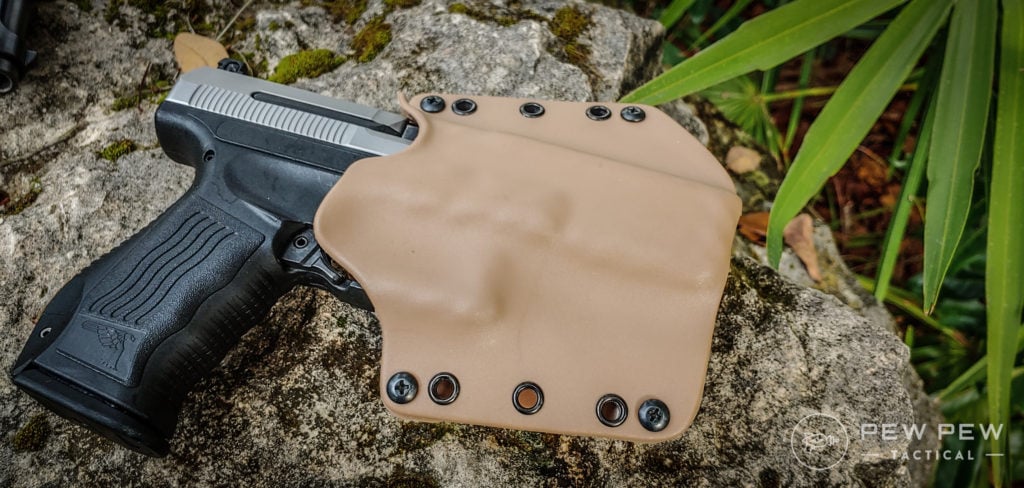 You'll get an excellent loud click when you holster your weapon to let you know it's retained.
The compact model has an open bottom to accommodate most small-sized guns. It will also fit full-sized firearms, but their barrel with stick out of the holster quite a bit.
If you're looking for something bigger, the full-sized will accommodate your Glock 17s, CZ P09s, and several more without the barrel poking out.
35
at Amazon
Prices accurate at time of writing
Prices accurate at time of writing
The holster uses two belt loops for OWB and two metal clips for IWB options. It comes in multiple colors, and even a few hydro dipped special editions. After carrying and using these holsters for years, I've become a big fan of them.
They accommodate so many different guns. This includes weapons like the Walther PPS, a subcompact 9mm single stack, all the way up to a CZ P09 with its 21 round magazine and double-stack design.
35
at Amazon
Prices accurate at time of writing
Prices accurate at time of writing
These holsters cling tight to the body and hold your weapon very secure. I've never felt one move or slide out in any way. They are the most modern design on this list and allows for both concealed carry and tactical use.
I own several for a reason.
I trust them, and when it comes to a lot of different pistols sent for testing and evaluating, I'm often using these holsters to carry, to draw from, and to help me test the weapon.
What's your take on the Stealth Operators?
4. Bianchi M12
When I was first issued an M9, I got a green Bianchi M12 to carry it.
These old holsters have been in use forever and were affectionately known as the Suicide Holster.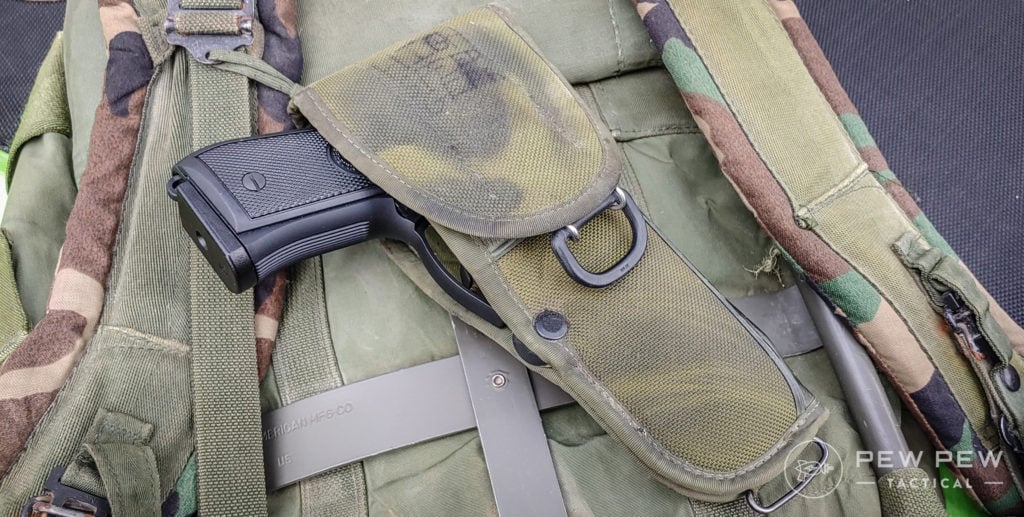 If you had to draw from it, you'd be dead before you cleared leather.
This is most certainly an out of date holster, and the SERPA quickly became the preferred model for carrying our M9s.
The M12 is an old holster, but it's a tough old broad. When I was young and obsessed with being a modern warfighter, I overlooked the usefulness of the M12.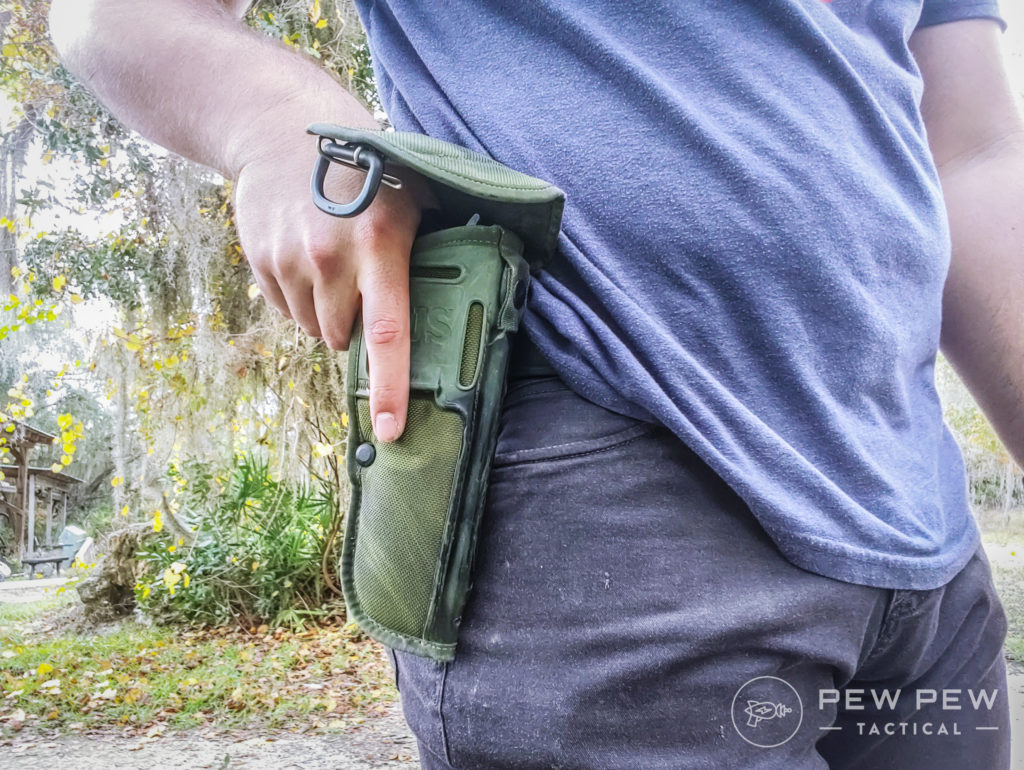 Sure, it's no longer a warfighting holster, but it can certainly be an excellent range, hunting, or hiking holster.
You'd be hard-pressed to fight a holster with such a simple, but robust retention system. That big flap will keep your gun in place, rain or shine.
It isn't coming out till you want it out. The M12 can attach to belt, be rigged to a tanker style chest harness, or even to a MOLLE platform. Several military surplus rigs allow you to carry just about any way you want.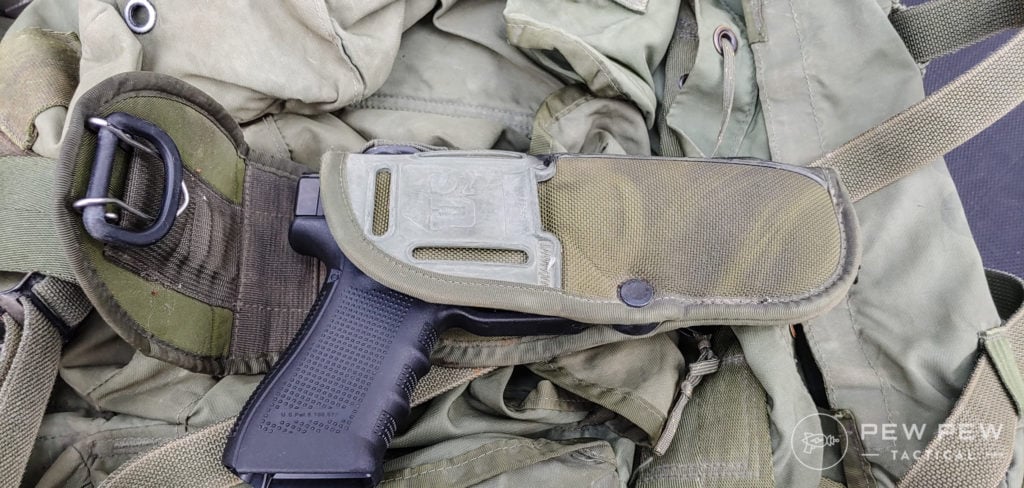 The Bianchi M12 doesn't just keep your gun in the holster but protects the firearm from the environment well too.
This holster almost completely covers the gun, meaning if you fall down a hill, not only will you retain the weapon, but it will be a lot cleaner than you are.
The M12 uses a pull tab that large and easy to reach, pull it down, and the holster flap unlocks and allows you to draw your pistol. It's not quick, or modern, but it's effective.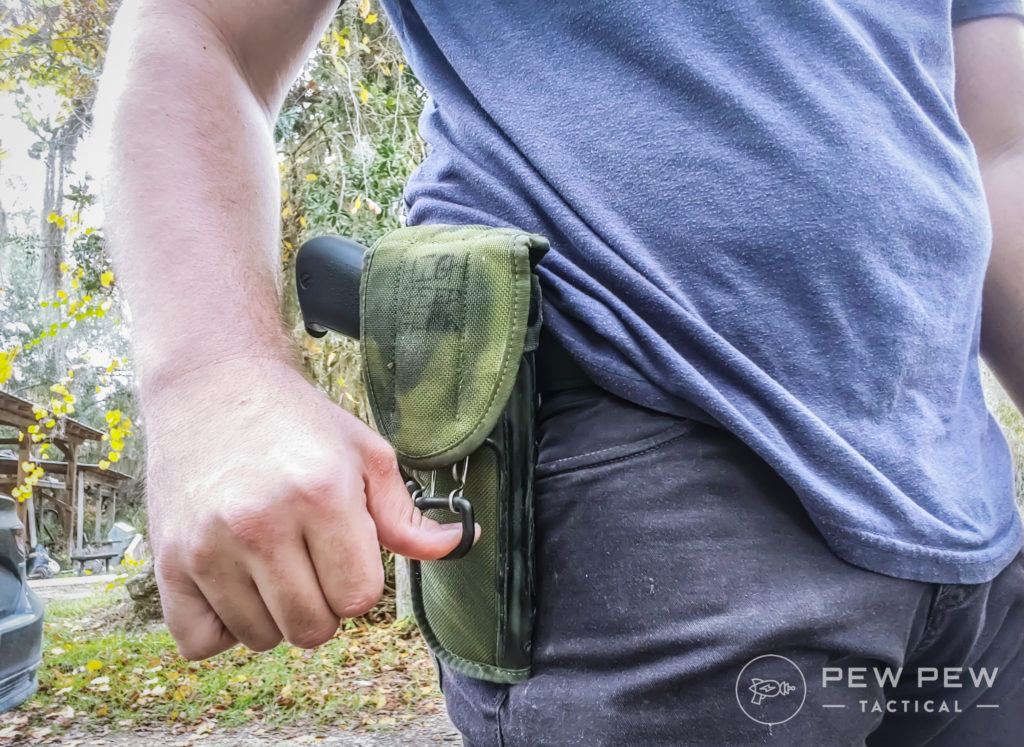 The simplicity of the design means it's hard to break and will work chock full of dirt, mud, or sand. It won't fail unless you glue it shut. Even though it's an old holster, it is durable, water-resistant, and I've never seen one break.
73
at Amazon
Prices accurate at time of writing
Prices accurate at time of writing
I've had this one for a decade, and it keeps on keeping on. It's not High Speed, but it is useful in a specific role. It does limit you to Glock 19 sized guns and up. It's a great companion to a woods gun or a hiking piece.
5. AlienGear Shapeshift Holster
I like throwing in wild cards to the mix. When it comes to the phrase Universal Holster, we often think of a holster that accommodates a multitude of guns.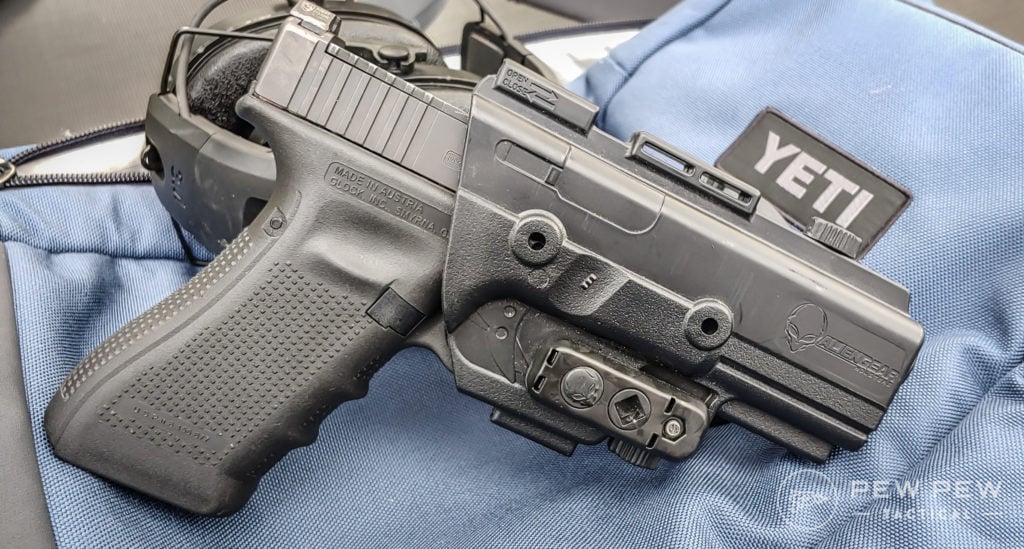 What about a holster that acts as a multitude of different holsters?
The AlienGear Shapeshift holster system uses Kydex shells with a multitude of different holster attachments.
If I have a SIG P365 shell, I can attach it to an IWB holster, an OWB paddle holster, a shoulder rig, a slide style OWB holster, a Backpack holster, an ankle holster and more.
Best of all, if I buy a Glock 17 Holster, I can do the exact same thing with the same bases I can use for the P365.
I own a ton of the expansion packs. This isn't just a gimmicky design, but a very comfortable holster system.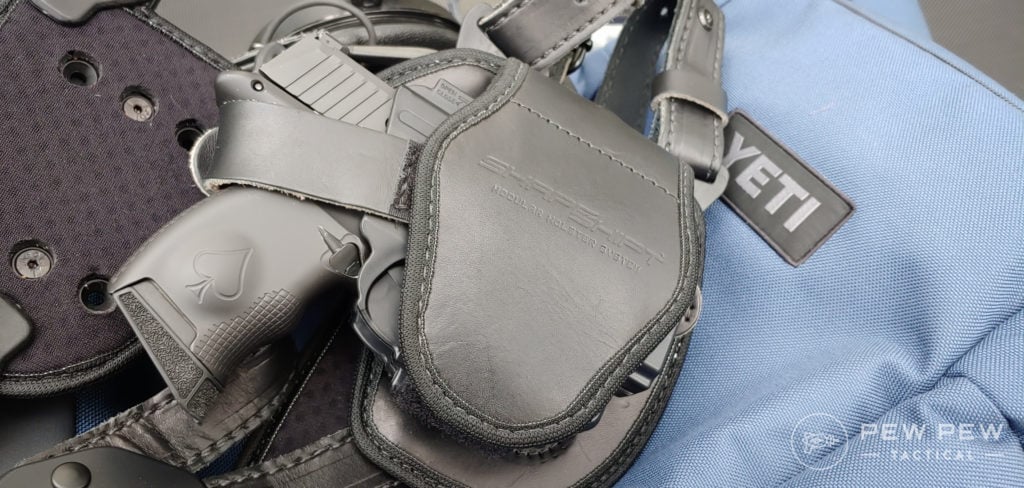 Every one of the holsters is well made and convenient to carry. The OWB slide belt holster, the shoulder rig, and the ankle rig are all stand-out designs. They are super comfortable and conceal exceptionally well.
I'm a big fan of OWB carry, and the OWB slide holster gives you an OWB option that is both extremely comfortable and concealable. A full-sized Glock 17 disappears under a T-shirt and is quite comfortable. It's supportive and easy to draw from.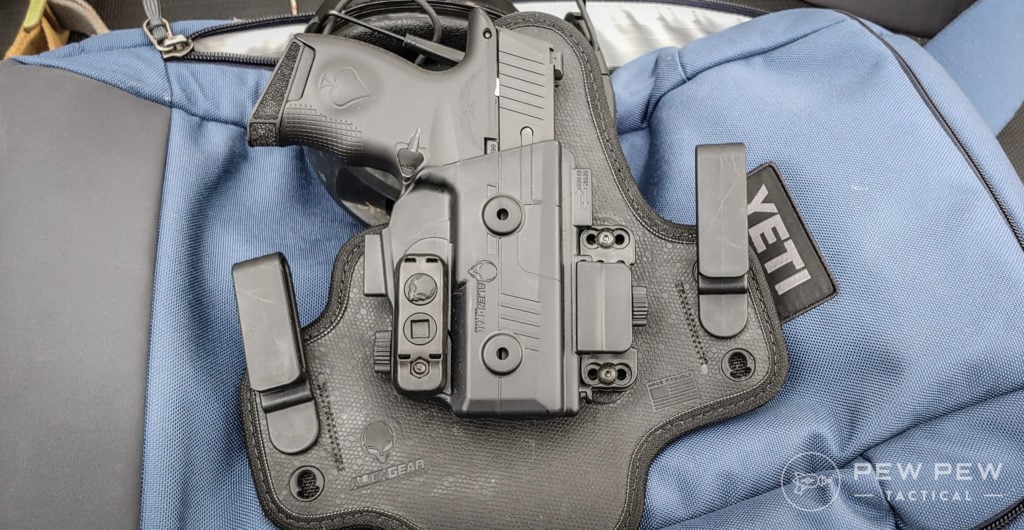 The AlienGear ShapeShift shoulder rig is one of the best. It's a mix of leather and synthetic materials that's highly adjustable.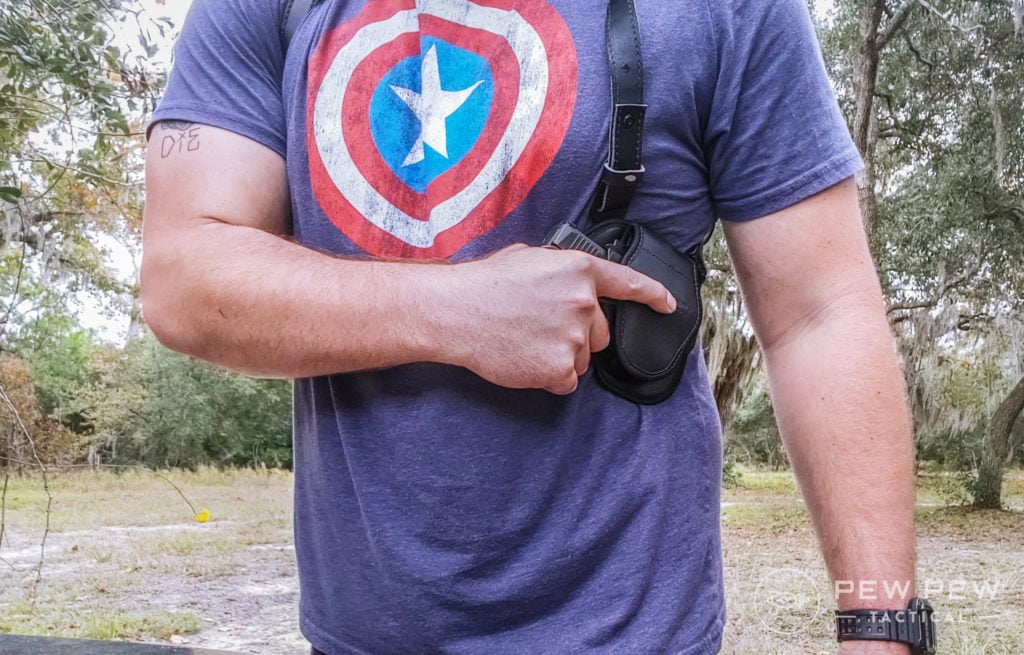 It also flexes and moves as you move. The rig comes complete with either a single holster or a dual holster for you, John Woo fans.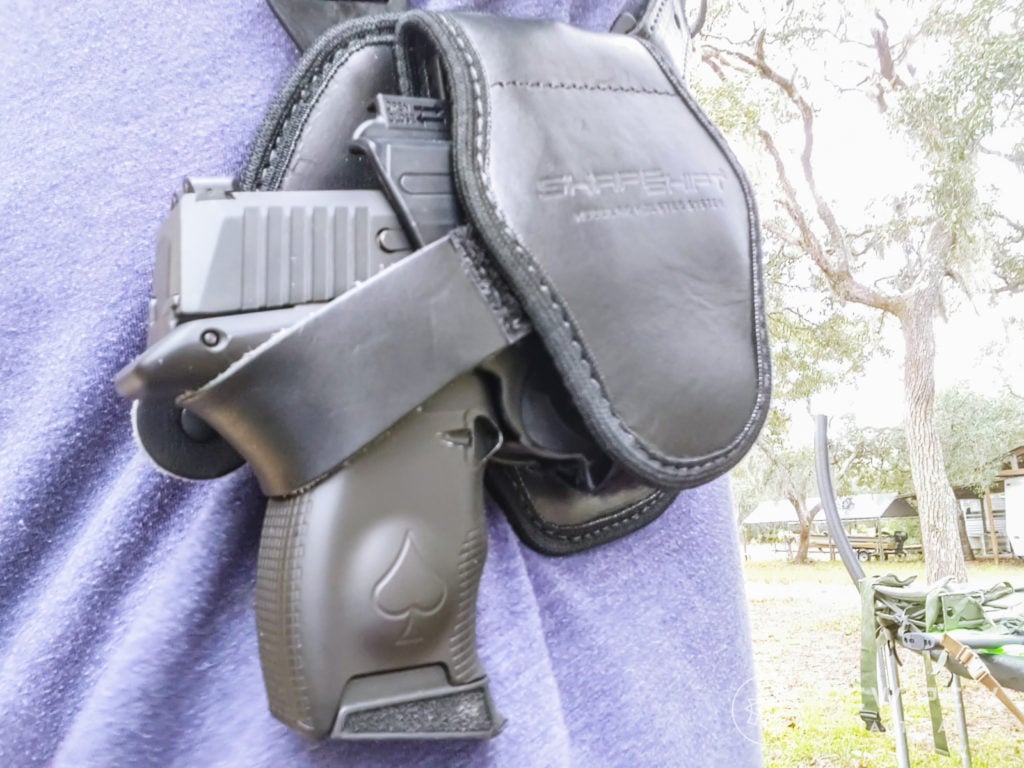 You can also attach an off-hand portion that allows you to carry a spare mag or two. The holster also comes with tie-downs that attach to your belt and keep the rig from moving too much and revealing itself.
I typically hate ankle carry, but the AlienGear guys convinced me to give it a try. While their Ankle expansion pack is more significant than most, it's also the most comfortable and supportive ankle carry system I've ever seen.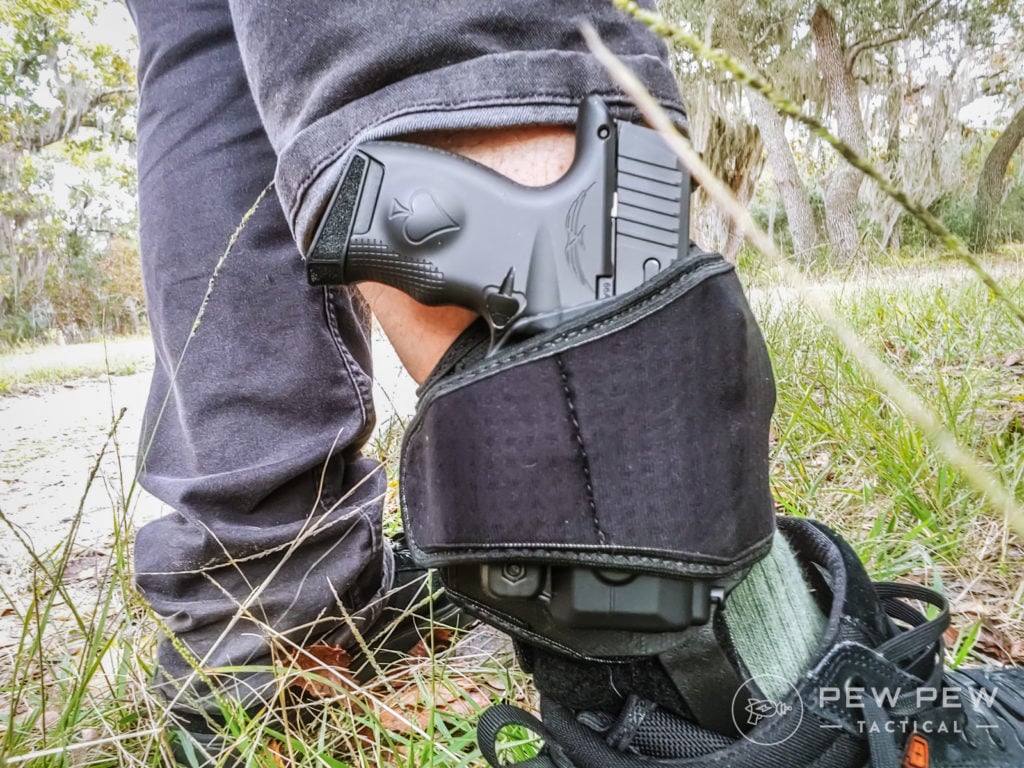 It's a two-piece system with one piece that wraps around your heel and foot and another portion with a rigid bar that connects to the sock and provides even more support.
The AlienGear Shapeshift system comes in individual holsters and sets as well as a four-piece Core system that comes with two OWB and two IWB options. Expansion packs and shells are sold separately.
100
at Amazon
Prices accurate at time of writing
Prices accurate at time of writing
It's a different take on the Universal holster and certainly not what we'd traditionally call a Universal holster. However, I think in its own unique and fresh way, it's the most valuable of the universal holsters.
Carry Anything at Anytime
Multi-fit, universal holsters often suck.
They typically offer poor retention, poor attachment options, and generally are junk. That's just a fact in the gun world.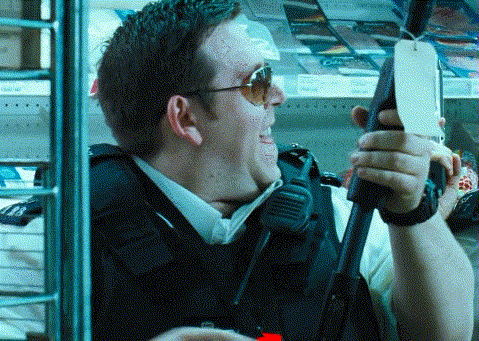 Like most things, including holsters, there is no universal rule. As soon as you say something is specific, someone will create something to prove you wrong.
The five holsters listed above most certainly confirm that universal holsters don't have to suck.
What's your favorite universal holster? Have any that you love or hate? Want something specific…check out our Best Concealed Carry Holsters. Looking for something to put in your new holster? Then bop on over and read all about the Best Handguns for Beginners!