There's no denying how much we love the AR-15, but if you're looking for a rifle that's effective in almost every situation, you can't go wrong with a trusty scout rifle.  
These lightweight rifles are designed to be easy to carry and maneuver, and are still strong enough to pack a powerful wallop (most common load is .308).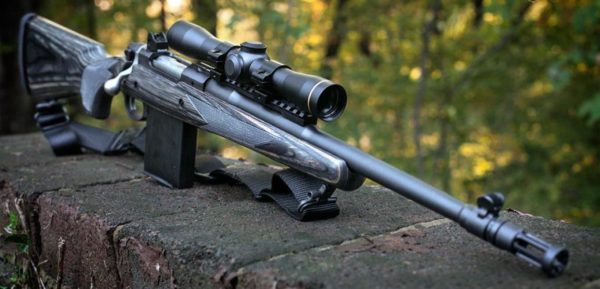 Because of their versatility, scout rifles have been successfully used as both home-defense weapons and hunting rifles.  That's not to say that scout rifles are better than the AR-15 in a life-or-death situation, but they will get the job done if need be.
For those of you who don't know, the scout rifle was the brainchild of firearms expect, Col.  Jeff Cooper.  Cooper envisioned a type of gun optimized for carrying on long treks and designed to work well in a run-and-gun situation.  An integral part of the scout rifle is the scout scope, a low-powered scope designed to increase precision and accuracy without inhibiting target acquisition.  
Scout scopes aren't bulky and heavy like the high-powered scopes you see long-distance marksmen using.  These scopes have a long eye relief and are designed to be used with both eyes open, so that the shooter is aware of their surroundings at all times.  
The average scout scope tends to have a magnification strength somewhere between 1.5 and 5X, although there are some that get as strong as 8X.  But, as a rule, using a scope stronger than 5X may start to inhibit your target acquisition.  
Today, we're going to look at some scout scopes that'll give you an edge when shooting your rifle.  For those of you who don't care about the fluff and filler and just want a list, there are the scopes that we're checking out today:
Things to Consider When Buying a Scout Scope
Choosing a good scope isn't rocket science, but there are some things to consider once you start shopping around for a scout scope.  For starters, you're going to want a scope that's durable.  It's not uncommon for scout rifles to get knocked about when they're lugged around all day, so you want a scope that's going to withstand a little bit of a beating without breaking.  
You also want a scope that's lightweight and doesn't throw the balance of your rifle off.  After all, scout rifles are meant to be used quickly and on the move.  If you've got a mammoth of a scope mounted to your scout rifle, your gun probably isn't going to be as mobile as it should.  
Aside from that, choosing a good scout scope shouldn't be much different than choosing any other scope.  To learn more about scopes, be sure to check out our comprehensive rifle scope guide.
And now that we've touched a little bit on scout rifles and their scopes, let's take a look at some of the best scout scopes that'll make you a crack shot.
Best Scout Scopes
1. FX-II Scout IER 2.5x28mm by Leupold
300
at OpticsPlanet
Prices accurate at time of writing
Prices accurate at time of writing
Weight: 7.5oz
¼ MOA click adjustments
Resistant to fog, water, and shock
It's hard to justify spending nearly $400 on a scope for your scout rifle, especially when that money could be spent giving your AR-15 a badass upgrade.  But when it comes to optics, Leupold is one of the most trusted names in the industry.  So $390 gives you a scope that's a step above the rest.
So, what exactly does $390 get you anyway? Accessibility.  The FX-II makes target acquisition a breeze.  It's got the perfect magnification strength, making it easy to line up a target from close to medium range while keeping both eyes open.  
Another great feature of the FX-II is its durability.  In fact, the scope has become quite popular due to the fact that it can absorb a lot of recoil without giving the shooter any problems.  Despite the scope's delicate look, it's actually quite rugged and can withstand unfavorable weather and being dragged forcefully across the range.
Like with all Leupold optics, the FX-II gives you a crisp, clear visual on your target.  Overall, it's a great forward-mounted scope for your scout rifle, despite being one of the more expensive ones out there.  The only real drawback about it, which isn't even that big of a deal, is the 22' field of vision at 100 yards, which isn't excellent, but is enough to get the job done.
2. UTG 2-7X44 30mm Long Eye Relief Scout Scope by Leapers
190
at Cabela's
Prices accurate at time of writing
Prices accurate at time of writing
¼ MOA click adjustments
Emerald-coated lens
Resistant to fog, water, and shock
The UTG 2-7X44 is the perfect scout scope for shooters who're trying to maximize quality without spending an arm and a leg for optics.  Its magnification goes all the way up to 7X, which is probably a little more powerful than you need for a scout rifle – but it's nice to have the option for more power when you need it.  
Simply put, the UTG is a brilliant scope that does everything it needs to do.  Target acquisition is an absolute breeze, and since the glass is fog proof and coated with emerald, you'll get a sharp set of eyes on your target every time you look through the lens.
Another cool perk of the UTG is its patented illuminated reticle feature, which you'll find very useful if you're ever shooting in a low-light setting.  But it's the scope's durability and hardiness that really makes it stand out.  You can spend the entire day popping off rounds at the range and you still won't have any problems holding zero with this scope.  
And after all's said and done, isn't perfect zero and target acquisition the two things that matter the most?
Overall, the UTG may not be one of the flashiest or best-looking scopes out there.  But what it lacks in aesthetics, it makes up for in superior functionality.  
3. Scout Riflescope 2.75x20mm by Burris
249
at Brownells
Prices accurate at time of writing
Prices accurate at time of writing
Weight: 7oz
Multicoated, glare-reducing lens
Heavy duty
Resistant to fog, water, and shock
Burris' Scout Riflescope is a superbly-designed optical designed especially for close to medium-ranged shooters.  It has a fixed magnification strength of 2.75X, providing just the right amount of magnification for superior target acquisition in a run-and-gun setting.  Because of this design, the Scout Riflescope can be used with both eyes opened without causing the shooter to feel disoriented or experience eye strain.  
When it comes to optics, the functionality and durability of the scope are obviously the most important things to consider when looking at what makes a great eyepiece.  But the fact that this scope's slimline body and sleek design makes any rifle look cool doesn't hurt.  
The Scout Riflescope is made for constant action, so you don't have to worry about recoil throwing off your accuracy.  In fact, the scope has a double spring-tensioned design which makes it more effective at absorbing shock than other scopes on the market.  Furthermore, the tube's rugged design is strong enough to take a few knocks around without cracking or malfunctioning.
Despite having a somewhat hefty price tag, the Scout Riflescope is a great gun to mount on your scout rifle.  Its Hi-Lume multicoating gives you a crystal clear view through the lens minus the glare, while also illuminating your reticle in low-light situations.  This, combined with the scope's overall hardiness, makes it a great optical for anyone who uses their scout rifle or carbine on the move.
4. Crossfire II 2-7×32 by Vortex
Best Scout Scope
130
at Amazon
Prices accurate at time of writing
Prices accurate at time of writing
Weight: 14.3oz
Multicoated, glare-reducing lens
Heavy duty aircraft-grade aluminum body
Resistant to fog, water, and shock
The Crossfire II is a scout scope that offers improved accuracy and quicker target acquisition for a fraction of the price of its competitors.  Its hardy body is made out of aircraft-grade aluminum, making the Crossfire II suitable for the active shooter who may knock into a tree or two.  In addition, the scope's sturdy design helps it maintain zero while you squeeze off countless high-caliber rounds.
When it comes to durability, the Crossfire II pulls more than its fair share of weight.  The scope is strong enough to withstand harsh temperatures without fogging or malfunctioning.  And its tightly-sealed design means that you don't have to worry about moisture, dirt, or debris penetrating the scope and interfering with your vision.
The scope reaches a maximum magnification of 7X, which is probably a strength you won't need if you're using your scout rifle for close and mid-range targets.  The Crossfire II's main criticism is the image quality of targets when viewed at 7X, which is known to cause a bit of distortion.  But when used for mid-range targets, the Crossfire II is an incredibly useful scope that lets the shooter keep track of their surroundings while simultaneously zeroing in on their target.
And if that's not enough reason to like the Crossfire II, it also provides top-notch vision when used in low-light settings.  Truth be told, you probably won't come across another quality scout rifle that can do what this one does for a cheaper price.  
5. 2-7×42 8.5-10.5" by AIM Sports
55
at OpticsPlanet
Prices accurate at time of writing
Prices accurate at time of writing
Weight: 14.5oz
Matte black lens
MIL-DOT reticle
Don't expect anything special from this scout scope by AIM Sports.  The fact that the scope doesn't even have a proper name should be a testament to how basic it is.  With that said, for a $55 purchase, this scope is surprisingly effective.
This AIM Sports scope doesn't come with much.  You won't be getting any aerospace-grade casing, illuminated reticles, and fog proof lenses with this one.  You get what you pay for, after all.  But what you do get is a purely functional scope that's hardy enough to handle your recoil and banging around while still giving you precision with every shot.
The biggest gripe that people have about this scope is its MIL-DOT reticle, which a number of people simply aren't a fan of.  But if you can get past that and you're able to adjust your scope to an optimal strength that works for you, you'll find this scout scope to be pretty sweet at hitting close to medium-ranged targets.  
Overall, this scope isn't for everyone.  If you're someone who's big on the finer, flashier equipment, you're definitely going to be disappointed with this basic model.  But if you're just looking for a generic scout scope that absorbs recoil while holding zero, this might be just what you need.  
Fittin' the Perfect Scope on Your Rifle
That about covers it for scout scopes.  And since we've got one for every price range, you shouldn't have any problems slapping some optics on that rifle of yours.
Just remember, scout rifles are meant to be versatile.  It's a kind of rifle that's adaptable to a number of different shooting conditions, and that means that you want to find a scope that's adaptable as well.  Each of these scopes are able to adapt to harsh weather conditions, they're easy to adjust, and they're dependable – even after getting knocked around on a long trek.
With the right scout scope mounted, you can really transform that scout rifle into something fun to take in the field.  
That's it for today.  Be sure to let us know what you think about scout rifles and their scopes.  And if you're a fan of this type of rifle shooting, let us know what rifle and scope combo you're working with.