With the world the way it is currently, disposable masks and respirators have become worth their weight in gold.
We think they're an essential item in any survival kit (which is why we've reviewed the best respirators!) and everyone should have a few tucked away for emergencies.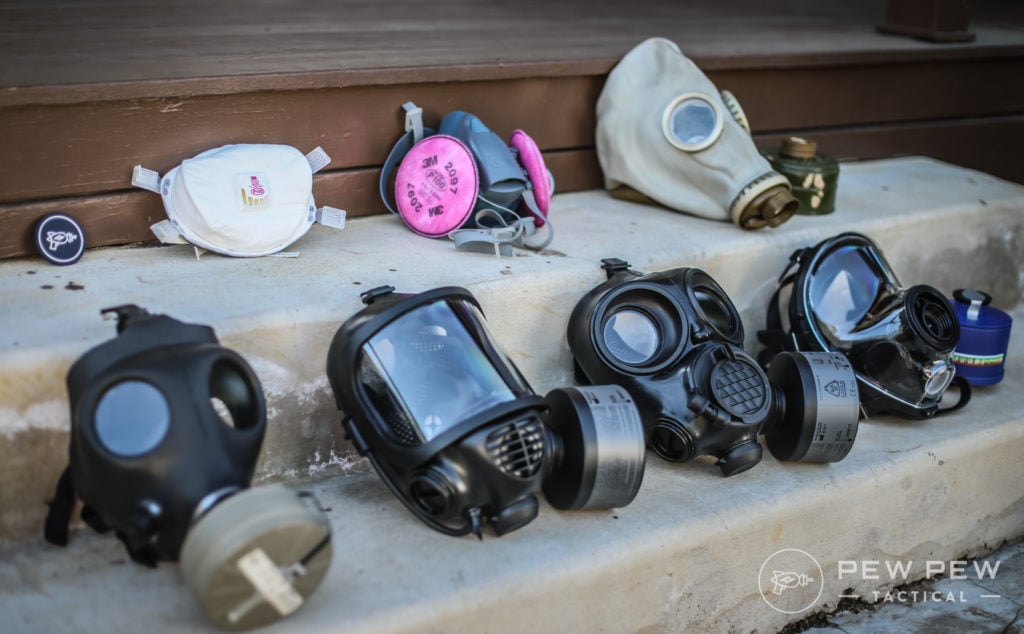 But when you don't want to roll up to the grocery store looking like you've survived a nuclear apocalypse, what should you wear?
Personally, I found myself reaching for a reusable cloth mask more often than not, mostly because they are more cost-effective and still provide some level of protection.
I wanted to find a reusable mask that is both effective and comfortable. Turns out, that's a lot harder to find than I originally thought!
Many masks are either effective but uncomfortable to wear, or simply not effective in filtering out even large water droplets.
So, for 4 weeks, I went down the rabbit hole of looking for and testing various reusable masks on the market. After extensive research and spending DAYS with each mask, I now have my favorites.
In this article, I'll go over CDC's recommendation for face covering, things that make a mask effective, and details of my findings. Lastly, I'll share with you the ones I've tested and would recommend.
Please note that I am no expert on this subject, but I have found some reliable sources of information that I find helpful for this topic. Feel free to share your findings in the comments below!
Table of Contents
Loading...
Cloth Mask Effectiveness
According to CDC studies, they've conducted controlled trials of cloth masks and medical-grade masks. What they found was that cloth masks were, obviously, less effective than medical masks.
However, the CDC still recommends wearing one as it "may provide some protection if well designed and used correctly."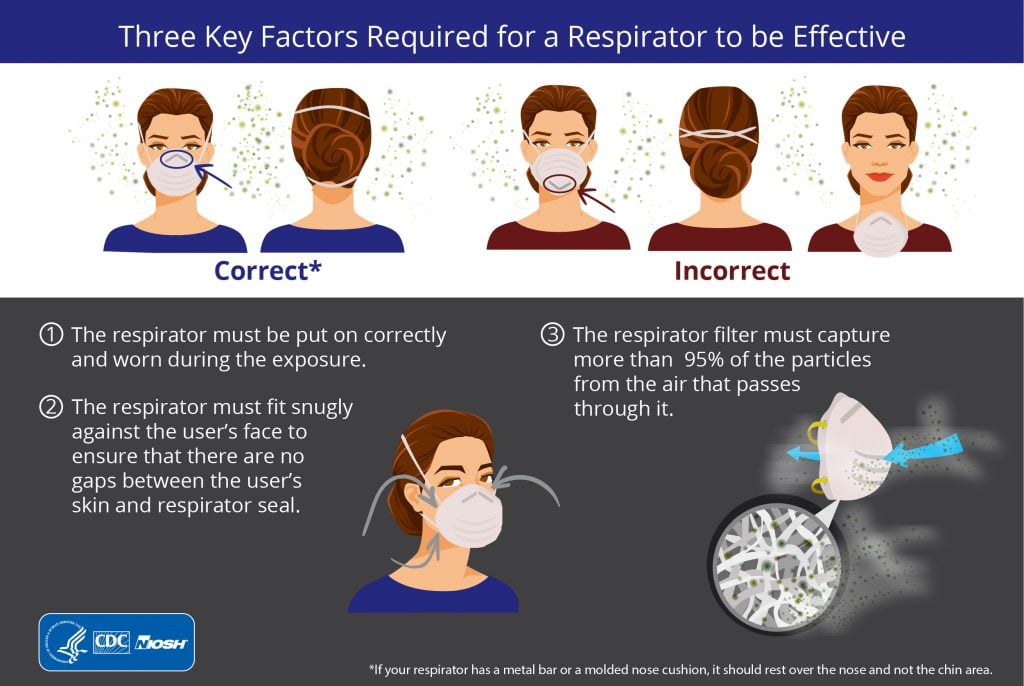 They added that, "Multilayer cloth masks, designed to fit around the face and made of water-resistant fabric with a high number of threads and finer weave, may provide reasonable protection… In community settings, however, cloth masks may be used to prevent community spread of infections by sick or asymptomatically infected persons, and the public should be educated about their correct use."
In the study, the CDC stated, "We found that the filtration effectiveness of cloth masks is generally lower than that of medical masks and respirators. The filtration effectiveness of cloth masks varies widely; some materials filter better than others. Filtration effectiveness of cloth masks depends on many factors, such as thread count, number of layers, type of fabric, and water resistance."
From my research, I compiled a list of checklist on what makes a reusable cloth mask worthwhile. Here it is:
Fits well and snug around my mouth and nose with no or minimal gaps
Include multi-layered, tight-knit fabric AND/OR has filter pockets
Allows me to breathe easily
Has comfortable ties or ways to secure around my face for long periods of time
Holds up after multiple washes
Filters or No Filters?
With coronavirus particles being as small as 70 nanometers, using fabric or having filters that can block smaller particles is definitely a necessity.
Research from Missouri S&T suggests that "more open" fabrics block 10-20% of particles. With several more layers of a HEPA filter, it will block 80-90%.
According to Dr. Segal, an anesthesiologist at Wake Forest Baptist Health in North Carolina, adding a filter may give yourself extra protection, instead of just to others.w
The fabric also matters a lot as some fabric gave almost no protection while others were even more effective than surgical masks, performing at "79 percent" according to Segal (N95 are filtered at 95%)
What's the best fabric for a cloth mask?
So what's the best fabric for a cloth mask, you might ask.
According to researchers, the best masks are made with 2 layers of guilder's cotton with a high thread count and a thick and tight weave.
One way to check the tightness of the knit would be to see how much light shines through it. That's one way we're going to test our masks in this article.
However, using more layers of fabric and filters may make it harder to breathe, so we've also included a few cloth masks with no filter pockets as an option.
How We Tested
According to researchers, how effective a fabric is in filtering out aerosols can be determined by its water-resistance levels.
So we took a spray bottle and held the mask up to it with a piece of glass on the other side. The spray bottle simulates someone sneezing and with the glass on the other side, we're able to see if any droplets made its way through the mask.
A Passing Mask Test
A Failing Mask Test
Another way to test how tightly woven a fabric mask is by conducting a light test by holding up the fabric to a bright light, according to Dr. Scott Segal from Wake Forest School of Medicine.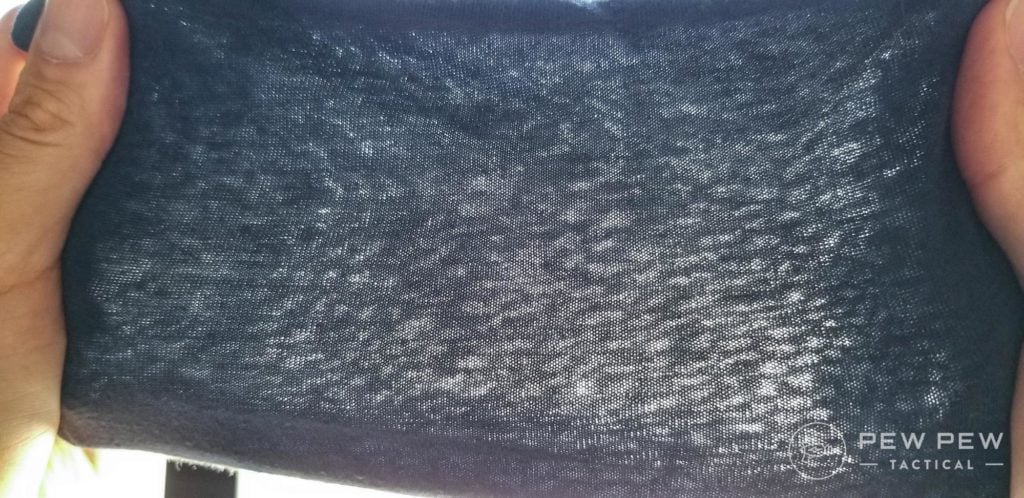 With that in mind, we conducted the water and light test on all our masks. What we found was the masks with filters did exceptionally well.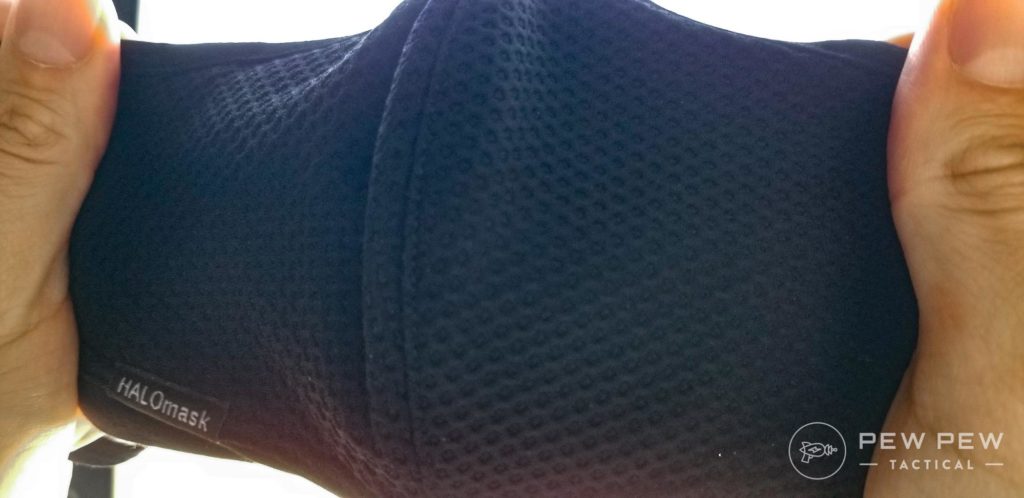 However, a few without filters also passed our test.
Here's a chart to show you which ones made the cut!
| | Water Test | Light Test | Filter Pocket |
| --- | --- | --- | --- |
| Auline Collection | Yes | Yes | Yes |
| eShatki | Yes | Yes | Yes |
| Halo | Yes | Yes | Yes |
| Radian | No | No | No |
| Sleefs | Yes | No | No |
| StringKing | Yes | No | No |
| Yamanman | Yes | Yes | Yes |
Best Reusable Cloth Face Masks
1. Halo Mask (Editor's Pick)
The Halo mask is my favorite cloth mask, as it checked off everything on my list.
Let's start with the pros: it fits snug around my face, custom sizes, resizable ear straps, includes custom filters with filter pocket, past our water and light test.
The mask comes with a few foam nose strips that can be attached to the mask to create a very tight seal around the face. I've washed the mask a few times with the nose strip, and the good thing is that it stayed on well!
According to the HaloLife website, the company claims that their proprietary SETA™ Nanofiber filters can capture airborne pathogens and contaminants at PM2.5 microns, and 97.9% at 0.3 microns–which exceeds the N95 filter standards.
As for cons, this is a pricier mask compared to some of the other ones but honestly, the difference is worth it if the purpose of a mask is protection.
They want you to use their custom filters for the best protection so that can add up.
Another potential downside is the breathability. Since the mask fits tightly snug around my mouth, I find that breathing with it is a bit more difficult, especially with the filter in.
With that said, this would still be my number one pick as it seems to offer the best filtration and has fewer gaps to let aerosols through.
Editor's Pick
7
at Halo Life
Prices accurate at time of writing
Prices accurate at time of writing
2. Auline Collection
I'm a fan of everything American made so I got this 95% Cotton/5% Spandex mask from Auline Collection off Amazon. Initially, the mask was a tight fit for my face. This could be from the earpiece not being adjustable.
But after wearing it for a few days, the straps loosened up a bit and it because very comfortable to wear.
Pros: Passed the water test and passed the light test by a milestone. I was so surprised with this mask as it did not let any light through, even when I put my Olight right up against it. It's made in the USA, has a filter pocket, and very comfortable even with long hours of use.
Cons: Did not have an adjustable ear strap, one size fits all, and does not include a nose piece.
10
at Amazon
Prices accurate at time of writing
Prices accurate at time of writing
3. Stringking
Stringking is a US-based sporting company that started to make cloth masks when COVID hit.
I really like their fit and the mask tested well under our water and light test.
Pros: The mask is well-made, affordable, American-made, the fabric used is very tightly woven, and comes in different sizes.
Cons: Some of the drawbacks are that it doesn't have a filter pocket and the ear straps are not resizable. Also, it didn't pass our light test which is a big deal, considering that protection from aerosols is the point.
6
at Stringking
Prices accurate at time of writing
Prices accurate at time of writing
4. Yamanman
I found Yamanman masks from the great reviews it had on Amazon and they weren't wrong!
This mask checks all the boxes in what we were looking for and contains multiple layers of tightly knitted fabric. This mask also came with a packet of four PM2.5 filters, which was nice.
Pros: Passed both water and light tests. Includes Adjustable ear strap, metal nose wire, filter pocket, multiple layers of cotton, comfortable to wear, easy to breathe in.
Cons: The main downside is the thickness. I find that this mask is much thicker than the other ones which made wearing it for longer periods of time very warm. This would not be a problem for those who live in cold conditions.
21
at Amazon
Prices accurate at time of writing
Prices accurate at time of writing
This brand caught my eye because they do donations of the same item to a youth shelter in America with every purchase. Sleefs masks are simple and comfortable to wear.
However, I put it on the bottom of my list because of a few things it was missing and it also did not pass my light test.
Pros: Adjustable ear straps, different designs to choose from, comfortable to wear for long periods of time, easy to breathe in.
Cons: Didn't pass the light test, sells nose strip separately, does not contain filter pockets, seems thinner than the other masks I've compared it to. The size of the mask was slightly too big for me.
15
at Amazon
Prices accurate at time of writing
Prices accurate at time of writing
Others tested:
Radian: A comfortable mask made from a soft jersey polyester/cotton blend fabric. But it did not pass my water or light test. The fabric was simply too sparsely knitted.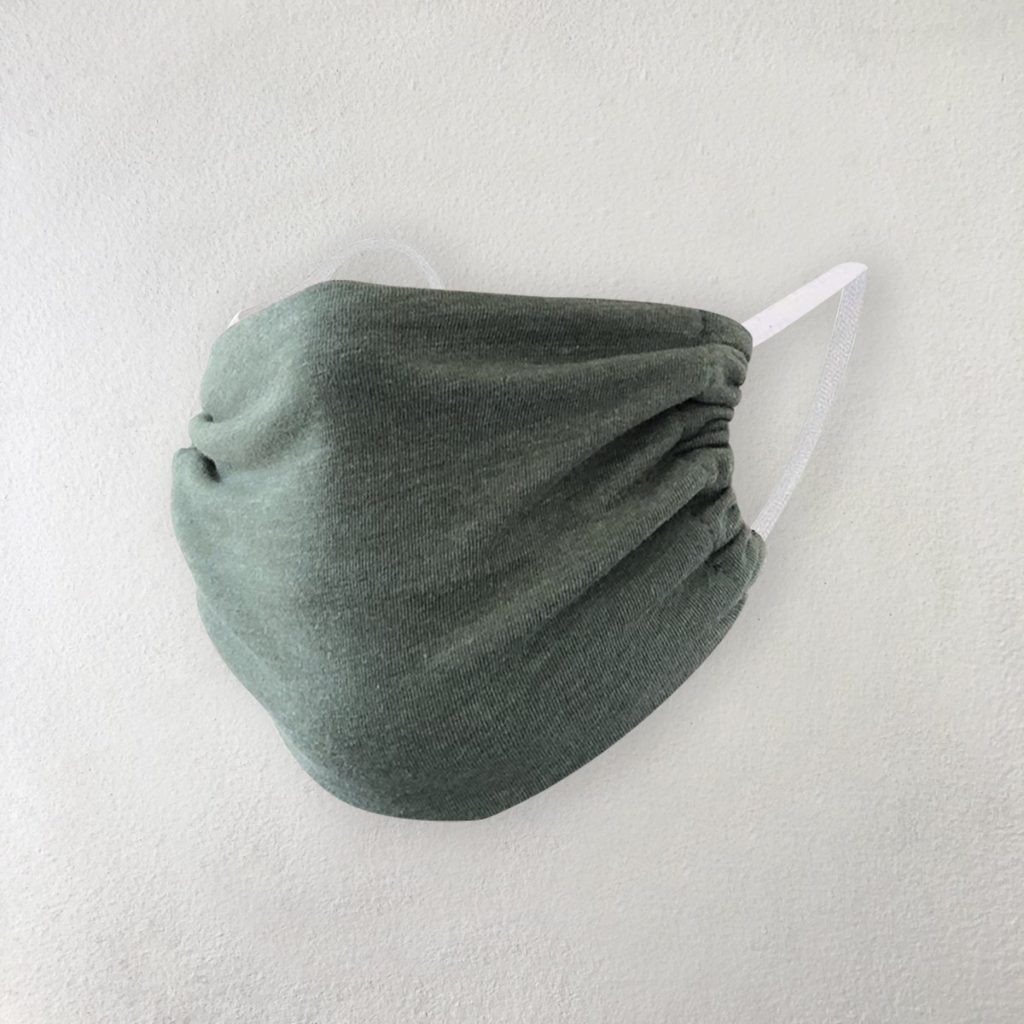 Conclusion
If I can only have one mask, it would be Halo. The thing is, most people will need more than one–something for quick errands, one for hikes, one for crowded Costco runs… you get the picture.
If you already have a fabric mask, great! Put it through the tests I did and see if they make the cut. At least, if they don't, you've now got a list of great masks to start shopping.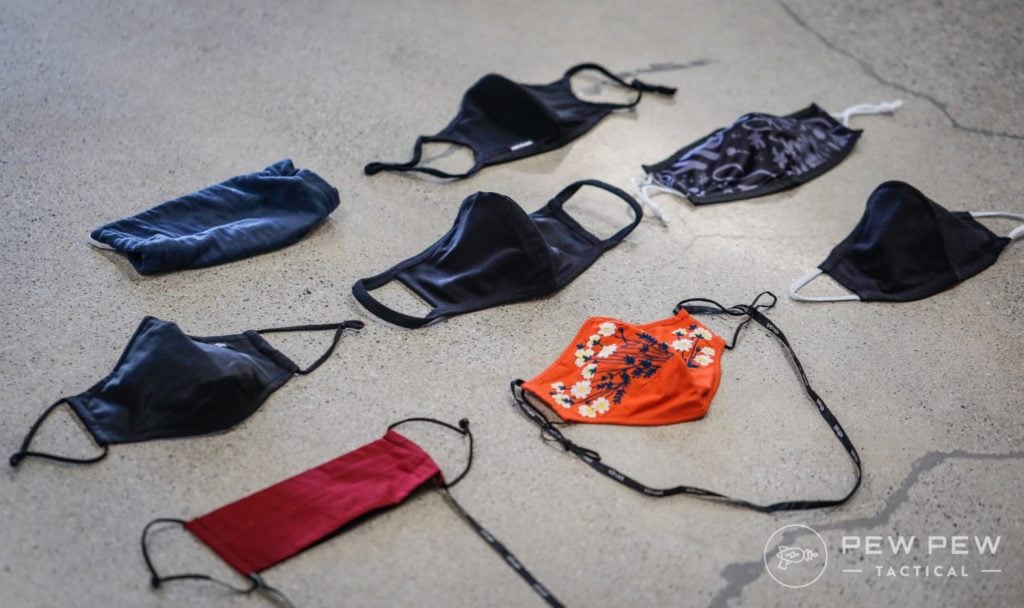 Ultimately, one size likely won't fit all. I hope you find my article useful in helping you decide how to pick the perfect fabric mask for you.
Special Disclosure:
Unlike disposable masks such as N95s and 3M respirators, reusable masks are NOT regulated but the FDA nor are they CE certified. They are not recommended to be used for medical setting and my "tests" are not meant to be scientific studies or experiments.
Please refer to the CDC for more information regarding proper face coverings.
Do you have a favorite cloth mask covering? Still looking for one that works for you? Share with us in the comments below! Looking for something more serious? Check out our review of the Best Gas Masks and Respirators!