At this point in time, is there anything missing in the AR-15 world?
If you can dream it, you can likely find it on an AR platform.
We got ARs that shoot every caliber known to man. Some that take MP5 magazines and even ones that cost $350!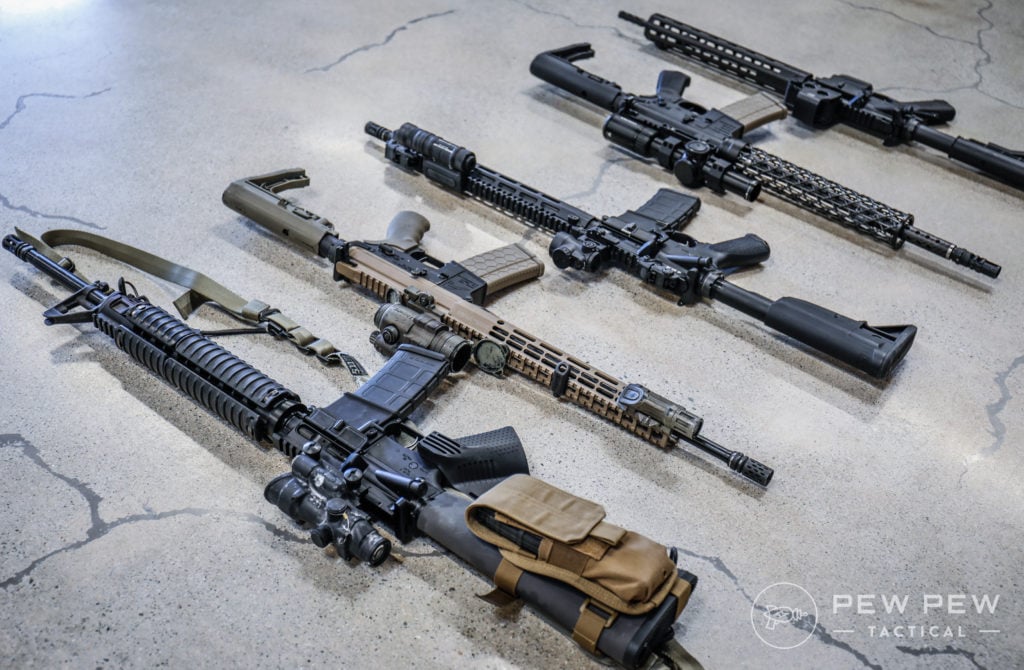 We got everything — and that includes an excellent selection of AR-15s at all price points! Today we are looking at the very best of the high-end AR world. 
These aren't just rifles that are expensive for the sake of being expensive. No, no, no, these are high-end AR-15s for a reason.
They add something or do something that no other company has done. And they do it well.
So keep reading to see some of our favorite high-end AR-15s on the market.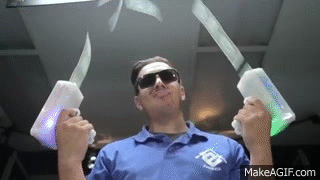 Best High-End ARs
1. Knight's Armament SR15 MOD 2
Knight's Armament is an appropriate name for a company that makes the modern Excalibur.
The SR15 MOD 2 is the true evolution of the AR-15. Eugene Stoner designed the AR-15 series, and he worked for Knight's, pushing the rifle forward until his eventual retirement. 

The "SR" in "SR15" stands for Stoner Rifle for a reason.
The SR15 MOD 2 is a modular rifle option for shooters demanding the very best from their AR.
Knight's Armament makes subtle changes to the platforms, driving them to the high-end marketplace.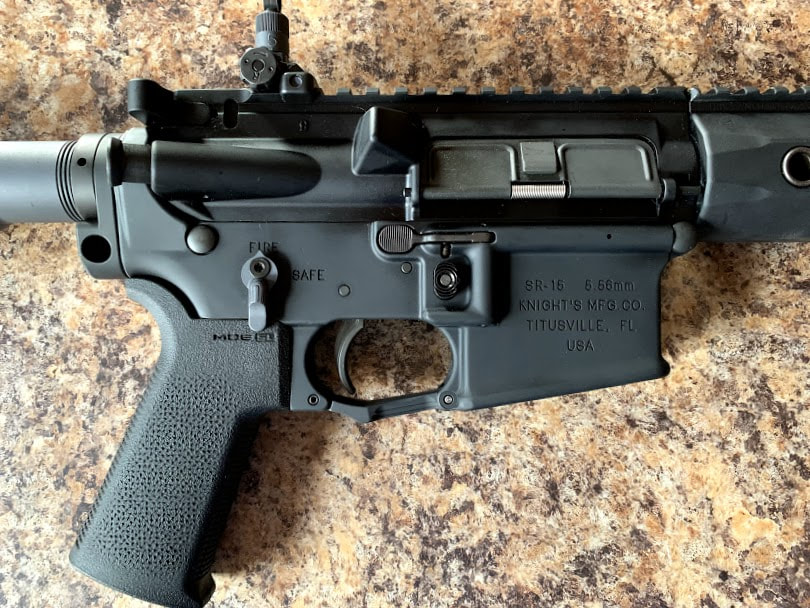 A round lug bolt design known as the E3 is an example of a subtle, but valuable, change.
The E3 design not only enhanced function but improves bolt life beyond industry standards. Knight further enhances their rifles with ambidextrous controls to include the bolt release, safety, and magazine release. 
SR15 barrels often see a service life measured in the tens of thousands of rounds. During that lifespan, the accuracy is rarely compromised.
Ash Hess won a DMR competition with an 11.5-inch Knight's upper, if that's any testament to what Knight's rifles are capable of.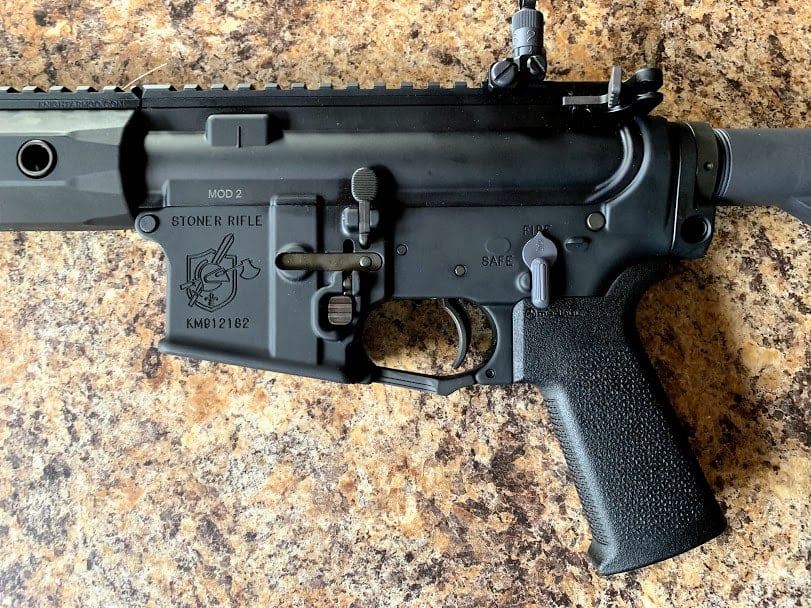 In my experience, Knight's rifles are the softest shooting guns on the market.
This is impressive when you consider they weigh under 7-pounds. They shoot the same way a finely tuned car handles, which is to say…awesomely.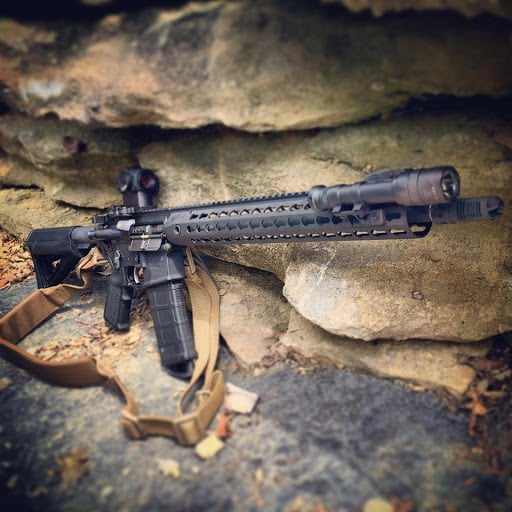 The SR15 MOD 2 has all the bells and whistles you expect.
A tough as nails URX4 M-LOK handguard, a 3-prong flash eliminator, and Magpul furniture. 
2900
at Brownells
Prices accurate at time of writing
Prices accurate at time of writing
2. Hodge Defense AU-Mod 2
Hodge Defense makes guns that are Holy Grail-like. Not only are they awesome, beautiful, and potentially used by Jesus…but they can also be impossible to find.
The Hodge Defense AU-Mod 2 isn't just a high-end AR-15 but a completely new take at a level we've never seen before. 
The magic comes in the material used to produce the upper and lower. Aluminum is the industry standard, but Hodge went with something called Aluminium Lithium. They're the only company using it. 
What's the benefit?
Well, the material is super corrosion resistant; it's nearly as strong as titanium and lighter than 7000 series aluminum.
The AU-MOD 2 was revolutionary enough that the US Army accepted it as part of the Soldier Enhancement Program. 
This doesn't mean the army will be rocking AU-MOD 2s — just that the Hodge is the best in class, and they'll use it as the yardstick to write rifle requests.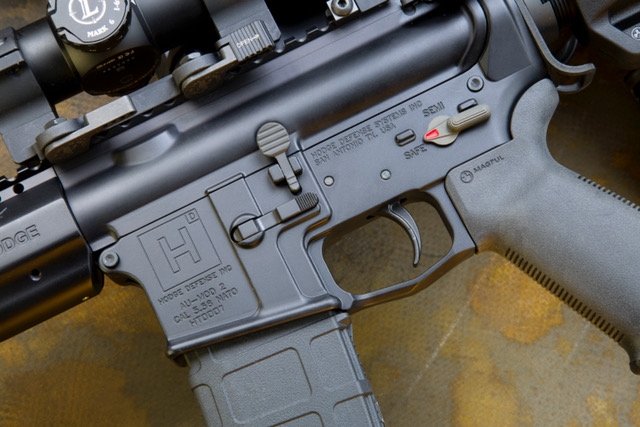 Beyond the upper and lowers and the special space material they use, the AU-MOD 2 brings a premium-grade gun with premium-grade components.
We get ambidextrous magazine releases and bolt catches, Magpul SL stock and pistol grips, as well as an M-LOK free-floating handguard. 
Hitting your target is important, and with the AU-MOD 2, accuracy is nearly unrivaled. You'll hit your target as long as you know how to pull the trigger the right way.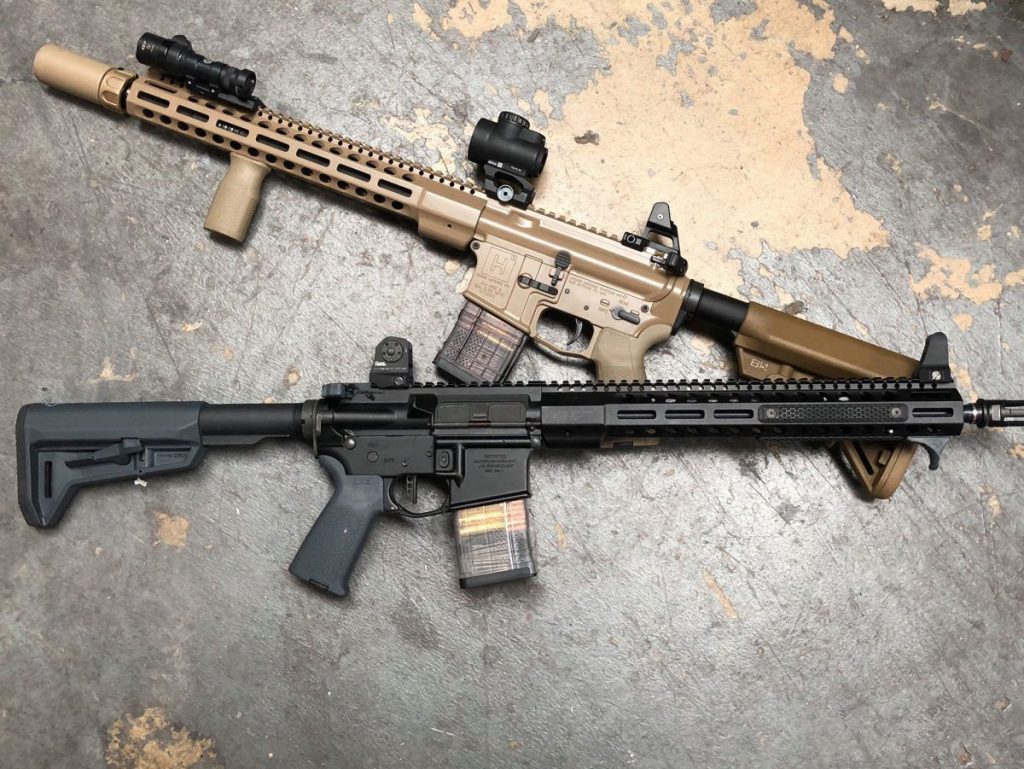 Reliability is also tough to beat, if not downright impossible. 
The gun will eat, and eat, and eat without much complaint.
Hodge Defense's AU-MOD 2 is a lightweight, easy shooting, and well-designed rifle for duty, combat, or flexing hard on the 'gram.
2850
at Operational Detachment Force
Prices accurate at time of writing
Prices accurate at time of writing
3. Sons of Liberty Gun Works M4-76
Sons of Liberty Gun Works, of SOLGW, is a rather new player in the high-end AR-15 world.
They don't mess around. Well, they do, but in a good way.
SOLGW makes high-end rifles at a more affordable price tag than most.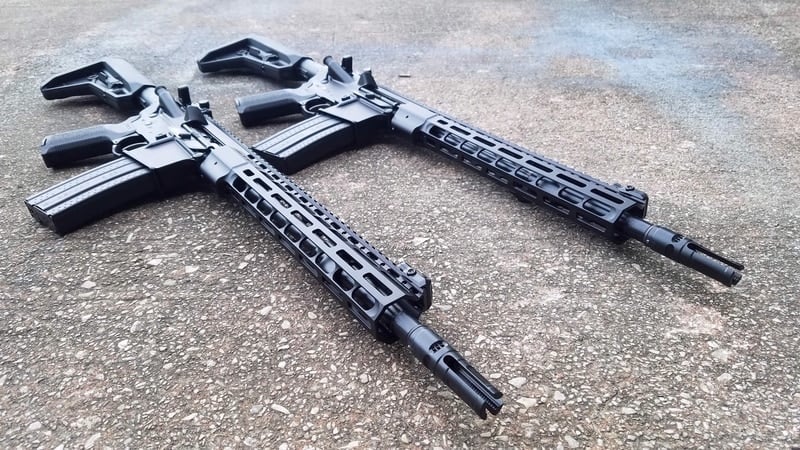 For under $2k, you can get the M4-76 from SOLGW.
That said, the M4-76 comes in tons of configurations with various options. 
However, the M4-76 is the base model that offers a lot of bang for the buck. The M4-76 does it right when it comes to a basic duty-ready rifle. 
On the outside, nothing looks fancy, but it's the inside that counts. That's what my mom says anyway.
The M4-76 is built lovingly with skilled hands and with undeniable expertise that you just don't see from many mass-produced rifles.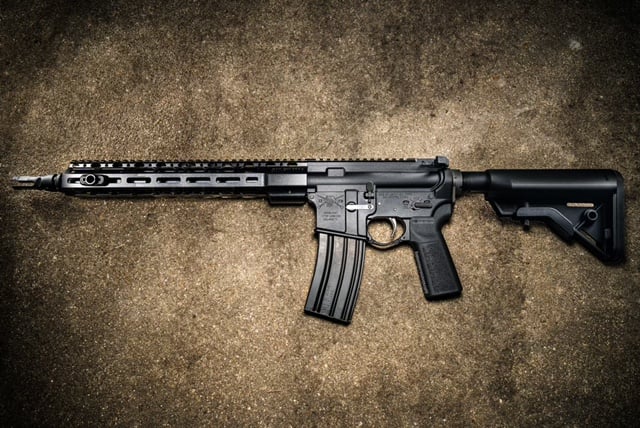 A free-floating M-LOK rail allows for multiple mounting points and stretches accuracy out significantly.
As much as I love Magpul stocks, I adore the B5 on the M4-76. It's more comfortable, provides a better cheek weld, and is rock solid when locked into position. 
Heck, SOLGW does this crazy thing where they even include iron sights on their rifles. Nuts, right?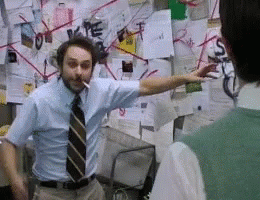 Why not spend hundreds to thousands of dollars for a rifle you can't shoot until you spend another hundred on iron sights?! 
Quality control is strict and allows only the best rifles, uppers, and lowers to pass through SOLGW.
At the same time, their various packages give you an awesome rifle at a great price point. 
1776
at Brownells
Prices accurate at time of writing
Prices accurate at time of writing
4. Lewis Machine and Tool New Zealand Reference Rifle
I'll never understand exactly how the Common Wealth labels rifles, but in all fairness, I also don't understand how the US Military does it either.
However, that doesn't stop the Common Wealth from adopting some seriously awesome rifles. 
My evidence being this very model.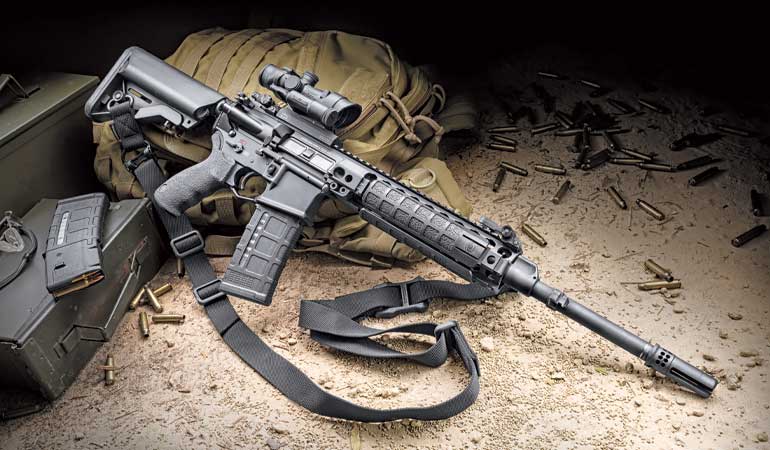 To say it was big news when American firm Lewis Machine and Tool got the New Zealand contract would be an understatement.
Even bigger news was that LMT was smart enough to make the New Zealand rifle available to you and me.
The New Zealand Reference Rifle was designed from the ground up to be a next-generation infantry combat rifle.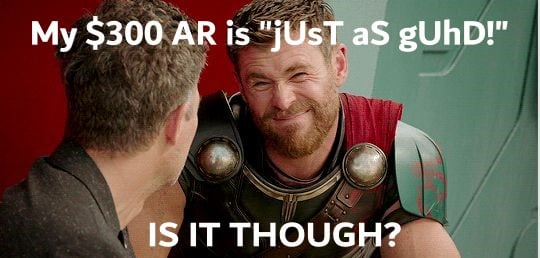 LMT built the NZRR on their famed monolithic rail platform. That means that the MPR is milled from a single piece of aluminum, and the barrel locks in the side of the receiver via two locking bolts.
Removing the barrel and replacing it will cause a minimal impact shift and allows the end-user to swap barrels of various lengths with ease.
The lower receiver is an LMT MARS-L receiver that grants users near complete ambidexterity. You get an ambi bolt catch, magazine release, and safety, making the gun-friendly to even the wrong-handed. 
LMT's quad rail may turn some off, but it's still the strongest system on the market.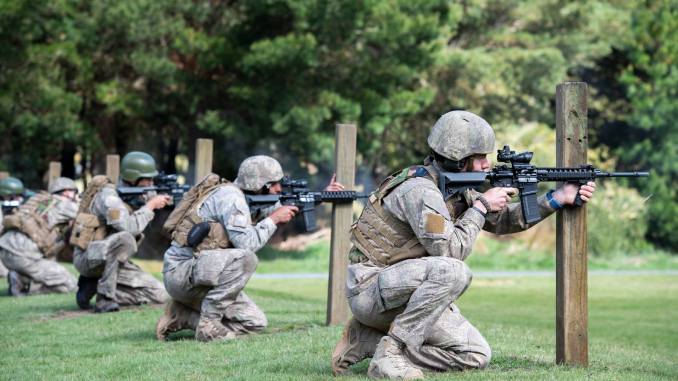 The final touches are metric flip-up sights, a Surefire WarComp, and a bayonet lug. Bayonet lugs are a must-have, of course, because pokey things never get old. Like any LMT firearm, the New Zealand Reference Rifle is extremely well made.
Durability, reliability, and accuracy live up to the expectations that LMT has set forth in their previous rifles.
New Zealand's rifle testing has also proven that the rifle is up to par. This is the only rifle on the list that's proven its performance with a military force, and there is something comforting to that. 
2520
at Brownells
Prices accurate at time of writing
Prices accurate at time of writing
5. Noveske9
Noveske is an old-school premium-grade AR manufacturer. By old school, I mean circa 2001…which for boutique companies is rather old.
Noveske, as a company, can join the military but can't quite drink yet.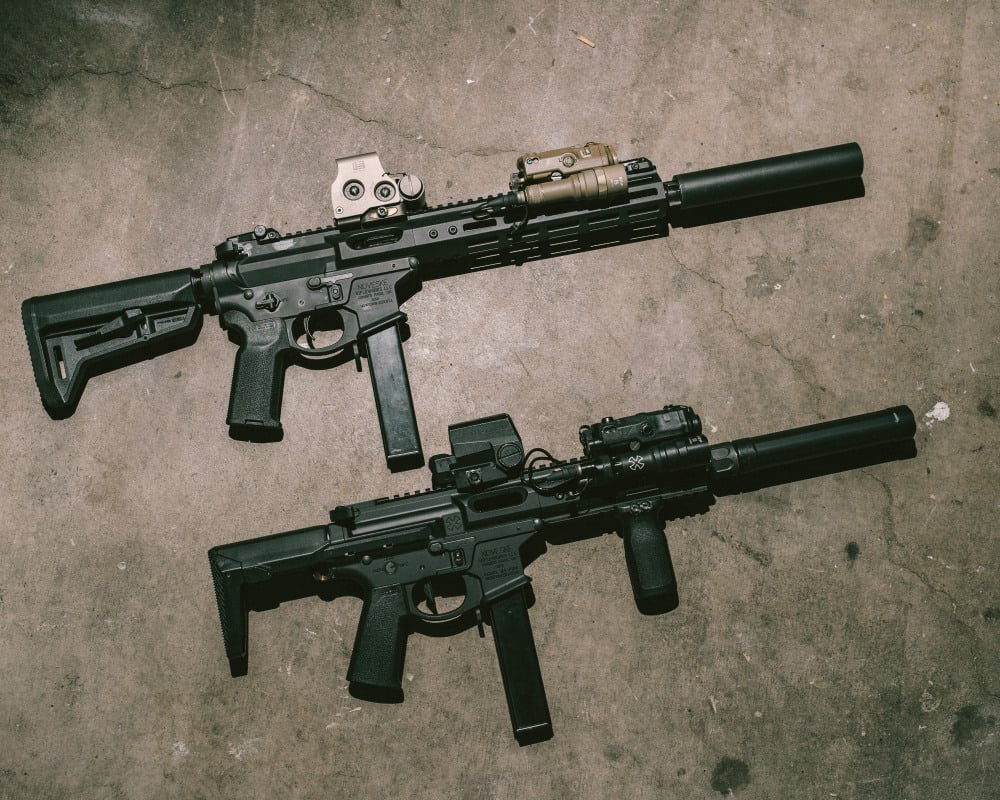 Noveske has made some amazing strides in the rifle community, and I can toss on pretty much any of their rifles on this list.
I chose the Noveske9 not only because it's a high-end AR-15, but it's one of the few high-end AR-based PCCs on the market. 
Pews are dispatched frighteningly fast from the gun's 10.5-inch barrel. That's longer than most but offers a greater sight radius, a slightly higher velocity, and more mounting space while being rather short and sweet.
Pistol and SBR variants are also available on top of a 16-inch barreled variant.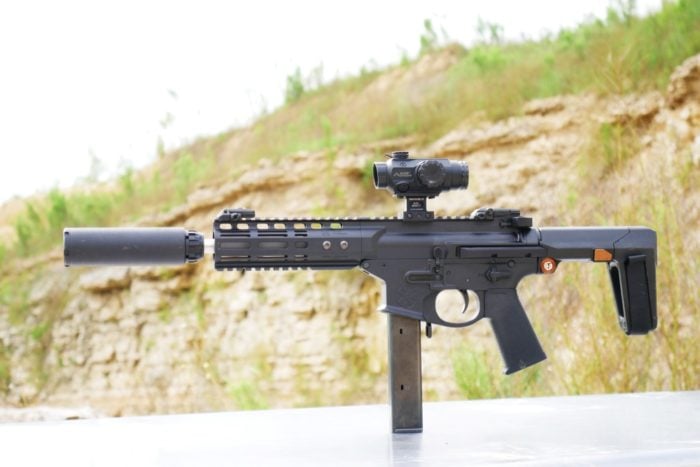 Noveske doesn't hold back with the Noveske9, and it utilizes sexy billet receivers.
Two magazine releases live on the lower receiver. One is a standard AR-15 type lower and the second is a paddle release placed behind the magazine. 
The paddle release is very SMG-like and highly functional.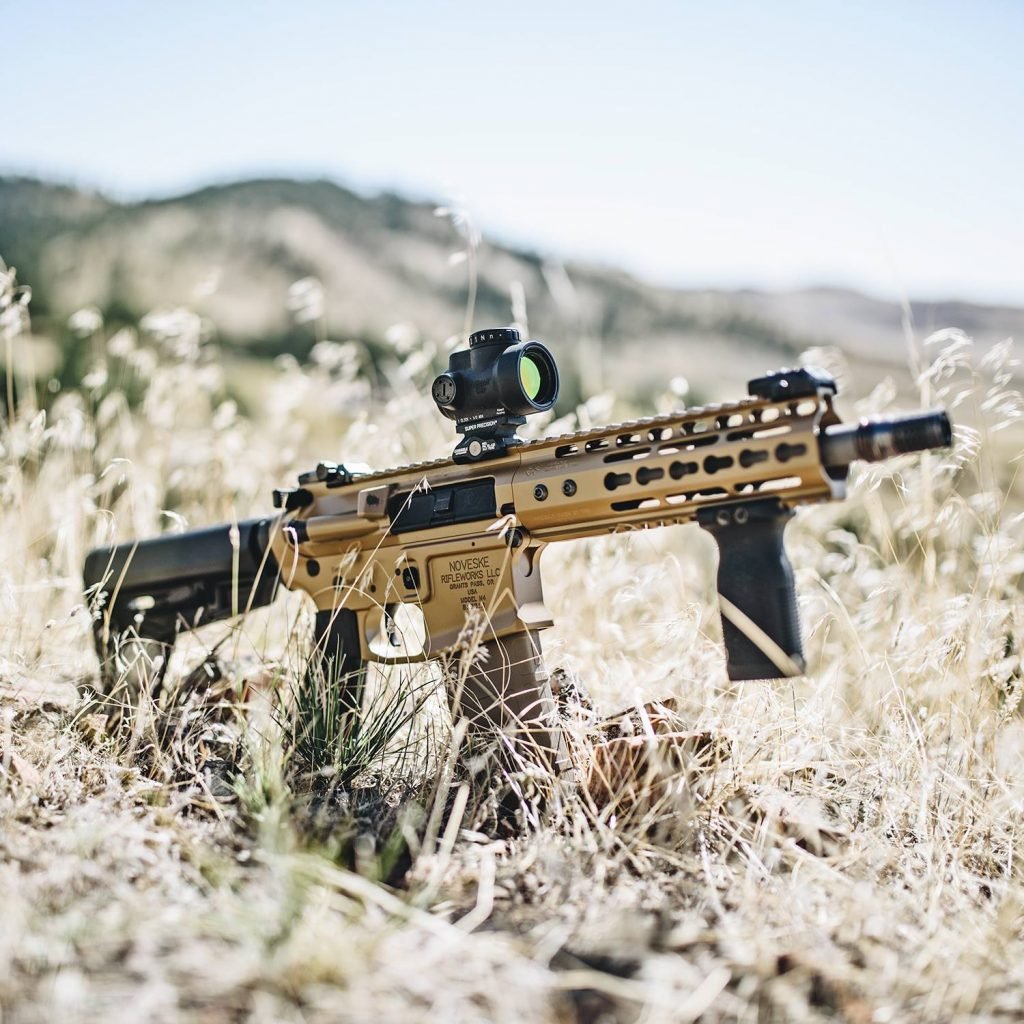 Colt-style magazines feed the gun. While Glock mags are more popular, Colt magazines are more reliable.
A Geiselle SSA trigger gives you an ultra-short and light trigger pull that results in a more accurate and fast-firing gun. 
Furniture-wise you get an SBA3, a MOE K grip, Geiselle Super Badass charging handle, M-LOK free-floating handguard, and ambidextrous safety.
If you want a top-of-the-line PCC, then the Noveske9 is the model to beat. 
2550
at Palmetto State Armory
Prices accurate at time of writing
Prices accurate at time of writing
Tried the Noveske 9? Give it a rating below!
6. Radian Model 1
The Radian Model 1 is without a doubt one of the more fascinating rifles on this list.
Pushing Stoner's original design forward might be a tried and true tradition of American Arm's manufacturers.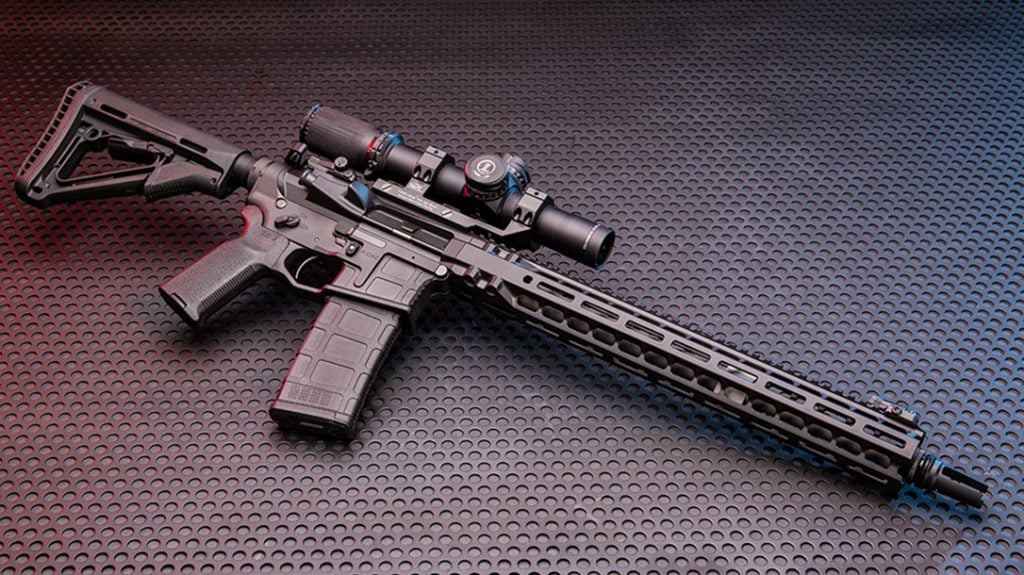 That said, Radian went above and beyond with the Model 1. 
Of course, we have nothing but premium components making up the core of the gun.
You get an AR Gold trigger from American Trigger Corporation, Raptor SD charging handle, Magpul furniture, an M-LOK handguard, dimpled takedown pins, and so much more. Radian outfits these rifles with nothing but the best. 
Radian guarantees a .5 MOA with Black Hills ammunition. That's a hefty claim to make, but Radian has made it for years and doesn't seem to have issues keeping that promise.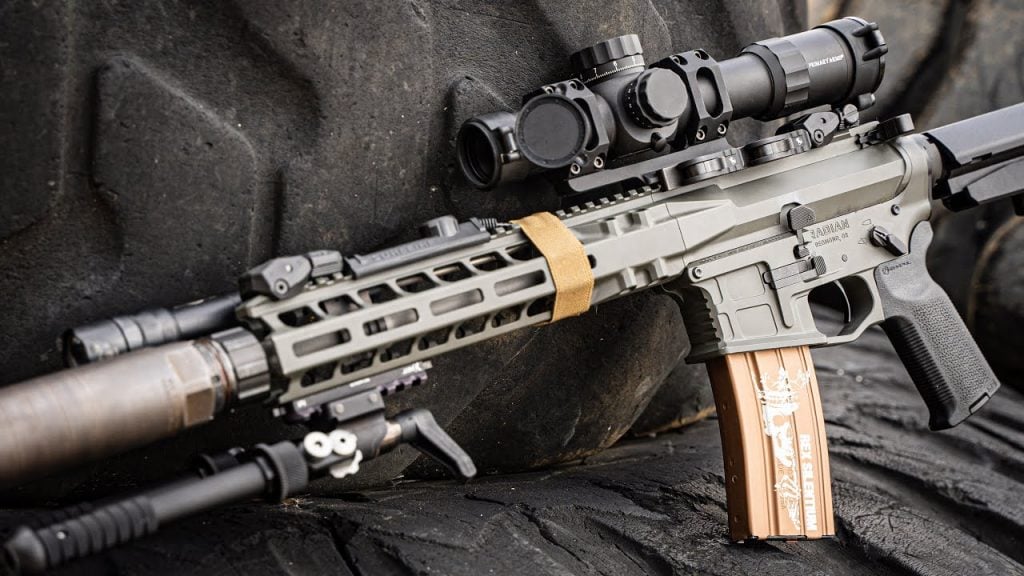 The upper and lower receivers are machine billeted and from 7075-T6 aluminum.
Radian's Model 1 has a short throw 45/90-degree safety, and the controls are entirely ambidextrous. That multitude of ambidextrous controls pushes the rifle into the next century. 
A-DAC is an important acronym to learn when looking at a Radian Model 1. A-DAC stands for Ambi Dual Control Action.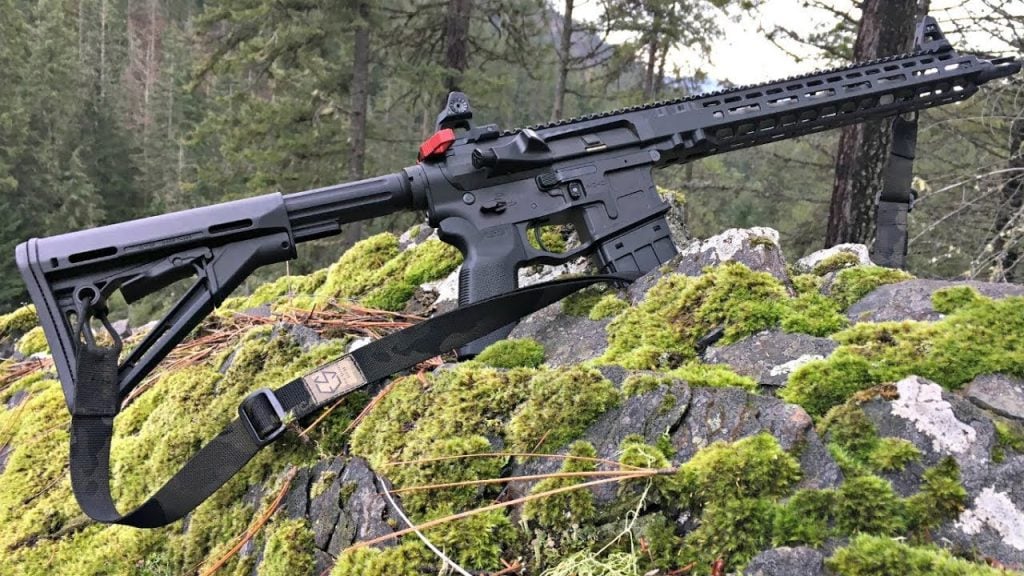 The magazine release button doubles as both a bolt lock and release. This allows you to manipulate both with the trigger finger and makes the rifle superbly ergonomic.
Admittedly it takes some time to get used to. Once you master it, you won't ever want to go back to a normal lower.
That can be said of Radian's ambidextrous controls as well. The Radian Model 1 is an excellent example of why expensive rifles are expensive rifles. 
2705
at Radian Weapons
Prices accurate at time of writing
Prices accurate at time of writing
7. Q Honey Badger
Q's Honey Badger is what happens when you want an AR to be roughly the size of an MP5SD…with much better performance.
This little fella is teeny tiny!
We're talking a short 7-inch barrel and an overall length of 26- to 31-inches, depending on the stock position.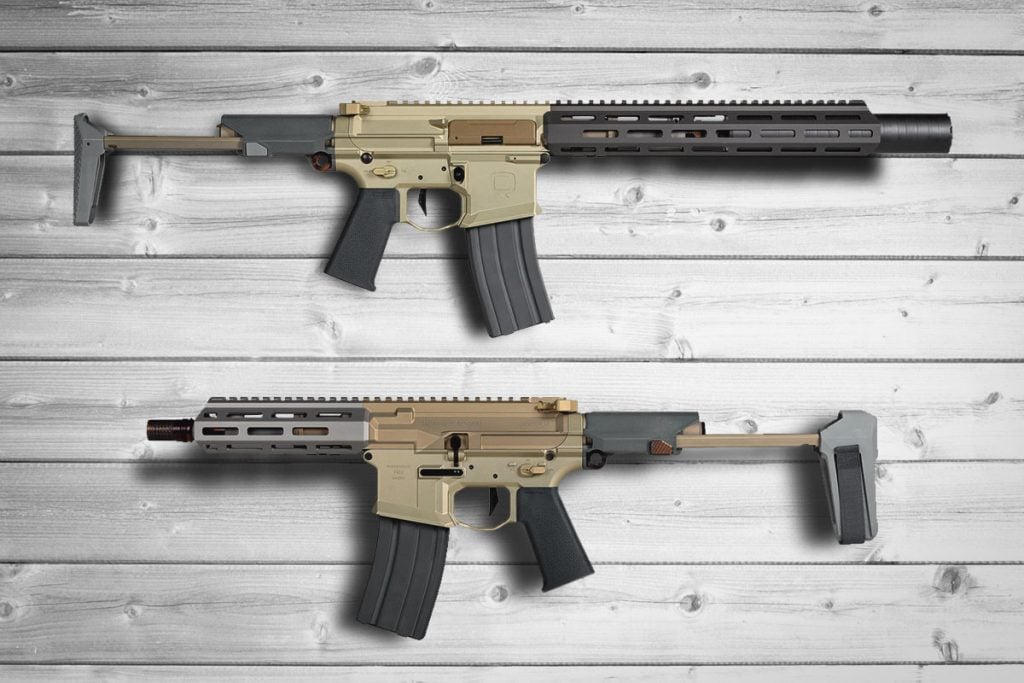 Honey Badger is an apt description for this mean little critter.
This lil guy was also at the center of a fight with the ATF late last year, as the ATF reclassified it as an SBR or a pistol.
After some confusing guidelines and an about-face in late 2020 from the ATF, we can tentatively call the Honey Badger with a brace a pistol…for now.
It also comes in an SBR configuration with a stock — but that stock, of course, pushes it into NFA territory.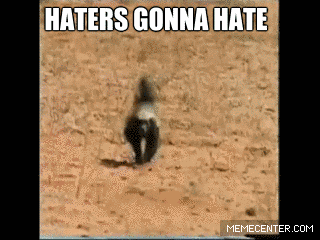 You have to go high-end when you go nice and short.
AR-style rifles tend to prefer barrels longer than 7-inches. For that reason, lesser manufacturers rarely master reliable shorties.
Q is a premium-grade shop that specializes in making monstrosities perfectly reliable. 
As the name implies, the .300 Blackout Honey Badger has some bite to it.
When a can is threaded on, the gun goes quiet but remains reliable and accurate.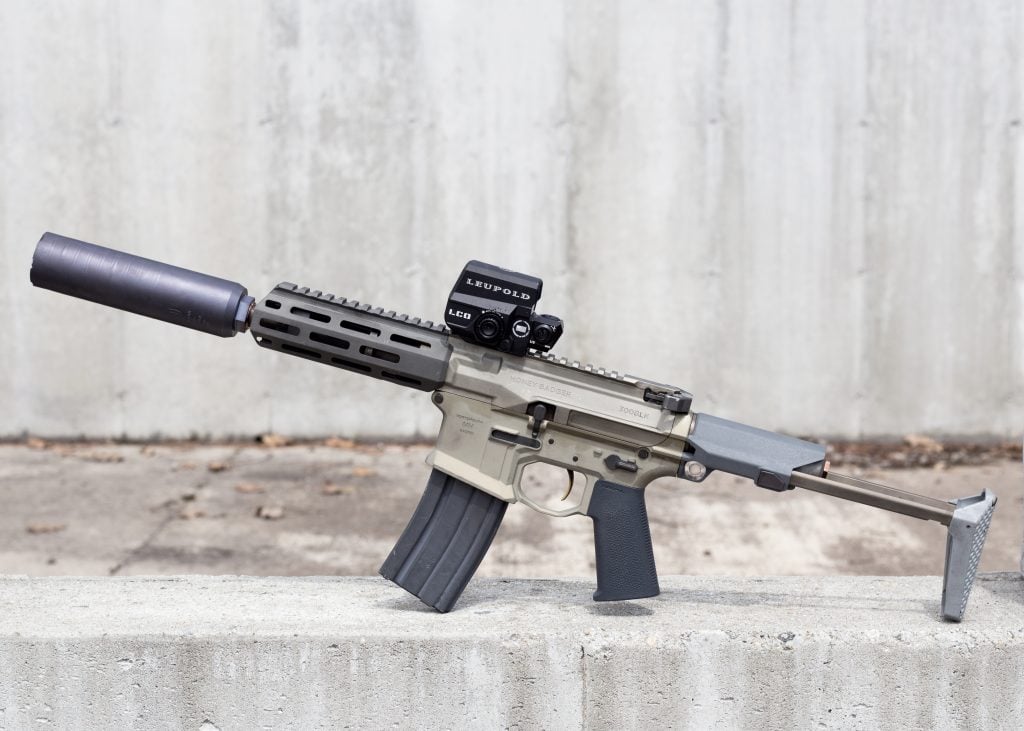 Q's Honey Badger wears a 70-degree selector switch, a three-position PDW type stock, a 2 Stage Match trigger, and a Q cherry bob muzzle brake. 
At only 5-pounds and some change, the Honey Badger is an SMG-sized rifle option that gives users a very high degree of versatility.
From several hundred yards to up close home defense ranges, the Honey Badger is a serious contender for best home defense weapon ever. 
Reliability and accuracy are top-notch, and while the ergonomics are different, they are far from bad. The Honey Badger is a fierce little fella that packs a lot of power in a short and light package.
2400
at Primary Arms
Prices accurate at time of writing
Prices accurate at time of writing
Conclusion
The massive AR world is home to rifles, pistols, and firearms at every price point. High-end AR-15s hold their place well in the industry, pushing the AR-15 design forward.
When you want the very best the AR-15 has to offer, your only option is a high-end AR-15.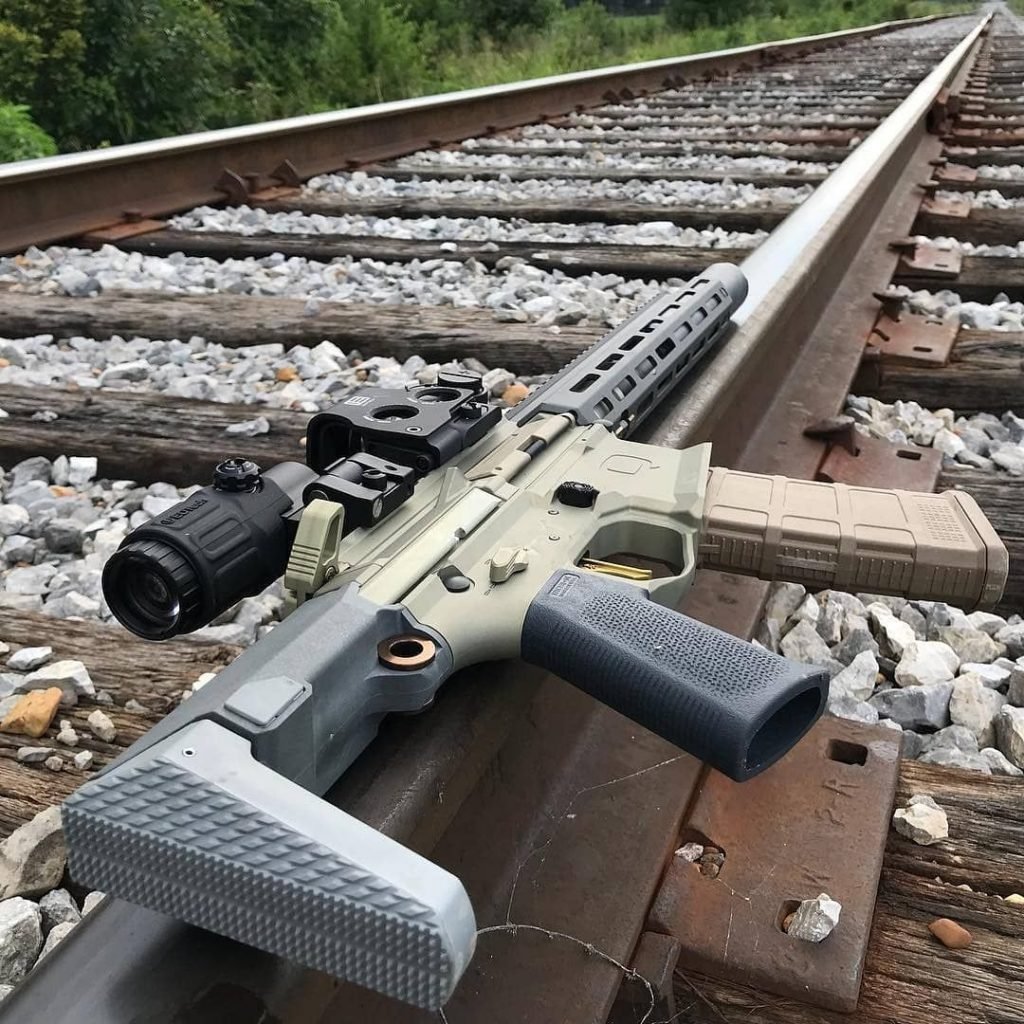 Top-of-the-line rifles offer greater degrees of reliability, accuracy, and durability. Do you need that level of reliability, durability, and accuracy? Well, that's up to you to decide.
The good news is, America offers you that option. (Some restrictions may apply. Not valid in all states.)
Are high-end AR-15s for you? If so, which ones? Let us know below. And if these aren't in the budget…there's always the Cheapest AR-15 Complete Builds!