Long considered an exotic and hard-to-find blade within the U.S., the past 10 years have witnessed an absolute explosion of karambit-style knives.
This unmistakable tool seems to have taken the knife world by storm, finding its way into pockets and bug-out bags throughout America.
But what is the history behind this mysterious blade? Where did it come from, and how does one use it?
Lucky for you, we have the answer to that and more. In this article, we'll cover how the karambit came to be, its advantages/disadvantages, and some of the best models on the market.
Keep reading to learn more about the karambit.
Table of Contents
Loading...
The Birth of a Tiger
It's the beginning of the 11th Century, and the world predominantly revolves around agriculture.
Indonesia is no different. There amongst the Minangkabau people of Western Sumatra, people resorted to using a curved blade for daily farm chores.
The long curve makes the blade perfect for deftly cutting rope, vines, or crops for harvest.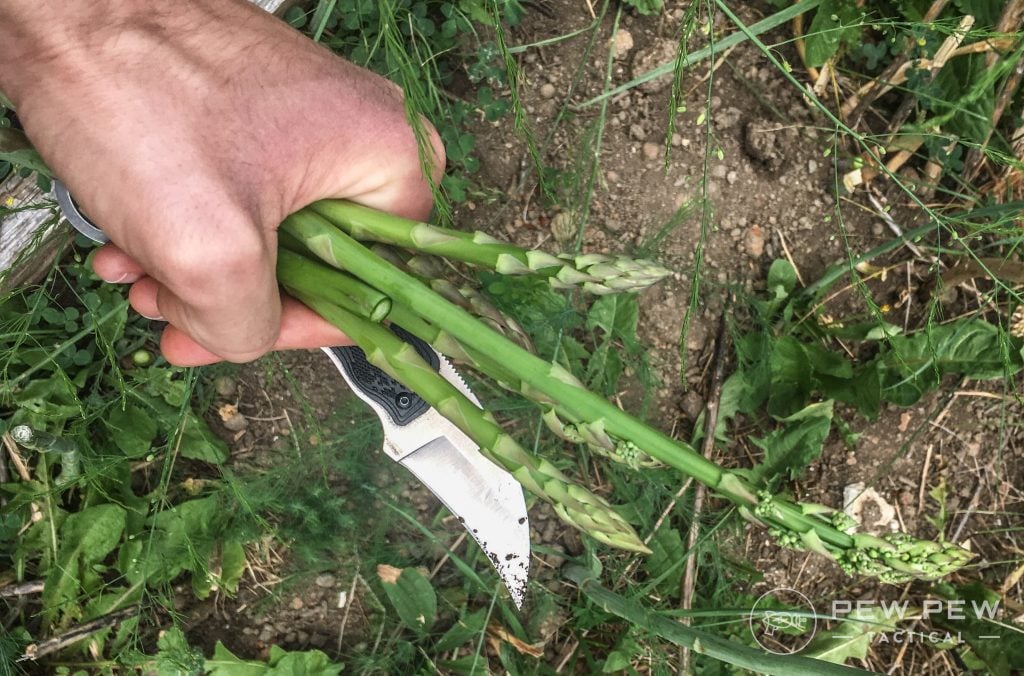 Commerce often spreads new ideas, philosophies, and products — the karambit is an exception to that rule.
It didn't take long for this curved knife to spread to Malaysia and the Philippines as well — further cementing its place in history.
Wherever there are humans, though, strife will follow.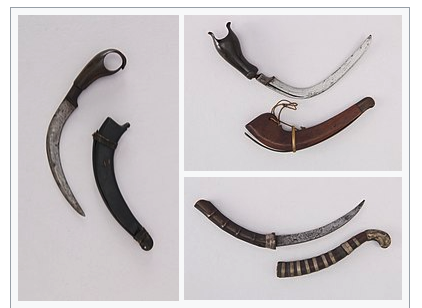 And when that strife takes the form of a murderous aggressor while you're out tending to the fields, you use what you have at hand to defend yourself.
In Indonesia, that was the karambit.
Tradition has it that the karambit was designed after a tiger's claw. When used in combat, this metal "claw" proved as aggressive as its namesake.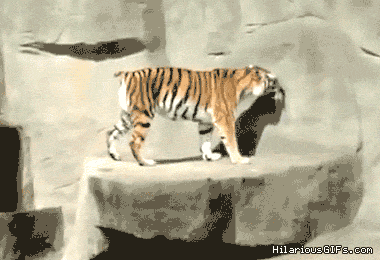 As the karambit spread throughout the Pacific, different regions soon grew to develop their own preferences for the type of "tiger claw" they carried.
Java preferred a much tinier blade, Pulau Madura ended up with an incredibly curved variant, and Sumbawa saw a monster of a blade.
Because of these geographical differences, you'll still find variations of the karambit on different islands throughout Indonesia to this day.
Growth of the Karambit in Self-Defense
Once it was discovered that the karambit made a formidable weapon, this curved blade soon began to be carried into battle as well.
A longer blade was used as a primary weapon. But should the blade break or the fighter become disarmed, the karambit functioned as the perfect sidearm.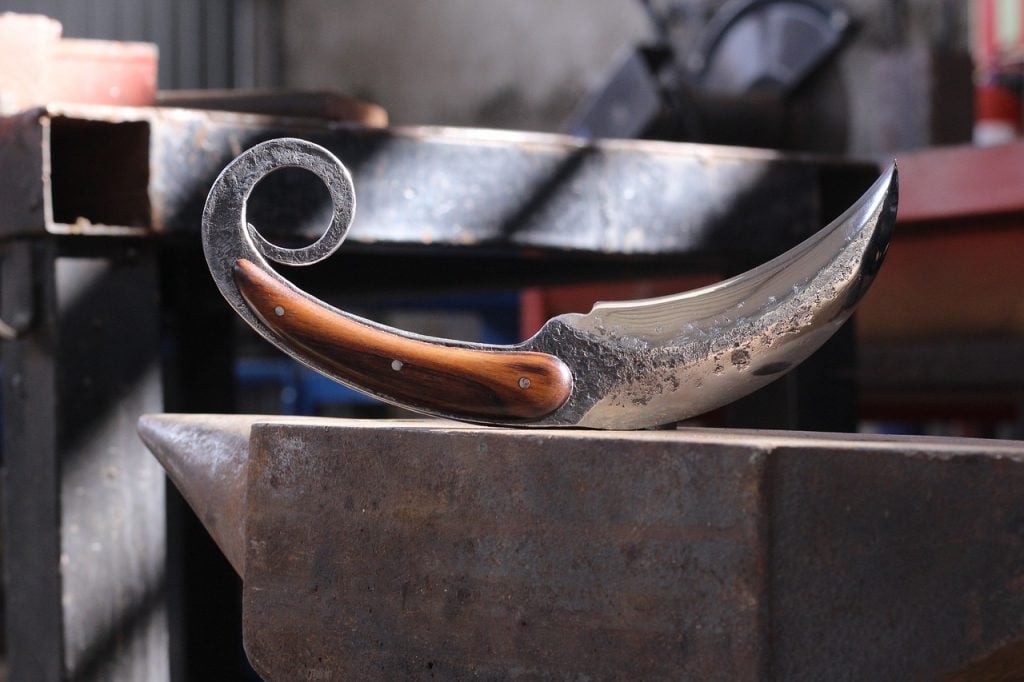 All's fair in love and war, and the region's fighters took such a mantra to heart.
Users of the karambit were known for smearing fast-acting poisons along the blade to kill opponents.
Martial arts of this region soon reflected such forms of warfare.
Pencak Silat – a particularly brutal form of close-combat fighting — focuses on immobilizing the hands over such short distances to prevent even the smallest nick from an opponent's blade.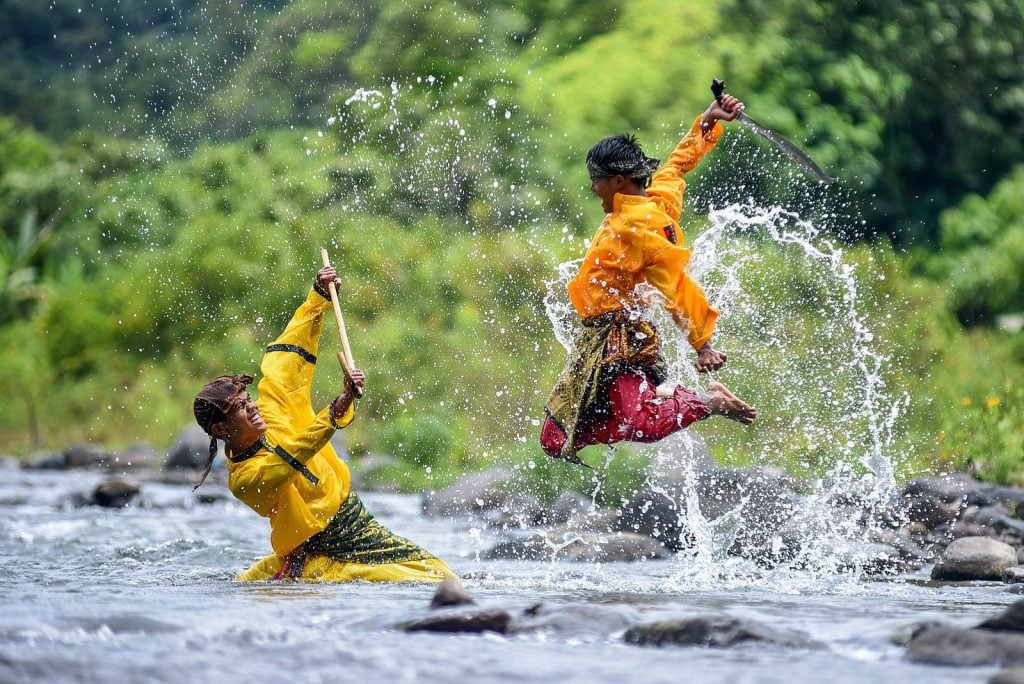 This prevalence of the karambit in battle soon caused other martial arts – including eskrima and kuntao — to incorporate it into their fighting styles as well.
Advantages to the Karambit in Self-Defense
A further reason that the karambit became as popular as it did was its effectiveness as a fighting knife.
The king of the karambit is easily Steve Tarani, and in his book Karambit: Exotic Weapon of the Indonesian Archipelago, he points out why these knives work.
The Karambit is Easily Concealed
Perhaps amongst the chief advantages of the karambit is that it can easily be hidden not only in the pocket but in the hands as well.
This gives the user the element of surprise.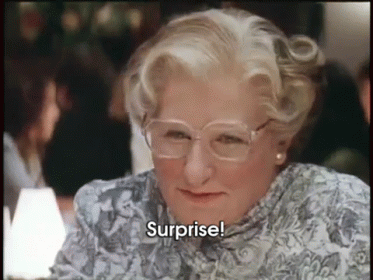 And even if the opponent does see you're armed, it becomes that much more difficult to see the blade's path since it's largely blocked from sight by the hand that holds it.
Incredibly Difficult to Disarm
Due to the presence of the safety ring at the far edge of the handle, it is incredibly difficult to disarm an opponent who is holding a karambit.
The ring thus acts as not only an excellent safety device (e.g., keeping the blade from slipping onto the user's fingers) but also as a form of "theft deterrence."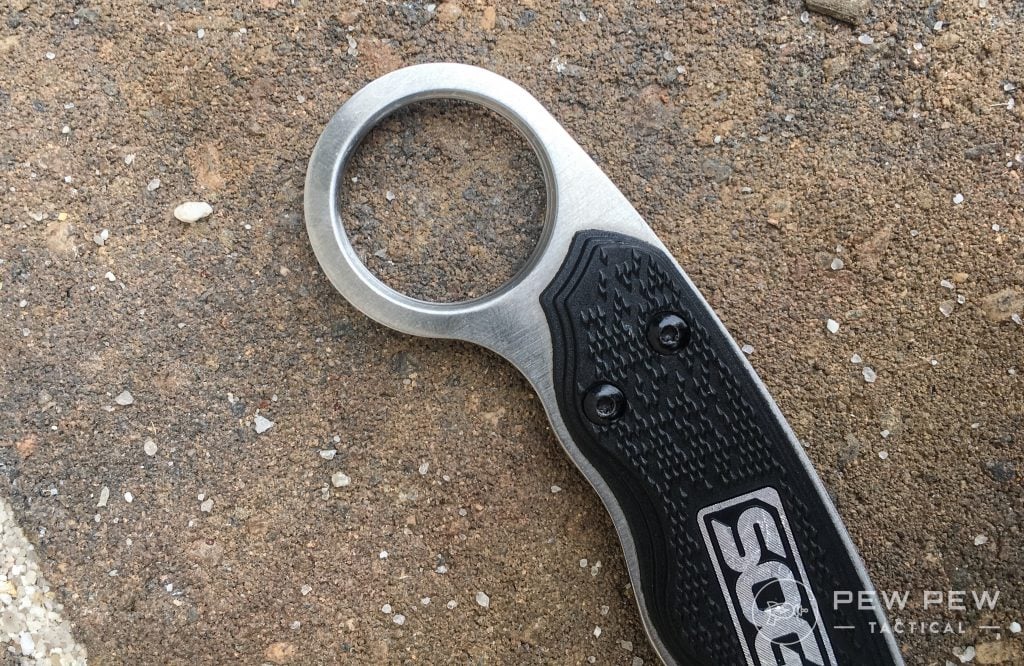 This helps make it so that even somebody with a weak grip can wield this blade confidently.
In day-to-day use, the safety ring also helps to make it so that the blade can be used successfully while cutting objects at awkward angles with little fear of cutting oneself.
Ability to Change Fighting Range Without Movement
The karambit can either be held with the handle in the fist – what's referred to as the "retracted position" – or it held with the blade extended, the "extended position."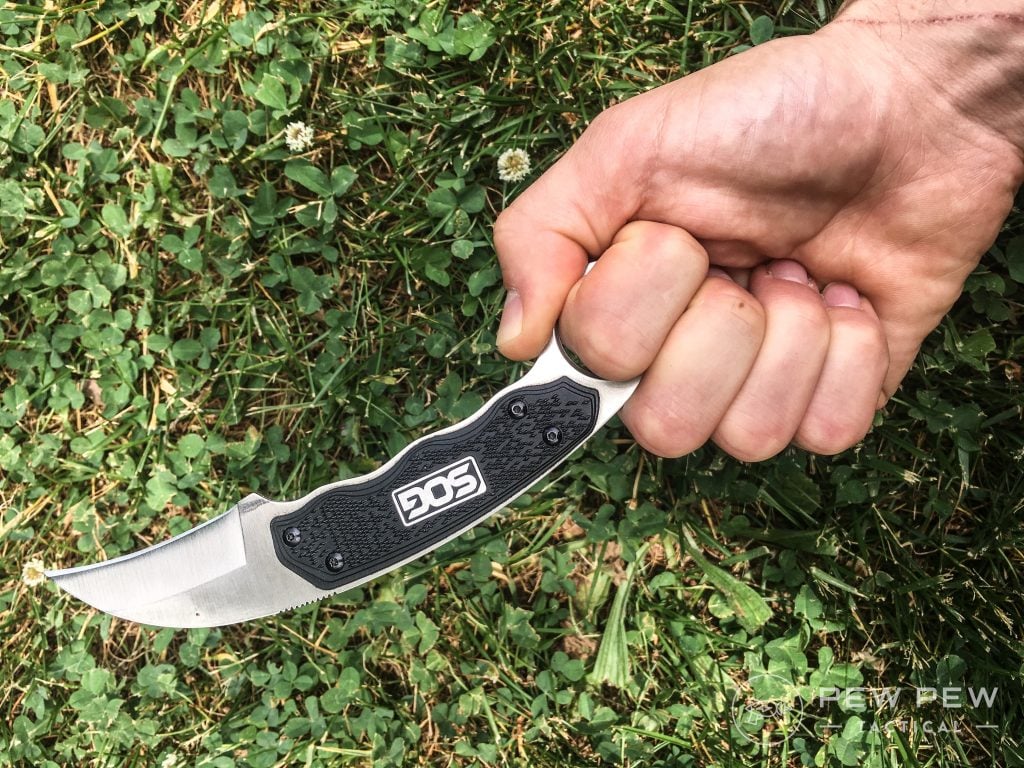 Both variants have their pros and cons, and chief among these would be the difference in range.
A user can switch from a retracted position to an extended position with little other than a flick of the wrist.
This grants a substantial increase in the range that one can successfully use the blade against an opponent.
Best Karambits
Have I won you over yet? Are you considering investing in a karambit?
While this style of knife reached levels of popularity that virtually all major knife manufacturers offer their own take on the design, these are the ones that we believe deserve the spotlight.
1. Cold Steel Steel Tiger
I readily admit that I'm biased — Cold Steel has long been my favorite brand of knife.
While the Tiger will likely be illegal to carry on your person in your state (the blade is over 4-inches), it's still a beautiful weapon.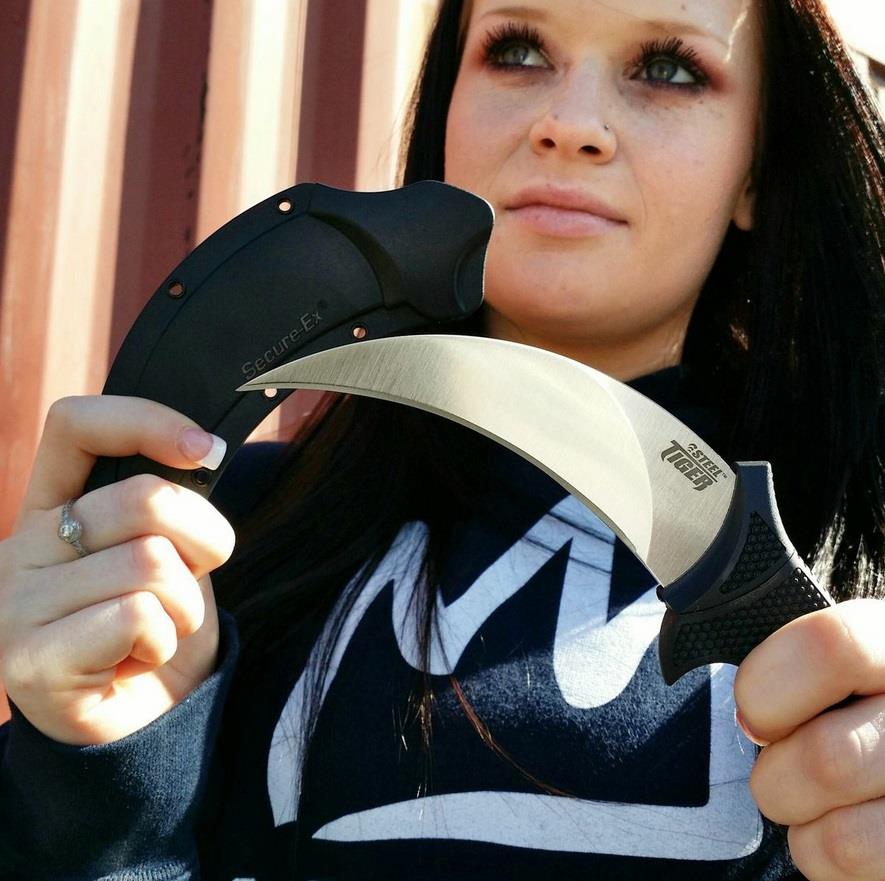 The Kray-Ex handle means this knife won't ever leave your grip should you need to use it in extreme conditions.
With the Secure-Ex sheath, you can rest assured the blade will be right there when you need it.
And on top of all that, this is a Cold Steel blade, meaning it's as tough as they come.
119
at Blade HQ
Prices accurate at time of writing
Prices accurate at time of writing
2. CRKT Provoke
A newer take on the karambit that's already become a huge hit, Provoke will easily rest in your pocket until you need to use it at a moment's notice.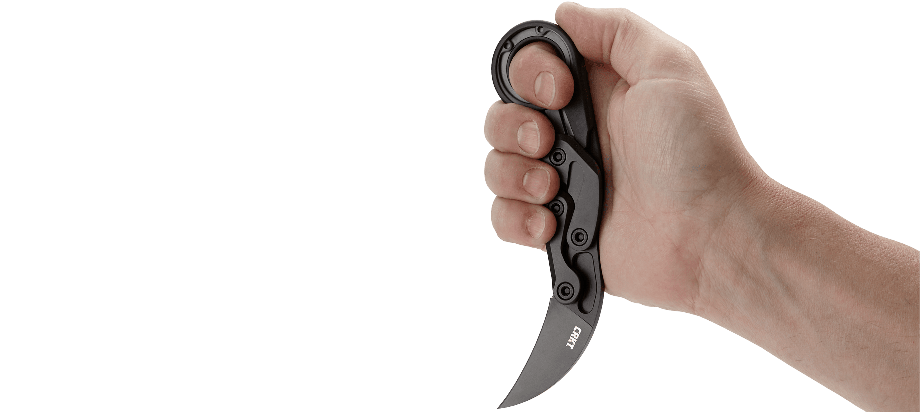 The deployment mechanism is new – I've never seen anything like it – but it already appears to have garnered quite the following.
This one is a bit pricy, but if you're looking for a folder that you can deploy quickly, this may be just what you're looking for.
99
at Blade HQ
Prices accurate at time of writing
Prices accurate at time of writing
3. Masalong Double-Edged Outdoor Survival Claw
Masalong makes some rather impressive karambit designs, and the Outdoor Survival Claw is no exception.
This knife is Damascus steel and full tang, meaning it's built to be strong.
Since the blade comes in at 3.1-inches, you won't likely encounter any problems with the length being a legal liability.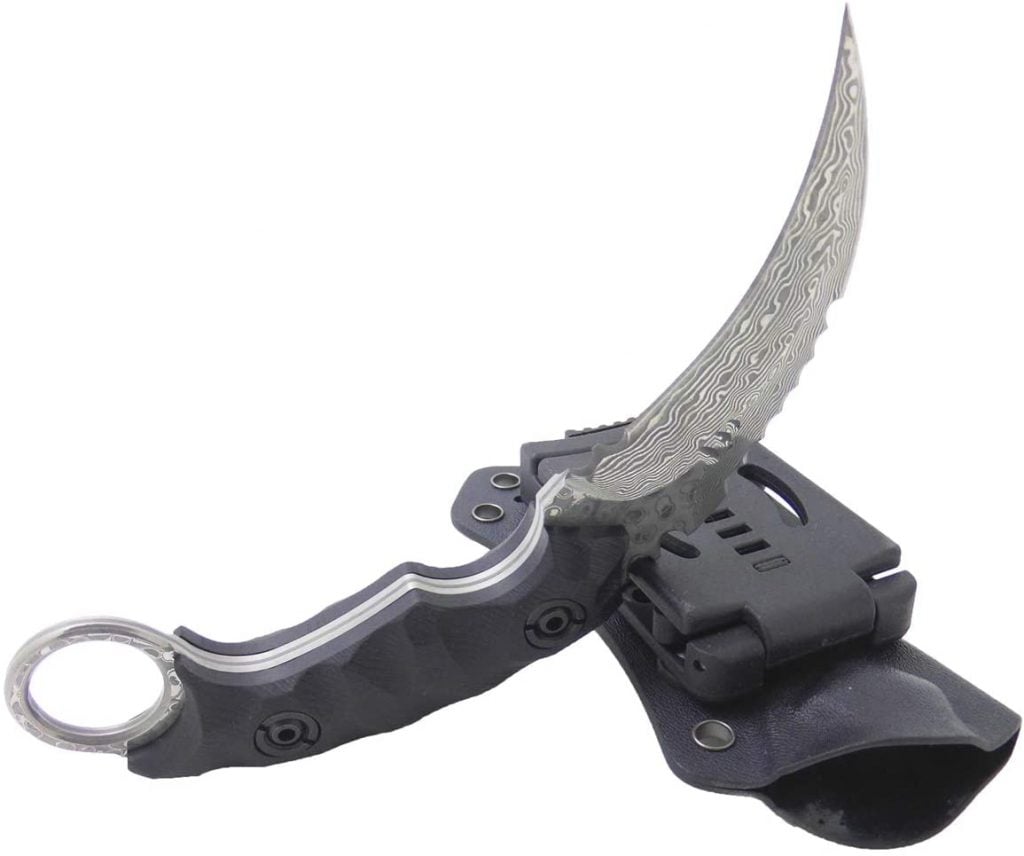 Do keep in mind that the double edge of this blade may or may not be illegal for carry in your region.
That all said, this is one knife that I wouldn't want to go up against if an opponent was using it. This thing is truly brutal.
57
at Amazon
Prices accurate at time of writing
Prices accurate at time of writing
4. Canku C1691
If you're looking for another top-notch brand for karambit style blades, look no further than Canku.
They make some absolutely beautiful knives, and the C1691 is an excellent example of such.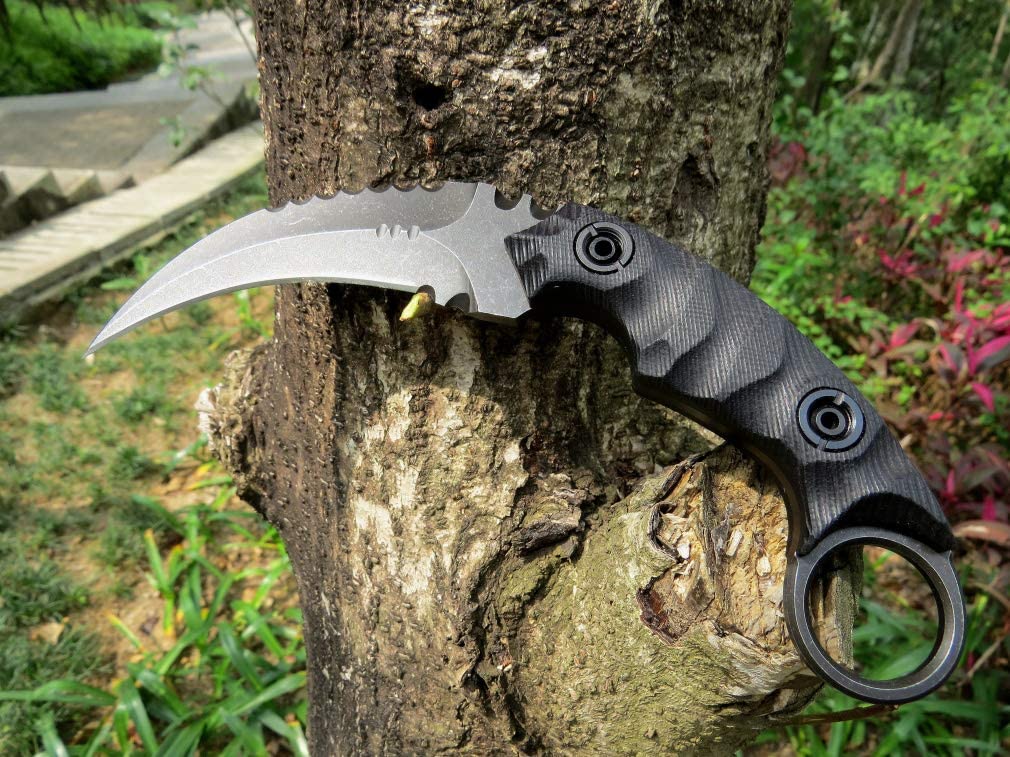 With a blade measuring 3.7-inches and a 24-month warranty, this knife comes ready to work.
It ships with a Kydex sheath that securely holds the blade in place until you need to access it.
30
at Amazon
Prices accurate at time of writing
Prices accurate at time of writing
5. SOG Gambit
Though it's a straighter blade than many other karambits on the market, I've found that the thin profile of the Gambit makes it easy to conceal.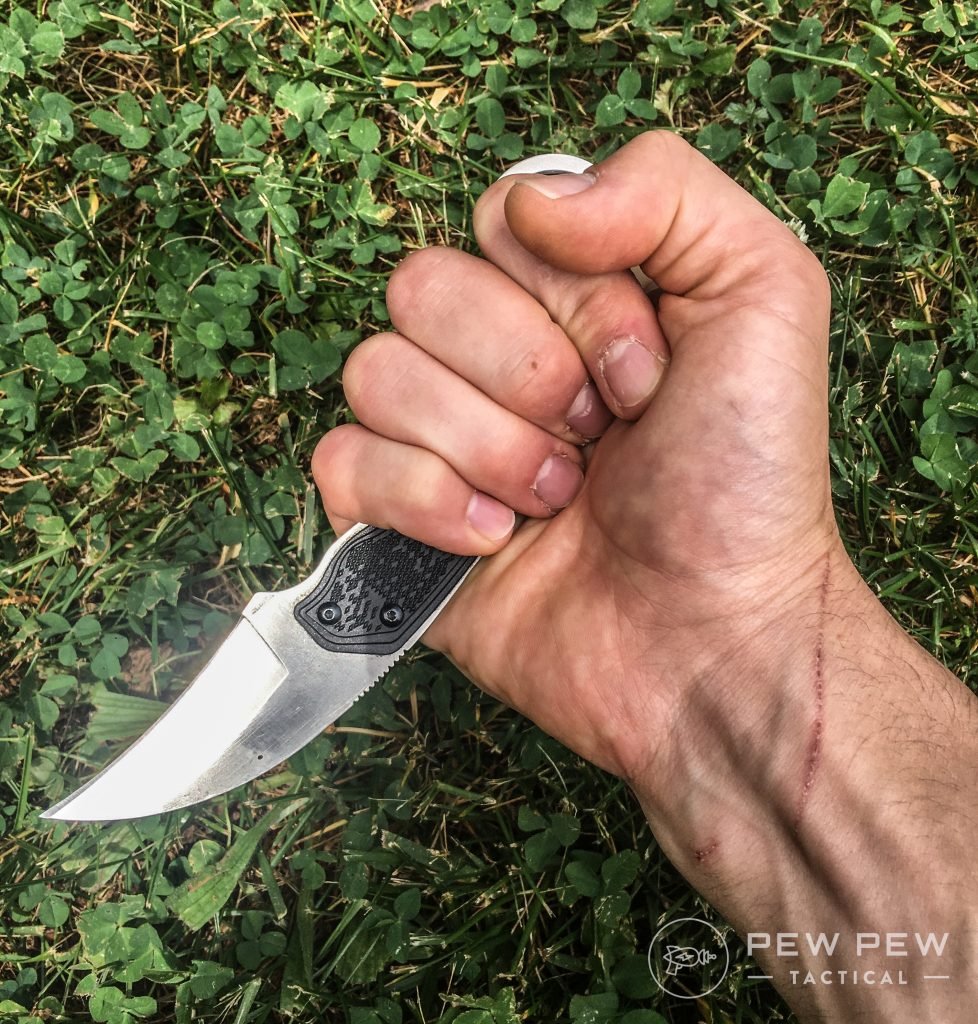 The only catch is that the handle's thinness may make it harder for you to get an established grip. That problem is easily rectified by wrapping the handle in paracord, however.
It's a full tang design, with a blade length of 2.58-inches and only edged on one side — meaning this knife is perfect for everyday carry.
28
at Amazon
Prices accurate at time of writing
Prices accurate at time of writing
Have you tried the SOG Gambit? Let us know what you think by giving it a rating below.
Conclusion
The karambit is here to stay, and it's hard to argue with a knife design that's still going strong after several hundred years.
Aside from its self-defense value, this knife is still incredibly practical. I speak from experience when I say it's the perfect design for harvesting asparagus and lettuce!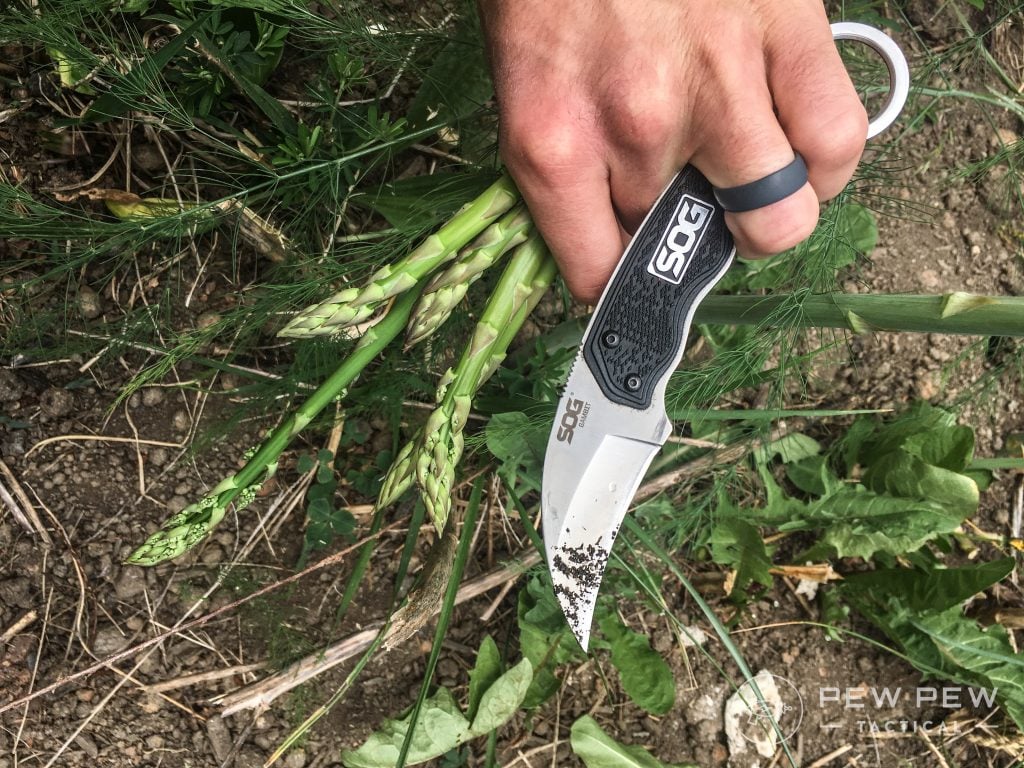 So, if you're in the market for a new style of self-defense knife, I highly recommend giving the karambit a try!
There are several great versions out there to choose from. Oh, and don't forget to grab a training knife while you're at it.
11
at Amazon
Prices accurate at time of writing
Prices accurate at time of writing
Do you have any experience with the karambit? Let us know in the comments below! For more self-defense knives, check out our list of the Best EDC Knives, or head over to our Knife Category for more pokey stuff.