Gun safety is important, right?
Even if there aren't kids in the house, it's still a good idea to have a safe.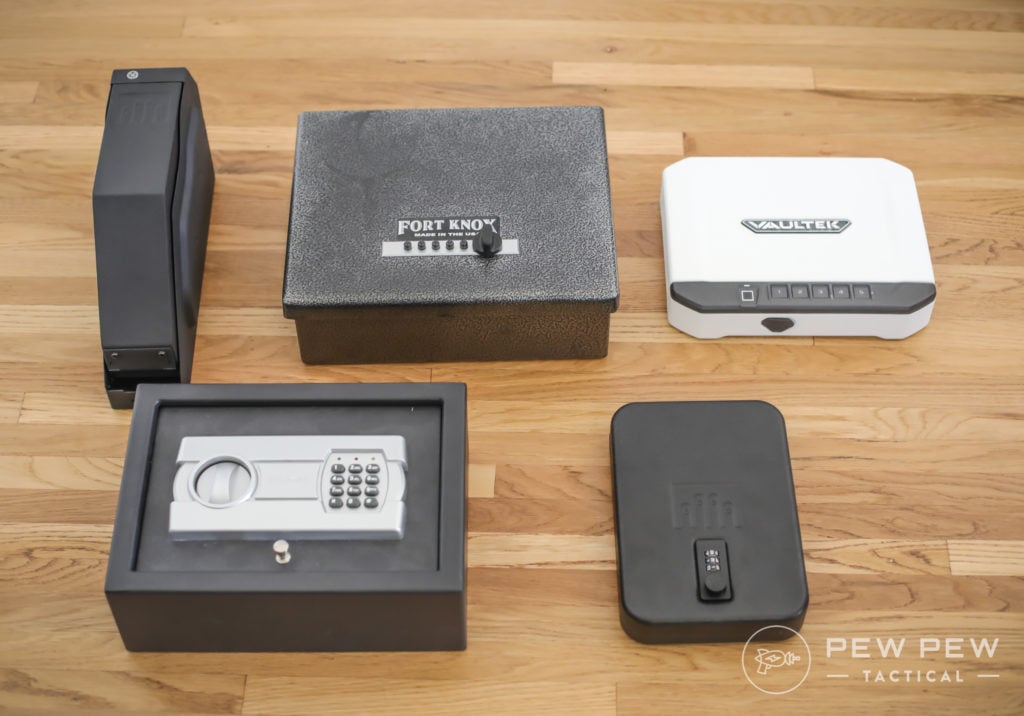 We realize there are a lot of options on the market to choose from, so how do you know if you're getting a decent model?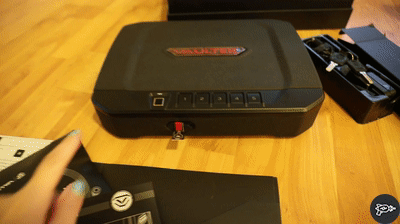 Well, we're here to help! We've gathered a handful of our favorite biometric safes that blend quick access with safety.
So, let's take a look at some recommendations and get you squared away with a safe.
Summary of Our Top Picks
Table of Contents
Loading...
What is a Biometric Safe?
Before we get to our fave models, let's quickly touch on what a biometric safe is.
Standard safes usually offer a key or combo entry system to open.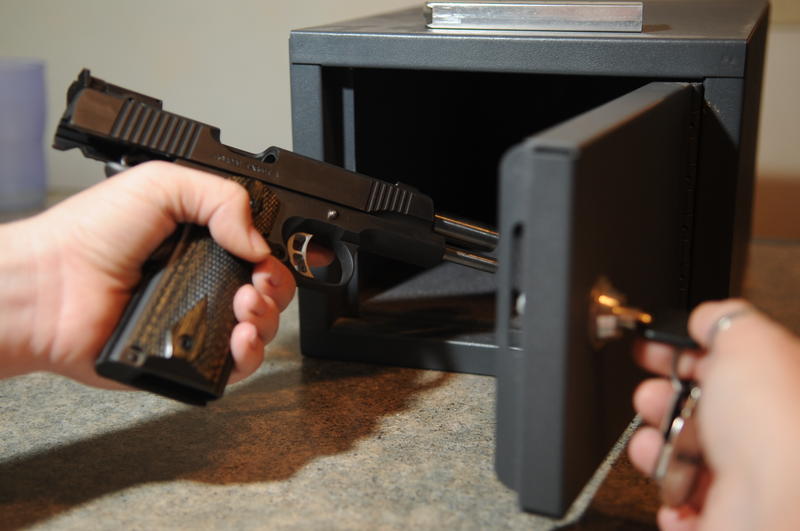 But a biometric operates using your fingerprint.
Basically, you set the safe up to recognize your fingerprint. Every subsequent time you need to open it, the safe will scan your fingerprint.
This means that only you can gain access to what's inside.
The pros to this — they are pretty simple to use and much easier to operate at night or in low light.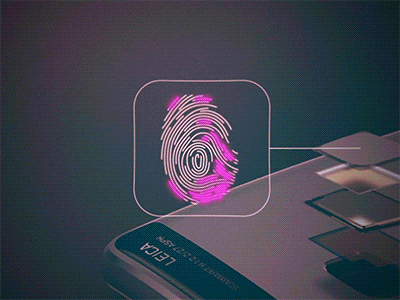 However, the flip side to that is that dirt, grime, or sweat can impact the scanner's ability to recognize the fingerprint.
Also, with certain models, your significant other can't access what's inside if they need to (unless they use a key which is often included as a backup entry option).
Best Biometric Gun Safes
1. Vaultek DS2i Smart Station
My current favorite biometric gun safe currently is the DS2i Smart Station from Vaultek which is currently leading the way for tech-heavy safes.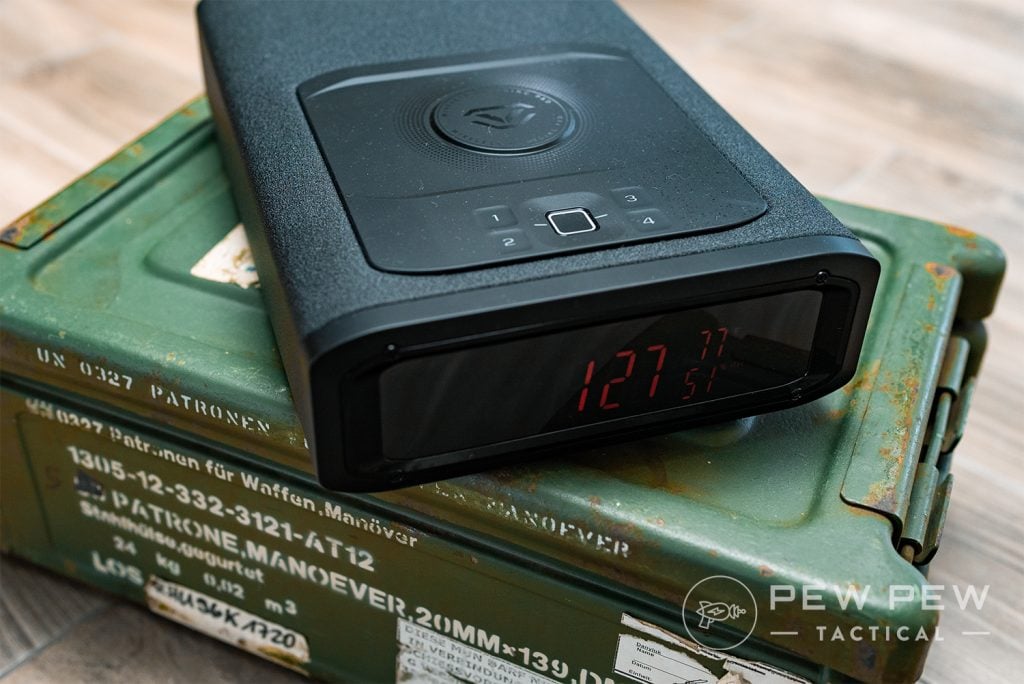 The DS2i Smart Station fits a several of my needs besides having a fast biometric reader…it also disguises itself quite well as only a functional tabletop clock.
Plus it includes other helpful info such as temperature and humidity.
There's additional entry methods such as buttons near the reader, a smart key, and even the app. Plus it lets you know the history log and also break-in attempts.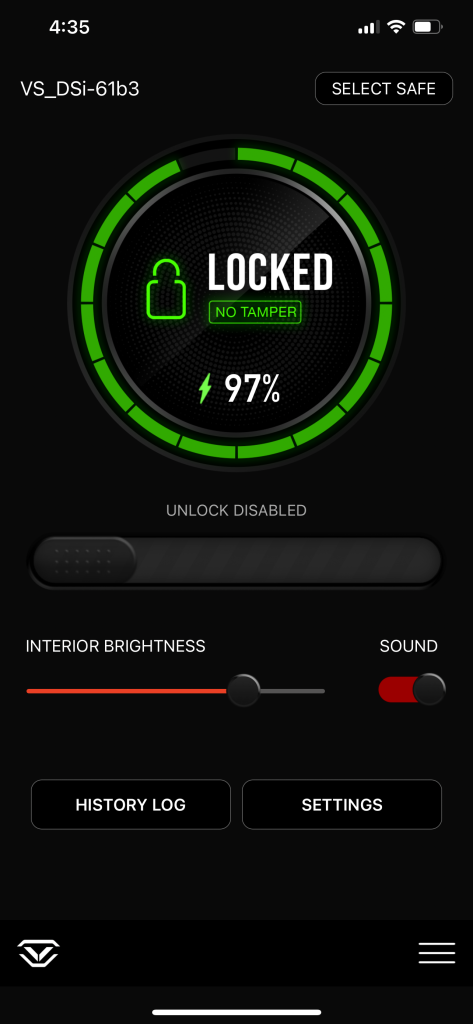 The capacity is enough for a full-size handgun and extra magazine.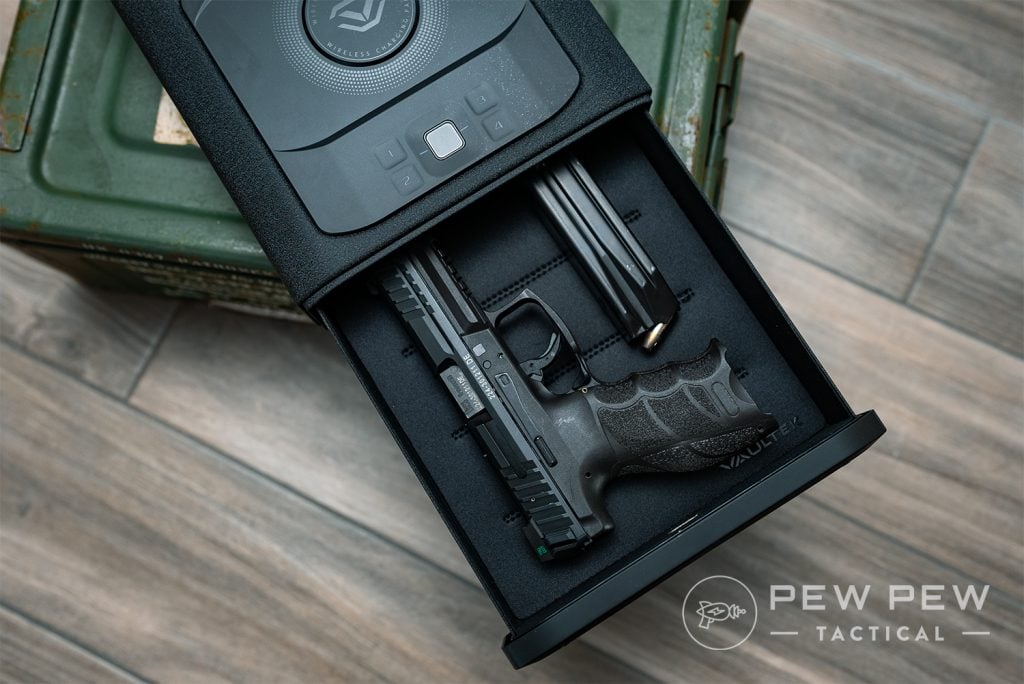 And the top Vaultek circular logo doubles as a wireless phone charger.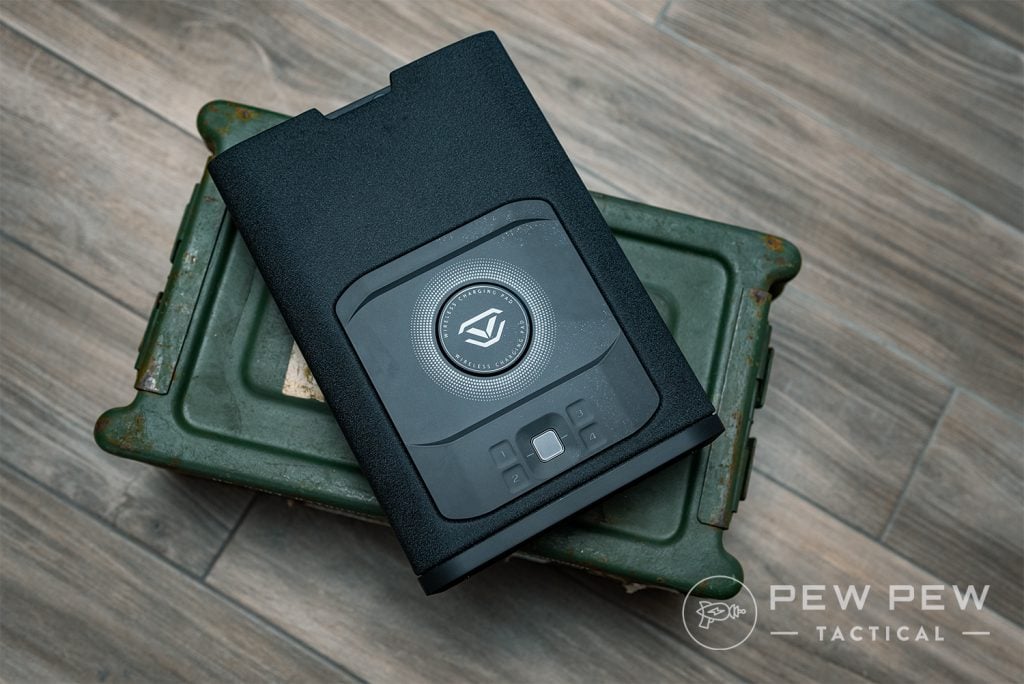 There's plenty of other options in the app so you can customize it to your liking.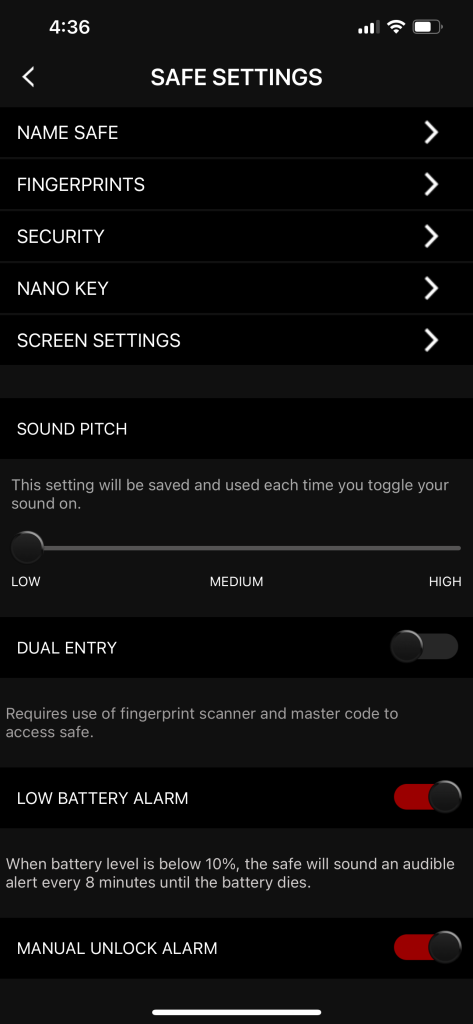 My only qualm? If you don't want to use the app you're going to have to forego getting the temperature and humidity data since you need the app to turn that on.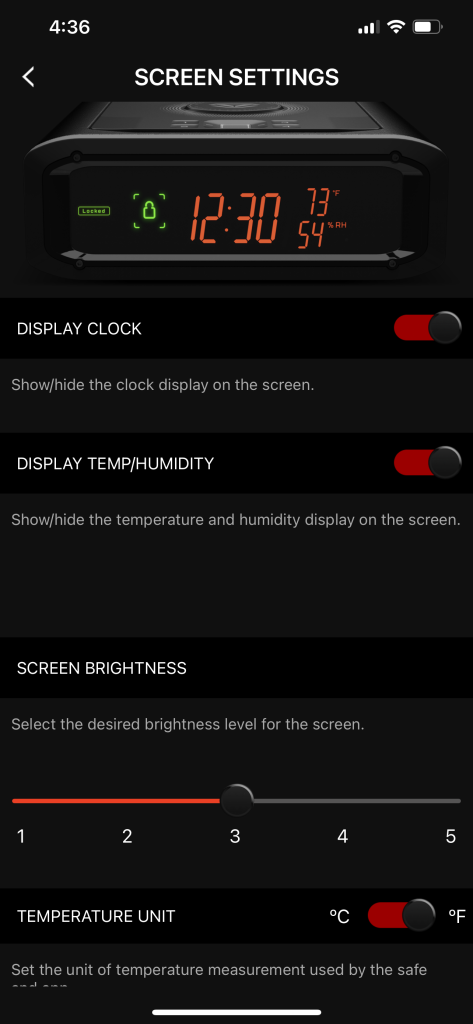 Otherwise it's a fast and accurate biometric handgun safe with tons of customizability, additional entry methods, an intuitive and useful app, and holds what it needs to.
479
at Vaultek Store
Prices accurate at time of writing
Prices accurate at time of writing
2. SentrySafe QAP1BE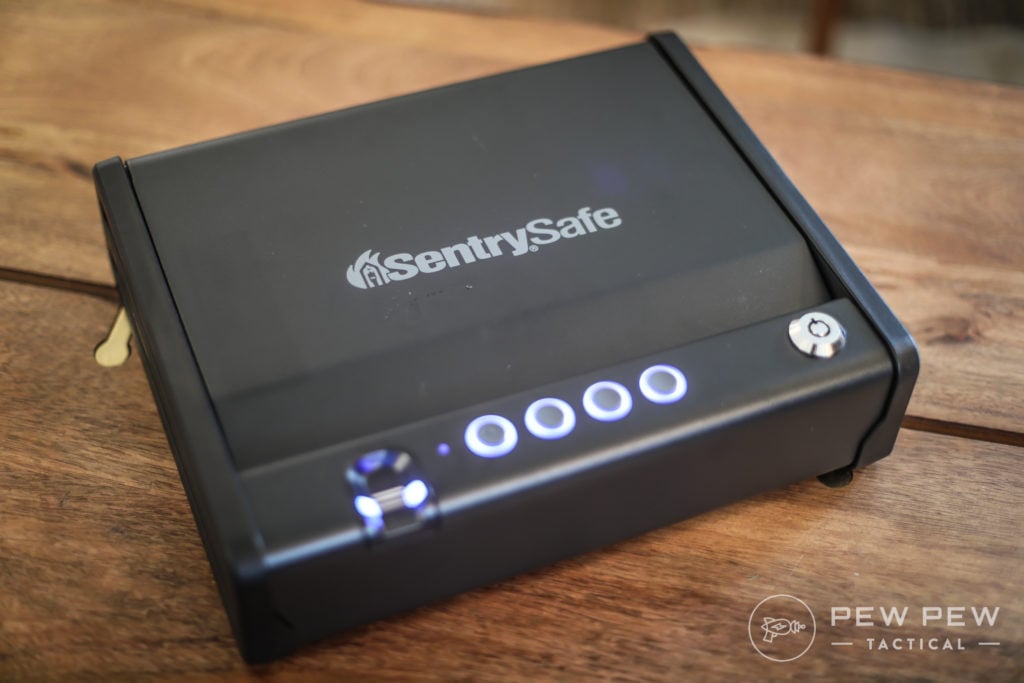 If you want something a little smaller than the others on this list, maybe to put it in a drawer, the QAP1BE model from SentrySafe is right up your alley. You can access it fast with the biometric scanner, numbered code, or key override.
Plus…the single gun size can hold a full-size Glock 17 and 2 mags easily.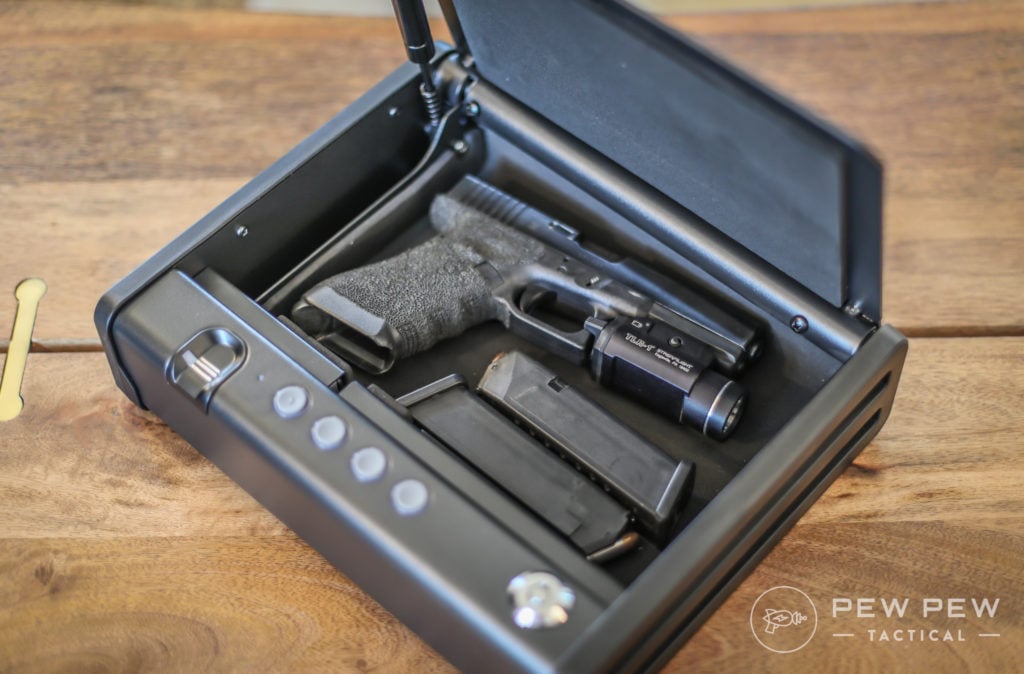 The other thing I like is how, when you unlock it, the top opens on its own with the help of the gas strut.
The reader is pretty good and I'd rate it at around 90% success rate once you get the hang of it. You can also program up to 4 fingers.
One potential negative is that to use the keypad entry, you have to "turn on" the buttons with a press first. So you essentially add one extra button press.
Overall…my editor's pick for an affordable biometric safe.
Also Great Biometric Safe
199
at Amazon
Prices accurate at time of writing
Prices accurate at time of writing
What's your take on this highly-rated safe?
3. Awesafe Gun Safe
Does the SentrySafe have a price contender? Enter the Awesafe.
It's probably the best-reviewed biometric gun safe on Amazon with over 10K reviews. And we've been asked a lot to test it out.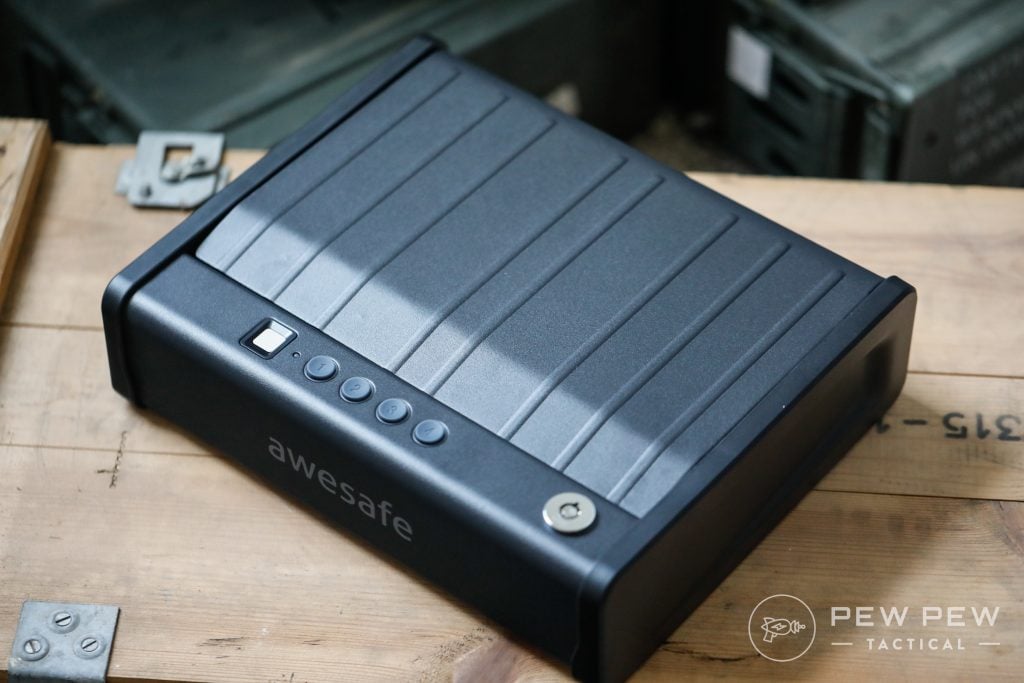 Kind of a weird name…but we'll go along with it.
It's built with some heft and comes with some holes and lag screws to help you mount it. I like having these smaller safes attached to a closet shelf so it's hidden and can't easily walk off.
Capacity?
Pretty good with holding a full-size and micro-compact. With one gun in there you'll be able to have extra mags or other goodies.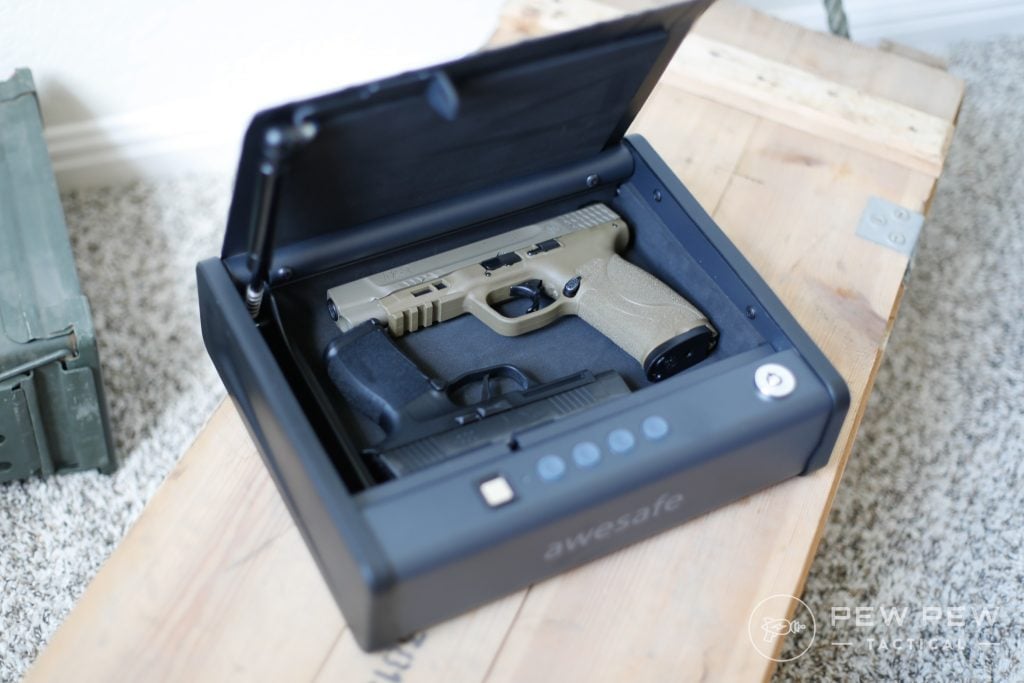 There's a sliver of extra space between the door where you could get a screwdriver in. But keep in mind, with most safes in this category…if given enough time and tools anyone will get in.
How about the biometrics? Great as well.
Easy to program and higher than 90% accuracy based on my testing (as long as your finger isn't too moist).
Check it out in action!
Buttons work great too. And the greatest thing? It comes in around $119.
Mos
119
at Amazon
Prices accurate at time of writing
Prices accurate at time of writing
4. BARSKA Biometric Safe
The Barska Biometric Safe comes in different shapes and sizes so you can get the one that best fits where you want it to live.
Some are short and wide with the fingerprint scanner on the top and others are taller and have the scanner on the front. You can even get one in white if you want.

All of the models have a backup key you can use if the battery dies or you lose your fingerprints doing bodywork on your project car and the sensor doesn't work.
Something that set my mind at ease is the fact that you can position your finger at almost any angle and the scanner will read it.
Barska says the scanner only needs to see 2/3 of your fingerprint to open the safe.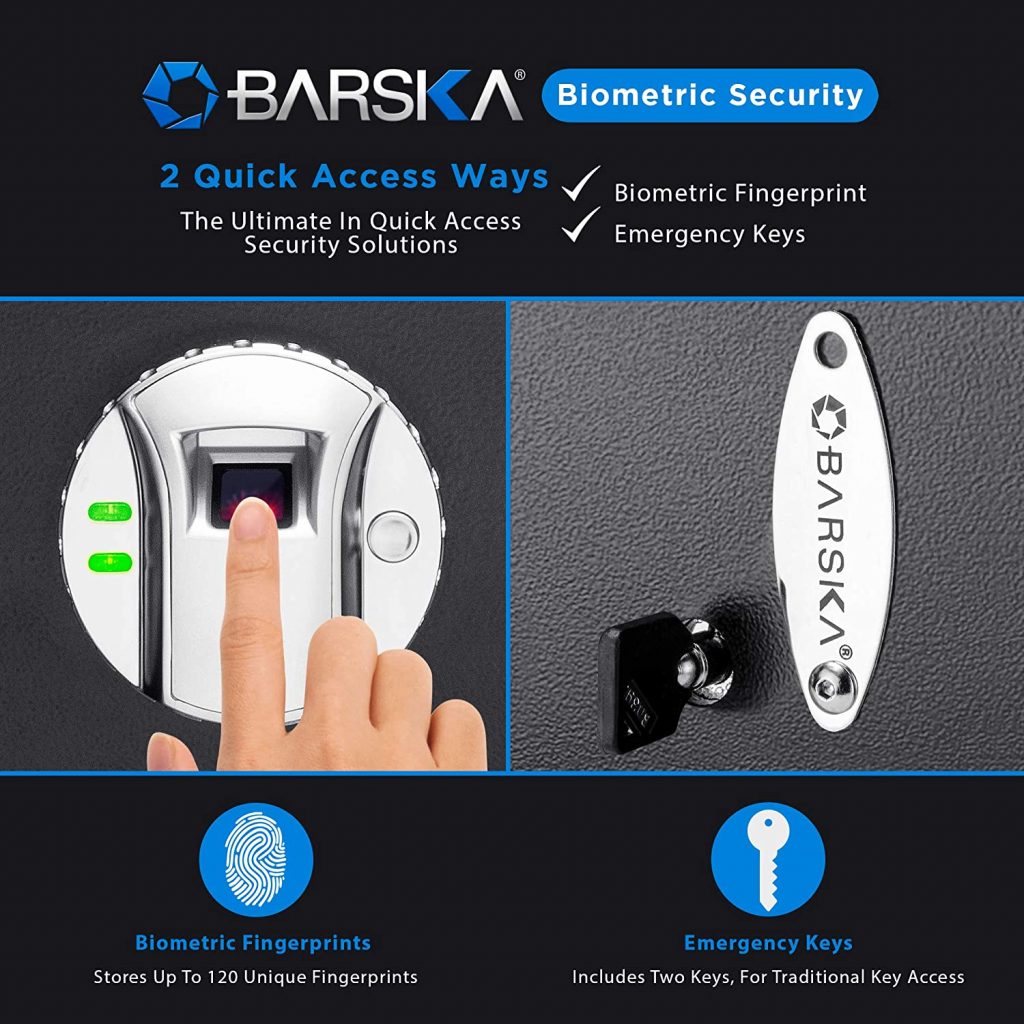 The interior space in the safe depends on the model but should be enough for your concealed carry gun and some ammo.
Unless you're one of the guys who like to carry a full-size gun. You might not be able to get a box of .45 ammo in there too.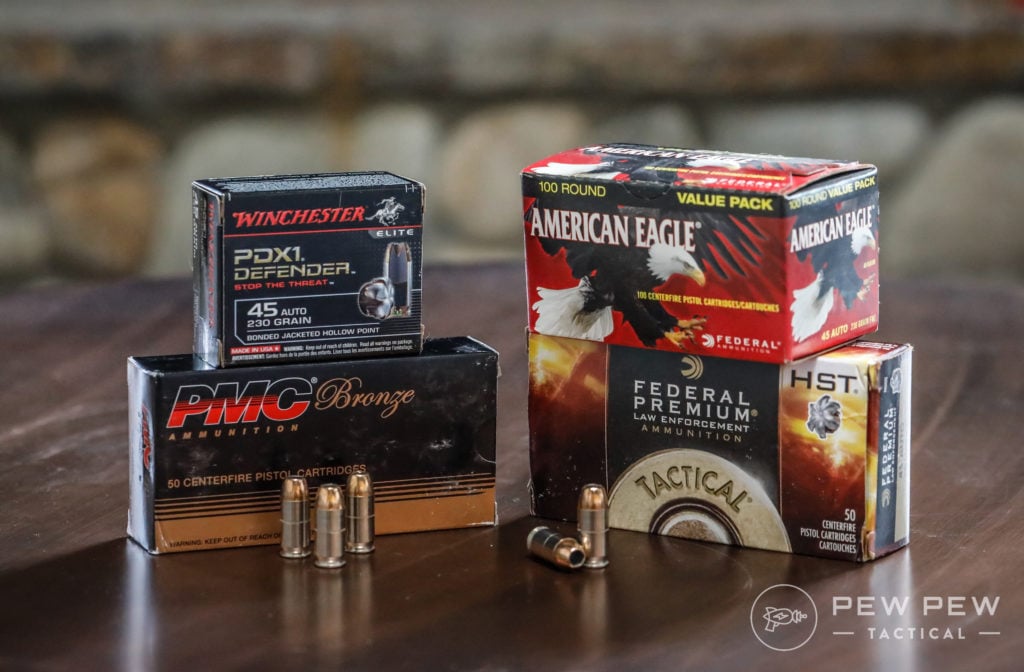 Most models are approved by the Department of Justice because of the thicker walls, pry protection, and dual deadbolts, but do not offer any protection against fire.
Multiple Sizes
219
at Amazon
Prices accurate at time of writing
Prices accurate at time of writing
5. Viking Security Safe
What I liked about the Viking model VS-20BLX was the shelf in it.
You might think "wow, a shelf" But in reality, it's nice to have.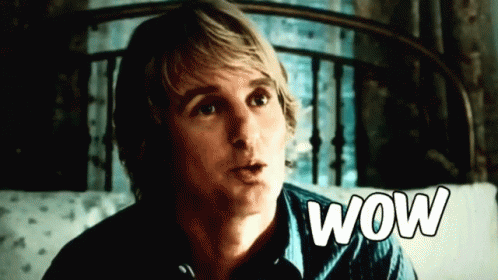 You can have your ammo, your EDC knife, wallet, passport, or whatever on the top and have quick access to your weapon when you need it.
If you don't have a shelf, you might need to pull everything out to get your gun or ammo.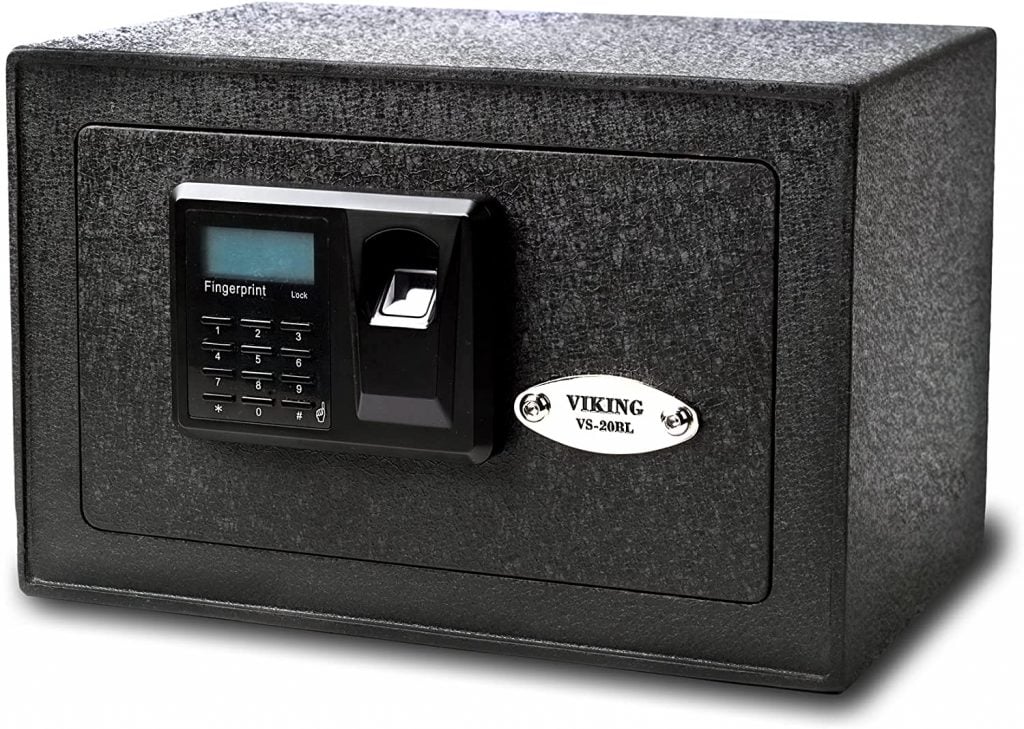 An LED light is built in to make it easier to see inside in low light.
The Viking VS-20BLX lets you load up to 32 different fingerprints into the scanner. You can also use a PIN or key to open the safe if needed.
Inner Shelf Option
189
at Amazon
Prices accurate at time of writing
Prices accurate at time of writing
6. Vaultek Safes: VT10i & VT20i
You'll want to read our Complete Vaultek Safes Review but the bottom line is: it's awesome.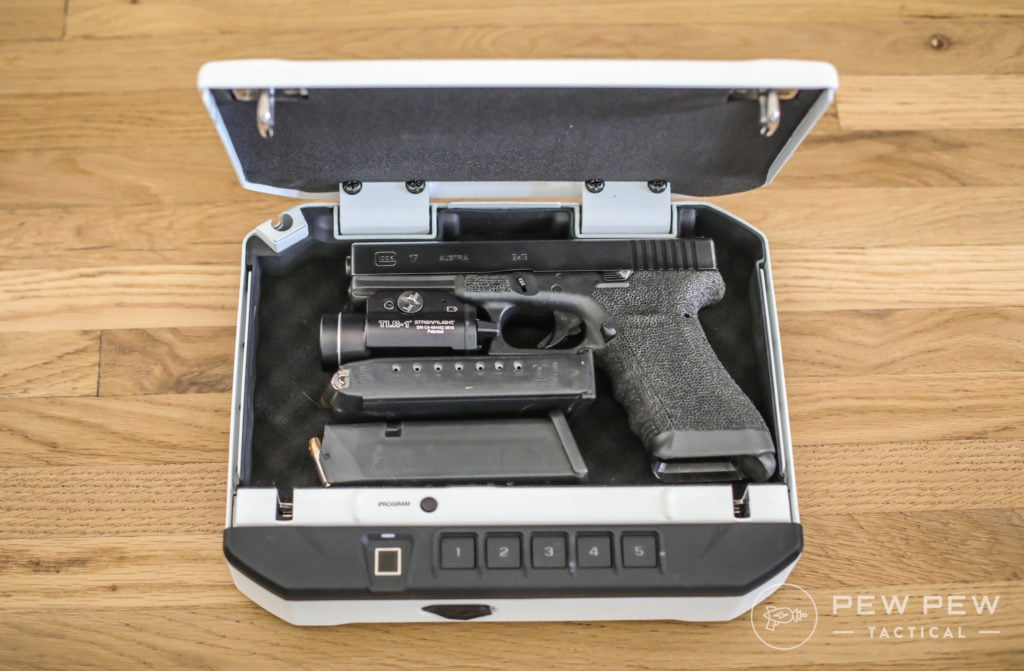 Combining a great safe and a SmartPhone app to create a biometric security option that stands out above the rest, Vaultek safes are good to go.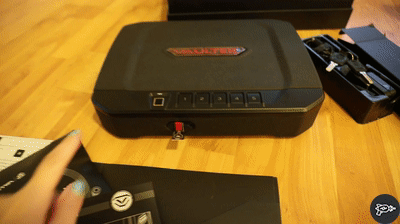 The nice thing about these is that they are simple, yet packed with features like an internal light, a backlit keypad, and it comes shipped with extra goodness like mounting screws.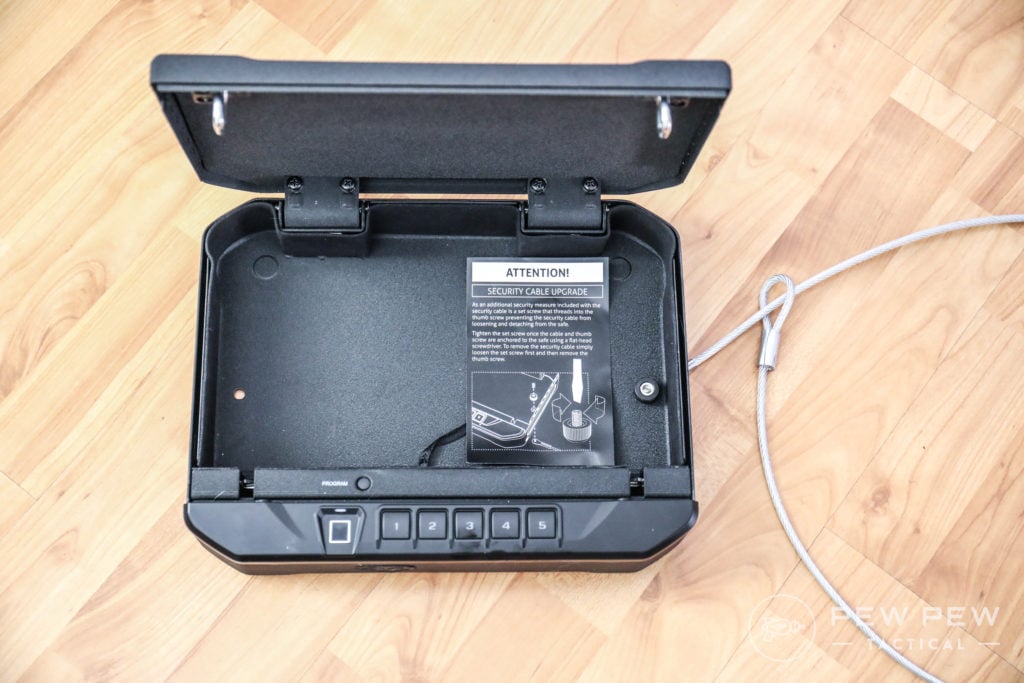 One downside you should know though is that it does require charging. The good news is that a 2.5-hour charge with a USB cable is enough power to keep it running for four months.
However, in the end, the Vaultek is my pick for biometric+other goodies like a Bluetooth and phone access. Again…my full review.
Hi-Tech Option
259
at Vaultek Store
Prices accurate at time of writing
Prices accurate at time of writing
Larger Hi-Tech Option
289
at Vaultek Store
Prices accurate at time of writing
Prices accurate at time of writing
7. Viking Security Safe VS-52BLX
This Viking safe is meant to go into the wall. That's right, you'll need to do a little cutting. It's not bad, though.
The Viking VS-52BLX goes between the studs in your wall and sits almost flush with the wall. There are two models, one is a flush mount door, the other is not.
If you want to be cliche and have a safe behind a picture, you can totally do that with this biometric gun safe.
Wall Safe Option
289
at Amazon
Prices accurate at time of writing
Prices accurate at time of writing
It's not super deep (4-inches), but is taller and enough room for a couple weapons.
There are shelves that come with the unit so you can organize whatever you are going to keep in the safe.
Included are LED lights in it too so you can better see inside in low light, like if you mounted it in the back of your closet.
8. GunVault SpeedVault
As you can see, this safe is set up with speed in mind. Once you unlock it the pistol shelf drops open allowing you to grasp the weapon with almost a full grip right from the start.
It is also designed to be mounted in places that are easy to reach such as on a bedside table, under a desk, etc.
Really, the only issue with this vault is that it does one thing – but it does that one thing outstandingly well.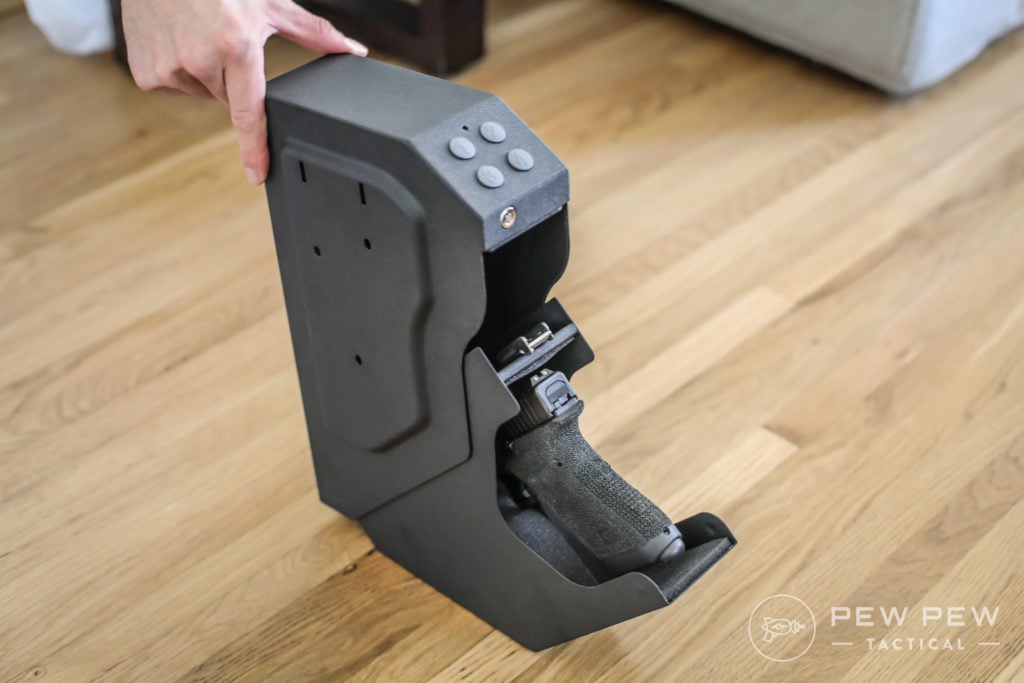 If you want a safe that you can store extra mags in or double up to hold other valuables, the GunVault SpeedVault doesn't have the extra room.
But if you feel a need for speed, this is for you.
Drop Down Option
139
at Amazon
Prices accurate at time of writing
Prices accurate at time of writing
Closing Thoughts
Keeping your gun locked up is mandatory if you have kids running around the house. It's also a good idea to lock it up when you aren't carrying.
A biometric gun safe is a happy medium between keeping your gun securely locked up and having fast access to it if you need it.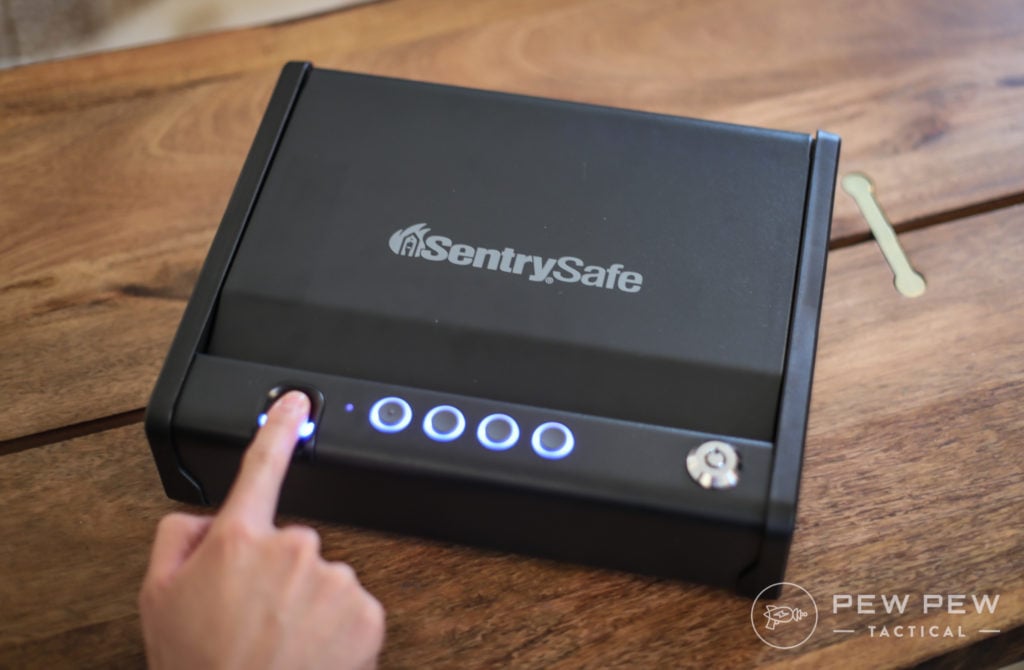 What safe is best for you depends on your situation, but now you know what your options are.
But for me…my Editor's Pick is the Vaultek D2Si Home Station.
479
at Vaultek Store
Prices accurate at time of writing
Prices accurate at time of writing
And the Awesafe if you're looking for a budget no-frills option.
Best Techy Safe
199
at Vaultek Store
Prices accurate at time of writing
Prices accurate at time of writing
So, what safe did you get/do you have? Biometric, key, or pin number? Looking for non-biometric…or a larger safe for long guns? Check out our Definitive Best Gun Safes article.