Long range shooting and competitions continue to grow and manufacturers continue to pour resources into new cartridges, better bullets, and more "perfect" rifles.
But for the average shooter, the investment in a long-range rifle and optics system can be a major stumbling block.
What if you could use a stock rifle to stretch your shooting and do it with the most popular platform in the US?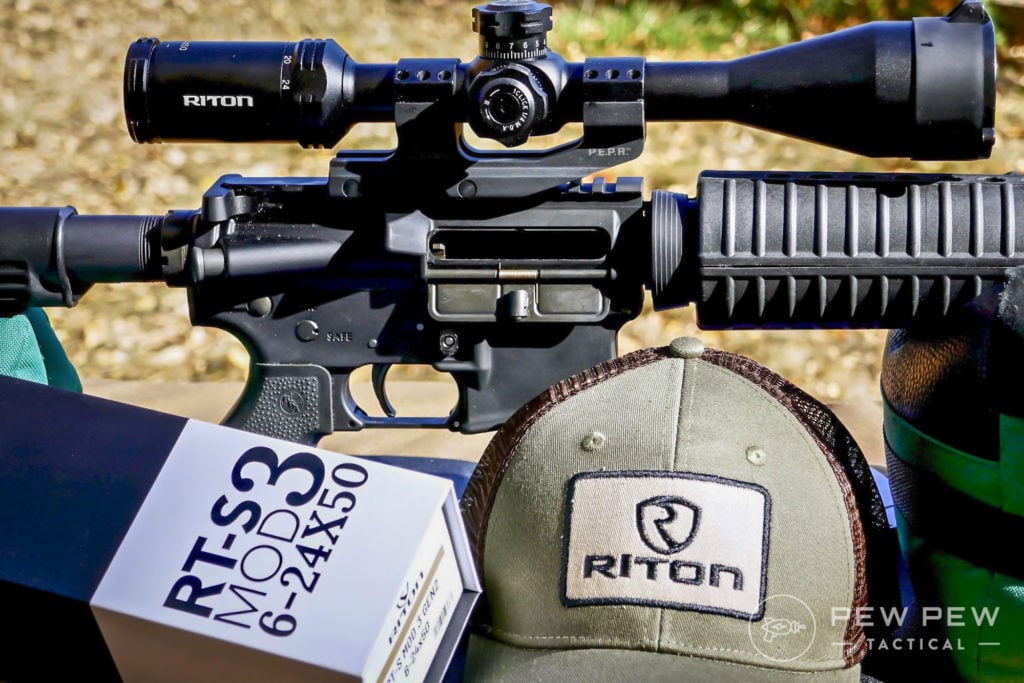 That's right, I'm talking about long distance shooting with an AR-15 chambered in .223 Remington / 5.56 NATO / .223 Wylde!
I'll go over exactly what I used from the rifle to the optic, ammo, and more so you can do the same thing!
Table of Contents
Loading...
America's Rifle
If sales numbers are any indication, the AR platform continues to sell at a brisk pace.
Arguably the most popular chambering is 5.56 NATO/.223 Remington.
With a lower receiver assembly in hand a shooter can quickly change uppers to any number of configurations and cartridges that will feed reliably from stock .223 magazines.
But that takes extra parts, uppers, and so on.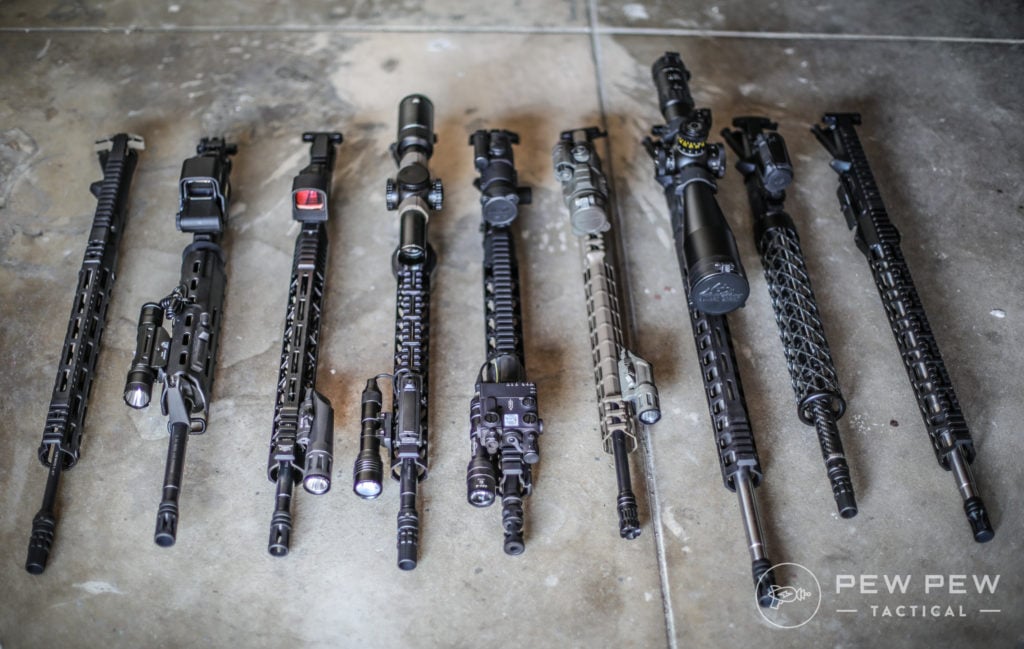 While that is a lot of fun… Some times you want to dance with the one you brought!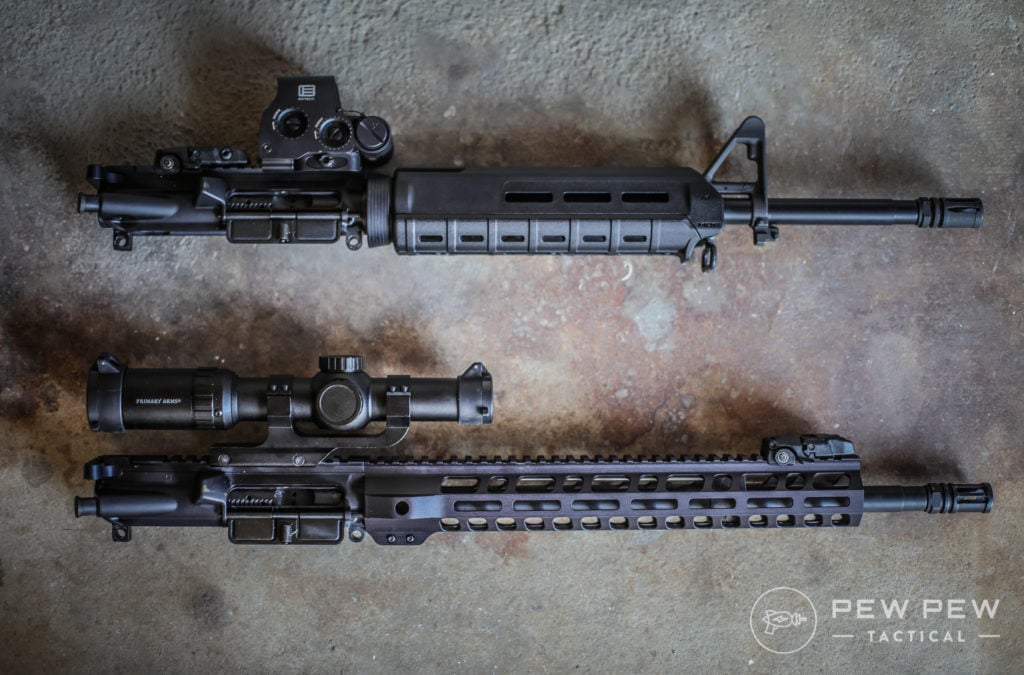 The idea came to me last spring while looking through some info that came with a Rock River Arms rifle I purchased a few years ago. Rock River's literature claimed 1 MOA with the Entry Tactical model.
My intent when I purchased the gun was to learn the platform and have the gun available as a home defense firearm.
First shots indicated that the rifle had some accuracy potential with the supplied iron sights. I was regularly seeing 1.5" groups with 55-grain full metal jacket ammo at 100-yards.
Hits on little Tannerite containers at 150- to 200-yards told me the gun could really shoot.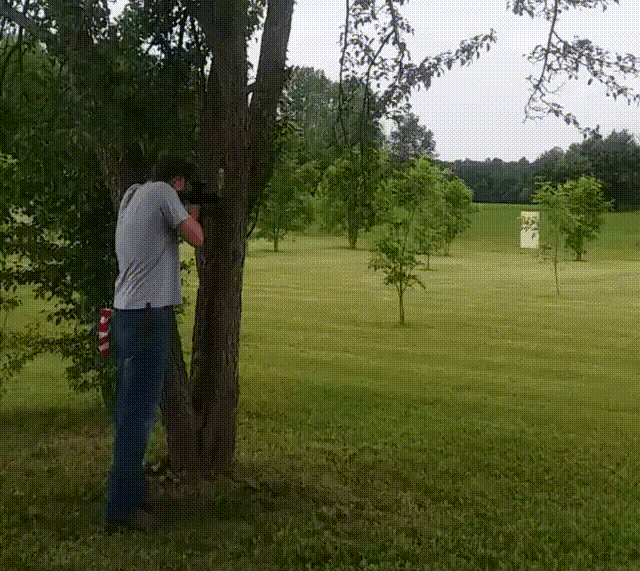 In June of this year my hunting partner and I conducted two introductory long range shooting classes.
By this time I had scoped the Rock River with a Bushnell AR Optics 3-9×40 scope with holdover hash marks on the reticle specifically for 55-grain bullets.
After the first class was over I confirmed my zero at 100-yards and put five shots into about a one-inch group. 
150
at OpticsPlanet
Prices accurate at time of writing
Prices accurate at time of writing
I then proceeded to use the scope's holdover dots and made consecutive hits at 300-, 420- and 500-yards without a miss.
The next steel out was just over 600-yards and I was able to dial my elevation and make a couple of hits at 600-yards just before dark.
Now I was really intrigued.
Here I was shooting a rifle and cartridge combination that most people think is a much shorter range proposition. I was shooting bulk bullets that I hand loaded, but in no way spent time optimizing for long range precision.
With the optic I had mounted it was apparent that I would run out of elevation adjustment well before the 1,000-yard targets. But now I wanted to see if it could be done.
The next day we shot again and I tried the 720-yard plates. I could get close, but with the wind we experienced the short little 55-grain bullets were getting pushed all over the place.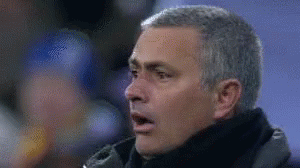 I knew I needed bullets with a better BC to help them buck the wind a little better. I also needed a better optic with more vertical adjustment to make the hits at longer range.
Optic and Rifle Platform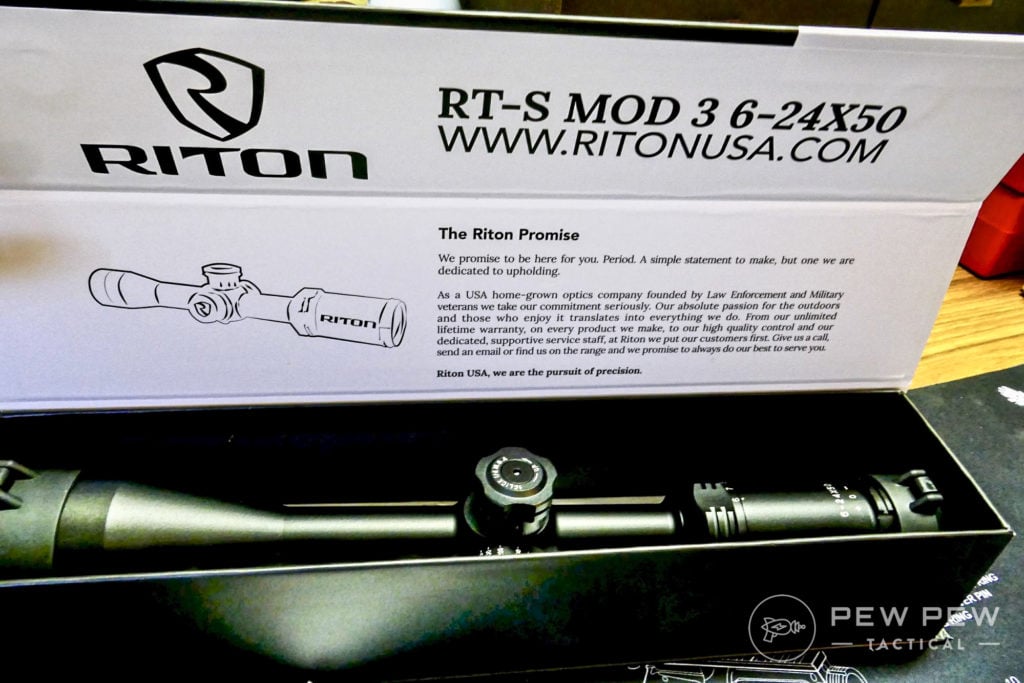 The Scope
If you haven't heard about it, TriggrCon is a great trade show and part of it is open to the public!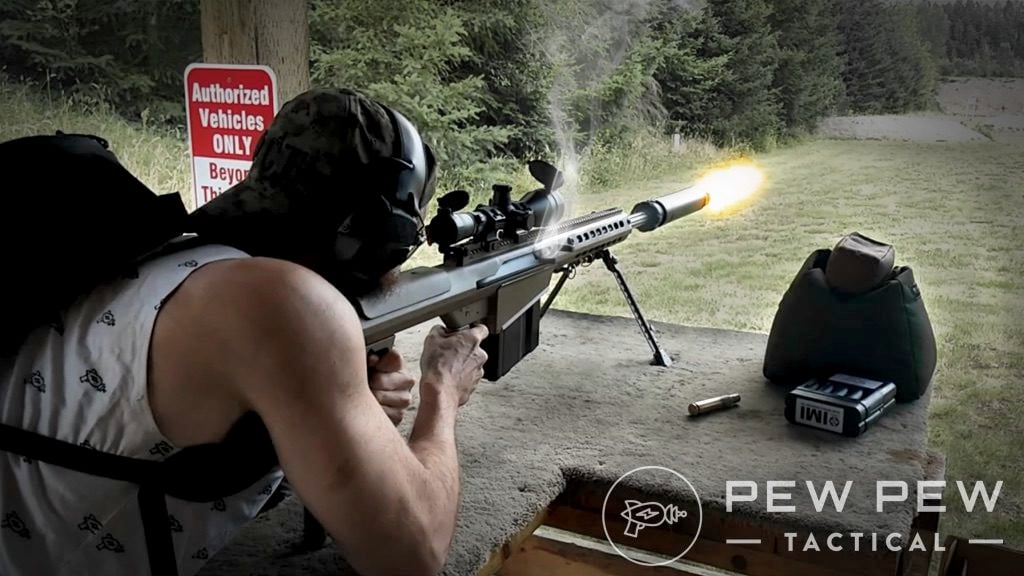 While I was at TriggrCon 2019, I got to sit down with the people from Riton Optics
We discussed various options and the possibility of getting a scope in hand to test and use for this long range project. We decided on the RT-S MOD 3 GEN2 6-24×50.
225
at Amazon
Prices accurate at time of writing
Prices accurate at time of writing
The scope is one of Riton's many quality offerings and has a ton of features that long range shooters are looking for at an MSRP of $289.99.
Riton Mod 3 Specs:
| | |
| --- | --- |
| Magnification: | 6-24 |
| Parallax Adjustment: | Side, 10 to Infinity yards |
| Tube Diameter: | 1in |
| Objective Lens Diameter: | 50mm |
| Focal Lens Position: | Second Focal Plane |
| Lens Coating: | Fully Multi-Coated, Full Wide Band, Waterproof Coated, Low Light Enhancement |
| Reticle: | Riton Bullet Drop Compensated (BDC) Reticle |
| Field of View at 100 yds: | 16.8ft @ 6x – 4.4ft @ 24x |
| Material: | 6061-T6 Aircraft Grade Aluminum |
| Weight: | 26oz/737g |
| Length: | 14in/355mm |
| Eye Relief: | 3.35in/85mm |
| Exit Pupil: | 8.2mm @ 6x – 2.1mm @ 24x |
| Click Value at 100 yds: | 1/4in/3.17mm |
| Adjustment Range: | 40 MOA |
The scope mounted up quickly and easily in a Burris P.E.P.R. AR mount that was already mounted on my Rock River rifle.
95
at Amazon
Prices accurate at time of writing
Prices accurate at time of writing
The only adjustment I made was with the Fast Focus to sharpen up the reticle for my vision.
Throughout the power range the target image stays clear and crisp even at 24 power. The parallax adjustment works very well as the power is increased and the distances change at the range.
For those familiar with the PRS (Precision Rifle Series) matches, each stage presents the shooter with a new problem and new ranges at which to engage targets.
For competition settings a Zero-Stop optic is a huge advantage. 
Zero-Stop means that once your zero is set and the turrets locked, your scope setting is at 0 for your sight in range. As you spin the dials for elevation and windage to make your shot, you need only keep in mind the correction you need to dial.
To engage a new target at a different range you simply dial the scope back to zero and the turret will stop at the 0 setting so you can dial your new solution.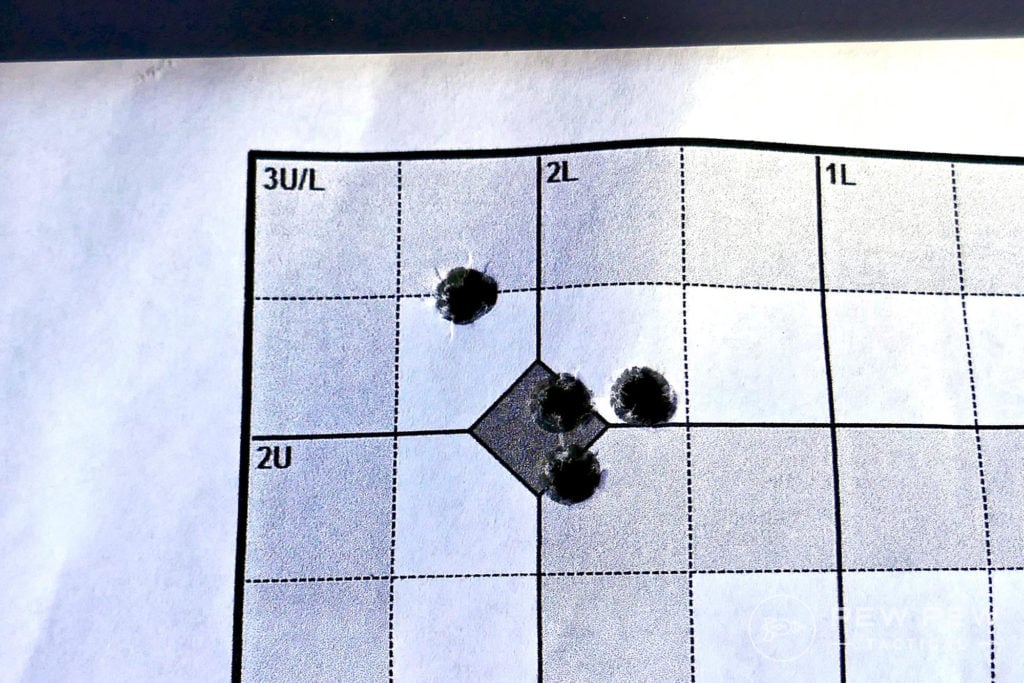 This Riton scope has a Zero-Reset, but does not have Zero-Stop capability. The Zero-Reset allows the shooter to zero the scope, then with an Allen wrench remove the turret screws, return the turret setting back to zero and lock the turrets in place.
When you dial new elevation and windage settings you must remember how many turns or clicks you used in order to reverse the turrets and return to your zero setting. It's not a huge issue, just be sure to jot down your corrections and return to zero after your shot so you don't forget where you are on the dials.
I, of course, did forget to keep track as I was shooting and turned back past my zero setting. A quick zero-confirmation shot told me I had made an error and when I turned the elevation turret back to the correct setting I was exactly back on target.
The Rifle
The rifle used for this little experiment is a stock Rock River Arms Entry Tactical model. As I mentioned earlier Rock River states in the specs that the rifle is capable of 1 MOA accuracy.
With that level of accuracy available, shooting at long range becomes practical because the adjustments made with the optic should track very closely to the ballistics charts or program being used.
Rifle Specs:
Barrel: 16" chrome-moly, R4 profile, 1:9 twist
Lower: Forged Rock River LAR-15
Upper: Forged Rock River A4
Trigger: Rock River 2-stage Match. Average pull weight as measured with a Lyman Electronic Trigger Scale: 5# 13oz. The trigger is very crisp.
Rifle Weight (without optic) 7.5 pounds. With optic mounted: 9.25 pounds.
The Ammo
All the ammo used for this evaluation and experiment was hand loaded on a Dillon 550B progressive press.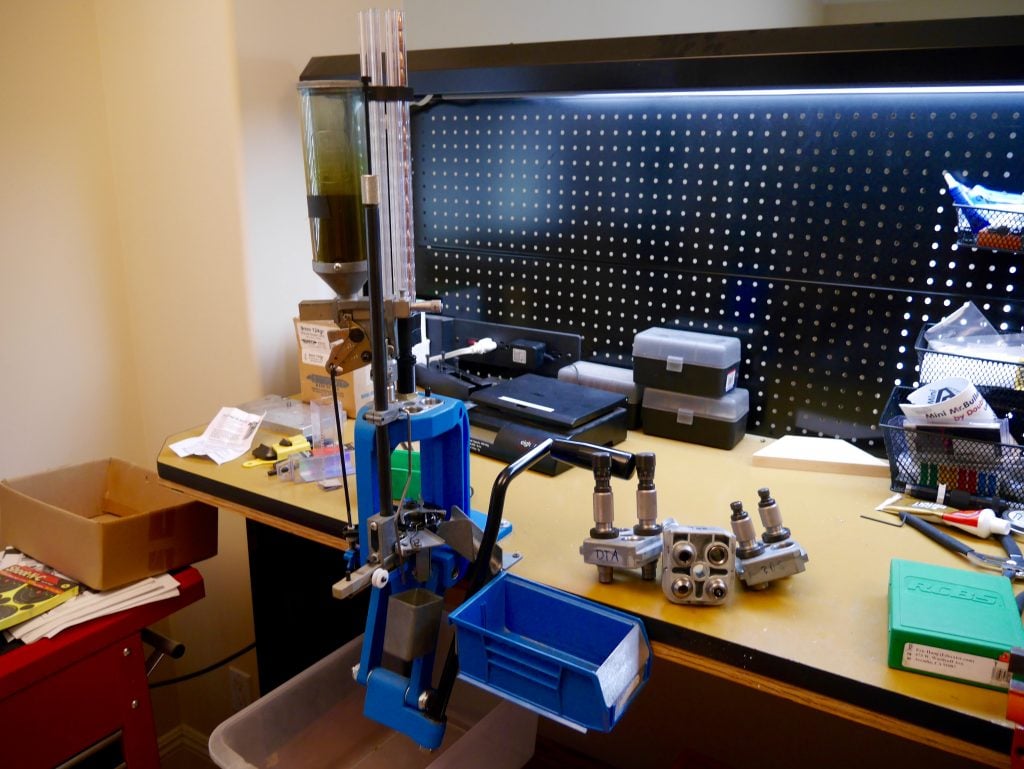 I did not sort cases by head stamp, but the vast majority of the cases are once-fired Lake City Match brass.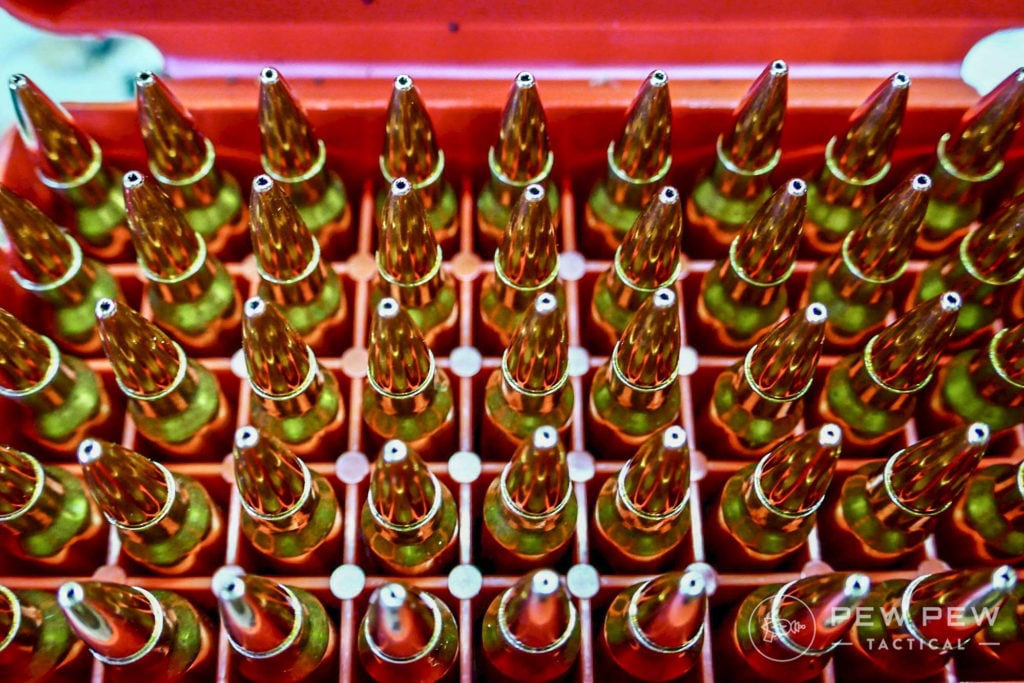 The bullets are Hornady 68-grain Boat-Tail Hollow Point Match bullets with a BC (ballistic coefficient) of .355.
20
at Brownells
Prices accurate at time of writing
Prices accurate at time of writing
After shooting 10 different loads to evaluate accuracy potential I settled on the two loads that exhibited the best accuracy potential. Both loads are charged with Win 748 powder and CCI 400 Small Rifle primers. Velocity for the loads ranged between 2720 feet per second and 2800 feet per second.
The brass was deprimed with a Lee Universal Decapping Die and the primer pockets swaged with a Dillon Super Swage.
12
at Amazon
Prices accurate at time of writing
Prices accurate at time of writing
All the cases were then cleaned ultrasonically and tumbled in walnut media. The cases were then full-length resized and trimmed to 1.750" with a Dillon Rapid Trim 1500 Case Trimmer.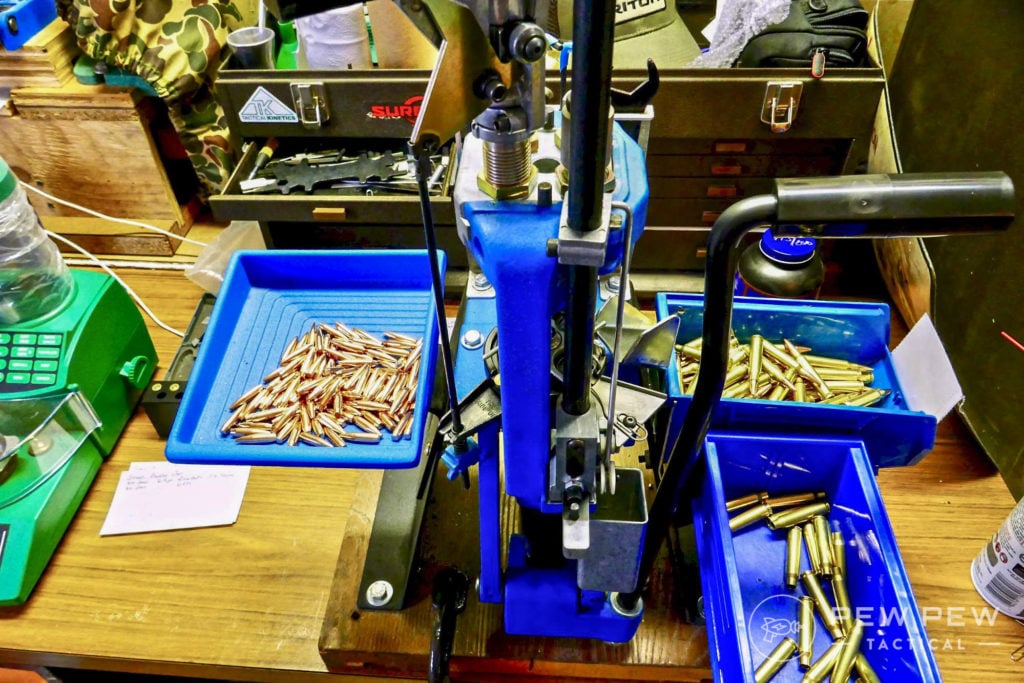 The case mouths were chamfered and the cases went into corn cob media for a final polish before loading. Overall case length for the loaded cartridges was 2.250".
Riton Scope on Rock River Arms rifle and Palmetto State Armory Freedom Upper Ready For Testing
It should be noted that I also shot these loads with a Palmetto State Armory Freedom upper with a 1:7 twist barrel. The upper was placed on the Rock River lower to take advantage of the match trigger.
499
at PSA
Prices accurate at time of writing
Prices accurate at time of writing
I wanted to see if there was any appreciable difference in the PSA upper and the Rock River upper based on twist rate and the accuracy claim by Rock River.
My results with the chosen loads were not what I needed for long-range shooting. I think by fine-tuning the load specifically for the PSA barrel much better accuracy is attainable, but time constraints did not allow for further load development.
Range Time!
The rifle and optic were zeroed at 100-yards to set the Zero-Reset on the Riton Scope.
Once the zero was established shooting was done at various ranges on steel plates with the goal of hitting 1,000-yard targets before the shooting was done.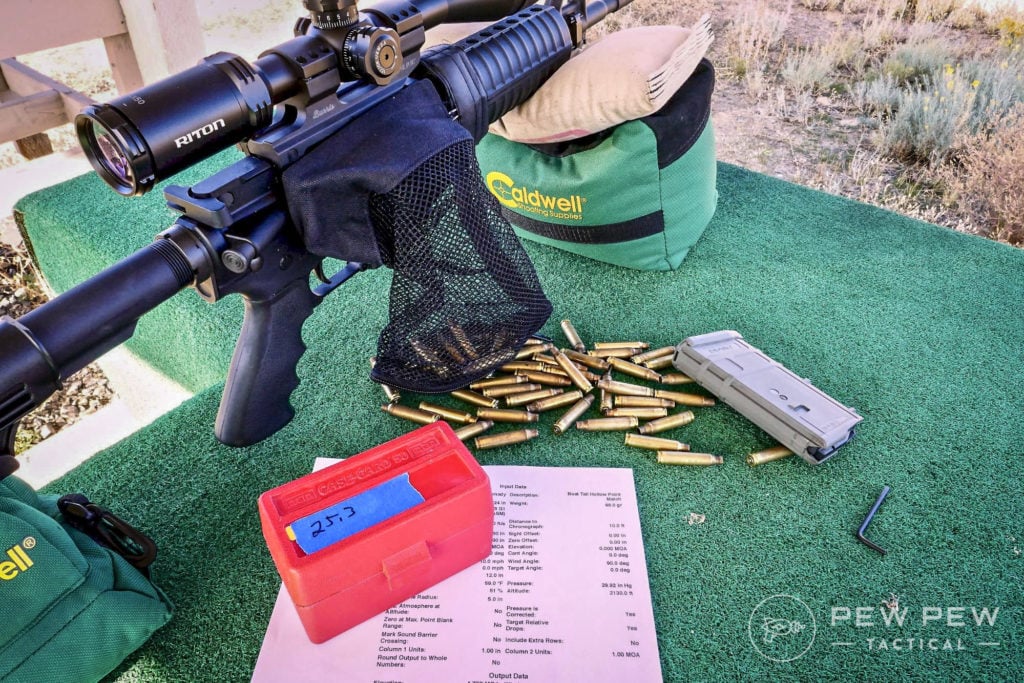 All shooting was done from sandbags off of a very solid concrete bench.
Shooting Conditions: Mostly Sunny
Temperature: Mid-40's
Humidity: 61%
Wind: Variable, 3-6 mph from every direction
Elevation: 2203
The Range: Look closely and you can see steel at 300-, 428-, 505-, 637-, 718-, and 1,000-yards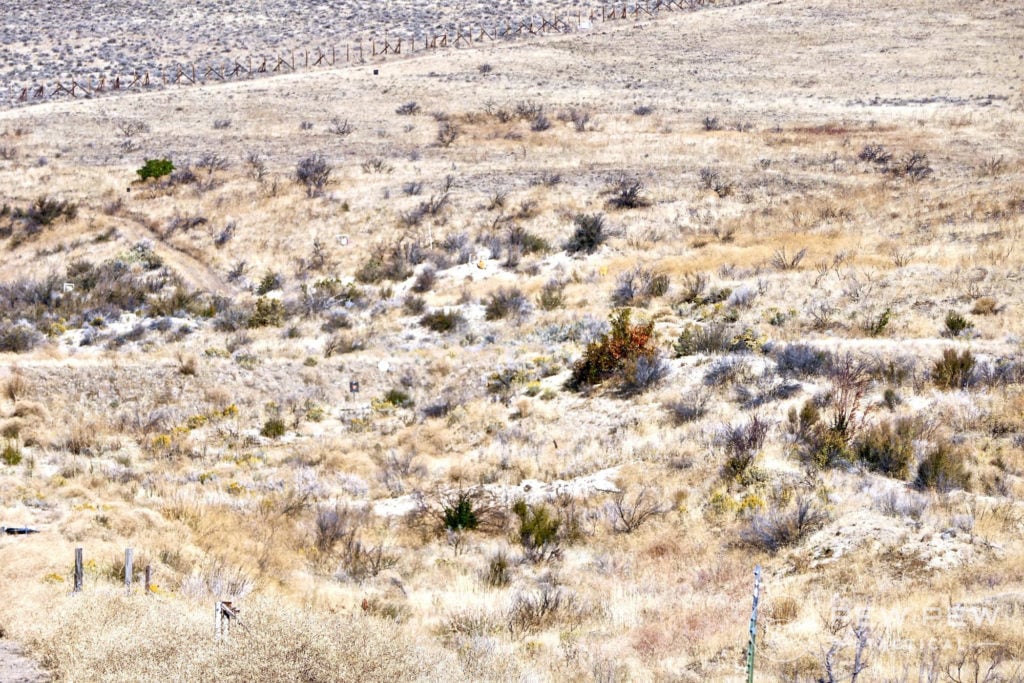 I used the JBM Ballistic Calculator to create a Trajectory Chart for use in this test. For those without a ballistic app or a chronograph or weather/wind measurement unit, the JBM calculators will put your shots very close and allow anyone to dip their toes into the long range shooting game.
The shooting began with the slower velocity loads and I confirmed my zero at the range. As the target shows, the 100-yard zero was right on the money.
I then proceeded to shoot at the various steel plates at increasing distances to see what the rifle, scope and load were capable of doing at longer ranges.
At 300- and 428-yards I simply used the holdover dots on the reticle to make repeated hits. I confirmed the range and dialed my correction according to my chart for the 505-yard steel. After a couple of wind corrections, I made several consecutive hits.
Next up was the 637-yard plate. That required 16 MOA elevation correction from my zero. Again, after getting the wind right, multiple hits were recorded.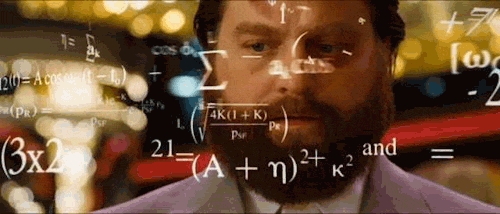 On up the hill to 718-yards. Another 5.5 MOA and I was able to make 3 hits consecutively on this very small steel (about a 12"x12" plate).
The next target on the range is a 24" round plate at 813-yards. This required a total of 28 MOA of elevation. After dialing in my zero, I ran out of elevation adjustment at about 24 MOA.
Time to figure in some holdover using the reticle and fire away. It took me about six shots to get my windage correction right at this target but I did manage to hit it three times.
I then dialed the scope back to my 100-yard zero setting and fired a confirmation round to see how precise and repeatable the scope adjustments are. The target below tells me this scope is very accurate from an adjustment perspective.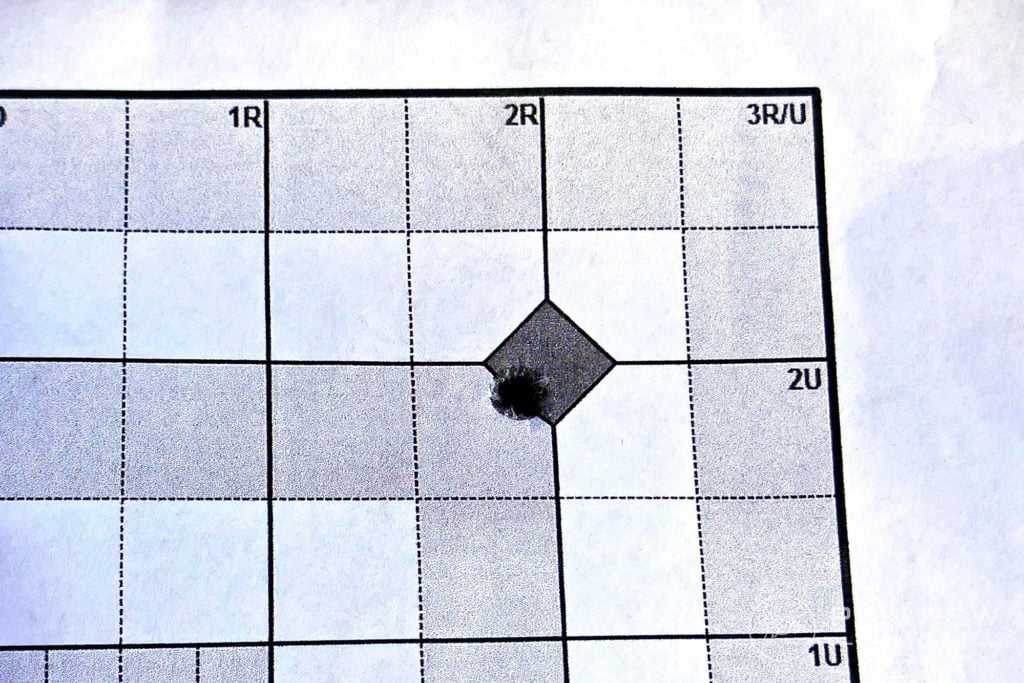 I shot again at all the steel from the 300 out to the 813-yard ranges and managed hits again all the way out.
Now for the real trial… 1,000-yards. Having topped out the elevation adjustment at about 800-yards I tried to find the correct holdover using the reticle.
Try as I might I was not able to ring the 1,000-yard plate. By this time the wind had picked up quite a bit and with the ground being pretty wet, seeing bullet impacts with the spotting scope was very difficult.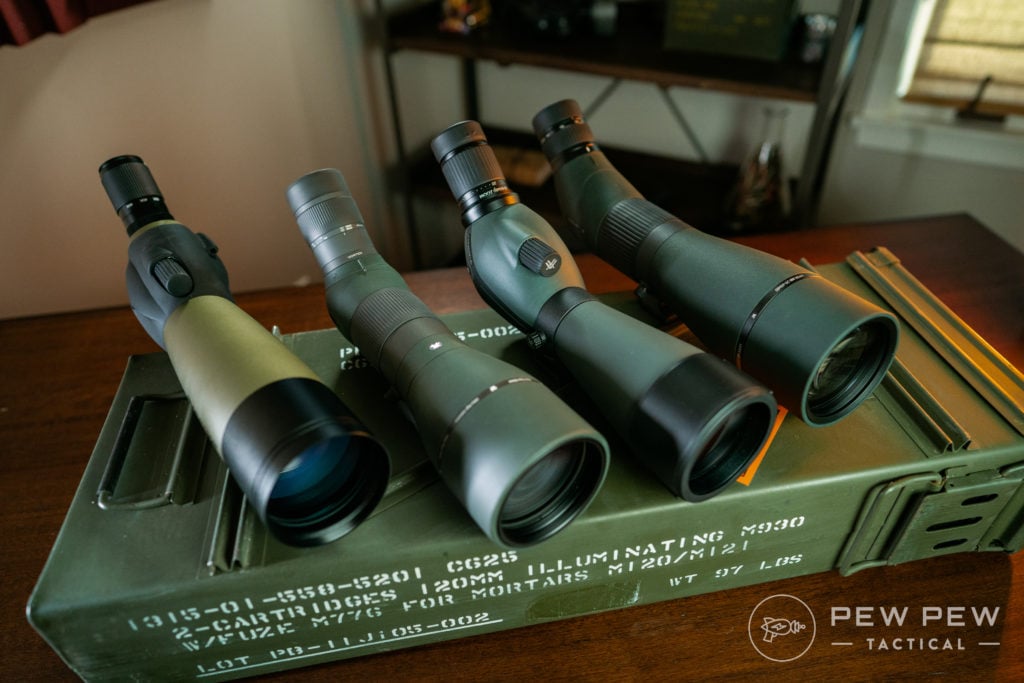 Though I did not achieve my goal of 1,000-yard hits, I am absolutely certain it is possible with this rifle, scope and ammo combination.
With a cartridge like a 6.5 Creedmor or .308 Winchester I believe this scope has more than enough elevation adjustment to make the corrections for 1,000-yard target engagement.
For a shooter wanting to use the .223 cartridge exclusively as their long-range plinker a 30mm tube scope with more vertical MOA adjustment is in order. Something along the lines of
Riton's RT-S Mod 5 Gen 2 4-16×50 would fill the bill nicely with 80 MOA of adjustment available. And the tracking on such a low cost optic is really impressive!
Final Thoughts
Long range shooting is fun. It is a test of the shooter's basic marksmanship skills. But it is also a test of the rifle's inherent accuracy and the ammunition being used.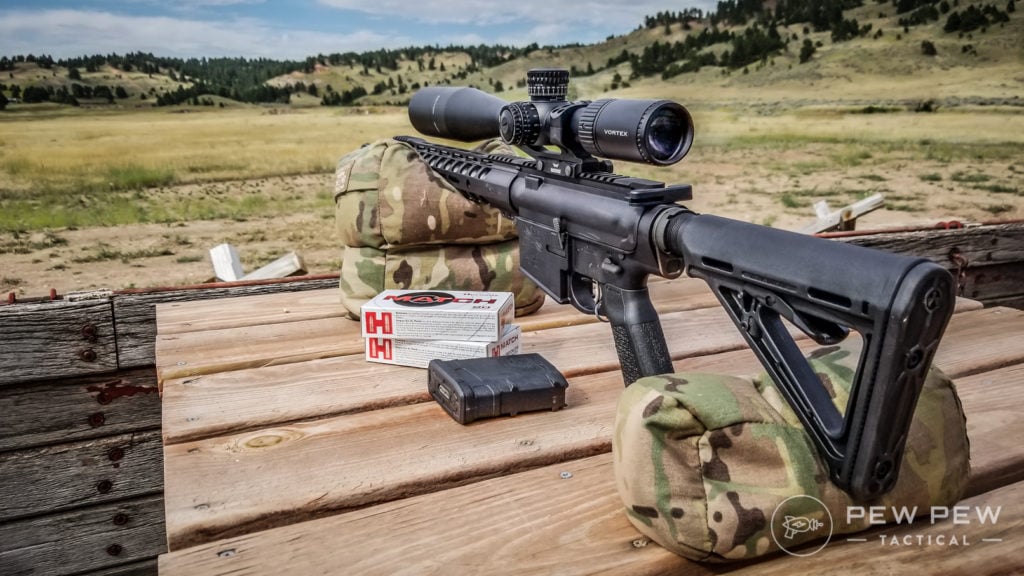 With today's state-of-the-art machining, most rifles are capable of extremely fine accuracy. The real limitation to stretching the limits is the optic. If you can't see your target clearly and make very precise adjustments, hitting at long range becomes an exercise in frustration.
My advice to anyone with an AR in .223 sitting in the safe that has been used only for short-range work, is to dust it off, mount up a Riton scope and see what you can do at extended ranges.
Chances are, you will be pleasantly surprised to find a long-range rifle in your collection that you didn't even know you had.
Tell us about your experience with the .223 at long range! Need even more long range optics? Take a look at the Best Long Range Scopes!