There's a ton of budget AR-15 options…and it's hard to sort out what's good and what's not so good.
Thankfully, we got time on our hands and a lot of ammo so we're going to find out!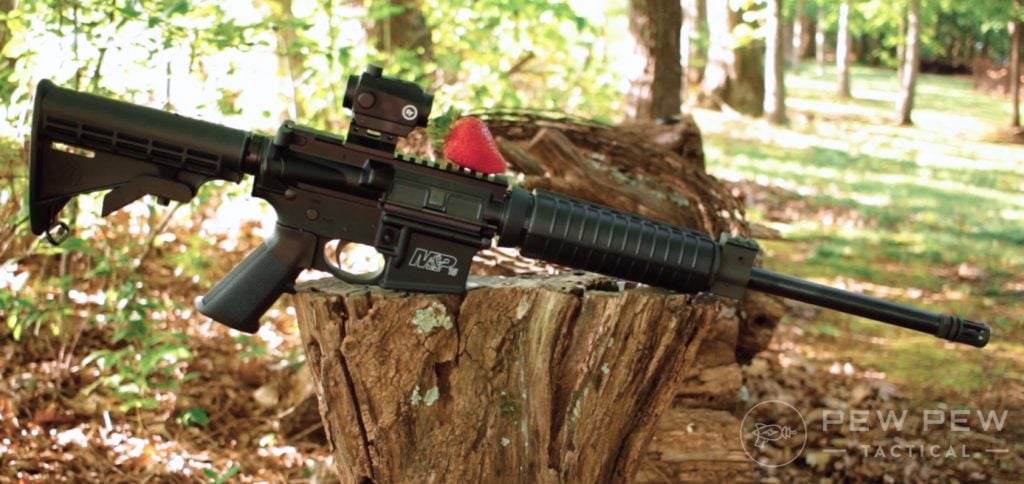 Up next is the Smith & Wesson M&P Sport II…one of our favorite recommendations for a starter AR-15.
If you want to check out the awesome video, take a look at it below — don't forget to subscribe to the Pew Pew Tactical YouTube Channel!
Table of Contents
Loading...
The Rifle
Smith & Wesson is a classic American name in firearms with a huge catalog of arms offered right now.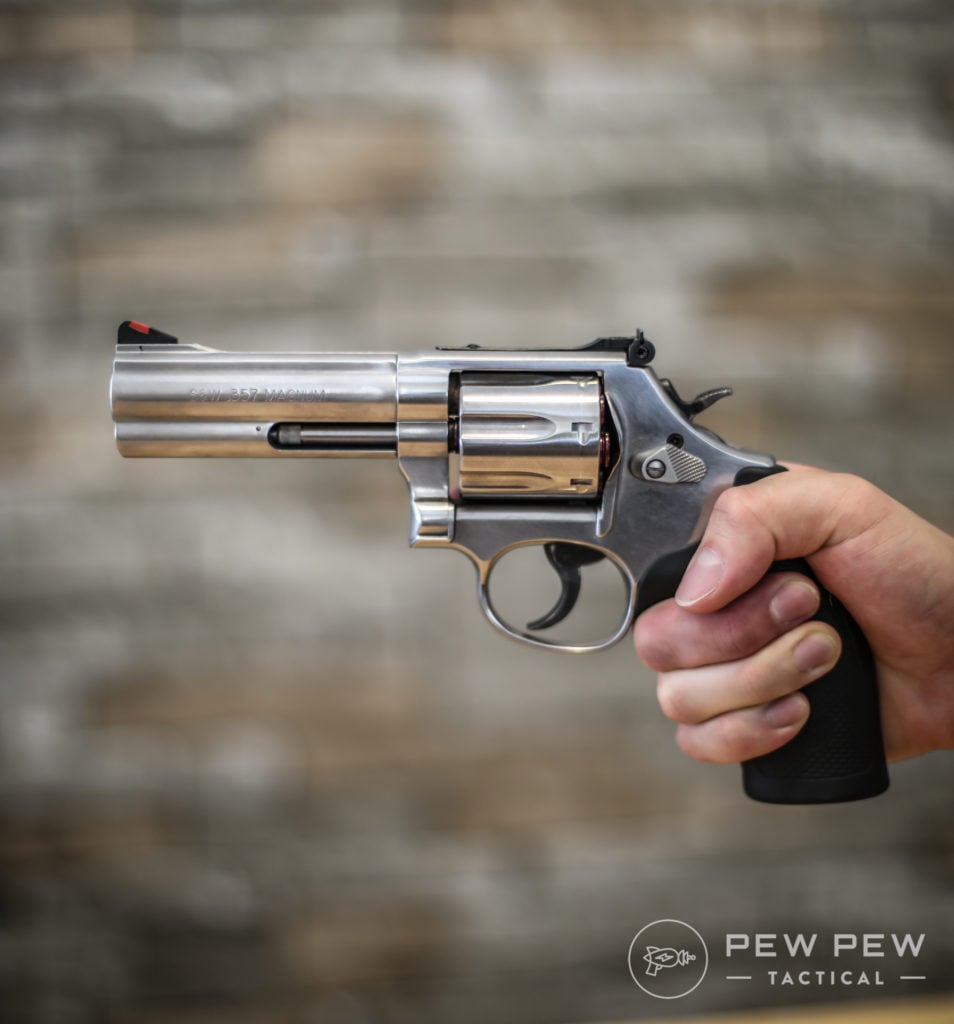 Including a wide range of AR-15 style rifles.
The M&P Sport II is one of their more budget offerings, but don't let that be a knock against it!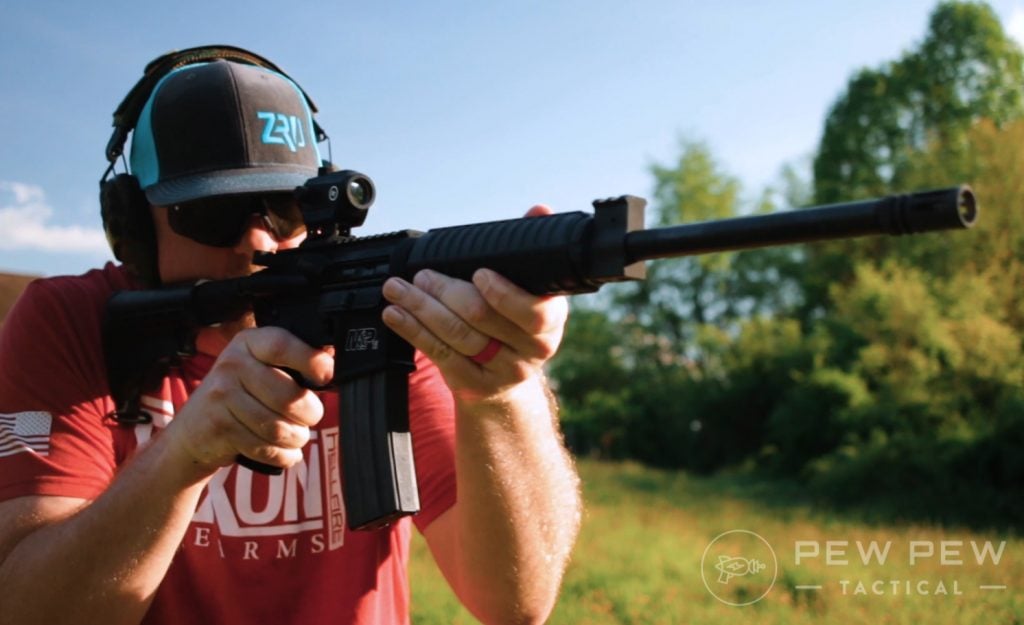 Johnny got his hands on one of the slightly nicer models of the Sport II though from GunPrime and for the price, these are a killer deal right now.
A flattop receiver and a Picatuny gas block leave the rifle ready for any optic set up, but included in the box is a Crimson Trace Red/Green Dot optic — mount and battery included.
For a package that is literally ready for the range out of the box, you're getting your money's worth.
640
at GrabAGun
Prices accurate at time of writing
Prices accurate at time of writing
The Specs
Model: M&P 15 Sport II
Caliber: 5.56mm NATO/.223
Safety: Manual Safety on Lower
Barrel Length: 16″
Overall Length: 35.0″
Action: Gas Operated Semi-Auto
Stock: 6-Position CAR
Grip: Polymer
Weight: 103.2 oz / 2,925.7g
Barrel Material: 4140 Steel
Frame Material: Aluminum Alloy
Frame Finish: Matte Black
Barrel Twist: 1 in 9, 6 groove
Purpose: Home Protection, Hunting, Recreational Shooting
Range Report
It has to be said, there isn't really anything that stands out about the Sport II — good or bad. It's a very basic mil-spec AR-15.
Smith & Wesson made it well though, during the review there was only 1 failure to extract and that isn't unreasonable for very cheap ammo through a brand new rifle.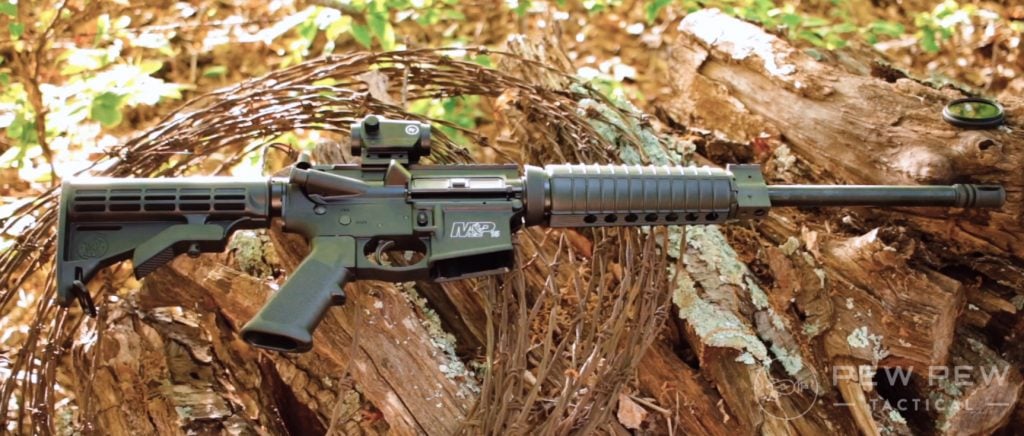 The trigger is mushy and gritty, but since it's mil-spec… we expect that.
Everything else about the controls is spot on and functional. While still nothing to write home about, they work.
And are of course easy to upgrade.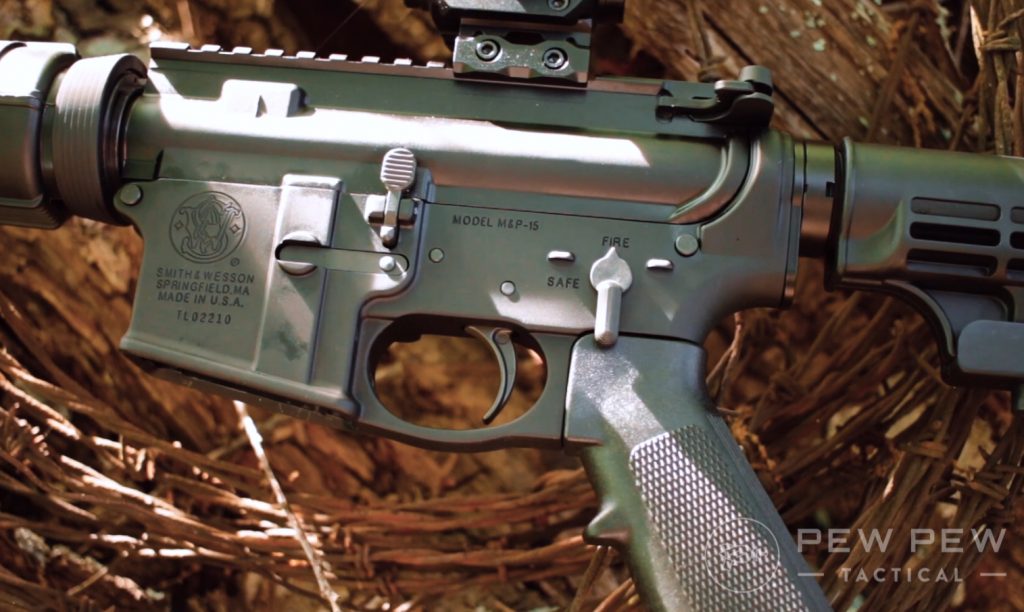 A simple 6-position adjustable stock makes the Sport II able to fit just about any body type, something to consider if you're going to be sharing the rifle among family/friends.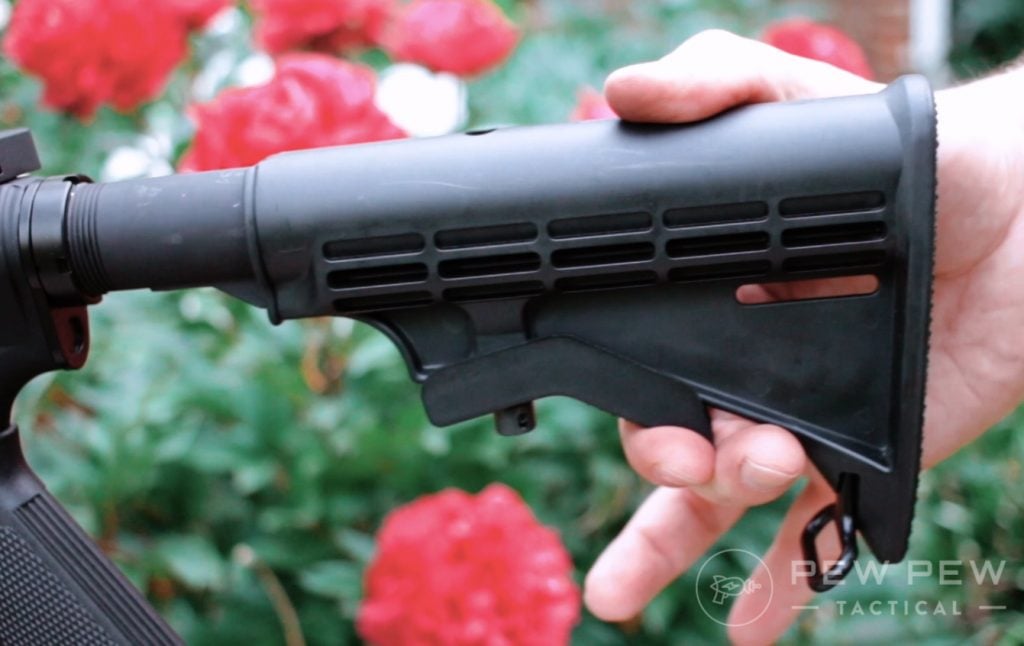 An interesting choice from S&W is to forgo the A2 front sight on this model and instead provide a flat-topped gas block with Picatinny rail on it.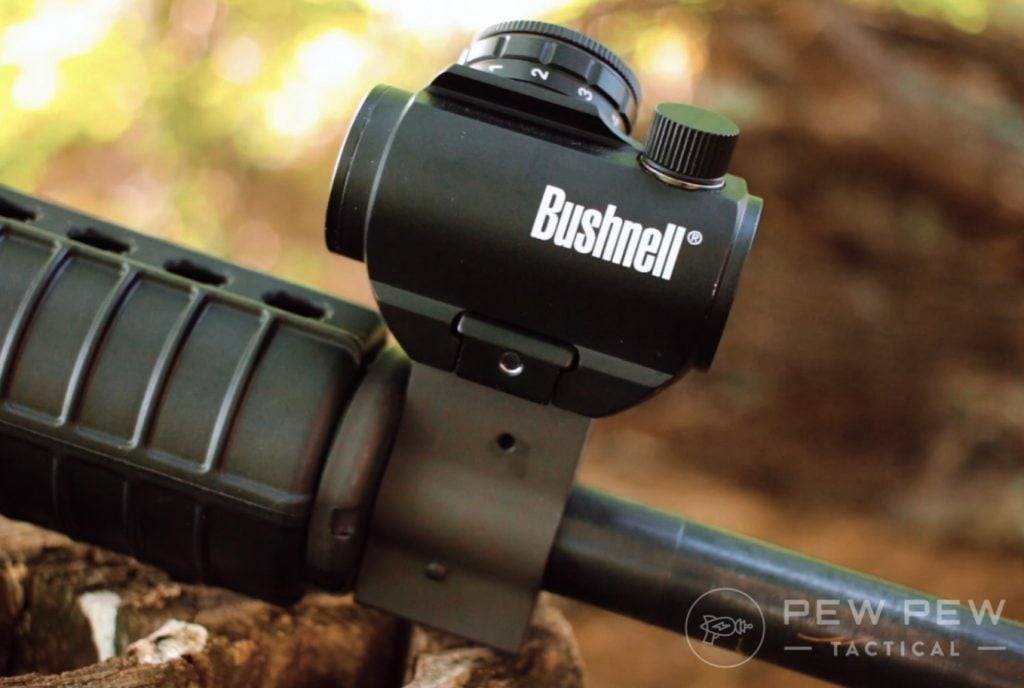 This is great if you're looking to add your own backup iron sights, like from Magpul.
64
at Brownells
Prices accurate at time of writing
Prices accurate at time of writing
Combo with the provided red dot and you have a solid system.
Crimson Trace Red/Green Dot
Likely not an optic you've run into much, Crimson Trace is fairly new to the optics market but has an established and impressive lineup of laser sights.
Crimson Trace is owned by American Outdoor Brands, the same parent company that owns Smith & Wesson, Thompson/Center Arms, and others. So it makes sense why we find their dot on a Sport II.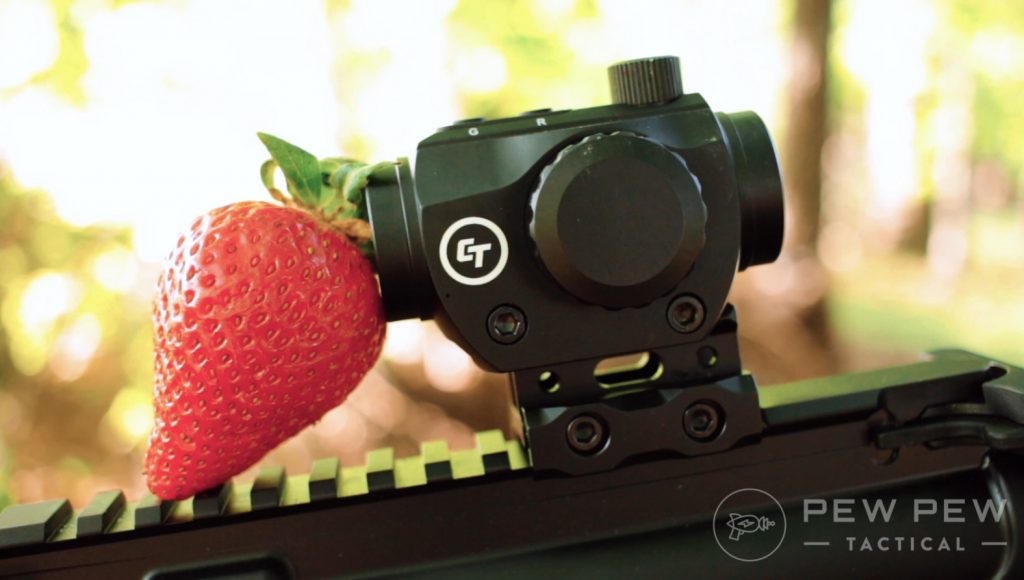 Much like the rifle itself — the dot just worked.
It doesn't have many features other than the ability to choose between red or green dot, but it holds up to recoil and gives you an accurate ability to aim.
Why Green?
Without getting too into the weeds about science and biology, the short version is that the human eye sees a LOT more shades of green than we do any other color. Like, a LOT more.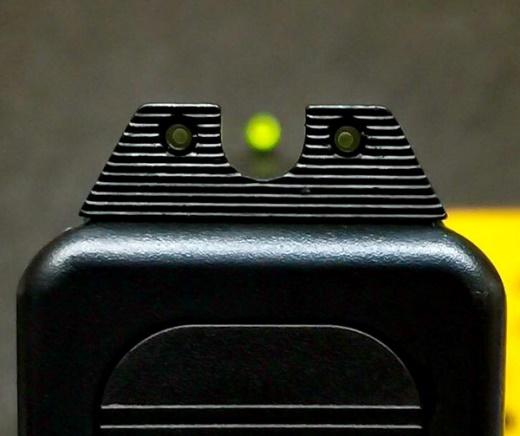 This makes green optical dots much easier for our eyes to acquire and use, especially when we're under stress.
However, electronically making a green dot takes a lot more power while red takes very little. That's why red dots were red for so long, so we could get as much battery life out of them as possible.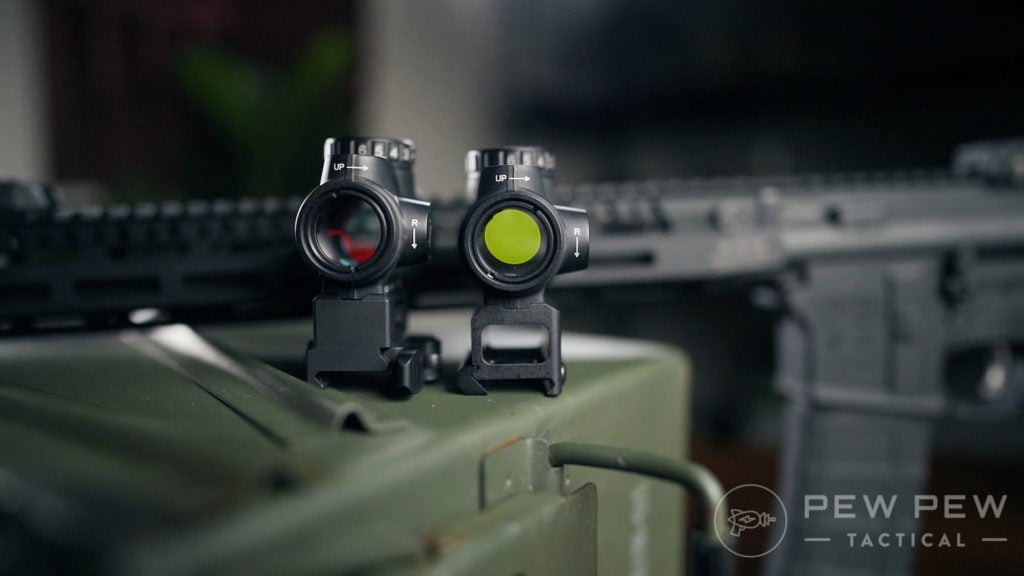 It's only been in the last couple of years that battery tech has been good enough to allow the use of green dots and still have a respectable battery life.
If you're interested in more about green dots, take a look at our Trijicon MRO Green Dot review!
Issues…
While everything worked well, it didn't work perfectly.
Two issues presented themselves while firing, trigger pins walking, and the rifle overheating.
Trigger pins walking during fire isn't super uncommon for the AR-15 platform, but it is annoying. Some anti-walk pins will solve the issue and since this is a sample size of one, we can't say if you'll need them or not.
25
at Brownells
Prices accurate at time of writing
Prices accurate at time of writing
But it is something to keep an eye on.
If you want to upgrade your trigger AND solve the problem, take a look at the Best AR-15 Triggers!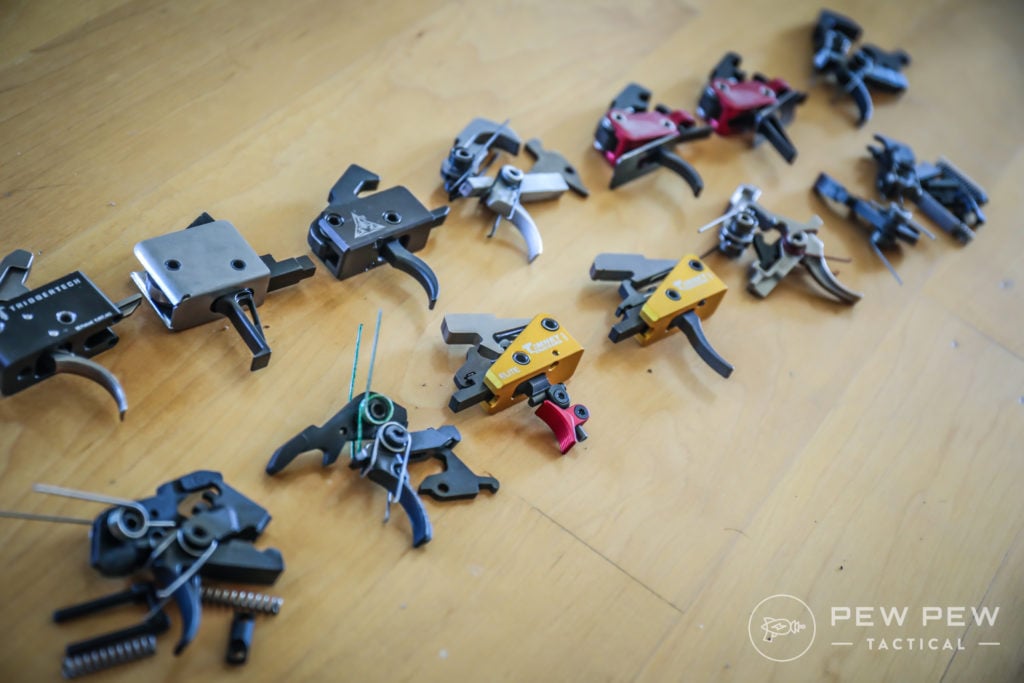 Second up was the fairly poor heat shielding found in the handguard.
Normally, with a basic plastic handguard like this, there is a metal heat shield on the inside to protect the plastic from the heat coming off of the barrel.
In the M&P Sport II this metal protection seems to be a bit thin.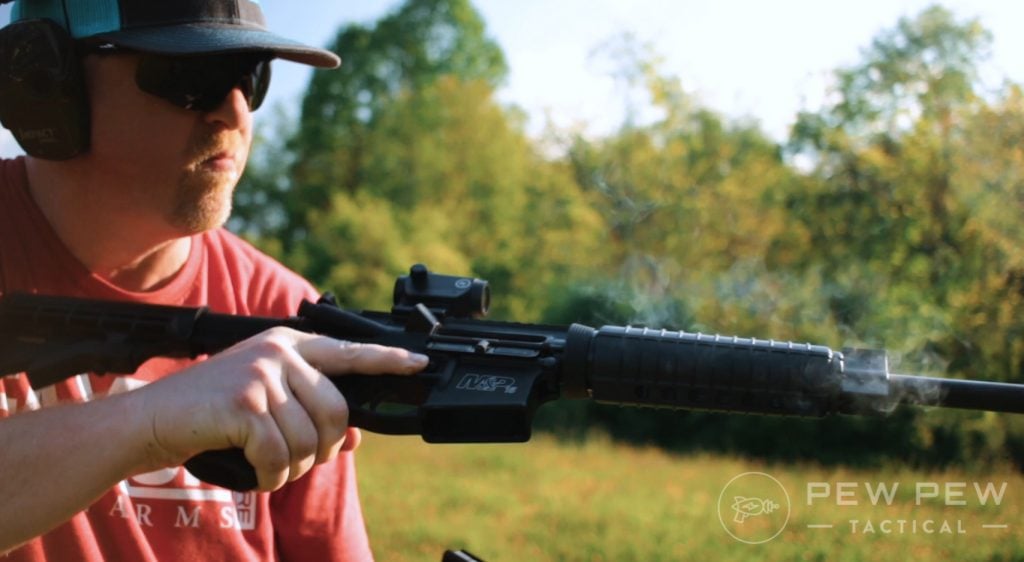 A big issue?
It depends on how long your courses of fire are. One option is to get a new handguard, one we highly recommend if you plan on mounting a light on your rifle.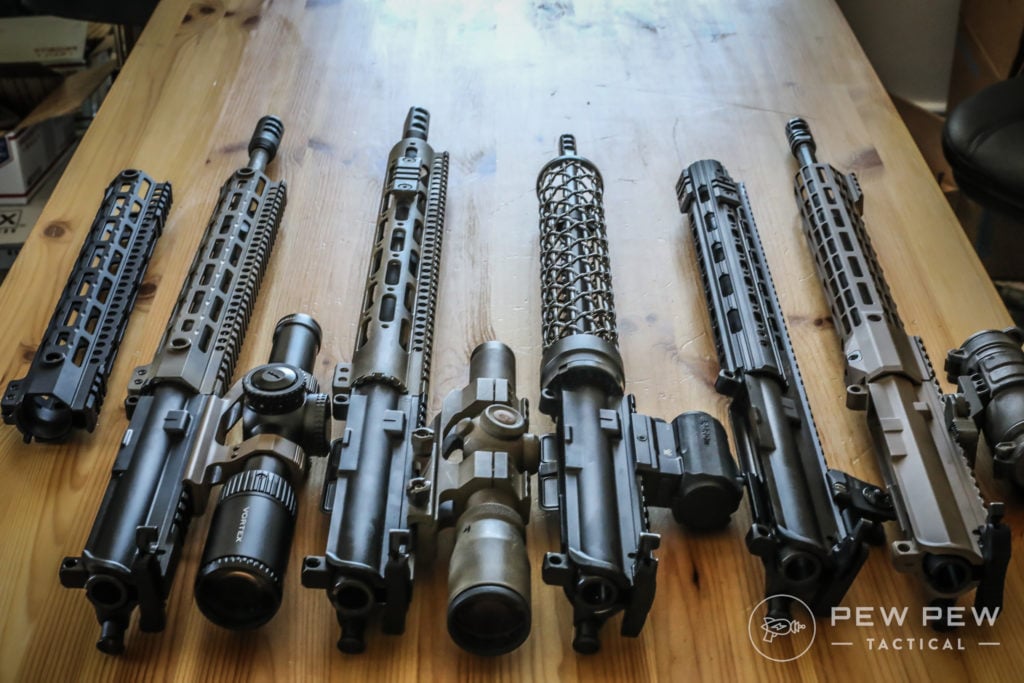 Or wear gloves.
Editor's Choice Shooting Glove
56
at Amazon
Prices accurate at time of writing
Prices accurate at time of writing
Or shoot less.
But that's crazy talk!
By The Numbers
Reliability: 4/5
I suspect this number should be a little higher, but for my sample size of one…couple hiccups to deal with.
But overall it runs great.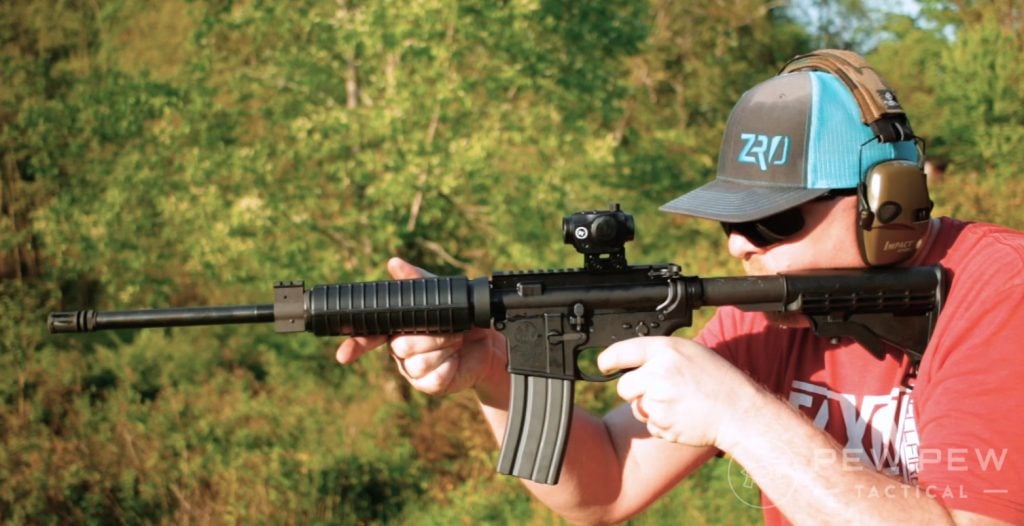 Ergonomics: 4/5
It's an AR. Lower your ergonomic expectations.
Accuracy: 4/5
It does what it's supposed to do.
Customization: 4/5
Most AR's should be like a 6/5 for customizability. But this one has minimal rail space, and that shorty guard is a buzz kill.
Upgrade the handguard and then we'll talk. 
Value: 4.5/5
Huge bang for the buck to get the rifle, mag, and red/green dot at an affordable price.
640
at GrabAGun
Prices accurate at time of writing
Prices accurate at time of writing
There's also other variants out there with included grips, bags, etc…but we like this one since it comes with a red dot.
Overall: 4/5
It won't win you any points on IG because cool it ain't. But it is serviceable and does exactly what most AR owners need their rifle to do.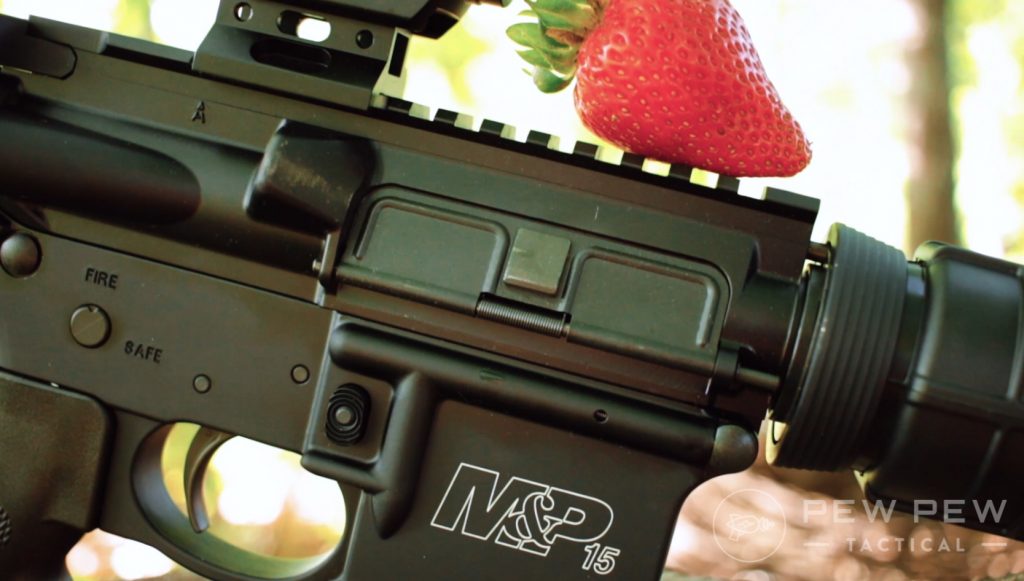 Conclusion
If you're looking for a functional, well made, reliable rifle that will leave enough cash in your account for lots of ammo and a sling — the M&P Sport II is absolutely a rifle you should consider. Ergonomics, accuracy, and reliability are good for the price and you can always upgrade.
640
at GrabAGun
Prices accurate at time of writing
Prices accurate at time of writing
This is an AR-15 that leaves off all the frills and delivers exactly what you need, a rifle that works.
If you're still strictly in the budget category…check out our go-to recommended AR-15 from Palmetto State Armory.
What are your thoughts on the M&P? What about green dots? Let us know in the comments! For more AR-15 knowledge and a look at the top of the line, check out our Best AR-15s!