---
There aren't a lot of pistol options chambered in the interesting 5.7 round.
Fabrique Nantionale Herstal kicked us off with the Five Seven, and Ruger followed with the Ruger-57 many years later.
Most recently, Palmetto State Armory entered the fray with their version called the 5.7 Rock. We can agree having choices is a good thing but is PSA's new offering worth your consideration?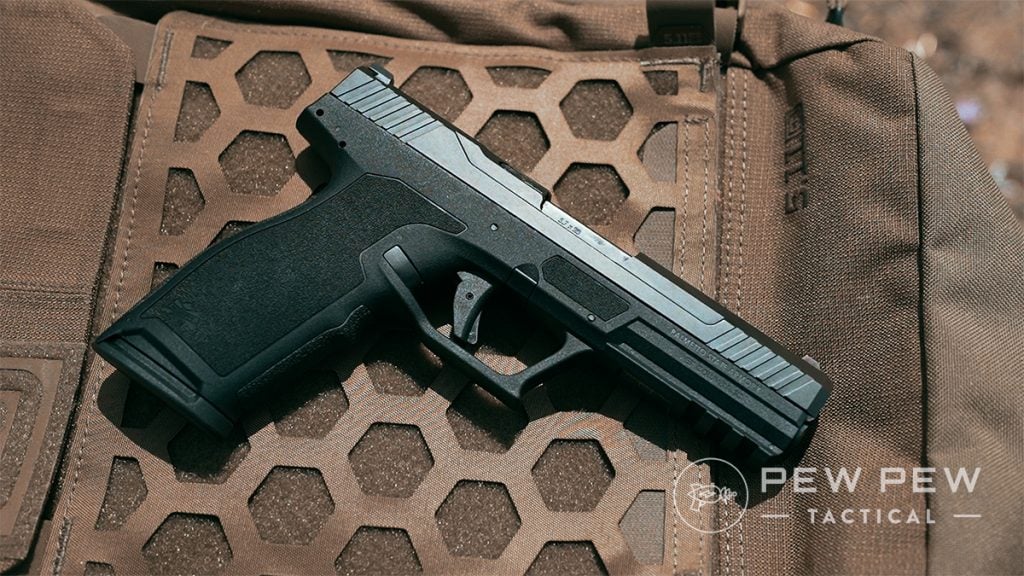 Stick with us as we walk through the specs, features, pros, and cons and, of course, take this bad boy to the range.
By the end of this review, you'll have a better idea of whether the PSA is worthy of competing in the 5.7 realm.
Table of Contents
Loading...
Pros & Cons
Pros
High capacity
Minimal recoil
Optics-ready version available
Cons
Loud
Expensive ammunition
The Bottom Line
I was impressed with 5.7 Rock. The overall product displays attention to detail and refinement.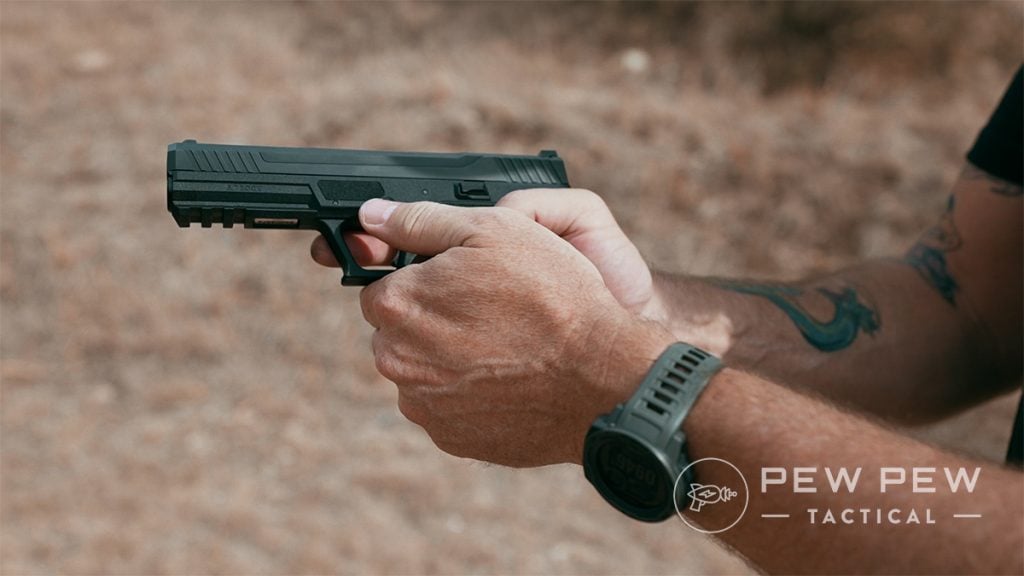 PSA took their time with this gun, and it shows. Most importantly, it performed very well during our somewhat limited testing.
Specs & Features
PSA 5.7 Rock Specs and Features
Specs
Action
Delayed Blowback Striker-fired
Magazine Type
23rd Steel 5.7x28mm
Stock Material
416 Stainless steel slide; QPQ Coating
Features
QPQ (quench polish quench) coating
Source: Palmetto State Armory
499
at Palmetto State Armory
Prices accurate at time of writing
Prices accurate at time of writing
Background
This is a new gun from PSA, but there are a couple of guns we can draw background information from. First, has to be the FN Five SeveN.
FN Herstal created this handgun in 1998 to accept the 5.7 round they had developed for the P90. While innovative, the Five-SeveN cost over $1,000 initially.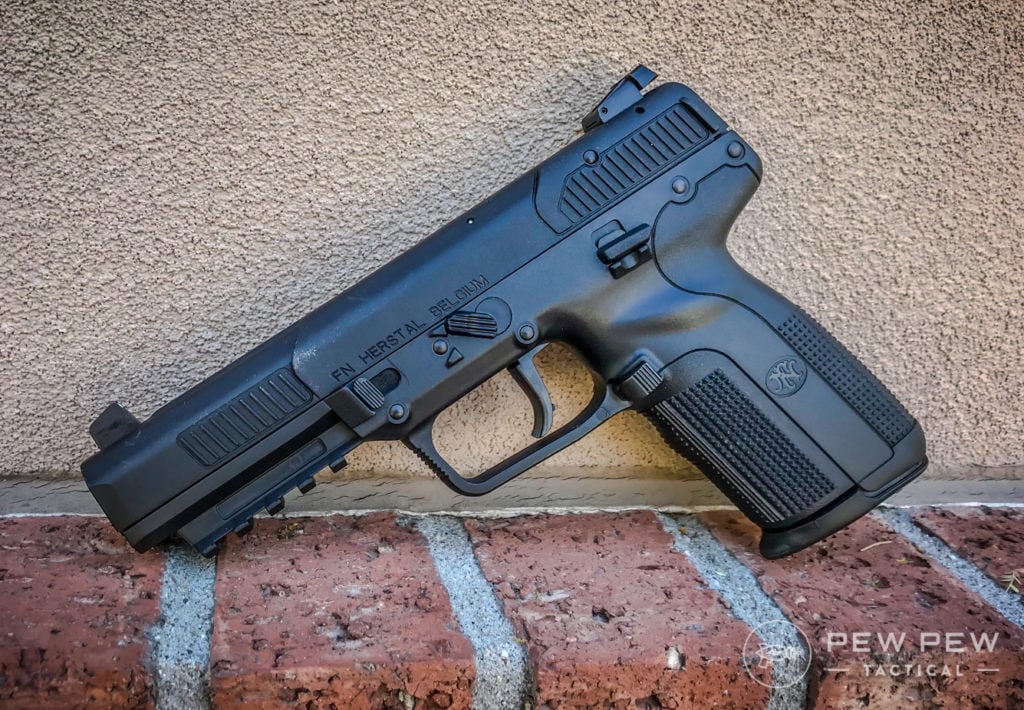 In 2019, Ruger released their version called the Ruger-57, which was widely seen as a much more affordable option. The gun eventually included an option to mount a red dot to the slide.
But when did PSA enter picture? In 2020, the company marked entry into the handgun market with its Glock clone called the Dagger.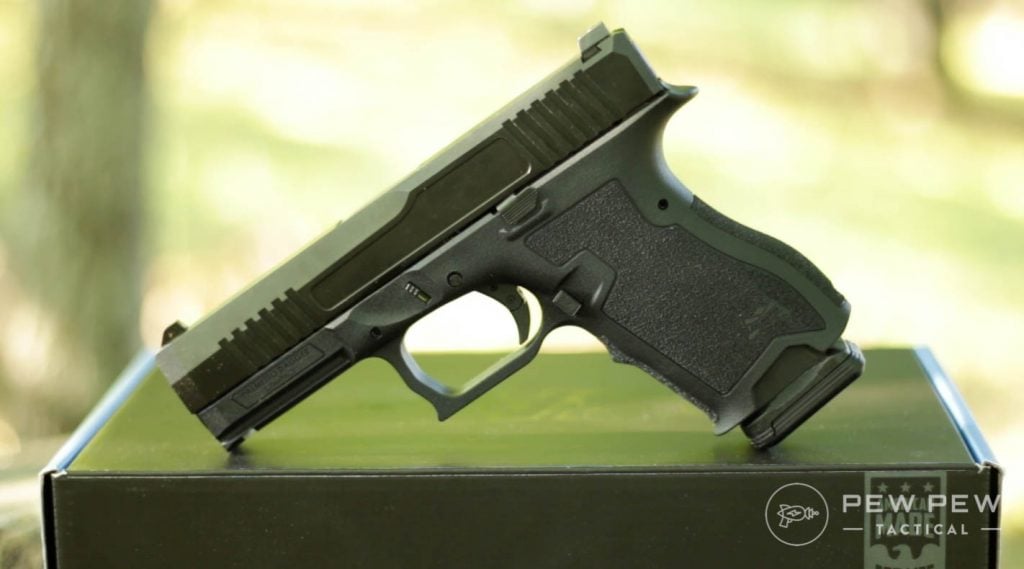 This initiative likely paved the way for newer projects like the 5.7 Rock.
Who Is It For?
The 5.7 Rock is a full-size pistol, coming in at 8 inches in length — so concealability is going to be somewhat limited. Its size lends itself to more defensive/duty weapon applications.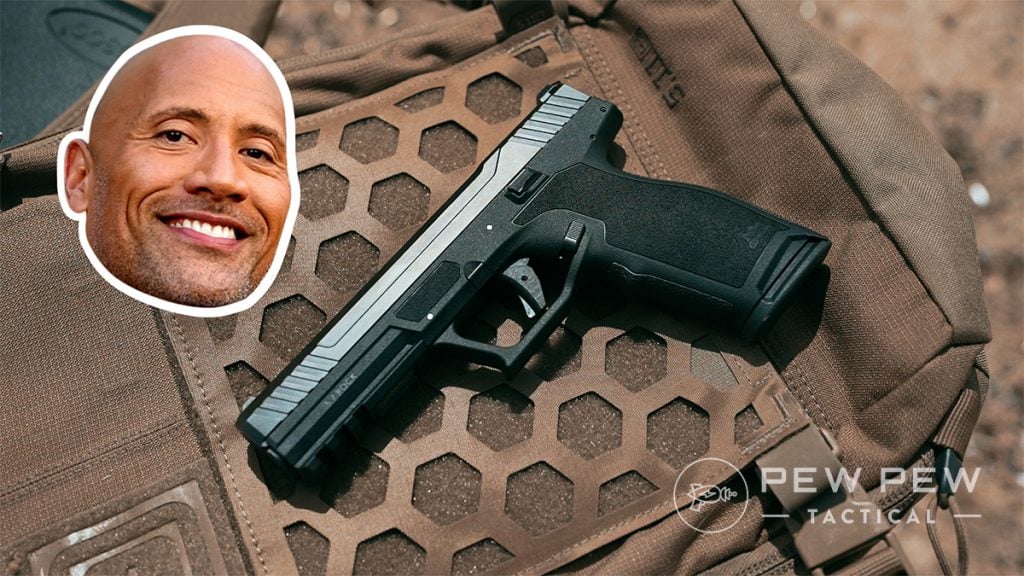 However, there are shooters out there who simply want the experience of a pistol chambered in 5.7mm. Not to mention, this is a great option for people who are sensitive to recoil as it has a very soft impulse.
Fit & Feel
There are a lot of useful features on the Rock, such as slide serrations (front and rear), a Picatinny accessory rail, and grip stations on the side of the frame. The gun has a very polished and well-thought-out feel.
The QPQ finish is a deep black and should provide years of protection to the 416 steel used in the slide.
PSA calls the grip texture "aggressive," but to me, it was only moderate — still wholly adequate considering the light recoil.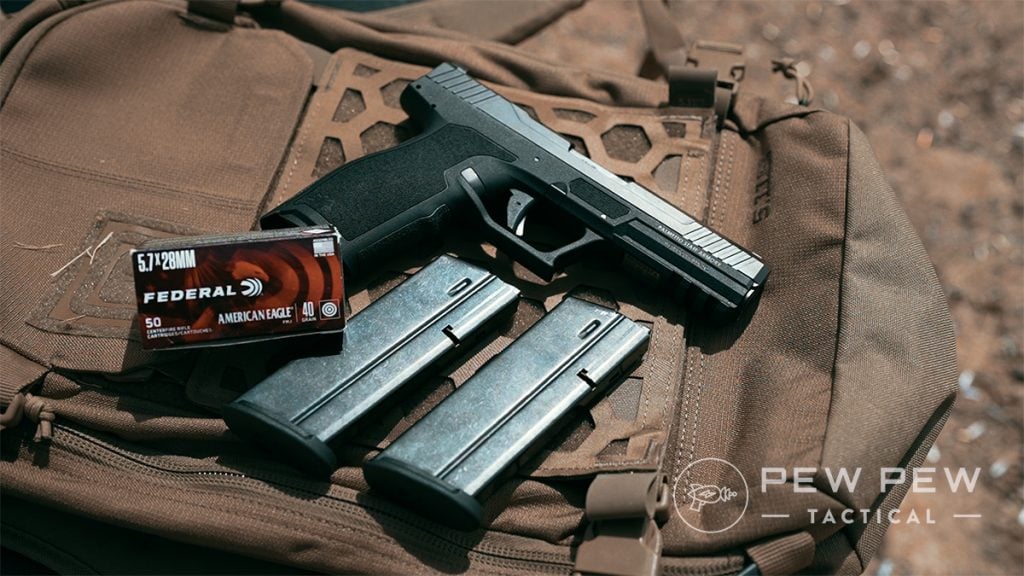 Small things like slide milling and a fluted barrel show how much effort PSA put into the design of the gun. The overall balance is quite good, with a slight lean toward the muzzle.
In addition, the bore axis of this pistol is one of the lowest I've seen in some time. It's reminiscent of the Archon Type B in that respect.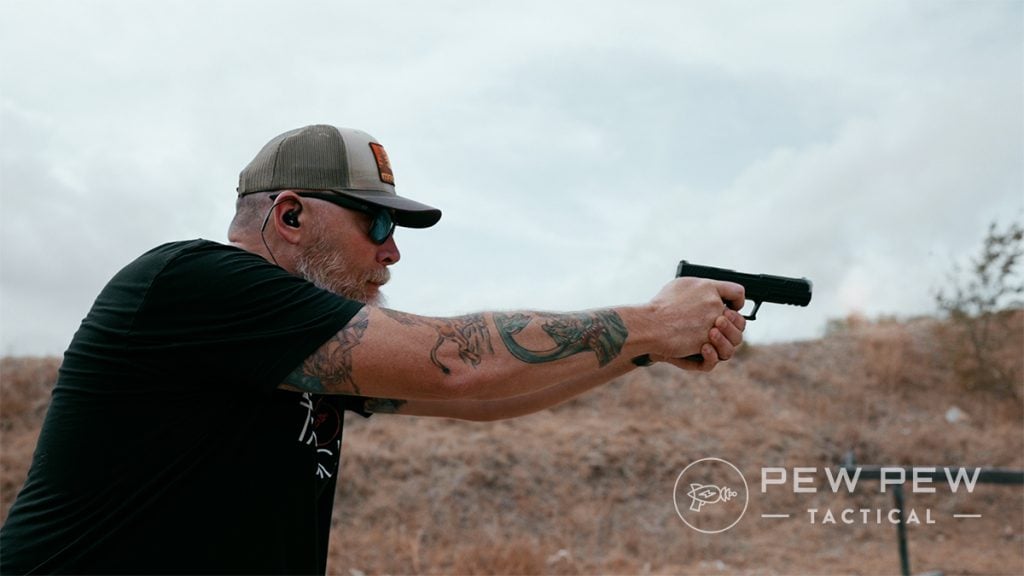 The trigger has a couple of millimeters of somewhat stiff travel before hitting a firm wall which then breaks at an average of 4 pounds, 4 ounces.
Reset happens almost immediately, is audible, and tactile.
The magazines are also deep but have a good-sized oval base plate. They have a slight lip at the bottom, which pairs with a lip at the base of the grip. This gives shooters a purchase to dig out a stubborn magazine if needed.
The magazines all worked perfectly, locking up and dropping free when called upon.
But I'll admit reloads took a bit to get used to. The size and shape of the mag caused me to struggle at first, as I'm more accustomed to square shapes.
How Does It Shoot?
With the cost of 5.7 ammo being so high at the time of testing, we only ran the Rock through 150 rounds. All rounds fed, fired, and ejected properly, though there were two failures to lock back on the last round.
While I normally suspect my large hands as the culprit for this type of issue, the slide lock on the Rock is very high, so I don't think it was to blame.
The 5.7 Rock shoots like a .22 pistol in many respects. Several designed attributes combine to create this experience.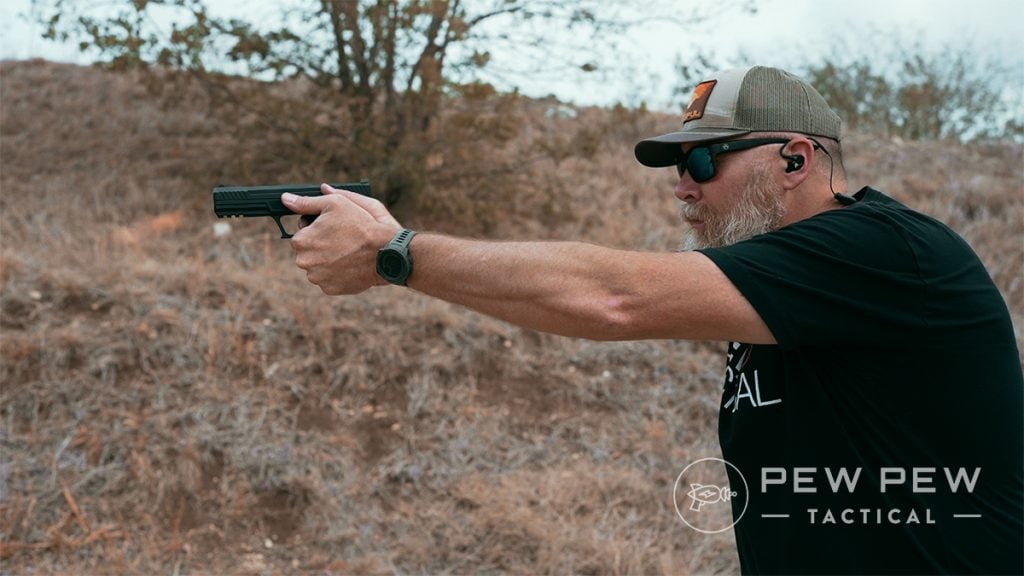 The shape of the grip, light texturing, and undercut trigger guard help you establish a high grip.
A low bore axis, deep beaver tail, and light recoil of the 5.7 round create a flat shooter that is really fun to run at speed.
Shooting groups from 7 yards, I was able to average around 1 inch. The long barrel and sight radius helped this out.
The trigger is a good striker-fired sort and created a repeatable and predictable experience. I would pull to the wall, then break the shot when ready.
The sights on the base model we tested were standard Glock, three, white dot style, but they are made of steel. These are replaceable with any sights that work on Glocks.
What Sets it Apart?
The chambering alone sets the 5.7 Rock apart as there are only a few other handguns in this limited category.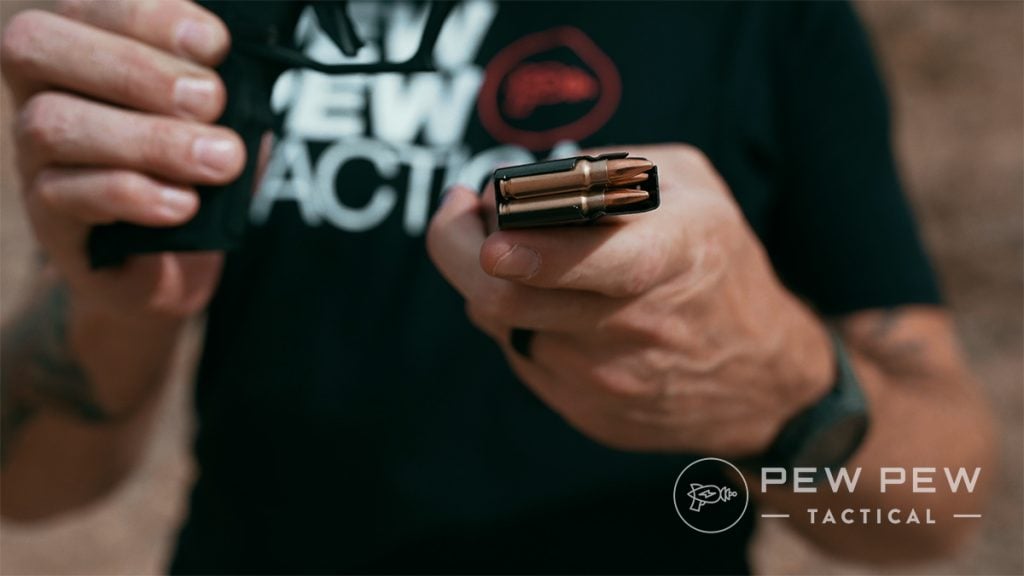 Aside from its 5.7 chambering, PSA is known for providing reasonably priced guns — the Rock is no exception. The base model we tested rings up at $499…a lot of gun for that price.
The price scales up from there depending on features but still only tops out at $599, which is very competitive with the Ruger 5.7 street price and cuts the FN Five-SeveN off at the knees.
By the Numbers
Reliability: 4/5
All rounds fed, fired, and ejected properly, but as I mentioned, there were two failures to lock back on empty. Not a dealbreaker but worth mentioning.
Ergonomics: 5/5
This grip feels big, but it is well shaped in a long oval. Another smaller-handed shooter tried the gun and said it fit him too, so PSA did a great job finding a middle ground. The undercut trigger guard and raised beaver tail allow you to get a high grip which helps tame the minimal recoil. All controls were easy to reach, and the magazine release is ambidextrous.
Accuracy: 4/5
Shooting groups from 7 yards, I was able to average around one inch. Not bad.
Customization: 3/5
This is a brand-new gun, so there isn't a great deal of customization available yet. There are four models though…a base, night sights, optics ready, and optics ready with a threaded barrel.
Value: 4/5
You get a lot of gun for a pretty decent base price of $499. When compared to the Ruger-57 or FN Five-SeveN…it looks even better.
Overall: 4/5
Upgrades for 5.7 Rock
You can currently pick up optics-ready slides, extra magazines, and threaded barrels for the 5.7 Rock on the PSA website.
The Picatinny rail up front also enables you to mount up whatever accessory your heart desires.
199
at Palmetto State Armory
Prices accurate at time of writing
Prices accurate at time of writing
Final Verdict
The Rock is a great value that gets shooters into the pretty exclusive club of 5.7mm without premium membership dues.
Its performance was solid, and the ergonomics were great.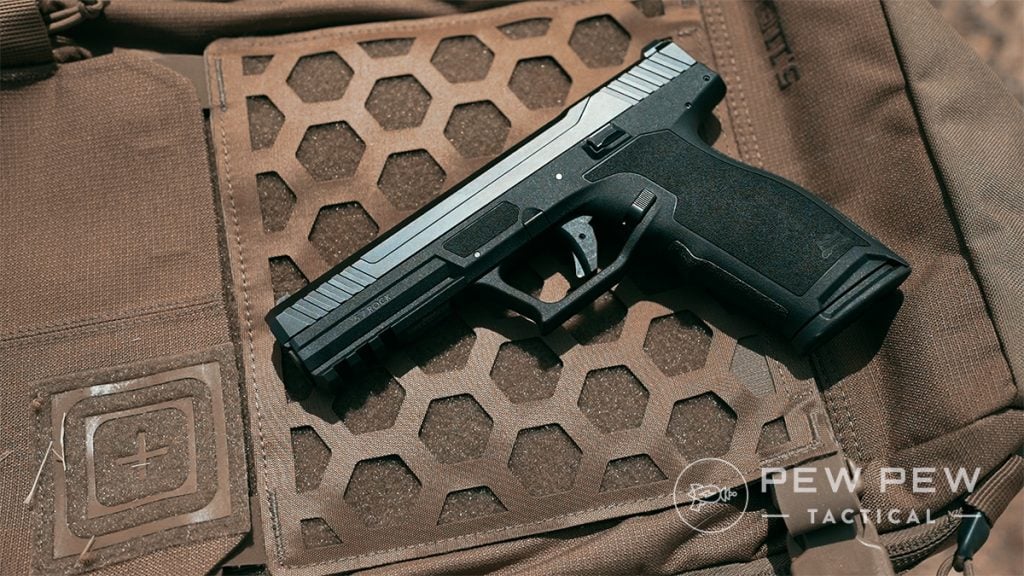 Although the test was somewhat limited, the gun proved to be very well designed (I even loved the simplicity of the takedown) and a lot of fun to shoot.
Will you be picking up a 5.7 Rock? Let us know in the comments below and for more information on this interesting round, check out Best 5.7x28mm Guns and Ammo!