It's no secret that the Pistol Caliber Carbine craze has pretty much been the gun-world's 'it' fad for the past few years, so what separates new entrants into an already saturated market?
If you're New Frontier Armory, the answer lies in refining the existing AR-15 fire controls to better suit the PCC package.
Starting with the brand new G9 Lower, a new and improved billet lower from NFA.
Check our full video review below!
Then enter the NFA Side Charging C9 – probably the most ergonomic take on a side charging 9mm upper we've ever seen.
And if that was awesome, please sub to our YouTube Channel for shenanigans every week.
Table of Contents
Loading...
The G9 and All Options
New from NFA is the G9 9mm lower, a sleeker, and sexier version of the C9 lower with some minor improvements such as finger grooves.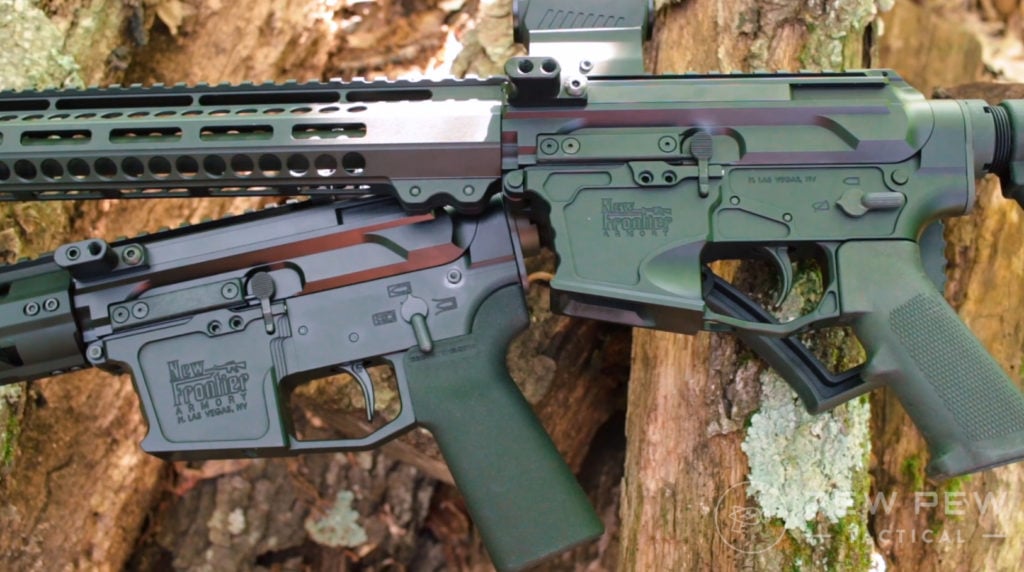 But with all of the functionality and quality that you should expect from a great manufacturer.
190
at New Frontier Armory
Prices accurate at time of writing
Prices accurate at time of writing
That isn't the only thing that NFA offers though, with a huge list of different uppers you can choose from it's easy to build up a PCC in basically any configuration that you're interested in.
Side-charging is our favorite, but you do you.
380
at New Frontier Armory
Prices accurate at time of writing
Prices accurate at time of writing
If you're interested in all of the cool details, you'll want to keep reading…
Features of New Frontier Armory
The vast majority of 9mm ARs are going to run on a direct blowback system, which are stiffer feeling on average than your standard buffer spring and BCG setup.
Combined with the fact that a lot of PCCs don't utilize a bolt hold-open feature, and you're left to deal with a sub-optimal rack of the t-shaped charging when reloading on open bolt.
NFA's solution is to integrate a pretty huge side charging handle onto the left side of the upper receiver, complete with aggressive finger grooves.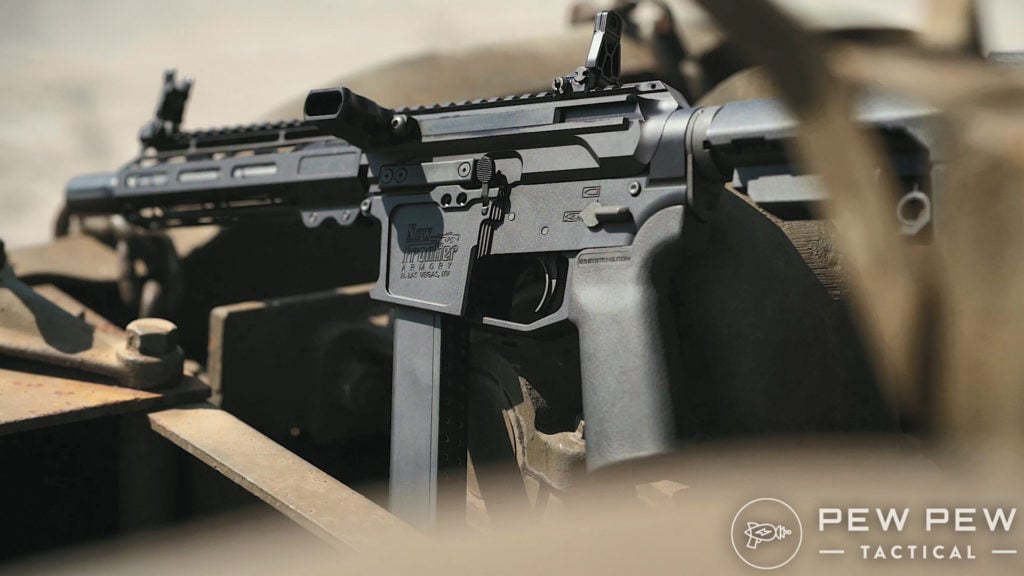 The Pew Pew
We met up with NFA out at Gunship Gunrange outside of Las Vegas, who let us send a ton of 9mm downrange between flying tourists around in a helo with a SAW mounted on the side of it.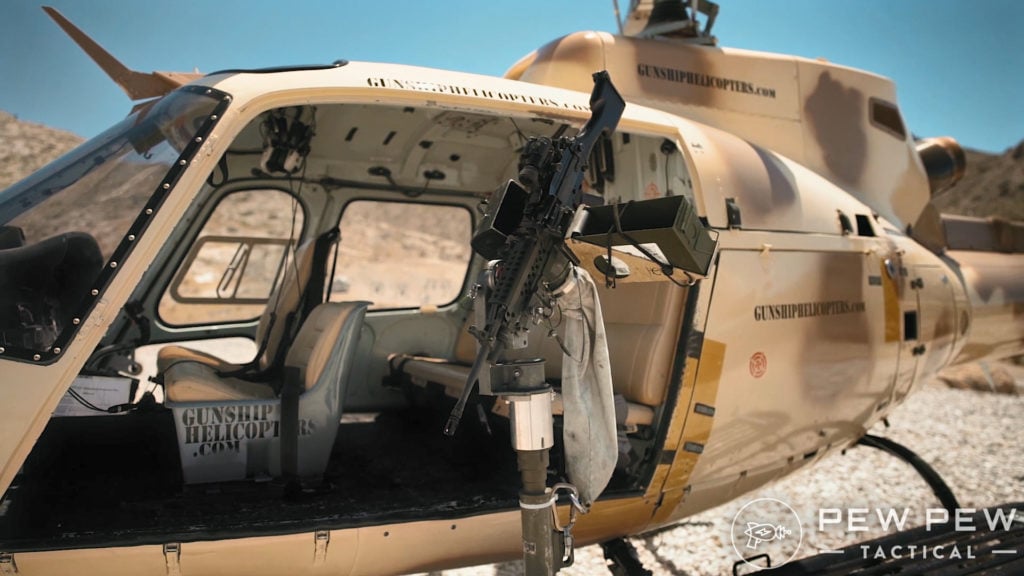 The side-charging feature allows you to chamber a fresh round without moving the gun out of your workspace, which I quite enjoy. That huge charging handle also ensures that you're not going to have a problem finding and grasping it when you're moving quickly.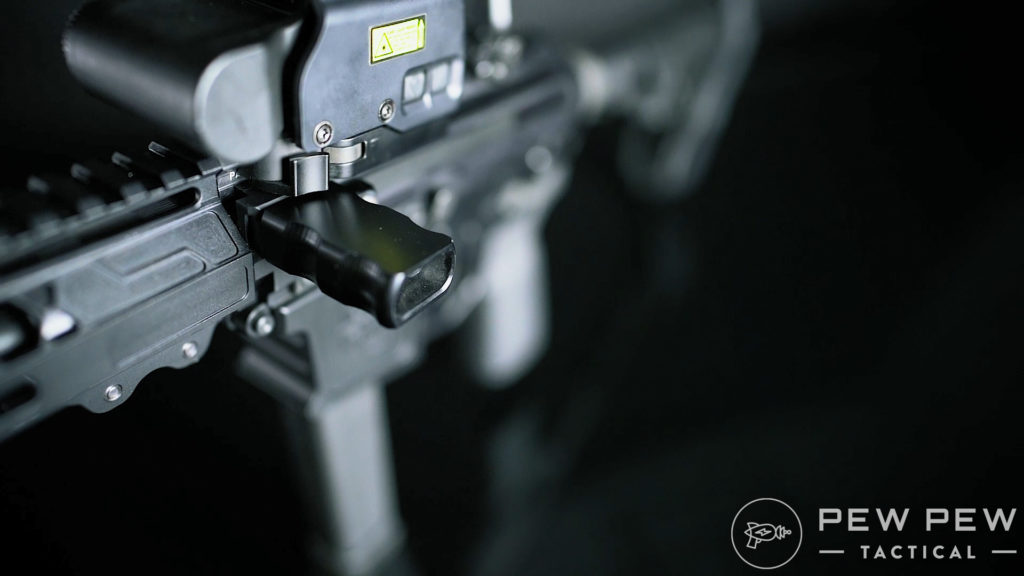 We did find however that you've only got a tiny bit of clearance between the charging handle and your optics mount. While the QD throw lever on our EOTech didn't get in the way too much, we suspect you may have issues if you're using anything bulkier. The bolt can be locked to the rear during installation, but you obviously don't want to have the charging handle obstructed in any way.
Additionally, this gun's charging handle doesn't reciprocate in the way you'd find on the SCAR series rifles, meaning that you don't have to worry about accidentally nailing your grill when firing.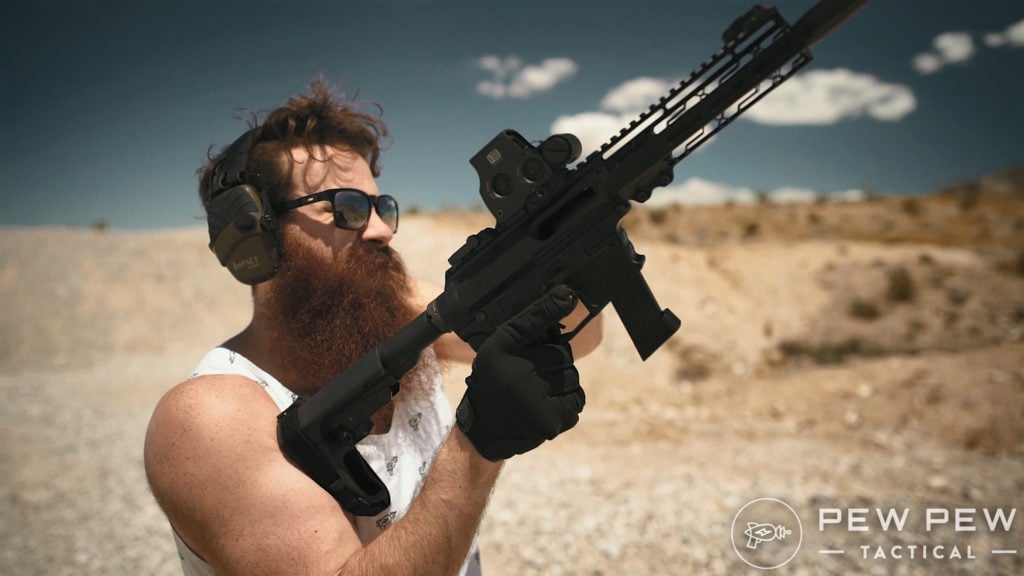 When first picking up the C9, you're likely going to notice its relative heft. This is certainly a chunky little pistol, but weight-saving measures have been taken through some extremely aggressive cuts on the front M-LOK handguard.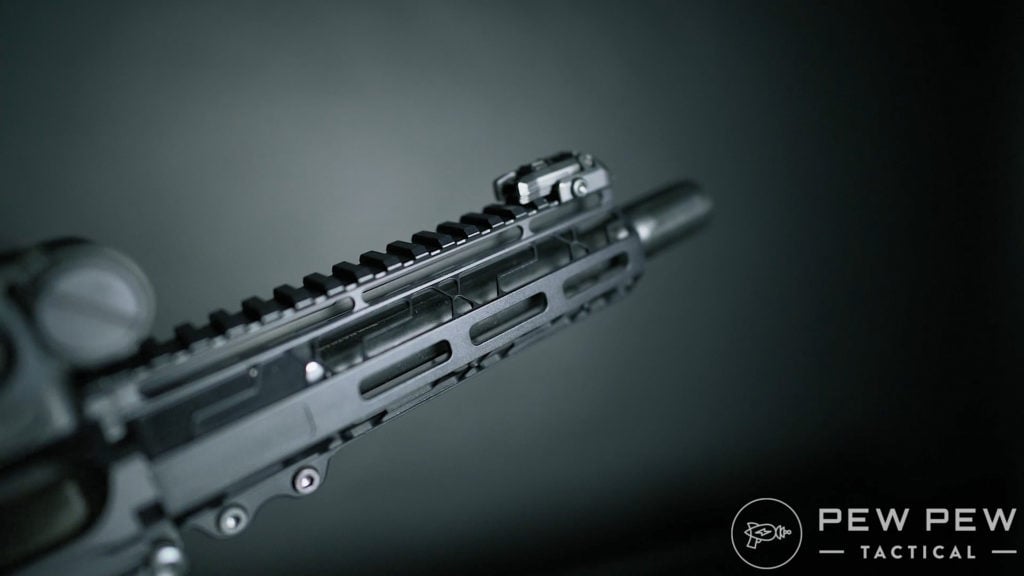 Incredibly obvious disclaimer: You should always wear ear protection when firing.
However, we did find that the gun's linear compensator made firing the gun sans ear pro tolerable. Perhaps something to be considered if you're looking at using the gun in a defensive situation in which you're likely not going to have time to grab ear protection.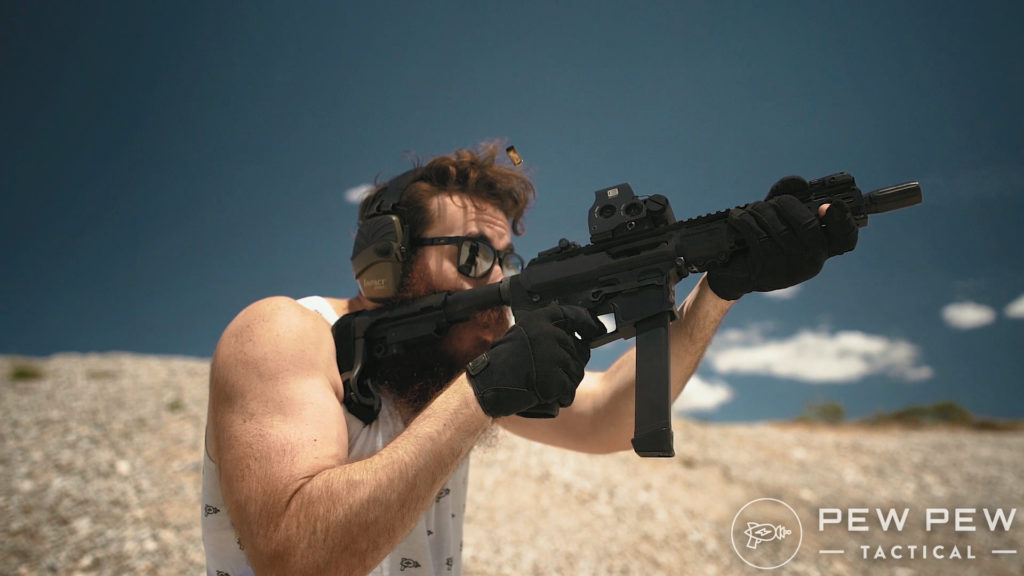 That linear comp also eats nearly all vertical recoil, making it especially easy to hop the muzzle over to the next target when running plate racks.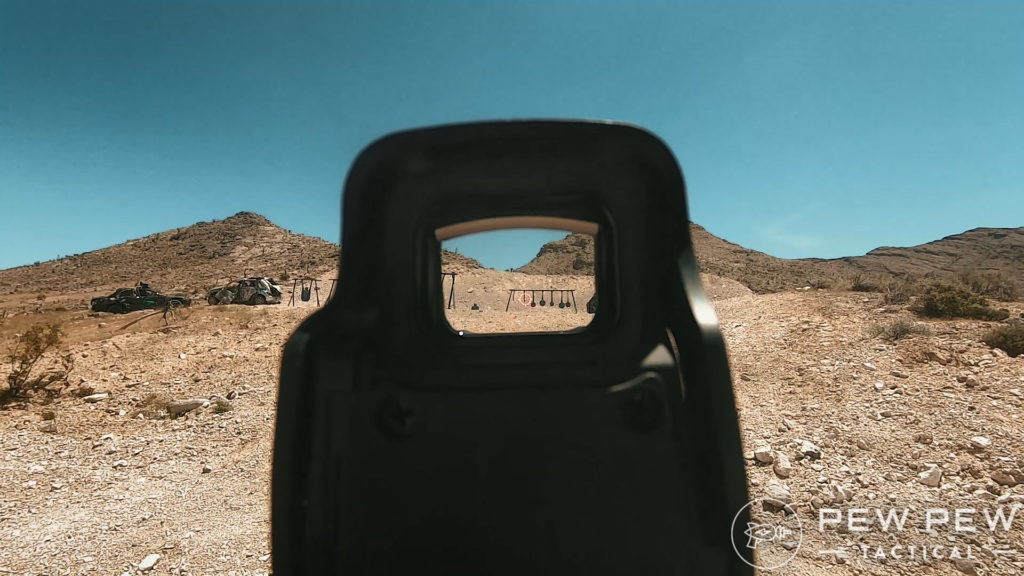 It should be noted, however, that the NFA C9 didn't seem to play too nicely with Armscor 9mm. We ran into two squibs that required unjamming within about 10 rounds. The issue seemed to clear up after we switched to American Eagle 9mm Ball and Hydrashok 147 HST, and we experienced no further issues for the rest of our time spent with the C9.
The gun includes Magpul MBUS Pro flip up sights – which are totally serviceable, but I really prefer throwing a red dot or holographic sight on shorter PCCs to speed up target acquisition.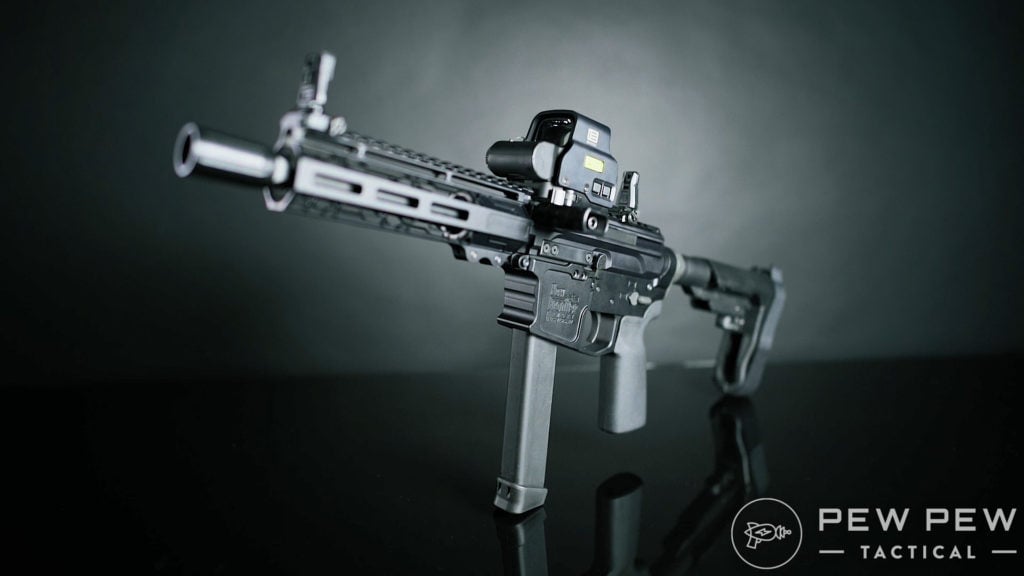 The C9 features a bolt hold open feature, but it's a little bit finicky. It seems to work best with OEM Glock stick magazines and seemed to have some issues with Glock mags from EPS and Amend 2. Regardless of their ability to get the bolt to hold, all mags fed flawlessly in the gun.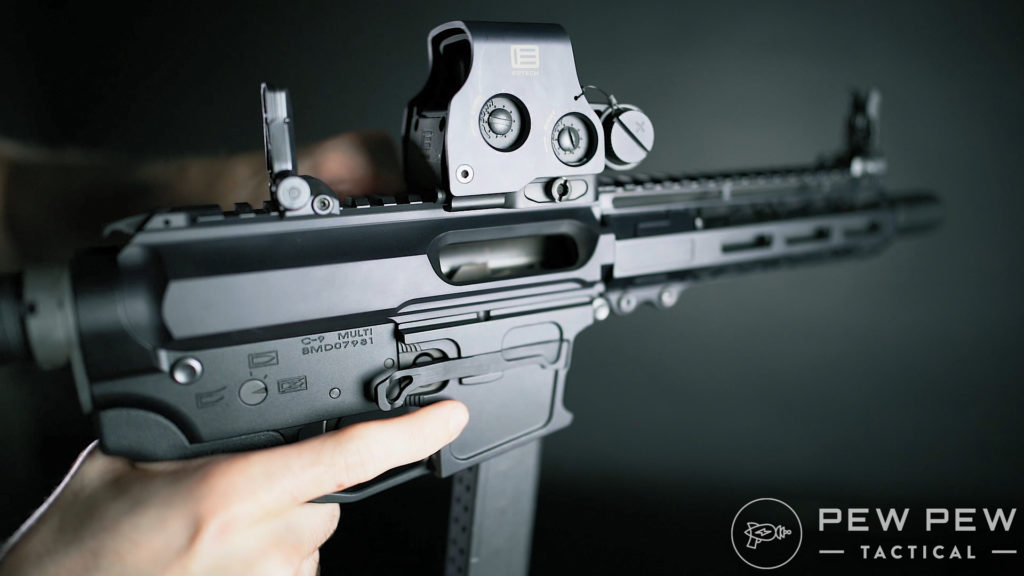 NFA also offers the C9 in a full-length carbine variant, making recoil all but non-existent. While we didn't get too much trigger time on the full-size gun due to time constraints, it was just as much fun to blast away with as its smaller cousin. While we didn't shoot groups or run any real accuracy tests with either gun, they ran the steel courses we'd setup for the day just fine with no issues.
NFA also informs us that the C9 side-charging upper should be cross-compatible with 9mm lower receivers from other manufacturers. However, your mileage may vary any time you're working on Frankenstein gun builds.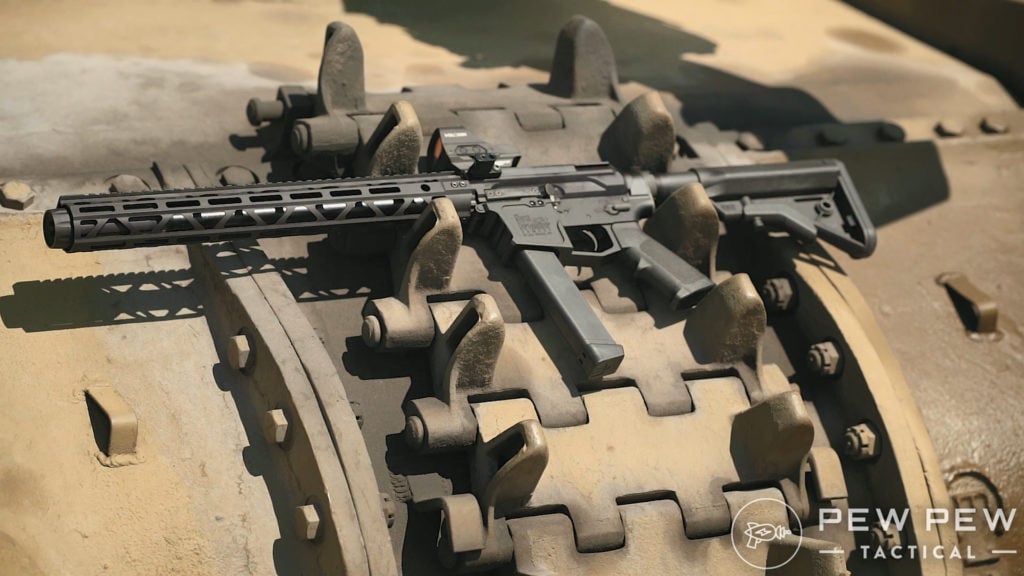 By The Numbers
Reliability: 4/5
We ran approximately 400 rounds of 9mm through the NFA C9, and only experienced issues with Armscor C9. We're still not quite sure what the issue was with that cartridge, but everything else ran great.
Accuracy: 4/5
We didn't get the chance to shoot groups with either C9 setup, but we had absolutely no issues hitting any of the steel targets at various ranges on our 50-yard course.
Ergonomics: 4.5/5
The side-charging feature is great and facilitates fast reloads without the T-shaped charging handle hassles. However, it is still a direct blowback gun, and that spring is stiff. But again…great side-charging handle.
Looks: 4/5
We quite enjoy the aggressive lightening cuts on the handguard, and the full-length build looks great with the recessed linear compensator.
Customization: 5/5
It's an AR-15 platform with a full Picatinny optics rail and an M-LOK handguard. What more is there to say?
Bang for the Buck: 4/5
The C9s are going to run about $1k for a complete gun, which honestly isn't too terrible and isn't too much more expensive than a stock 9mm AR from the likes of PSA (full review).
Overall Rating: 4/5
Parting Shots
If you're in the market for a new PCC, or you've got an existing pistol caliber lower that you're looking to add side charging functionality to, we'd definitely recommend taking a look at New Frontier Armory's C9 side charging upper receivers.
And for lowers…check out the Gen 2 G-9.
190
at New Frontier Armory
Prices accurate at time of writing
Prices accurate at time of writing
What's your PCC setup look like? Do you compete? Let us know in the comments section below! Or, if you're looking for other PCC options, check out our Favorite Pistol Caliber Carbines here!