What's a prism scope, and do you need one?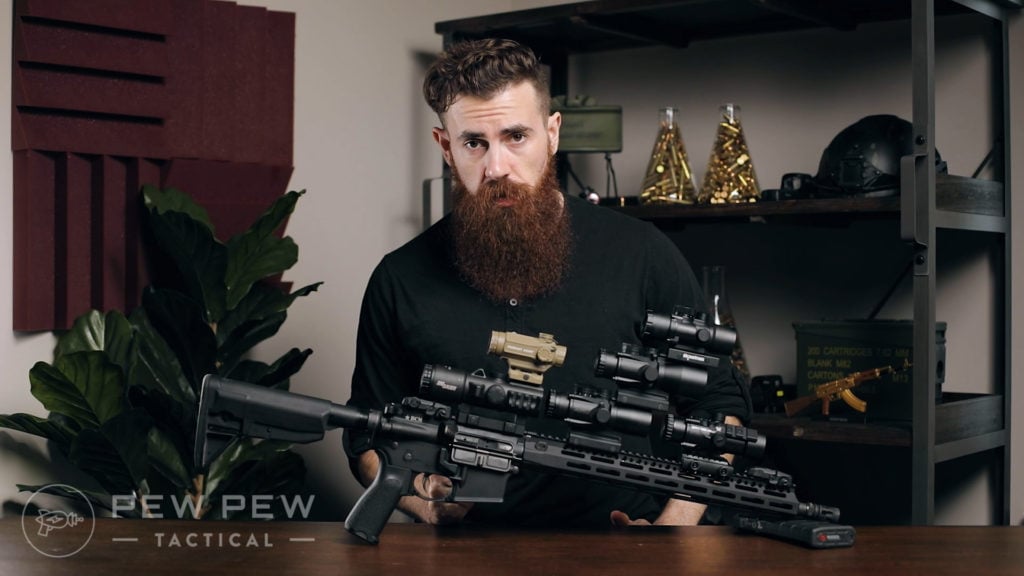 Long story short…they are fixed magnification optics that use a prism (whoa) instead of the two objective and ocular lenses of a traditional scope.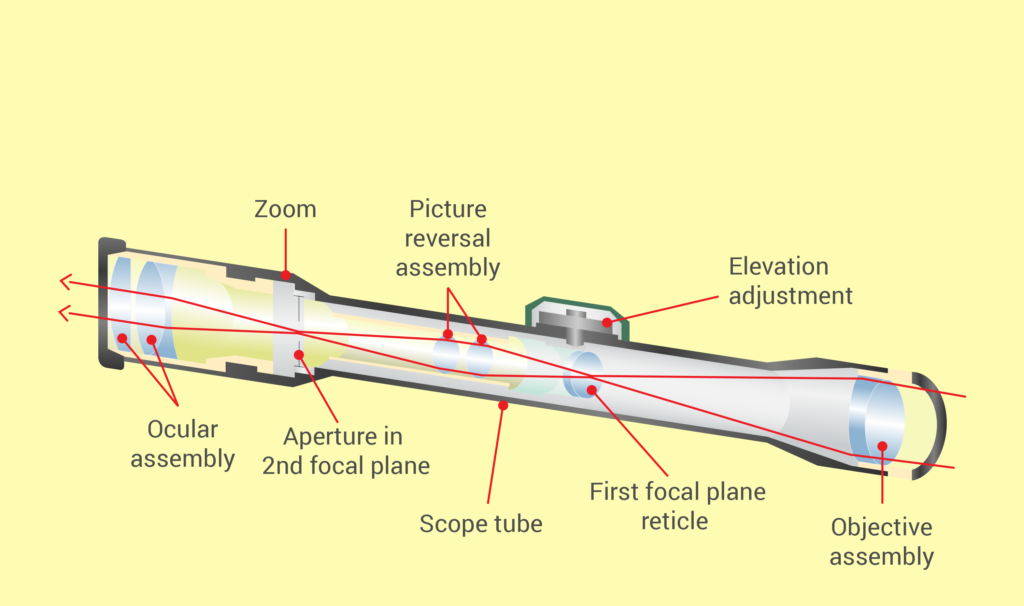 I'll go over some of the pros and cons of prism scopes vs. red dots and low-power variable optics.
Then dive into some popular models we prefer here at PPT. By the end, you'll know if prism scopes are right for you (there's especially one big reason) and which one to get.
Summary of Our Top Picks
Table of Contents
Loading...
Pros & Cons of Prism Scopes
Hard truth: you're not going to replace a dedicated long-range optic with a prism.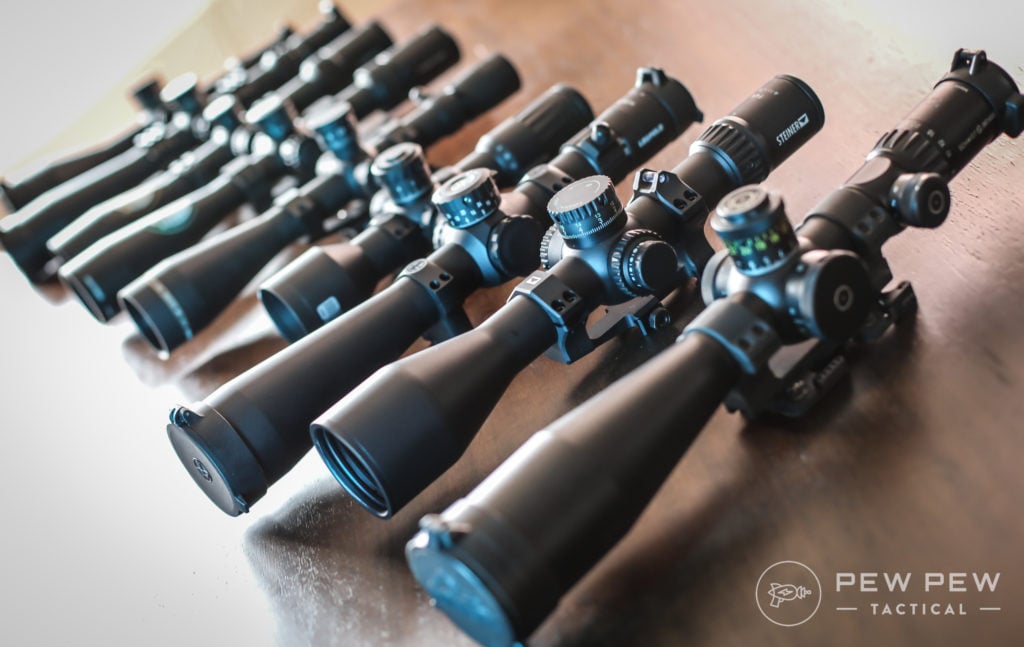 But you can get close. Here are some of our pros and cons.
Pros
Some level of magnification
Usually smaller package compared to a traditional scope
Increased durability due to no moving optical parts
Illuminated reticles are the norm
Don't need batteries like a red dot since the reticle is etched into the glass
Possibly better for astigmatism
In our opinion, this makes prisms ideal as a battlesight for carbines, as their flexibility means that they can generally be used at both close, mid, and occasionally longer ranges quite comfortably.
As for astigmatism…here's a nice illustration from AT3 Tactical.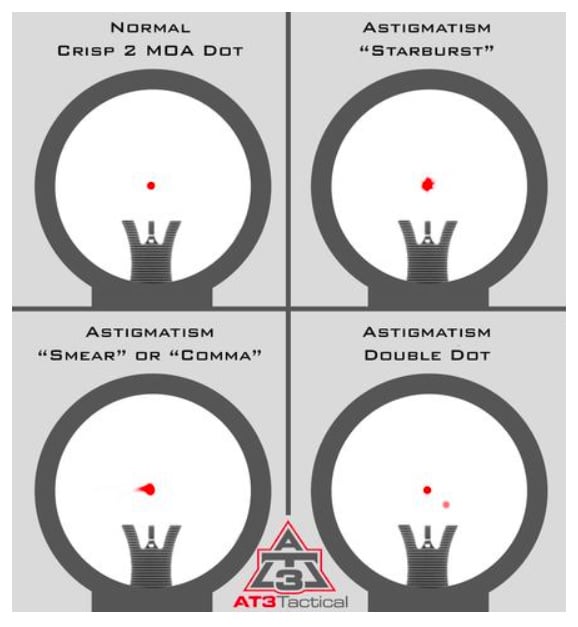 Cons
Magnification tops out at around 5x
Heavy compared to red dots
Not as forgiving parallax and eye relief compared to red dots
Illuminated reticles aren't all daylight bright
Price point of "nice" ones are around $300 and in the ballpark of low power variable optics (LPVOs)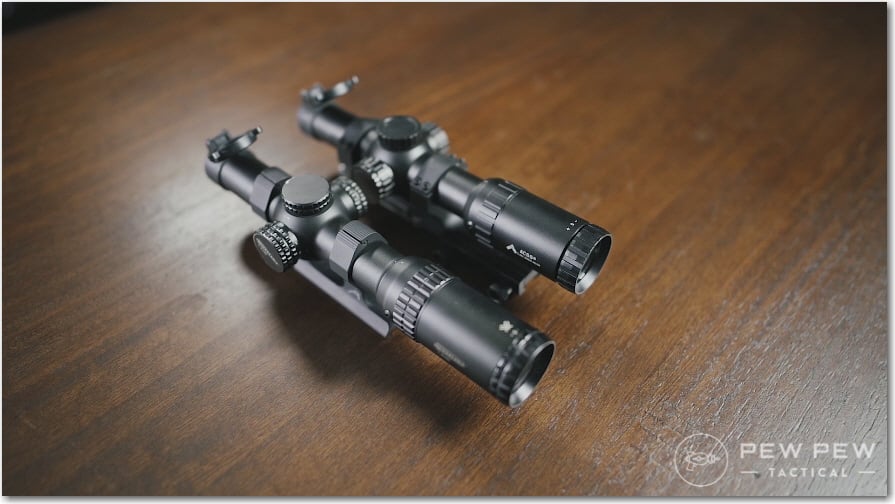 Prism optics definitely have their own cheering section online but keep in mind these negatives as we go into the hands-on testing section.
Best Prism Optics
1. Primary Arms SLx Cyclops Gen 2 with ACSS
We were lukewarm with the first generation of Cyclops, with only ok illumination and decent eye box.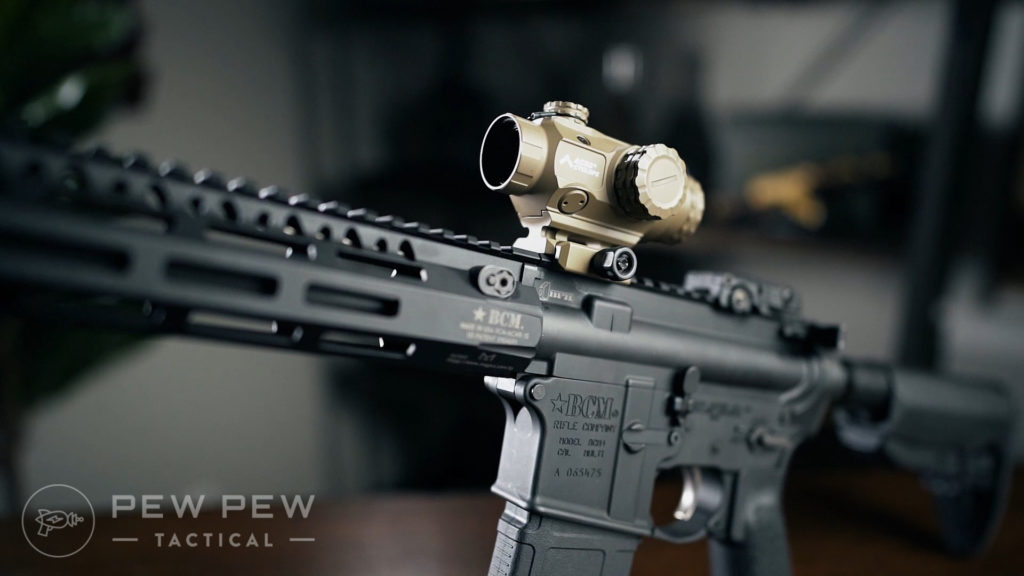 But the new Gen 2 Cyclops blows it out of the water.
Build quality is still superb, AND they managed to get it even smaller.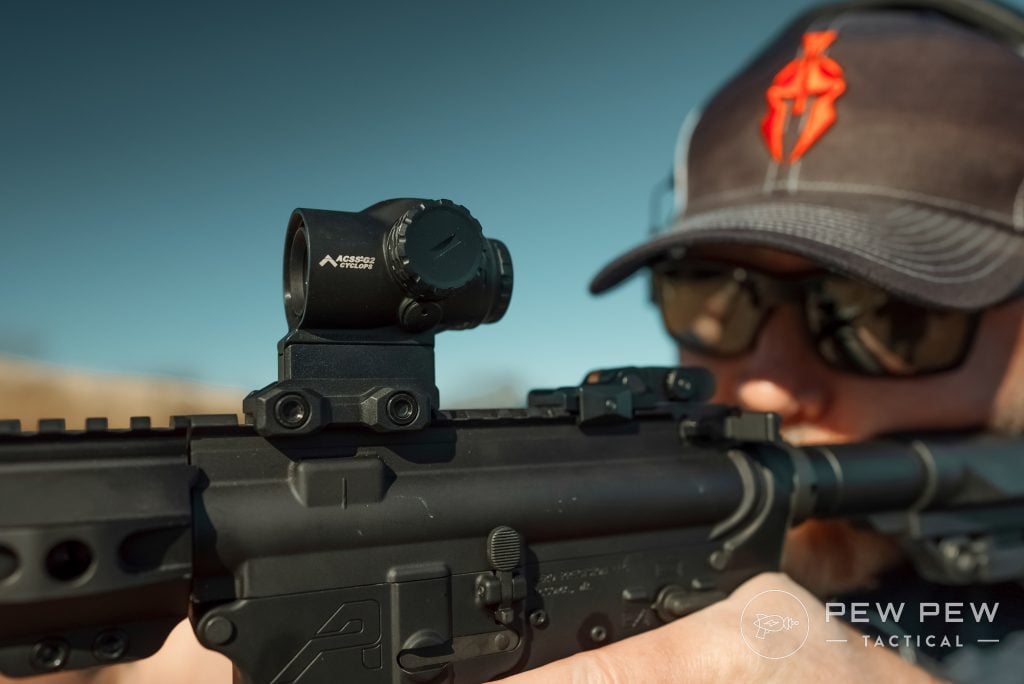 How about that illumination? It was great, and it comes with 3-night vision modes as well.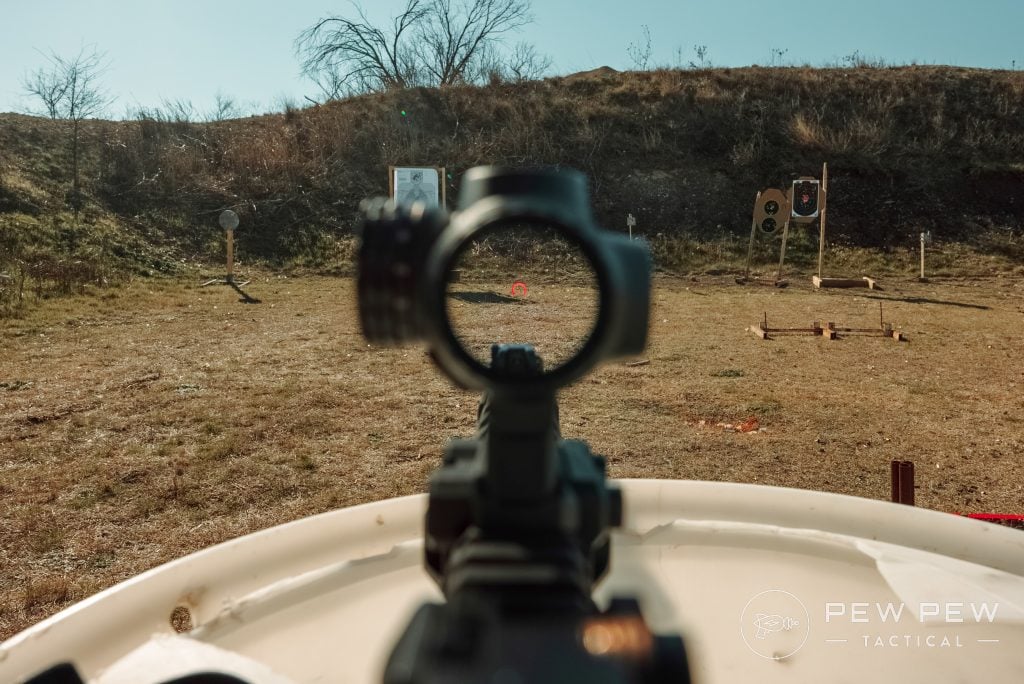 ACSS is one of our favorite reticles…and this iteration continues to deliver.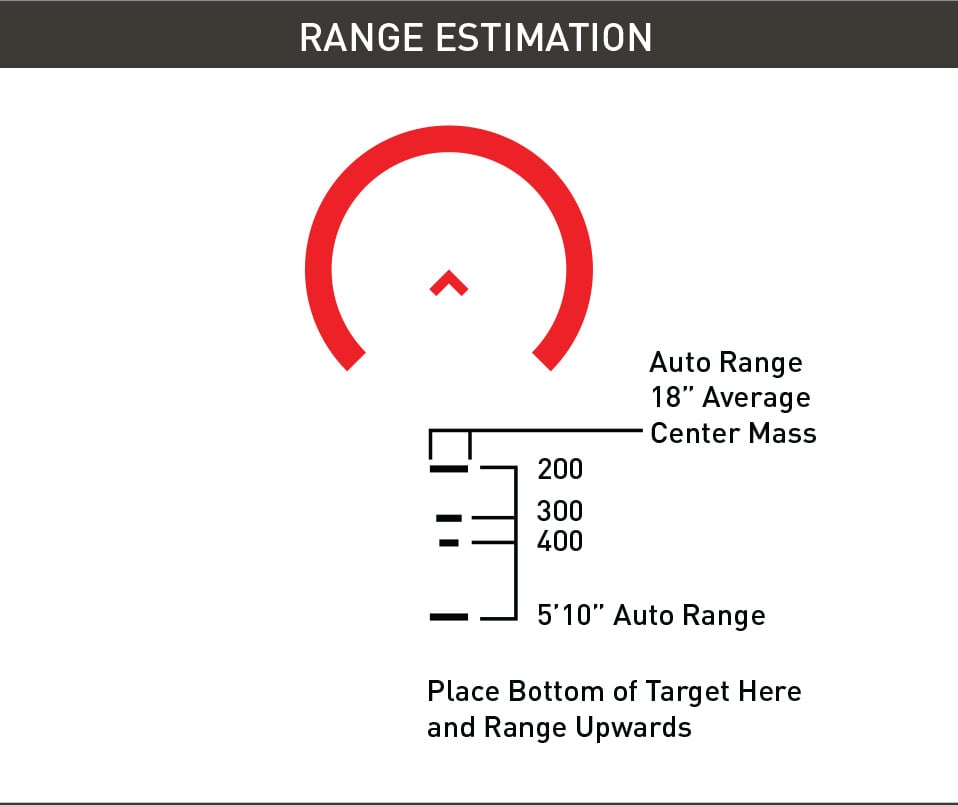 We had our editor, who has a fair amount of astigmatism, try the optic, and it still appeared crisp.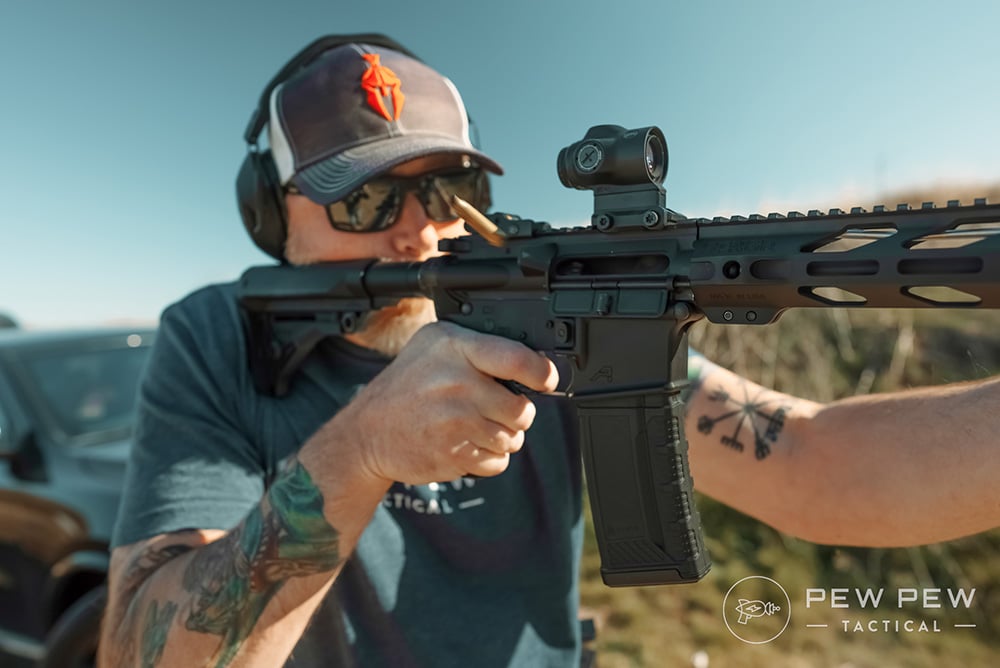 Check out our full review of the Gen 2 Cyclops where we ran over 1,000 rounds at different distances. There's a reason that we now love it.
Best for Astigmatism
269
at Primary Arms
Prices accurate at time of writing
Prices accurate at time of writing
2. Monstrum 2x Prism Scope
Up next, we've got a 2x illuminated prism from Monstrum.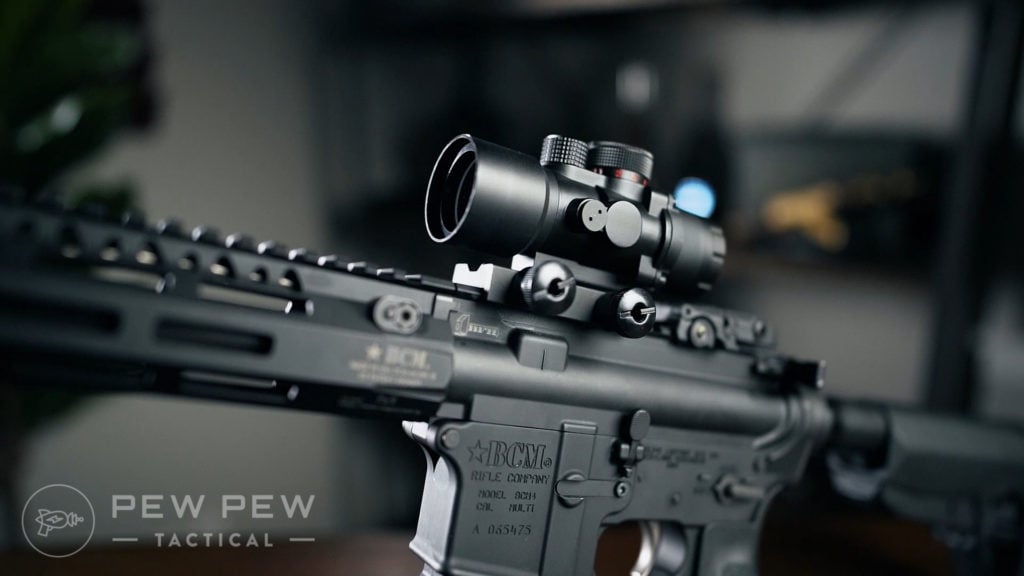 Now, I'm not generally one to hate entry-level optics as I think they can be a useful way for entry-level shooters to ease into the world of glass without breaking the bank, and the Monstrum has some pretty solid reviews on Amazon.
That said, I'm not sure the Monstrum is what you're going to be looking for if that sounds like an accurate description of you.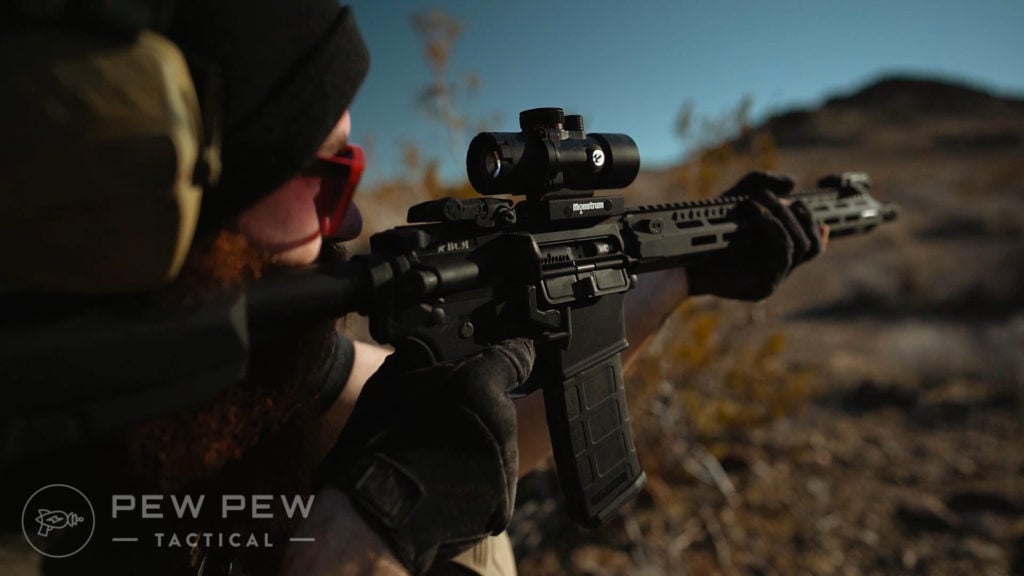 The optic features a 2x magnification, which is obviously a higher mag than the 1x from primary arms, but it still sort of suffers from the same symptoms as the cyclops.
It's also worth noting that we ordered the 3x from Amazon and were sent the 2x instead, which we were able to verify because the two have completely different reticles.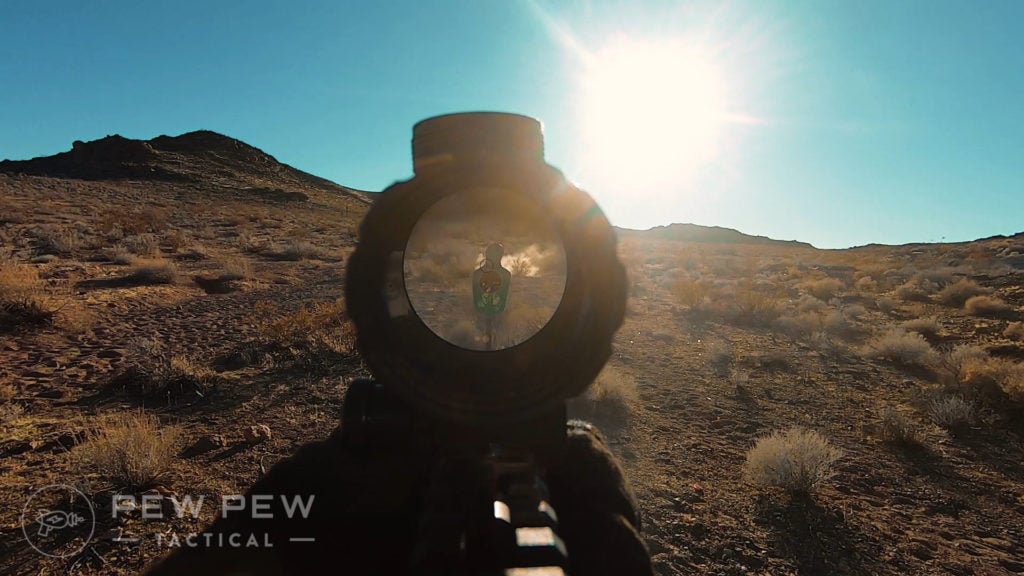 The optic's mount is actually a bit lower profile than everything else in the prism lineup, and I suspect that's the core root of the issue here.
Assuming you're throwing this thing on a standard AR-15, the height of the mount is going to ensure that the front of your rail and your weakside hand are going to blurrily occupy the lower third of your field of view.
Which just feels obnoxious and distracting and may not co-witness with your irons, either.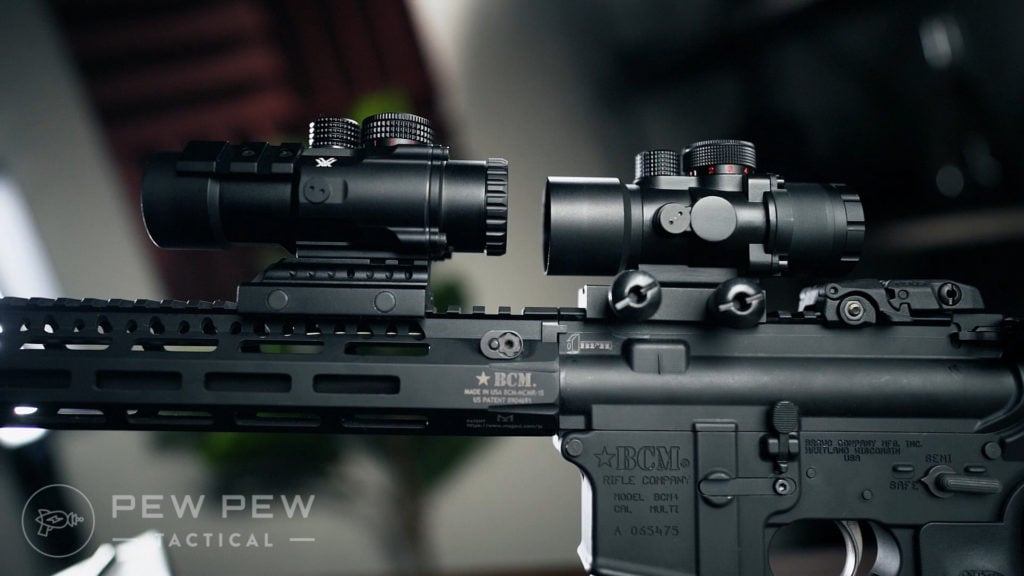 As you'd probably expect, the illumination here is also next to worthless in bright conditions, but it does have 5 levels of adjustable brightness in both red and green flavors that might be okay if you're shooting in overcast or more dim conditions.
The reticle itself is a simple circle with a dot at the center – with the outer ring being 24 MOA at 100 yards.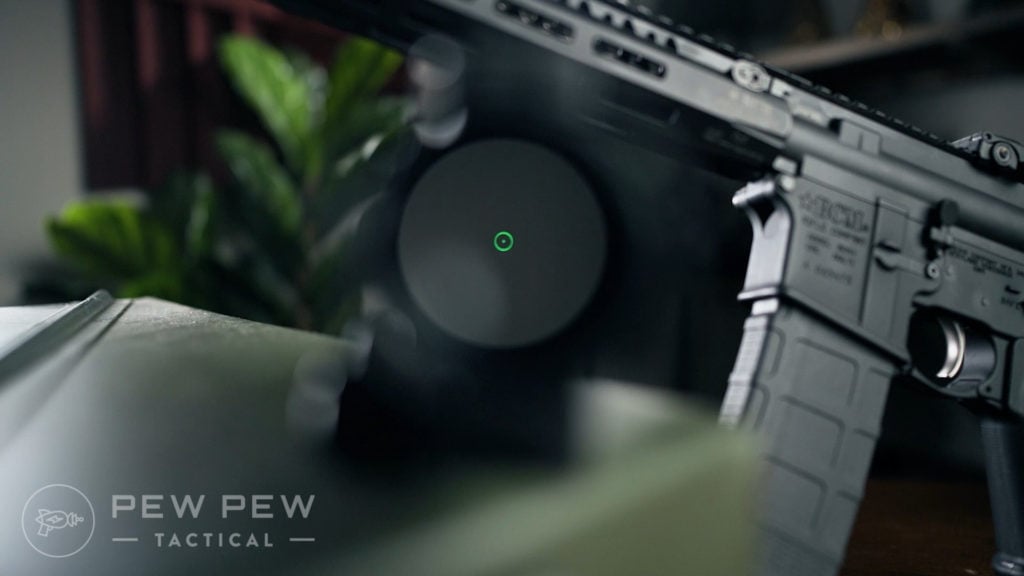 We have no real complaints about the glass itself, but there do appear to be tiny blemishes inside the optic if you really look for them.
It's kinda nitpicky, and you likely won't notice unless you knew about them beforehand, but we did pick them up when while scrutinizing the Monstrum for review – but again, this is an $80 optic.
What we did have an issue with, however, was the fact that the windage and elevation turrets are inexplicably reversed.
While zeroing the optic, we fired at our steel target and noticed that our rounds were hitting off to the right. As one does, we followed the indicated arrows and began turning the windage turret, such as to bring our reticle over to the right and get our point of aim to match up with our point of impact.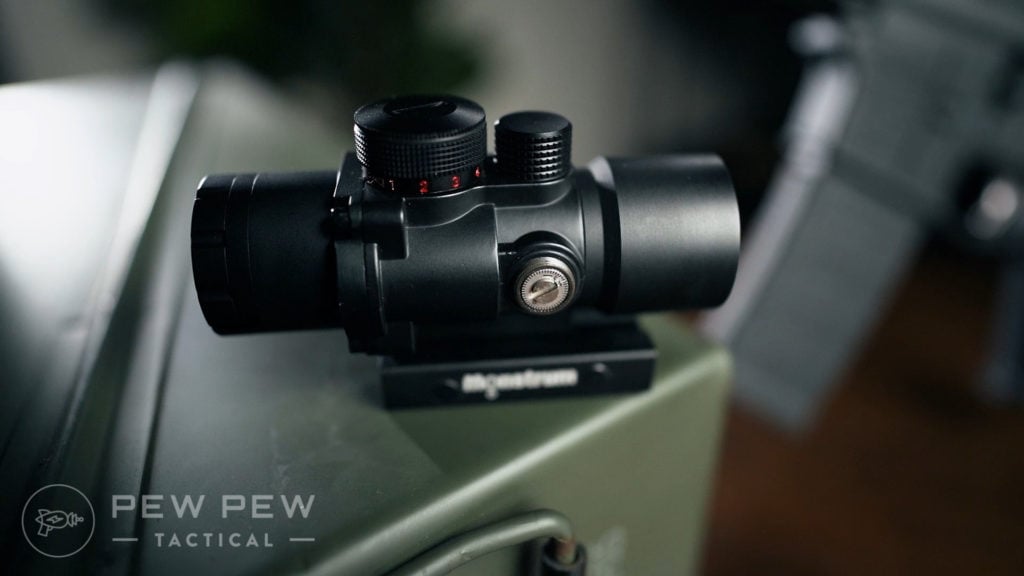 However, despite the fact that we were adjusting the optic correctly, our point of impact continued to shift even further rightwards, and we figured out shortly after that the turrets are actually mislabeled.
We began walking the reticle back the other way and eventually got the Monstrum zeroed.
Again, you can make the argument that this is a $80 budget optic, and maybe you should expect some wonkiness, but I guess my main issue with it is that the scope is mainly geared towards beginners who might not realize right away what's going on.
We've also found similar concerns echoed on the review comments for the optic on Monstrum's own page, lest ye think the issue just stemmed from us.

Sub $100 is relatively cheap, all things considered, and if you don't mind any of the weirdness I mentioned above, maybe you'll be happier with this thing.
Best Budget Pick
80
at Amazon
Prices accurate at time of writing
Prices accurate at time of writing
3. Primary Arms GLx 2X Prism with ACSS Gemini 9mm Reticle
A magnified prism sight on a PCC? It seems silly until you give it a try.
Sure, PCCs aren't exactly long-range guns. You might say my red dot is good enough, but you're hitting targets at 50 yards, and I'm driving tacks at 150 yards.
We are not the same. The GLx 2X prism is just a little magnification, and that gets you a little closer to the target and gives you a nice clear picture of it.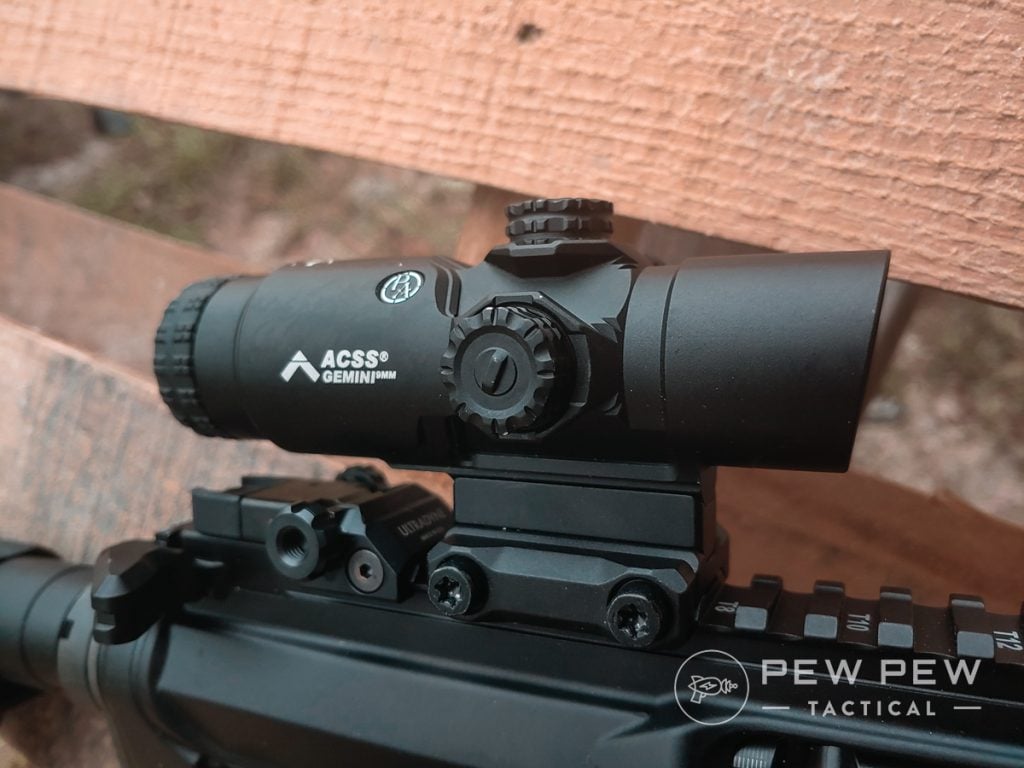 It's a lot easier to hit a target when you can see it. At the same time, it's not a distracting amount of magnification.
It doesn't require a super tight eyebox or tight eye relief. It's still friendly for those rapid and rapid shots at close range. At only 2X, you can still shoot and hit targets at close range without worries.
Sitting in the center of this prism optic is an ACSS Gemini reticle specifically designed around both short 7.5-inch barrels and PCC-length 16-inch barres.
We get holdovers out to 200 yards, which is a bit insane with a 9mm and will make you feel like you are mortaring the gun to hit your target.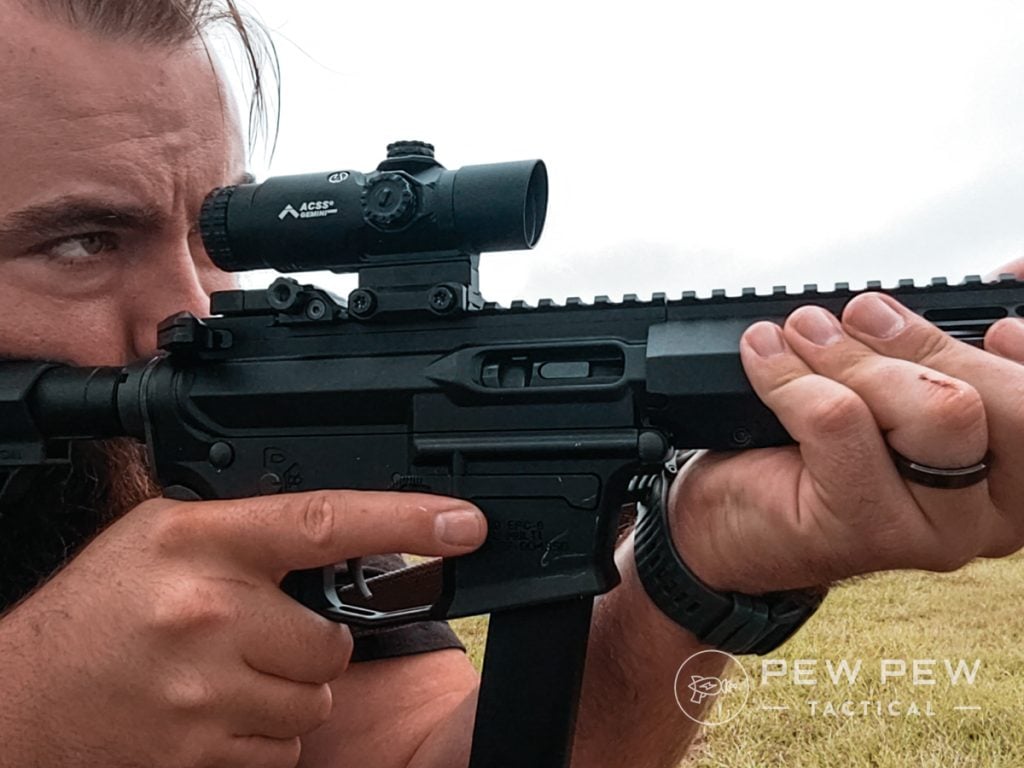 Primary Arms ensured the reticle is daylight bright so you can see it and use it much like a red dot at close range. It's a big reticle, but it's not complicated, and a quick study of the manual shows you what range each marking equals too.
A big clear picture greets you are you look through the optic, that's impressive for the optic's low cost.
It's fairly compact and won't weigh down your platform, either. That little bit of magnification can go a long way, and the utilitarian nature of the reticle makes it quite handy.
Best PCC Prism
369
at Primary Arms
Prices accurate at time of writing
Prices accurate at time of writing
4. Vortex Spitfire HD Gen 2 3X
It wouldn't be an optics discussion if we didn't throw Vortex into the mix.
The Spitfire HD Gen 2 3X was introduced a few years ago but is still going strong. This small, lightweight prism offers clear glass and a pretty reasonable fast acquisition. In short, it's a really solid option for those of you who suffer from astigmatism.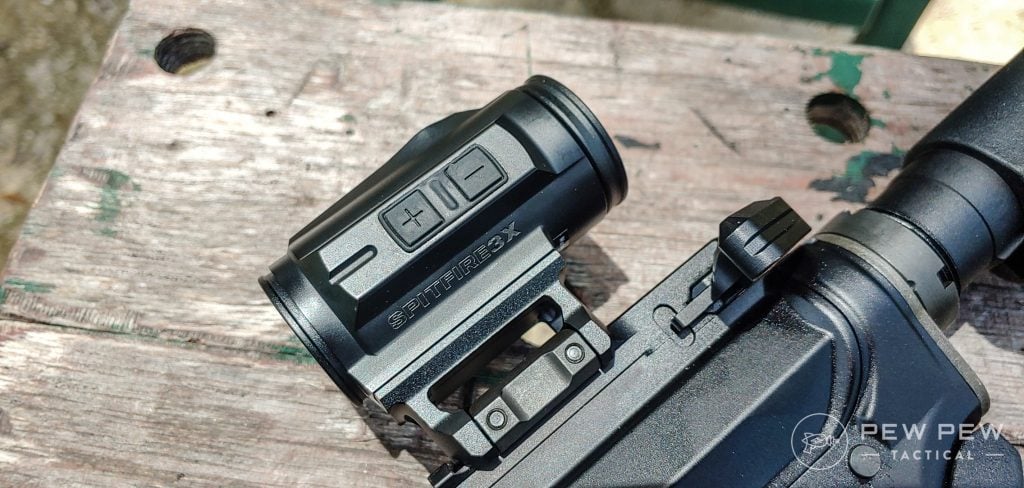 When using the Spitfire, you get a 37.9-foot field view. But most impressively, this optic sits at just 9 ounces, making it a great option for those that want to keep the weight low.
Its reticle opts for a 3/4s illuminated circle that forms a dome around the 1 MOA center dot and the hashmark reticle. That 3/4 circle portion works well for close-range shooting. Its glass-etched design ensures everything looks crisp and clear.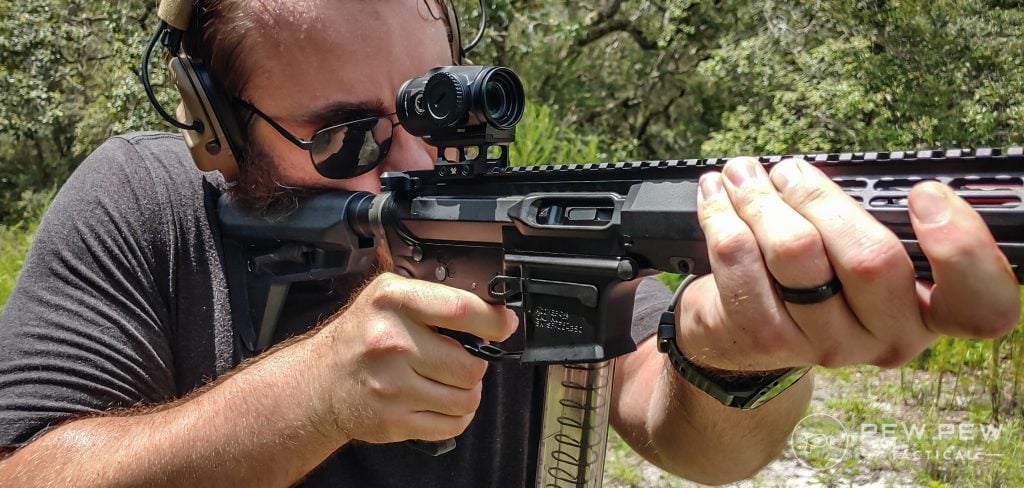 It's not particularly bright, but it still holds its own during the brightest part of the day.
Control-wise, you get large + and – buttons instead of a top dial– which makes it easy to use.
If you're looking for a mid-priced optic, the Vortex Spitfire HD Gen 3X definitely delivers.
Best Lightweight Prism
399
at Brownells
Prices accurate at time of writing
Prices accurate at time of writing
We have more details about the 3X and 5X versions in our full review.
5. Primary Arms SLx 3X MicroPrism
The Primary Arms SLx 3X MicroPrism has single-handily made prisms a lot more relevant to the current conversation. This 8-ounce 3X optic is the size of a compact red dot.
It completely upsets the red dot and LPVO conversation.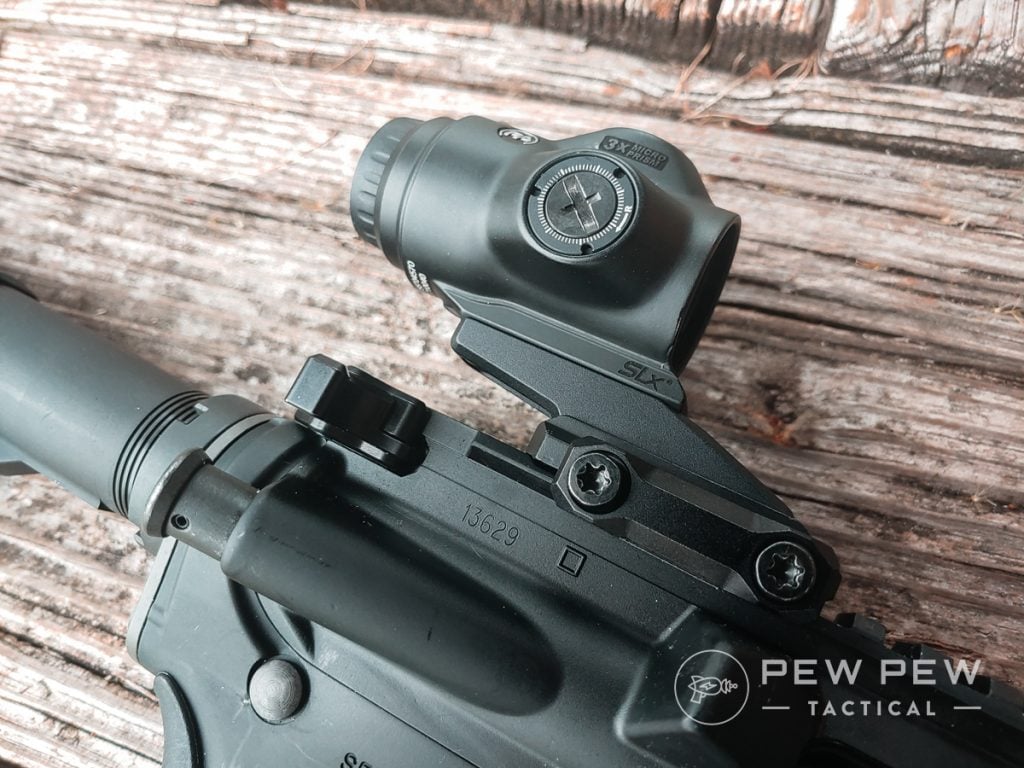 These tiny optics are made for both 5.56/.308 rifles as well as .300 Blackout/7.62x39mm rifles. They are small, lightweight, and customizable. Primary Arms includes what seems to be a half dozen mounting options with the optics to fit it to whatever platform you are rocking and rolling with.
It's Primary Arms, so you know the reticles will be nice, and you get the simplified ACSS Raptor reticle.
This provides the donut of death on top of a BDC for taking shots at both close and long range. Once you get behind the optic, you are met with a surprisingly nice 38-foot field of view.
On top of that, the image is super clear, and the reticle is daylight bright. It's an impressive offering.
319
at Primary Arms
Prices accurate at time of writing
Prices accurate at time of writing
Personally, if I wanted a prism optic, this might be my top choice.
It's lightweight and compact but packs a fixed 3X magnification and an awesome rail system. A bright and clear sight picture helps, as does the ability to mount it every which way but loose.
What do you think of the PA SLx? Rate it below!
6. Swampfox Saber
The Saber is a rather new prism optic that offers you a fixed five-power level of magnification.
At the same time, it's a huge optic that takes the Trihawk route into massive sight pictures for the magnification settings.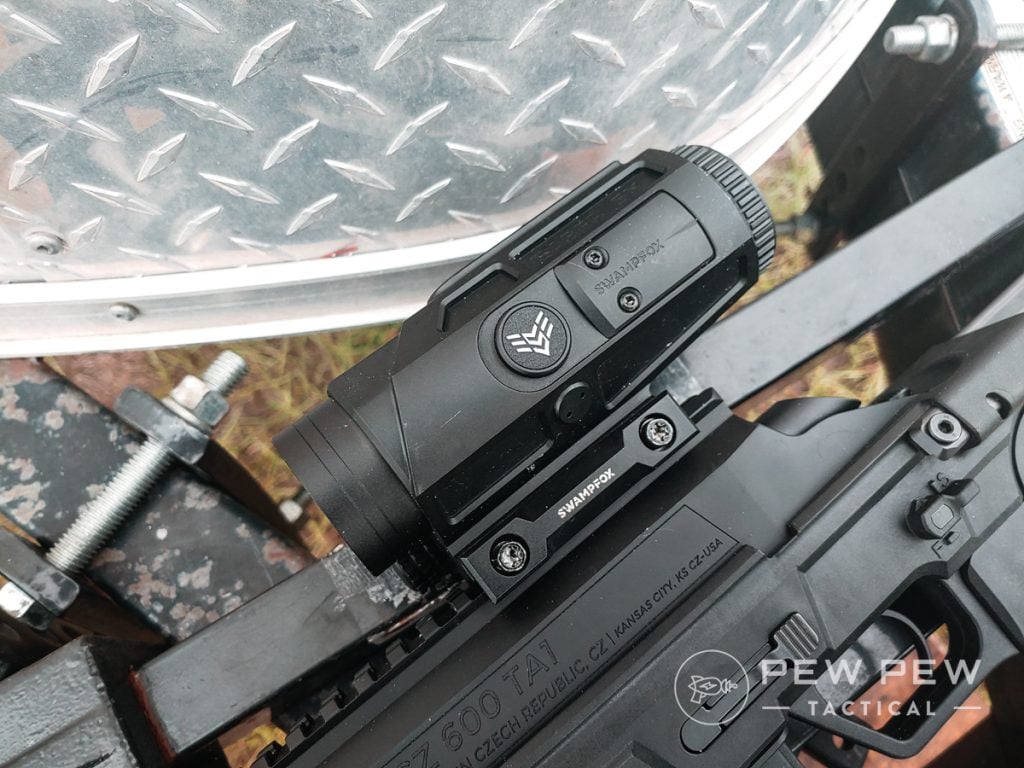 For a lot of people, 5X seems a bit much, but to me, it's all about the platform. I was looking for a compact but high-performing optic for a .223 Remington bolt gun, and the Saber looked perfect.
With 5X magnification, I see well within the round's limitations, and the MOA reticle allows me to compensate easily for drop.
In terms of field of view, the Saber is class-leading at 30.9 feet at 100 yards. It's a wide, bright, and clear sight picture for those more distant engagements.
Unlike prisms at the 3X or even 4X range, close shooting is admittedly tough with the Swampfox Saber.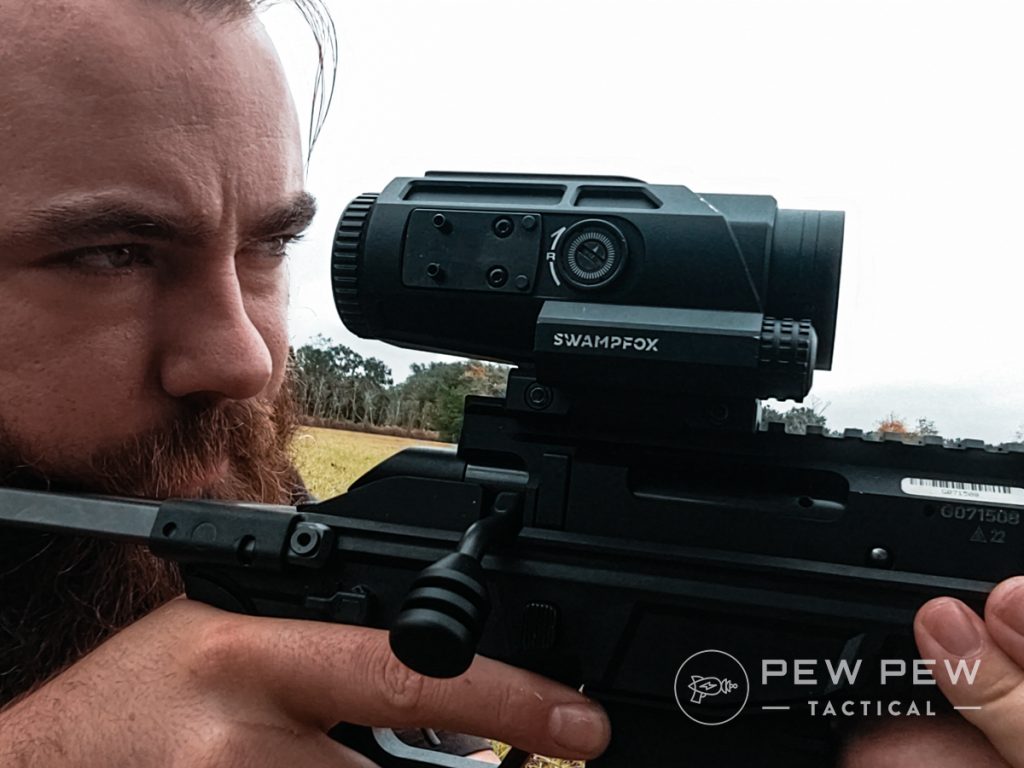 To make up for that, Swampfox included mounting platforms on the left and right to accommodate mini red dots. Specifically dots with the Shield RMCs footprint. This allows you to stack an extra red dot on for those close-range encounters.
This makes the Saber almost effective as an LPVO. For my shooting, I find myself typically only using only the highest magnification setting or the lowest. I have that same option here.
The Saber might be a little pricier, but it's still well within the affordable world of prism optics. It's certainly a more niche option but one that deserves to be mentioned.
Best 5X Prism
330
at OpticsPlanet
Prices accurate at time of writing
Prices accurate at time of writing
7. Swampfox Trihawk
When it comes to saving some dinero but still getting a high-quality optic, there is the Swampfox Trihawk. The Trihawk costs about $200 and offers you a fixed 3X magnification. Don't get startled reading the specs.
This is not a micro prism. In fact, it's a macroprism.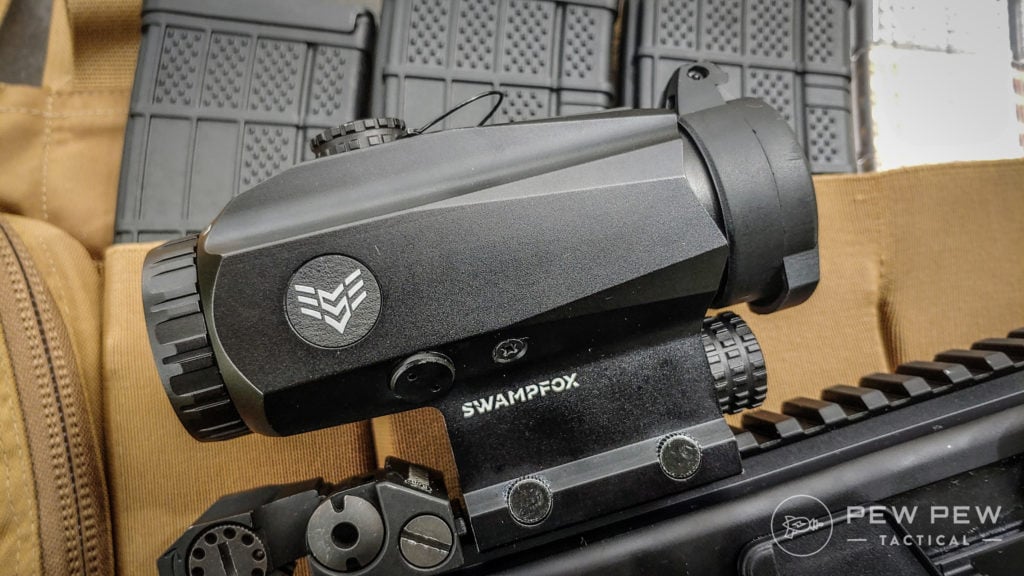 It's big at 4.55 inches long and 3.43 inches high, but that's purposeful. It's huge because it offers you a class-leading field of view. At 100 yards, you are getting a 52-foot field of view.
That's absurd compared to other prism optics on the market. That massive field of view makes it easy to track moving targets or to find the target if your presentation gets a little sloppy.
On top of that, the exit pupil is nice and large due to the lens size, and you get a clear and bright picture.
Best Field of View
245
at OpticsPlanet
Prices accurate at time of writing
Prices accurate at time of writing
It's deceptively clear for a $200 optic. Inside that field of view sits either a BDC reticle or an MOA reticle. The MOA design allows you to tailor the Trihawk to any rifle platform, but the BDC locks you into either 5.56 or .308.
The only downside is that I wish the reticle was a bit brighter. It can appear a little dim at high noon in the sunshine state. Other than that, it's tough not to like the Trihawk.
Unless you dislike massive field of view, clear-sight pictures, and a great price.
But What About ACOGs?
Probably the OGs of bombproof prism scopes are Trijicon ACOGs.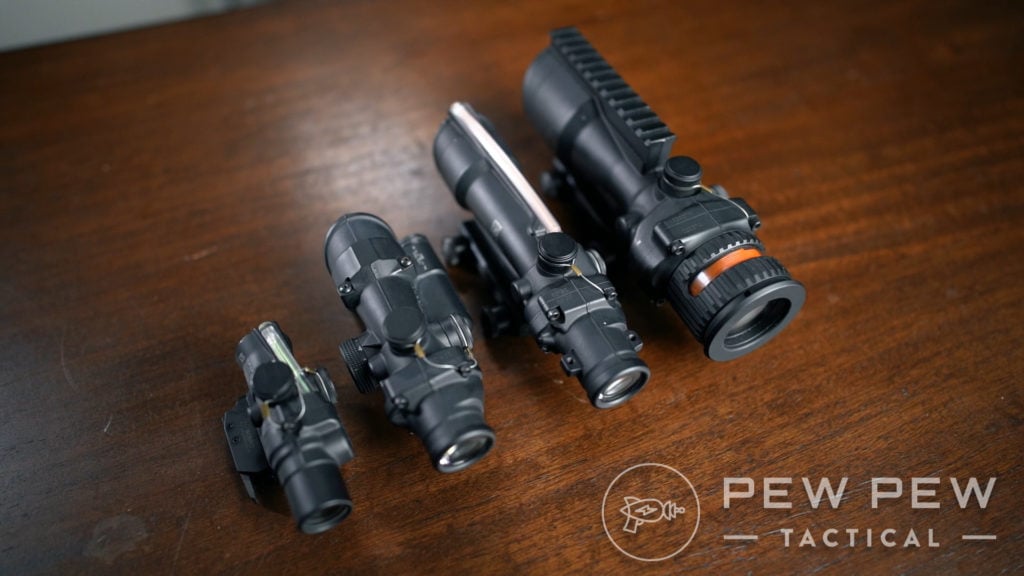 We've got an article just for them and some for clones as well!
Final Thoughts
The bottom line is that, depending on your individual needs and ability to spend cash on gun glass, we're positive you'll find something here that works for you.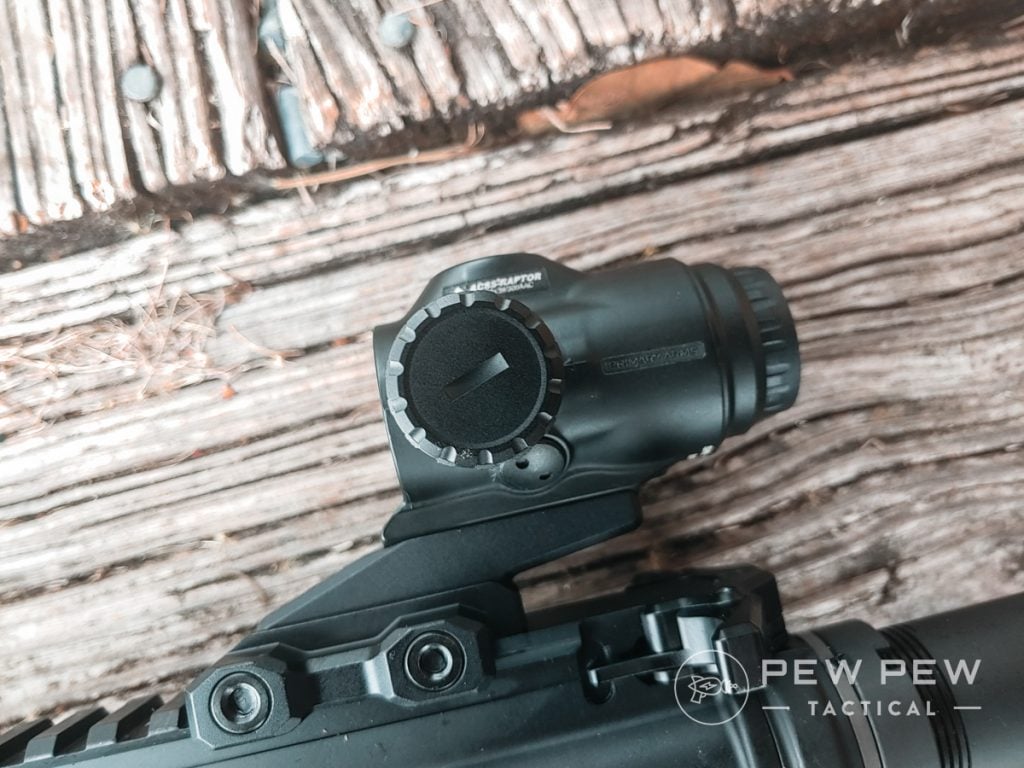 What are your thoughts on Prism optics? Do you run a 1x? Or are you like us and prefer Low Power Variable Optics? Also, check out our all-encompassing Best AR-15 Optics and Best Optics for Astigmatism.