Shotguns serve as extremely popular and affordable hunting weapons.
Besides, let's be real, that iconic chk-chk sound is enough to scare the pants off of any baddies.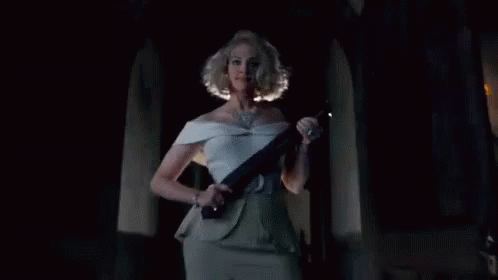 Like any other weapon, the shotgun has evolved — but evolution has always been slight.
So it's no wonder the shotgun sports more misconceptions than the rifle or handgun — such as the preposterous idea that shotguns can't use an optic.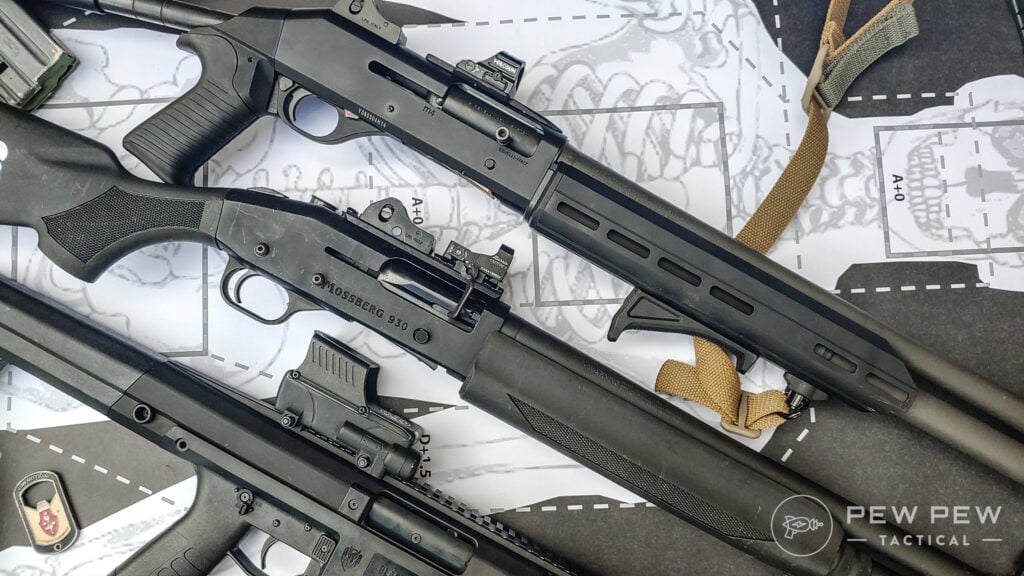 Straight up, a shotgun can greatly benefit from the presence of an optic.
Hunting and tactical applications both require the use of a great optic and shotguns are prevalent in both worlds. Like most things, the red dot or scope you choose depends on the task you are tackling.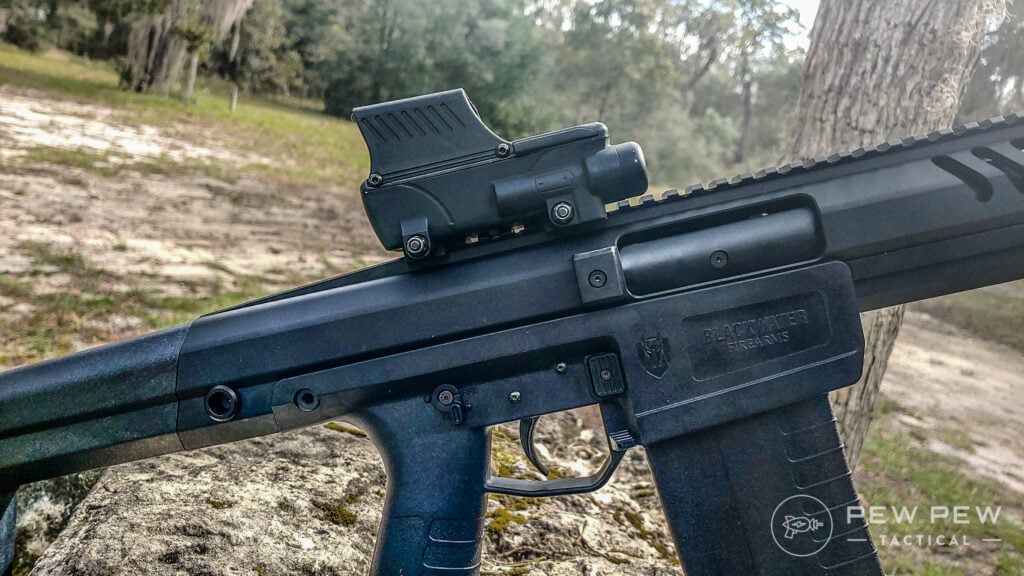 So, today, it's all about shotguns and optics.
We're going to take a look at how shotgun optics work, why you want one, and which is the best optic to have.
Table of Contents
Loading...
Why Do I Want an Optic on My Shotgun?
Put simply, an optic makes spotting a target a lot faster, more precise, and a heckuva lot easier to see in the dark.
Old debates still rage about sights on shotguns — mostly dealing with beads and ghost ring sights. These all come down to precision and speed.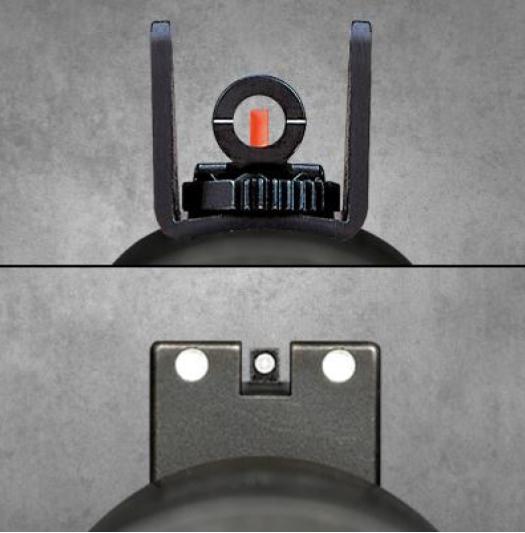 Here's the thing though…red dots on shotguns kill that debate with prejudice.
A red dot is as fast as a bead and as precise as a set of ghost ring sights.
For slug guns, the old deer sights mounted on the barrel were a common solution. While they worked, they offered a short sight radius, funky adjustments, and zero magnification.
A slug gun is essentially the longest walk to get a rifle, so why not add a magnified scope?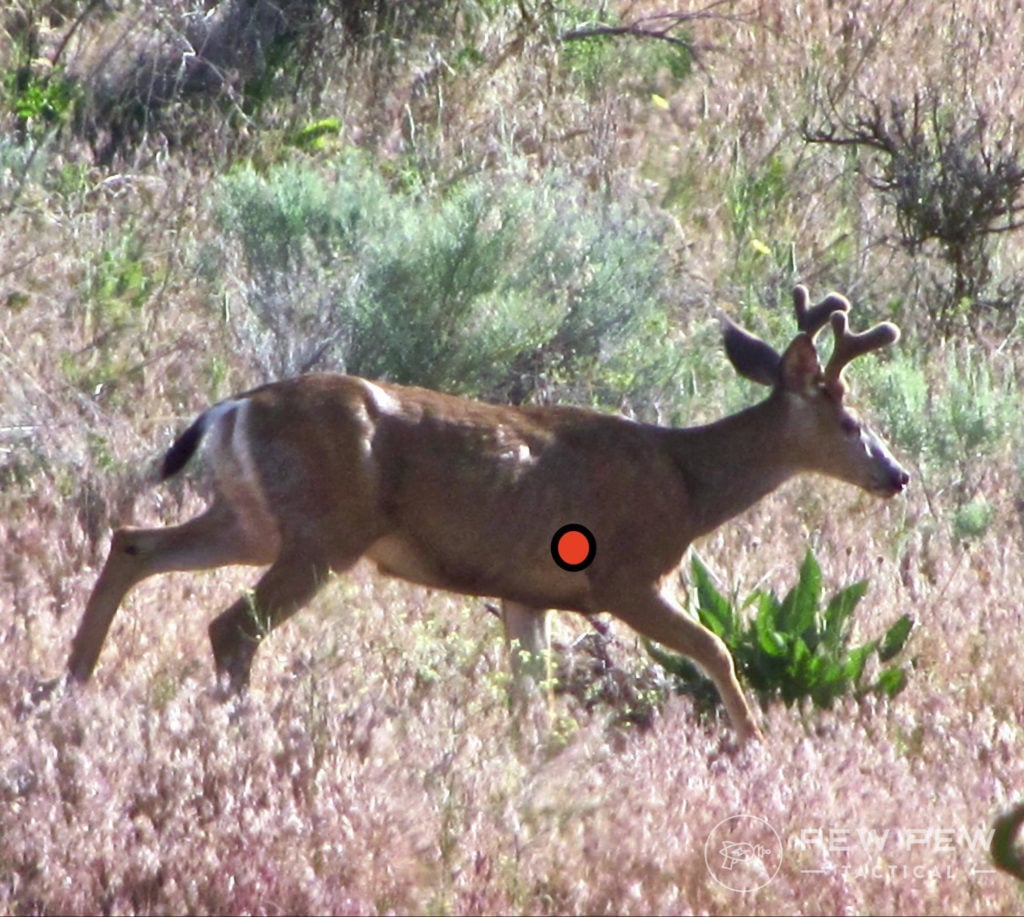 You know you wanna increase your range, precision, and ability to hit a small target on a big deer.
Ok, so now you need an optic. But what makes one "good?"
Well, admittedly, it varies based on the gun, ammo type, and the task you wish to accomplish.
Tactical shotguns meet different needs than hunting shotguns, so let's break that down.
Tactical Shotguns
With tactical shotguns, the smaller and lighter the optic, the better.
Tactical shotguns run buckshot and, in a pinch, slugs. A red dot gives you the capability to use both.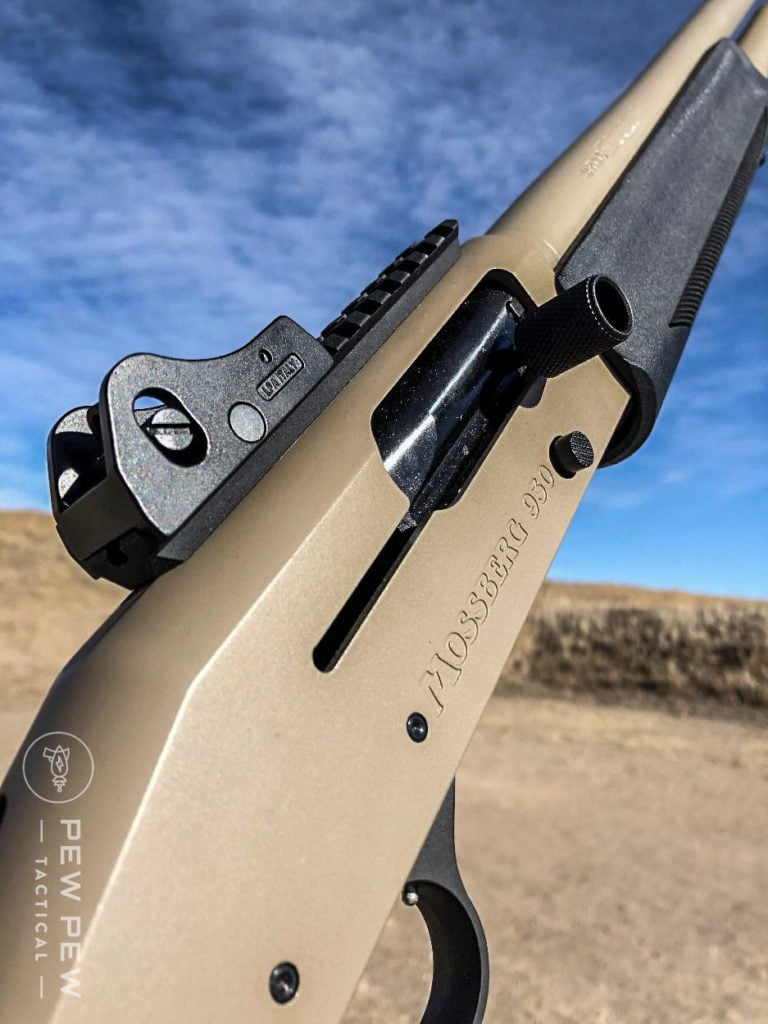 Lots of types exist, but smaller red dots are often better, specifically MRDS designs. These stand as the best choice for tactical shotguns.
Through trial and error, I learned that full-sized red dots often get in the way when it comes to reloading.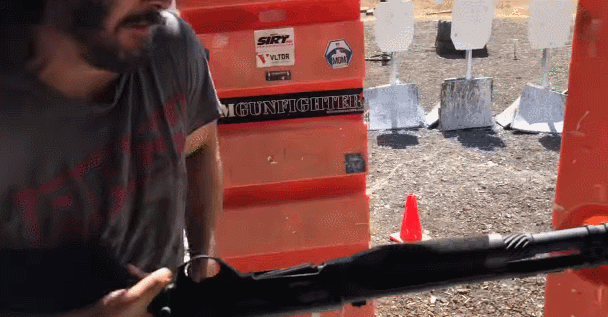 Full-sized models often prevent emergency port reloads, blocking the way when you go over the top to toss a round into the chamber.
You admittedly can always go under, but you are cutting off a means to reload. Also, with semi-auto shotguns, I've yet to find one in which an under the gun port reload is faster than an over the top.

Side saddles also present a problem with full-size red dots.
Sometimes the optic or the mount obstructs the side saddle, inhibiting ammo removal for a reload. It's not a universal problem, but worth mentioning.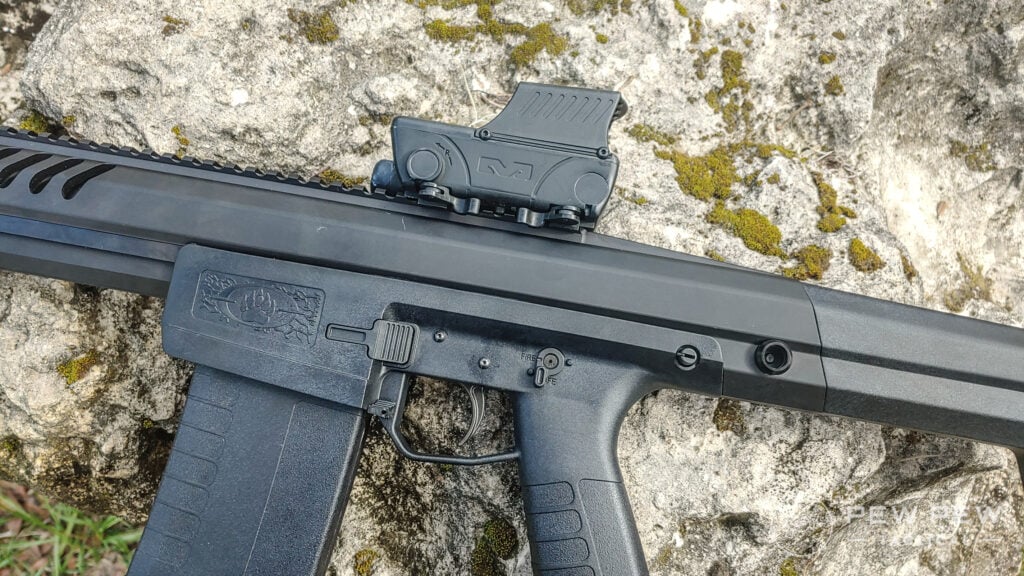 MRDS or small red dots present a lightweight option that can be mounted ultra-low.
I like my shotguns light, as they already tend to be heavy weapons. A lightweight optic keeps things balanced.
AR-15s and their popularity essentially mandated these high mounts on optics. As a result, tall optics give you a chin weld over a cheek weld.
Spoiler alert, a chin weld on a shotgun sucks.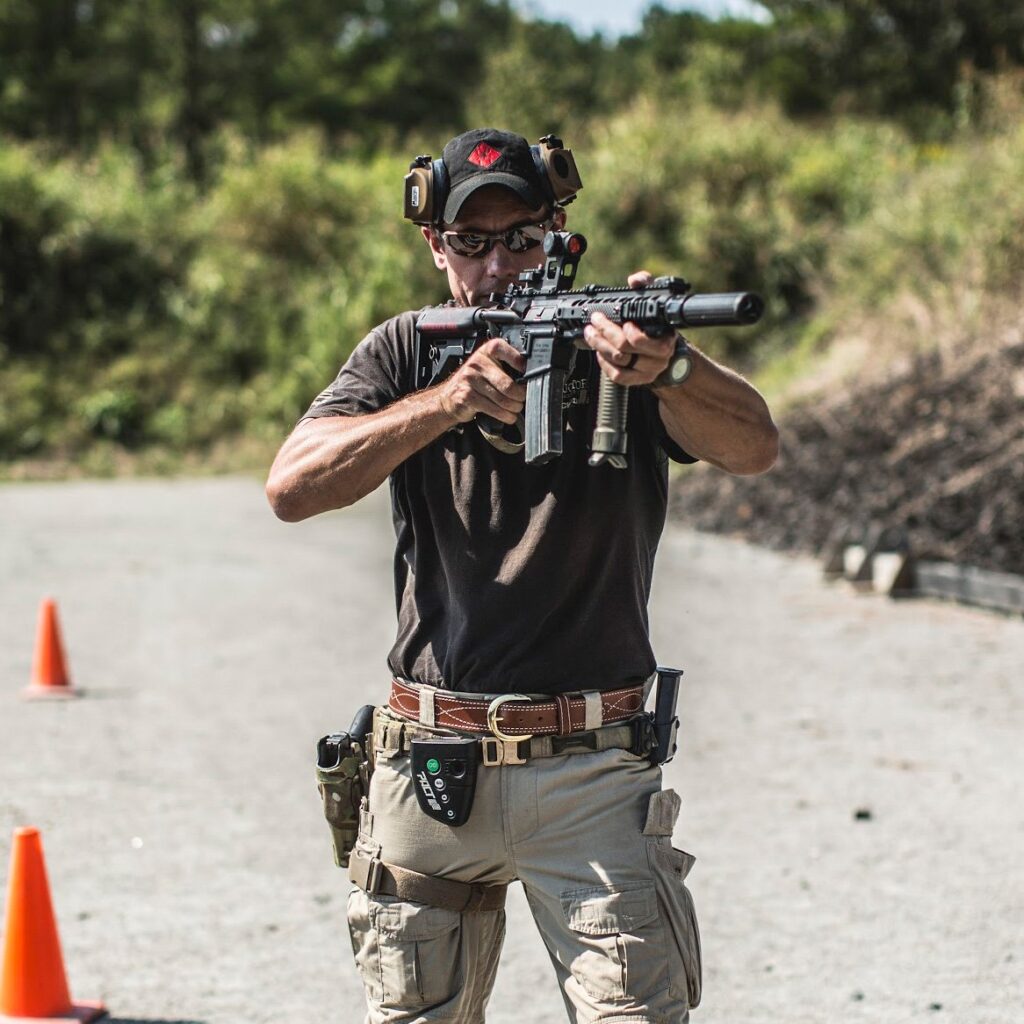 Most dedicated mounts call for an MRDS or a compact red dot, and it's best to plan your optical solution around that.
As expected with a tactical shotgun, you want something that is well-built, reliable, and can take a beating and keep kicking.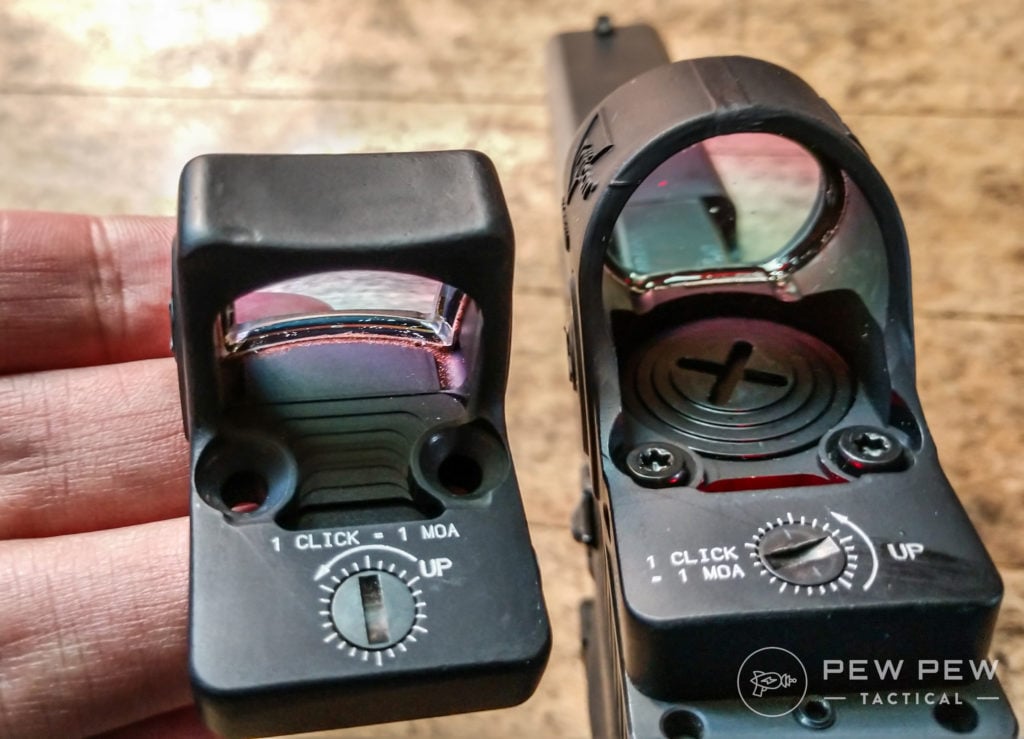 Hunting Shotguns
With hunting shotguns, you'll see a lot more freedom with the optics selection.
Choosing the right optic comes down to what you are hunting and how you are hunting it.
With typical buckshot, I go back to red dot sights.
Again, mini red dots and smaller red dots work best.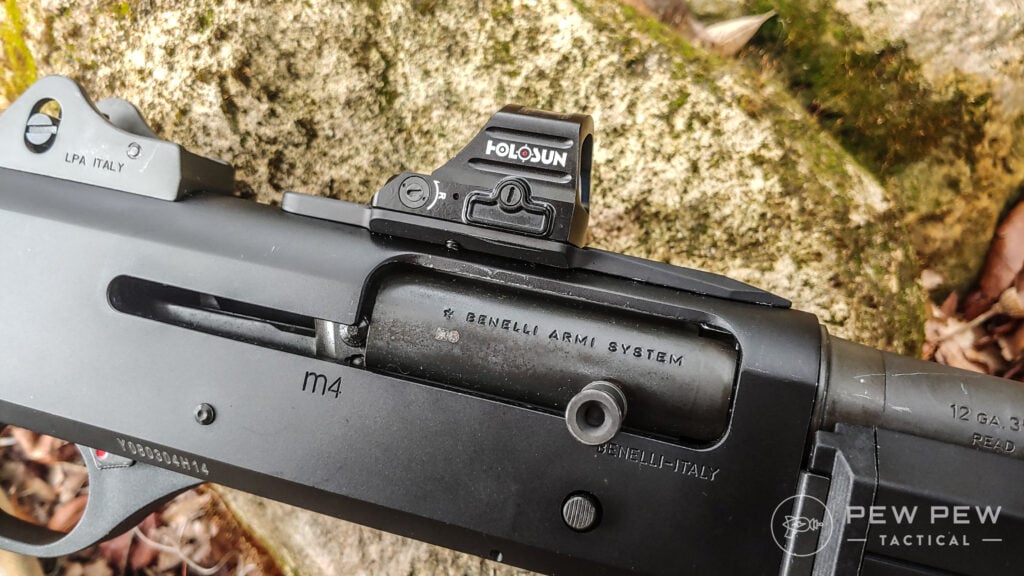 With a hunting shotgun, you don't necessarily need a go-to-war-grade optic. You still want a quality optic, but you don't need an RMR to hunt deer.
The same goes for birdshot. (Although it's likely rare to see an upland bird hunter or trap shooter armed with a red dot equipped over/under.) We'll talk about an option for those fine folks a little later, though.
Lastly, we have slug guns.
Slug guns offer a unique challenge optics-wise. A red dot could be a solution, but when hunting an animal that often blends into the environment, magnification proves beneficial.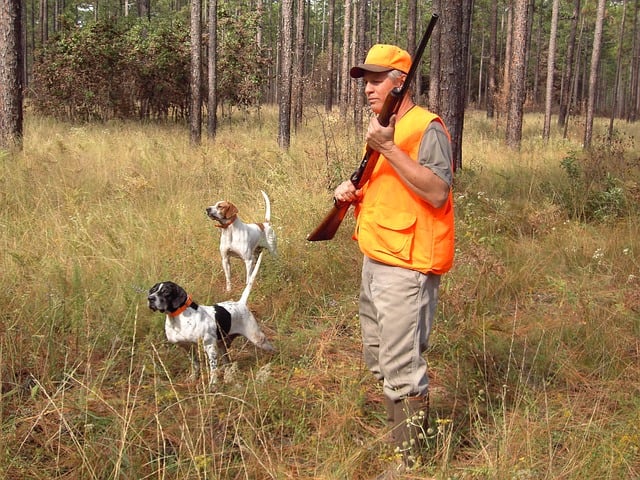 Slug guns work well with lightly magnified optics to deliver the maximum benefits of a shotgun slug. These smaller, lower-powered optics are lightweight, and the magnification can range from 1-4X, 2-7X, 3-9X.
In my experience, 1-4X seems to be a good slug optic. However, with little experience in this arena, I reached out to a friend who lives in an area where rifle hunting is prohibited.
My buddy swears by a 3-9X optic on a slug gun.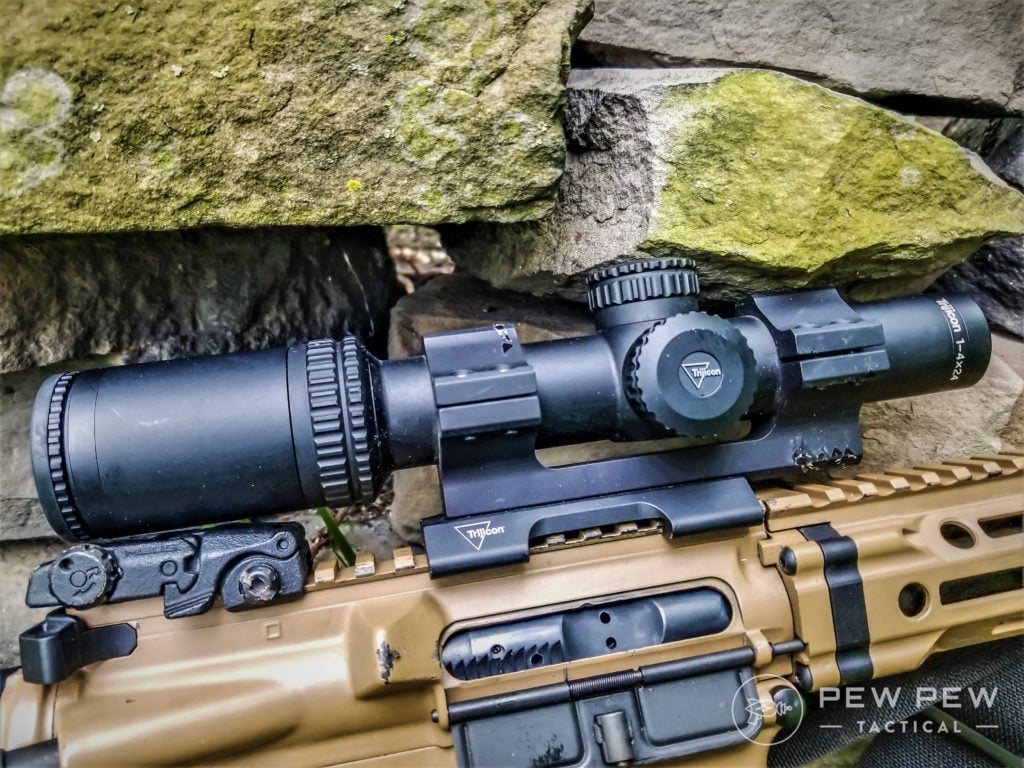 The Top Shotgun Optics
1. Holosun 507C V2
If I had to pick one optic for my defensive shotgun, it would be the Holosun 507C — preferably the V2 model with big buttons.
Admittedly many will see this as a controversial choice in the world of MRDS optics. To be fair, Holosun is making waves with their optics.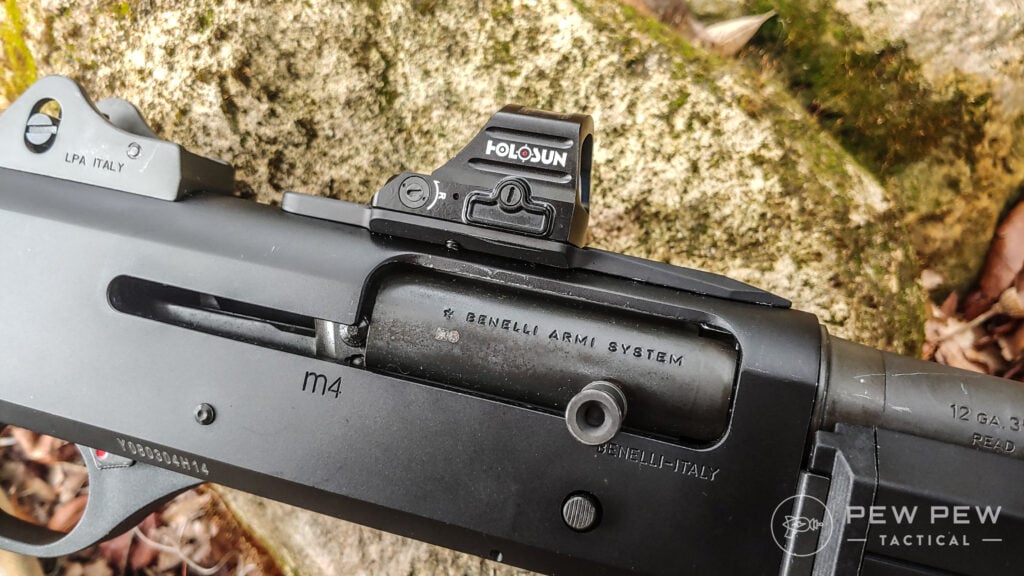 The 507C uses the same pattern as the Trijicon RMR for mounting and includes a Picatinny mount adapter.
It's a very robust and tough optic that meets and exceeds the needs of most looking for a home-defense optic. But what really makes this model shine is the reticle selection.
You get three reticle options. One is a simple red dot, another is a 32 MOA circle, and the final is a 32 MOA circle with a dot.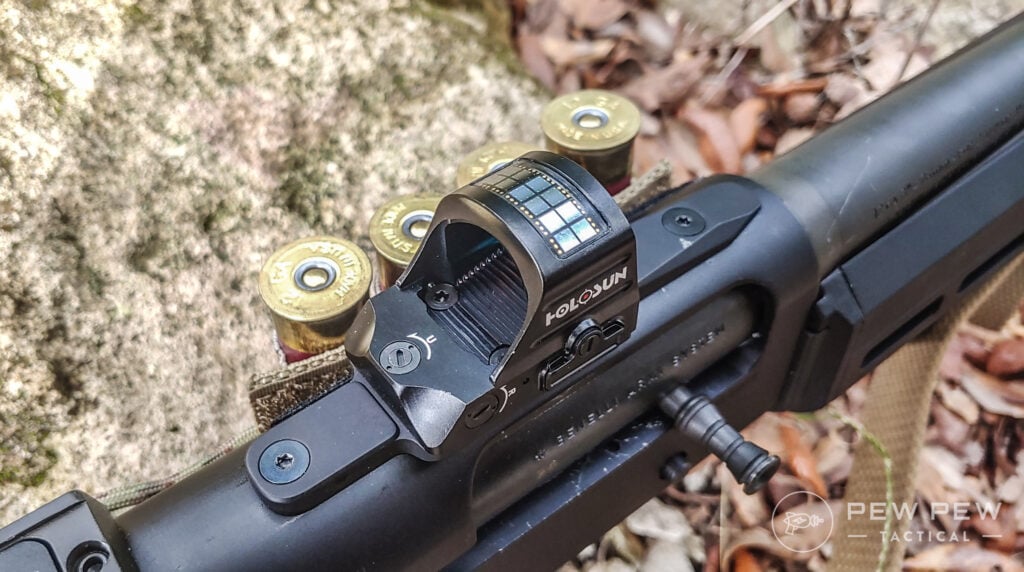 For shotguns, the 32 MOA circle is an awesome choice. I use the 32 MOA circle on my Benelli and patterned my load inside of the circle. I know at 15-yards, every pellet will be inside that circle with my chosen gun and load.
Why is this important?
Pellet accountability and precision inside the home ranges which gives me a greater degree of confidence.
Pros:
Amazing reticles
50K battery life
Solar backup
Great price
Comes with Picatinny mount
Sideloading battery
Cons:
The auto setting will not adjust to compensate for weapon mounted lights
309
at OpticsPlanet
Prices accurate at time of writing
Prices accurate at time of writing
2. Trijicon RMR
The Trijicon RMR set the standard for durability, design, and power.
It's the most widely accepted and adopted mini red dot for pistols and rifles. Let's not forget, the United States Marine Corps even pairs them with machine guns.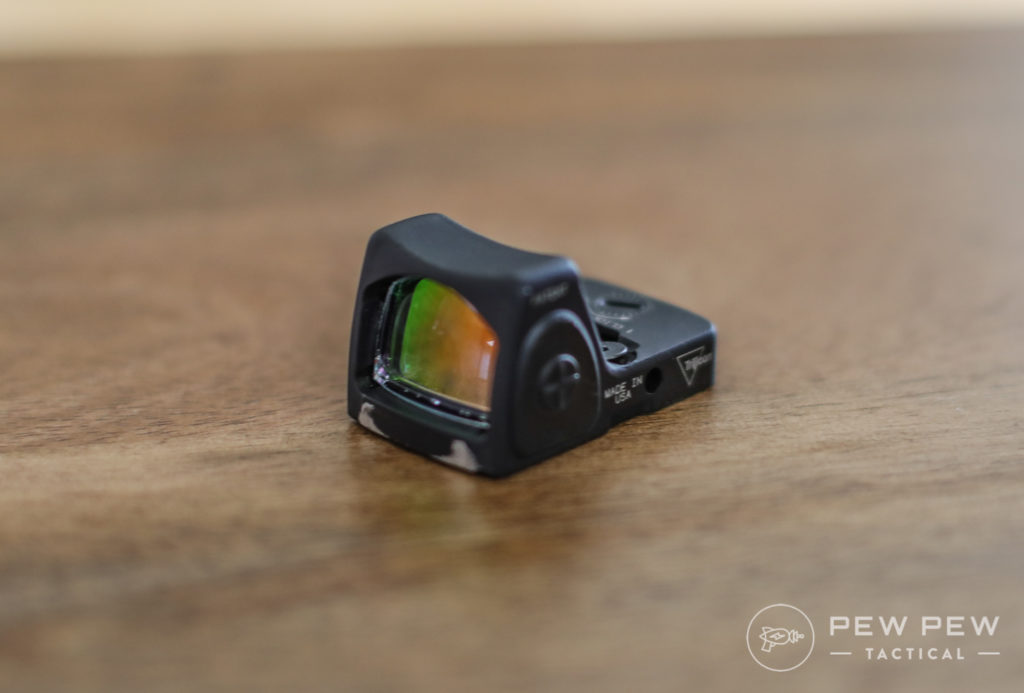 You can find the RMR in a variety of designs and even different reticle sizes.
The 7 MOA amber model would be an excellent and eye-catching shotgun option. Hint: A bigger reticle is easier to see which lends itself to speed.
That being said, the 3.25 MOA model, 6 MOA model, or even the 9 MOA model would also work well.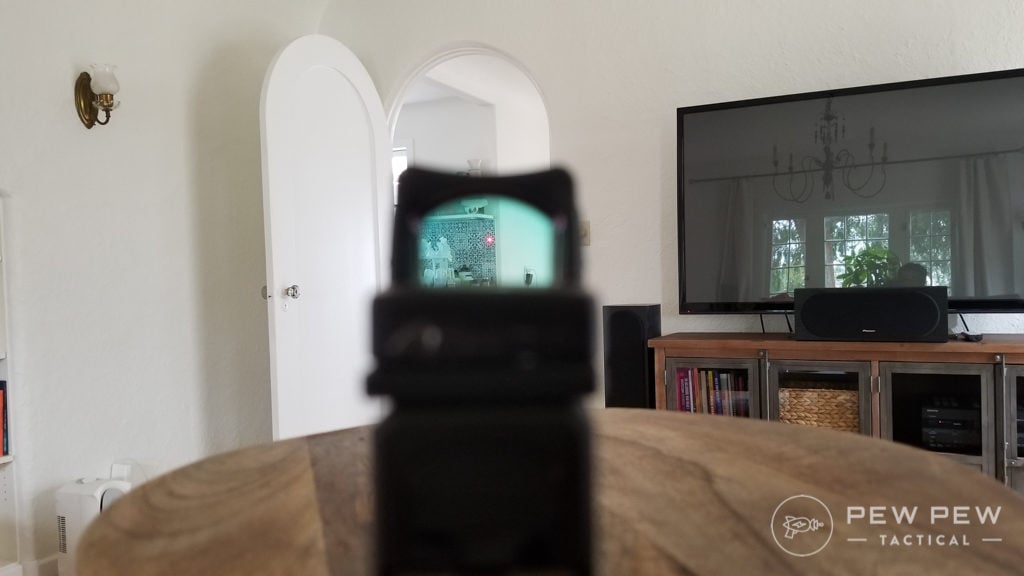 Any RMR is going to be a winner. After all, these are, without a doubt, go-to-war optics. Literally.
The RMR also brings a massive aftermarket for mounts and accessories that shouldn't be ignored.
If you want an American-made solution with a traditional dot design…the RMR delivers.
Pros:
Rugged and strong
Plenty of reticle options
Outstanding reputation among armed professionals
Solar dual-fuel option available
Cons:
Best Pistol Red Dot
454
at Amazon
Prices accurate at time of writing
Prices accurate at time of writing
3. Burris Fastfire 3
I've written about the Burris Fastfire 3…a lot. Hands down, it's my go-to red dot when it comes to reviewing guns.
If a gun doesn't include sights, I toss a Fastfire 3 on it and go.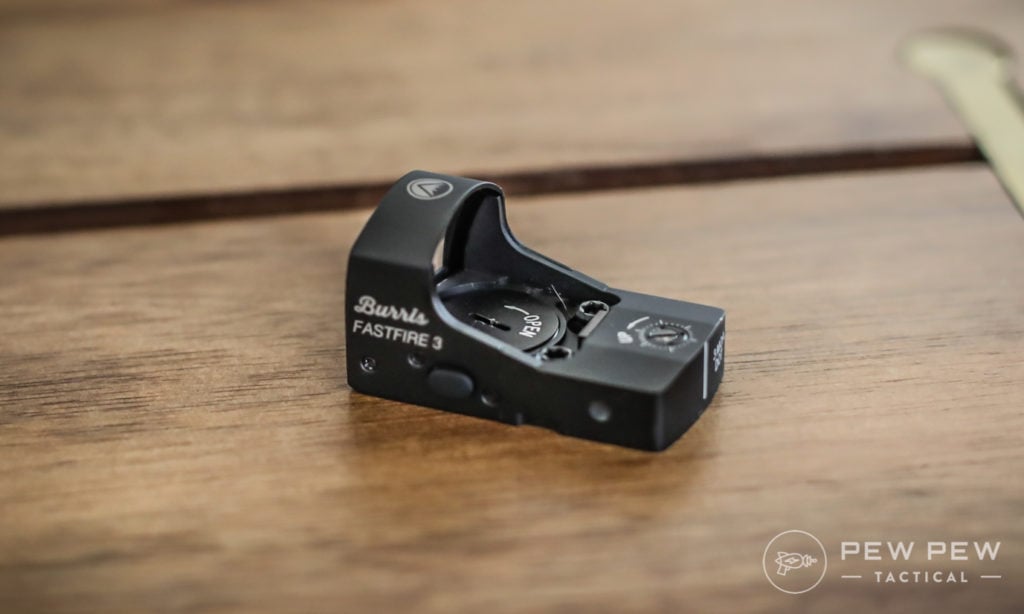 Despite a deceivingly low price, this optic features a quite robust design. It may be simple, but I like it that way.
Using three brightness levels, the Fastfire also offers an auto setting with either a 3 MOA or 8 MOA dot. The 8 MOA option is usually pushed for shotguns and handguns since it delivers more speed.
But, I've used the 3 MOA model on shotguns without issue.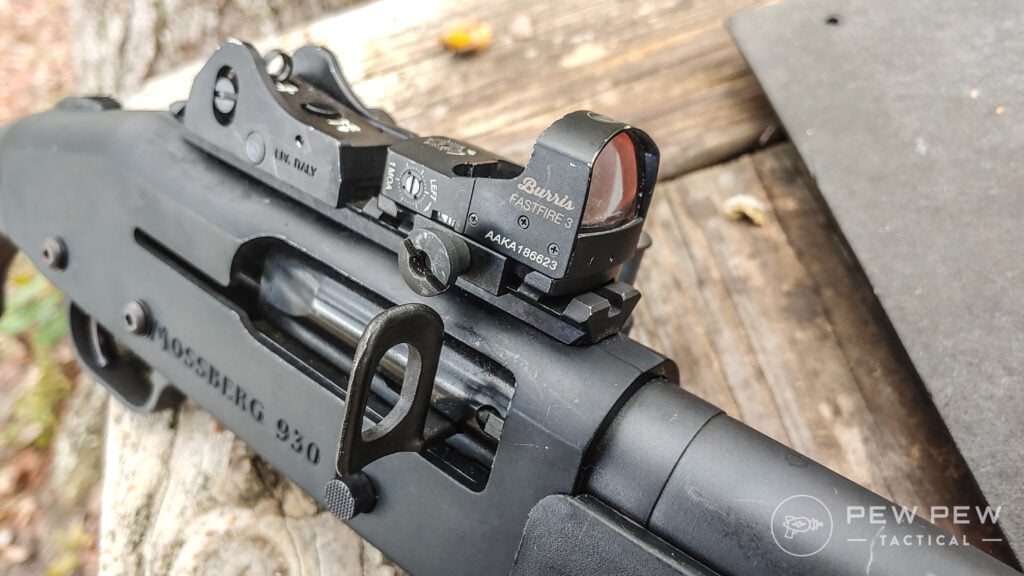 Burris produces specific mounts just for shotguns that work brilliantly. Speedbead mounts place the optic between the stock and the receiver and work with traditional shotgun stocks.
The SpeedBead is a great choice for bird hunters and trap/skeet shooters who want a modern take on the bead sight. (It also works for tactical shotguns, too!)
This design sits the optic low enough to replace the bead and provides the user with an 8 MOA dot.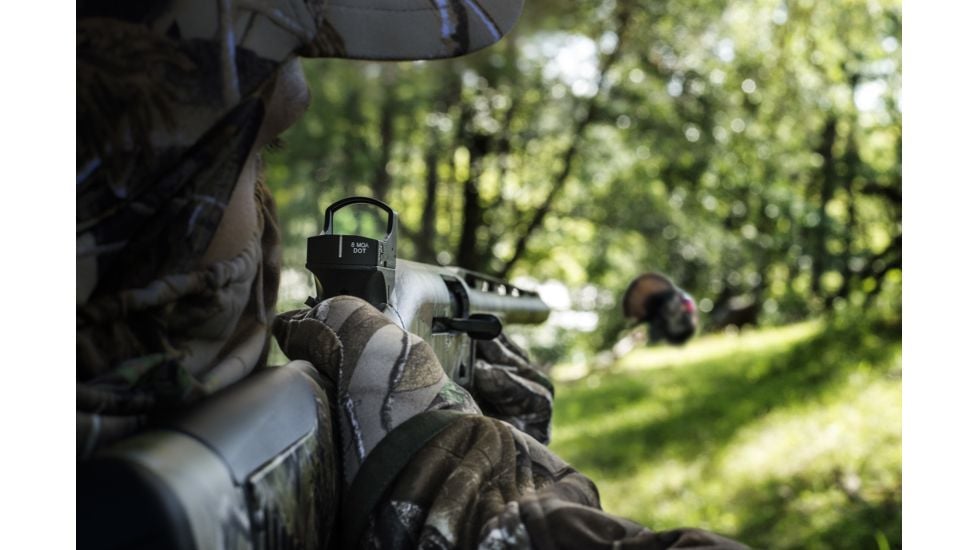 Burris makes these for a ton of different shotguns outside of the standard Remington 870/Mossberg 500 world.
Guns like the Remington 870 are popular but don't come tapped and drilled for an optic. The Speedbead and a Fastfire 3 allow for a low mount that's well out of the way.
Not to mention, the Fastfire is affordable.
Pros:
Affordable
Modular
Perfect for shotguns without an optics rail
Top loading battery
Cons:
Not proven enough for duty use
Only three brightness settings
199
at OpticsPlanet
Prices accurate at time of writing
Prices accurate at time of writing
4. Aimpoint T-2/H-2/S-1
The biggest contender for crossing the line between hunting and tactical use is Aimpoint.
At first glance, the T-2, H-2, and S-1 appear the same. Okay, so they are quite similar but they do feature some slight differences.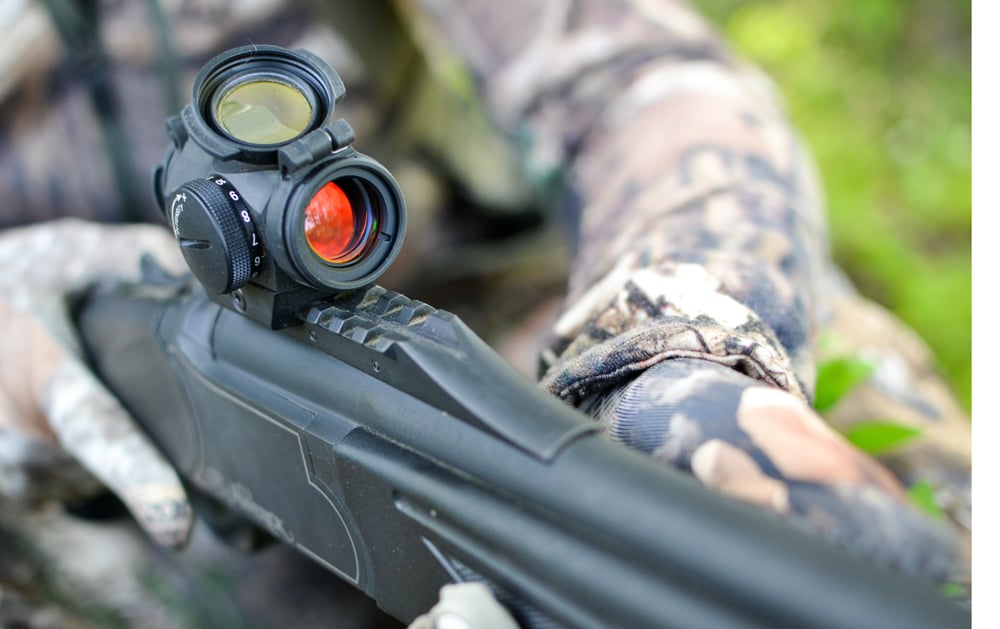 Want something tactical? The T-2 is your model. Equipped with night vision settings and a submersible depth of 25-meters, it screams tactical.
But be prepared…this is the most expensive model of the three.
809
at Amazon
Prices accurate at time of writing
Prices accurate at time of writing
Hunters will want to opt for the H-2 model. It's tough and rugged like the T-2.
But it lacks night vision compatibility and can only be submerged to 5-meters.
745
at Amazon
Prices accurate at time of writing
Prices accurate at time of writing
The S-1 offers up a bigger 6 MOA red dot. Designed to attach to the rib of a shotgun barrel (not a scope mount), Aimpoint engineered this optic to sit as low as possible.
For this reason, it better accommodates hunters — more-so than tactical shooters. It can also stand a submersion up to 5-meters.
745
at Amazon
Prices accurate at time of writing
Prices accurate at time of writing
All three deliver a small size, which has the shotgun community cheering. With mounts from KE Arms and Aridus, they sit nice and low and provide you with a stronger tubular red dot design.
Pros:
Lightweight and compact
50k battery life
Lots of mounts available
Extremely strong
Cons:
5. Meprolight Foresight
I know I said that full-sized red dots are not the best for shotguns, and I stand by that in 99% of cases.
However, Meprolight Foresight is the exception to the rule.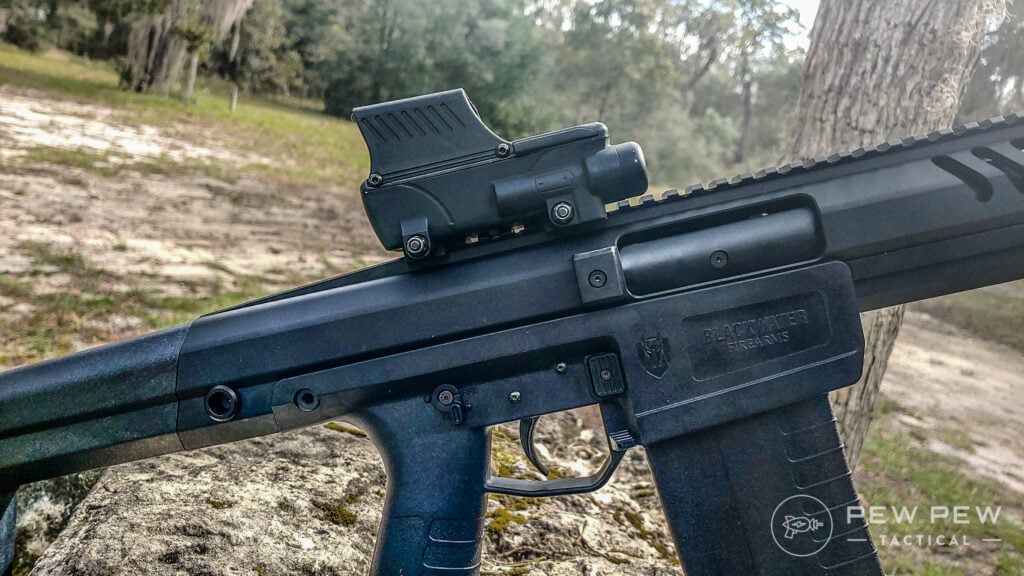 A techy solution, the Foresight links to your Android or iOS device.
What does that all mean for you?
It allows you to program up to 10 different weapon zeroes in one optic. Swap between loads for different purposes on the fly!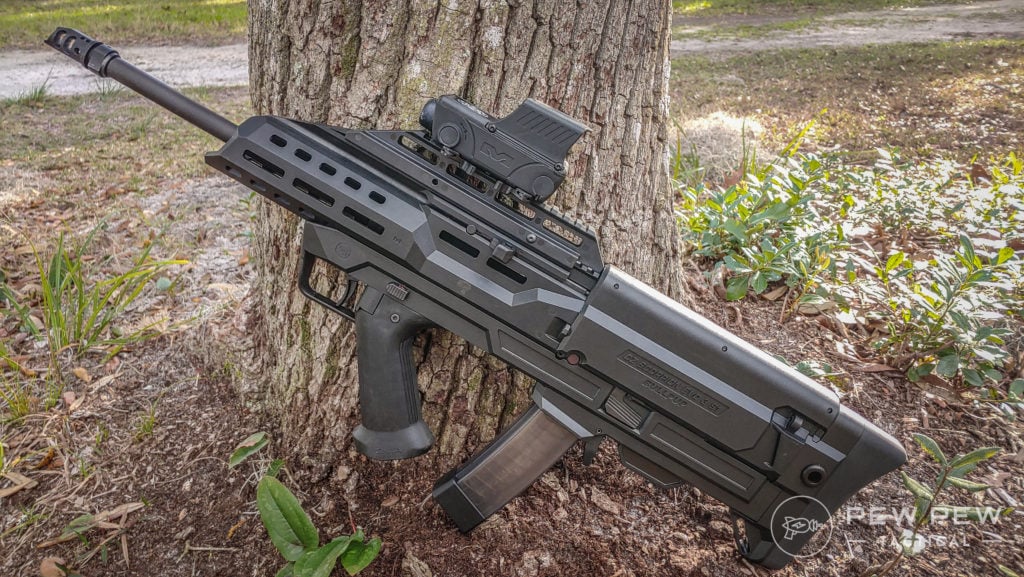 An advanced optic?! Sign me up!
This option brings easy zeroing via your phone, an integral mount, and a rechargeable battery.
And, honestly, the Foresight is one of the most fascinating optics I've ever used.
Pros:
Versatile as a shotgun
Over 2 dozen reticle options
QD mount
Super easy zeroing
Cons:
Full-sized optic
Expensive
Rechargeable battery
699
at Amazon
Prices accurate at time of writing
Prices accurate at time of writing
6. Leupold VX-Freedom 3-9x40mm Riflescope, Sabot Ballistics Reticle
Leupold's VX Freedom line is a popular set of optics at a moderate price.
The Sabot Ballistics reticle comes tuned for both muzzleloaders and slug guns with drop compensation out to 300-yards when the optic is zeroed at 100-yards.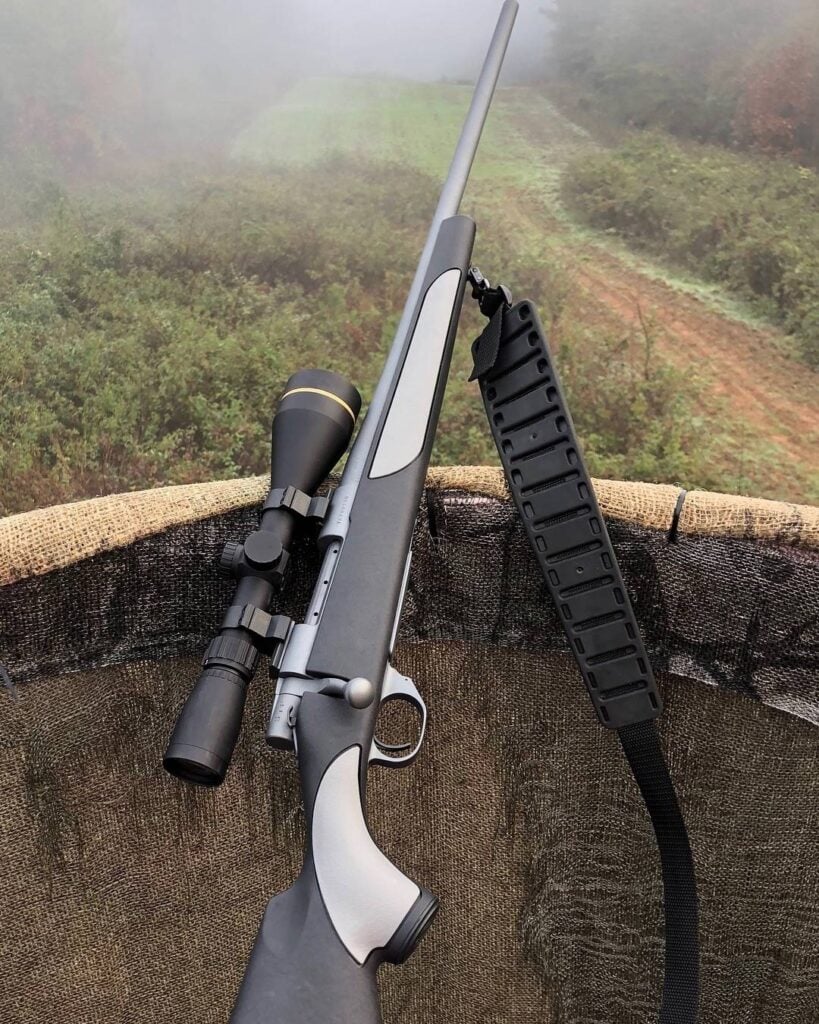 Pro tip: make sure to tune this BDC to your load, though.
Leupold uses a Twilight management system that gives you 10 additional minutes of visible light.
In my experience, most deer are moving as the sun sets and the sun rises.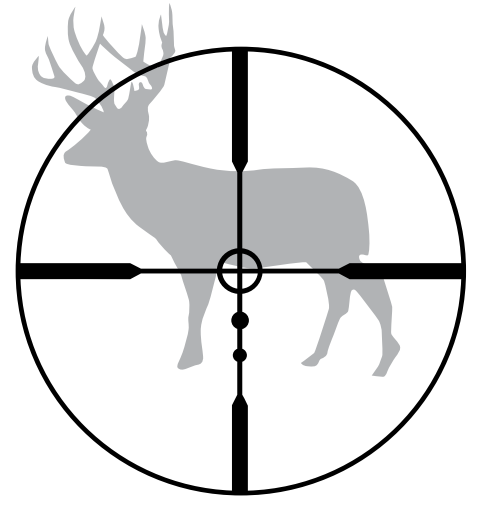 All in all, the Leupold VX Freedom with the Sabot reticle takes a slug beyond typical slug range.
Sporting heavy praise, if I was a slug shooter, this would likely be my choice.
Pros:
Great Price
Slug based BDC
Magnified
Rugged and reliable
Cons:
Needs a dedicated optics mount and rings
300
at Amazon
Prices accurate at time of writing
Prices accurate at time of writing
7. Swampfox Tomahawk 1-4X
Low Power Variable Optics rule the rifle world.
On a slug gun, a verstaile, lightweight 1-4X LPVO makes a lot of sense.
The Tomahawk 1-4X from Swampfox is as simple as it gets. For a slug-shooting shotgun, it's an excellent option.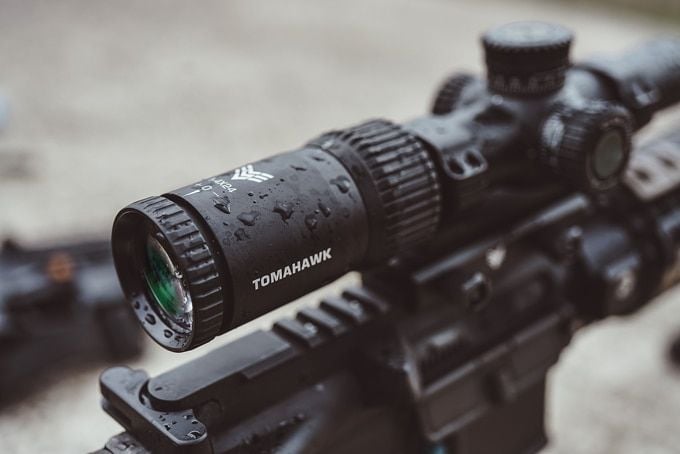 First off, a 1-4X magnification range is suited for slug ranges and allows for both brush hunting and open ground. The small size of the optic also keeps it nice and light.
Hands-down, the best reticle for slugs is the spear duplex reticle. Plus that duplex reticle comes with an illuminated dot in the center.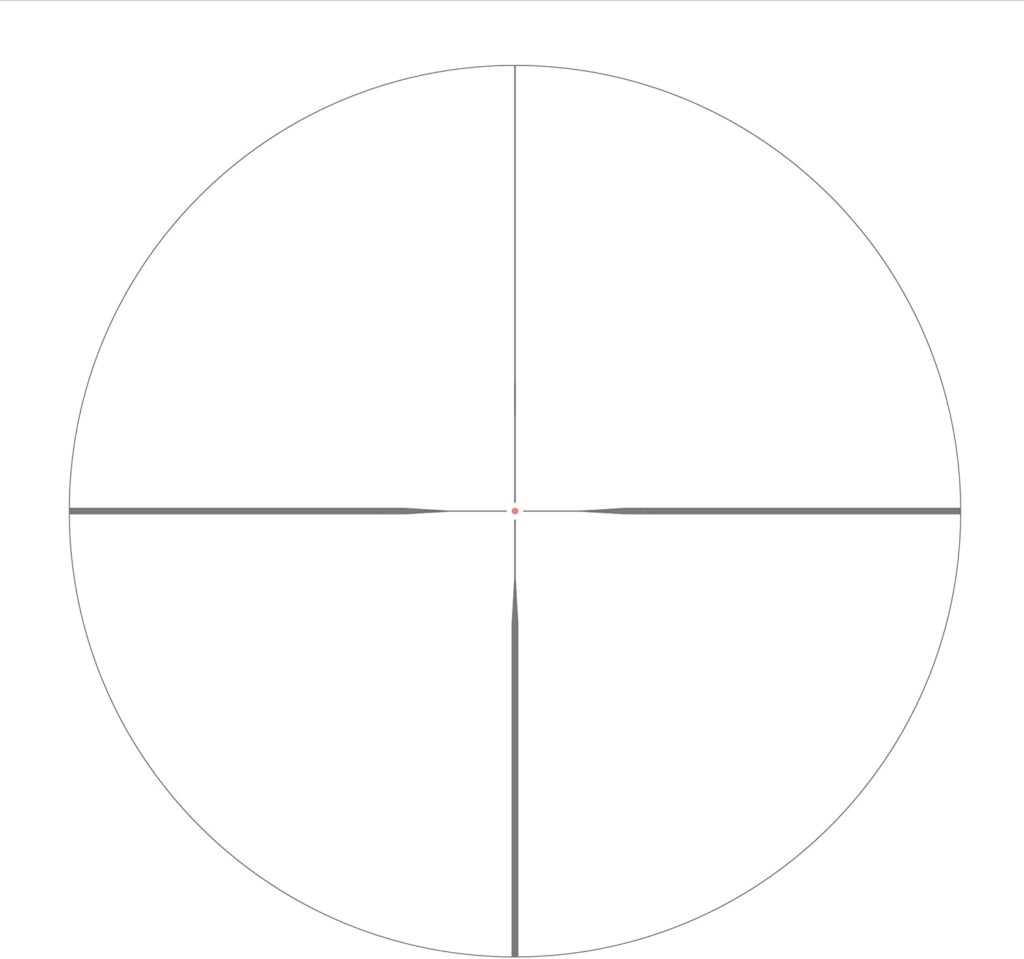 This simple setup makes for an easy slug gun zero and will get you on target quickly. Bonus: the unobstructed view is also very nice.
Most LPVOs place a heavy focus on the AR platform, but the Tomahawk's reticle design is simple yet perfect for slug guns.
Pros:
Simple reticle
Lightweight and compact
Easy to use
Priced just right
Cons:
Needs a dedicated optics mount and rings
279
at Amazon
Prices accurate at time of writing
Prices accurate at time of writing
Conclusion
Optics on a shotgun may sound far-fetched but these devices actually enhance the weapon's capabilities making target acquisition faster and easier. In short, a quality optic on a shotgun will land precise shots where you want them every time.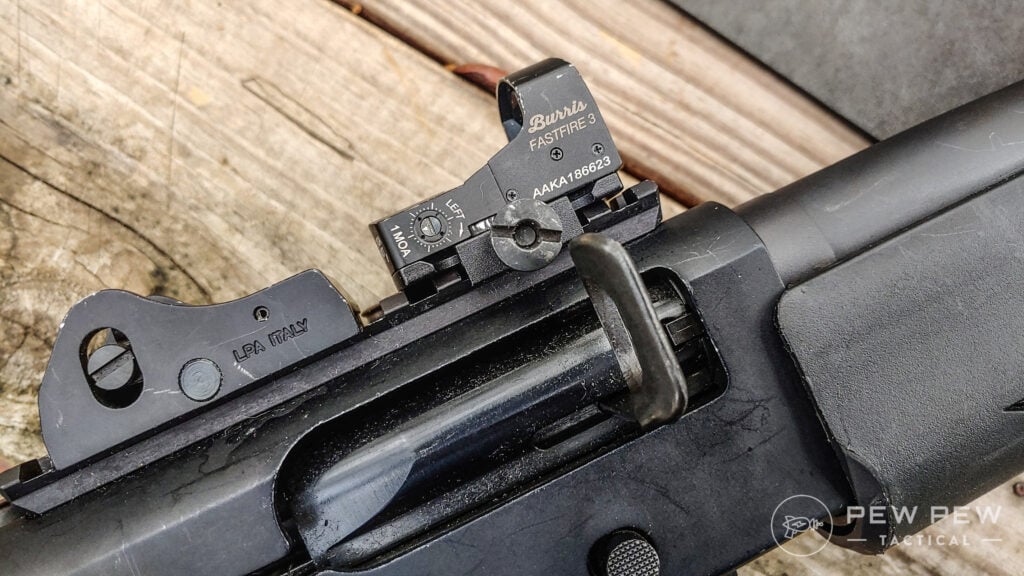 Optics and shotguns just make sense, and they are an awesome addition to your shotgun.
What optics do you use on your shotgun? What works for you? What doesn't? Let us know below. Need a shotgun to slap your new optic on? Check out the Best Tactical Shotguns for Home Defense!