The phrase BBQ gun isn't one we use much anymore.
Everything has become more about the practical, tactical aspects rather than the artisan craft of producing a finely made gun.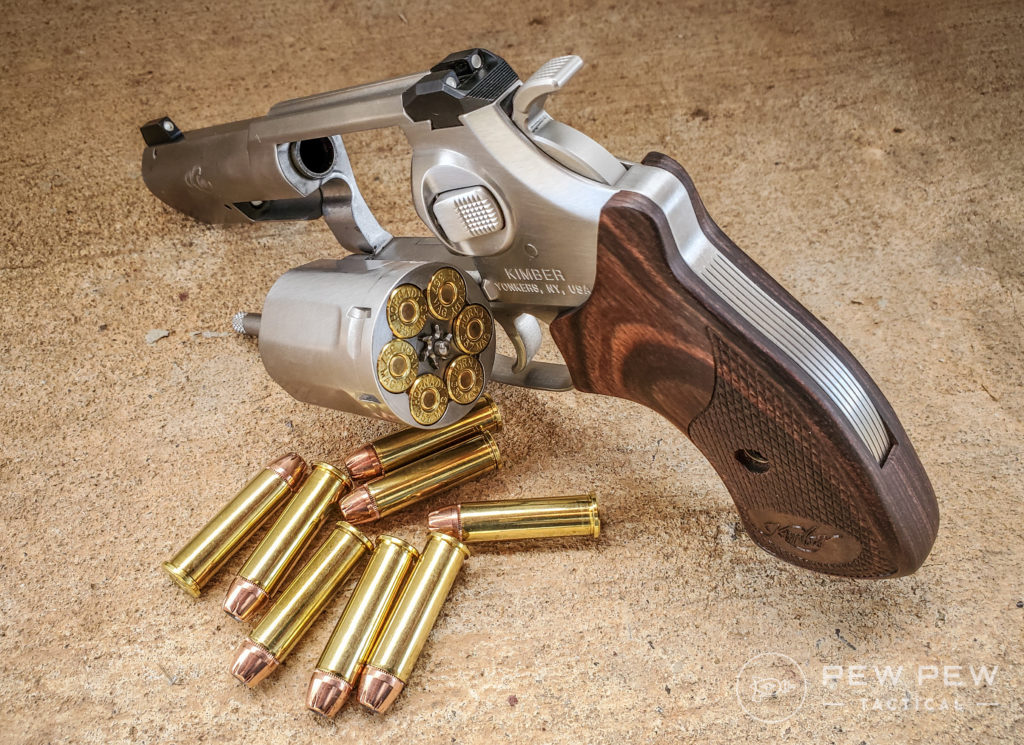 I'm not saying that is a bad thing, but I can't help but feel a little sick of the same black rectangular guns with polymer frames released yearly.
Today we are looking at what I feel are the best modern BBQ guns. I gathered a list of good-looking guns that are still in production and relatively easy to find.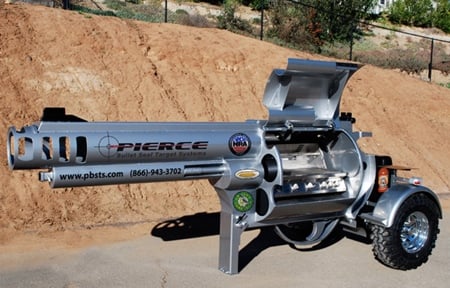 When choosing these guns, I avoided one-offs and extremely limited runs of firearms, as well as guns that are now out of production.
So buckle up as we discuss what a BBQ gun is and the best ones on the market.
Keep reading!
Summary of Our Top Picks
Table of Contents
Loading...
What's a BBQ Gun?
Have I gotten ahead of myself? If you're a younger or a new reader, the concept of a BBQ gun might be new to you.
Basically, it's a gun you wear to dress up and show off at a semi-formal affair. It's a good-looking gun you could wear at a BBQ (In a gun-friendly state), and it needs to be eye-catching.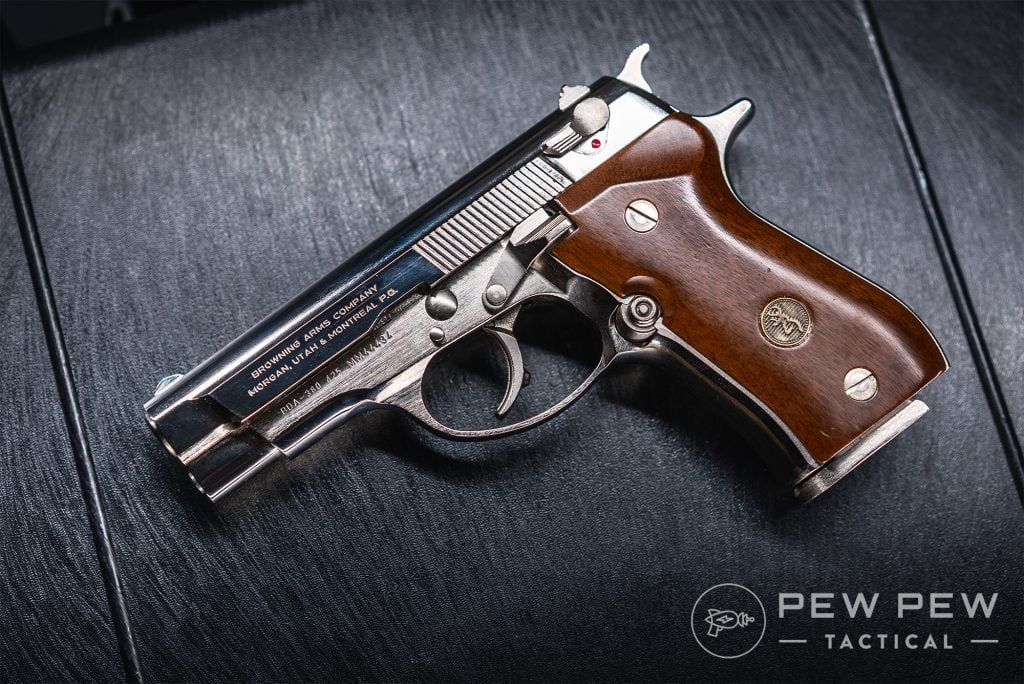 I'm not sure where the concept or phrase originated from, and I remember first seeing it as a kid in classic gun magazines that adorned my barbershop. It was always in reference to a finely made and fancy firearm.
Looks are usually pretty dang low on the list of factors to consider when choosing a handgun, but it is central to what makes a BBQ gun a BBQ gun.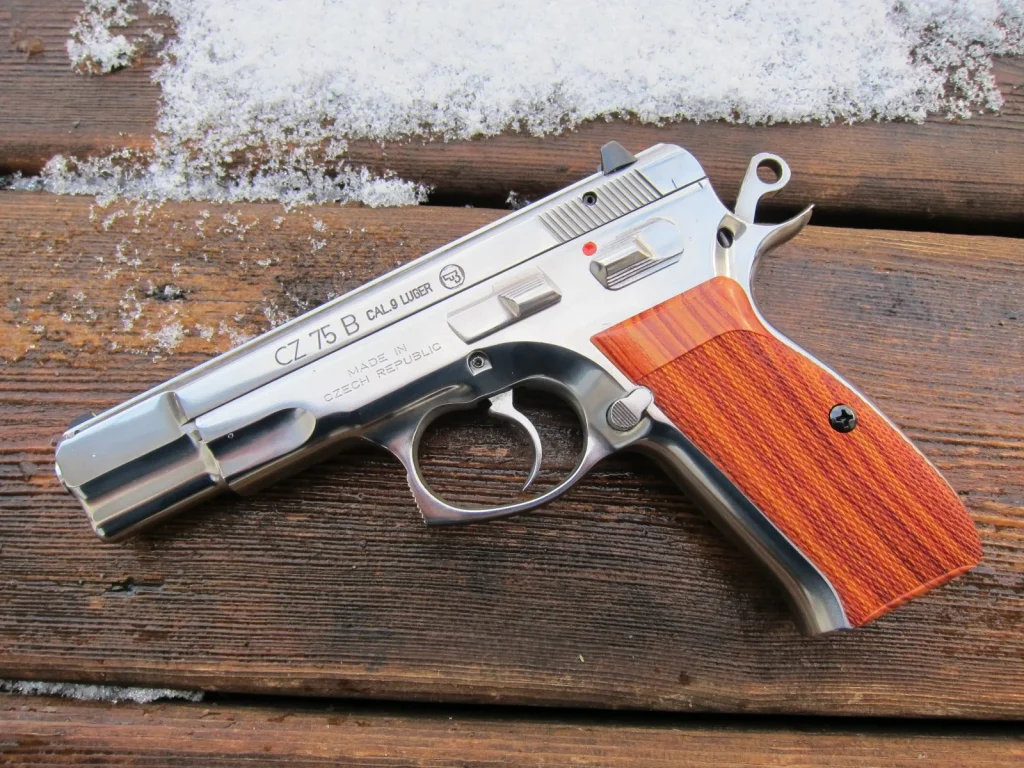 With that in mind, let's look at the best BBQ guns on the market.
The Best BBQ Revolvers
1. S&W 686 Plus
You could argue that the Smith and Wesson 686 Plus is easily one of the finest revolvers on the market. This stainless steel revolver is big, beefy, and looks fantastic.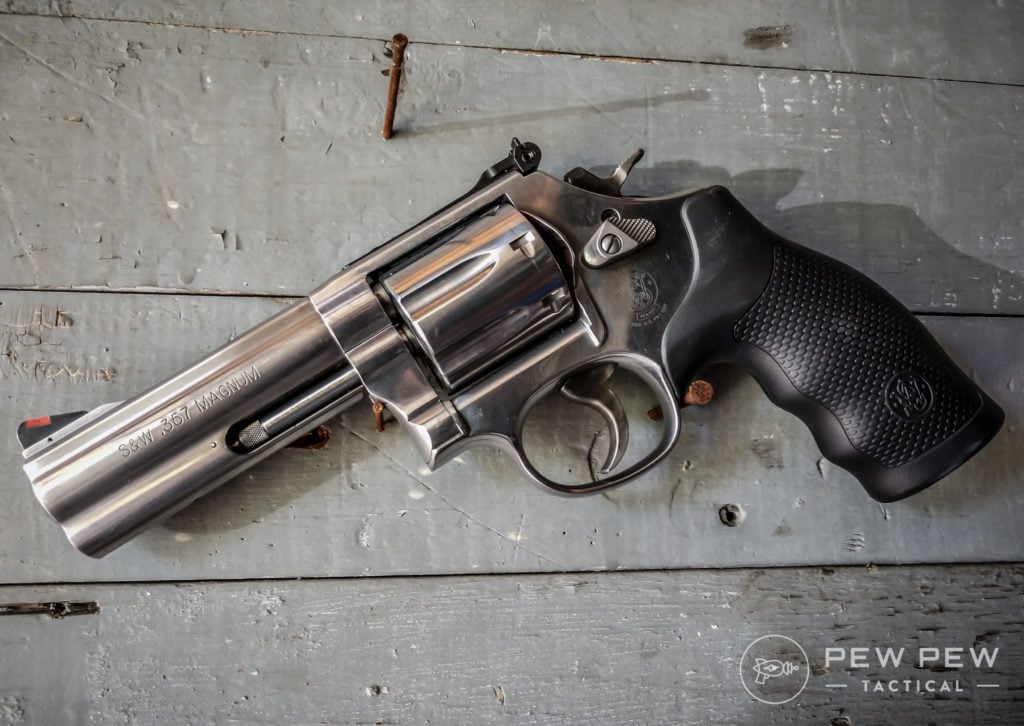 All of the 686 models look quite nice, but the best-looking to me is a 686 with a 3-inch barrel and wood grips.
If you can find a Performance Center Model with an un-fluted cylinder, then you have what has to be one of the best-looking modern revolvers on the market. It's a gun so pretty you'd never want to fire it.
899
at GrabAGun
Prices accurate at time of writing
Prices accurate at time of writing
However, when you eventually do, you'll be stoked by its performance.
The S&W 686 Plus is a big beefy revolver that will eat up the recoil from the .357 Magnum loads without issue. Your hand won't be beaten up after a day of shooting this gun.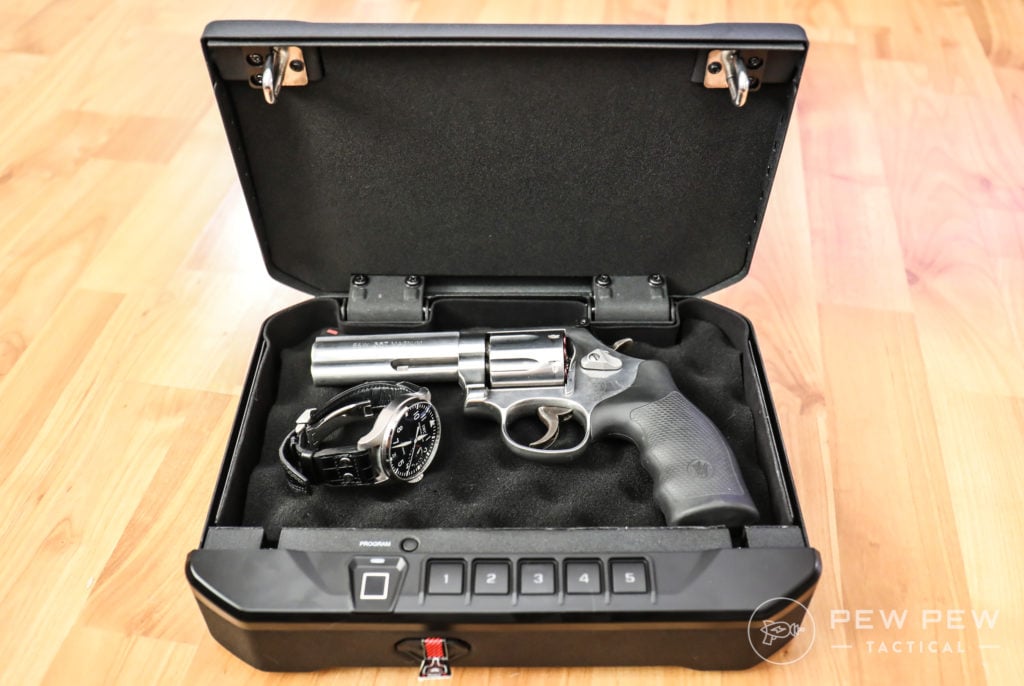 The Performance Center models are a great way to go and often feature excellent looks on top of some awesome triggers. Its massive sights are easy to see, and they are easy to shoot straight.
As the name implies, the Plus model holds an extra round, making it a 7-shot.
So if zombies crash the BBQ, you'll be ready to go all Rick Grimes on them. Until then, you can check out our full review of the 686+ here.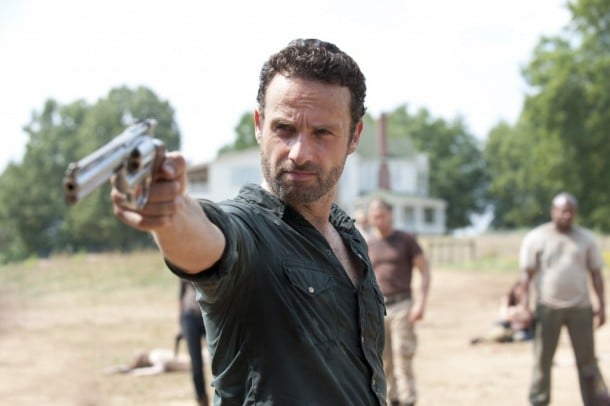 2. Kimber K6S Combat
Kimber is the king of the modern BBQ guns.
While there are plenty of 1911s I could slap on this list, instead, I'm tossing in their K6S Combat model. In my opinion, it's the finest-looking revolver on the market.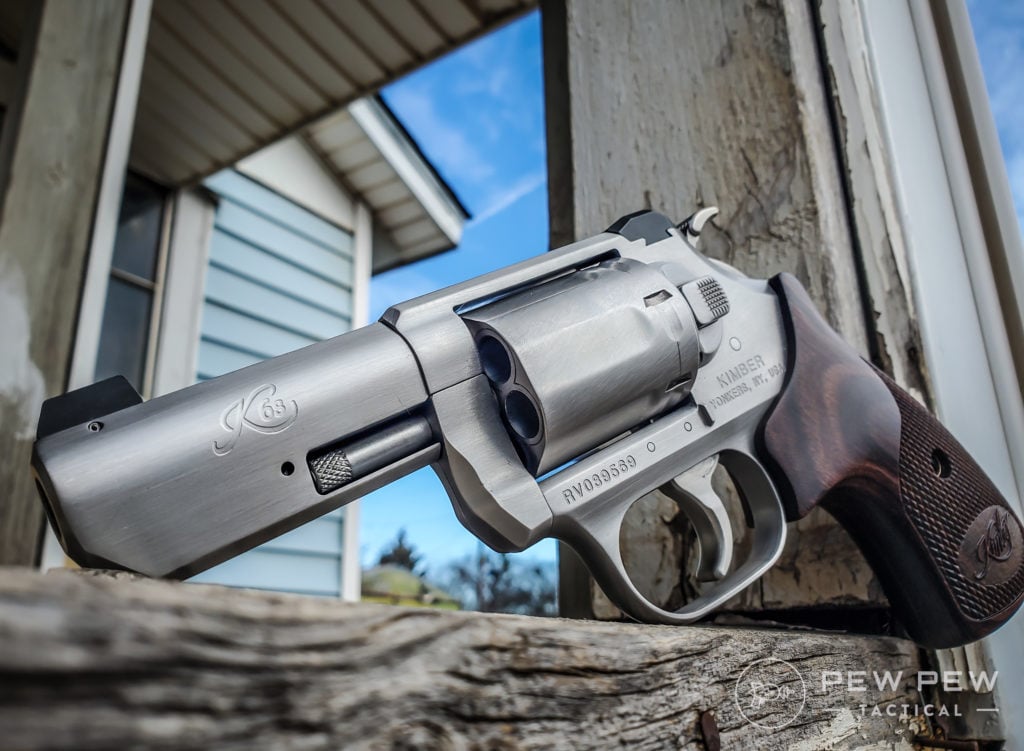 First, it's stainless steel, so it's already drool-worthy. It also has an unfluted cylinder, which I love. Finally, the flat barrel and wood grips are just that cherry on top.
I fell in love with the looks, and the fact it's a DA/SA .357 Magnum means I'm getting a very competent and powerful wheel gun.
The 4-inch barrel gives a nice sight radius, and the K6S has a modern take on revolver sights that I appreciate. Kimber extends the grip, but the frame is still fairly compact, all the while offering a 6-shot cylinder.
Best Dual-Purpose BBQ Gun
988
at Kygunco
Prices accurate at time of writing
Prices accurate at time of writing
Kimber also crafted a great trigger that goes a long way in delivering tight groups. Mix that with the low-profile, easily-acquired sights, and you have a gun that meets the combat moniker with gusto.
At 29 ounces, it's also not too hefty for a revolver, and it's much lighter than most contemporaries.
This means it won't pull your belt down as you mosey around the BBQ shaking hands, kissing babies, and showing off your stainless six-shooter.
3. Colt Python
When it comes to BBQ, both old and new, the Colt Python will always stand out.
With its recent comeback, there was no way I could leave that fine piece of machinery off my list.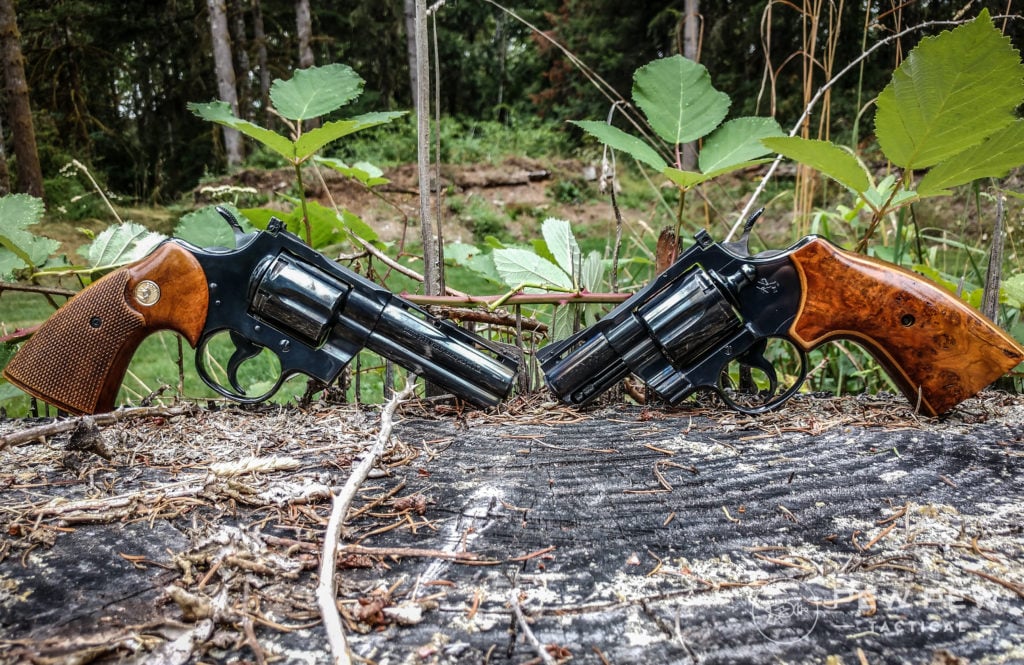 The BBQ isn't a place where you need a massive barrel for long-range shots. You don't need the six-inch version banging into everything while you are making brisket. The 3-inch Python is my favorite, and it certainly has a distinctive look.
The single slot vent rib and huge frame and grip stand in contrast to the short barrel but do so in a good way.
Unlike most other short revolvers, the gun features full-size sights with a fully adjustable rear sight.
1299
at GrabAGun
Prices accurate at time of writing
Prices accurate at time of writing
Colt went with a stainless steel finish. It looks fantastic, and in hand, the gun feels amazing. The double-action trigger is remarkably smooth, and the single-action is crisp and short.
It's delightfully old school, and the world is a better place now that Colt brought the Python back.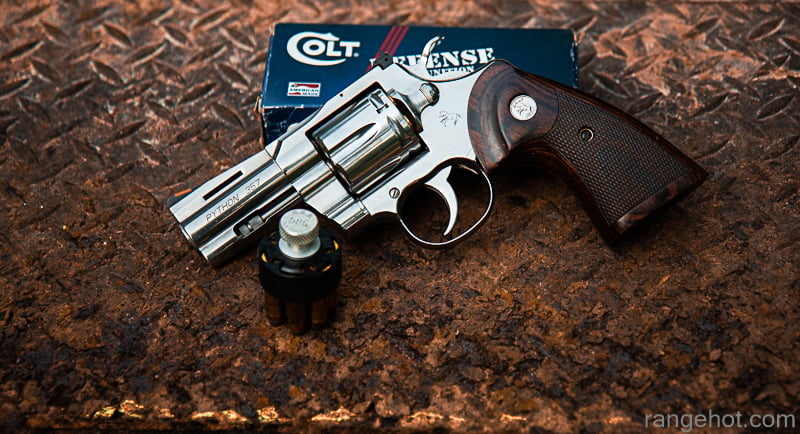 Best Modern BBQ Semi-Automatics
4. Sig P320 AXG
Remember when I complained about black plastic guns? Well, now I'm going to praise a gun that was originally a black plastic gun.
Sig's AXG series takes the polymer out and replaces it with a metal grip module. They make a number of AXG models in various models and finishes.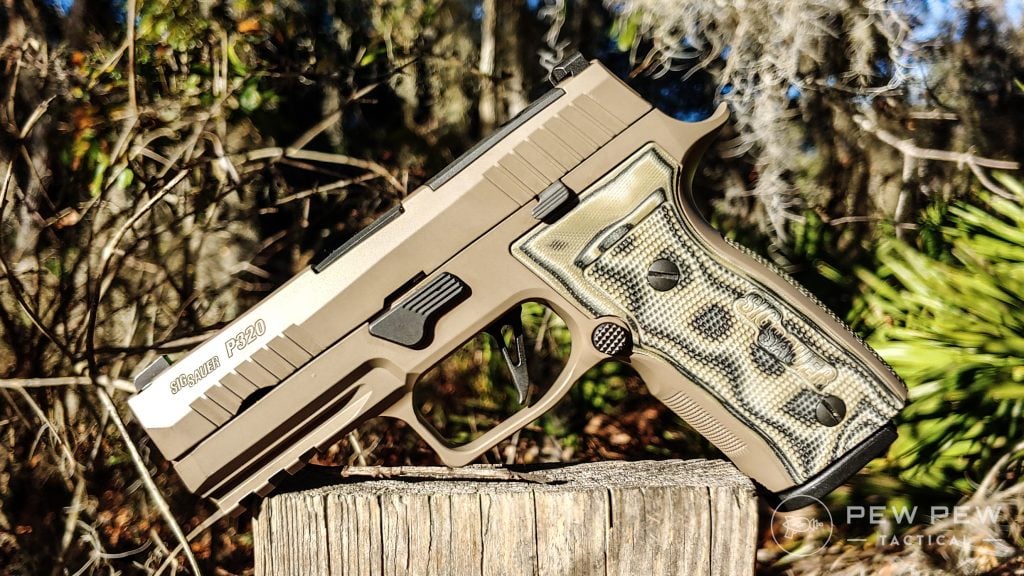 My personal favorite is the Equinox version.
These come from Sig's custom shop and are absolutely fantastic examples of the P320. They ditch the polymer and put on a fantastic-looking metal frame with removable grips.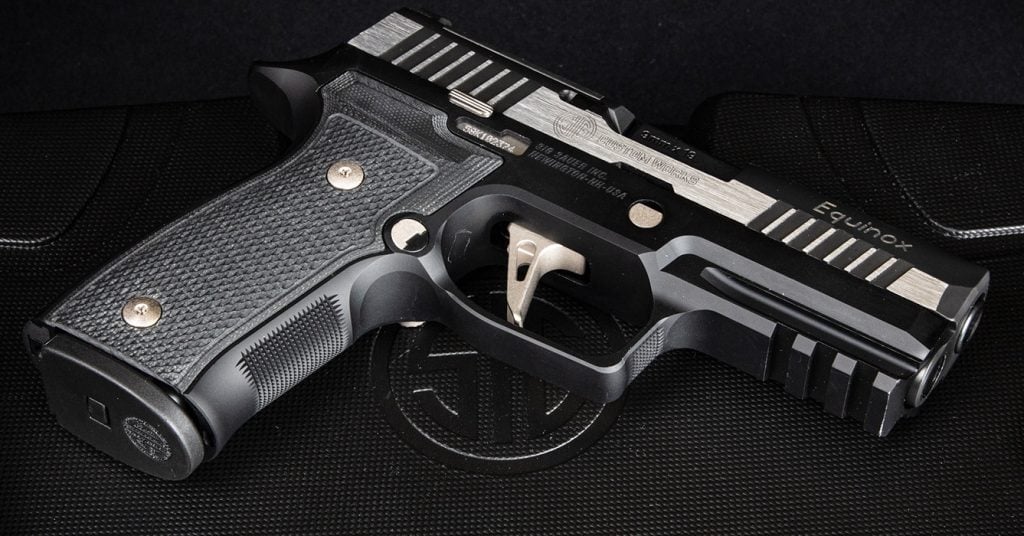 Sig held nothing back, and this is my favorite version of the P320.
They not only look great but are full of high-end features. That includes the brilliant flat Legion trigger, optics cuts, night sights, and an extended beavertail.
1099
at Bereli
Prices accurate at time of writing
Prices accurate at time of writing
They are crazy accurate and were one of the first guns I ever competed with. I'm not saying I did the best, but I didn't end up in last place at my first Steel Challenge match.
Outside of the Pro model, these are all carry-sized versions. In Sig language, that means the grip module is full-sized, and the slide is compact.
They come with three 17-round magazines and a very fancy Italian-made case with a Custom Shop challenge coin.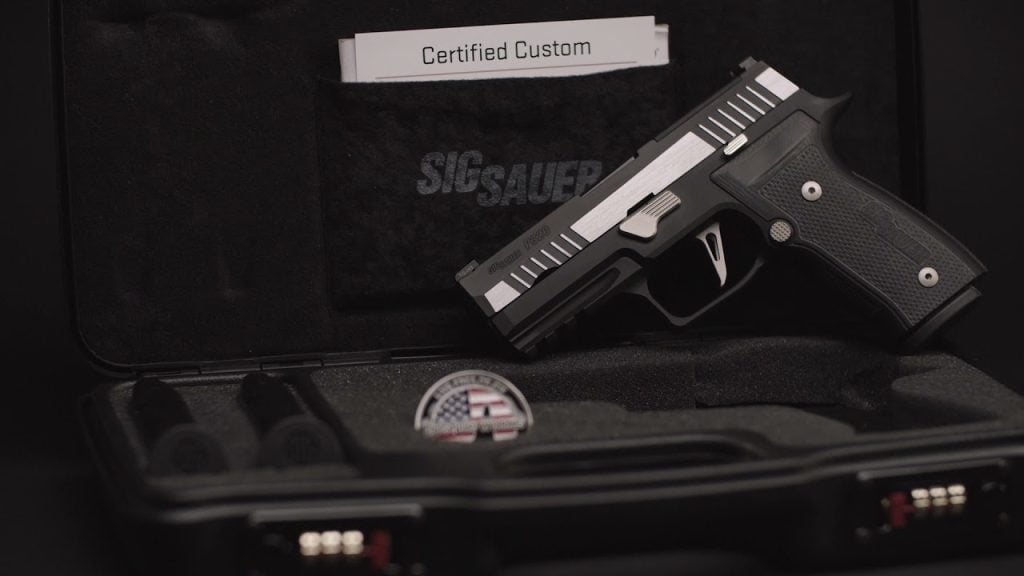 Make sure to check out our full review of the P320 AXG.
5. CZ Shadow 2
What happens when you take a high-end competition pistol from one of the most reputable companies on the market and then give it looks to die for — you get the CZ Shadow 2.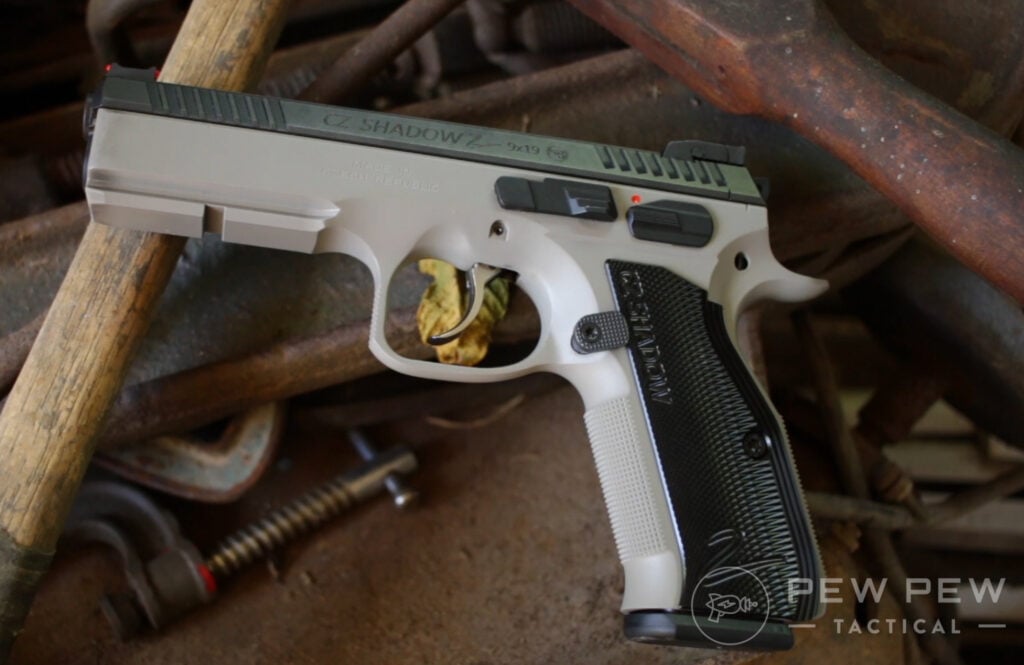 CZ is a dominant force on the competitive circuit and isn't afraid to produce competition-ready guns, and the Shadow 2 leads the pack.
The Shadow 2 is based on the famed CZ-75 design. It is an all-metal pistol that wears a rail and features a beefier frame than the original 75. The finish is a dark black nitride that has just the right amount of shine.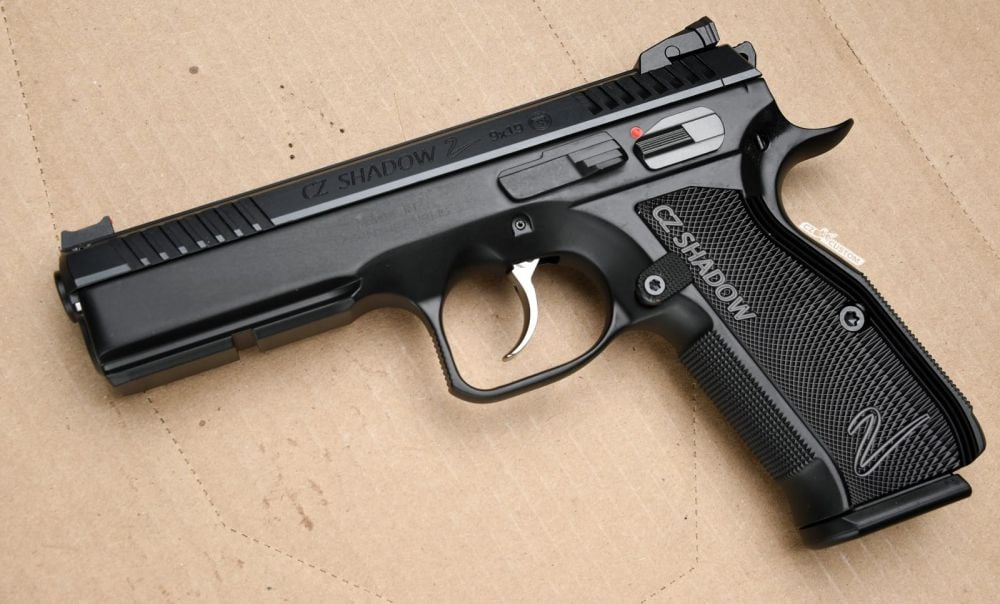 It's not gaudy, but it looks amazing — and is subtle about it.
The grips are available in various colors, including orange, blue, and black. CZ's aftermarket also embraces wood grips which look amazing on the Shadow 2.
You get a high undercut and beavertail to allow for a grip that's even closer in line with the bore. CZ also contoured the slide to reduce the mass flying rearward and to help tame recoil and muzzle rise.
The Shadow 2 has a customizable magazine release with three different settings to allow it to be perfectly placed for the shooter, and it can also be swapped for lefties.
Along with all the frame features is undoubtedly one of the finest examples of a DA/SA trigger out there. Its single-action trigger is only rivaled by a few guns.
The Shadow 2 is likely a finely tailored suit — it's subtle, but it will get you noticed.
979
at GrabAGun
Prices accurate at time of writing
Prices accurate at time of writing
What do you think of the Shadow 2? Rate it below!
6. Sig P210 Carry
While it may not be the first thing that comes to mind when you hear the word classic, the Sig P210 very much fits that bill.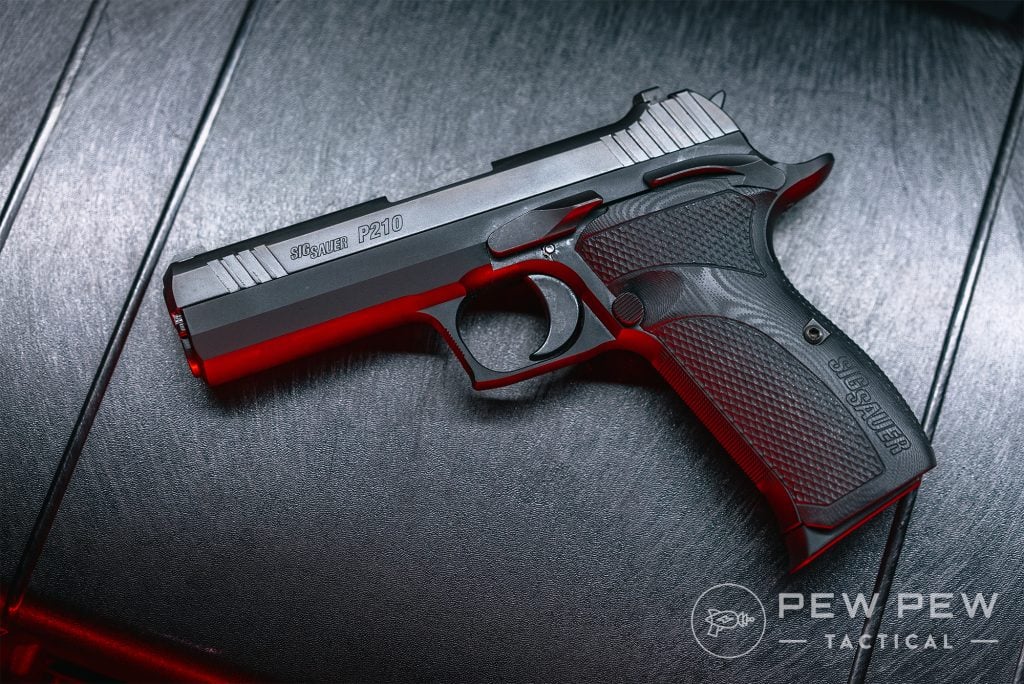 The original P210 dates all the way back to 1949, but luckily, Sig saw fit to give us an updated version in 2022 by way of the P210 Carry.
It's a more modern take on the classic with a few modern features to make it more user-friendly and accommodating to the modern shooter.
A shorter 4.1-inch barrel, G-10 grips, SIGLITE night sights, and front slide serrations bring the gun into the more modern realm. Despite this, Sig retained the gun's distinct look and attractive appearance.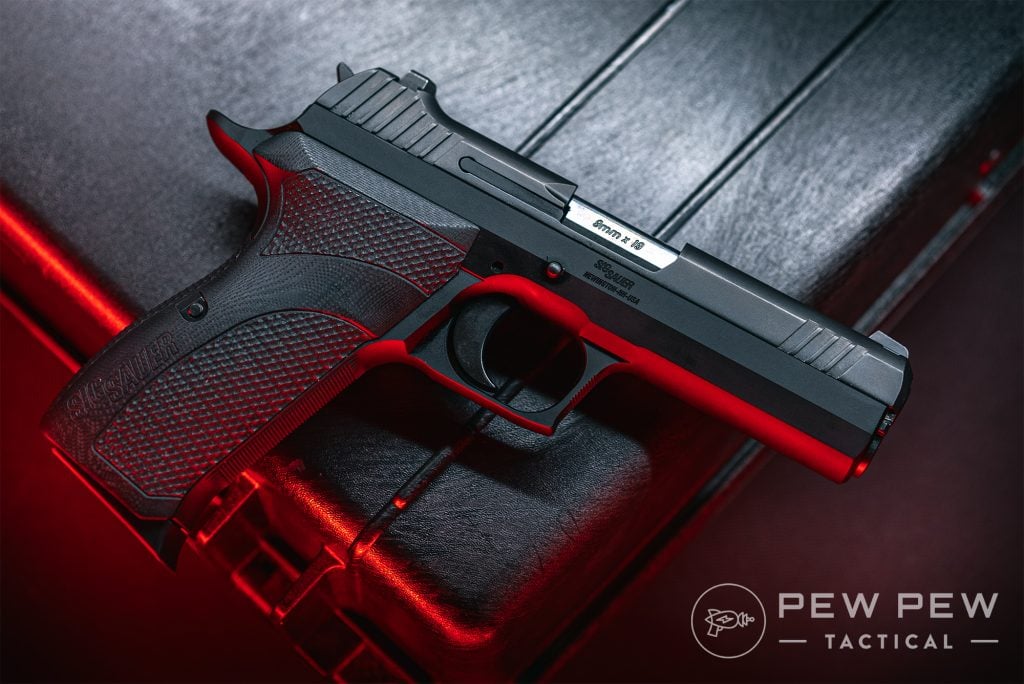 It's not adorned with red dots or rails, but it honestly presents a sleek, almost Darth Vader Imperial-type look.
In addition to looking the a Bond villain's gun of choice, you get excellent accuracy and a single-action trigger to die for.
Best Classic-Style
1399
at Kygunco
Prices accurate at time of writing
Prices accurate at time of writing
7. Langdon 92 Elite LTT
I'm breaking my own rule here just a hair…these are custom guns from a custom shop, but they are not very limited in production.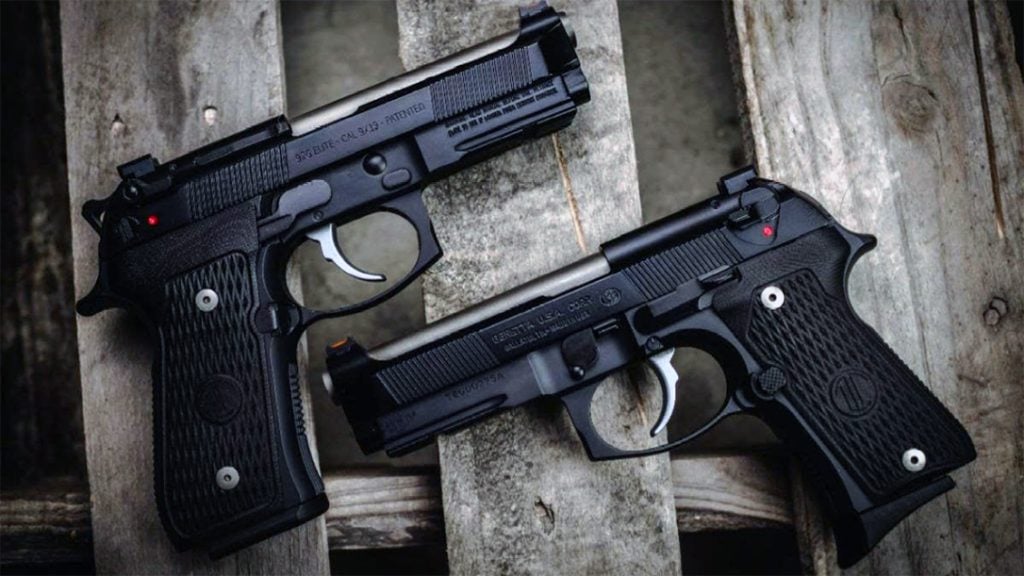 Langdon Tactical takes existing Beretta guns and makes them better in every way, including in the looks department.
The LTT 92 Elite mixes black and stainless to create an extremely eye-catching firearm.
A stainless barrel and guide rod give the gun just enough flair to stand out. Dark gray G10 grips look fantastic when meshed with a black finish and stainless barrel.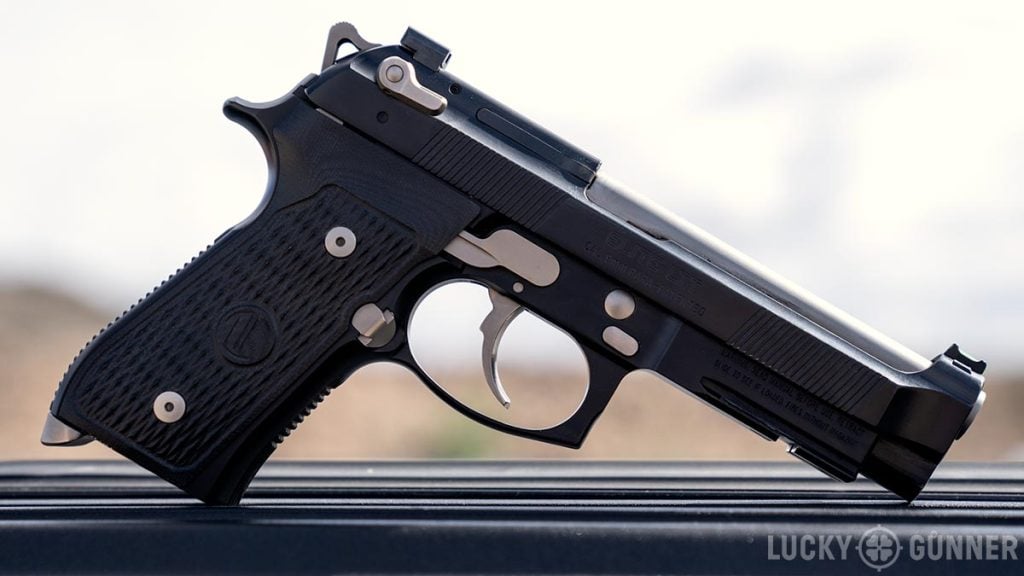 Ernest Langdon is a very tactical-oriented shooter, and the 92 Elite reflects this with its soft shooting characteristics.
The stainless barrel features a target crowning for enhanced accuracy, and the trigger is refined to near perfection.
Best Functional BBQ Gun
1175
at BattleHawk Armory
Prices accurate at time of writing
Prices accurate at time of writing
These guns are not designed just to look good but to be the best possible combat Beretta possible.
Langdon's 92 Elite series are outstanding in every way and are one of the best guns to wear at the BBQ — especially if you are serving Italian beef.
Final Thoughts
A BBQ gun doesn't necessarily need to stress practicality, but it should still be a capable gun.
If it wasn't capable, why not just carry a good-looking airsoft pistol? You aren't likely to find yourself in a fight at the BBQ, but while the chances are low, they are never zero.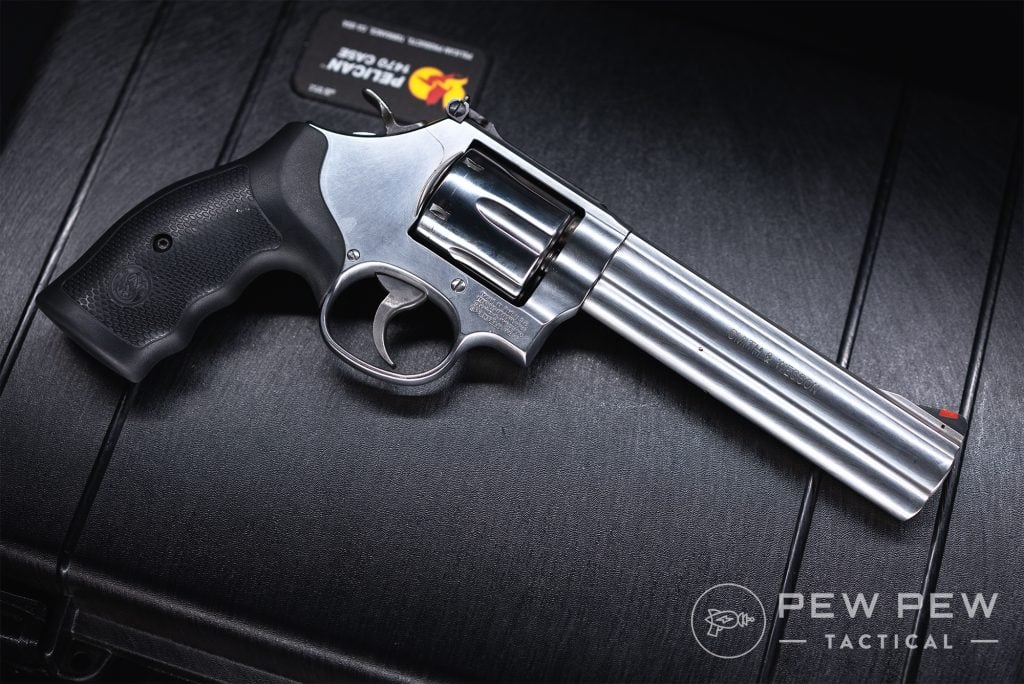 What are your favorite BBQ Guns? Let us know in the comments below! Going to a BBQ where guns are going to get you some crazy looks? Check out our guide on the Best Pocket Pistols for Concealed Carry.