Looking for a company that makes comfortable, well-fitting t-shirts that show off your interests…
And by "interests" we mean "love of firearms?"
Well, there are plenty of companies out there, but many of their styles are, well, pretty cringe if we're being completely honest.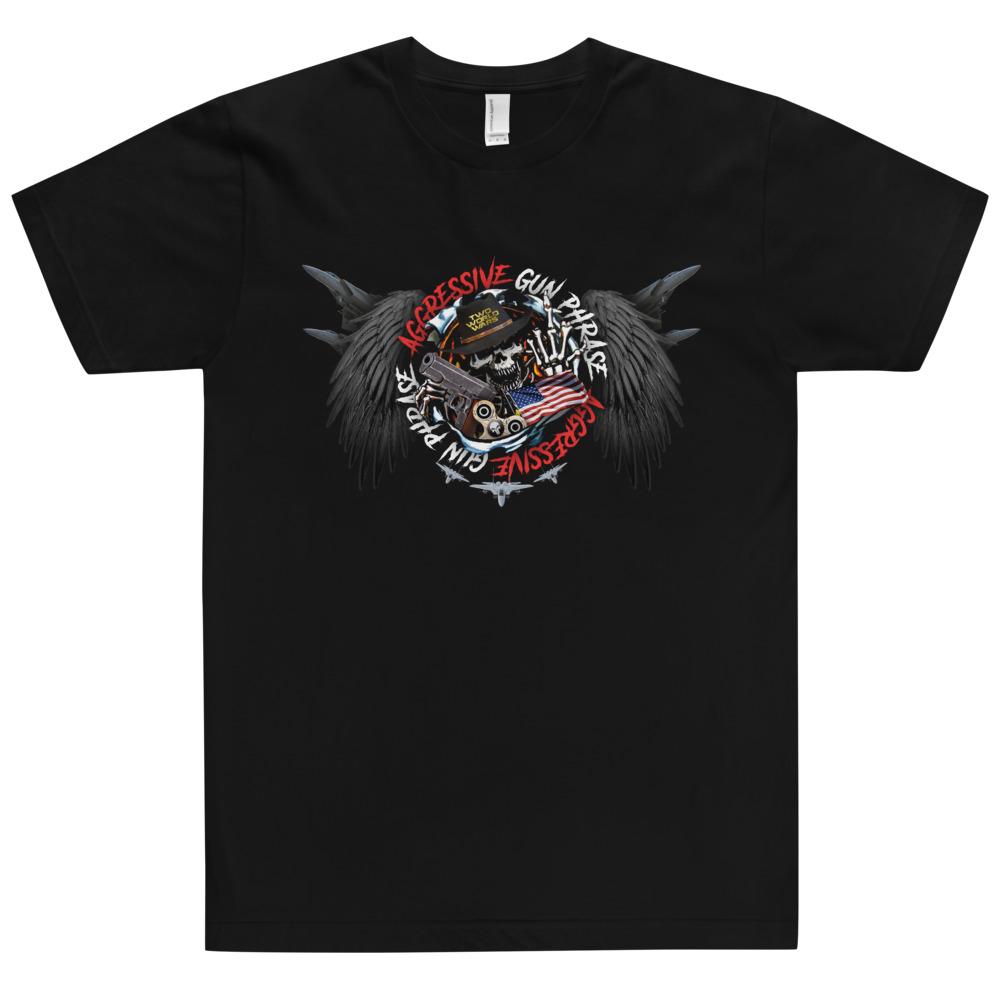 When shopping for gun-related apparel, it's easy to feel like that's your only option.
But you're in luck because we've put together this list of our favorite gun t-shirt brands.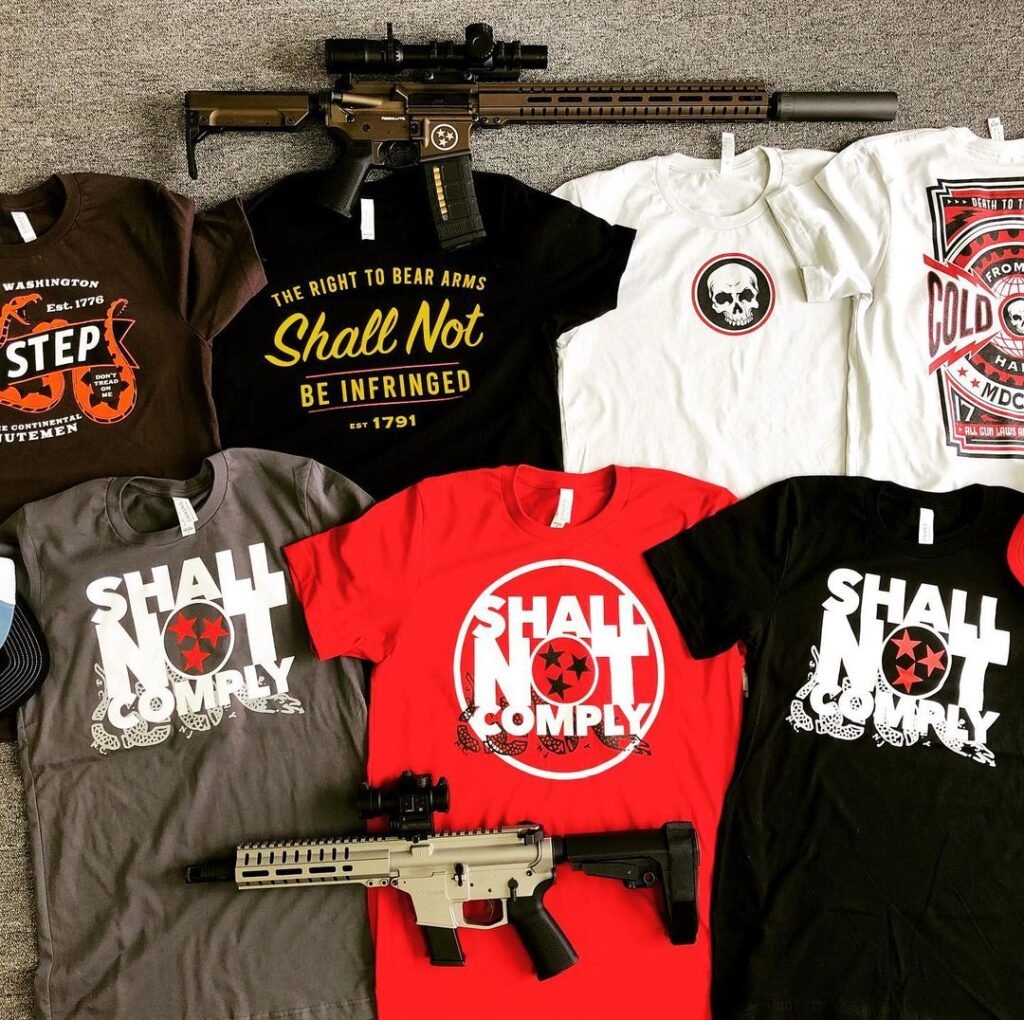 Each of these brands has great quality tees with awesome looking designs that will display your passion for shooting without implying that you're insane, aggressive, or both.
And most of these companies even support fantastic causes as well, so you can feel like you're doing a little bit of good when you buy their tees.
Now let's get to it.
Table of Contents
Loading...
Shall Not Comply
First, I gotta plug Shall Not Comply. For one, it's something of professional courtesy — Shall Not Comply handles all of our Pew Pew Tactical swag. But mostly it's because we legitimately love Shall Not Comply's tees.
We wouldn't have trusted them to handle our gear if we didn't.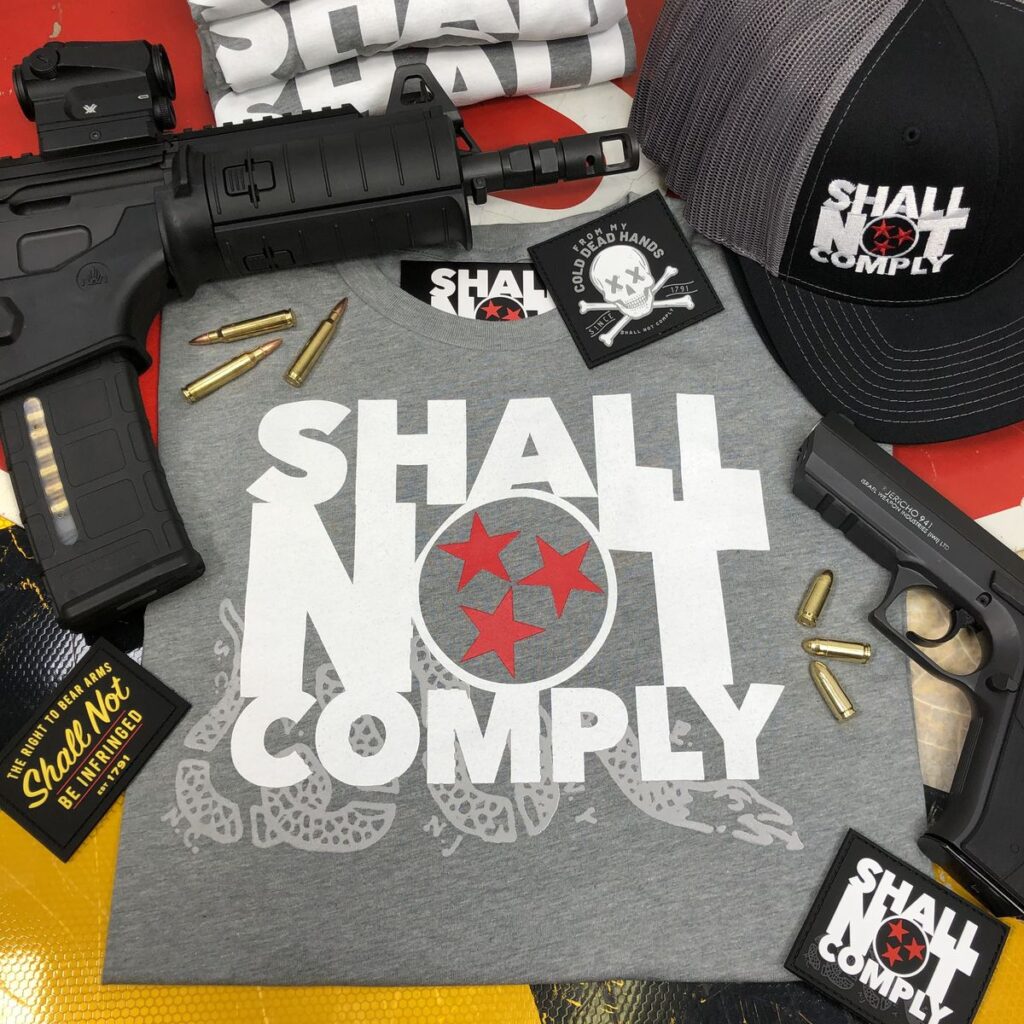 Shall Not Comply is a brand new company based out of the Tennessee hills that describes itself as "Apparel for Patriots, by Patriots."
Though they launched in early 2020, starting in the midst of a global pandemic didn't stop them from seeing success.
Beginning with just six shirt designs and two hat designs, they sold out of everything within days of launching…and again after they reprinted.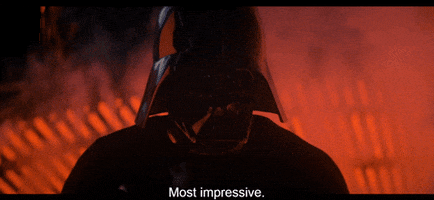 Now they have substantially more patterns in both t-shirts and hats, and also sell patches, stickers, and more.
A few of my favorites (aside from the Pew Pew Tactical ones, of course) include the Outdoor Freedom, No Step, and Lost My Guns in a Boating Accident tees.
(Psst, curious of where that meme started? Check out the origin story for I Lost All My Guns in a Boating Accident.)
25
at Shall Not Comply
Prices accurate at time of writing
Prices accurate at time of writing
The shirts are soft and comfortable, so there's no break-in period or annoying stiffness. And they stand up well to washing too.
Shall Not Comply also offers a huge range of sizes, from small to 4XL so everyone from Uncle Ricky to your little sister can find something. Oh, and their tees go for about $25.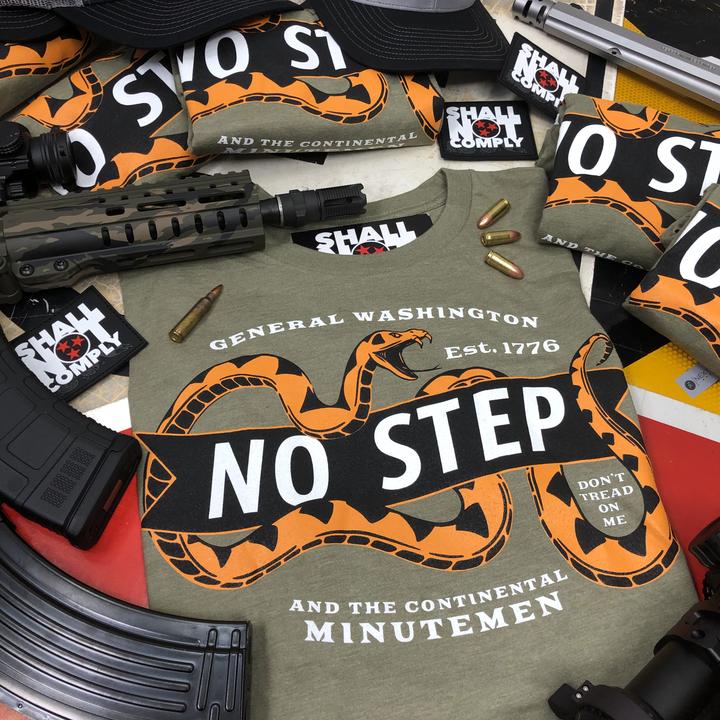 We love that their ordering policies are so straightforward and convenient. No muss, no fuss.
Shall Not Comply also ships to all 50 states, and let's not forget, orders over $49 ship free! Shipping is super speedy, so you won't be waiting by the mailbox for too long.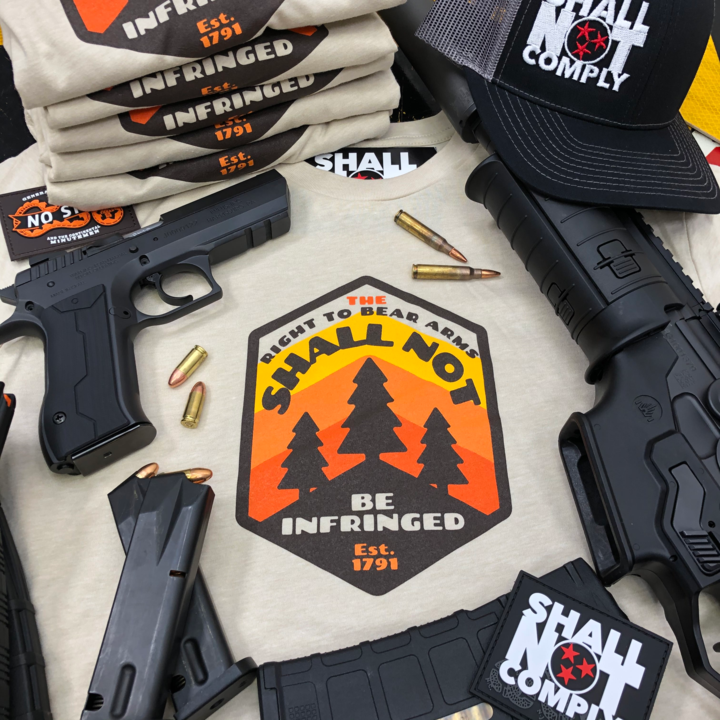 Items indicated as being in stock on the website are actually in stock in the warehouse and ready to ship within a couple of days.
If there ends up being a problem, like the wrong size, you have a two-week window from the time your order was delivered to send it back.
Since shirts sell for about $25, you might as well pick up a couple at a time.
24
at TriStar Trading
Prices accurate at time of writing
Prices accurate at time of writing
Arm the Animals
Arm the Animals is, technically speaking, more pro-animal than pro-gun, but they have plenty of quirky designs that feature animals wielding weaponry.
And since guns and cute furry critters are two of my favorite things, I was immediately sold on the concept.
If you're in the same boat, you will love their shirts!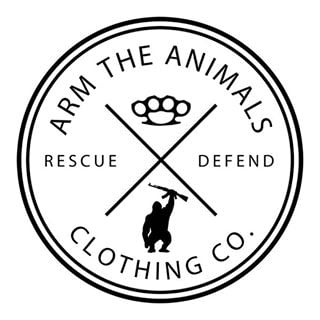 In fact, I personally own their Ain't Kitten Around tank top and my husband, Matt, has their Scout Snipurr tee.
Dog lovers may prefer the Terror Terrier or Scout Pupper patterns.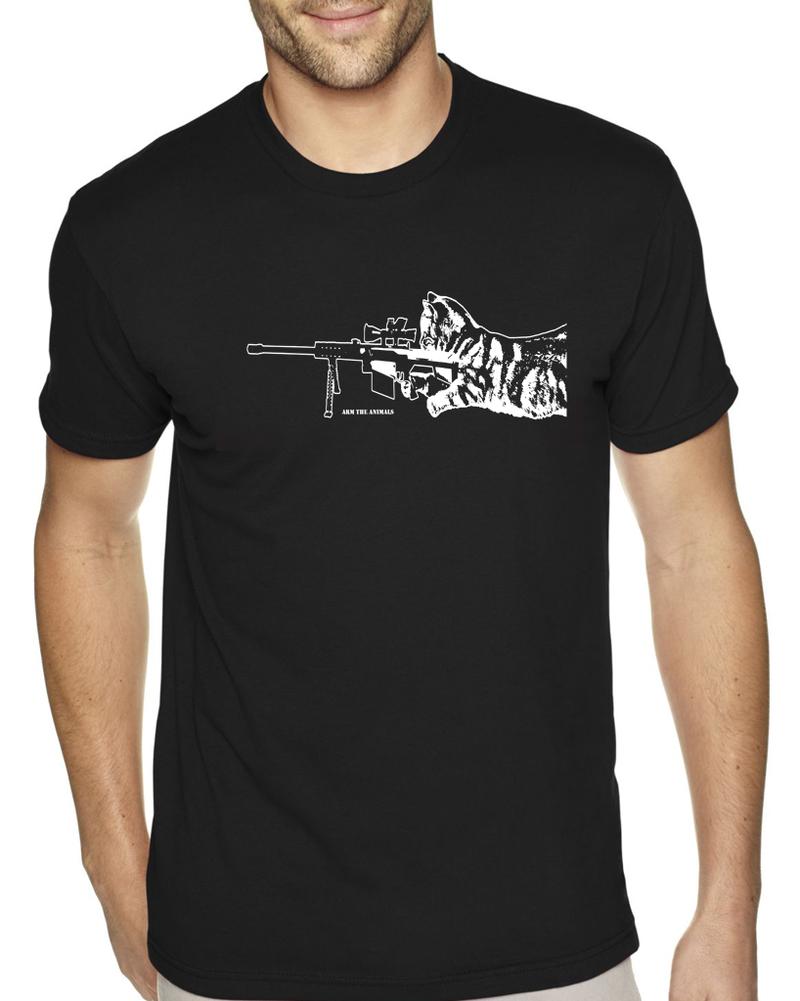 They also have patterns with some more exotic animals, including the Turtle Tank, Pen-Gun, Iron Tusk, and Artillery Sloth patterns.
Arm the Animals offers short sleeve tees, but also long sleeve and raglan tees.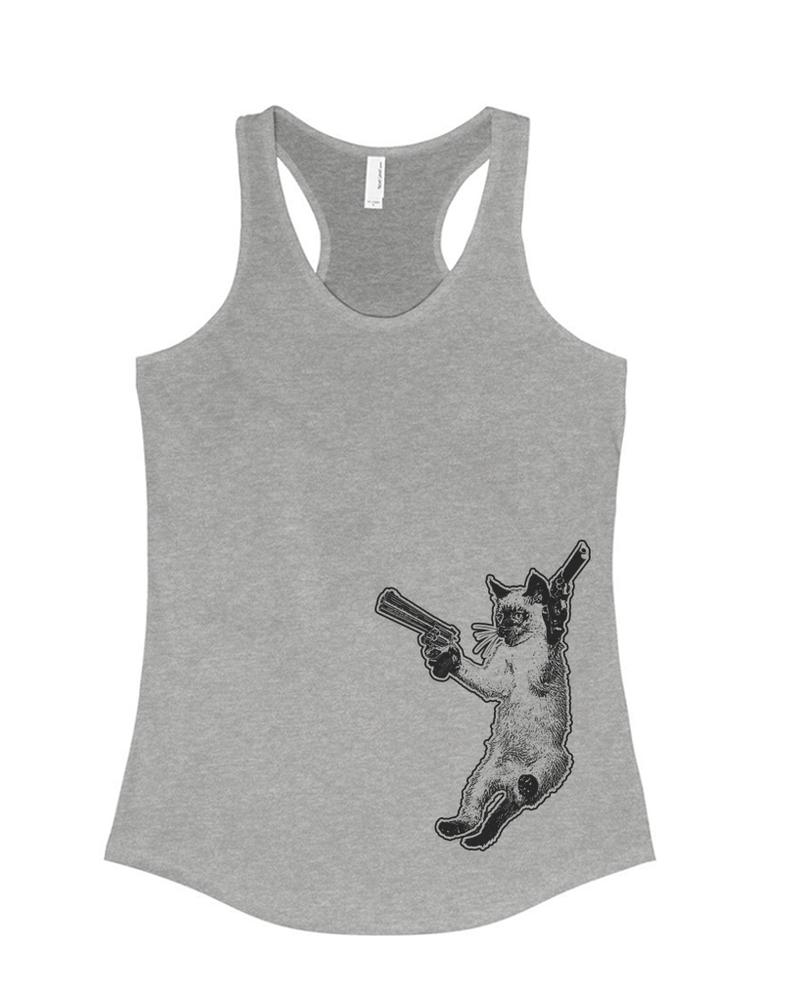 Plus they have you covered on tanks, sweatshirts/hoodies, a variety of accessories (including mask covers), and even home-goods.
C'mon who doesn't need a shower curtain depicting a kitten throwing a hand grenade?).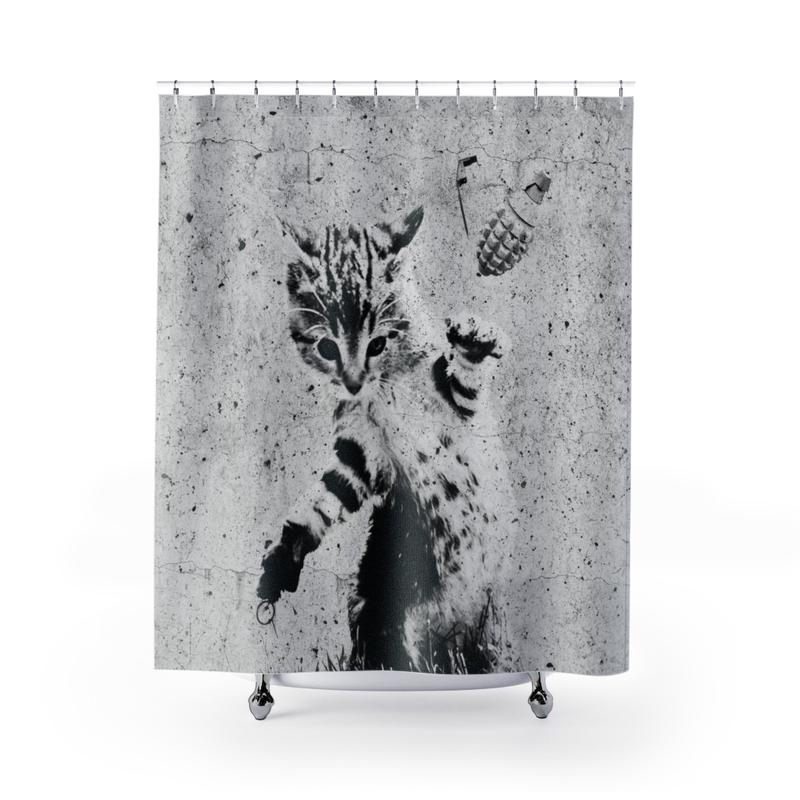 For the littles, they also have kids products under the Wyldings line.
Clothes are comfortable and pretty true to size, with adult sizes from small to 2XL in both men's and women's. Women's products are actually cut for women's bodies.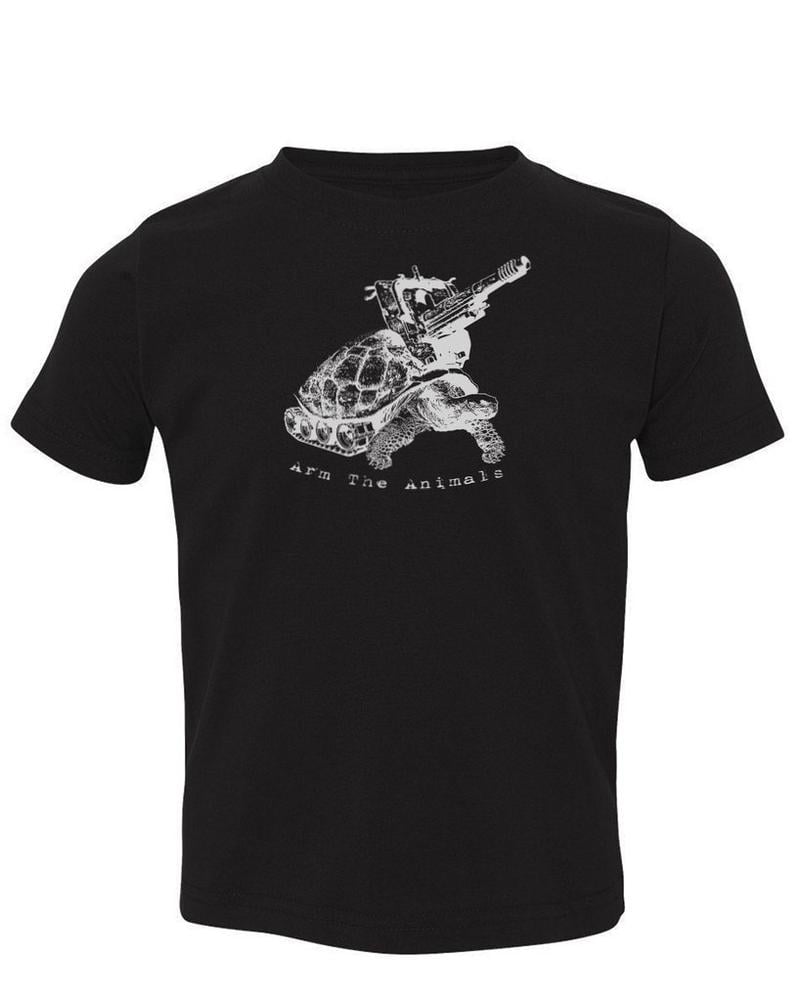 Most shirts are available in several colors and the same pattern is generally available on a variety of different products.
Short sleeve tees and tanks sell for about $20 while raglans, long-sleeve tees, hoodies, and sweatshirts all fall in the $30 to $50 range.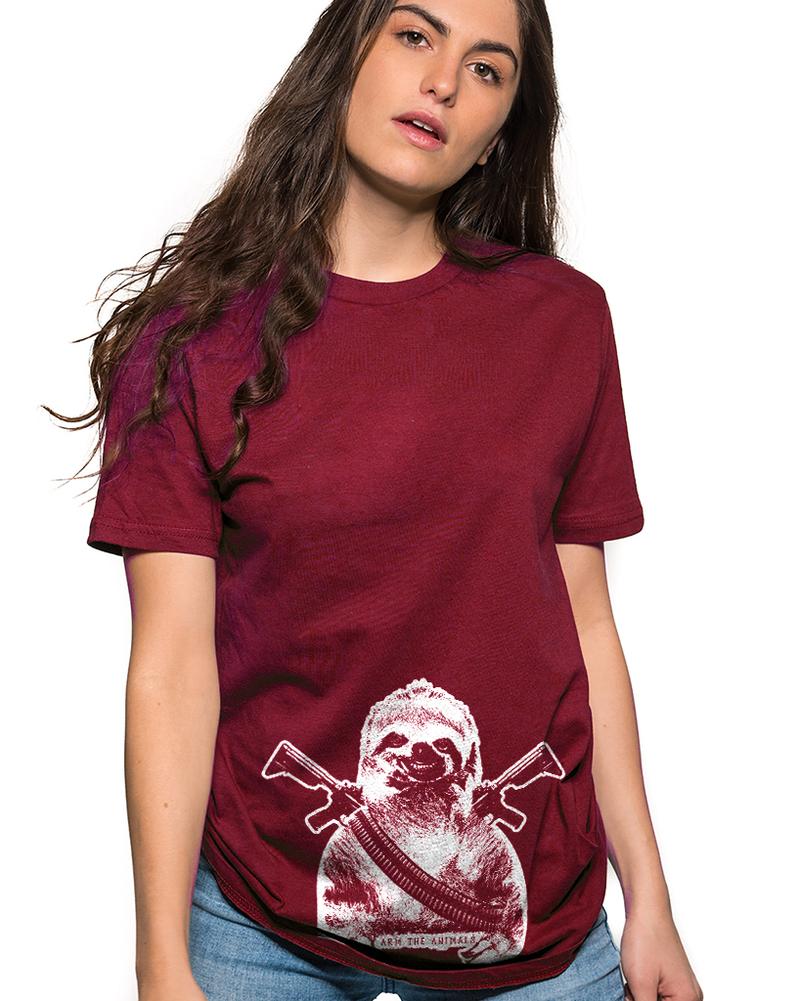 However, all are frequently marked down so you can often score a tee or tank for under $15 or even $10 and one of the other items for $20 to $30.
As for some background on the company, Arm the Animals started in 2010 and since has worked with more than 150 different local, national, and international animal welfare organizations.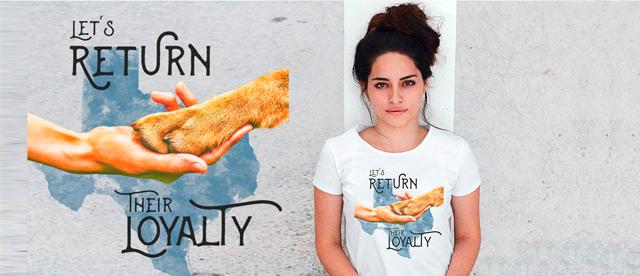 They help by providing funds as well as low-cost graphics, marketing, and website development.
They also host an "Adoptable Pets" section on their web page to help people find their next furry (or scaly or feathery or wooly) friend.
Nine Line Apparel
Another great t-shirt biz is Nine Line Apparel.
Started in 2012 by Tyler Merritt, "Nine Line" refers to the military's term for a medevac request for an injured soldier in the field.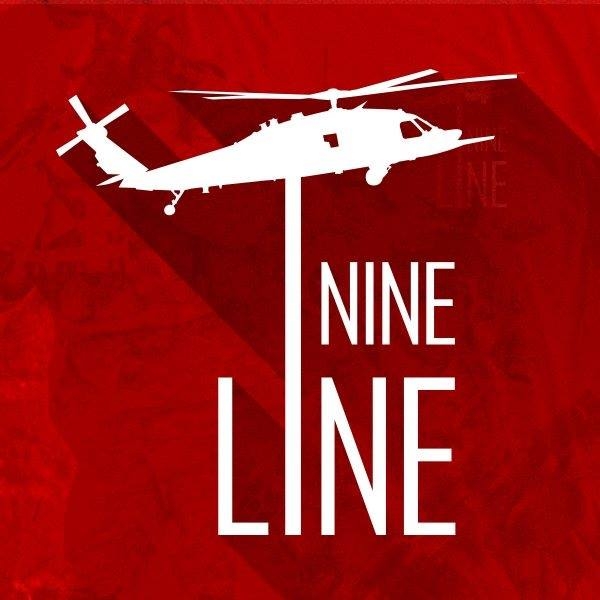 Like Arm the Animals, Nine Line routinely gives back, supporting a variety of organizations that provide aid for first responders, military members, veterans, and disaster relief.
The Nine Line Foundation, a non-profit partner for the apparel company, focuses on helping veterans severely injured in the line of duty.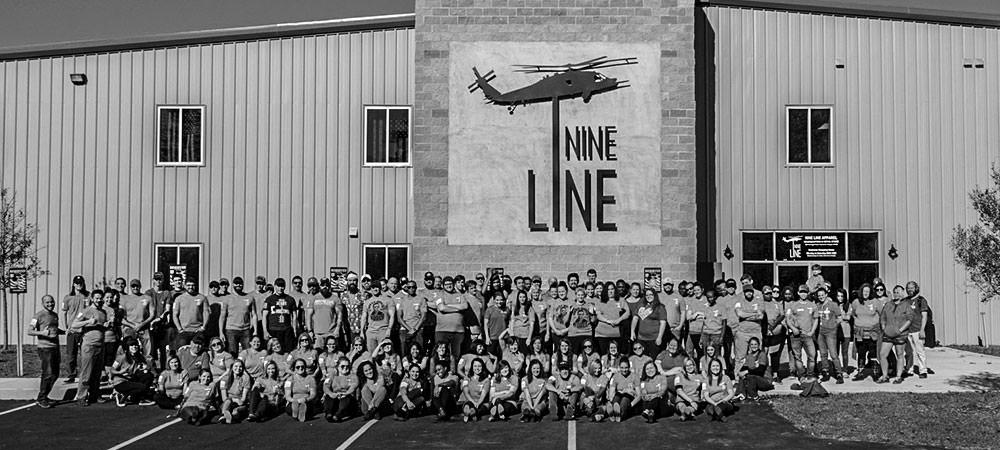 Nine Line's website even features a list of resources for veterans, first responders, and their families.
Their dedication to helping veterans also shows up in a lot of the apparel.
For example, their 22 A Day collection raises awareness of veterans committing suicide. The name references studies that found approximately 22 veterans take their own lives each day.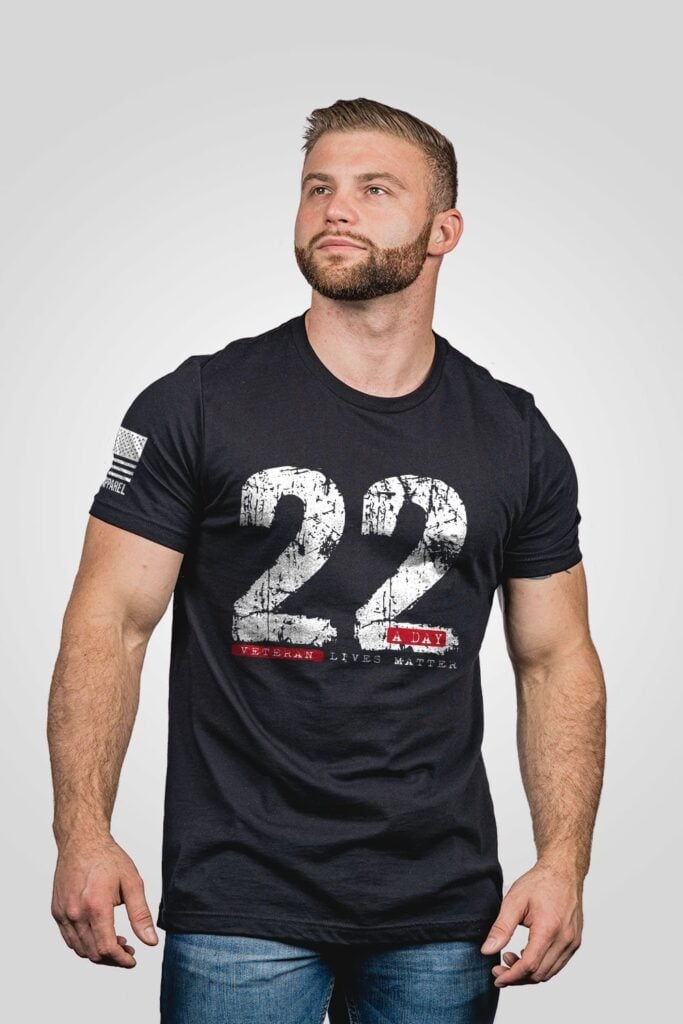 It was created in partnership with 22 Until None — an organization working to provide support for veterans struggling with mental health issues.
Of course, they also have plenty of other shirts that are patriotic, funny, and/or pro-gun.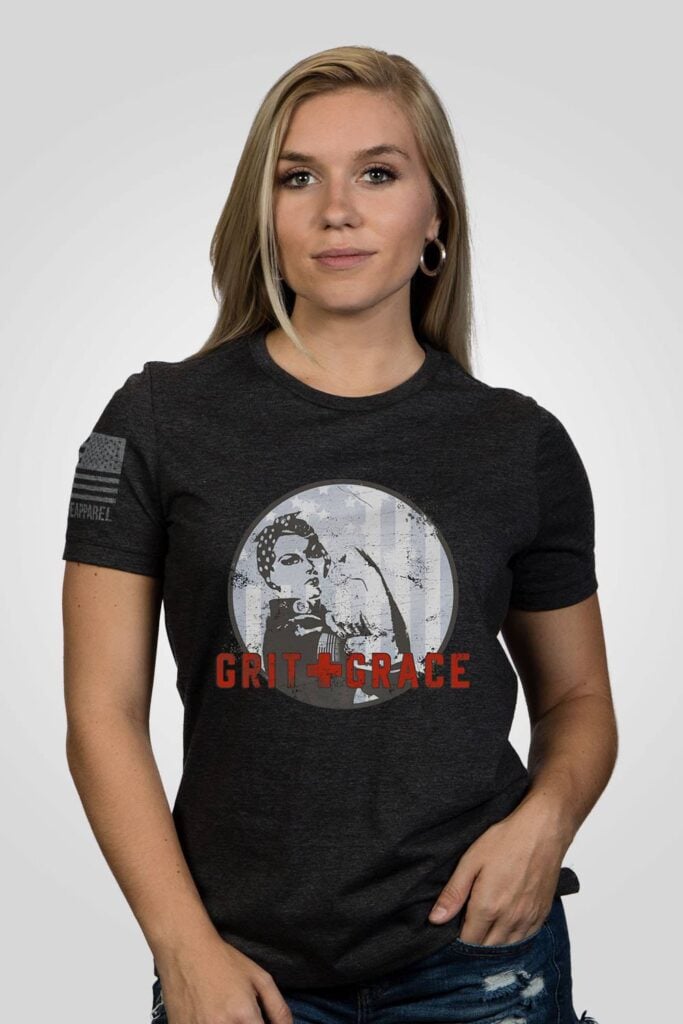 With men's, women's, and children's products lining their virtual shelves, they offer short sleeve and long sleeves, tank tops, and raglans. Most shirts are available in several colors and many patterns are available in dry fit athletic shirts.
Short sleeve tees sell for about $25, long sleeve tees go for around $30, and athletic tees go for $35. Men's shirts are available in small to 3XL, while women's are available in small to 2XL.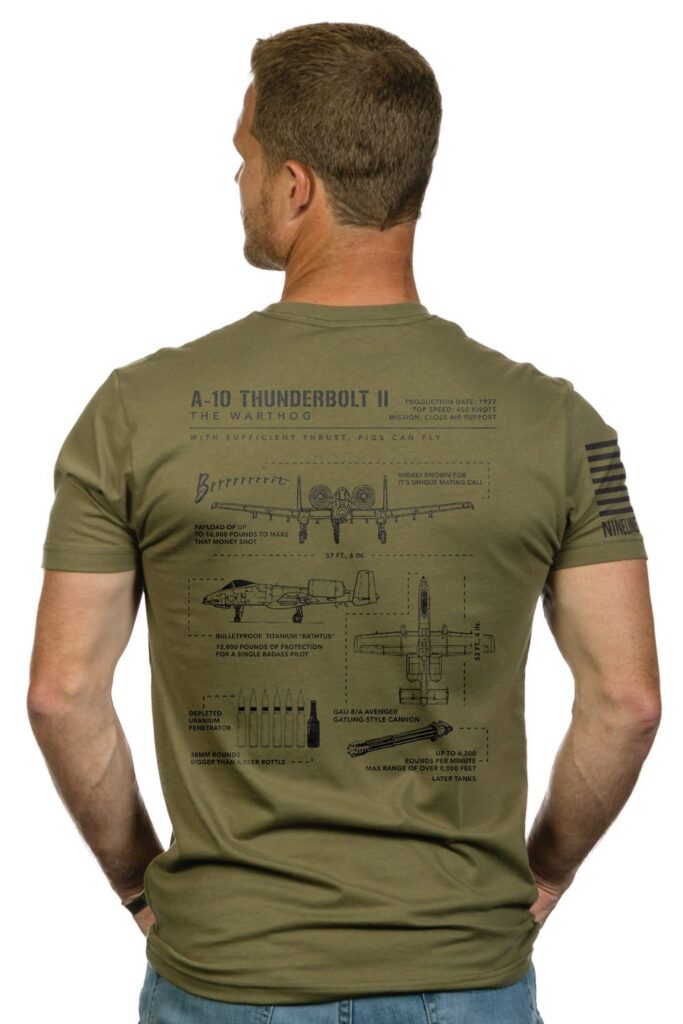 Not to mention they even have a monthly t-shirt subscription, the Patriots Club.
On top of their shirts, Nine Line also offers a variety of other gear, including outwear, accessories, home goods, pet items, and more.
In addition to the 22 A Day collection, I'm pretty partial to the Don't Tread On Me and Grit and Grace shirts. I also love their .308 glassware.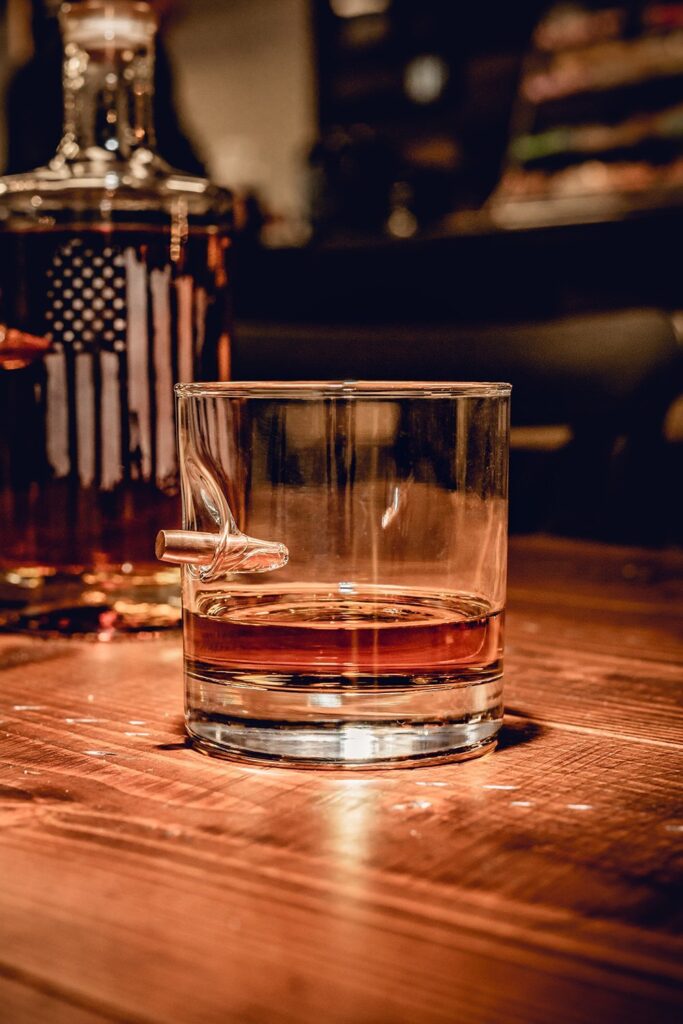 Battle Buddy Gear
Battle Buddy Gear looks to support veterans after they leave service with a portion of sales going to veteran organizations to help fund events for veterans and their families.
And they help veterans establish and maintain connections with other vets.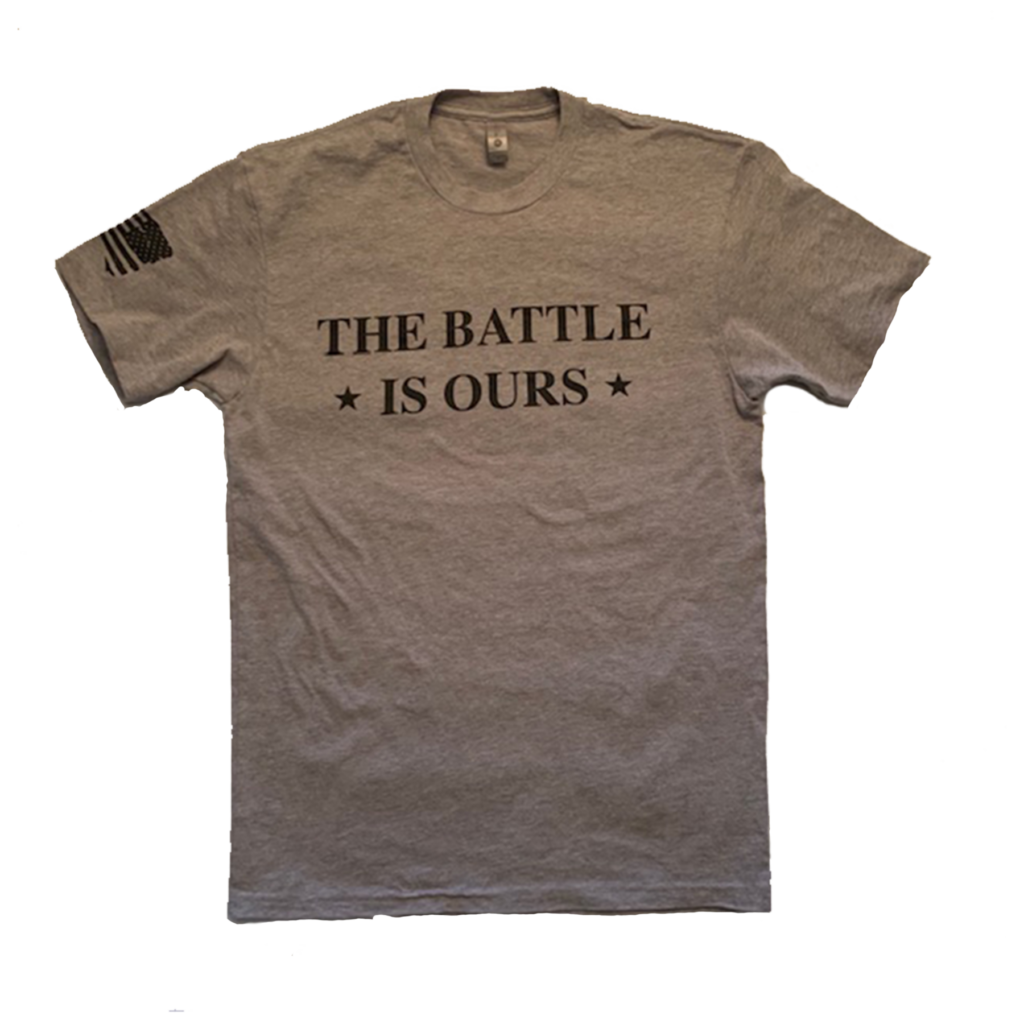 The term, battle buddies, refers to the US Army's practice of assigning partners to soldiers. The battle buddy helps his fellow soldier both in and out of combat.
It's not only for combat-related needs, though. The battle buddy system is also in place to prevent veteran suicide. Buddies help keep an eye out for signs of suicide, in addition to being available to talk and empathize with struggles.
Battle Buddy Gear seeks to continue that level of support for veterans through gear that promotes awareness and raises funds.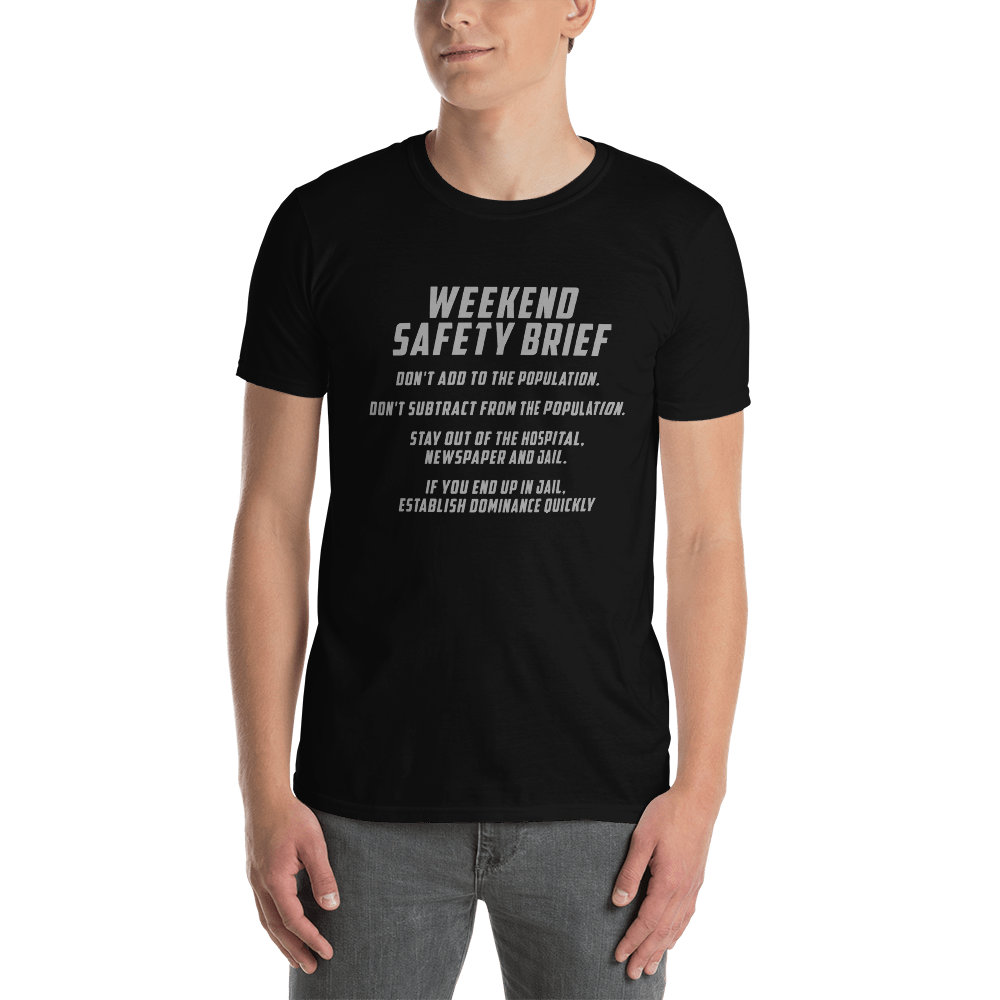 Though the focus is on veterans, Battle Buddy Gear also throws support to other causes in need too.
For example, 50% of each sale of items in their Praying for Oregon collection goes towards supporting firefighters responding to the forest fires in Oregon.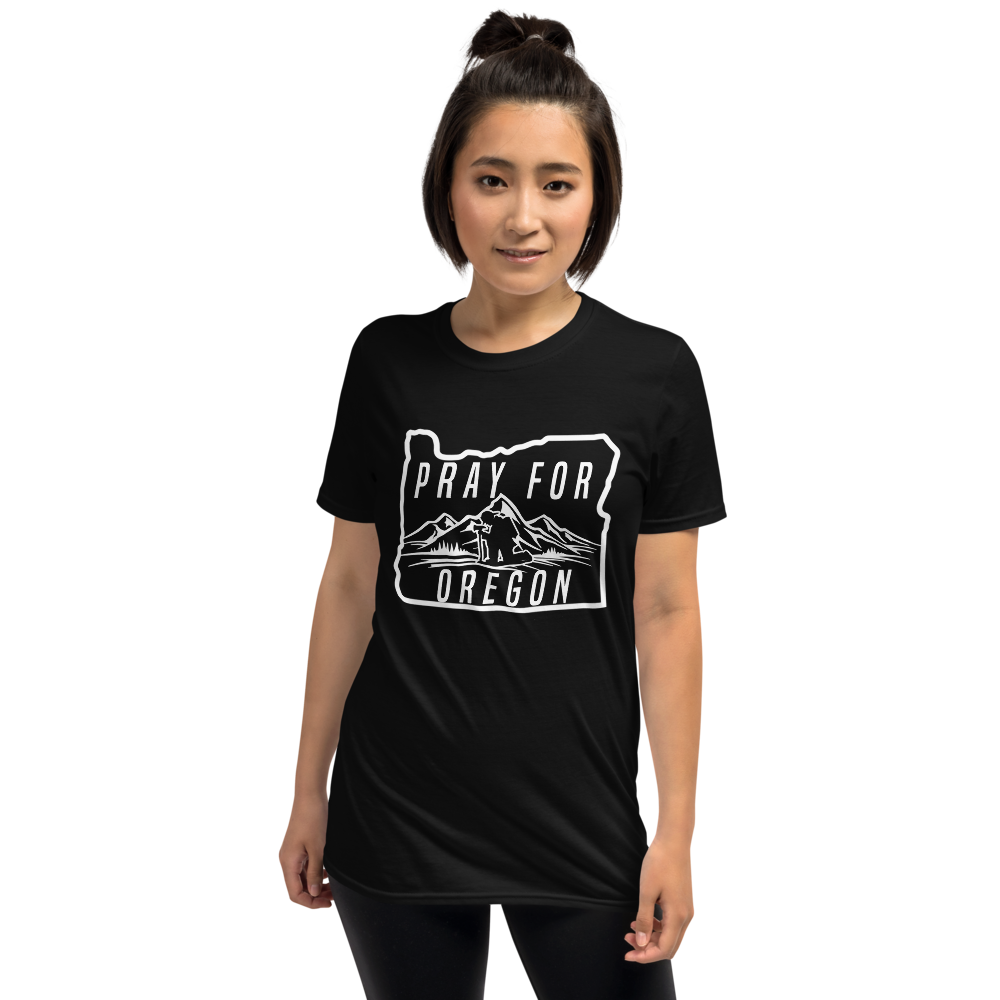 Battle Buddy Gear offers shirts, hoodies, hats, and workout apparel for both men and women, as well as other manufacturer-direct gear.
You can also pick up patriotic and pro-gun designs, as well as other lifestyle designs. Battle Buddy Gear tees sell for about $20.
Grunt Style
Okay, so Grunt Style kinda toes the line between cringe and cool, but they're also seriously popular with gun aficionados. So we figured we'd at least give them a mention.
Besides, you probably have heard of them already!
If you're ex-military, they have something fun for every branch as well as silly options like the Banana Clip tee.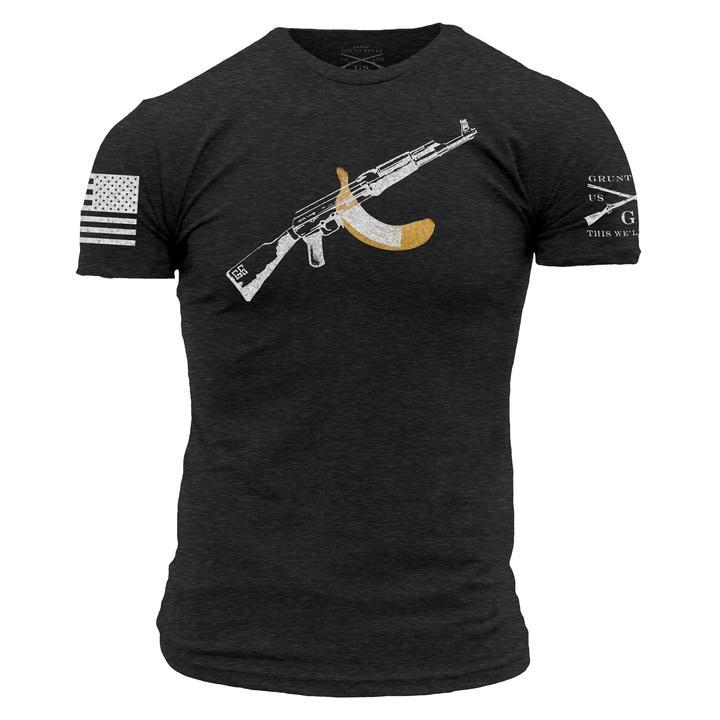 They use super soft 100% ringspun cotton tee-shirts with a hardy ribbed collar and no tags! That means there's nothing this shirt can't handle when you're oper-8in'.
You also can find their designs on hoodies, long-sleeve tees, patches, and more!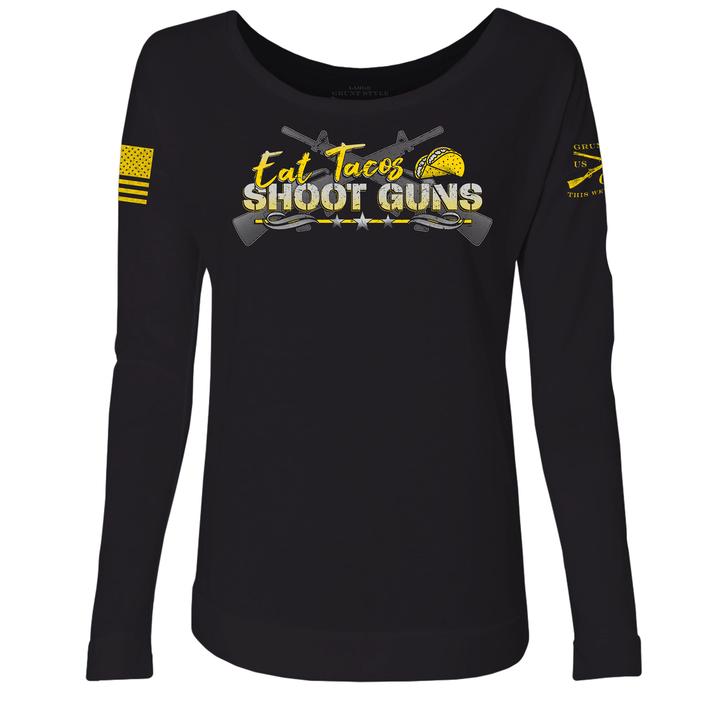 Honorable Mentions
Before we wrap things up, I want to give a couple of shoutouts to brands that aren't technically shirt companies but do sell some fantastic looking gun tees. Bonus, these companies also have fantastic missions to match.
First up is Black Rifle Coffee Company. Another great veteran-owned company, BRCC is dedicated to supporting veterans, law enforcement, and first responders.
And I think their shirts look pretty great too.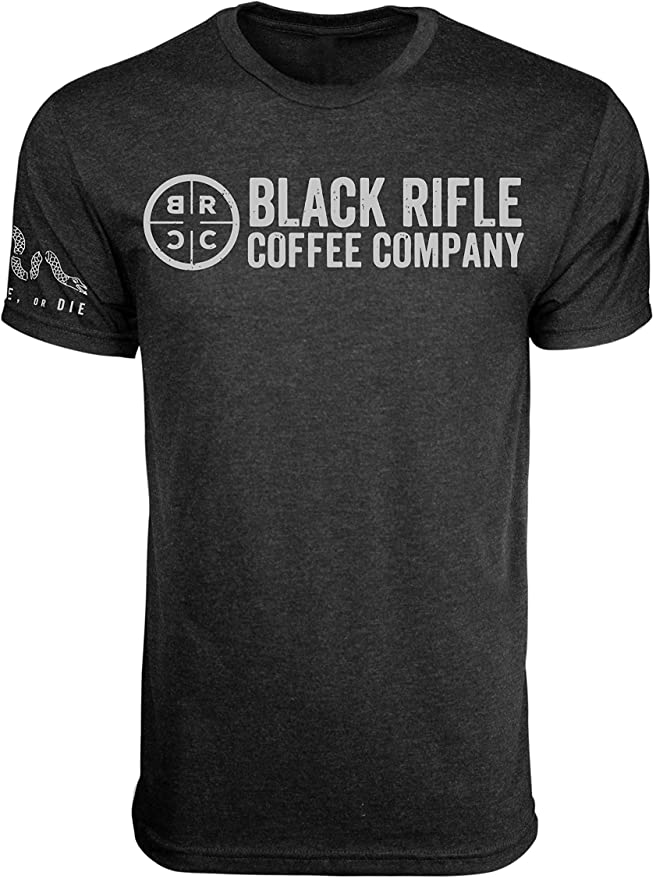 My second honorable mention comes from A Girl & A Gun. This organization was featured on my Best Firearm Resources for Women list because of the awesome resources and opportunities they provide for women shooters — both new and experienced.
Their tees are pretty fab too.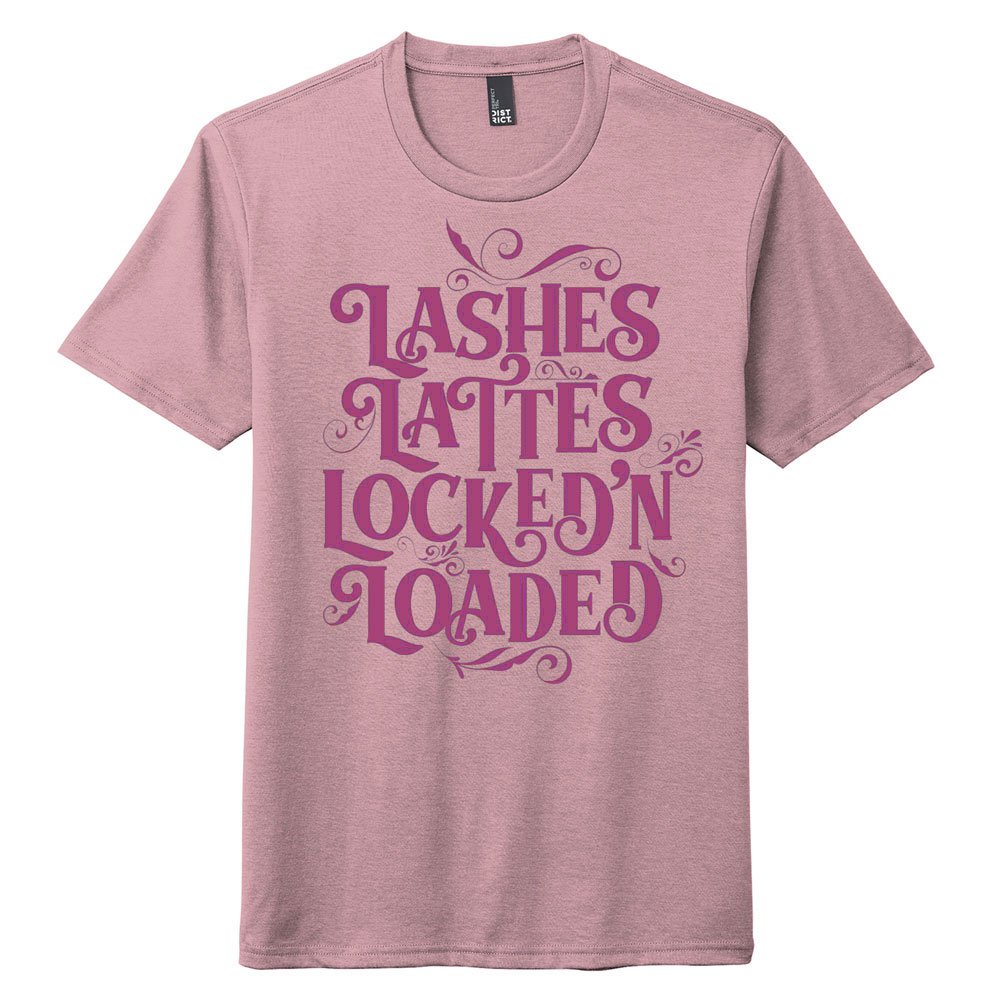 Conclusion
Merging comfort with cool gun designs, these t-shirt companies really bring it where 2A is concerned. With high quality and great looks, you will be the belle of the ball…err…range sporting these tees.
25
at Shall Not Comply
Prices accurate at time of writing
Prices accurate at time of writing
Not to mention, many of these brands support meaningful causes. Who doesn't like a cool shirt that also gives back?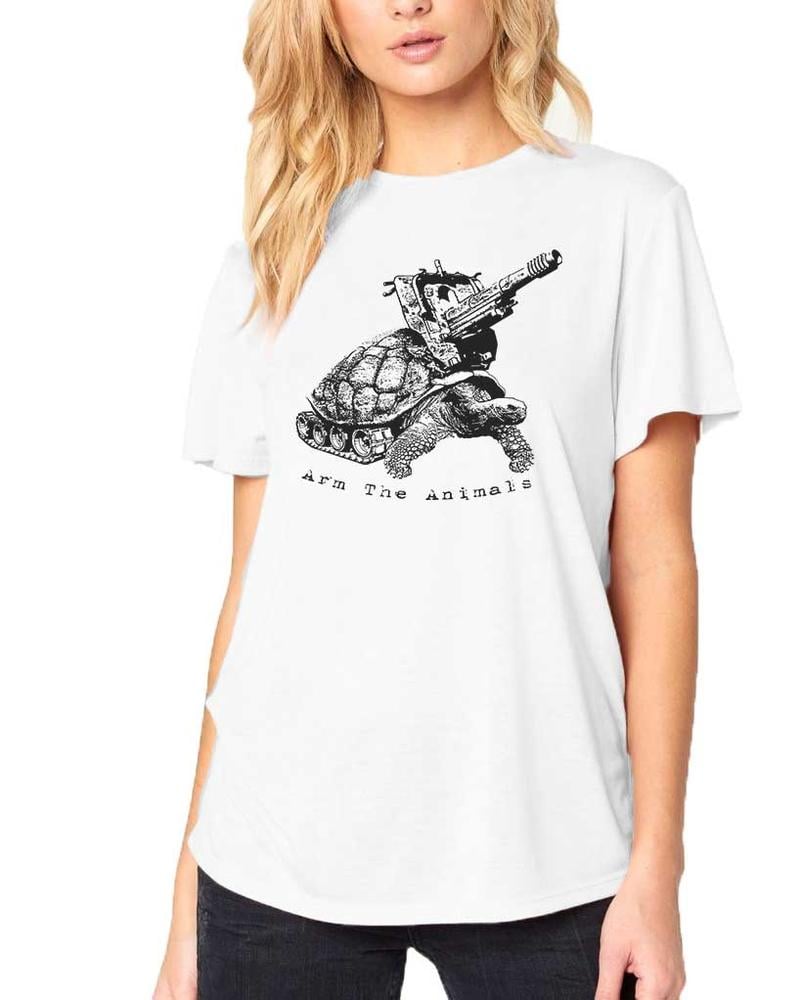 So, fill out all those gaps in your wardrobe with a cool firearms tee and make all your range buddies jealous.
Now it's your turn: Do you have a favorite gun t-shirt? Let us know below. And for some guidance on what not to do be sure to check out our list of the Best Aggressive Gun Guy Shirts That Make You Sigh.