The universe of striker-fired 9mm carry pistols is expanding fast.
It seems that every other manufacturer in the gun industry has made, is making, or will make a pistol to compete in this market.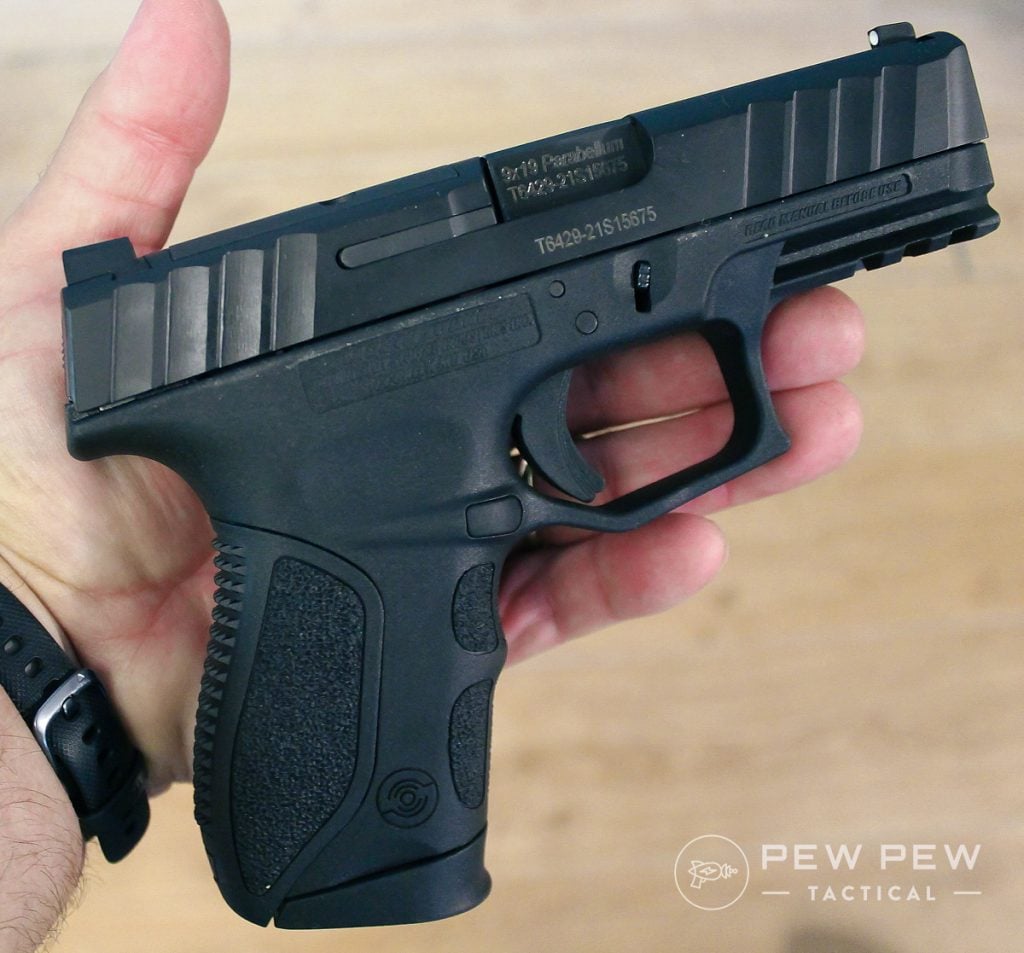 So, is it any surprise that Turkish gun maker Stoeger jumped into the pile?
Their STR-9C looks to compete with Glock's perfection, but is this pistol a worthy alternative to Gaston's Glock?
We break down the specs, features, and range performance to find out.
So, keep reading!
Table of Contents
Loading...
Stoeger STR-9C Review at a Glance
Pros
Price — this gun's full list price is $399.
13+1 capacity ain't bad.
Trigger broke at 4 lbs., 12 oz., and had zero creep and minimal take-up.
Steel sights are nice. The rear has been edge-relieved to not snag, and they are easily acquired.
Cons
Only get one magazine
As with the mag, you get one medium backstrap. Small and large backstraps are available at extra cost.
The gun comes with a 5-year warranty, not a lifetime warranty
The Bottom Line
The STR-9C is a feature-rich, 24-ounce, 13-round capacity 9mm compact pistol that is optics-ready with four adapter plates. It shoots like a larger gun and handles recoil well. This gun incorporates decent, visible steel sights and a loaded chamber indicator. Deep slide serrations fore and aft and a familiar takedown drill complete the feature set.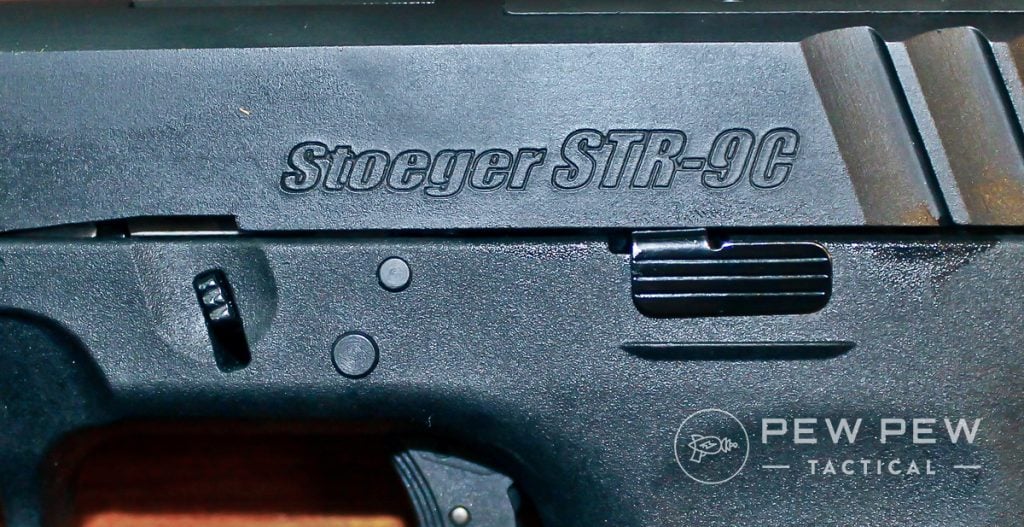 Specs & Features
Specs
Width: 1.2"
Length: 6.9"
Barrel Length: 3.8"
Height: 4.7"
Weight: 24 oz.
Capacity: 13 + 1, one mag included
Features
3-dot sights
Loaded chamber indicator
Optics-Ready
Deep serrations front and rear
Three slot rail
Glock familiarity
Source: Stoeger
349
at Palmetto State Armory
Prices accurate at time of writing
Prices accurate at time of writing
Background
Stoeger has been around since 1922. Without writing a huge tome on the company's history, suffice it to say that Stoeger Silah Sanayi A.Ş has been a Beretta Group Company since 2000.
(It is a wholly-owned subsidiary of Benelli).
Before all that, Stoeger was located in New Jersey and, before that, was the largest gun store in New York City.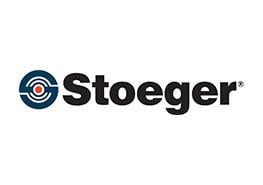 Stoeger is the official and sole importer and distributor of Beretta, Benelli, Franchi, Stoeger Airguns, and Burris brands in Turkey. Stoeger branded models are manufactured in Istanbul, Turkey, and are distributed worldwide.
They are probably known more for shotguns than pistols, but the STR-9 and its compact cousin have struck a chord with the shooting public.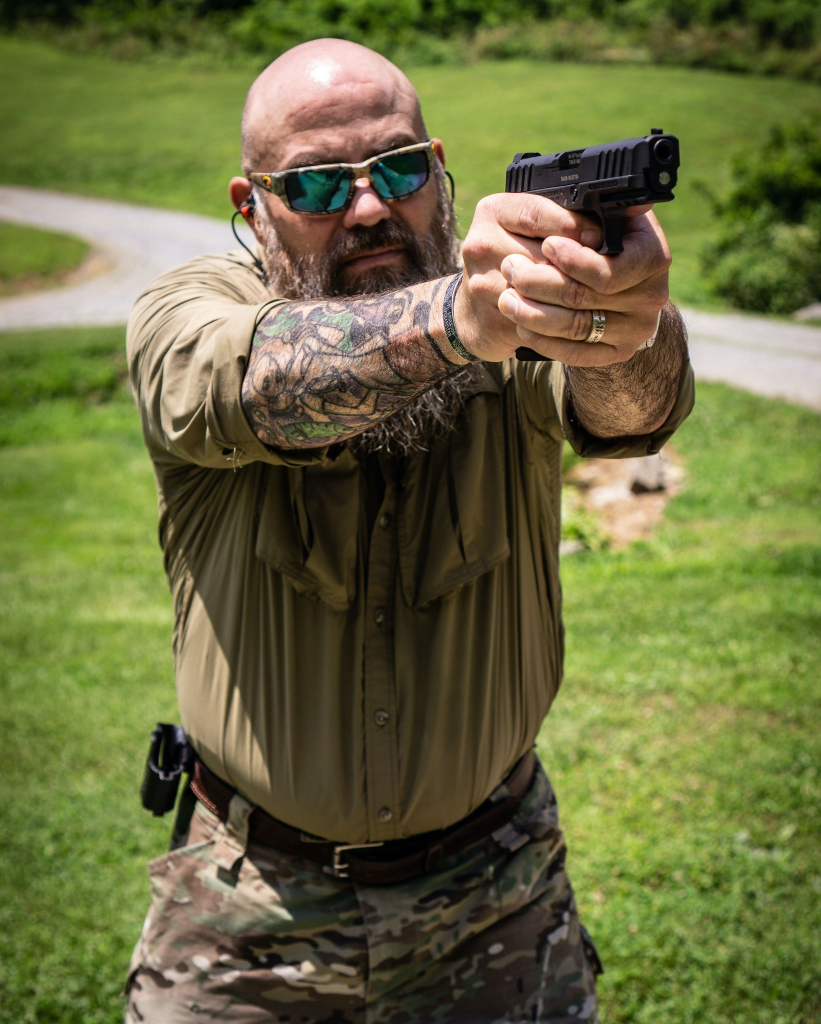 Who Is It For?
Let's talk about the gun's target market – concealed carriers. Those citizens out there who regularly carry a 9mm of some persuasion would feel right at home with this gun in their holster.
Glock 26 fans who carry the 12-round extended mag would probably really like this gun as well, as they most likely wouldn't notice much of a size difference but would like the extra round in the mag and the other features the gun possesses.
Fit & Feel
The gun fits my hand, as I have average-sized paws. But what if your fingers are longer or shorter?
There are extra backstrap inserts available, but you have to buy them.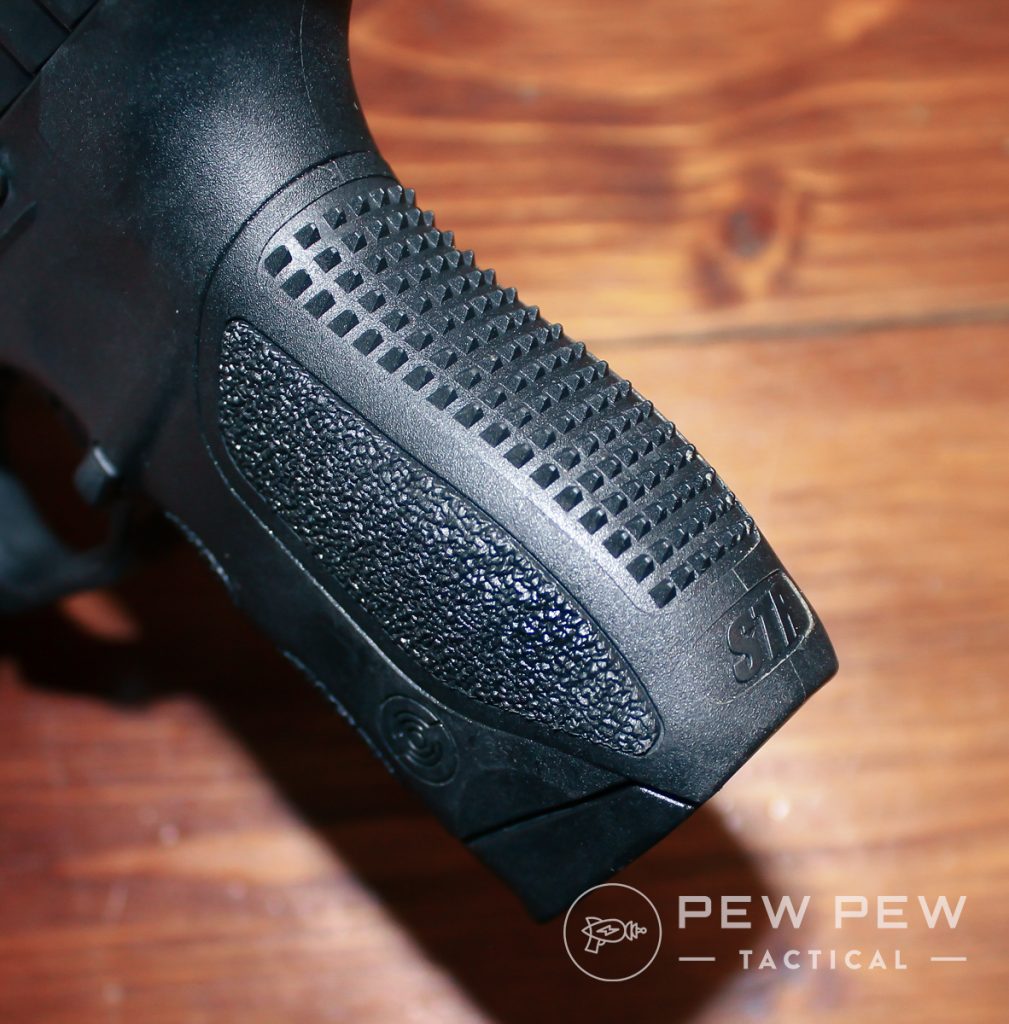 They should have included them in the box along with that missing mag…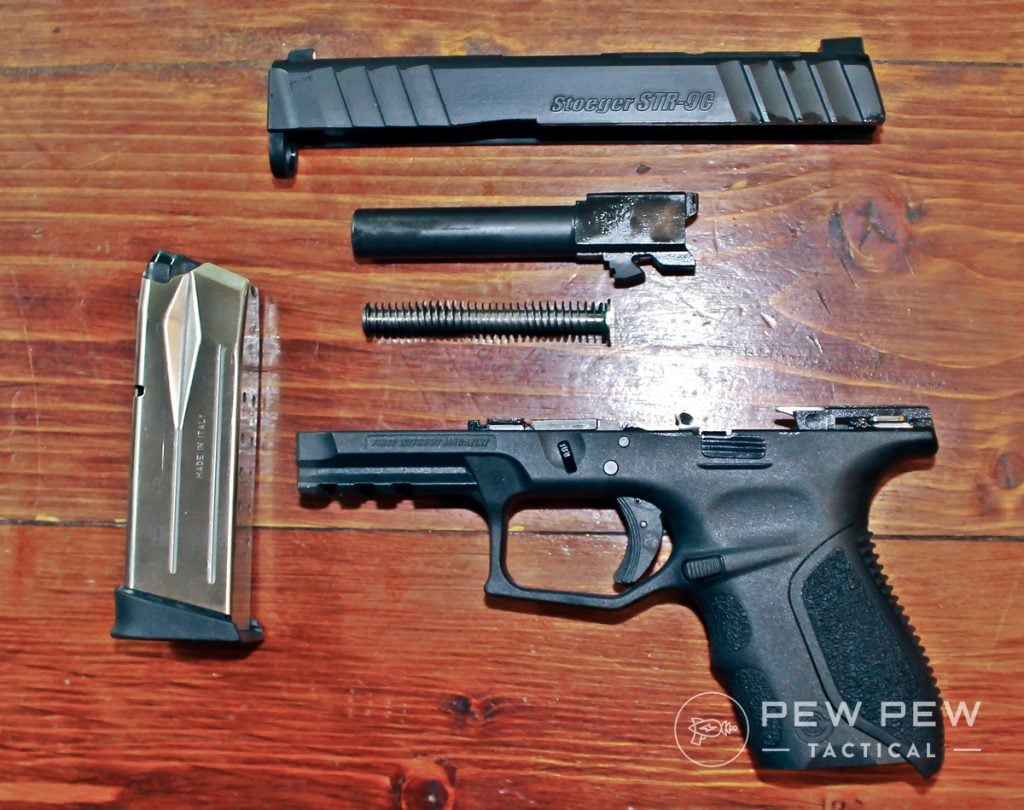 Anyway, the grip is nicely textured – not too aggressive or smooth. I could easily get both hands on the gun at my range and get the sights up to where they should go.
This gun fits my hand like the plethora of other compact 9s on the market that I've shot… it just works.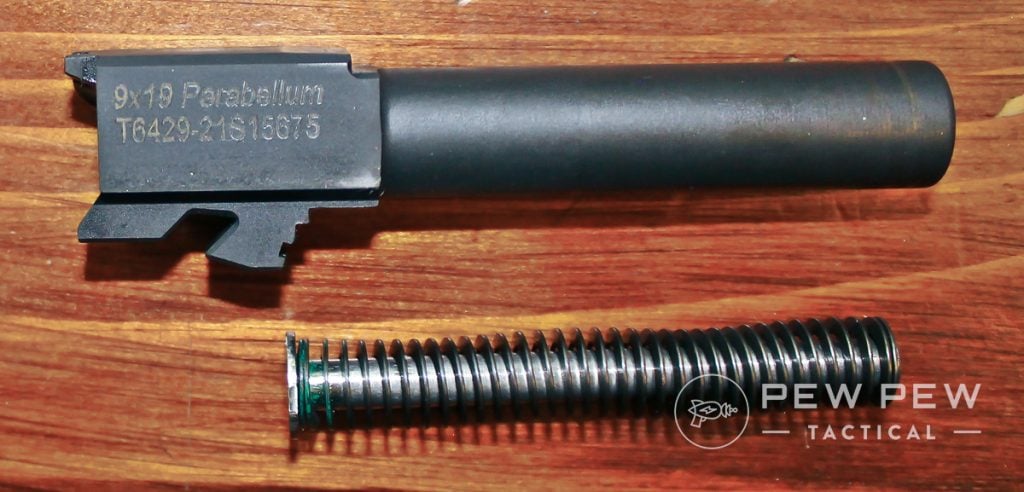 It offers a flat-wound recoil spring – which is nice and a very clean frame.
As mentioned, it only comes with one interchangeable backstrap in a medium size. It did fit my hand, at least, but if you have bigger or smaller hands, you'll have to splurge for another backstrap.

The grip itself is nicely textured in all the right places.
This slide, like the frame, is clean, and bonus is optics-ready. It ships with four adapter plates.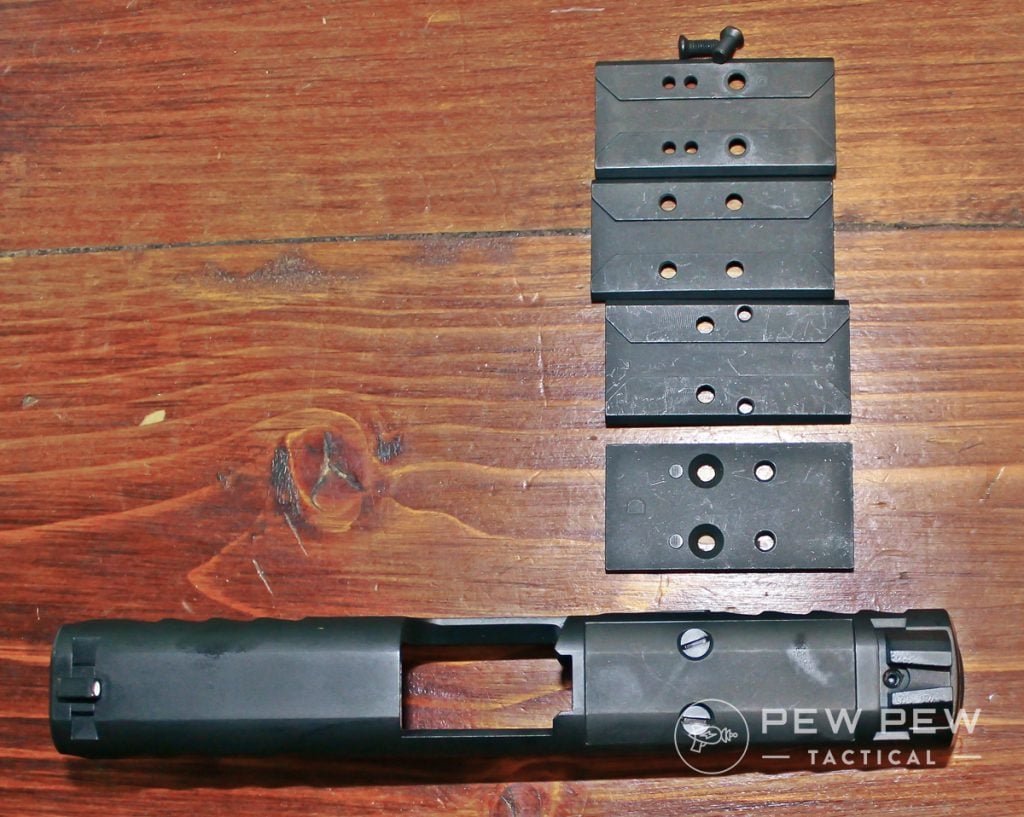 How Does It Shoot?
This gun shoots like most other compact nines I've shot over the years. No better, no worse.
It exhibited average accuracy at 20 yards, which usually translates into "excellent" at 7.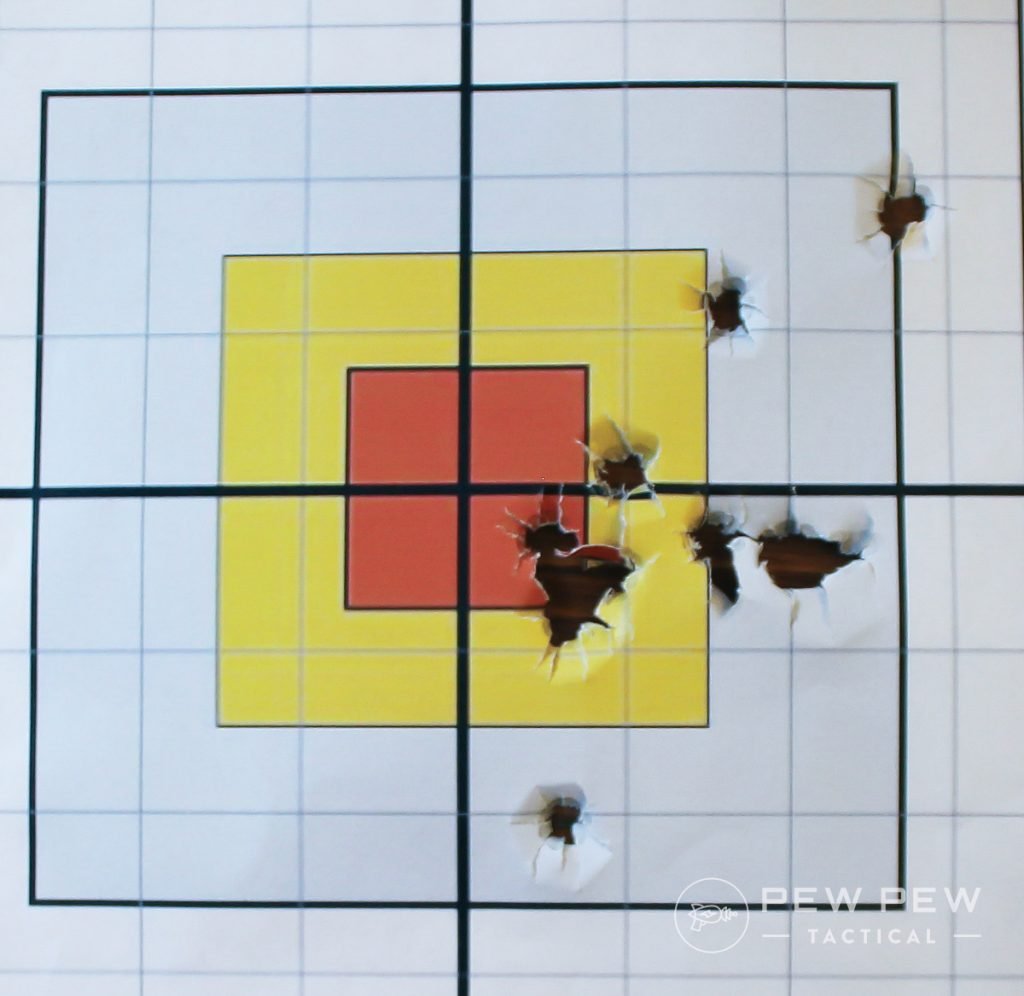 I shot two 9mm 115-grain FMJ loads… Maxxtech brass case and Fiocchi Range Dynamics.
17
at Brownells
Prices accurate at time of writing
Prices accurate at time of writing
As I mentioned above, my targets were shot at 20 yards, and each square was an inch. Extrapolate that to 7 yards, and suddenly, the gun's accuracy is suitable.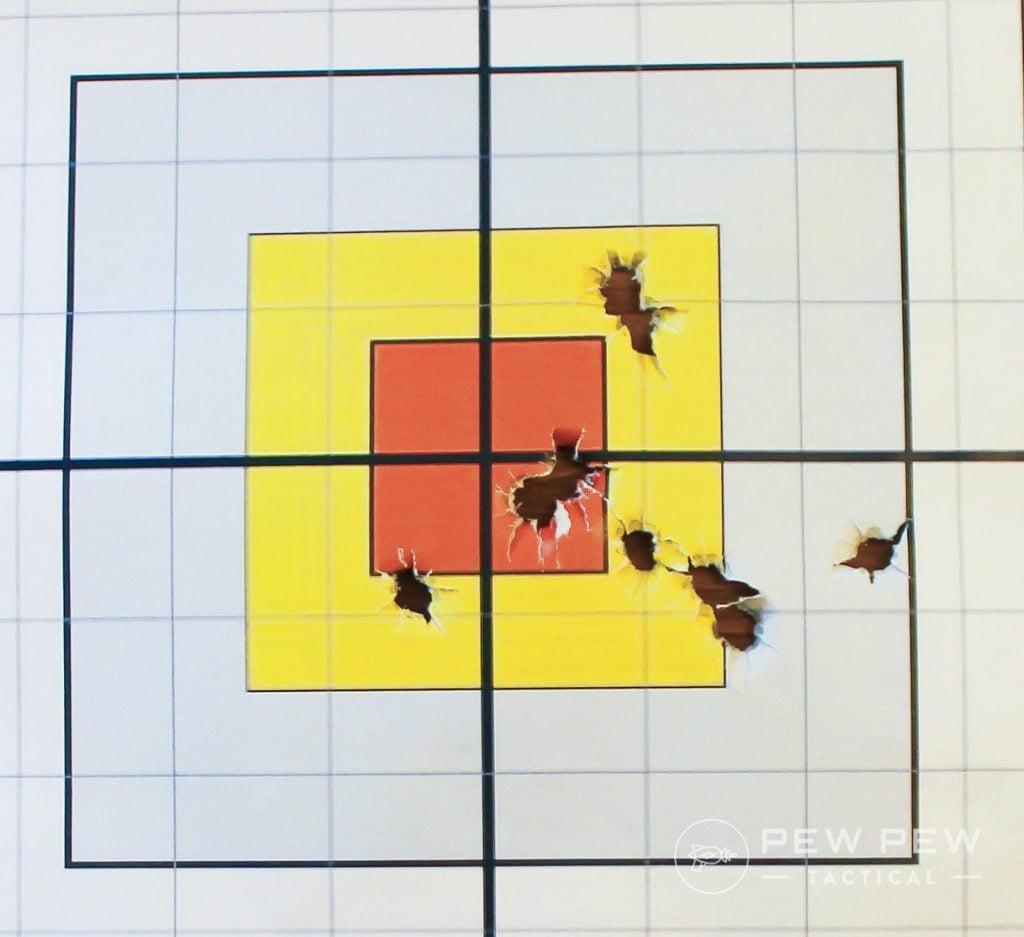 Would I like everything I shoot to go into one ragged hole at 25 or 50 yards? Of course – I'm not stupid. I just know that some guns won't do that, nor do they need to.
The point is that these will work if you are on the hunt for factory practice 115-gr FMJ loads.
What Sets it Apart?
The Stoeger STR-9C looks to compete with the likes of Glock…specifically the Glock 26. That would be the closest Glock in terms of size and capacity to the STR-9C.
So how does it stack up?
| | | |
| --- | --- | --- |
| | STR-9C | Glock 26 Gen 5 |
| OAL | 6.9" | 6.4" |
| Width | 1.2″ | 1.3″ |
| Height | 4.7″ | 4.2″ |
| Capacity | 13+1 | 10+1 (Standard Mag) |
| Optics Ready | Yes | No |
| MSRP | $399 | $559 |
Glock 26 vs. Stoeger STR-9C
Basically, if you want a slightly more affordable pistol, the STR-9C stands out.
By the Numbers
It didn't miss a beat during testing
It fits well in my hands but keep in my mind your mileage may vary.
It did alright. It won't shoot out to 50 yards, but it will do just fine at close ranges.
You can add lights, lasers, optics, and holsters all you want.
At $399, it's a good value.
Overall: 4.5/5
349
at Palmetto State Armory
Prices accurate at time of writing
Prices accurate at time of writing
Upgrades for the STR-9C
The first upgrade I'd do would be to buy an extra magazine or two. Get a matching 13-rounder with the pinky extension, just like the one that comes with the gun.
50
at Sportsman's Warehouse
Prices accurate at time of writing
Prices accurate at time of writing
Next, I would add a holster.
Given the three slots under the barrel and the red-dot-ready slide, your choices for extra gizmos on this gun are many. You could mount a light or laser under the barrel or stick a red dot on the slide.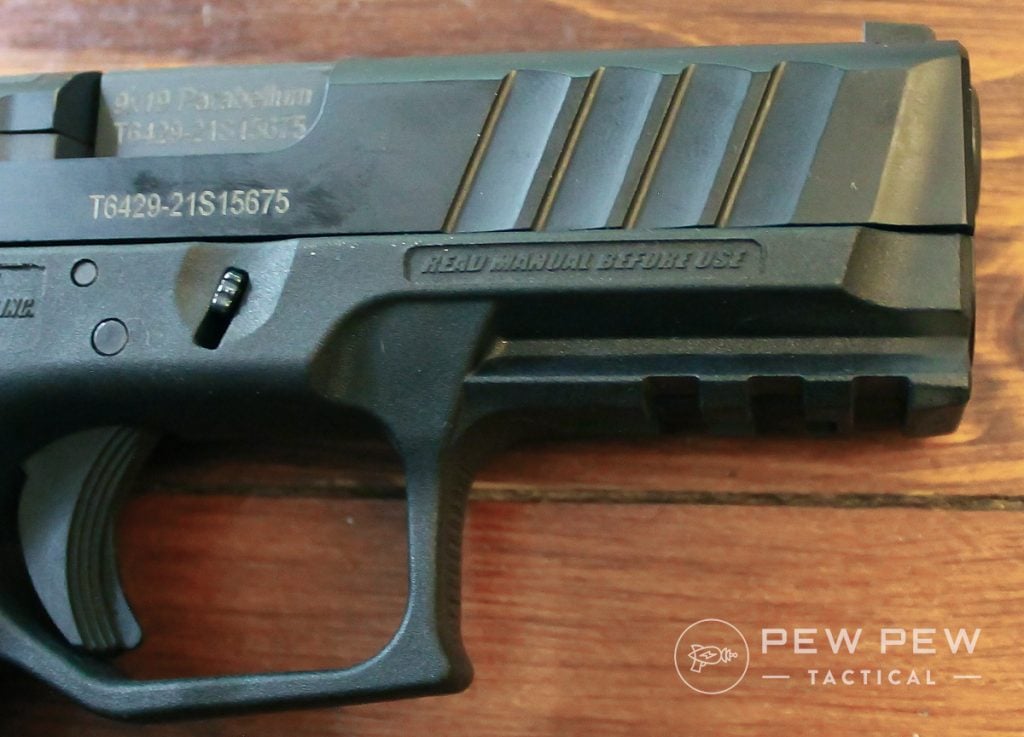 For a red dot, I like the Sig Romeo Zero.
124
at OpticsPlanet
Prices accurate at time of writing
Prices accurate at time of writing
There are newer, more-expensive versions, but the plain ol' Zero works. It's been proven and won't break the bank.
For more options, check out our best pistol red dots.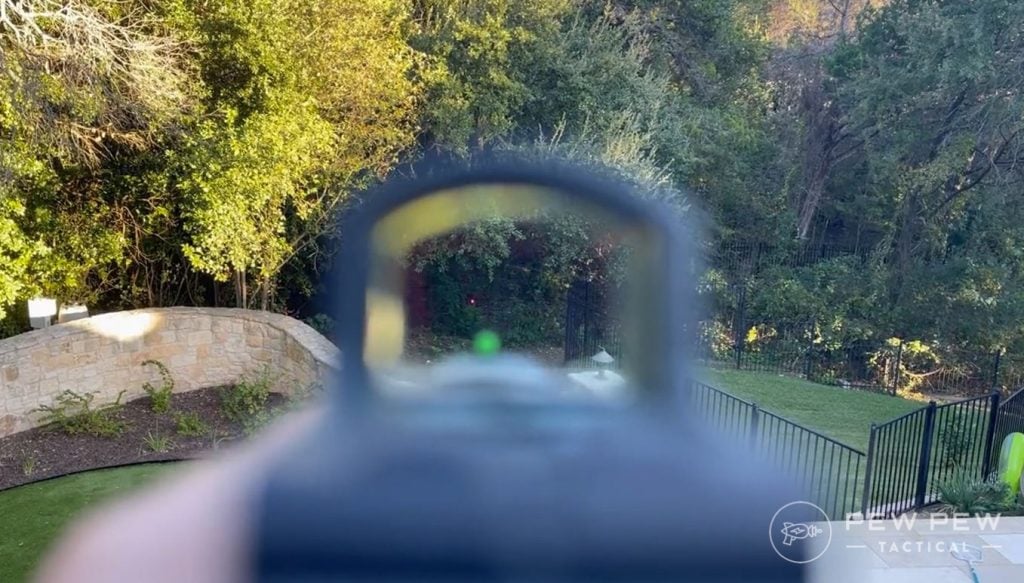 Laser-wise, I like the Streamlight TLR-4. This lesser-expensive laser also comes with a light, so you kill two birds with that one rock.
137
at Brownells
Prices accurate at time of writing
Prices accurate at time of writing
You can certainly buy more expensive red dots and lasers, but these two are a good place to start.
Final Verdict
As I said at the start, the universe of striker-fired 9mm compact pistols is expanding at an astounding rate.
The world of 25-ounce or less polymer-framed striker pistols is huge. This Stoeger fits right in.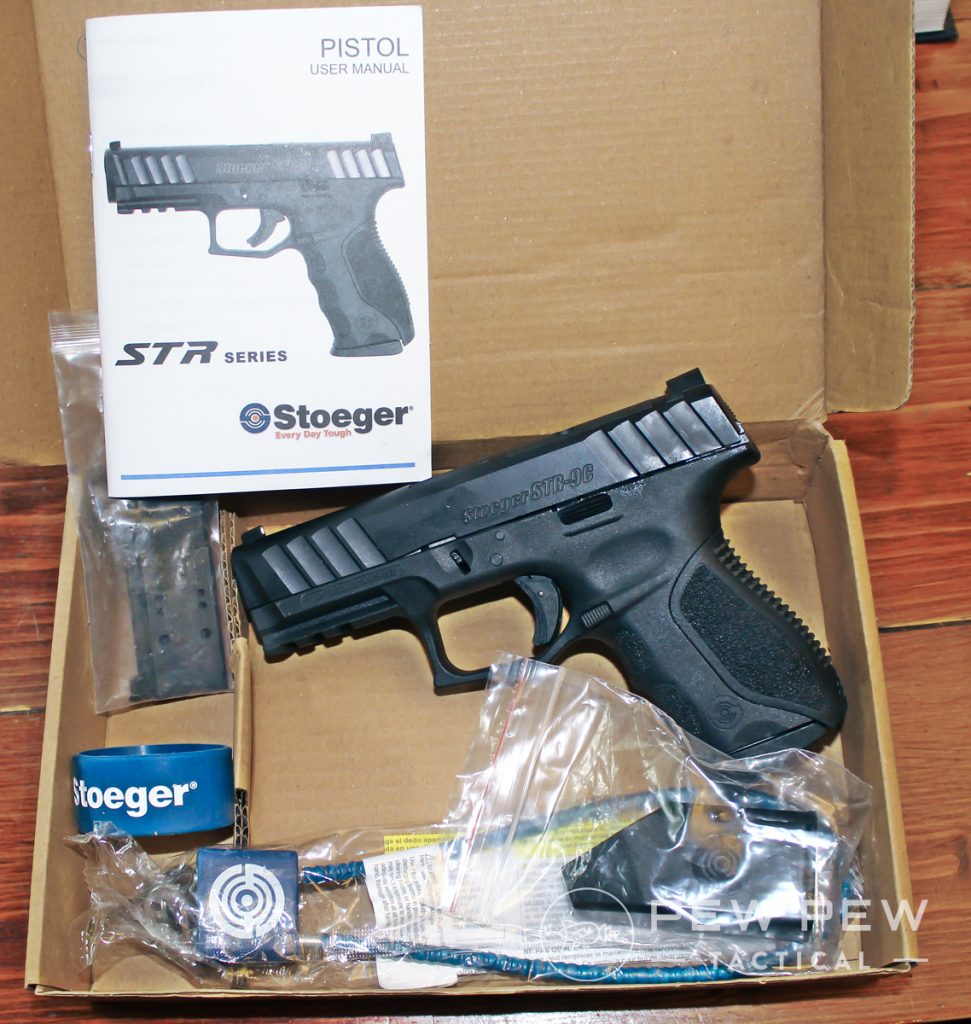 It has features that not every other gun out there possesses, is very reliable, and won't break the bank too badly.
I would say something corny in keeping with my universe/world analogy, like this pistol is out of this world, but I'll spare you. Just check one out – I think you'll like it!
What do you think of the Stoeger? Let us know in the comments below. For more on concealable pistols, check out our top recommendations for the Best Concealed Carry Handguns.