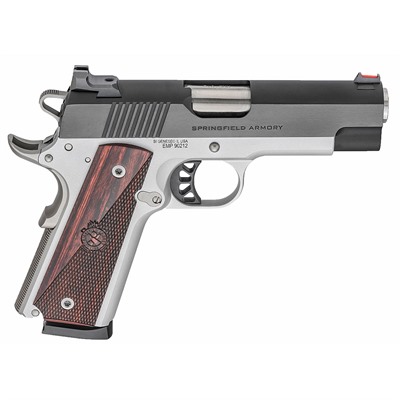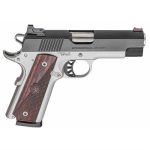 4.5
Made specifically for 9mm

Match-grade bull barrel
No front strap checkering
Editor's Note:
Designed with the 9mm cartridge in mind, the Springfield Ronin uses proprietary parts to shorten the length of the frame and action while also reducing the grip circumference. The result is a more concealable 1911 that also features improved reliability with the 9mm cartridge.
Springfield 1911 Ronin EMP For Sale - Compare Prices
Springfield 1911 Ronin EMP Specs
Magazine Capacity
10+1-Round
Magazine Included
1 x 10-Round
Stock Material
Aluminum, Wood
Springfield 1911 Ronin EMP Features

Match grade bushingless bull barrel

Forged aluminum alloy frame

10-round magazines

Fiber optic front sight

Full-length guide rod
By The Numbers - Springfield 1911 Ronin EMP
Accuracy
A match-grade bull bushingless bull barrel helps squeeze out solid accuracy.
Reliability
Design changes to cater specifically to 9mm help ensure total reliability.
Customization
Grips and sights can be changed, but the lack of an accessory rail and some proprietary parts limit customization.
Ergonomics
Already excellent 1911 ergonomics are made even better by a decreased grip circumference.
Overall
The EMP Ronin is a great option for those who want a reliable concealed-carry 9mm 1911.
Springfield 1911 Ronin EMP Variations & Comparables
final verdict
For those who want to conceal carry a 1911 platform gun, the Ronin EMP deserves consideration. Instead of simply chopping a .45 ACP gun and sticking a 9mm barrel in it, Springfield designed the Ronin EMP from the ground up with 9mm in mind. With parts correctly downscaled for the cartridge, users get a smaller, lighter, more reliable handgun. Throw in a match-grade barrel that is fully supported and an excellent trigger, and you have a winning combination. The only real downside is the lack of front strap checkering or serrations, but that is nothing a little grip tape can't fix.
Community reviews
There are no reviews for this product yet.
Add your own rating and help other Pew Pew users pick the right guns