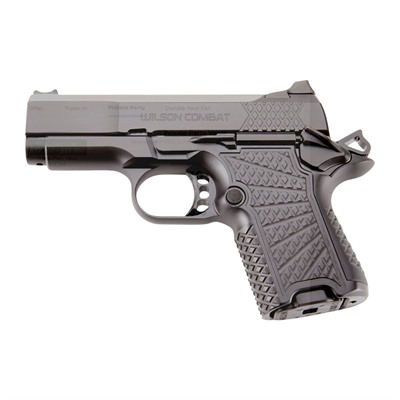 4
Solid one-piece frame

Excellent fit and finish

Great trigger

Very concealable
Extremely expensive

Accuracy discrepancy based on ammo weight
Editor's Note:
The Wilson SFX9 sub-compact takes all of the best features of the 1911 platform and combines them with modern upgrades to make an extremely concealable and high-capacity single-action pistol that is worthy of the Wilson Combat name.
Wilson Combat SFX9 HC 3.25" For Sale - Compare Prices
Wilson Combat SFX9 HC 3.25" Specs
Magazine Capacity
15+1-Round
Magazine Included
1 x 15-Round
Wilson Combat SFX9 HC 3.25" Features

Hand-fitted match grade barrel

Match-grade trigger

Solid one-piece aluminum frame

DLC finish

Fiber optic front sight
By The Numbers - Wilson Combat SFX9 HC 3.25"
Accuracy
I was able to get the famed Wilson accuracy, but only when using heavier 147 grain ammo. Lighter ammo tended to print sub-optimally
Reliability
As long as the magazines hold up, the gun itself should do its job
Customization
A railed version allows for lights, but there isn't much else. Holsters are tough to come by as well
Ergonomics
Overall ergonomics are great, but I did have a hotspot at the bottom of my palm where the short grip ends
Overall
This is a great pistol by most metrics, but it is not quite enough to justify the extreme cost
final verdict
"When I purchased my sub-compact SFX9, I was met with an exceedingly well-made firearm with an impeccable fit and finish. But between the gun greatly preferring heavier 9mm for the best accuracy and an uncomfortable hot spot on my palm right where the grip ends, the gun failed to meet my expectations at the range. Although it is a great gun that ran reliably, I was expecting the be-all-end-all of carry guns considering the MSRP. I found that I shoot similarly-sized guns better that cost less than half the money. This might be the right gun for some, but a hefty price tag should warrant great consideration beforehand." – Wyatt Sloan
Community reviews
There are no reviews for this product yet.
Add your own rating and help other Pew Pew users pick the right guns