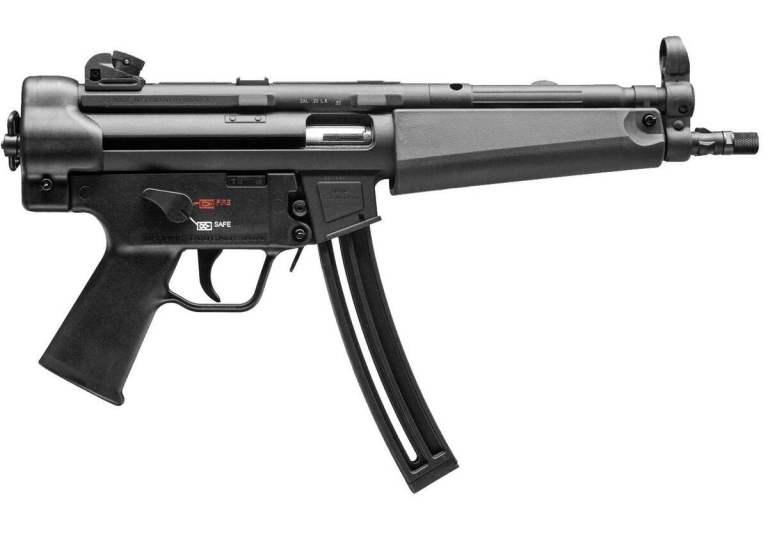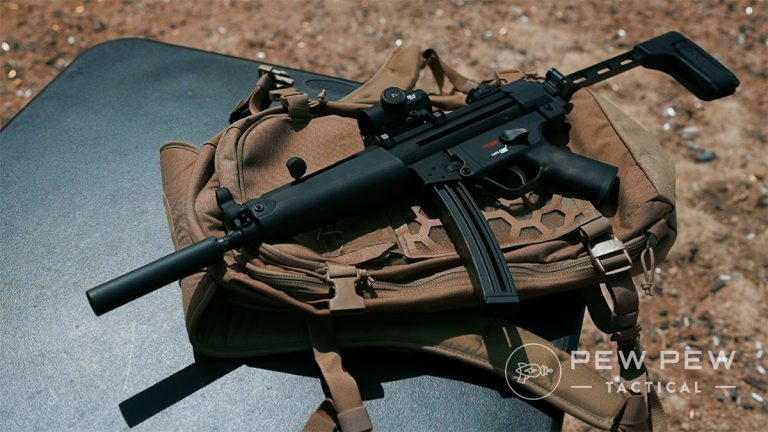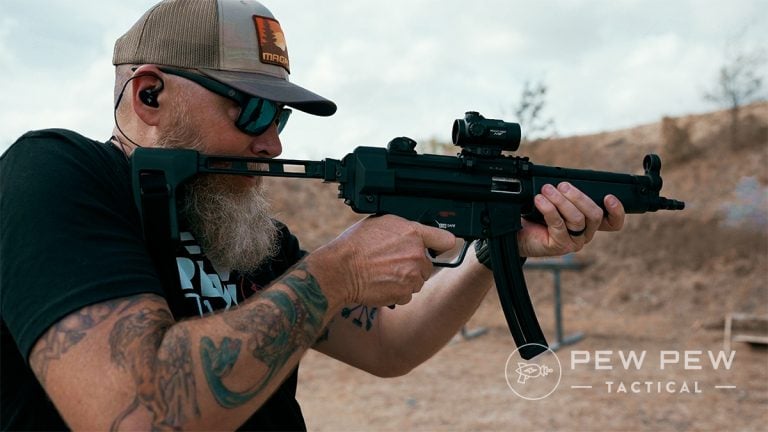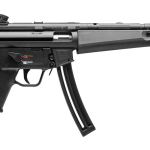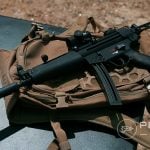 3.5
MP5 controls

Compact

Inexpensive ammo
Editor's Note:
HK partnered with Umarex to bring an HK-authorized rimfire version of the legendary MP5. Users get an economic trainer pistol with familiar controls and unmistakable looks at a more affordable cost. The 8.5-inch barrel is threaded, which makes suppression easy. Recoil is minimal, making these guns great for those looking for a fun .22 LR plinking experience or for training purposes.  The MP5 .22 LR accessories are often compatible with its centerfire counterpart, allowing users to attach optics, lights, and suppressors.
Read full review
H&K MP5 .22 LR For Sale - Compare Prices
H&K MP5 .22 LR Features

25+1 capacity

8.5" barrel

Ambidextrous fire controls

Last round hold open

Adjustable rear sight
By The Numbers - H&K MP5 .22 LR
Accuracy
Using the brace and running a Primary Arms SLx MD25, I was able to average 1-inch groups from 7 yards, and this is a solid performance for a .22 caliber pistol.
Reliability
Over several hundred rounds of ammunition fired, I only experienced one double feed. After clearing this, it didn't happen again.
Customization
The aftermarket out there is not only well supported for the standard MP5, but you may find Airsoft version accessories may offer some options to customize to your heart's desire.
Ergonomics
It has the familiar MP5 aesthetic, but some of the controls just don't feel great — especially if you have smaller hands (or are a lefty).
Overall
Hands-On Reviews & Related Post
H&K MP5 .22 LR Upgrades & Accessories
final verdict
"I'm often torn between the cool factor of guns and their real-world usefulness. This isn't a home defender, it's not for hunting, and its caliber restricts self-defense uses. However, if you're able to accept those limitations, what you'll find is an authentic H&K MP5 that is accurate, reliable, customizable to your purposes…and a whole lot of fun to shoot!" – Sean Curtis
Community reviews
There are no reviews for this product yet.
Add your own rating and help other Pew Pew users pick the right guns