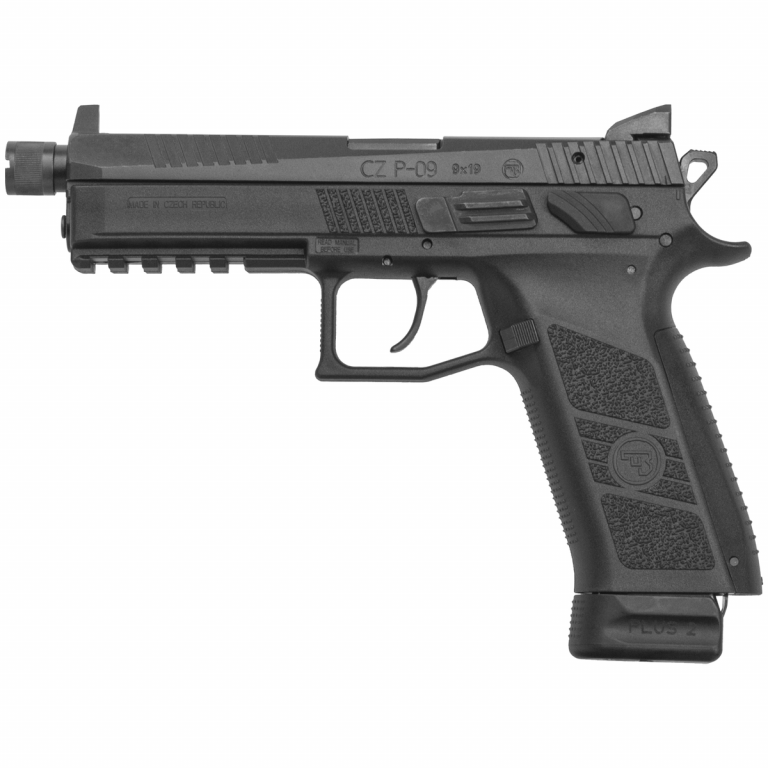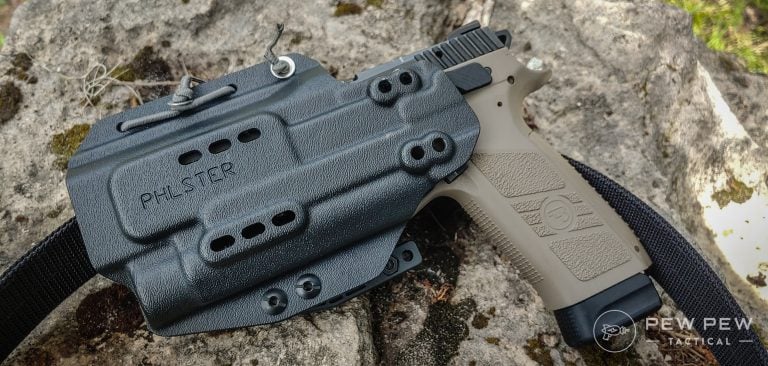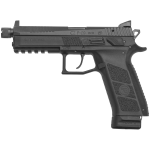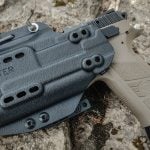 4.5
DA/SA action

Picatinny rail for accessories

19+1 capacity

Great for home defense
Might be too big for concealed carry

Lack of customization

Swapping back straps can be a pain
Editor's Note:
"The CZ P-09 is an overall excellent handgun.  It's a modern option for those who desire a polymer frame, hammer-fired, DA/SA gun.  It's taken the CZ-75 platform and brought it into the modern era of defensive handguns. The P-09 is a great handgun, and it performs where it needs to." – Travis Pike
Read full review
Product Description
The CZ series of firearms have a cult-like following. They aren't as popular as Glocks or Smith and Wessons, but their enthusiasts love them. It's easy to see why — with a solid platform, 9mm chambering, and rail for accessories, it goes bang every time. Sporting a 10+1 capacity, this gun measures 8.1 inches in total length with a 4.54-inch barrel and weight at 31 ounces.
CZ P-09 For Sale - Compare Prices
CZ P-09 Specs
Action
Double/Single Action / Semi-Auto
Barrel Length
4.5in / 4.6in / 5.2in
Overall Length
8in / 8.1in / 8.8in
CZ P-09 Features

Picatinny Rail for accessory attachments

DA/SA action

Smooth shooting

19 round capacity (15 in 40 S&W)
By The Numbers - CZ P-09
Accuracy
It's a combat pistol and is mechanically accurate enough that you won't outshoot it.
Reliability
The CZ P-09 continues the CZ 75's tradition of reliability. Even using cheap rounds the CZ P-09 is incredibly reliable.
Customization
The CZ can't touch the Glock or even the Smith and Wesson in customization. It's just not popular enough for lots of 3rd party support.
Ergonomics
The slide does not offer as much space to grip as a traditional firearm. For some this makes manipulating the slide difficult, especially when attempting to clear malfunctions. With time and training it can be overcome.
Overall
Hands-On Reviews & Related Post
CZ P-09 Variations & Comparables
5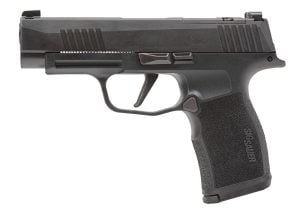 VIEW DETAILS
The SIG Sauer P365 XL is a larger version of the popular P365, with a longer slide and barrel for improved accuracy and a larger grip for better control. The pistol features a number of elements that make it highly versatile and easy to use, including an extended sight radius and a flat trigger. The P365 XL has a 12+1 capacity and is chambered in 9mm, making it a highly capable option for personal defense.
The pistol also features a number of customization options, including an optic-ready slide with iron night sights and a variety of aftermarket accessories. Overall, the SIG Sauer P365 XL is a highly versatile and reliable option for those looking for a larger concealed carry pistol with a high capacity and a variety of customization options.
Read More
5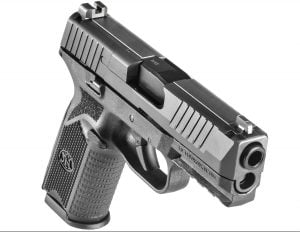 VIEW DETAILS
The FN 509 is designed to be a duty weapon. This striker-fired 9mm is a nice gun packed with small features that add up to a lot. From interchangeable backstraps to an accessory rail, this gun has enough going for it to justify the price. While not a budget option, it's a mid-tier that offers reliability and smooth shooting.
The FN 509 is a polymer pistol with a weight of around 26 ounces and a length measuring 7.4 inches. It features a fixed 3-dot sight system with combat-style sights and a capacity of 17 rounds (or 10-round mags available for states that require that). The trigger pull comes in around 5.5 to 7.7 pounds and it feels smooth while shooting. The gun is ambidextrous right out of the box, great for those lefties! The FN is a nice pistol that is worth the money.
Read More
final verdict
"The CZ P-09 is a classic take on CZ's styling, updated for modern requirements. While it's not the most customizable, if you're looking for a full-size polymer gun that goes bang every time, you could certainly do a lot worse than the P-09." – Travis Pike
Community reviews
There are no reviews for this product yet.
Add your own rating and help other Pew Pew users pick the right guns