Last Updated: July 2, 2017
Disclaimer:  While the information provided here is legal in nature, it is not to be construed as legal advice, and is for educational and entertainment purposes only.  
Michigan has slightly stricter laws than other states when it comes to handguns, so it's no surprise the steps to getting a concealed carry permit are also pretty involved.  Luckily, there are only a couple of big things you'll need to watch out for when dealing with a Michigan CCW permit.
This guide will go over everything you need to know on how to get a license, and what you can do with it once you get one.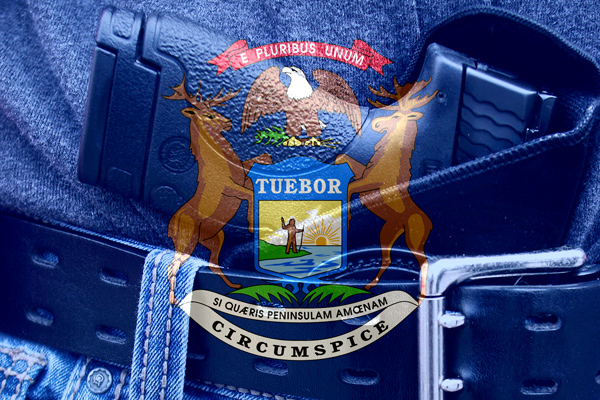 Getting the Permit
First things first, it's important to point out that Michigan is a shall-issue state.  That means, as long as you fill out the application correctly and meet all the requirements, a CCW permit, officially called a "concealed pistol license" (CPL), will be issued to you.  
Besides being able to carry concealed, one of the biggest benefits to having a CPL is that you won't need to get a License to Purchase when buying a handgun in a private sale.
So What's Required?
To qualify for a CPL, you must:
Be at least 21 years old;

Be a US citizen or a legal resident of the US;

Be a legal resident of Michigan and live in Michigan for at least the 6 months before your CPL application; and

Successfully complete a pistol safety training course.
One thing to remember when taking the safety course, is to make sure it is taught by an NRA-certified instructor, and you should be good to go!
As for the residency requirement, there are a couple of ways you can meet it:
Provide a Michigan driver's license or ID card;

Be registered to vote in Michigan;

Be on active duty with the US Armed Forces and stationed outside of Michigan, but have Michigan as your home of record; or

Be on active duty with the US Armed Forces and permanently stationed in Michigan.  
The 6-month requirement of course does not apply to someone who is stationed outside of Michigan.  However, Michigan does issue emergency licenses in some situations.
You can qualify for an emergency license if:
You have a personal protection order issued to you; or

If the county sheriff determines there is clear and convincing evidence to believe your safety or the safety of a family member would be at risk if you were not allowed to carry concealed.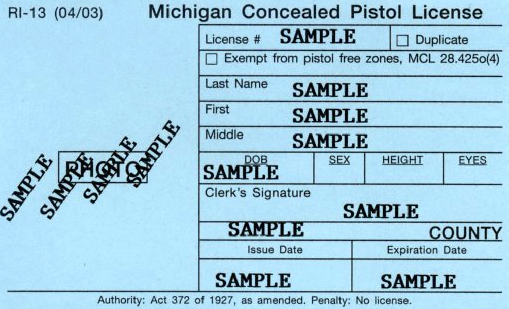 But Wait!
Even if you meet all those requirements, you may still be denied a CPL if you:
Were involuntarily hospitalized;

Are legally incapacitated;

Have a personal protection order against you;

Were found not guilty by reason of insanity

Have been convicted of a felony;

Have been dishonorably discharged from the US Armed Forces;

Have been convicted of a misdemeanor in the last 8 years before applying for a CPL;

Have been diagnosed with a mental illness and pose a danger to yourself or others.
Basically, you'll want to keep your record as clean as possible before applying for a CPL.  If you have any blemishes on that record, you might need to wait a few years before applying, and just settle for being able to open carry in the meantime.
The Waiting Game
Once you've filled out the application and provided any additional documentation (fingerprints, etc.) and paid the fee, you'll need to sit back and wait.  The process can take up to 45 days, and if you are approved, you'll get a shiny new CPL in the mail.  If you are denied a license for any reason, the letter sent to you will explain why you were denied, and what you can do to fix the problem.  
Though if you've filled everything out correctly, you should only need to worry about finding space in your wallet for your new CPL, and remembering to renew it every 5 years!
Where Do You Think You're Going?
Even with a CPL, there are still some places that are off limits.  For those of you who already took a look at our general Michigan gun laws guide, you'll recognize most of these locations as the same places that your firearms aren't welcome, whether open or concealed carrying.  There are some additional places on this list though, so make sure you read through all of it!
You cannot carry a firearm in a:
Financial institution; 

Church or other house of worship;

Courthouse;

School;

Theater;

Sports arena;

Day care center;

Restaurant with an alcohol license;

College or university dorms or classrooms; and

Casinos.
For you parents out there, you'll be glad to know that if you are dropping off your picking up your kid from school, you can keep that handgun strapped to your hip.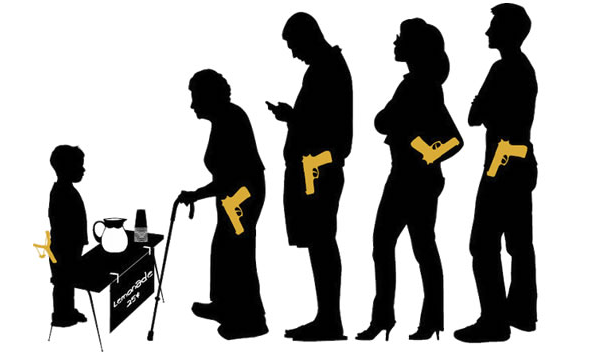 Reciprocity
The second best part about having a CPL is that you can also carry outside of Michigan!  The majority of states in the US recognize a Michigan CPL, so it's actually easier to list the states that don't.
A Michigan CPL is not recognized in:
California

Connecticut

Hawaii

Illinois

Maryland

Massachusetts

New Jersey

New York

Oregon

Rhode Island

Washington D.C.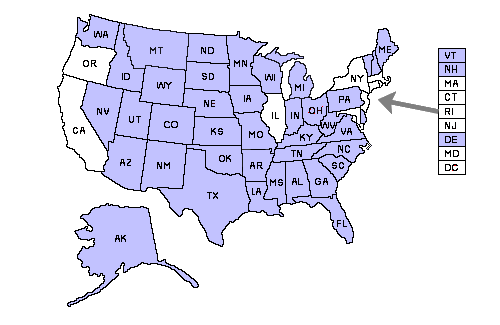 If You're Just Visiting…
There's a good chance your CCW permit is recognized in Michigan!  The only CCW permits not recognized in Michigan are the ones from Illinois, Vermont, and Wisconsin.  As long as your CCW permit is not from any of those states, it is perfectly valid, and you can keep carrying in Michigan just like you would back home.
And if you are from those states, you will either have to make do without your handgun, or maybe visit another state.  Sorry.  
Carry On!
That's it!  All you need to know about getting a CPL from Michigan!  Take a look at our recommendations for concealed holsters while you're at it, and don't forget about CCW insurance, too!
And if you haven't yet, go check out our general Michigan gun laws section and brush up on your knowledge!