Last Updated: June 17, 2017
Disclaimer:  While the information provided here is legal in nature, it is not to be construed as legal advice, and is for educational and entertainment purposes only.  
With gun laws varying from state to state, it makes sense the rules on concealed carry would also be different.
As one of the more gun-friendly states, Iowa doesn't have too many hurdles in the way for anyone wanting to get a carry permit. Our quick reference guide has everything you need to know to carry your handgun responsibly!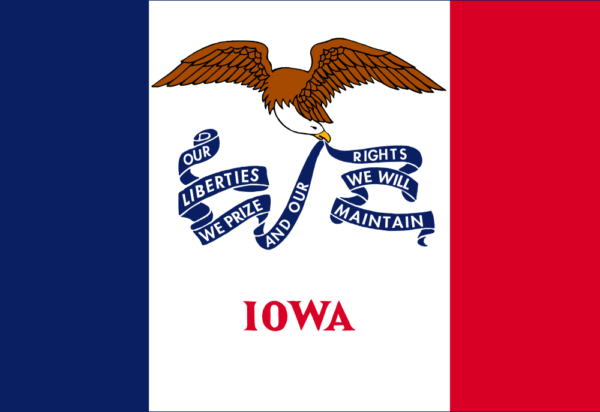 But First…
Iowa allows for open carry your firearms in some situations, but not all.  Like we mentioned in our general Iowa gun laws section, if you are within city limits, you must have a carry permit in order to carry either openly or concealed.  Outside of the city, you can open carry as long as you are legally allowed to own the gun.
If you're never in the city, that's great.  But if you ever decide to go into town for anything, you'd have to get a permit, or leave your gun at home.  Luckily, getting a permit isn't too hard.  And once you do get the permit, it's good for all your firearms, both handguns and long guns.
As a shall-issue state, Iowa will issue you a permit to carry (PTC) as long as you meet all the requirements and fill out the application correctly.  
Getting Your Permit
The first step is the hardest.  Iowa has two types of permits: a Professional permit, and a Non-Professional permit.  In addition to that, Iowa also has a Resident and Non-Resident version of each Professional and Non-Professional permit.  Confused yet?
If You Live in Iowa
Most of us here will only qualify for a Resident permit.  For a Non-Professional permit, you need to be 21 or older.  For a Professional permit, you need to be 18 or older, and also provide proof you need to be armed as part of your job (i.e. law enforcement officers).  For both permits, you need to apply with the sheriff of the county you live in.
And If You Don't
Non-Resident permits also have a Professional and Non-Professional version, but they are very similar to each other.  Of course, the main requirement is that you are not a resident of Iowa.  Because of that, you will need to apply to the Iowa Department of Safety, since the sheriff of the county where you live would not be an Iowa sheriff.  
The requirements for a Non-Resident Professional permit are the same as for a Resident Professional permit.  For a Non-Resident Non-Professional permit, you need to either be a correctional officer or public official, or be able to show there is a threat to yourself or or family (that must be verifiable by law enforcement).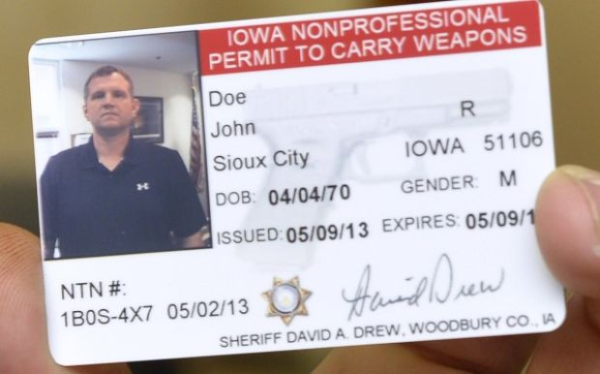 That's Not All
In addition to the age requirement and proof of employment (for the Professional permit), you will not qualify for the permit if:
You are an alcoholic;

You were a convicted felon or were adjudicated a delinquent based on conduct that would constitute a felony;

There is probable cause to believe, based on documented actions (police records, etc.) in the last two years, that you are likely to use a weapon illegally or in a way that would be a danger to yourself or others;

You are subject to a protective order or have been convicted of a misdemeanor for domestic violence;

You have, in the last 3 years, been convicted of any serious or aggravated misdemeanor for assault not involving firearms or explosives; or

You are prohibited by

federal

law from shipping, transporting, possessing, or receiving a gun.
Those requirements are essentially the same as the ones for owning a gun in Iowa in the first place, so if you already have a handgun and just want to be able to carry it around town, then you should have no problem applying for your PTC.
You'll also have to provide evidence of firearms knowledge, either by providing proof of military or law enforcement service, or proof of training from a firearms safety course taught by the NRA, any firearms courses with instructors who are certified by the NRA, or the Iowa Department of Public Safety.
Once you've got all of that squared away, just make sure you fill out the rest of the application correctly, and you'll be on your way to getting that sweet PTC!
And don't forget, whether you have a Resident or Non-Resident version, a Professional permit is only good for 1 year, and a Non-Professional permit is good for 5 years.  Either way, remember to renew your permits!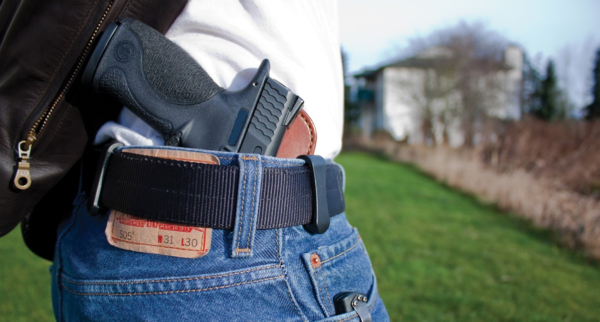 Where do you think you're going?
Even with your PTC, there are still some places that are off limits.  You won't be able to carry your firearm into places like schools (or school property), state and federal buildings like courthouses and police stations, casinos, or fairgrounds.  
Of course, there are exceptions if you work for the casino or fairgrounds, and have permission from your employer to be carrying.  If not, it's better to leave the gun at home, or at least locked away in the car.
Speaking of cars, with your shiny new PTC, you won't have to leave your gun unloaded and locked away while driving.  You can carry a loaded firearm while driving if you have a PTC!  Putting that shotty between your legs is probably not the best idea, but leaving that Glock in a holster while you're cruising around town could be useful.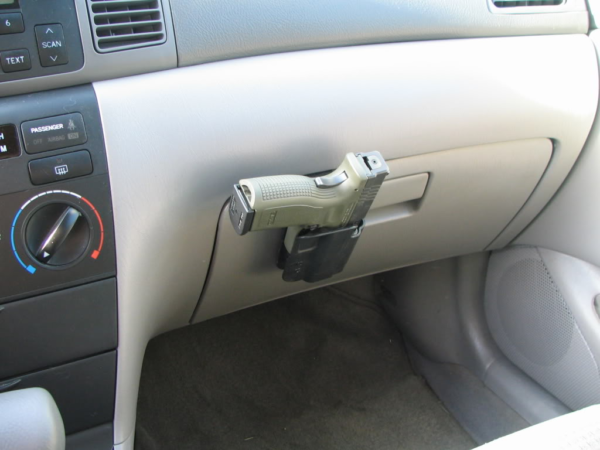 Reciprocity
Of course, one of the best things about getting a carry permit is to be able to use it in other states as well.
Your Iowa PTC is honored in:
Alabama

Alaska

Arizona

Arkansas

Colorado (Resident permit

only

)

Florida (Resident permit

only

)

Georgia

Idaho

Indiana

Kansas

Kentucky

Louisiana

Maine (Resident permit

only

)

Michigan (Resident permit

only

)

Mississippi

Missouri

Montana

Nebraska (Non-Professional

only

)

New Hampshire (Resident permit

only

)

North Carolina

North Dakota

Ohio

Oklahoma

Pennsylvania

South Dakota

Tennessee

Texas

Utah

Vermont

West Virginia

Wisconsin

Wyoming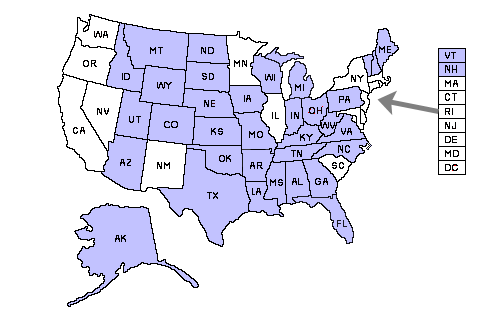 If you're just passing through…
You're in luck!  Iowa recognizes all CCW permits from other states, so if you've got one, you're good to go!  Make sure you have it ready to show any law enforcement officers if they ask though.  Don't need any trouble!
Carry on!
That's it!  All you need to know about getting a PTC from Iowa!  Take a look at our recommendations for concealed holsters if you're looking to put that new permit to good use, and don't forget about CCW insurance, too!
And if you need to brush up on the laws of buying and owning all types of firearms in Iowa, be sure to check out our general Iowa gun laws section!