I am always scrounging for lead to cast bullets from, cardboard to pin targets to, or something solid to prop my rifle on at my shooting bench. I've been a scrounger for a few decades, driven mostly by finances.
Well, I think the scrounging habit has been broken, at least for the non-lead items.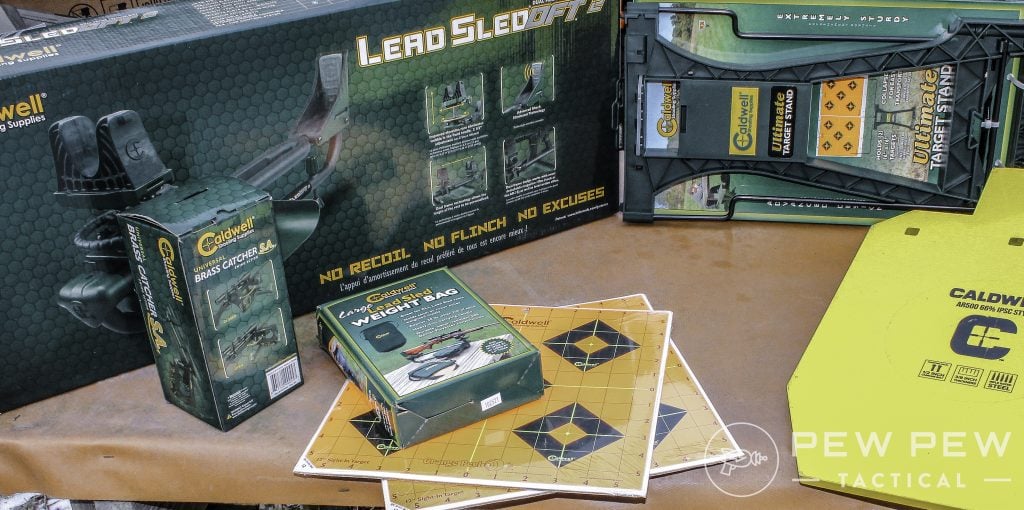 I found a company several years ago whose products make scrounging unnecessary: Caldwell Shooting Supplies. They build some of the most affordable shooting accessories out there.
I've had experience with Caldwell's products for years. I've used their chronographs, shooting rests, target stands, and a few other items for many years.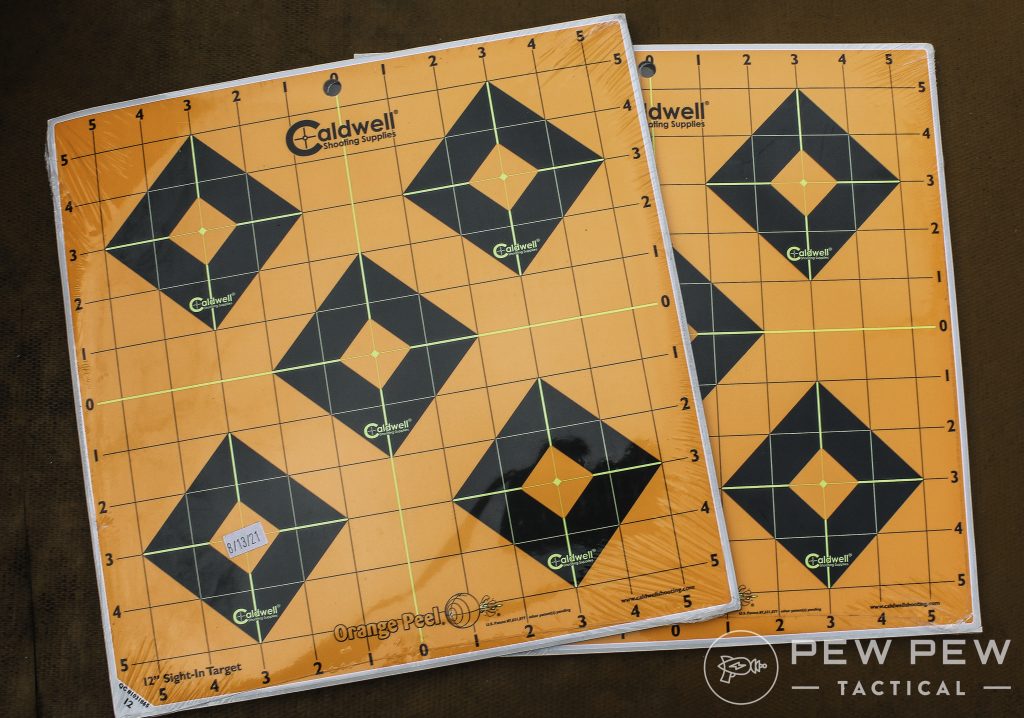 So, when I got this opportunity to review the company in general and some specific items in particular, I requested a few items to test out.
So follow along as we take a look at some of the coolest Caldwell products — from targets to stands to chronographs.
Summary of Our Top Picks
Table of Contents
Loading...
Caldwell Targets: Steel & Paper
Caldwell sells some pretty interesting targets.
They include 10 different paper targets, from sighters to bullseyes to silhouettes. I ordered some paper targets, to see how they behaved when tacked up and shot.
Why do I like their targets?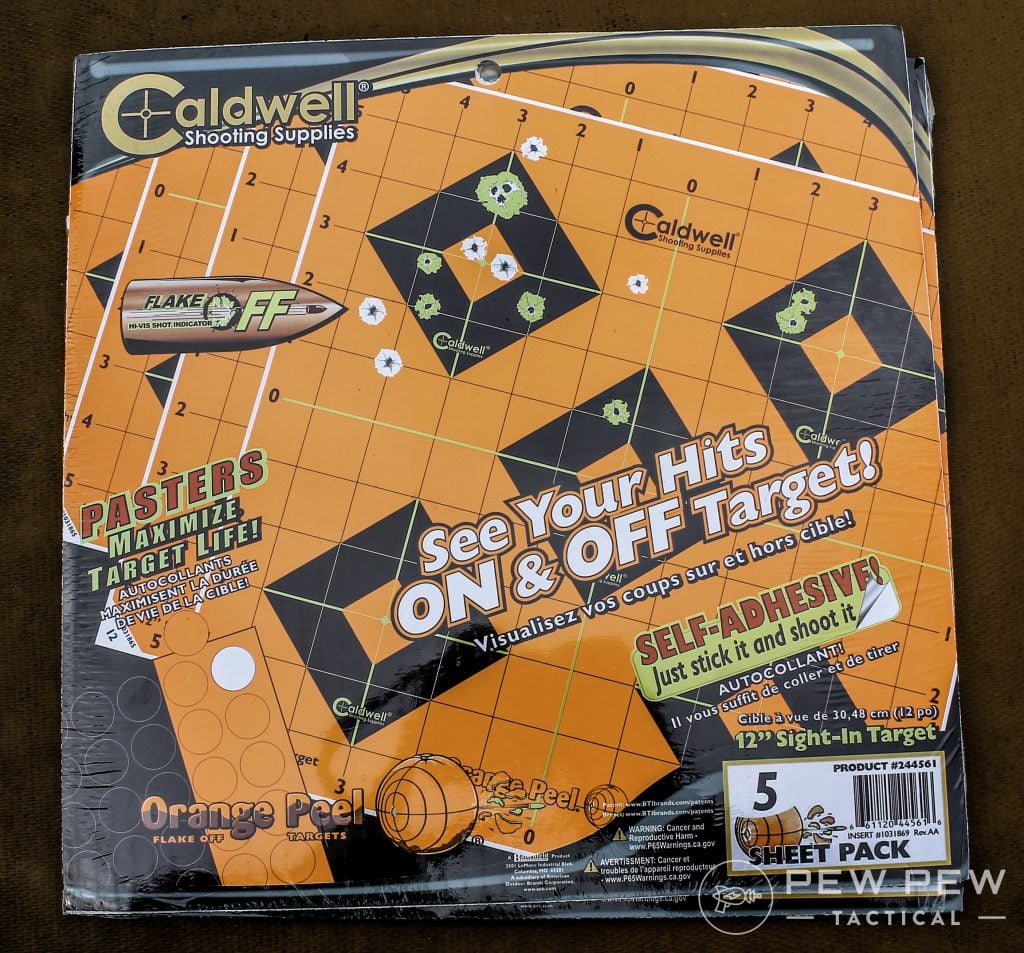 For one thing, they're visible. Printed in some pretty bright colors, these targets won't bore you.
And they come in several sizes, starting with a 1-inch shooting dot and range up to a couple of 12×18-inch silhouette targets.
Best Paper Targets
5
at Caldwell
Prices accurate at time of writing
Prices accurate at time of writing
Steel Targets
Caldwell sells seven rifle-rated steel targets, of the AR500 persuasion. All steel targets are rated up to 3,000 FPS impact velocity and 3,500 ft-lb impact energy.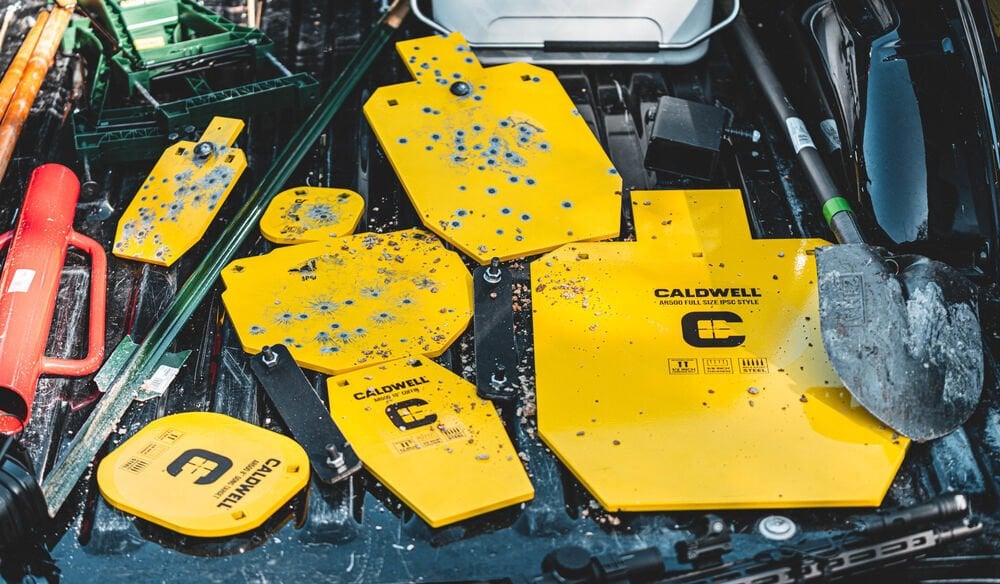 They include an 8-inch and a 5-inch Caldwell "C" target (mostly rectangular), a 10-inch coffin, a 13-inch octagon, and three IPSC targets scaled at 33%, 66%, and full-size.
I ordered the 66% IPSC target version and it held up well.
Best Steel Targets
122
at Amazon
Prices accurate at time of writing
Prices accurate at time of writing
What do you think of Caldwell's AR500 series? Let us know by rating it below.
Caldwell Target Stand & Hangers
You need some way of hanging said targets up and the Caldwell Ultimate Target Stand presents a decent option.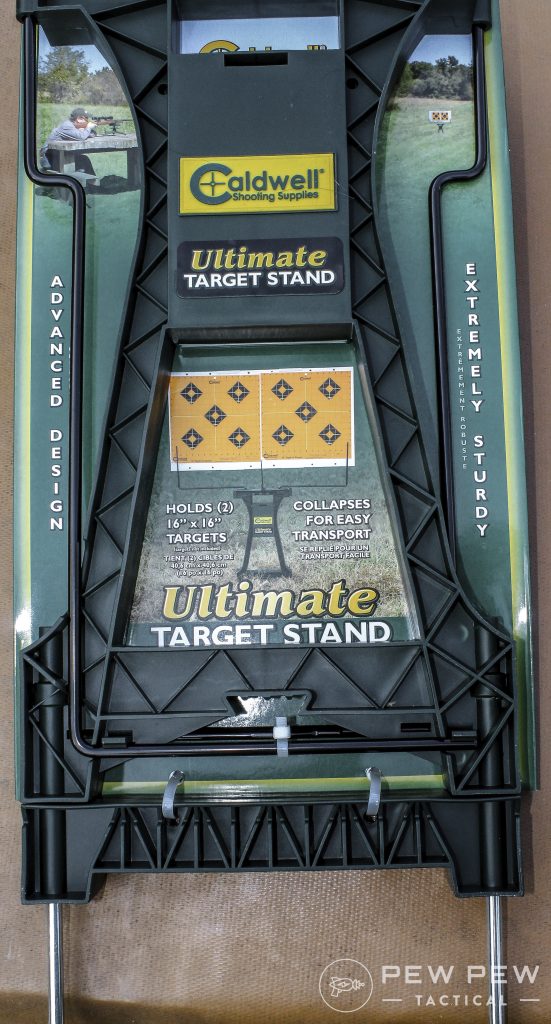 I like this stand because it's lightweight yet strong. And, when you've terminally ventilated the backing sheet, you can replace it with the same sheet — they sell extras.
You can put three 8 ½ x 11-inch targets of the home-printed variety side by side on this thing, or just put one large store-bought target on it and blaze away.
Heck, it even has a little box compartment where you can store push pins. For $25, you can't go wrong.
Best Target Stand for Paper
23
at Amazon
Prices accurate at time of writing
Prices accurate at time of writing
Caldwell T-Post Hanger
What's a steel target without a way of lifting it off the ground?
I mentioned above about a T-Post Hanger — essentially steel posts in the shape of a "T" with notches to hold clips, fencing, or wire. They have a cross-spade at their base that you sink into the ground.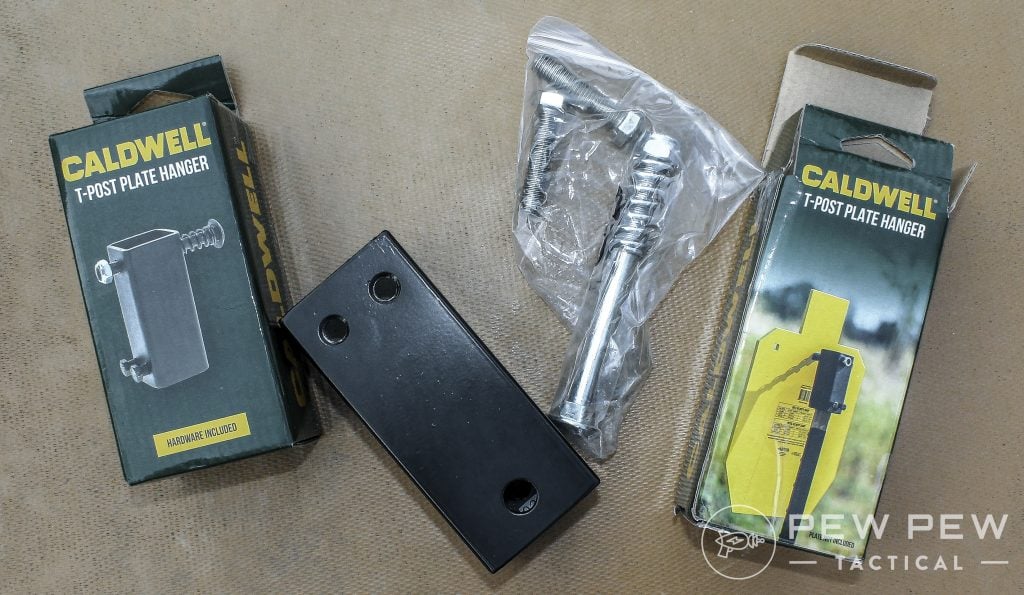 Caldwell's T-Post Hanger slides over the top of the post and fastens tightly. The stud below lets you put any steel target on it with a centrally-mounted hole for a hanger.
This is a great way to place some steel targets on your range with ease.
Best for Steel Targets
21
at Caldwell
Prices accurate at time of writing
Prices accurate at time of writing
Caldwell Chronograph
I've been a reloader, bullet caster, and general shooting aficionado for about 45 years now. I got into shooting as a young adult — I didn't have much chance to do that as a kid. So, I caught up with a vengeance once I was out on my own.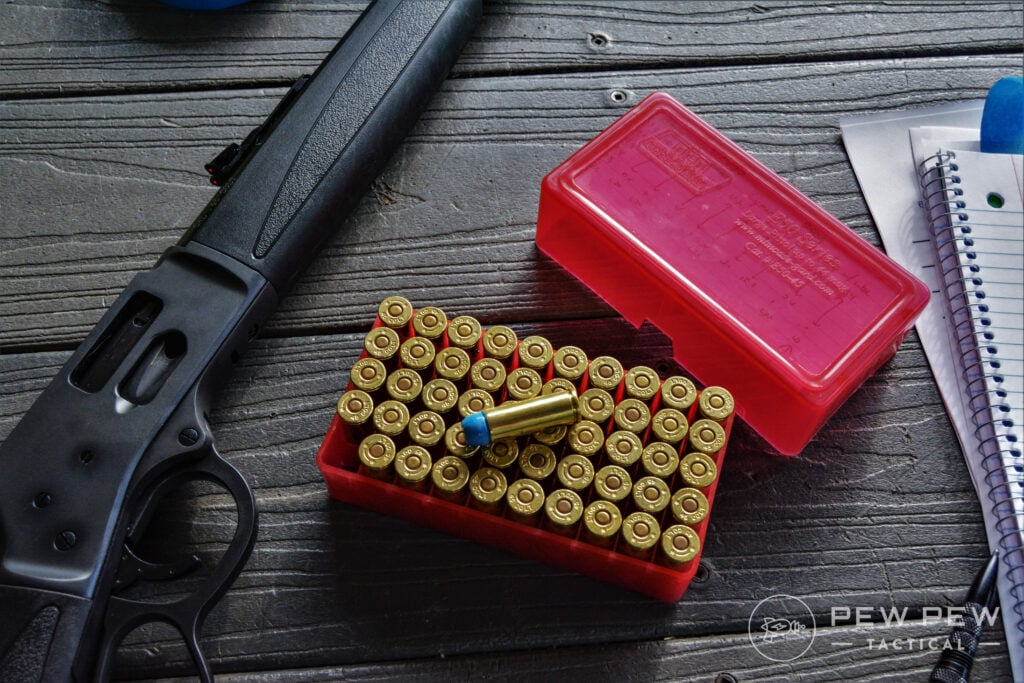 I started reloading when I bought my first centerfire handgun, a Ruger Blackhawk .45 Colt. I bought my first chronograph not long afterward.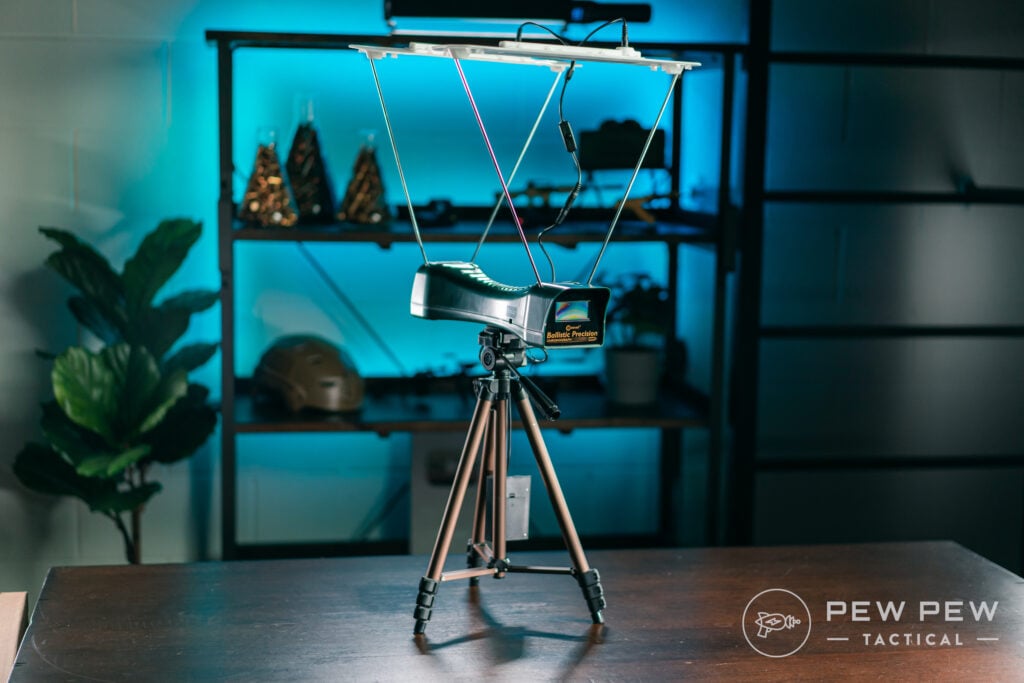 Just knowing velocities helped me work up accurate, consistent loads and the chrono helped with that. It worked great until I shot it. Later, when the chrono reached retirement age, I bought a Caldwell Ballistic Precision chronograph.
This chrono will send data over the included cable to your smartphone, into the Caldwell app. You can get all manner of good data from that app.
Easy to Use Chrono
224
at Amazon
Prices accurate at time of writing
Prices accurate at time of writing
For more chronographs, check out our round-up of the best here!
Caldwell AR-15 Brass Catcher
OK, shooters, who among you likes picking up brass? I despise it. It's not even so much the bending over, but retrieving pristine cases from the muddy ground is not much fun.
So, what does this lazy boy do? Attach a brass catcher to my AR.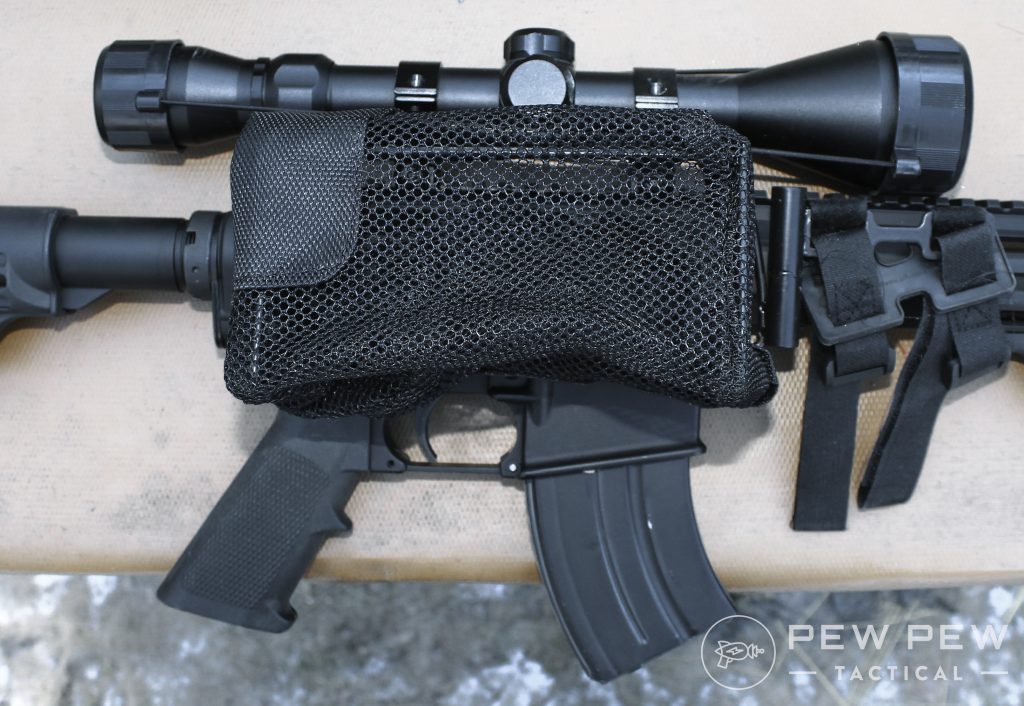 Caldwell makes five items to make your brass-chasing life easier but I tested out the Universal model.
This one attaches via straps and will fit just about any long gun out there.
Worth noting, if your semi-auto has a reciprocating bolt handle, there are specific instructions on how to mount the catcher that are different from those for a stationary handle.
Best for Brass
29
at Caldwell
Prices accurate at time of writing
Prices accurate at time of writing
Caldwell DFT 2
How many of you have tried to shoot precisely from a bench, only to have your rest jink a bit to the side? I hate that. I've used other rests that I had to physically hold still on the bench while shooting.
But the Caldwell DFT 2 does just fine all on its own.
The thing about all this rest is that it's adjustable but once adjusted, it tends to stay put.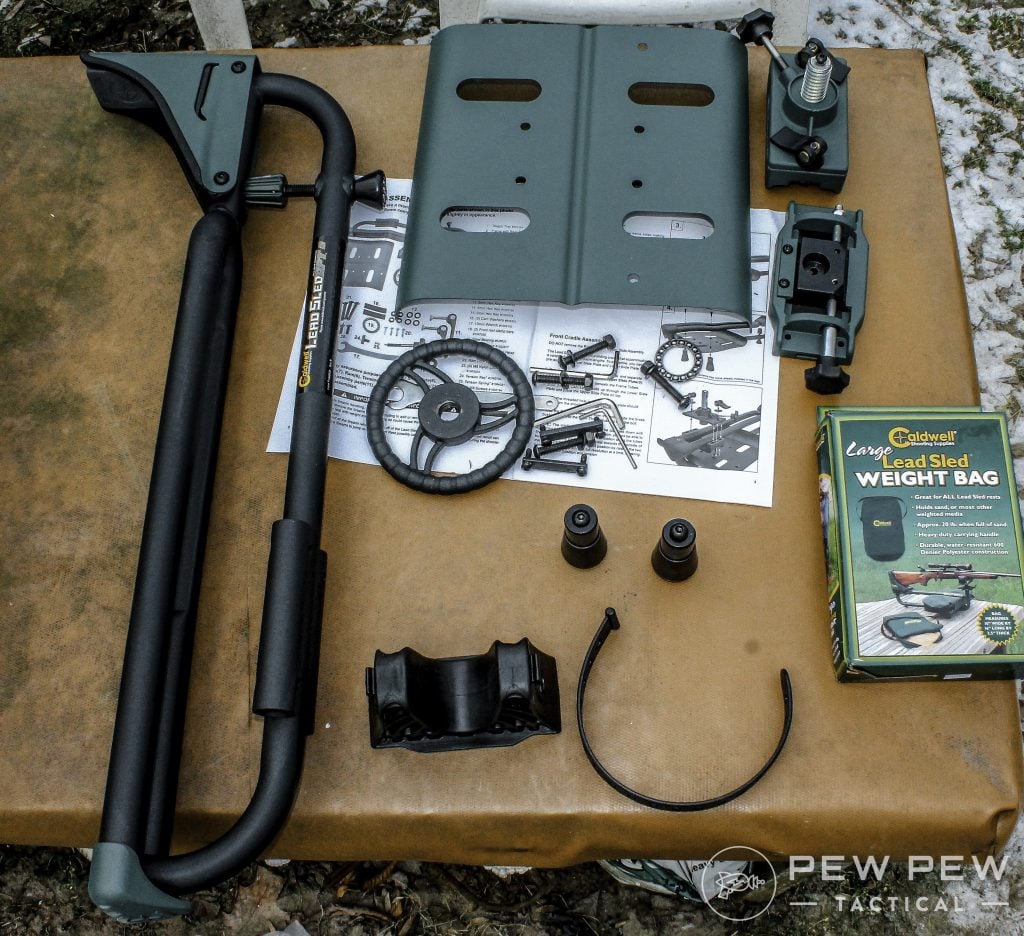 This rest is made of two frames — a frame that holds the rest to the bench the one that holds the rifle.
The dual frame helps reduce felt recoil since the one that holds the gun is separate from the one that's planted on the bench.
Its adjustment controls are sure and lock into place. I got the extra weight bag that holds 20 pounds of sand.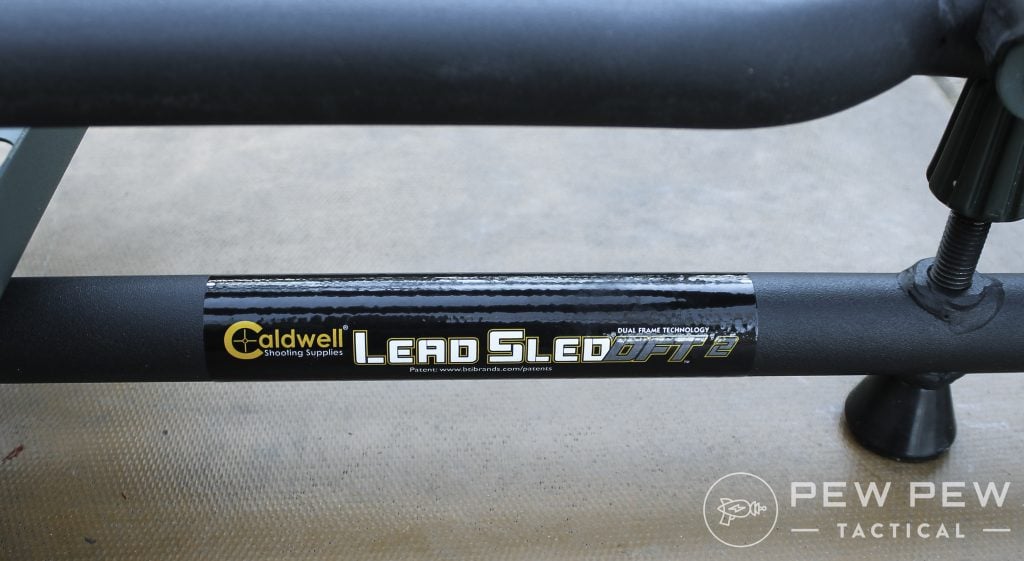 The thing is positively massive — weighing almost 25 pounds by itself, without the additional weight bag.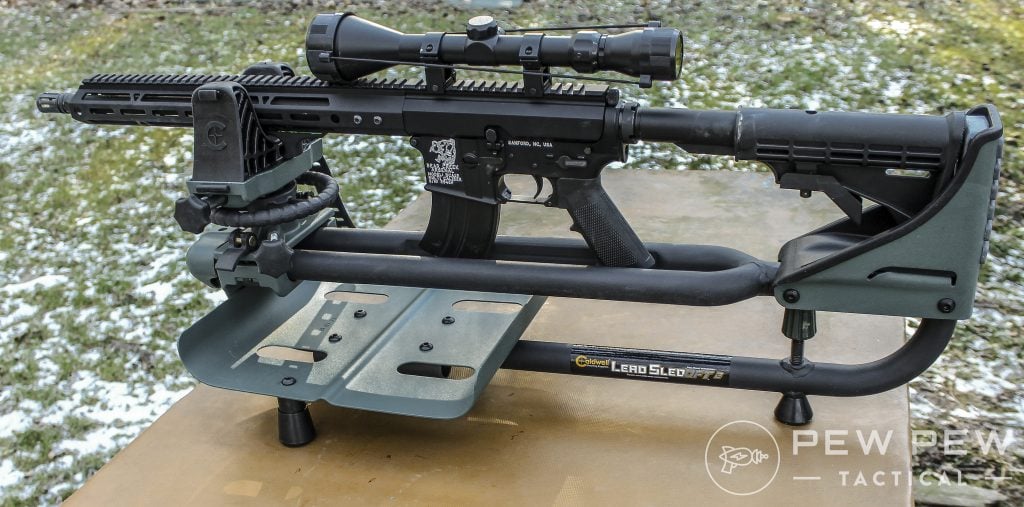 It was fairly easy to put together, except for screwing the front cradle to its steel support. I had the thing turned upside down and sideways, but I finally got it attached.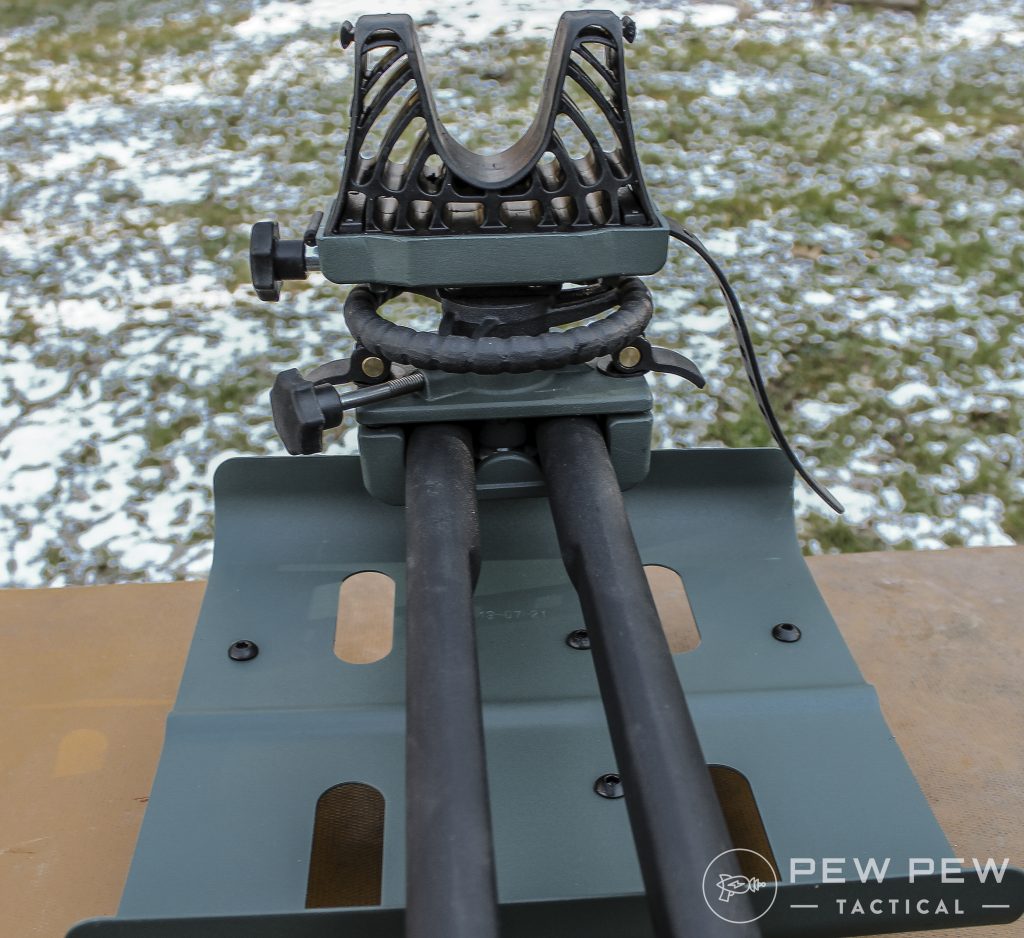 The rifle will not move once you get it dialed in. You have both windage and elevation adjustments on the front cradle, with a strap to hold the forend down if you like.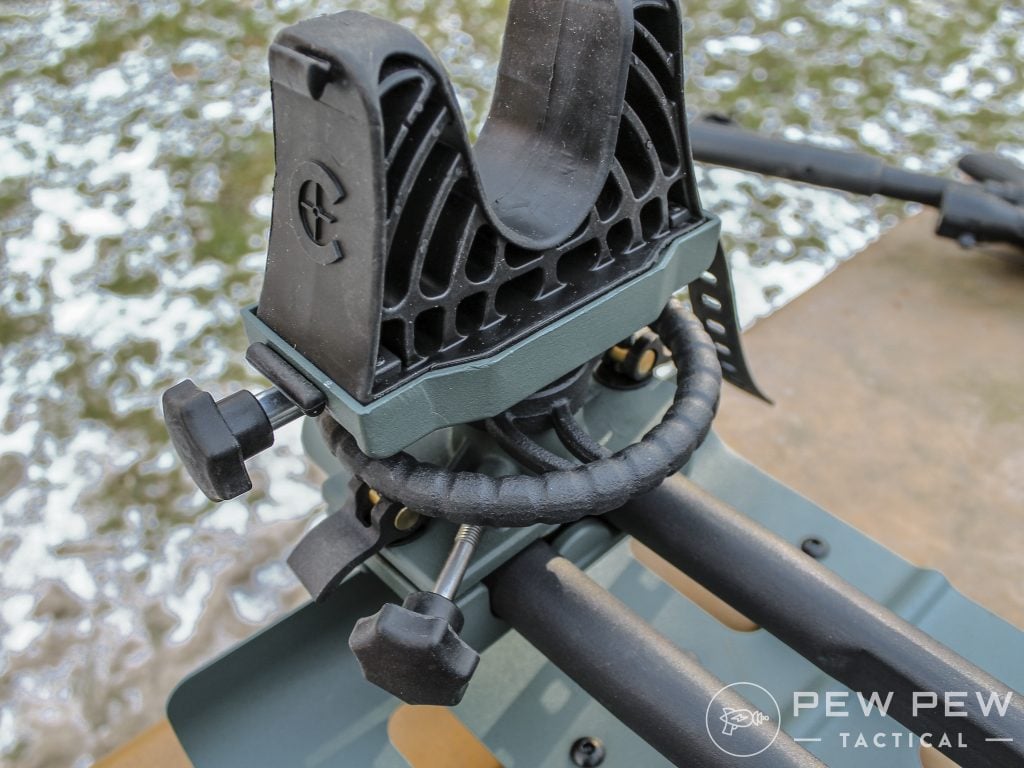 Honestly, this is the nicest rest I've ever used.
Best Shooting Rest
229
at Caldwell
Prices accurate at time of writing
Prices accurate at time of writing
Final Thoughts
Caldwell's products seem to be built a little tougher than some of the other items I've seen. Not to mention they are priced right.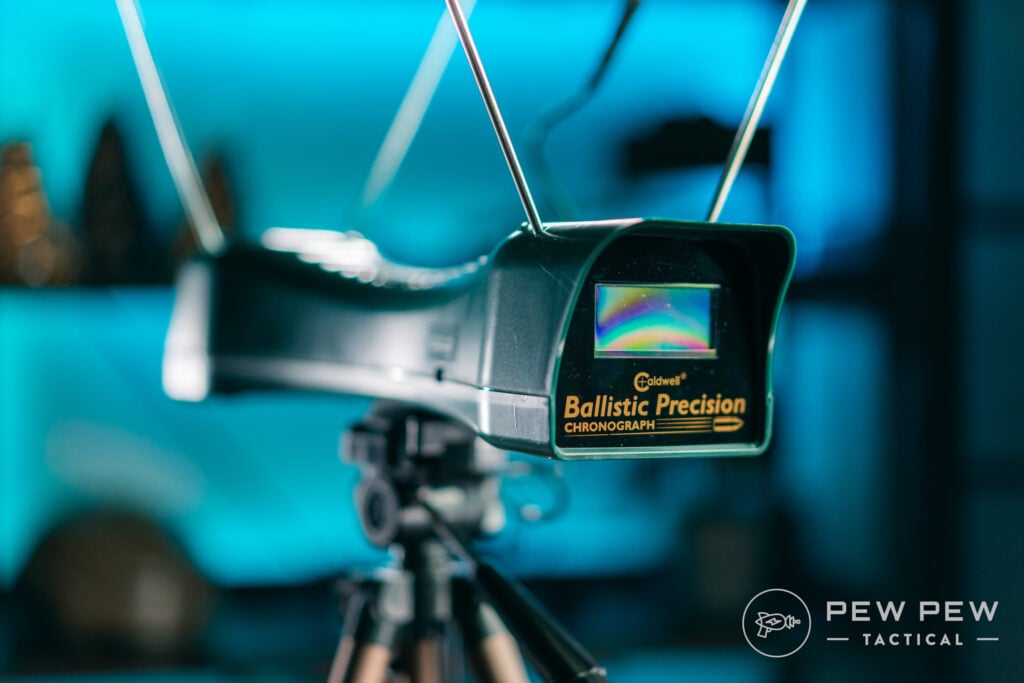 So, if you're looking for a few items to fill out your range gear, you might want to consider Caldwell.
What do you think of Caldwell's gear? Let us know in the comments below. For more essential range gear, check out our article on Essential Shooting Range Gear.