Who doesn't love cheap but handy tools you can shove on a keychain?
I know I do. Most cost under $10, and they offer you quite a bit of value for the money.
There are tons of excellent tools on the market, and we've gathered some of the best from Gerber, 5.11 Tactical, CRKT, and Kershaw.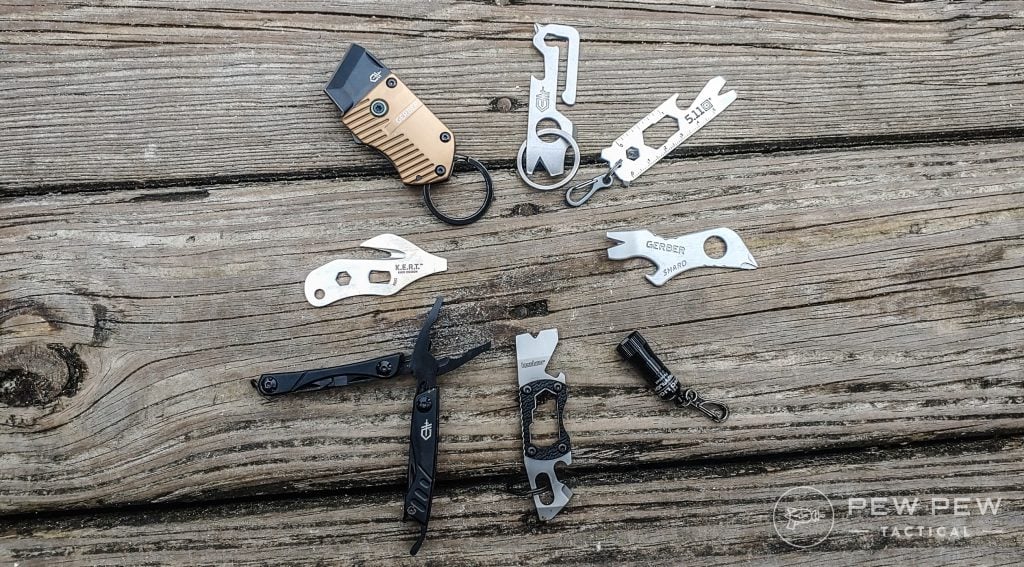 To earn a spot on the list, the tool must be nice small, but most importantly, designed to fit on a keychain.
I can fit a keychain on a fixed blade, but that doesn't make it a keychain tool.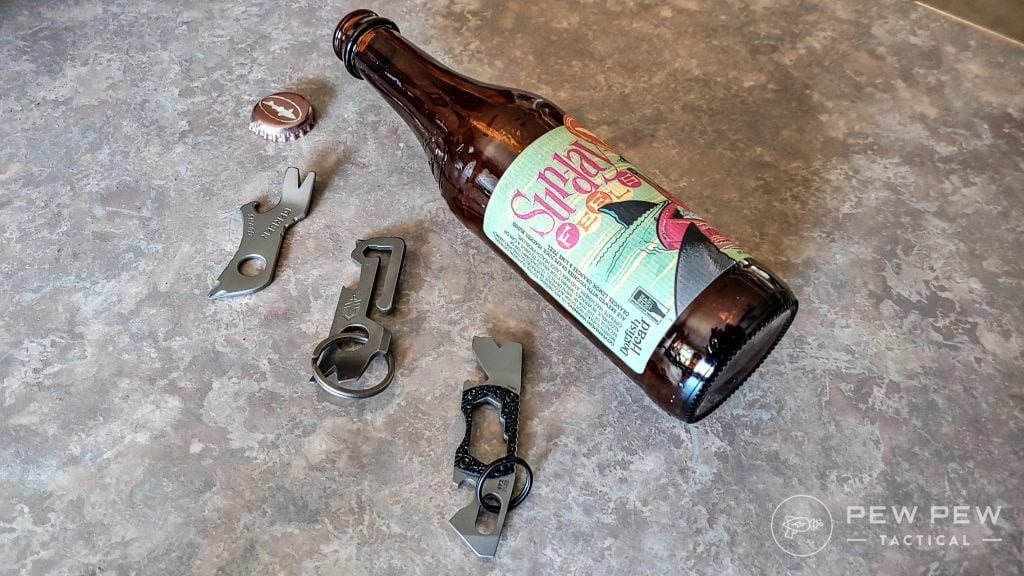 Lastly, it needs to be affordable. No Instagram flex-worthy gear on the keychain here. Just useful, practical tools that won't break the bank.
That said, here are the tools we think you should consider based on our hands-on time with them.
Best Keychain Tools
1. Gerber Mullet
Tools Provided
Cross Driver
Nail Puller
Scraper
Hex Driver
Large Flathead driver
Small Flathead Driver
Bottle Opener
Wire Cutter
Pry Bar
Mullet is a great name for this tool as it works hard and plays hard…business in the front and party in the back.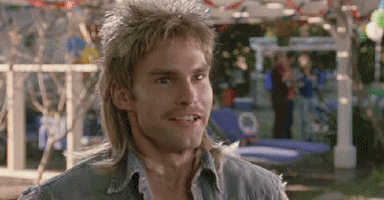 Gerber's Mullet packs nine different tools in its pocket-sized frame.
This includes some basics like a Phillips head drive, a hex driver, a pry bar, a bottle opener, and two flathead drivers.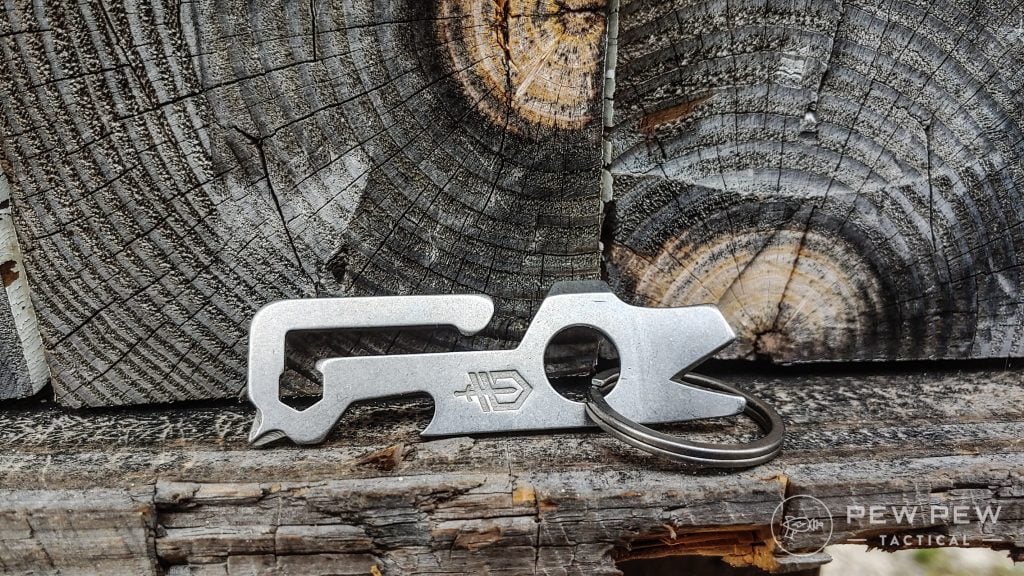 The Mullet quickly removed a driven-in screw during testing — its wide size, making it easy to twist and spin.
The small flat driver was tossed into action as well, but it was more awkward due to the flat driver existing as part of the curved pry bar.
What really stood out was the hex driver and pry bar.
I latched that bad boy onto the hex head and literally gave it a whirl, and it spun right out.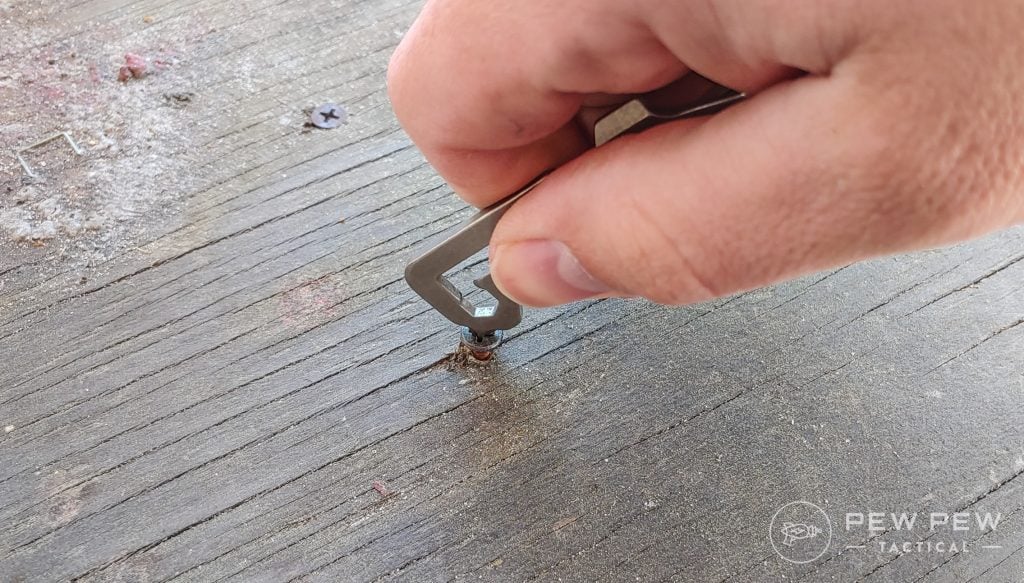 As far as mini pry bars go, this was the best tested.
It easily sunk under the small bracket I nailed to a board and pried upwards. That upward curve gives it some natural bending power, and that tin didn't stand a chance.
Where did it fail? Well, the wire cutter is kinda tricky to use and not very sharp for the role.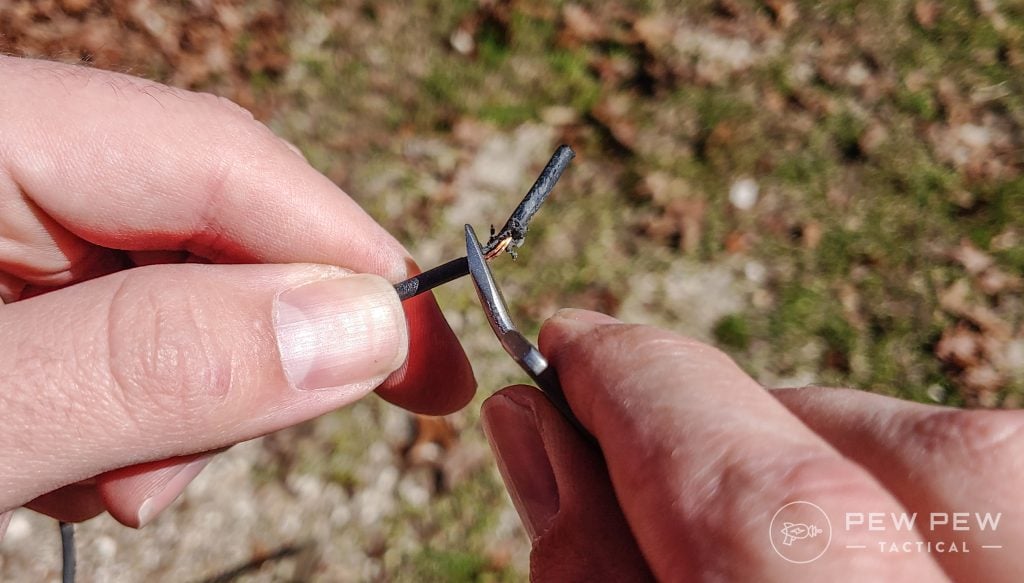 The bottle opener was also disappointing. Yes, it opened the bottle but was a bit small, making it tough to pry the cap off my Sunday Funday beers.
Carrying the Mullet can be done on a key ring, or the mullet portion can be looped into a belt loop.
Size-wise the Mullet stands at 3-inches long and weighs 0.7-ounces.
8
at Amazon
Prices accurate at time of writing
Prices accurate at time of writing
2. Gerber Shard
Tools Provided
Pry Bar
Small Flathead Driver
Wire Stripper Puller
Large Flathead Driver
Bottle Opener
Cross Driver
If you want TSA approved and small, then the Gerber Shard might be for you.
This little fella packs six tools for your consideration. (A lanyard loop is not a tool, Gerber, so it's not seven as your website says.)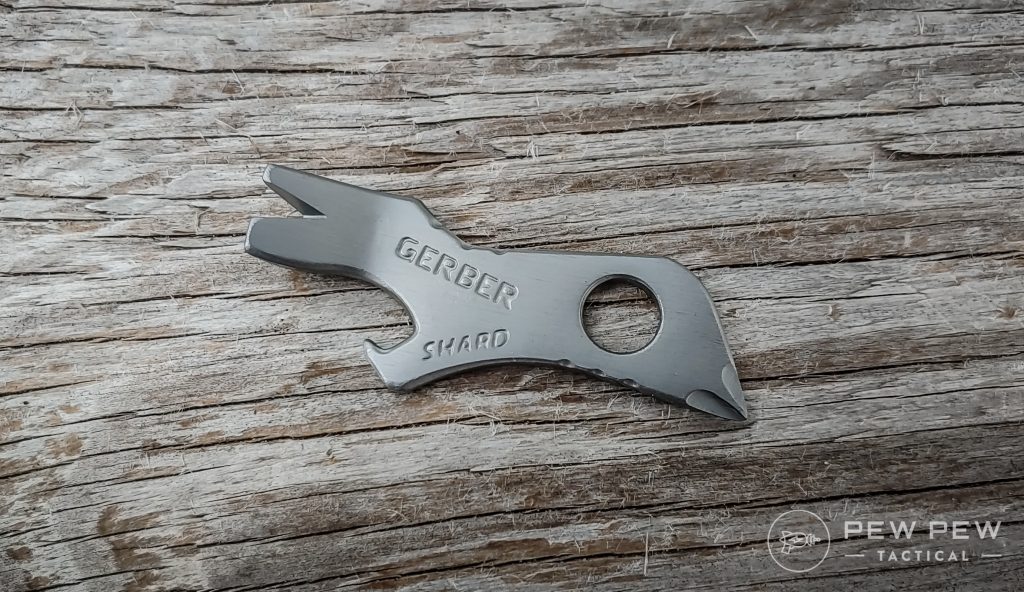 Under use, the Shard provided the best Phillips head driver,smoothly and efficiently removing a drilled-in screw.
A small and large flathead driver brings the same upward curve as the Mullet but smaller in size and easier to use by far.
Like the Mullet, stripping and cutting wire was difficult. The effort required to strip a wire is substantial.
Prying wasn't too tough, but the pry bar is somewhat tiny. The upward angle adds a little extra leverage, though.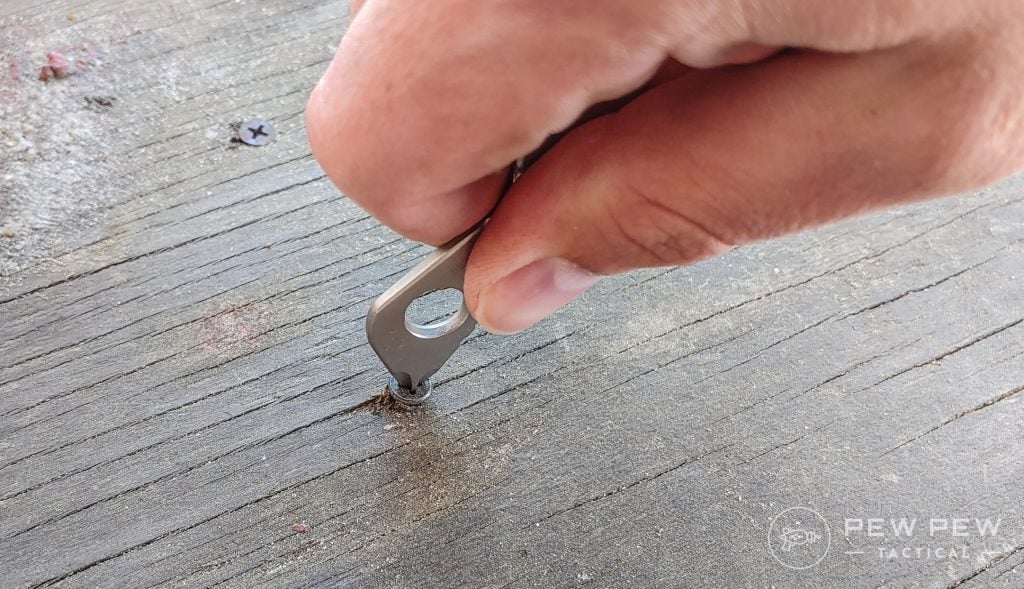 I jammed the Shard under the bracket, pushed it down, and that little piece of tin tapped out real quick.
For popping bottles, the Shard was the second-best tool, according to my wife. I couldn't disagree. It gripped and ripped tops off without much of a fight.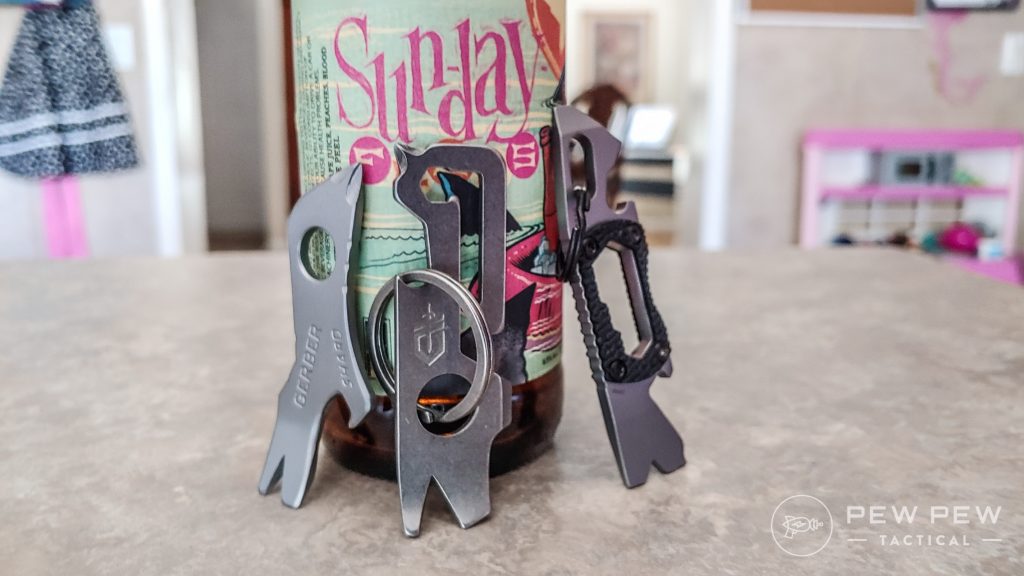 The Shard's shape makes it super comfortable to use. Nothing pokes or prods when you use its wide variety of tools. Let's be honest; there's a lot of value in that.
At 2.75-inches long and weighing 1-ounce, it isn't hard to carry on a keychain.
7
at Amazon
Prices accurate at time of writing
Prices accurate at time of writing
3. Kershaw PT 2
Tools Provided
3 Hex Drivers
Small Phillips Head Driver
Flathead driver
Can Opener
Bottle Opener
Wire Scraper
If you don't mind a little extra size, then the PT 2 works.
It's a big ole boy with some real length to it at 3.25-inches long.
Complete with eight different tools, the highlights include a can opener, hex drivers, and a set of G10 grips.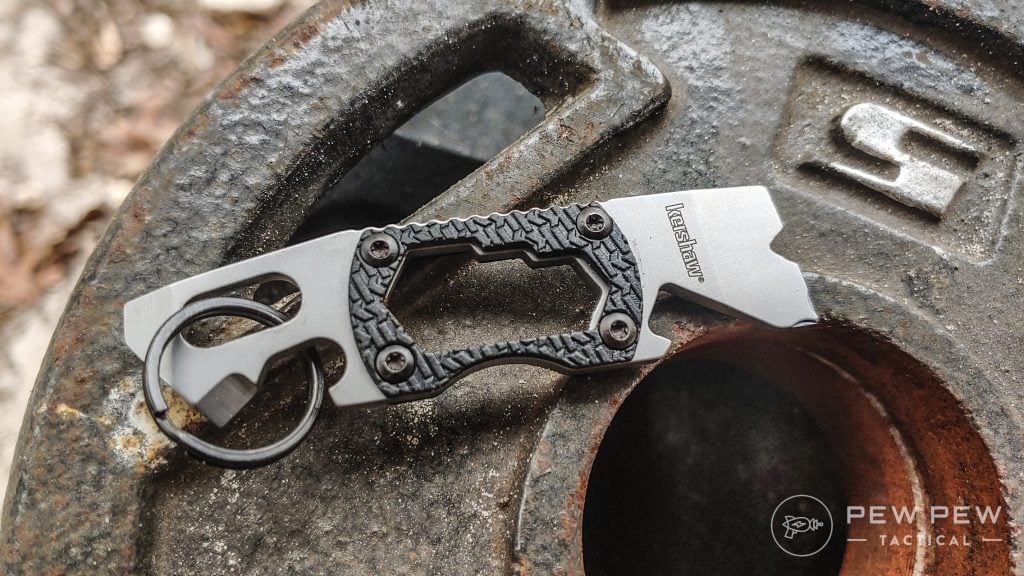 The can opener proves decent, cutting through tin cans with relative ease.
And those three hex drivers built into the handle are pretty cool tools. Not to mention, the G10 grips bring increased comfort and leverage.
Examining the design, we see it adopts a two-headed appearance, granting tons of leverage to work hex screws.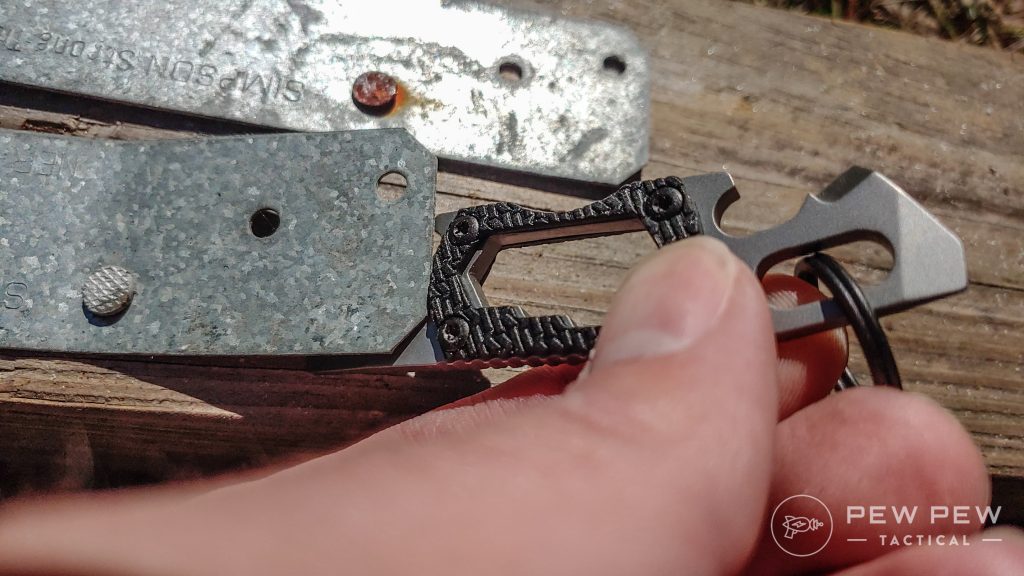 I used it to adjust some steel targets I had, and two of the three hex drivers got it done.
While the flathead driver worked well, the Phillips head driver left something to be desired.
Yes, it works for installing batteries into toys, but it's not great for the average Phillip's head I run across in my day-to-day. Plus, it's small.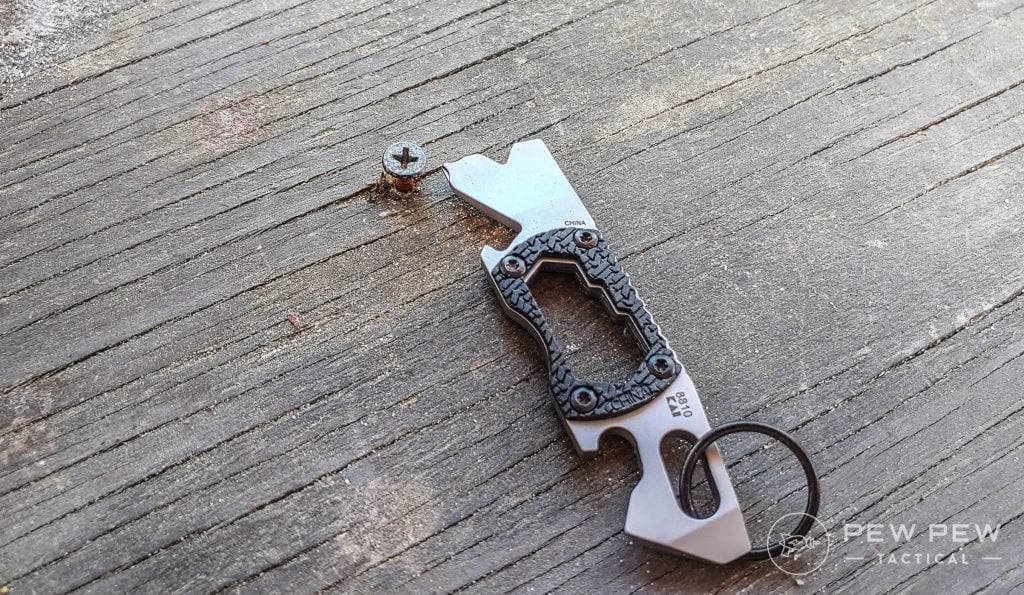 Due to the extra length, you get one mighty pry bar — bracket destroying, if you will.
This earned the top spot as our number one bottle opener as well. I even opened a can of kidney beans with the can opener.
Can openers on keychain tools aren't known for their prowess, but I can't claim it took much difficulty — time, sure, but there's no difficulty to it.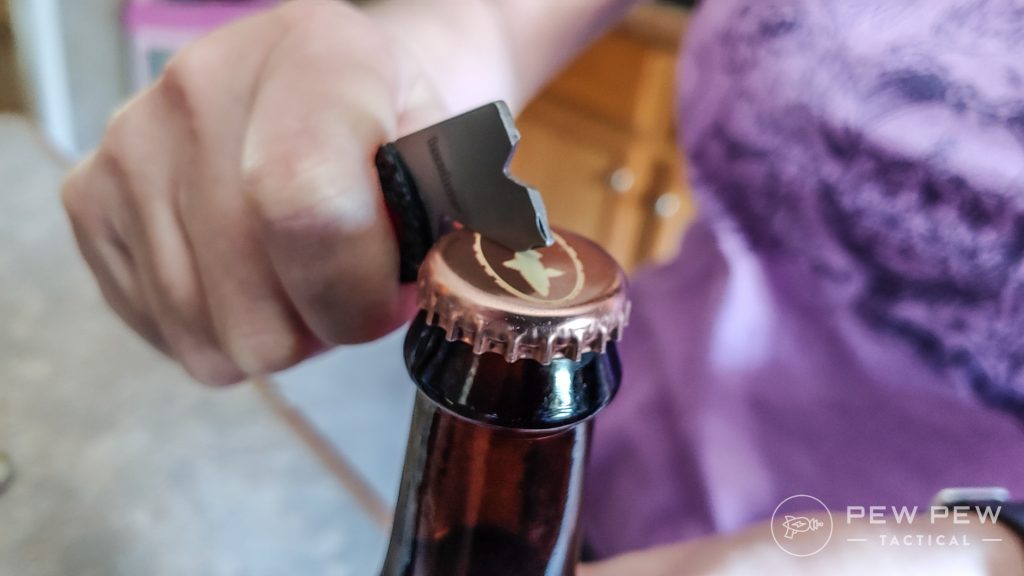 The wire scraper scrapes wires…not much to say here. Not particularly hard or good at it, so average is the word of the day.
However, what stands out about the PT 2 is the grip design. With a super ergonomic design, it was machined for easy use.
The little grip attachments add width but add comfort overall.
8
at Amazon
Prices accurate at time of writing
Prices accurate at time of writing
4. CRKT K.E.R.T.
Tools Provided
Flat Head Driver
1/4-inch Hex Head driver
Seat belt cutter
02 wrench
The CRKT K.E.R.T. gives users a very specialized tool, but, unlike the other tools on this list, the K.E.R.T. is not designed for a whole ton of different EDC tasks.
So, what's it for?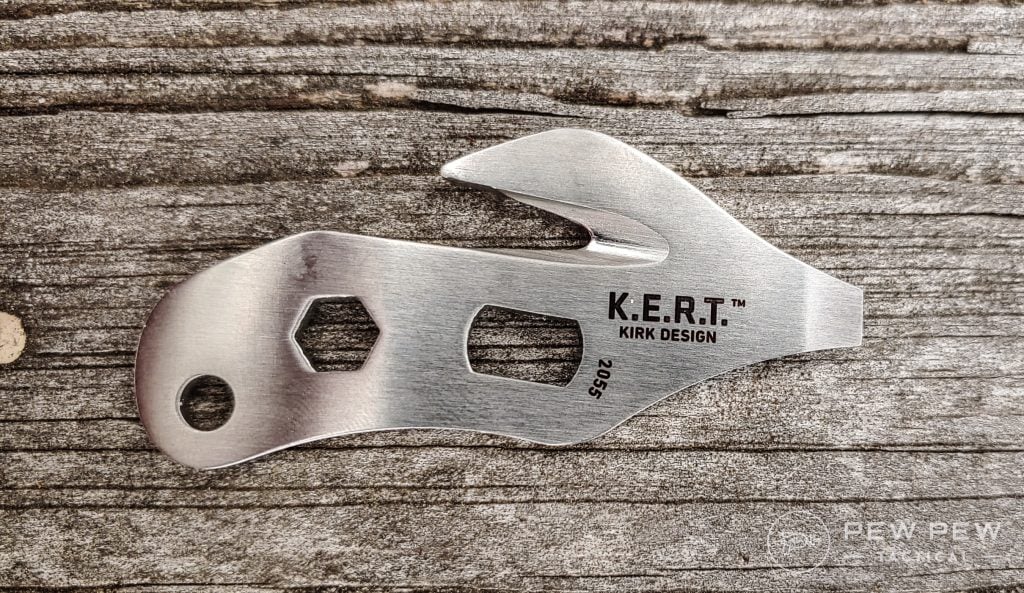 Well, the acronym tells it all — Keyring Emergency Rescue Tool. The name guides the design philosophy.
To start, you get a seat belt cutter (a real standout of the design).
Holy crap, it's sharp!
CRKT ships the K.E.R.T. with a smaller rubber cover to keep the belt cutter covered, and I get why.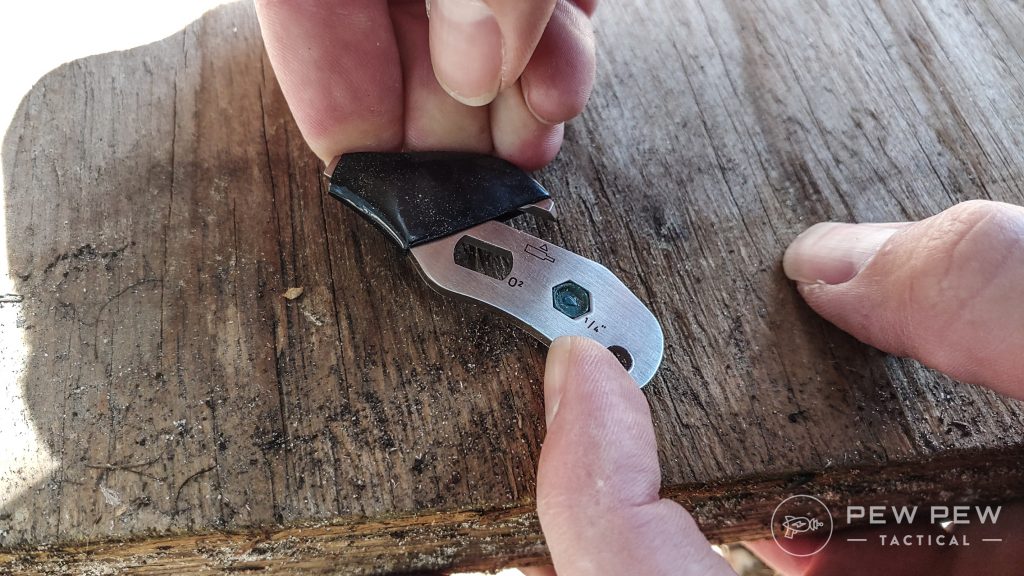 It chewed right through 550 cord, t-shirts, and rags like they were nothing.
I don't keep extra seat belts around, but I have complete confidence it can eat through a seat belt.
Beyond that, it offers an O2 driver for opening…you guessed it, oxygen in emergencies.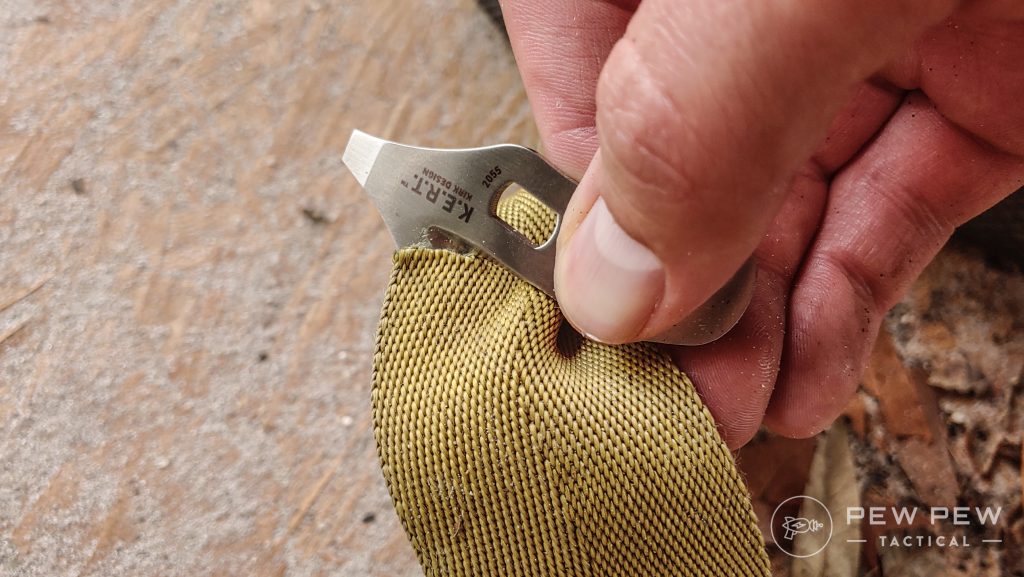 The K.E.R.T. also sports a 1/4-inch hex driver, which proved ultra-smooth when removing hex screws. It fit on with ease and spun them right out.
Finally, the K.E.R.T. houses a flathead screwdriver of moderate size. It seems to fit most flat head screws.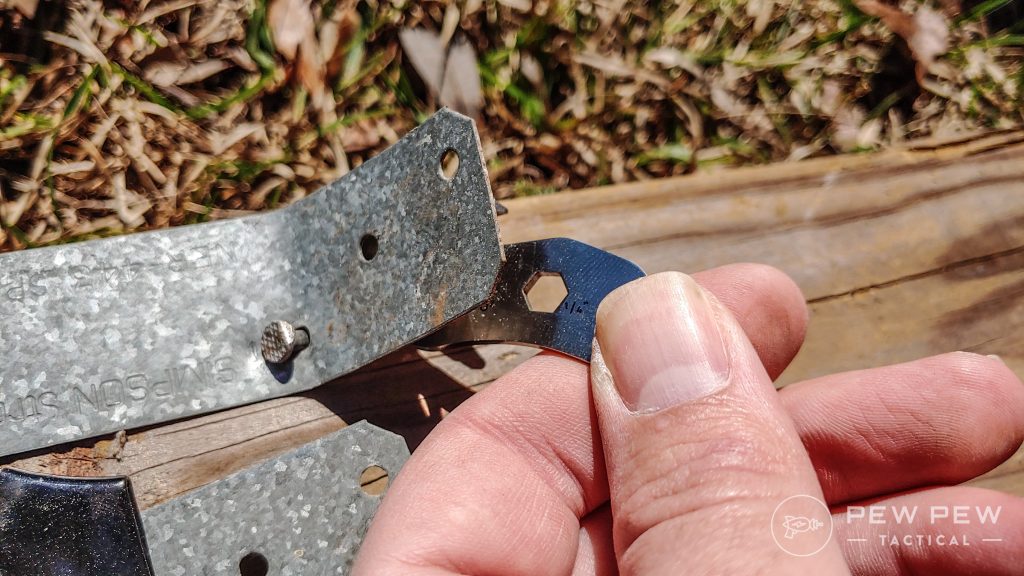 Positionally it sits perfect and offers an easy to twist design that works fast. The K.E.R.T. is easily the most ergonomic in its tool placement, albeit you don't get many tools in the package.
At 2.48-inches, it's short and handy — perfect for keychain use and emergencies.
11
at Amazon
Prices accurate at time of writing
Prices accurate at time of writing
5. 5.11 Tactical EDT Tool
Tools Provided:
Pry Bar
Wire Stripper
3 Hex Drivers
2 Flat Head drivers
Bottle Opener
Ruler
You might associate 5.11 Tactical with cargo pants and button-down shirts, but *surprise* they make a series of E.D.C. tools too.
The 5.11 EDT comes in at 2.83-inches long, packing seven tools in a compact package.
Multiple drivers stand out with the EDT with three hex drivers of varying sizes, starting at a quarter inch and going up.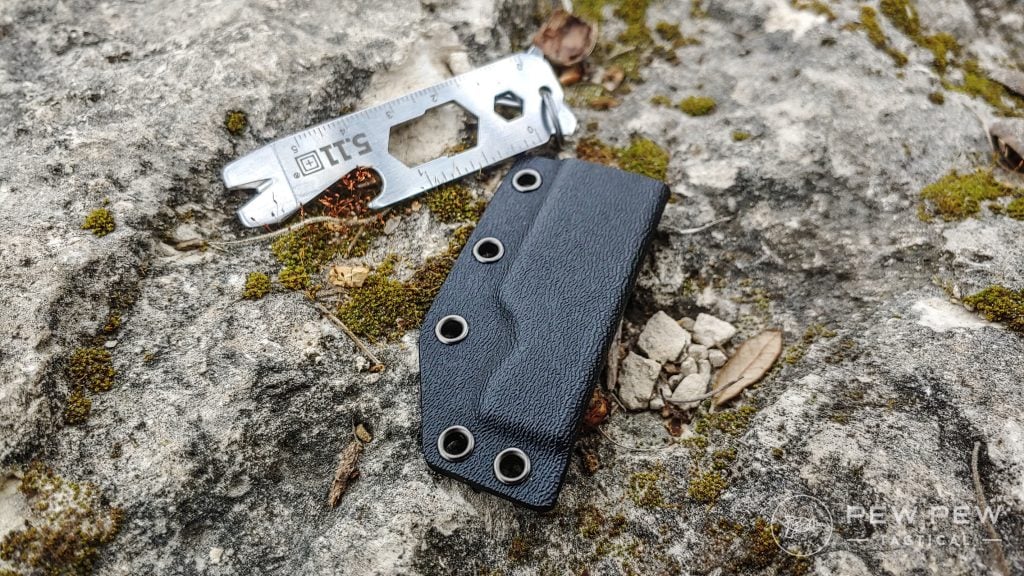 Using the hex driver proved to be a great experience, twisting and spinning out the hex screw without argument.
At the rear of the tool sits two flat head drivers – small and moderate sizes, a little wider than they need to be. So, you gotta shove this sucker into the slot and twist hard.
Though the pry bar looks straight with no upward curve, it pushed the tin bracket up with ease. It's not as simple as the Mullet or Shard, but it gets the job done.
The bottle opener was also super easy to use.
Stripping wires also proved a cinch. The center of the pry bar was quite sharp and cut right through the wire coating – stripped just like Chris Farley in that Chippendales sketch. (Kids, go ask your parents what that joke means…)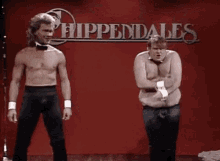 You also get 1-inch and 5-centimeter rulers to top everything off. Tough to screw those up.
Unlike the other tools, the 5.11 EDT comes with a Kydex sheath to protect your pocket from the sharp bits of the tool.
This sheath adds bulk but not enough to fill your pocket, still allowing the EDT to act as the most carry-friendly of these tools.
13
at 5.11 Tactical
Prices accurate at time of writing
Prices accurate at time of writing
6. Gerber Dime
Tools Included
Pliers
Wire Cutter
Tweezer
Knife
File
Flathead driver
Retail Package Opener
Scissors
Crosshead Driver
Bottle Opener
Multitool often conjures up a specific type of look in the mind's eye. And the Dime…well, it likely looks like what you imagine.
Featuring the traditional multi-tool layout, this keychain tool packs 10 tools in a folding design.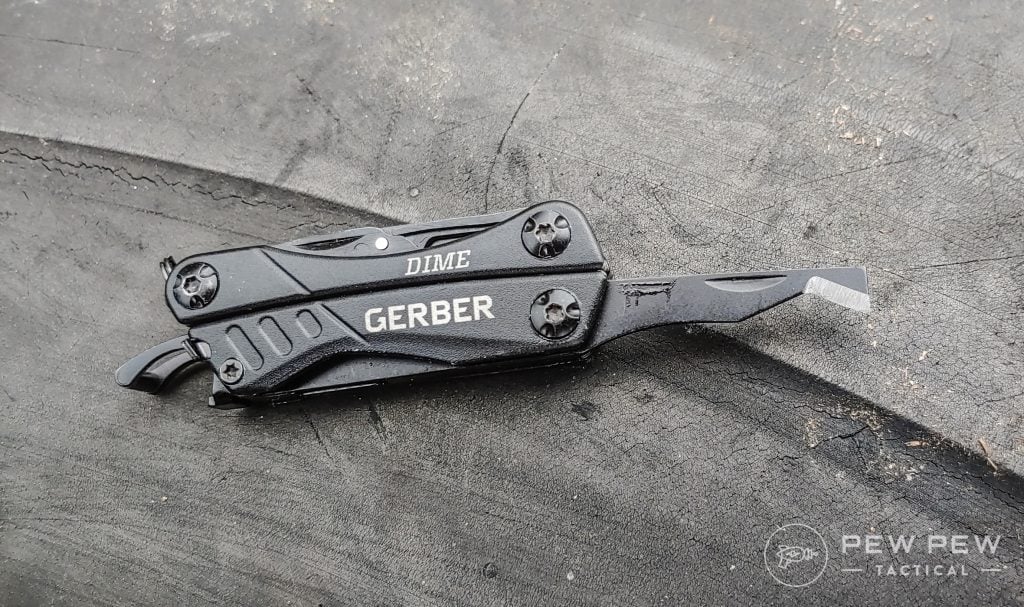 Features include spring-loaded needle-nose pliers and an internal wire cutter. Small handles greatly benefit from the spring-loaded design, making gripping and ripping pretty easy. In addition, you won't have to manipulate the small handles here constantly.
The wire cutter portion eats through the thin wires you find in everyday small electronics, but cutting a surge protector's power cord…yeah, not going to work. You'll need something bigger for that task.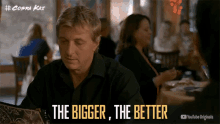 Inside the Dime rests a few more tools, including a small but surprisingly sharp blade. That blade comes in at about an inch in length.
A small set of scissors delivers some fantastic cutting potential for paper, tape, and other thin materials. Of course, you aren't chewing through 550 cord or cardboard with this, but for a simple thing, it works.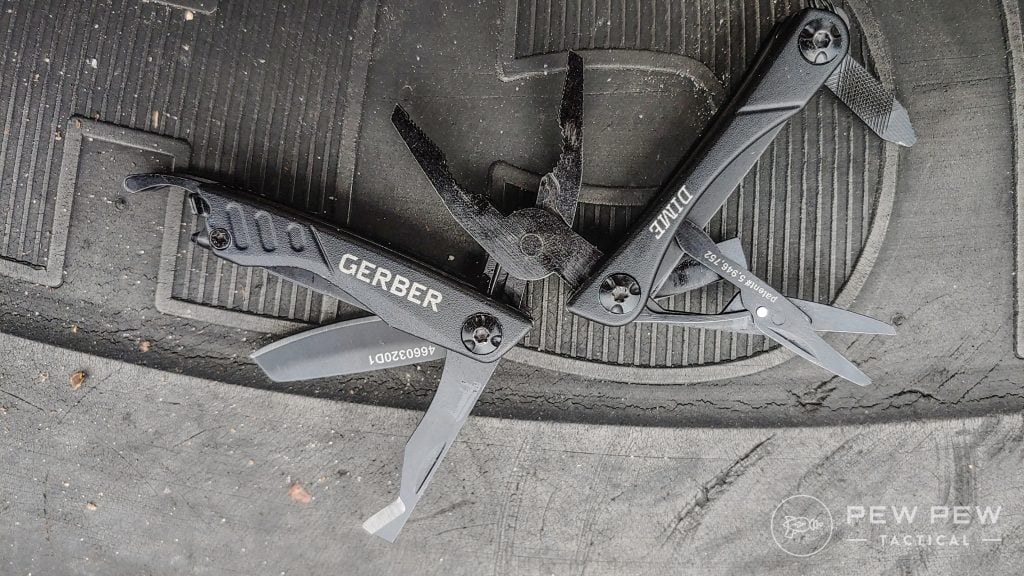 Opposite the knife, you find a retail package opener. At first glance, I had no idea what this was. However, a quick Google search told me this tool chops through the tape that holds an Amazon box together and absolutely kills clamshell packaging without damaging your product.
I've used this particular tool more than any other as of late, and it needs to come standard for multi-tools. Period.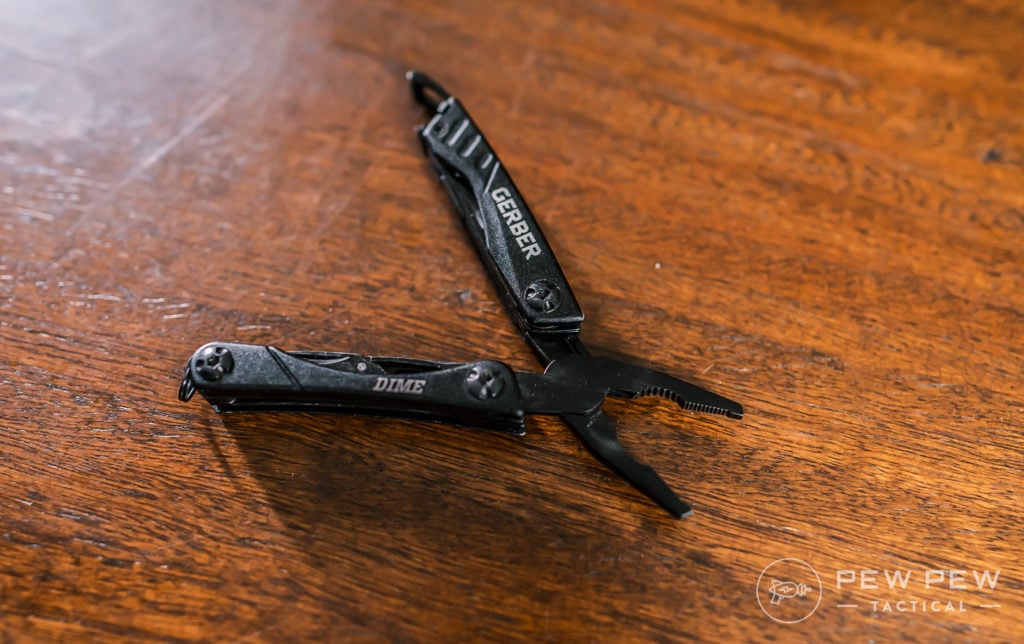 I dig the crosshead driver on this bad boy. It's large enough to work for most tasks. And the folding flat head driver measures short but still stacks up to use.
Finally, don't forget the small set of tweezers that tackle teeny-tiny splinters. Pretty handy!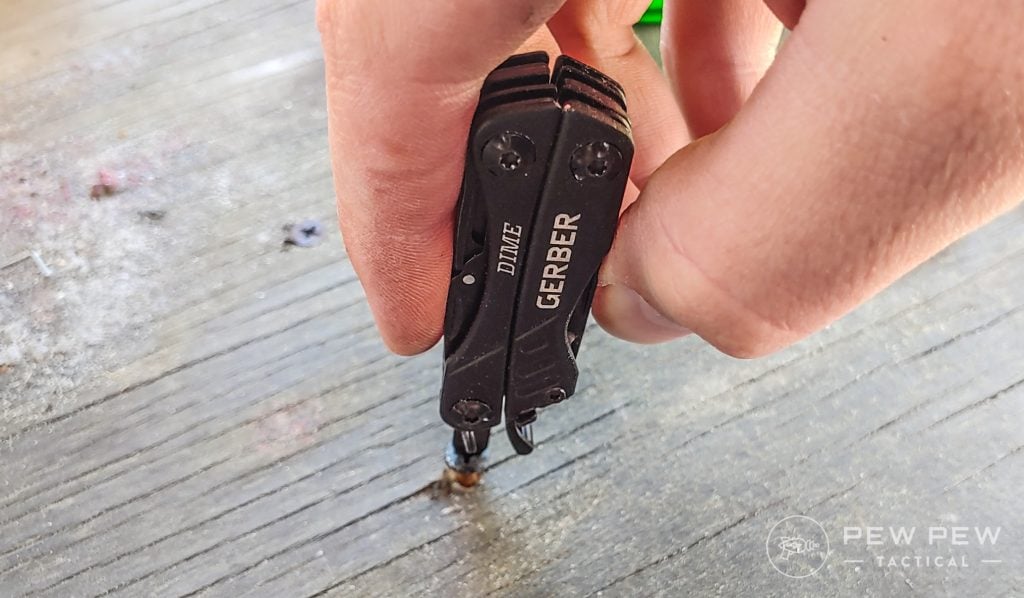 Personally, I love the Dime. Size-wise it measures about the same length as most of the tools, but it's much thicker.
That said, you can forget about taking it in your carry-on luggage. It's not TSA-compliant by any means. (You can thank the blade and likely the retail package opener for that.)
I'd sacrifice the small knife for TSA compliance…but I love the retail package opener too much to say goodbye to that.
25
at Amazon
Prices accurate at time of writing
Prices accurate at time of writing
Have you tried the Dime? If so, give it a rating below.
7. Gerber Key Note
The Gerber Key Note was a SHOT Show knife I saw years ago and instantly knew I wanted.
This tiny little knife is shaped like a key fob, hench the name.
What's cool about this is it doesn't look like a knife.
Gerber's logo serves as a clear inspiration for the knife's frame, offering a shield-like appearance.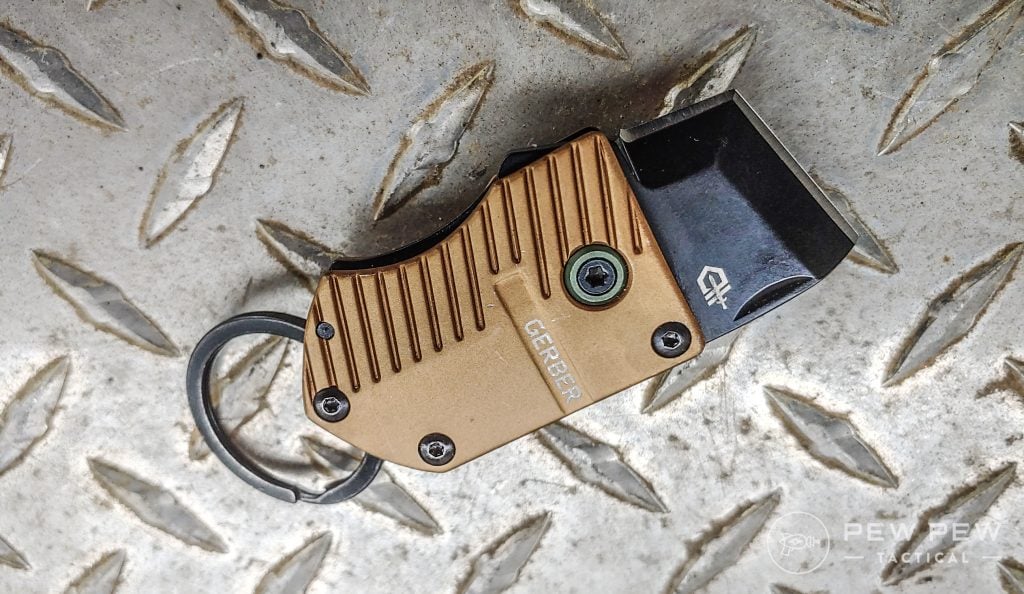 Inside sits a small blade…insanely small. At its longest, the blade tip is 1-inch long and 1-inch wide. It opts for a sharp corner bringing lots of cutting potential and dipping into whatever you cut cleanly.
It's also great for ripping through clamshell material and boxes without damaging the product.
The blade's unique shape makes it a half-decent scraping tool as well.
Overall the Gerber Key Note provides a short but nice blade.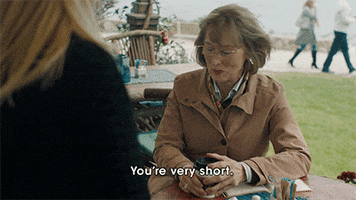 As a blade, the Key Note cuts and will accomplish 90% of EDC tasks without issue.
This wouldn't be my primary knife, but it's a great backup. You can carry it via a keychain or with the optional pocket clip.
Users can choose to remove the pocket clip or keychain portion if they desire to reduce size or bulk.
A low price point and compact design make it a fun little backup knife.
22
at Amazon
Prices accurate at time of writing
Prices accurate at time of writing
8. Streamlight Nano
Finally, before we go, I have to mention the tool that inspired this entire article…the Streamlight Nano.
I got this teeny-tiny keychain light as a door gift, and it's been chugging along with me for years now on my keychain.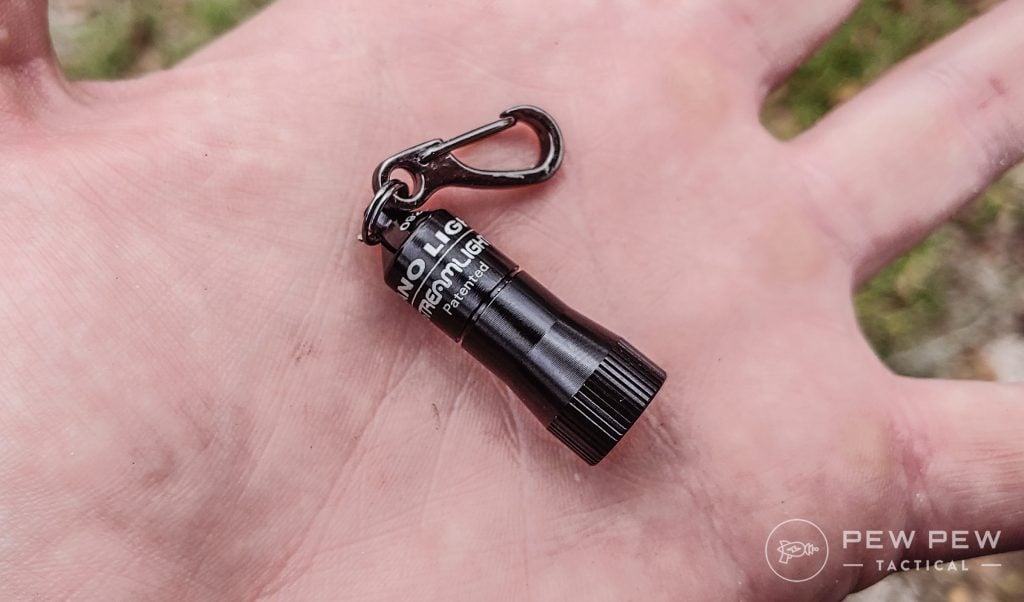 It packs a whopping 10 lumens of power, but that 10 lumens prove quite handy in basic day-to-day situations — like digging through the backseat at night without blinding your driver, in movie theatres, or searching the back corners of my desk drawer.
Riding on my keys (which hang out in my pocket all day), this super-tough light gets dropped, kicked, lost on occasion, exposed to rain/high & low temps…it just keeps going.
Unlike other keychain lights, the Streamlight Nano doesn't require you to hold a button-down constantly. Instead, you just twist the head, and it pops on and stays on.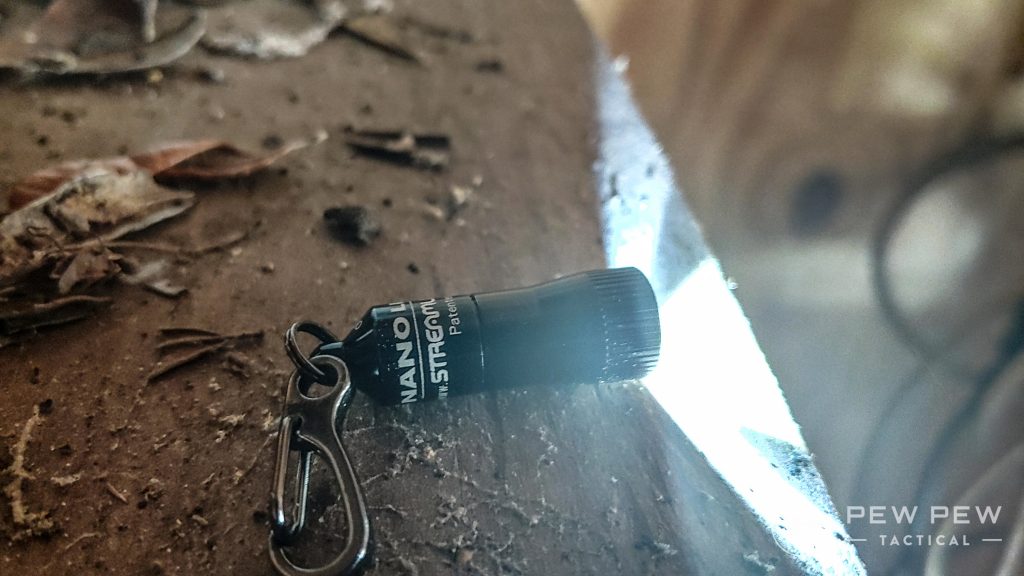 Better yet, it can't accidentally turn on in your pocket.
A more convenient option to my powerful EDC light, the Nano offers a super low price and durable design.
Hell, get one for your kids — they'll love it.
11
at Amazon
Prices accurate at time of writing
Prices accurate at time of writing
Conclusion
Keychain tools bring some handy features to your keyring, from knives to bottle openers to light. In addition, they sport a compact design perfect for on-the-go.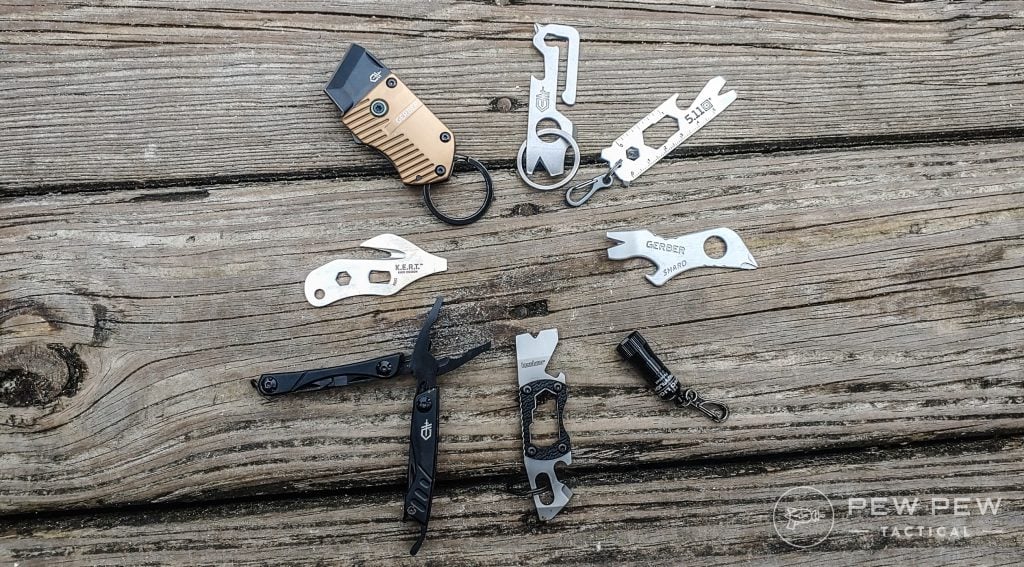 Out of the tools on the market, the above list brought the most versatility and function while meeting a reasonable price point.
What do you think of our list? Are there tools you'd like to add? Let us know in the comments below. In need of some airplane-worthy tools? Check out our list of the Best TSA Approved Tools.