Are you an AR-Fanatic?
Maybe it started because you heard you could save money by building an AR15 instead of buying one?
Joke's on you.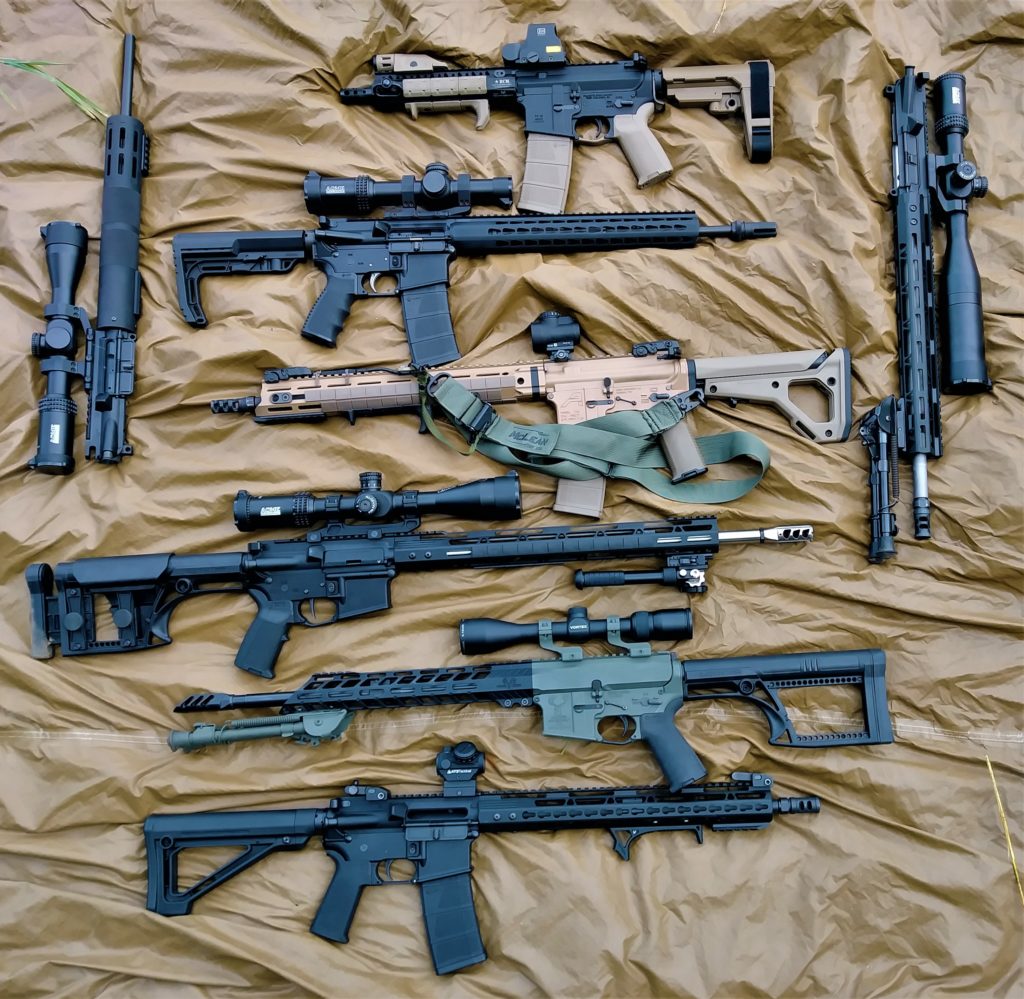 You probably now realize that building just one is a lot like the Pringles slogan "Once you pop, you just can't stop."
Don't worry.
There are many of us that have succumbed to building ARs with the expectation that it will be "the last one." Then a new product comes out, a cool new emblem on a lower receiver shows up, or your buddy gets a shiny rifle in a new cartridge.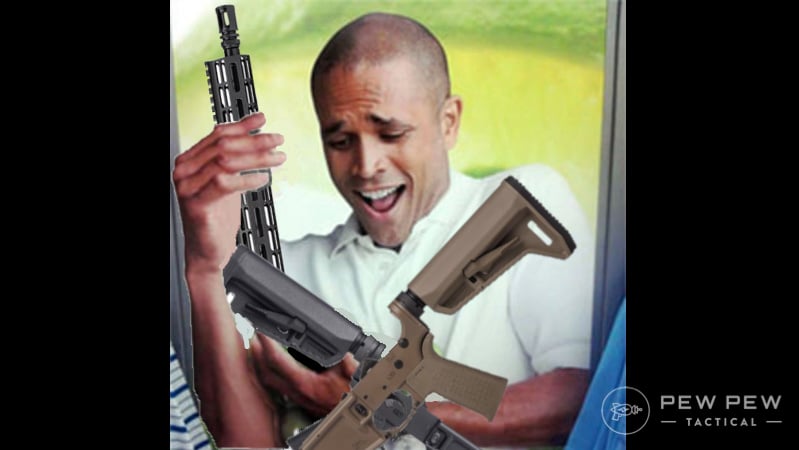 Give in to it. It's fun… even though your wallet may cower in the corner like an abused shelter pet.
Today I'll walk you through my budget AR-15 lightweight build with some AT3 parts and optics!
The Budget Build
Just about everyone has done a budget build if they have built an AR. The budget may vary but keeping price in mind on a build is common.
With the build in this article, I built a rifle for my wife so she can enjoy some range time.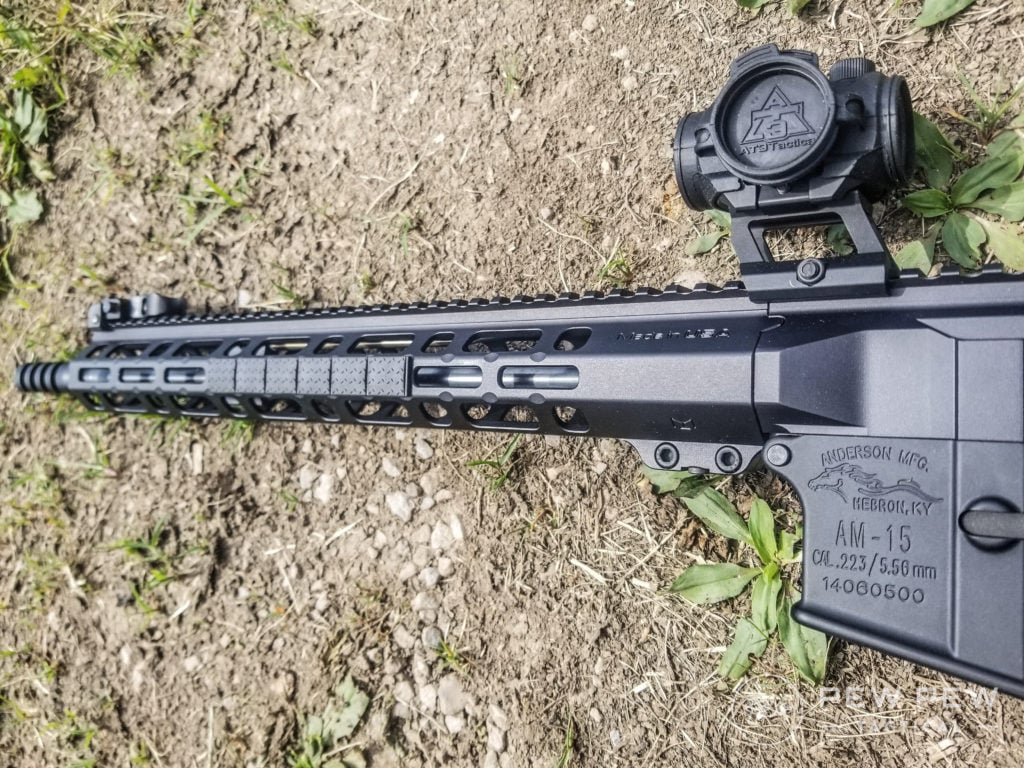 This rifle is the epitome of a budget conscious build and expectations for the rifle followed suit.
I built this rifle keeping in mind that round count would be relatively low and that it lives its life as a recreational plinking rifle.
Affordable options were used for this rifle, and it does its role very well. On my wife's first range trip and never firing a rifle, I had her ringing steel at 300 yards on a steel silhouette with only a red dot.
Proper assembly is paramount!
My Barrel
The barrel that I purchased is a PSA 16" Mid-Length Pencil Profile and is nitrided.
125
at Palmetto State Armory
Prices accurate at time of writing
Prices accurate at time of writing
I went with this option because the price was right, and it is lightweight. I did not want to build a rifle that was too heavy and cumbersome for my wife to handle.
At a little over 6.5 lbs., this rifle handles well.
The barrel along with a Bowden Tactical compensator provides flat shooting and surprisingly accurate groups at 100-yards with Barnes TSX 62-grain loads.
75
at Lucky Gunner
Prices accurate at time of writing
Prices accurate at time of writing
I typically average between .75-1.75 MOA accuracy with just about any load I have fired through the barrel.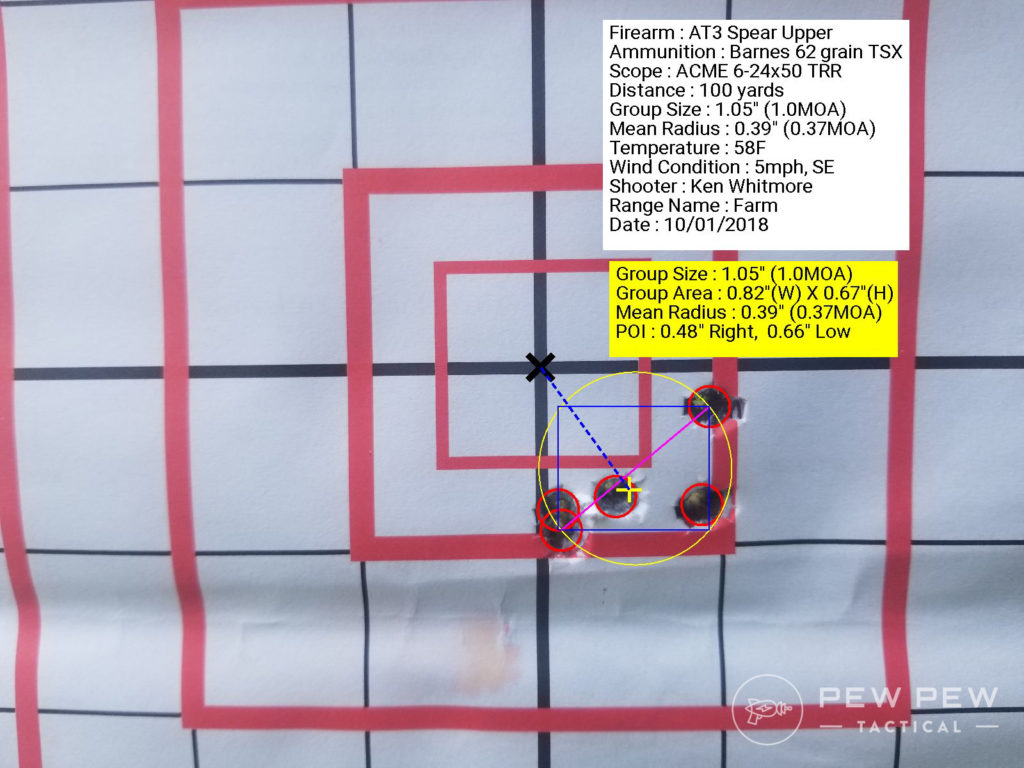 My Bolt
The bolt carrier group (BCG) is a Brownell's nitrided model with a 158C steel bolt. I am a very big fan of these BCGs. For the price, they are hard to beat when on sale.
140
at Brownells
Prices accurate at time of writing
Prices accurate at time of writing
They are high-pressure tested (HPT), and magnetic particle inspected (MPI) on an individual basis.
This is important in my opinion when buying a BCG. There are lots of options out there that will probably serve you well in a budget rifle, but I don't skimp on the individual testing.
Another important thing to keep in mind is grade 8 hardware at the gas key and shot peening. This BCG checks all those boxes.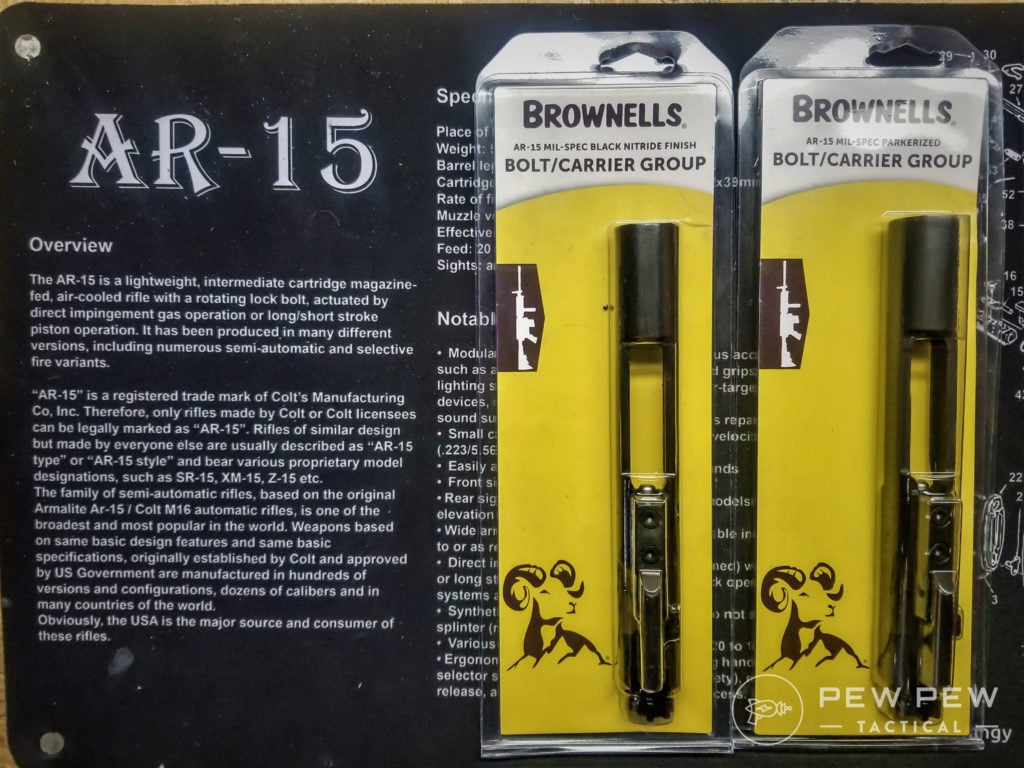 On top of that, the staking is incredibly well done any time I have bought this BCG.
Material is thoroughly displaced into the head of the screw at the gas key. It gives you a nice warm and fuzzy feeling for reliability, and the price is right when they go on sale.
The Lower
The receiver that I used was an Anderson Manufacturing.
At this point, just about anyone knows about Anderson and their affordable receivers. Lines have been drawn, and people have picked their sides on the internet.
Most Affordable
42
at Kentucky Gun Company
Prices accurate at time of writing
Prices accurate at time of writing
My lower receiver has bounced around a bit before finally resting as my wife's rifle.
It has seen a fair round count estimated at roughly 6k rounds. Full disclosure, it is just barely out of spec, but for its purposes, it works.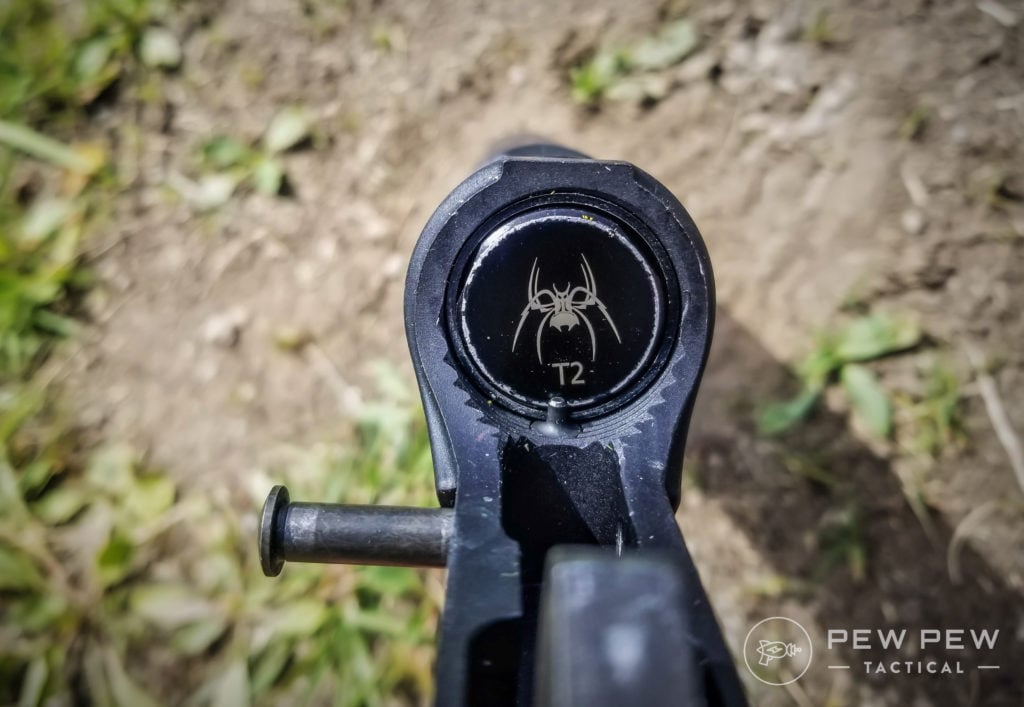 The infamous buffer retainer hole is barely out of spec and does cause a very small amount of damage to the face of the buffer.
It doesn't chew up buffers like a rabid chipmunk, but it has left minor wear in the same location. And I mean VERY MINOR.
The Upper and Handguard
The upper and handguard are from AT3 Tactical. The handguard is their Spear model and is a matched set that incorporates anti-rotation tabs on the handguard to mate into the billet upper receiver.
The upper is a billet 6061 aluminum with a matte black anodizing, but Cerakote options are available.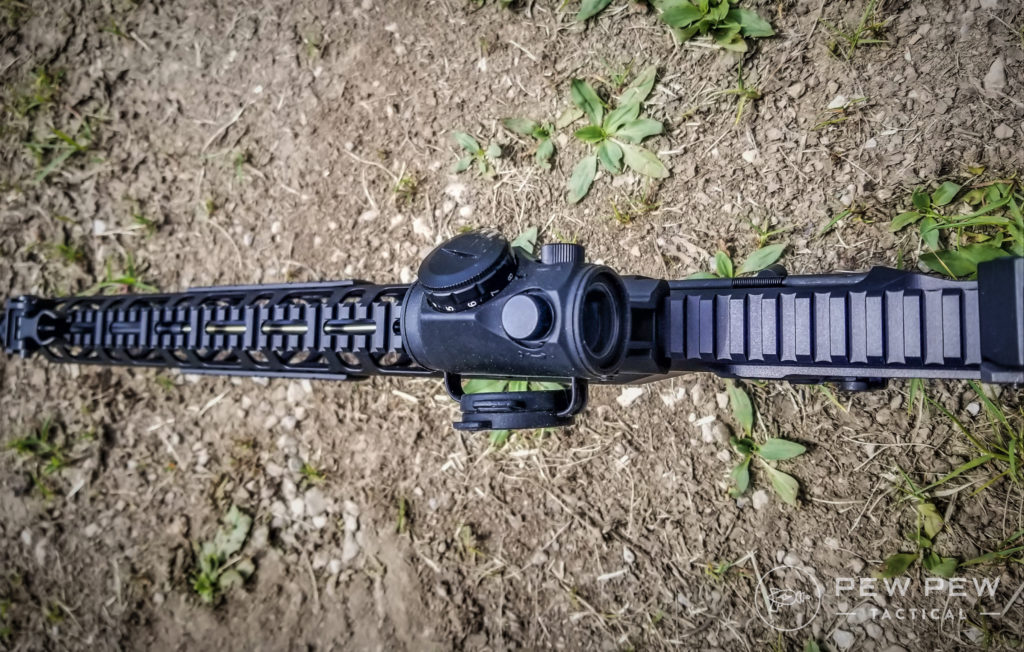 This upper does not have a forward assist. For a range rifle that is for plinking/recreation, there is honestly no need for it.
This ultimately keeps the weight relatively low for a billet upper, and it keeps the weapon streamlined.
Sizes available for the handguard are 9", 12", and 15". My model is the 15" length in MLOK. The handguard is top-notch.
All edges are smoothed out, and the handguard mounts securely via clamping bolts, the anti-rotation tabs, and two set screws that bite into a milled notch on the barrel nut.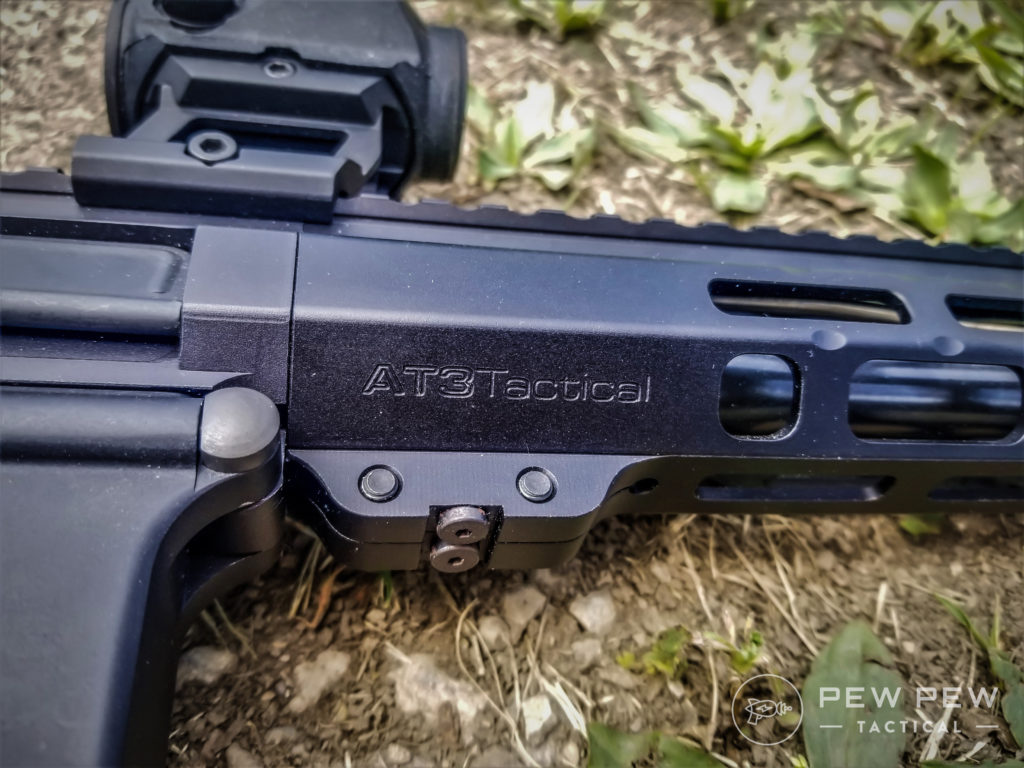 I would highly recommend this handguard and upper configuration. Especially at its price!
When bought as a package, this matched upper and handguard set costs $149.99-164.99 depending on size with their black anodizing. Cerakote options cost slightly more but remain under $200 at the high end.
The Stock
The stock chosen for this build is the Mission First Tactical (MFT) Minimalist. It is a lightweight and tight-fitting stock that has served me well in other applications.
At under 6 oz., the MFT Minimalist is one of the best lightweight, adjustable options on the market today.
48
at OpticsPlanet
Prices accurate at time of writing
Prices accurate at time of writing
The stock is ergonomic and is comfortable to my wife due to its adjustability. I used a CMMG M4 receiver extension, and this stock is incredibly solid.
There is zero wobble in the stock which can be noticeable with other heavier options.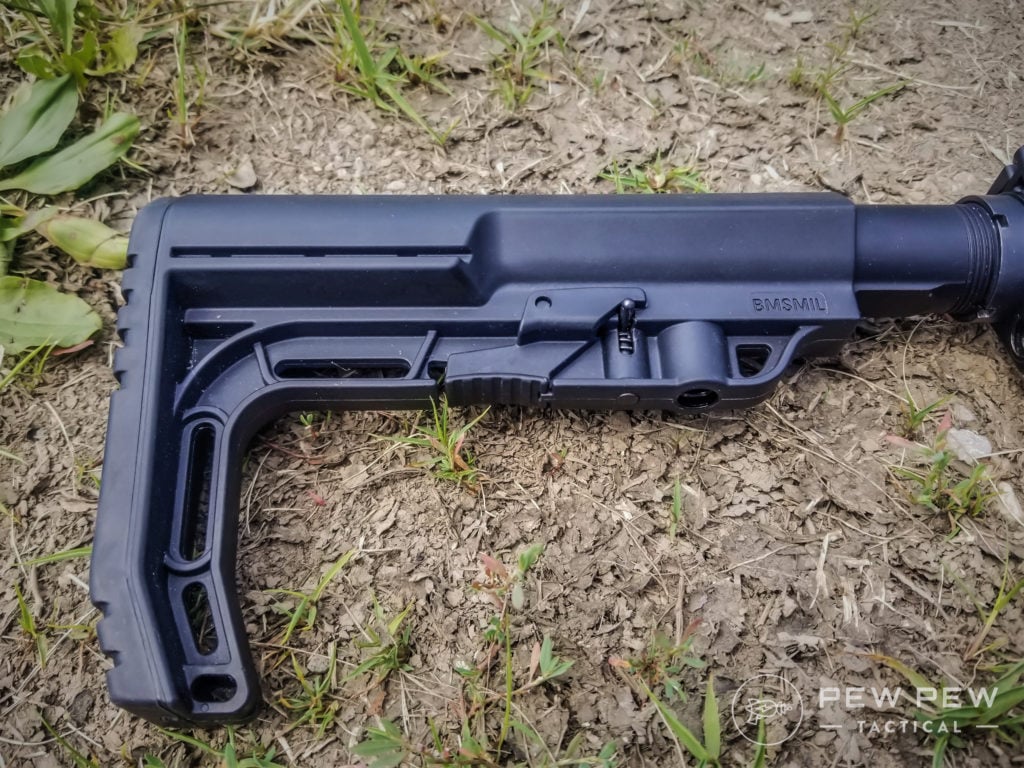 To reduce felt recoil, I chose a Spikes Tactical ST2 buffer. It uses powdered tungsten as the weight, and it does noticeably smooth out felt recoil.
Between the buffer, the mid-length gas system of the PSA barrel, and the efficient Bowden Tactical compensator, recoil stays low and allows for fast follow up shots.
The Optic
The optic mounted on this rifle is an AT3 RD-50 red dot. It has an absolute co-witness riser mount, with a rubberized cover that acts like armor.
It has a 2 MOA dot, and in previous testing and experience with this red dot, it holds up very well to abuse and recoil.
For the price, the AT3 RD-50 is one of my favorite inexpensive red dots.
With its 2 MOA dot, long battery life and ability to hold zero, it has proven to be a quality red dot for a very affordable price of under $99 with mount. The 2 MOA dot allows repeatable hits out to extended ranges.
99
at Amazon
Prices accurate at time of writing
Prices accurate at time of writing
If you wondering how the AT3 does in a destruction test… We've done that too!
Parting Shots
The AR market is highly driven by inexpensive parts for people on a smaller budget. There is A LOT of options out there.
The items that I discussed above are just a small sample of what you can go with for your next budget-minded build.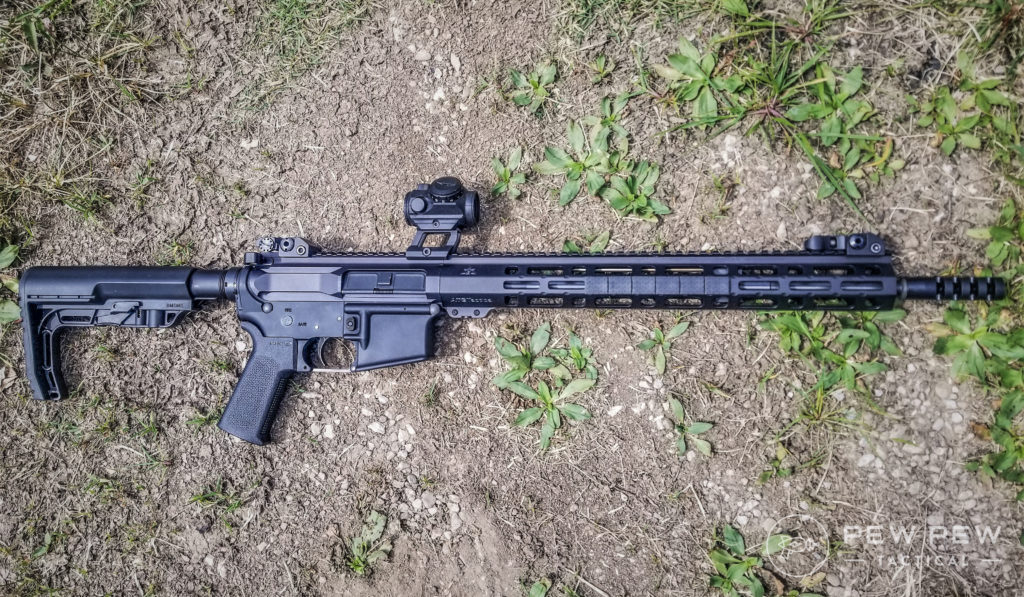 What are some of your favorite inexpensive handguards, receivers, barrels and BCGs? If you have a budget build that you're ready to take to the next level, take a look at the Best AR-15 Upgrades!