Who doesn't love raw light power! Seeing a beam cut through the darkness and go and go can be a fun time.
I recently took two lights from a company called Acebeam for a spin.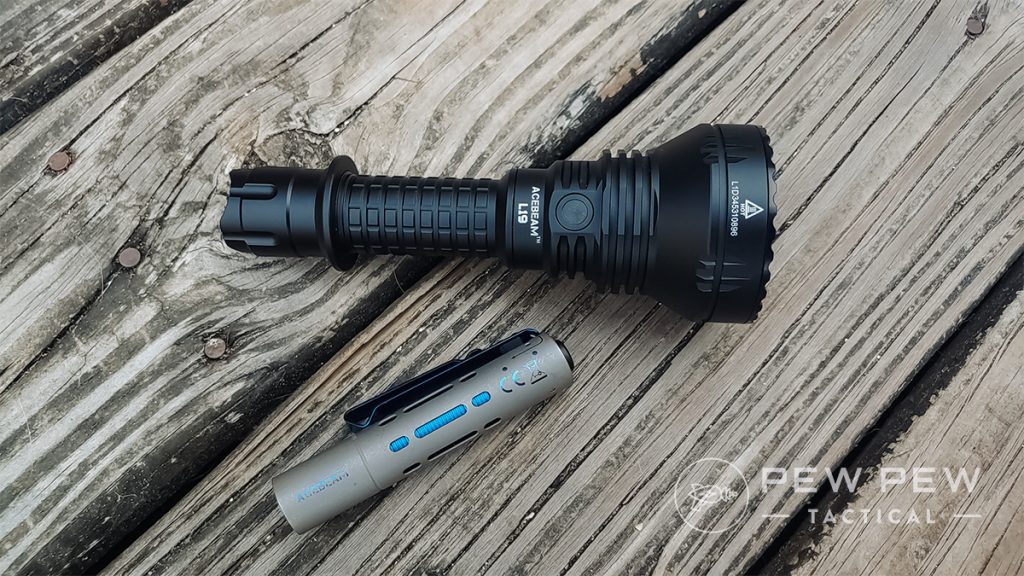 When I got the offer to review a couple of their lights, I decided I needed a good peek at their entire catalog.
I settled on their smallest EDC light, the Rider RX, and their biggest tactical and potential weapon-mounted light, the L19 2.0.
Table of Contents
Loading...
Review at a Glance
Pros
Come with rechargeable batteries
Insanely powerful for their size
Tough and element resistant
Easy to use
Cons
Bottom Line
The Acebeam L19 offers you a backyard spotlight like no other. It's superbly powerful and casts a beam quite far when needed to. This little light is well suited for camping, hiking, hunting, and making sure nothing comes of that bump in the dark outside.
118
at Amazon
Prices accurate at time of writing
Prices accurate at time of writing
The Acebeam Rider RX delivers pocket-friendly power for all your EDC needs. With the Rider RX, you get a rock-solid little light that fits in your pocket without complaints. It offers plenty of power and several modes for accomplishing a variety of tasks.
53
at Amazon
Prices accurate at time of writing
Prices accurate at time of writing
Specs & Features
Acebeam L19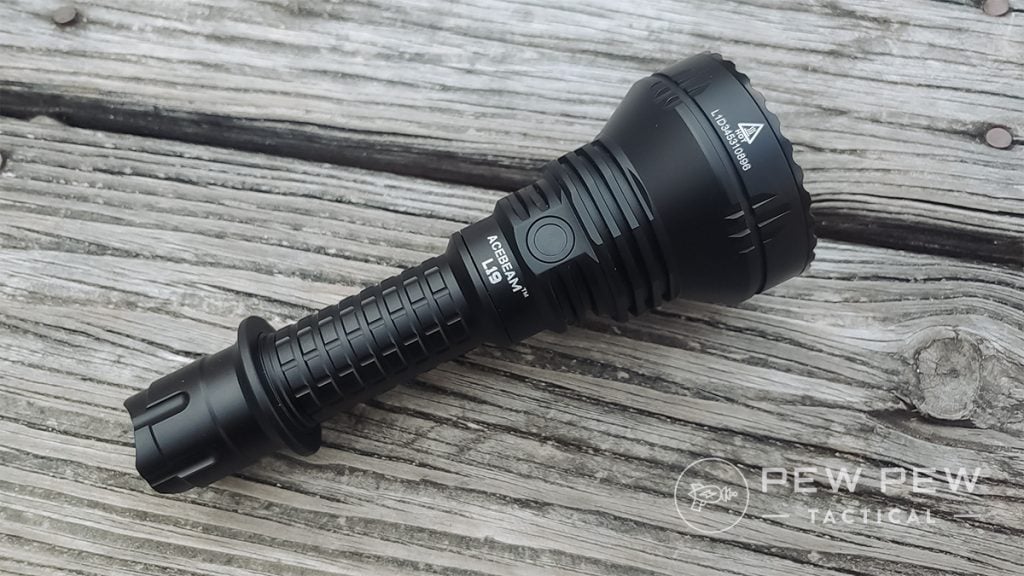 Max Lumens: 2200
Max Candela: 293,222
Length: 6.44″
Head Diameter: 2.36″
Tube Diameter: 1″
Weight: 10.03 oz
Acebeam Rider RX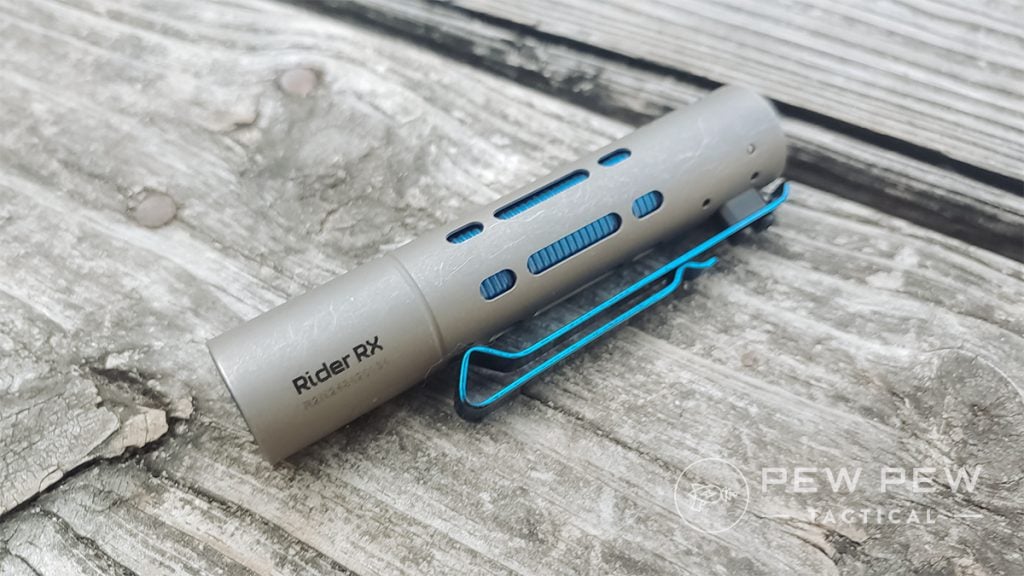 Max Lumens: 650 lumens
Max Candela: 2,304
Length: 3.76″
Head Diameter: .73″
Tube Diameter (with Clip): 1.02″
Weight: 2.45 oz
Background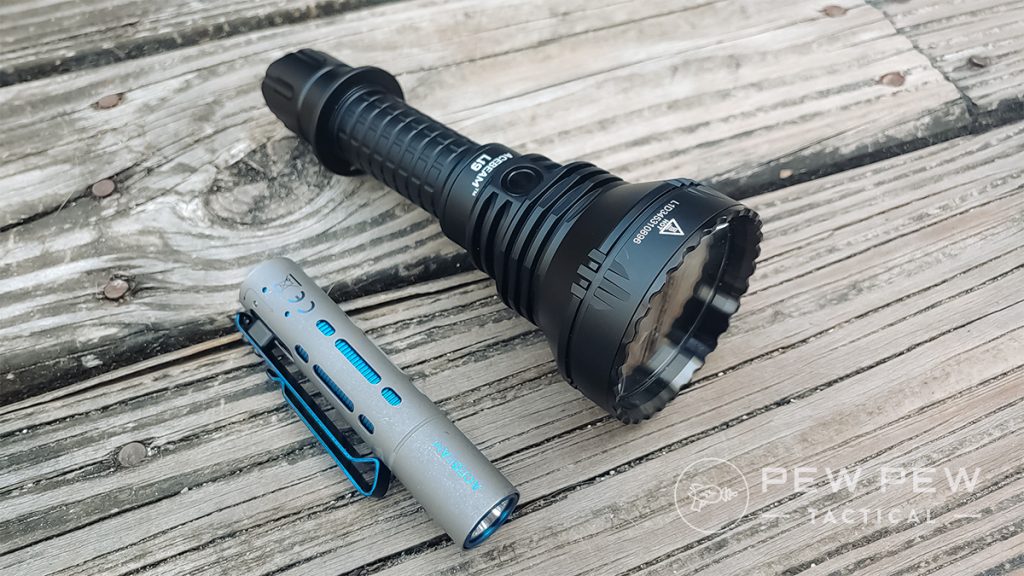 Acebeam is new to me in terms of lights, and it wasn't a company I'm familiar with by any means.
According to their website, they produce over 20 million units a year in 89 countries and hold 12 trademarks. They are more than just a small light company making more than just basic lights.
After a little research, I found that Acebeam makes some of the most powerful, far-reaching, and focused lights on the planet — lights that measure their candela in fractions of a million.
At the same time, these lights are fairly affordable and well suited for a variety of tasks.
The Rider RX is a bit of an oddball. It's a pocket-sized light with lots of power and an odd metal shroud built around the kit. The shroud certainly adds some strength to the design and likely shields your hand from some of the heat the light generates.
Acebeam also advertised the bolt-action design of the shroud and light as a fidget. Don't ask me why I need a fidget, but they are all the rage when it comes to the kids these days.
The L19 2.0 goes beyond EDC and packs a butt load of power in a somewhat compact package. It's not EDC ready but well suited for belt carry for outdoor use. Power is this light's wheelhouse, and boy, it's powerful.
This powerhouse of a light throws the beam far and carries brightness with it. Don't expect a floodlight. It's focused more like a laser than your typical flashlight.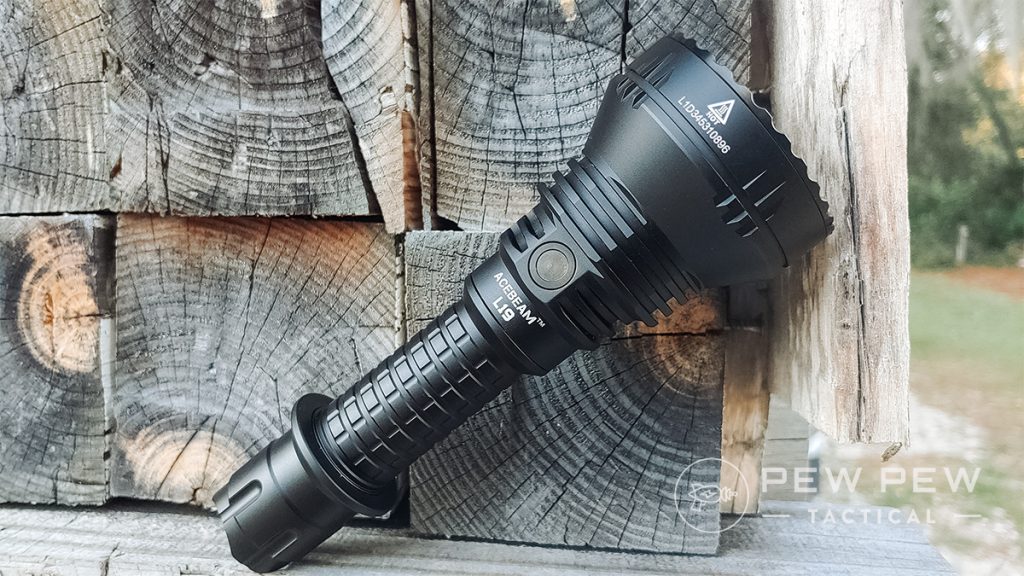 It's hard not to appreciate the fact flashlights are getting more and more powerful. I remember the days of humping these big plastic lights that fed from what had to be a 2-pound battery to even get a fraction of the power of modern lights.
Seeing what these two little lights could do is impressive, especially compared to lights of old.
Acebeam is an Olight competitor in terms of producing high-powered, budget-friendly lights. The main difference is they seem to be very upfront about how their lights step down from max power to lower levels of light.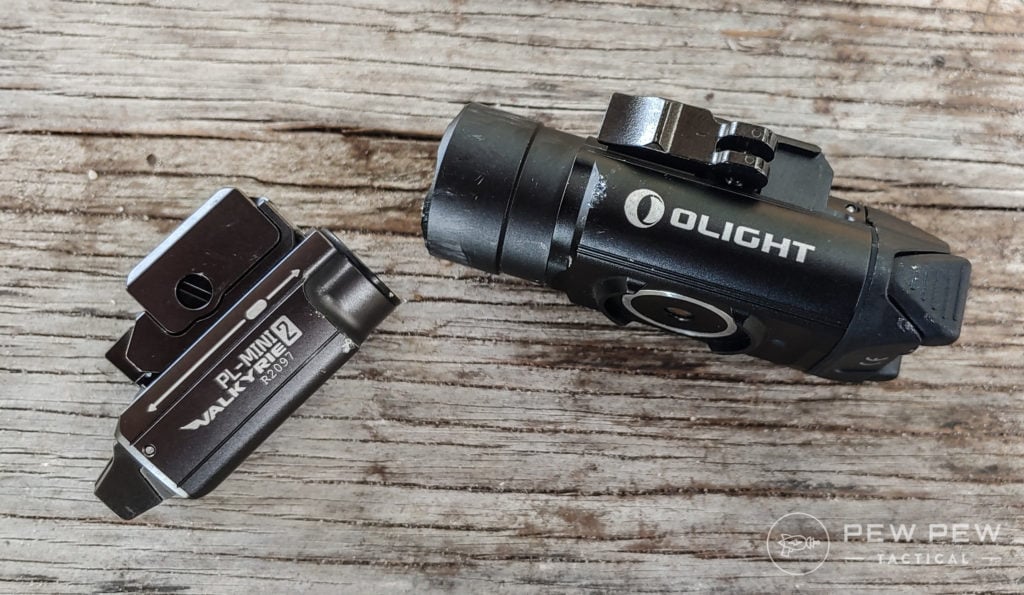 The Acebeam L19 and Rider RX both come with removable, rechargeable batteries that can be charged via USB-C cables, and those cables are included. It's plug and play, and the two lights are ready for use out of the box.
The Rider RX can utilize a AA battery but gives you the most power with the included Li-ion 1400 battery. The Acebeam has a massive 21700 5100 mAH battery for long life and lots of power.
Who Is It For?
The Rider RX suits the needs of everybody looking for a small, easily portable EDC light. It's small, pocket-sized, and incredibly handy. The little light's various modes make it easy to use anywhere and everywhere.
Pop it into the 7-lumen mode for the movie theater when you accidentally dropped your keys, or turn it up to 650 when you take the pup for a walk.
The Acebeam L19 gives you supreme power for outdoor's use. Those 2,200 lumens and nearly a quarter-million candela provide you with nothing but raw power.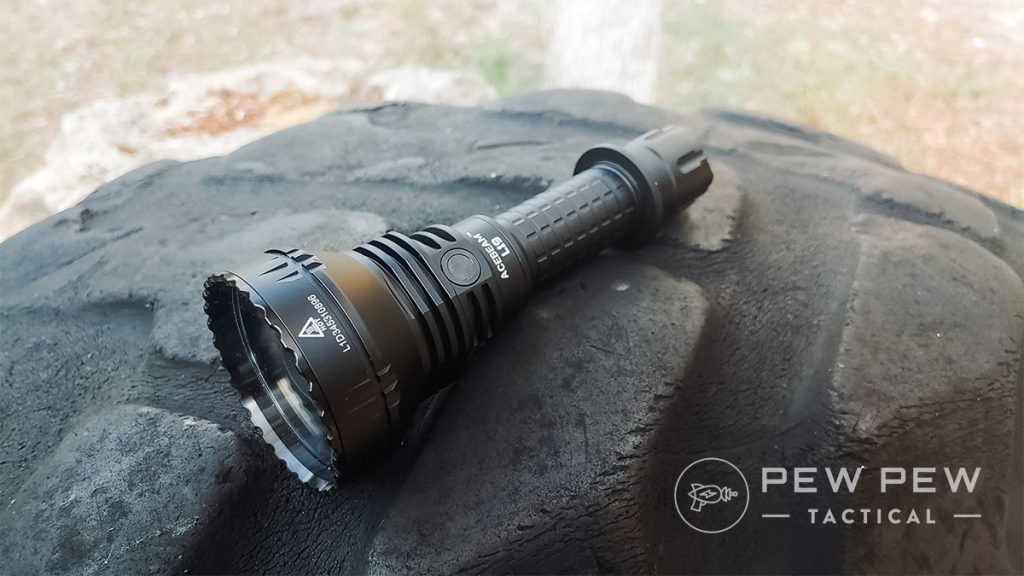 It's perfect for tracking a wounded animal as the sun sets, searching, and locating dang near anything in the dark.
It's a portable spotlight that works wonderfully when you need to see farther than average in the dark. On top of that, the various lower modes allow it to be a handy little light for doing basic outdoor activities.
If you enjoy the outdoors and activities like hiking, hunting, and camping, then the L19 is for you.
Fit & Feel
The L19 features a long grip and textured handle as well as a lanyard for increased retention. The black finish gives it a professional appearance, and several cooling fins are necessary due to the light's crazy amount of power and generated heat.
Users get both a rear and a front switch.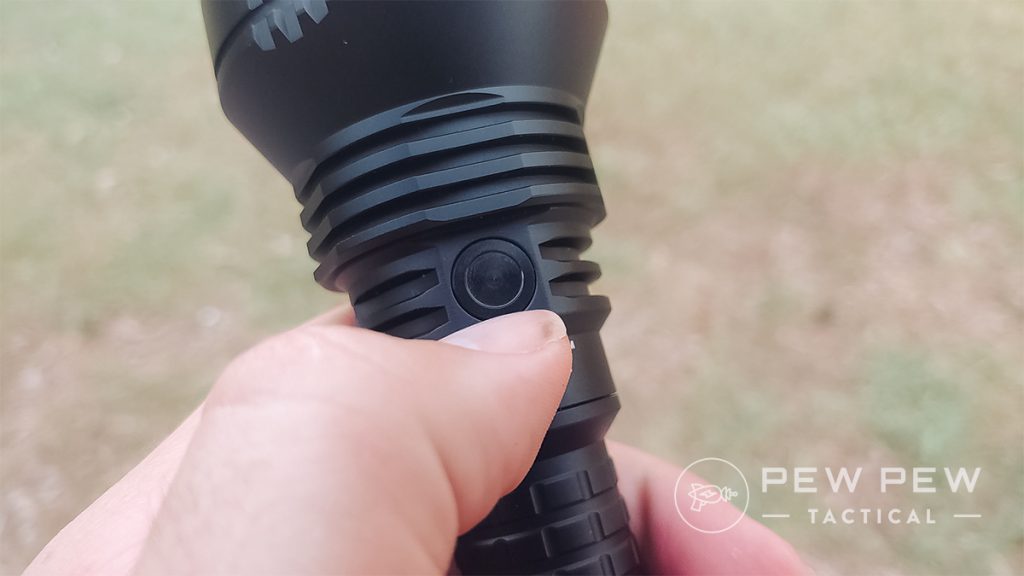 A much smaller front switch allows you to control the various modes of the light. You can hold the button down, and it will cycle through various brightness levels and then save the last chosen light option.
The rear button always kicks things up to 11 with the maximum brightness setting the light's capable of.
Its handle ergonomics allow for several different grips. This includes over and underhand.
A big rear ring allows you to brace the light between two fingers and hold it in a balanced manner. While heavy, the light isn't too unbalanced or difficult to wield.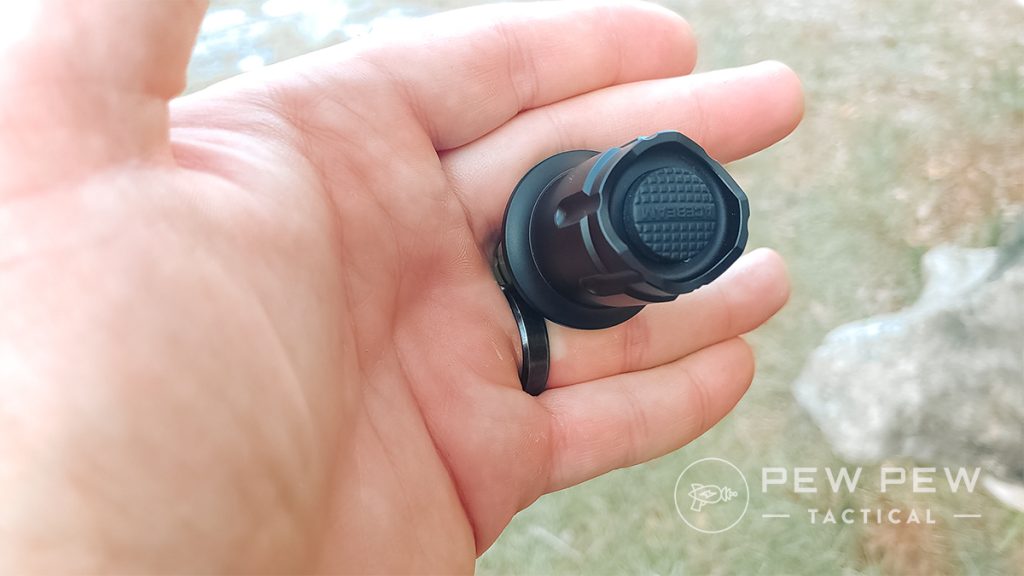 What you see is what you get from the Rider RX.
It's a little fella that fits the hand well, and the external shroud offers you a nice solid grip with plenty of little slots for extra grip factor. At the rear, we have a single clicky button to control the light.
Obviously, we get on and off, but a series of quick presses cycle the light through its various modes and brightness levels. Once you've selected a mode, the light will save it as long as you don't repeatedly turn the light on and off.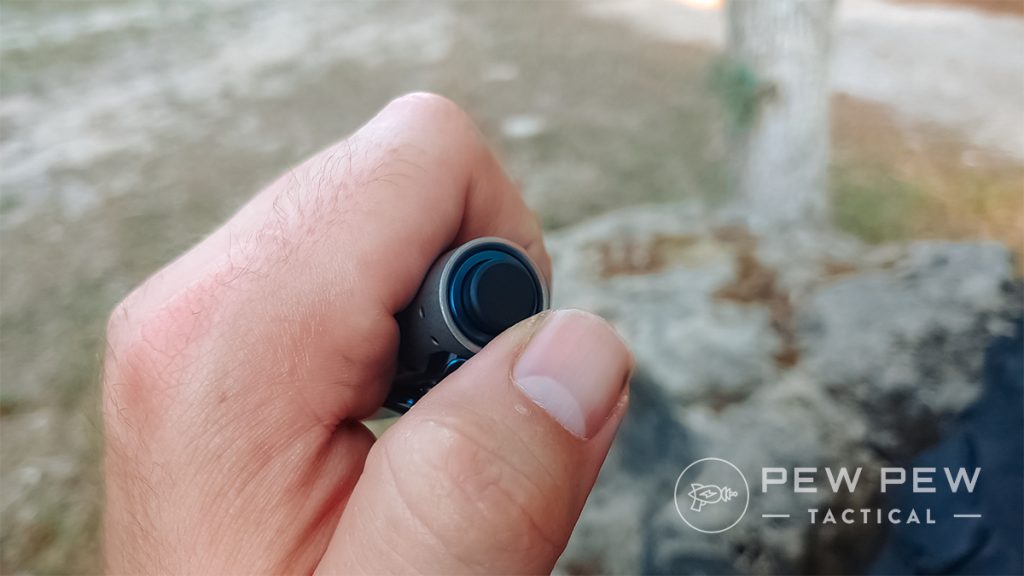 The small size allows you to carry it any way you wish in any number of ways. And the pocket clip allows you to toss it on a hat, on MOLLE, in a pocket, or wherever else you might need it.
How Does It Shoot?
My oldest son and I took these lights out for a multitude of night missions.
By night mission, I mean we went looking for all manner of animals in the country oasis we live in. Here's a fun fact, shine a flashlight across your yard. Do you see those glowing little dots across your lawn?
Those are spiders. My son and I walked up on many different huntsman spiders doing their thing, and he was quite amazed at how many lived in the yard.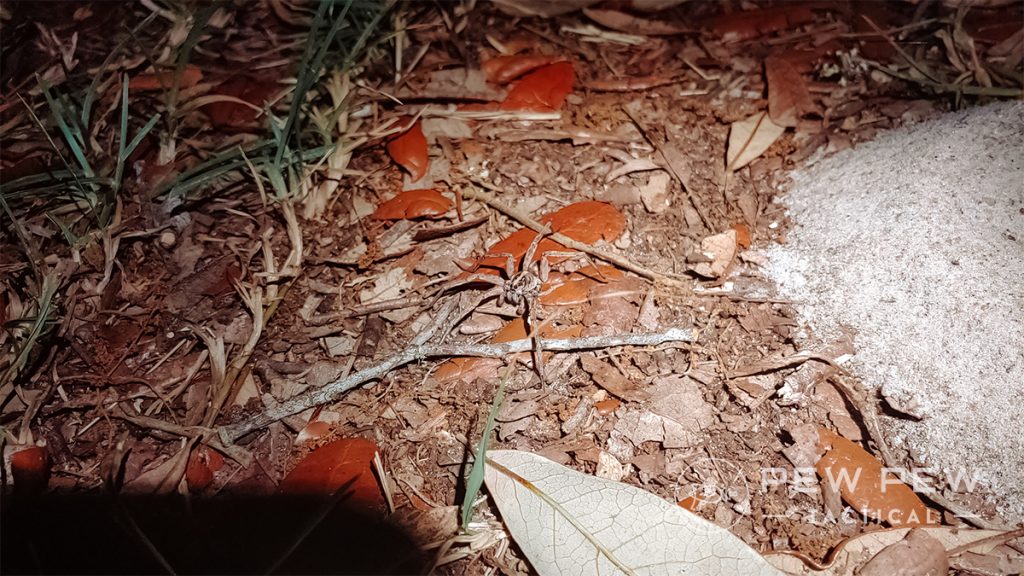 The Acebeam L19 picked them up across the yard, hundreds of yards out, and the Rider RX allowed us to post them up close and get pictures like these.
We also spotted about a dozen little rabbits hopping through our field, and the L19 lit them up as if it was concentrated sunlight.
It sent most hopping away, but we snagged a few graining photos of them as they skittered away.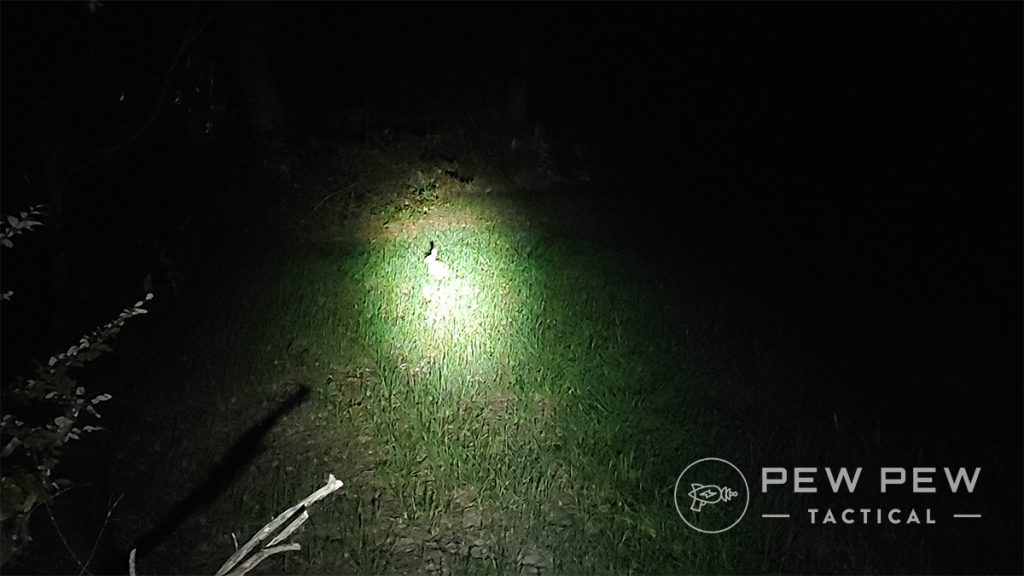 The L19 is powerful enough that at night we could clearly see a green street sign a quarter-mile away. A set of binoculars or a monocular would be needed to make the most of this intensely powerful light.
At 100 yards, I had no issues identifying a target, it was vivid and bright, and I could see the little gong without a problem.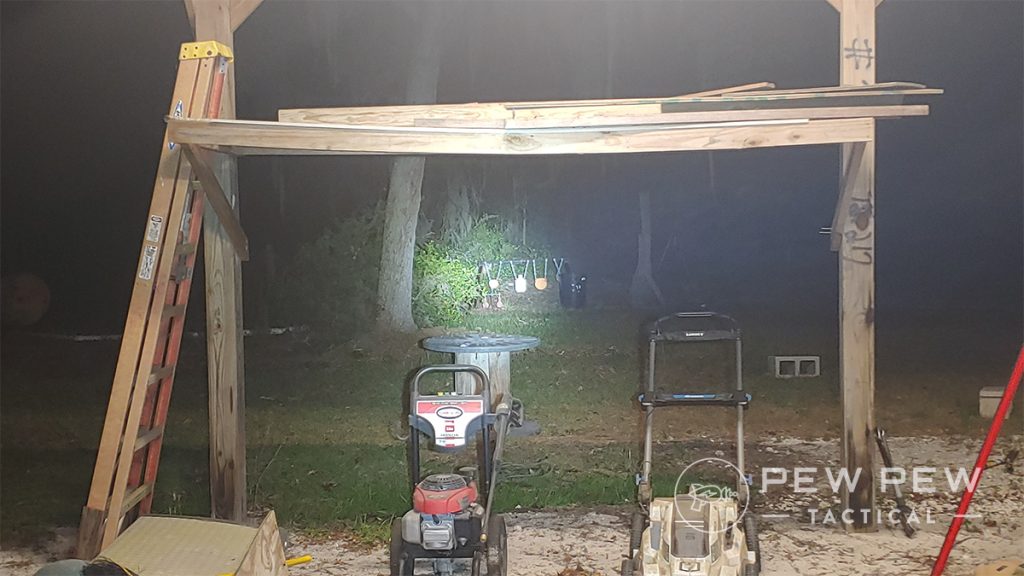 Acebeam gives us a turbo mode which gives us 2,200 lumens for 1 minute and 50 seconds before it steps down to 1,600 lumens for ten minutes, and finally, it steps down to the light's high mode, which is 1,200 lumens for 1 hour and 26 minutes.
Beyond high mode, we have a 630-lumen mode, a 300-lumen mode, a 100-lumen mode, and finally, a 1-lumen moonlight mode.
That 1-lumen mode is great for reading in your tent without bothering others or wasting power, but not much more. The moonlight mode barely illuminates the gong at point-blank.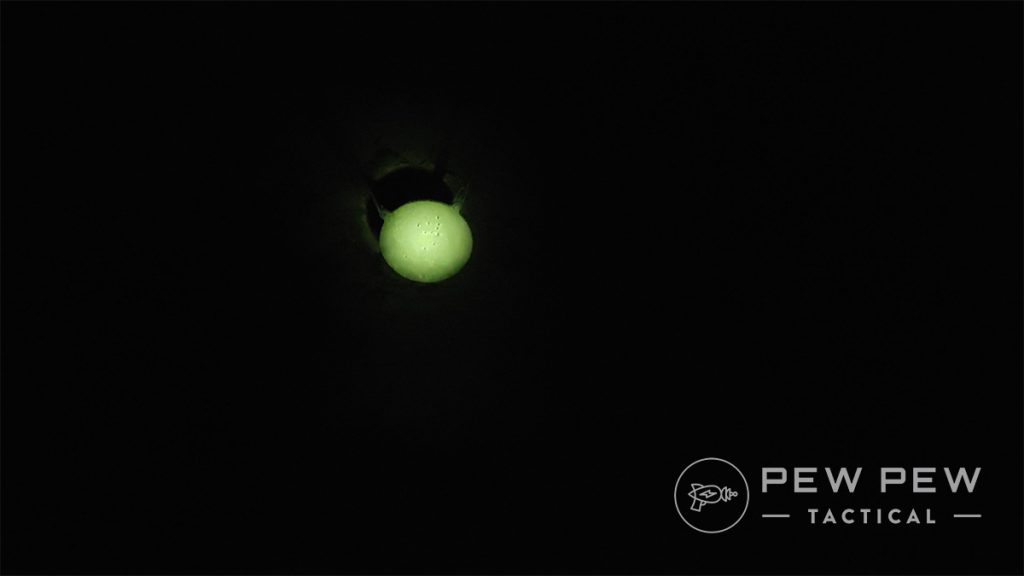 The Rider RX packs a lot less candela but plenty of power for basic navigation on a moonless night. At the high mode of 650 lumens, it shines fairly far for a little light. Nothing exceptional, but it works and works fairly well.
We stepped back to 25 yards and could see the gong fairly easily.
The various modes of the Rider RX include the turbo mode of 650 lumens, which steps down after two minutes to 450 lumens for six minutes before reaching 330 lumens which remains running for 55 minutes.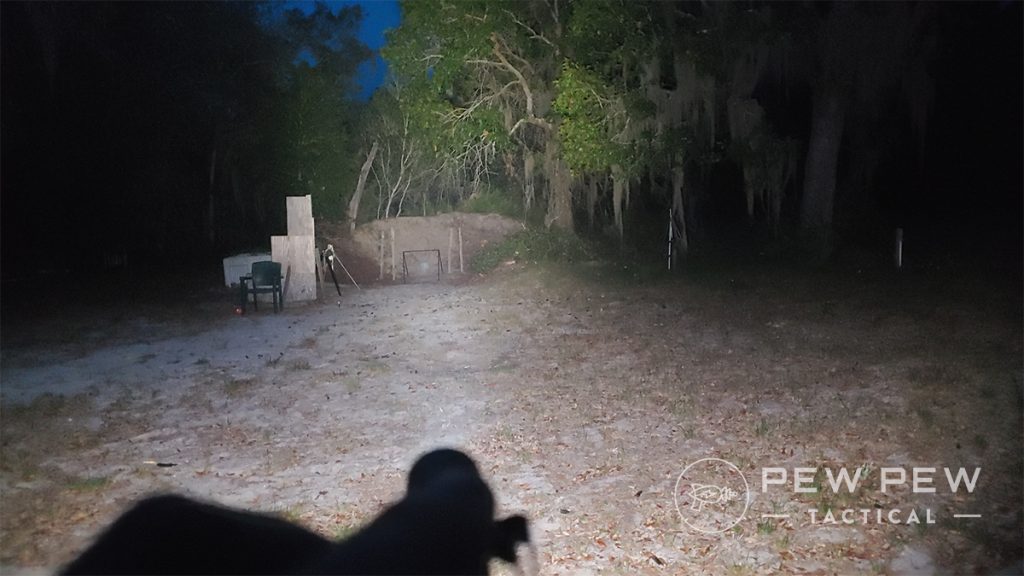 Beyond the turbo, we have a high mode of 280 lumens, a low mode of 70 lumens, and an ultra-low mode of 7 lumens.
Again 7 lumens isn't much and works best for what's basically a reading light. Still, sometimes you just need a reading light.
What Sets It Apart
Acebeam's L19 stands out for its focused and super-bright beam.
It's not a beam that fills your peripheral vision with light. We get an intensely focused beam designed to maximize range and distance beyond spill.
The Rider RX stands out because it's a fidget!
Okay, yeah, that is an interesting feature, but in reality, what makes it stand out to me is its dual-fuel capability. If the battery dies, you can drop in a AA, and bam, you're good.
By the Numbers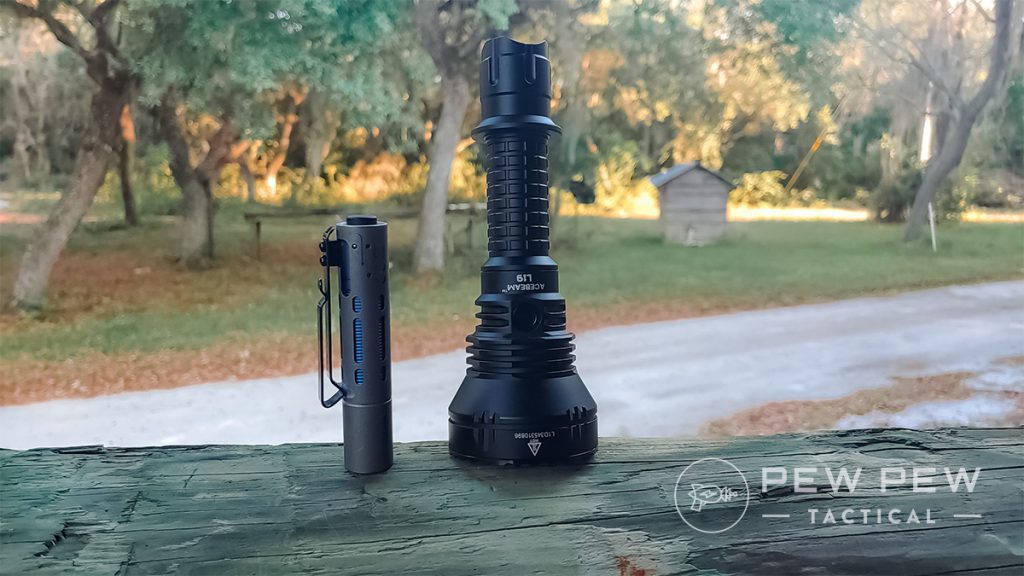 Acebeam L19
Ergonomics: 4/5
The Acebeam L19 is a little heavy and certainly won't be a typical EDC item. Outside of its size and weight, the L19 features excellent ergonomics with a great grip texture, a retention ring, and a nice-sized grip. The buttons are tactile and reactive, and I only wish we had a momentary mode.
Durability: 4/5
Acebeam delivers upon its promise of drop resistance up to 1 meter and water and dust ingress protection with an IP68 rating. It's not your typical balls-out military flashlight, but for the average user, it's tough enough.
Brightness: 4/5
The light is super bright and very powerful. It's extremely capable, and the light shines bright and far…until the turbo mode drops out. That's the reason it loses a single point on the brightness scale.
Value: 5/5
For $120, the L19 isn't priced out of its ballpark. It's a backyard spotlight that can be carried on your waist. What's not to love?
Overall: 4.5/5
118
at Amazon
Prices accurate at time of writing
Prices accurate at time of writing
Acebeam Rider RX
Ergonomics: 5/5
The Rider RX is small but very handy and easy to use. It fits in your pocket with ease, and the small but reactive button allows you to instantly engage the light and swap between various modes.
Durability: 4/5
Like the L19, the Rider RX features an impact resistance of 1 meter and an IPX68 rating. It's waterproof and submersible, so you won't have any worries in that regard.
Brightness: 3/5
For a little light, it's great, but it's still a little light. It's not a duty-grade flashlight, but the Rider RX is perfect for EDC tasks.
Value: 5/5
The Rider RX is another affordable light that won't break the bank. It's tough, bright, and durable and doesn't cost an arm and a leg.
Overall: 4/5
53
at Amazon
Prices accurate at time of writing
Prices accurate at time of writing
Final Verdict
Call me interested in Acebeam's lights. I'm not quite a light nerd, but I might be on my way.
Seeing neat lights like the L19 and practical lights like the Rider RX show that Acebeam does variety well and doesn't go too expensive with their price points.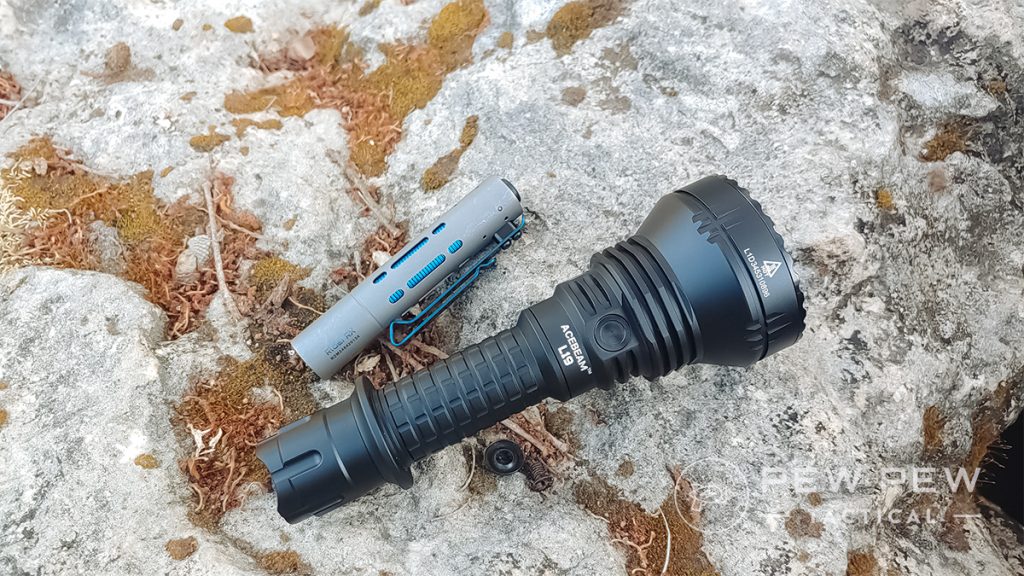 I might not slap one on my AR-15 for home defense duties, but I think Acebeam makes solid tools, and you would have a winner with either of these lights.
What do you think of Acebeam? Let us know in the comments below. For more lights, check out our Best Tactical Flashlights.