Something you'll see a lot of on Pew Pew Tactical is optics…and pictures of optics…and pictures looking through optics.
We've come up with some… interesting set-ups over the years to bring you these pictures, mostly because we haven't been able to find a product on the market that did it for us and actually worked.
Until now.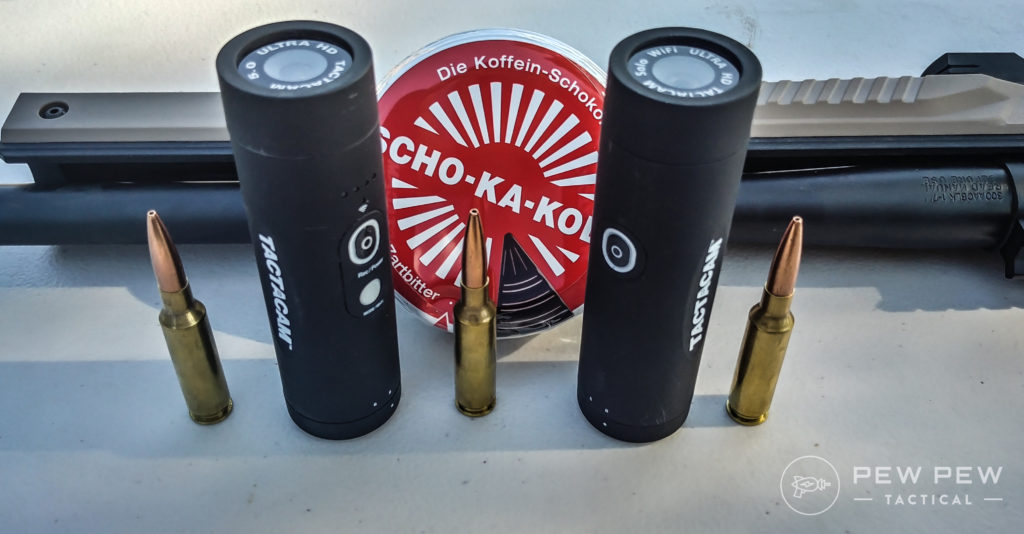 Finally, the Tactacam and FTS Mount is here!
The Tactacam is simply put a very durable, purpose-built camera, and optic apparatus that serves to allow you to take great pictures and video while using your scopes, spotting scopes, shotguns, bows, and more.
Basically, everything that an outdoorsman might want to take pictures of!
Table of Contents
Loading...
How The Tactacam Works
If you're interested in details of the camera specs themselves, I'll direct you to Tactacam's website.
I'm not a camera geek so I couldn't tell you the difference between a disposable and a DSLR, so it's best if I just let them talk cameras with you.
What I can tell you is how it is used and what it can do.
The camera… is well a camera, they have different models with different features, but I'll go over that down the page. The point is–the camera takes the video.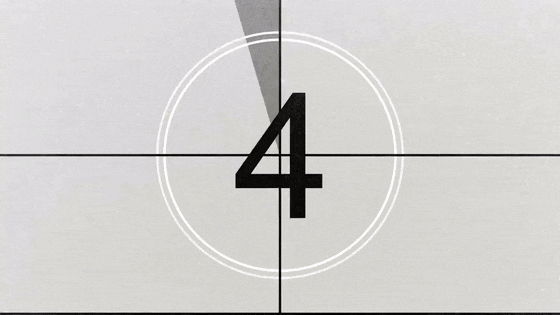 It's fairly small, reasonably lightweight, and feels very durable. I've dropped it a few times now and let it roll off a table once or twice (or three or four…) times and nothing bad has happened.
But the camera is only half the battle, the other half is how you mount it to your rifle/shotgun/bow.
Tactacam makes a lot of options, such as a Picatinny rail mount (kind of like how some flashlights mount), an under scope rail mount (mostly used for crossbows), and even a custom barrel mount (great for shotguns!).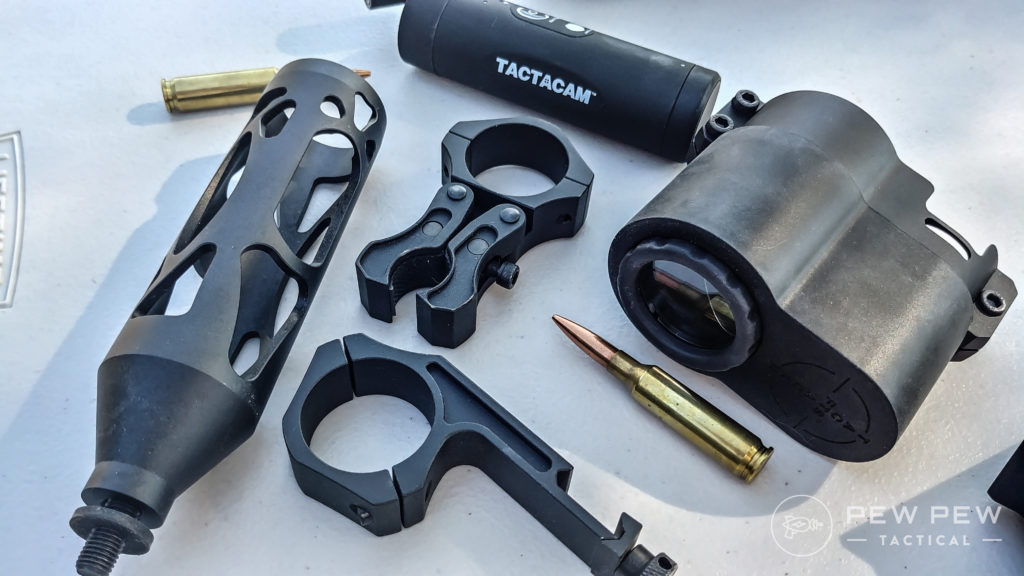 They also have a couple of bow mounting options and a head mounting system, but I didn't try any of those since I don't own a bow.
The mount I used the most was their brand new FTS mount. This is the mount that has changed the game.
It attaches to the back of your rifle scope, it comes with a whole range of protective sleeves to do this with, and then using a couple of mirrors and some geometry attaches the camera next to the scope while allowing you to look through your scope AND letting the camera see what you see!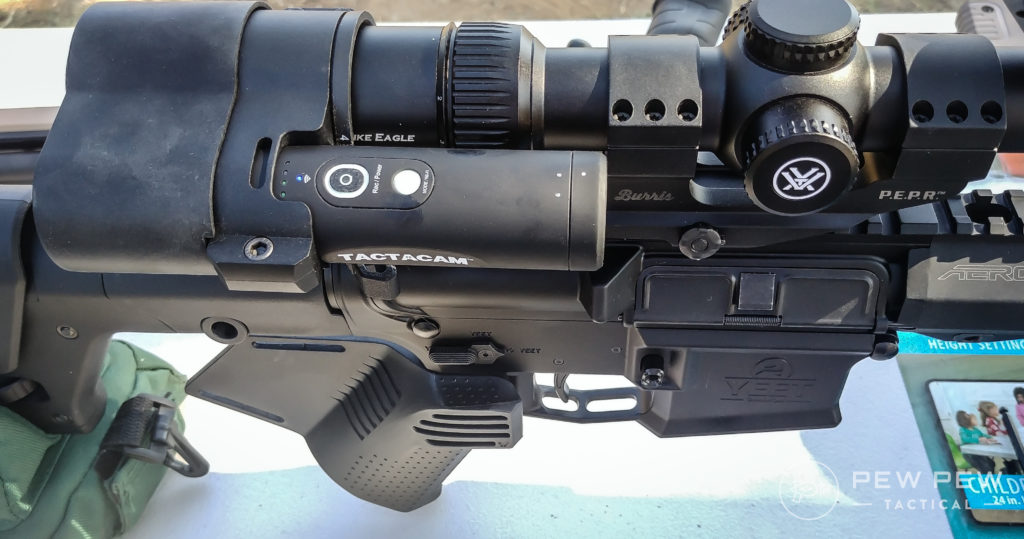 Setting it up is fairly easy, just test the sleeves till you find the right size, put it all together, and tighten down the screws to a hand-tight level.
That's it. Fire up the app and you're ready to go!
Tactacam Models
Offering a huge range of packages and sets, Tactacam's website can feel a little overwhelming. But generally speaking, there are just 4 models of cameras and picking the camera for you is the biggest step.
Take a look at this webpage for a side by side feature by feature comparison of the Tactacam 5.0, Tactacam 5.0 Wide, Tactacam 4.0, Tactacam Solo WiFi.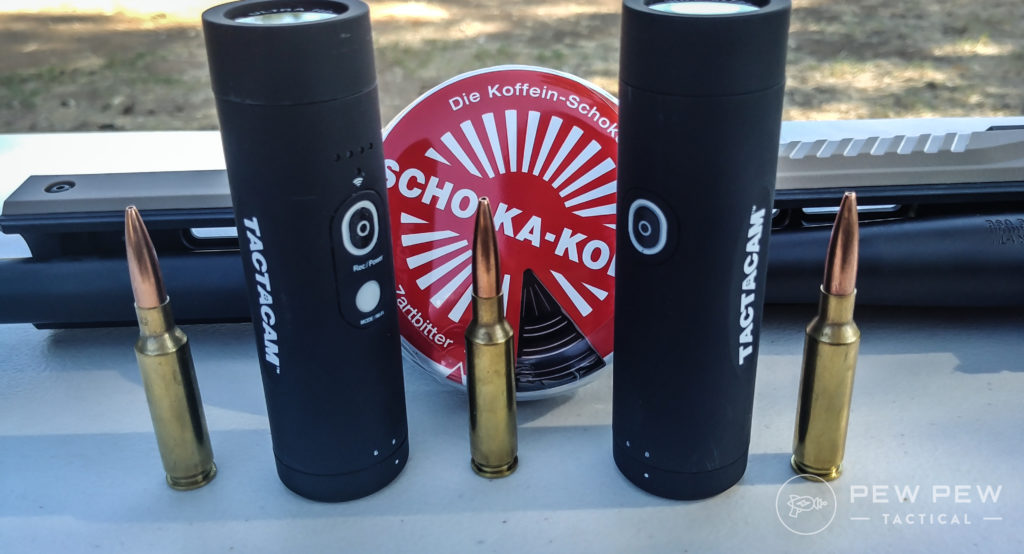 Quickly speaking, the Solo WiFI is the base model and the 5.0 is the most feature-packed. They are also the two that I tested.
The 5.0 also comes in a wide lens version that looks really cool for non-shooting applications like fishing.
The 4.0 I haven't tested, but reading the specs and looking at the price… it might be the sweet spot for most people.
To The Range!
I had a few range trips I needed to make while working on several articles, these provided the perfect opportunity to test out and play around with the two models of Tactacam that were sent to me.
After getting to use them a good bit, I really like them. They have some drawbacks, but I think they are acceptable all things considered and the video you get is really cool!
Clearly, the coolest use for the Tactacam is while hunting. Sure, meat in the freezer and a head on the wall is classic–but a video of you taking down that elk you tracked for 3 days is a whole new level of awesome!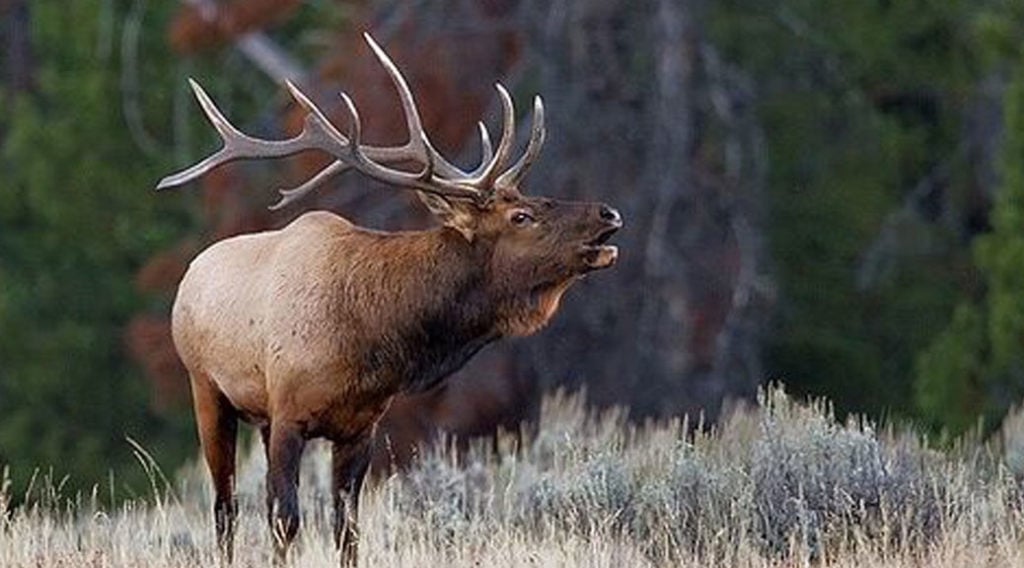 Sadly though, I didn't get a deer tag this year so I had to make do with the second coolest use of the Tactacam, shooting at the range.
I tested the Tactacam across three scopes, a Vortex Diamondback Tactical 4-16x, Nikko Stirling Diamondback 6-24x, and a Vortex Strike Eagle 1-8x.
Base models are almost never the coolest stuff, but if you're looking to pick a budget-friendly option this is it. And really, it isn't bad at all!
The wall is 50-yards away and the Tactacam Solo Wifi is mounted behind a Vortex Strike Eagle 1-8x on top of my Yeet Cannon 6.5 Grendel AR-15.
As you can see, there is a lot of fisheye around the edge of the picture. But it records in 1080p and 30-FPS. If you were just wanting to get some decent footage of you putting Bambi down or ridding the land of 30-50 feral hogs–this is the model I would go with.
It's missing a lot of features compared to the 5.0, but honestly, most of those features are frills than anything. Such as no external battery indicator, HDMI/TV connection, multiple cam control, live streaming, etc.
200
at Amazon
Prices accurate at time of writing
Prices accurate at time of writing
For $200–this is a really neat addition to your hunting kit!
This is where things get cool!
For an extra couple of bennies, you get a lot of features and a hugely upgraded camera.
430
at Amazon
Prices accurate at time of writing
Prices accurate at time of writing
4k-30FPS, 1080p-120FPS, or 720p-240FPS! Slow-motion recording, all of the frills like live streaming, TV hookup, etc. But really it's the higher resolution and FPS that makes the huge difference.
The same wall at 50-yards but with the Tactacam 5.0 mounted behind a Vortex Strike Eagle 1-8x on top of my Yeet Cannon 6.5 Grendel AR-15.
These two videos were taken within about the same 5-minute time frame, note how much better the colors and light saturation is on the 5.0 camera. Plus, a LOT less fisheye around the edge.
Slow-motion time!
Play around with the settings in the lower right with the cogwheel. While this setting lacks a 4k mode, it does take video in 240fps in 720p and 120fps in 1080p.
Zoom Mode
Another cool feature that the 5.0 has is the 8x zoom. While zooming in and out with your scope will increase/decrease magnification, you can also boost that by having the camera itself zoom it also.
You lose field of view, but you do get in close.
Limits And Considerations
The technology is awesome, the video is really cool, but there are some issues that are mostly unavoidable.
These all revolve around using the Tactacam with a rifle scope and the FTS mount, they are not universal to over methods of using the scope.
The Scope You Use
First off–you need to consider the scope you want to use for it. Personally, I found that the Nikko Stirling scope looked better in the video because the reticle was slightly thicker and so it stood out more.
Before you watch this video, I want to mention that the scope wasn't zeroed yet and I didn't tighten the Tactacam mount down well enough… that's why I hit my head.
However, I greatly prefer shooting precision with my Vortex Diamondback Tactical because the reticle is extra fine. That fine reticle though comes out looking blurry or washed out on video–as I'm sure you saw in some of the other videos.
This isn't really a problem, just a consideration.
Caliber, Recoil, and Eye Box
Secondly, because you're mounting a thing to the back of your scope – you are going to limit your eye box by a fair amount. If you're using a scope with an already small eye box, you might have issues with recoil or being able to get a great sight picture at all.
This is exacerbated if you're mounting this on a magnum rifle such as .300 Win Mag, .338 Lapua, etc.
The Nikko Stirling I didn't have many issues with, but the eye box did feel a little limited on the Vortex Diamondback. The sight picture was good enough, but not my favorite if I had been really focusing on and trying for small groups.
Still, I shot a sub-MOA group with a horrible rest and moving quickly for video so it clearly didn't mess me up too much!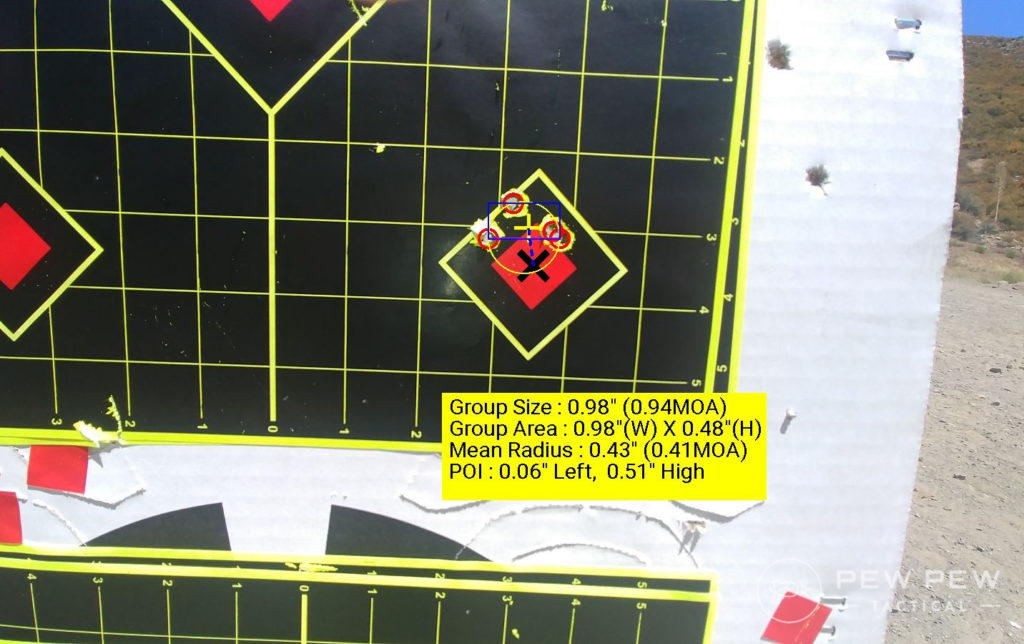 Illumination
Another aspect of the scope you choose. Again, since the FTS mount mounts on the rear of the scope–you can't use it on a scope that has any kind of rear-mounted control.
This most commonly takes the form of an illumination setting at the rear of the scope, such as the one on this Athlon Argos BTR.
Extras
Depending on the package you get or if you just get the Tactacam, you might need an SD card and/or some mounts.
I massively recommend the FTS mount! It is what really makes this a whole new level of awesome.
You can get the mount alone for about $140 or you can get the Tactacam 5.0 Long Range Shooter's Package for less than the 5.0 and mount would cost separately.
530
at Optics Planet
Prices accurate at time of writing
Prices accurate at time of writing
Don't forget to grab a Micro SD card! Tactacam sells their own – but I used a Samsung card I got cheap off Amazon. Note that if you get a 5.0 you'll need an SD card with UHS Speed Class U3 to record in 4k. This Samsung card is and does!
12
at Amazon
Prices accurate at time of writing
Prices accurate at time of writing
By The Numbers
Reliability: 5/5
Everything worked flawlessly. Zero issues at all with the mount, the app, the camera, battery, etc. Literally, nothing went wrong that wasn't user error.
Accuracy: 5/5
Even with the reduced eyebox on my Vortex scope, I was still able to shoot well. Maybe not as well as I could without the FTS mounted, but still more than enough for almost any application–especially hunting.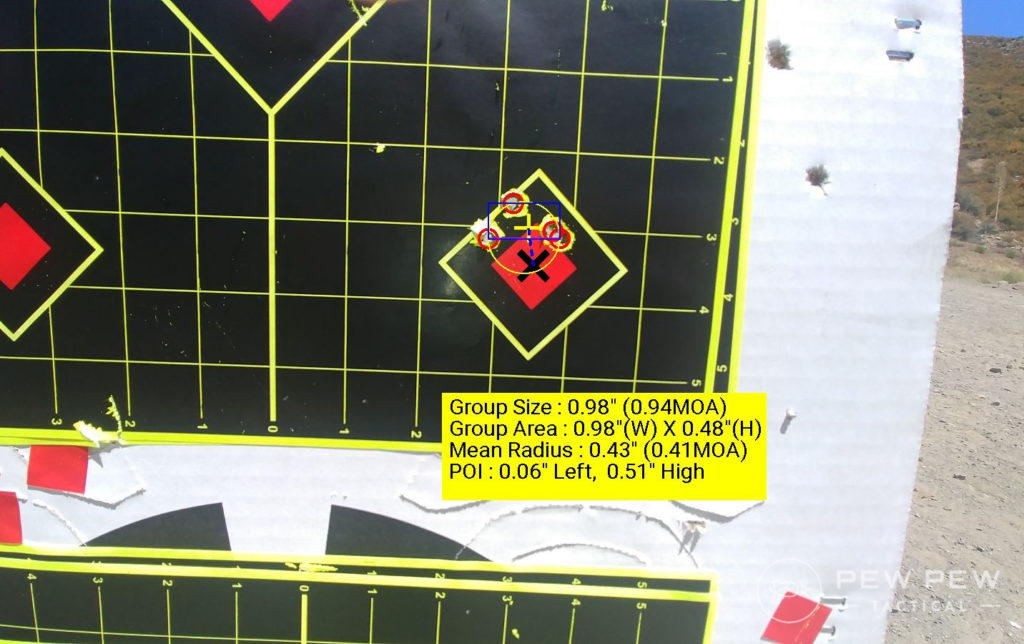 I would want some more time behind the camera before taking it on a hunt but feel confident that I would have no issues making an ethical shot with the Tactacam mounted.
Ergonomics/Easy Of Use: 3.5/5
The app is great! Very impressed with how clean and simple it is. But the settings on the camera itself felt very unintuitive to me while pairing it with my phone.
Every other application or tool I've ever used that needed to pair or connect with something used the exact opposite lighting system ie. Flashing color = ready to pair. But for Tactacam, solid color = ready to pair.
This really frustrated me, especially on my second trip using the system since I had forgotten this weird detail between the first and second outing. If you only used this every hunting season, I could see this being a reoccurring problem for the average bear.
Looks: 5/5
Video it takes is awesome! I love the 4k and slow-mo. The basic Solo WiFi model is good enough for most applications–but if you really want to flex at the hunting camp, the 5.0 is wicked.
Customization: 5/5
Extra and different mounts aren't badly priced at all and are well worth it if you want to try out all of the different ways you could use the Tactacam.
Bang for the Buck/Value: ??/5
This is one of those things that will totally depend on you. For me, as a firearms reviewer, the Tactacam is amazing and totally worth the cost at full retail. 5/5 for sure. But I'll get a lot more use out of it than the vast majority of people.
If you want to use it every hunting season, maybe the Solo Wifi or 4.0 would be better for your goals while being softer on the wallet.
But if you plan on using it a lot or really want to be able to show off your cool videos or want to use the video as a training tool–then the 5.0 model could be worth it.
At $430 the 5.0 isn't prohibitively priced, but since this is purely an add-on/toy/non-essential it might feel that way.
If you got a birthday coming up or a tax return due, I would put this really high up on my list of items to pick up!
Overall Rating: 4.5/5
Parting Shots
Bottom line: do you need a Tactacam?
If you're me, then yes. But otherwise… probably not. Should you get one? Hell yes.
It is one of the coolest extra accessories you can add to your shooting setup. When it comes down to it, it's a really great extra gadget that is a force multiplier for fun.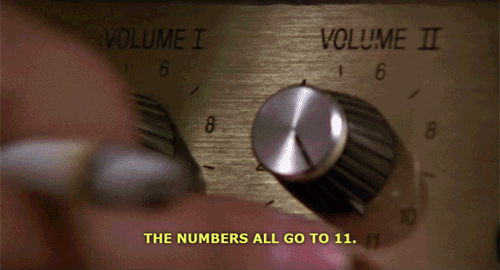 If you're into PRS, F-Class, hunting, or even 3-Gun then this could be an awesome way of getting to share that with others.
The 5.0 isn't cheap, but it's honestly a huge fun booster for all of your shooting sports needs.
If you're looking to share your hunts, go with the Solo Wifi. If I was going out tomorrow to buy these–I think my pick would be the Tactacam 4.0. It has most of the features I want and saves a decent chunk off the price.
What awesome gizmos and gadgets do you use while shooting? Let us know in the comments! Need a new scope to go with your new Tactacam, then take a look at the Best Long Range Scopes!