I walked about 42 miles in five days, according to my smartwatch. Not because I'm trying to be healthy, but because I've been zombie shuffling through the halls of SHOT Show 2022.
So, let's talk SHOT!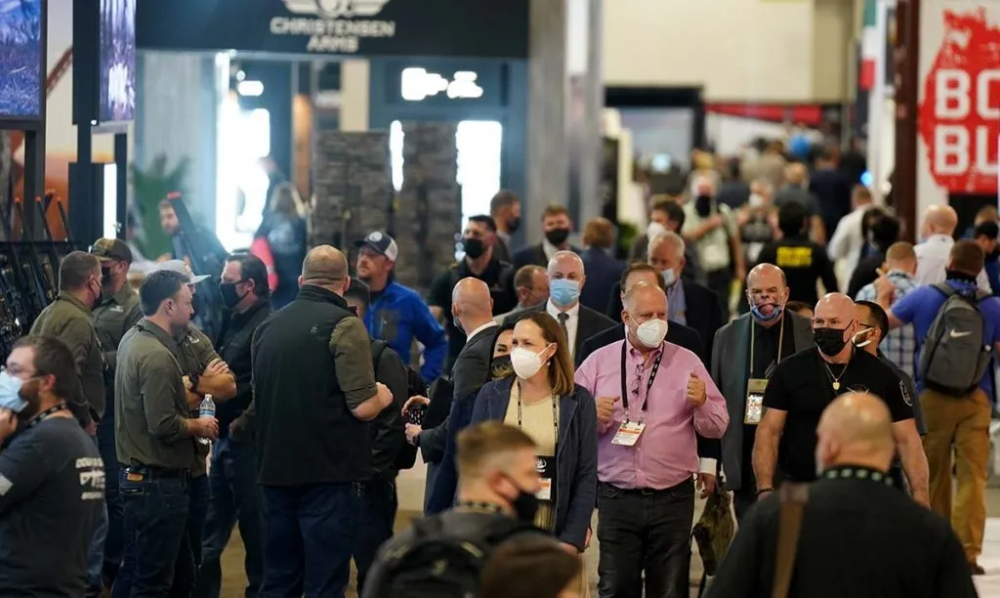 It was a weird show. Many prominent vendors like Beretta, Sig Sauer, Springfield, and many more didn't attend.
Empty booths were everywhere, and attendance seemed much lower. No complaints from me — no little carts ran my feet over.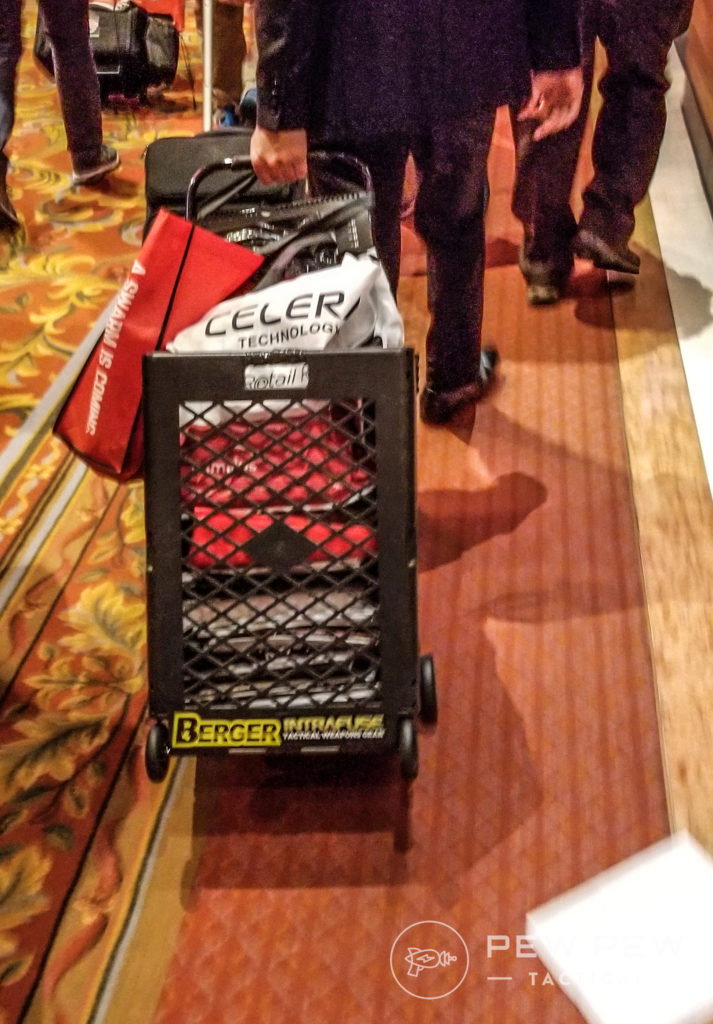 While SHOT Show 2022 was different, it wasn't without its merit.
We saw several new releases from major and minor companies, plenty of weird guns, and superb optics.
Today we will dive into the fruits of my walking labors and discuss the best of SHOT 2022.
Best Guns & Gear at SHOT Show 2022
1. FN High Power
2022 is the year of the High Power.
Browning's classic design has seen production by Springfield, FN, and Girsan. Springfield pulled out of SHOT 2022, but Girsan and FN proudly showed their take on the Hi-Power design.
The Girsan MC P35 is about as classic as a Hi-Power gets. There are no fancy doodads, no major revamp, just a Hi-Power clone at a low price point.
The MC P35 Match took a different route.
Girsan installed an extended beavertail, a beveled mag well, a rail, adjustable sights, and so much more to modernize the design a fair bit.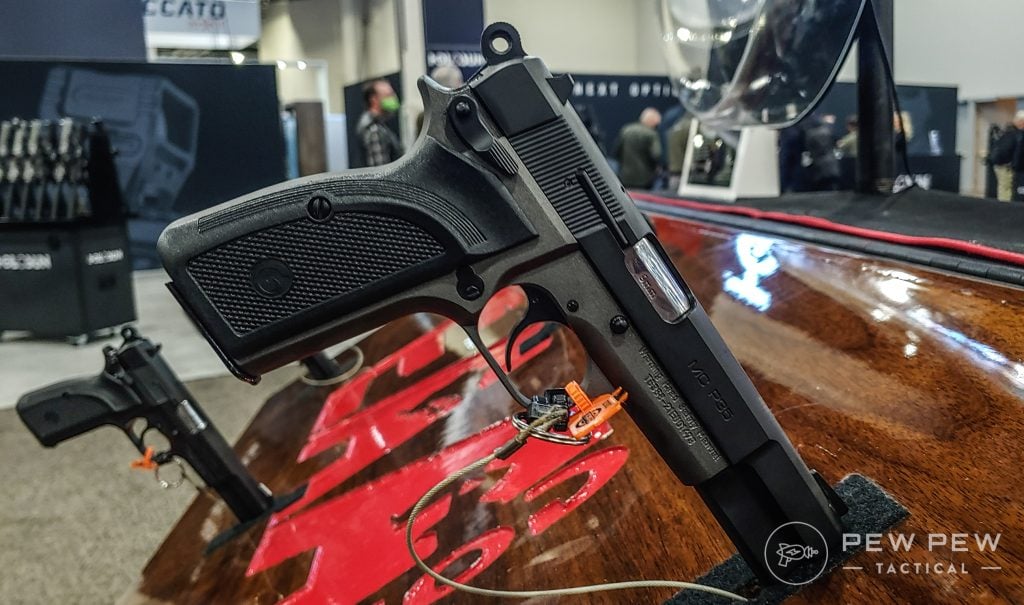 FN changed the Hi-Power so much they are calling it the High Power.
They modernized and improved the design with significant changes. This includes a longer grip with a 17-round magazine, a larger ejection port, modern sights, an extended beavertail, a non-bite hammer, and more.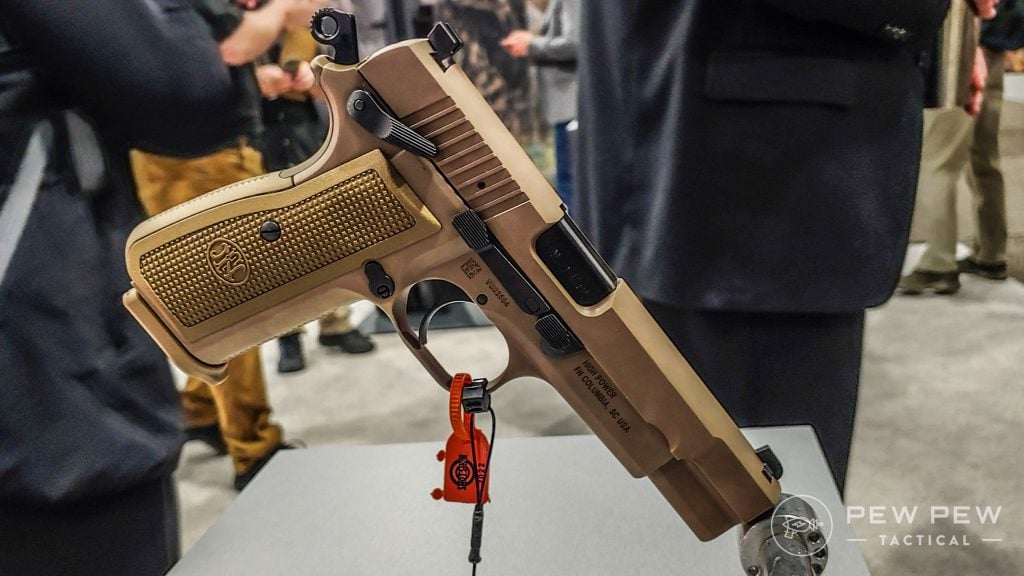 It was changed so much there's no parts commonality with other Hi-Powers.
With an MSRP above $1,300, it'll be interesting to see how the world handles the High Power.
1269
at Guns.com
Prices accurate at time of writing
Prices accurate at time of writing
2. Smith & Wesson CSX
If you ever wanted to see what a cold release looks like, look no further than the CSX.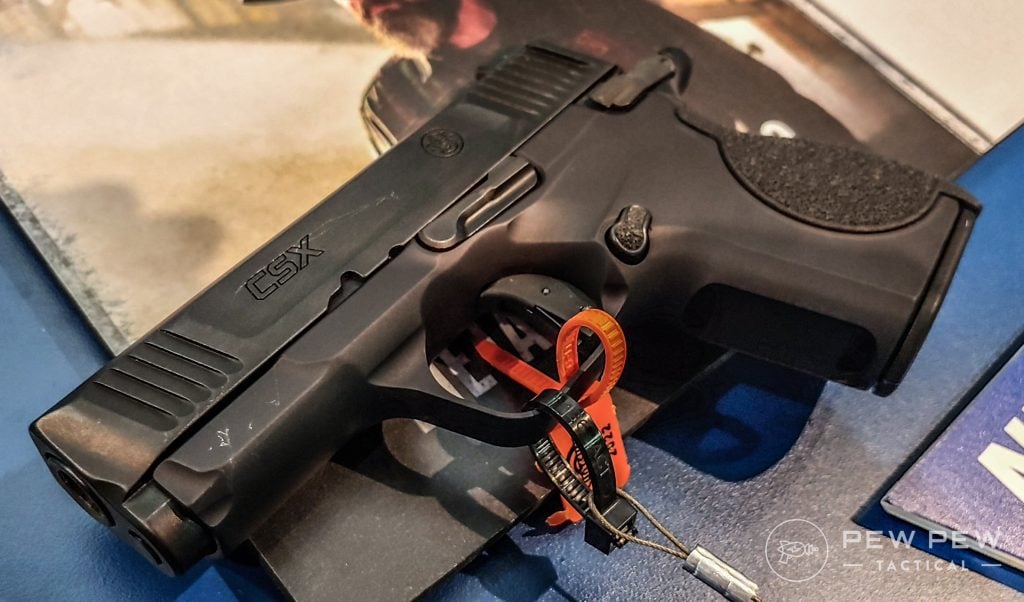 The Chief's Special X was released to no fanfare and very little information from Smith & Wesson. However, it turned out to be a neat little gun.
It's a micro-compact like the Sig Sauer P365 with a 10-round flush-fitting magazine. The gun uses a single action-only design with an all-metal frame.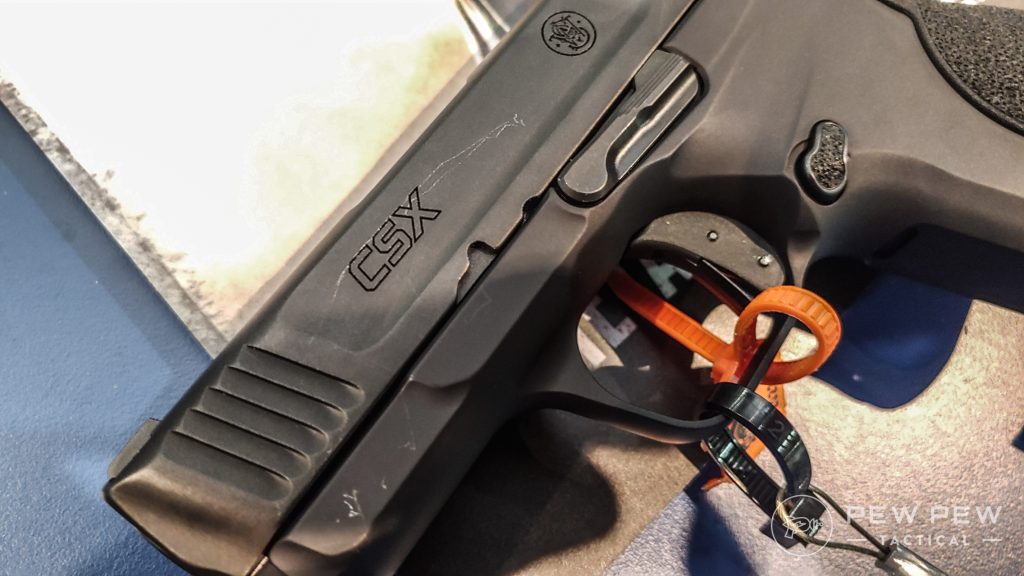 It's a very 1911-like design — small, way smaller than I thought.
The trigger left something to be desired, but I'm intrigued with this little gun.
579
at Brownells
Prices accurate at time of writing
Prices accurate at time of writing
3. The Ounce
The first floor of SHOT is often referred to as the dungeon. It's a tight, crowded area full of big and small vendors. Here I found a pistol called the Ounce. It's the weirdest gun I've ever seen.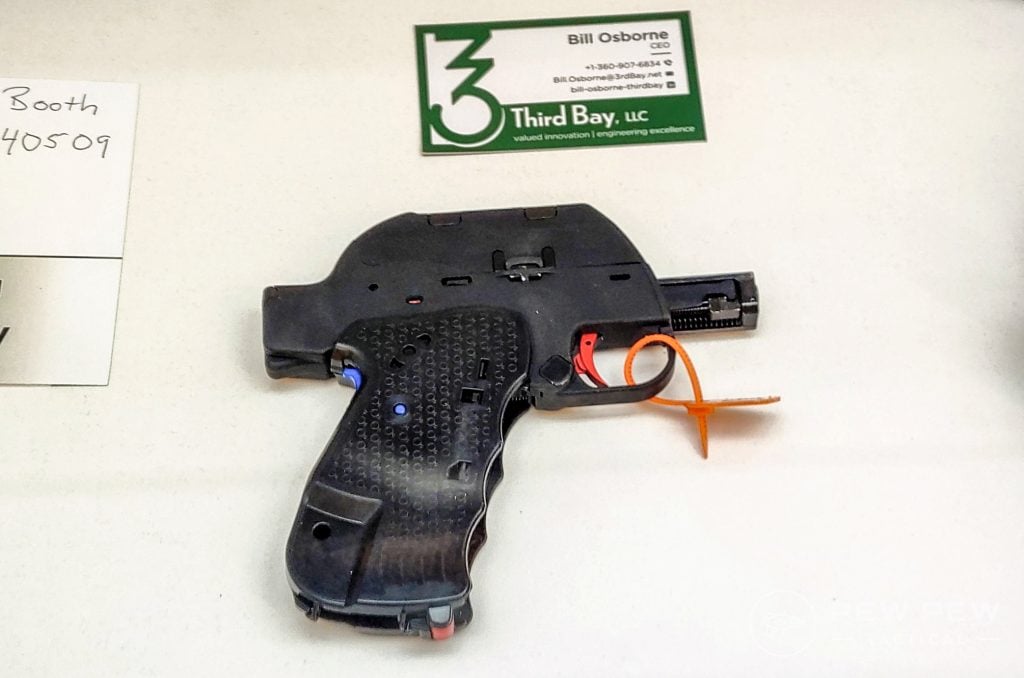 It's a semi-automatic, bullpup, fixed, top-loaded magazine that fires .22 LR and folds in half.
Yep, It's bizarre but incredible. A father-son team of mechanical engineers designed the system, and you have to see it to believe it.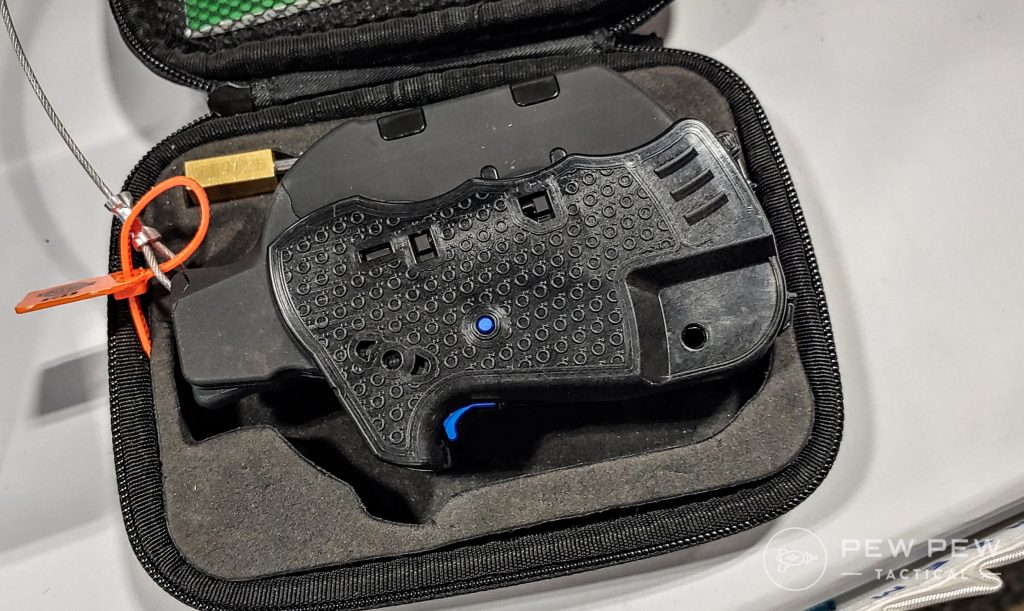 It's a dedicated deep carry gun that folds to eliminate the need for a holster and to avoid traditional printing. I'm excited at the prospect of hands-on time with the Ounce.
4. Barkeep Boot
The Heritage Arms Barkeep premiered last year, shrinking the barrel of a Heritage Rough Rider to a mere 2 inches.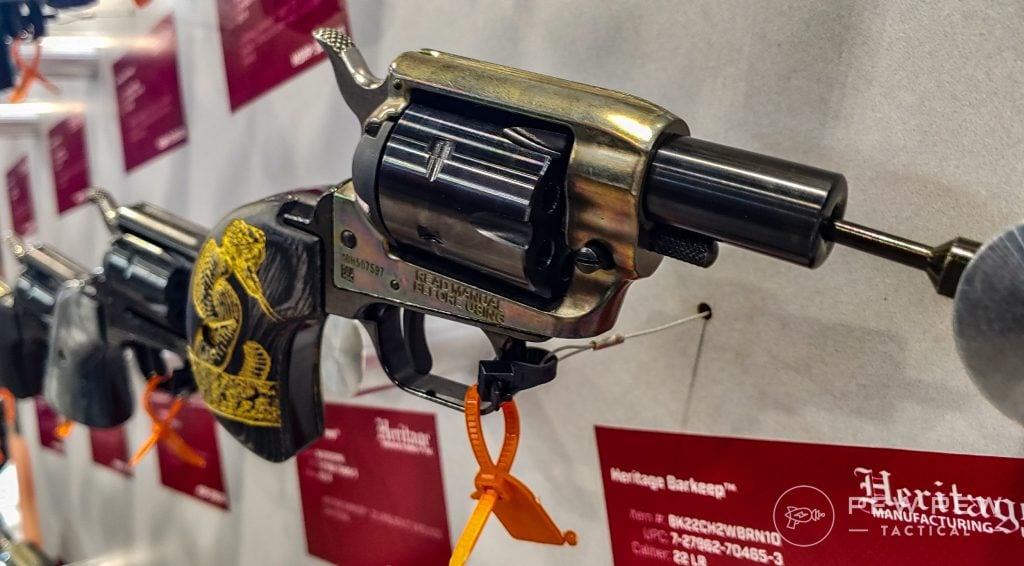 Well, someone said that's still too big and cut off another inch. They also took the sights with them and trimmed the "plow" grips into Bird's head grips to reduce even more size.
The Rough Riders are all priced affordably, and the Boot is no different. It's downright useless but looks like a ton of fun.
169
at Palmetto State Armory
Prices accurate at time of writing
Prices accurate at time of writing
5. KelTec P15
KelTec innovates all the time, and people forget they jumped on the CCW train very early on.
The P15 further reinforces their ability to innovate with a micro-compact pistol more akin to the P365XL and Glock G48 than the tiny guns.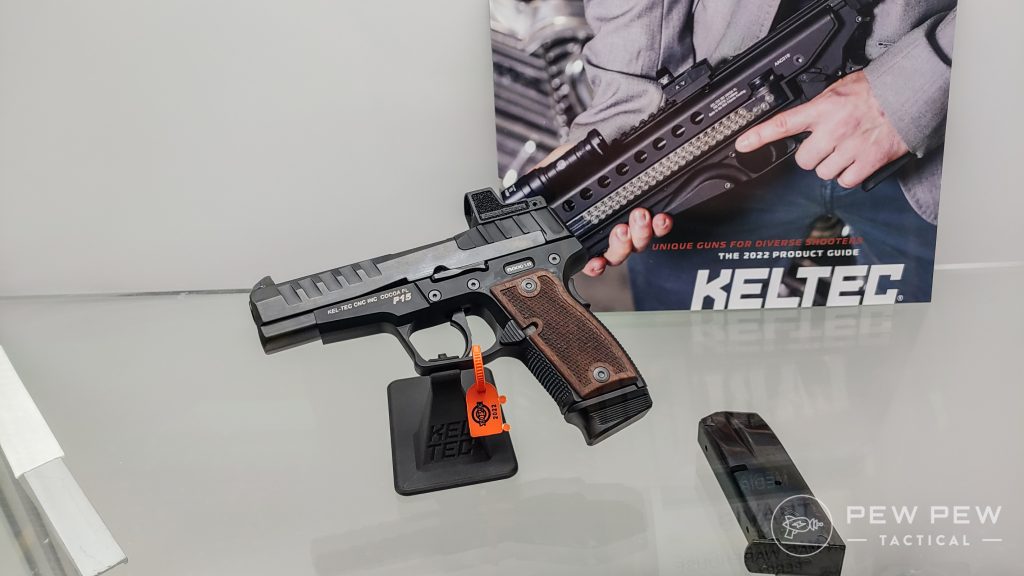 As the name implies, the gun has 15-round magazines but also a flush-fitting 12 rounder.
KelTec designed several variants, including metal and polymer frames and an optics-ready model. Interestingly, the 14 ounces this thing weighs on top of the fact it's only 0.875 inches in width.
That's thinner than a 90s model.
6. Polymer 80 P80 PF320
Polymer 80 has long been about the build it yourself crowd, but they did something different this year.
The P80 PF320 is a complete firearm built on the P320 platform. Like most Polymer 80 handgun products, they revamp the ergos.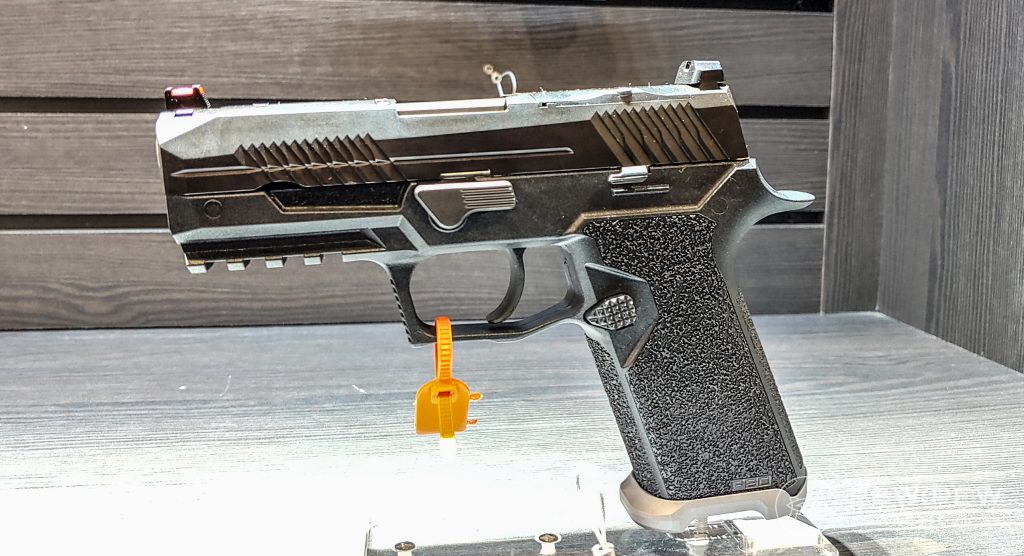 It's a Gucci P320 with a very aggressive grip texture and big beavertail. It clings to the hand and feels natural. As you'd expect, the gun's optics cut and has this massive, oversized magazine release.
I already have a P320, but I might grab this grip module. If you want a P320, the PF320 is mighty tempting.
7. Aero Precision A700 Rifle
This company might be known for its AR-15 designs, but Aero Precision seems to be expanding well beyond that these days. The A700 rifle system is their first try at a bolt gun.
They approach it the same way they approach ARs, with builders in mind.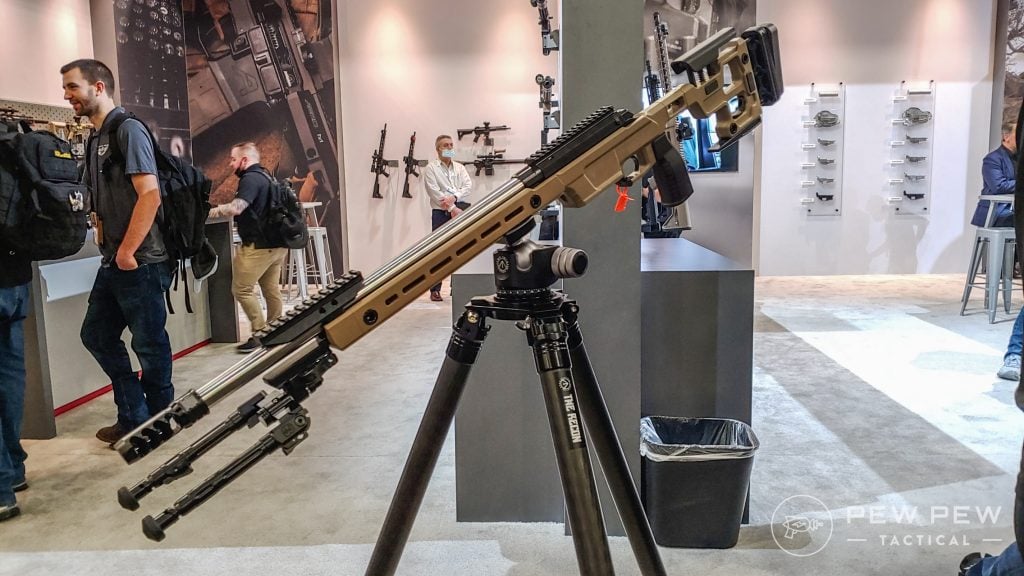 Shooters can build their own with Remington 700 actions, Savage barrel, and three-bolt face sizes to accommodate a wide variety of calibers.
The chassis is all Aero and well thought out for precision shooting.
8. Palmetto State Armory AK 103
PSA dived deep into making AKs as late and is making AK configurations never before available to the public.
This includes the AK 100 series. Their latest, the AK 103, brings us the rifle configuration of the modern 7.62x39mm gun.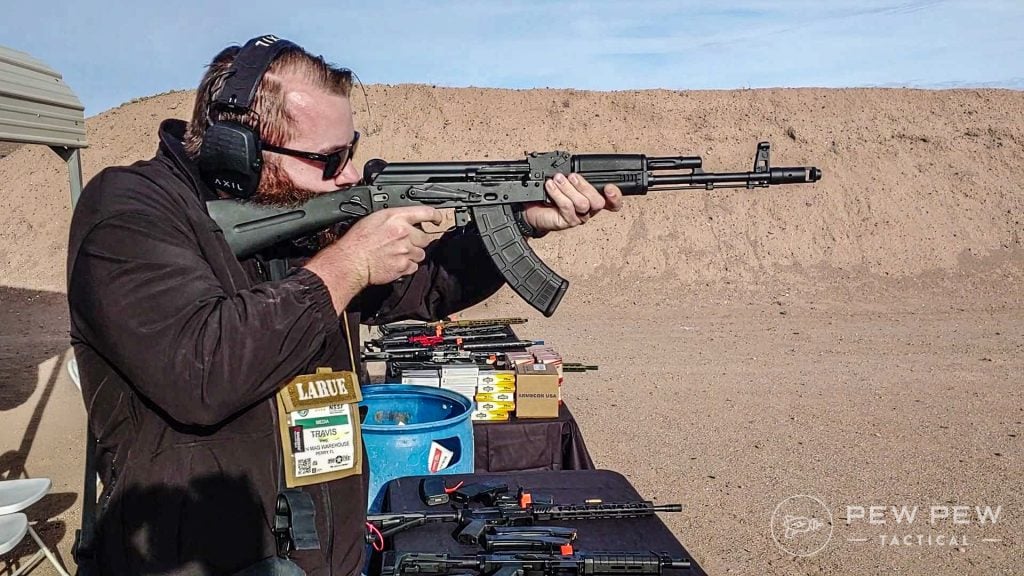 On the range, the muzzle brake did a fantastic job of mitigating recoil. And the gun was surprisingly accurate.
It handled well, comes with folding stock, polymer furniture, and a magazine. It's as close to the Russian one as we can get without breaking some laws.
I'm not a huge AK guy, but I love the AK 103.
699
at Palmetto State Armory
Prices accurate at time of writing
Prices accurate at time of writing
9. B&T SPC9
From the Swiss firm B&T, we get the new SPC9 carbine — Special Purpose Carbine.
B&T originally built the gun for a particular contract in Europe but decided importing it to the American market was worth it.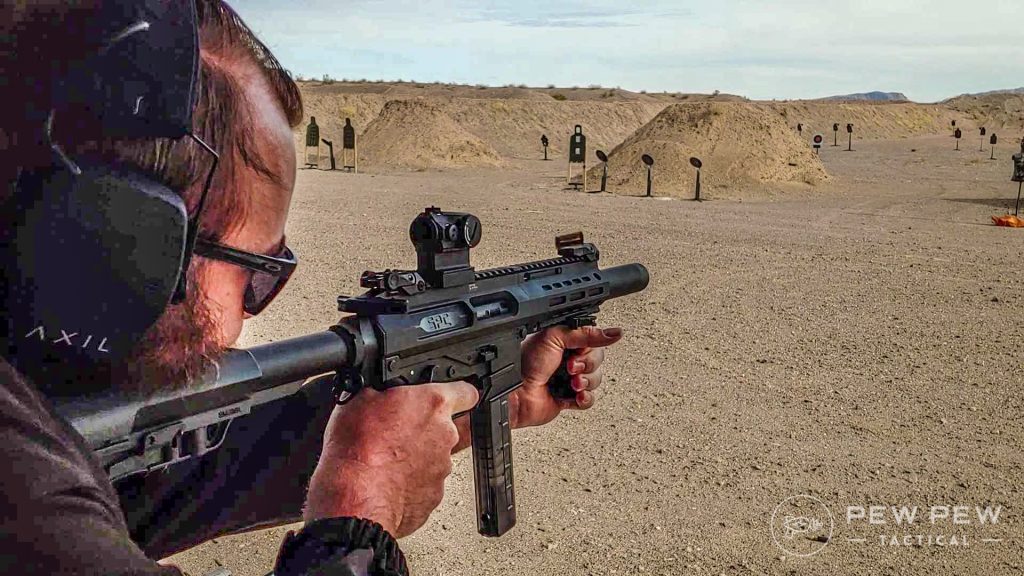 The SPC9 blends aspects of the AR-15, the MP5, and the APC series. We get a very AR layout complete with a buffer tube and AR charging handle. Its buffer is completely different and comes from B&T's APC series.
The gun has an APC lower receiver, which allows the end-user to choose between a Glock, B&T, and Sig Sauer magazine platforms.
Its MP5 likeness comes from the forward-placed charging handle. Users can pick and choose what charging handle they wish to use.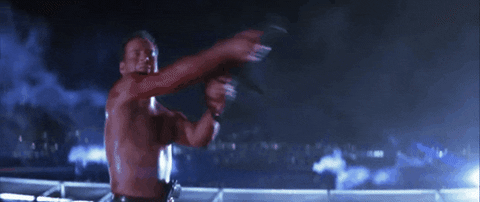 The SPC9 will be sold as a rifle, SBR, and PDW-style SBR.
10. Bushmaster BA30
Bushmaster is back! They seem to be trying hard to get back that former glory.
The company started the show with an odd pick — the BA30. This gun combines an AR-10 with a straight-pull bolt action rifle to give you the best of both worlds.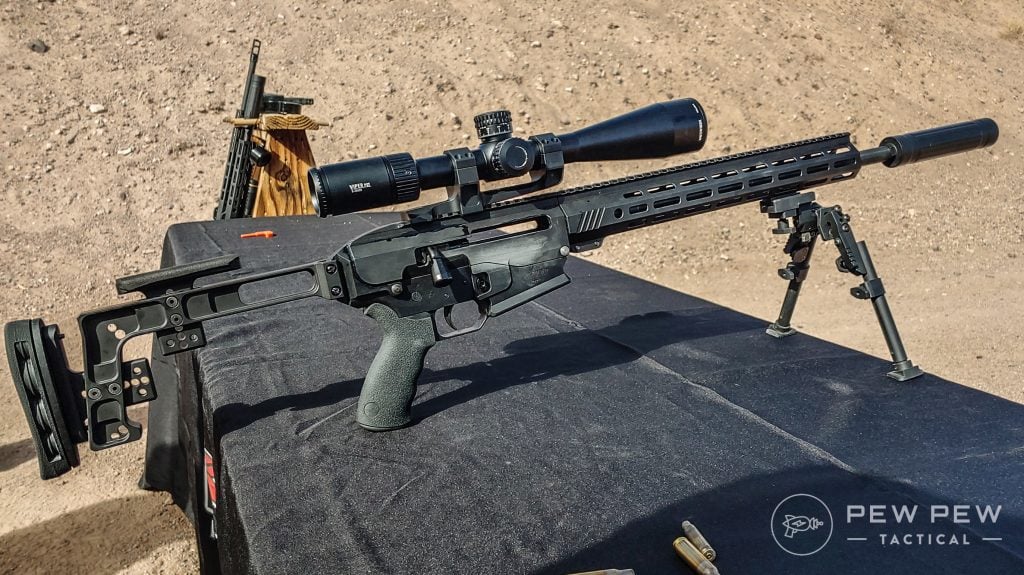 This includes a smooth back and forth bolt, the modularity of an AR, and the precision of a bolt gun.
The BA30 was a blast to shoot, and between the BA30 and the Savage Impulse, I'm in love with straight pull bolts.
11. Meta Tactical Apex
Have you ever wanted to turn your Glock into a bullpup carbine? Well, good, you are among friends.
I also shared that desire but didn't know it until I met with the Meta Tactical guys at SHOT Show 2022.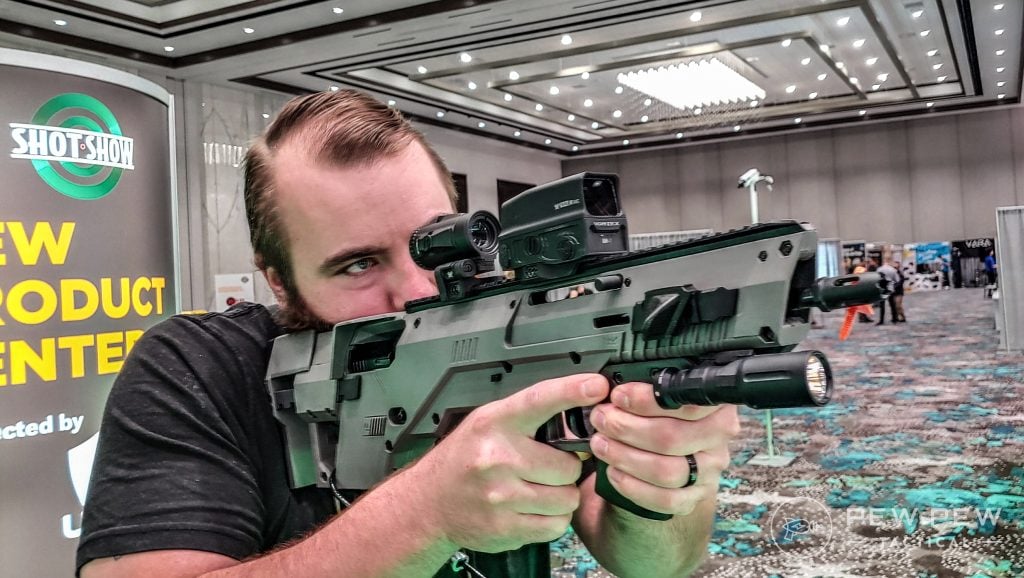 The new chassis and barrel system allow you to convert your Glock to a carbine with no drama.
You'll replace your Glock barrel with a 16-inch model, drop the Glock in, close the system up, and you're good!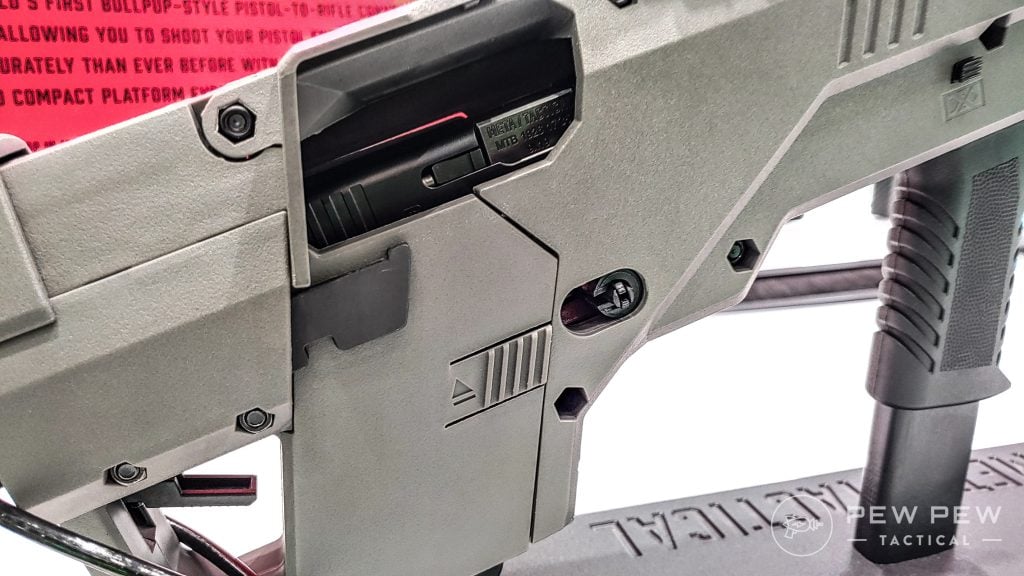 Glock will be the first model of the system — following that, we'll see Smith & Wesson, Springfield, Sig, and 1911s in the future.
12. Desert Tech Quattro-15
Desert Tech made an interesting choice with the Quattro-15 and Quadmag-53.
This proprietary lower accommodates a 53-round quad stack magazine slightly shorter than a 30-round PMAG.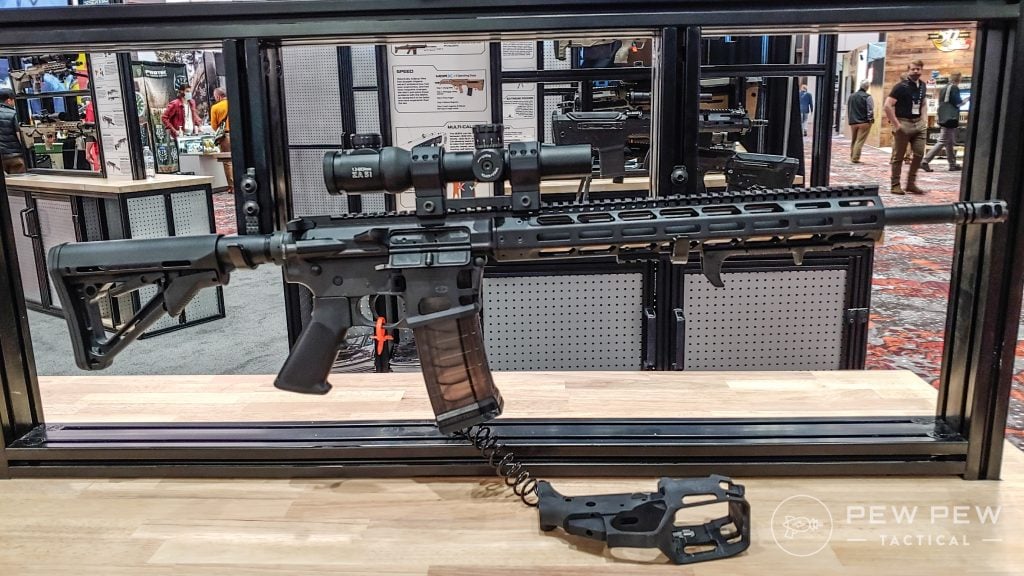 The lower can also accommodate an adapter to feed standard AR mags and interfaces with any standard upper.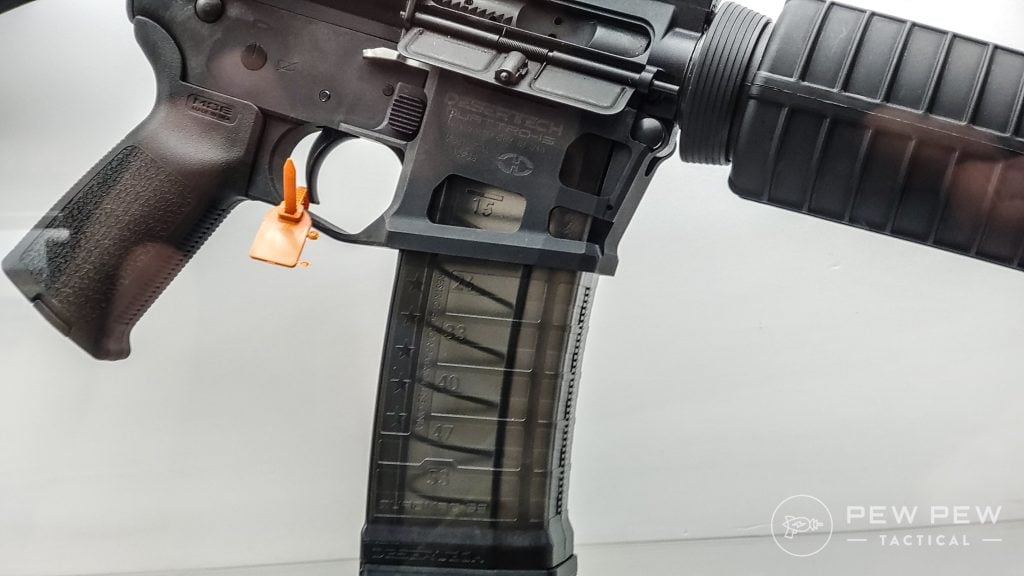 Using the Quadmag-53, shooters can carry a combat load with four magazines rather than seven. The receiver will cost $299, and the magazines run $74 each.
13. SDS Imports Retro Riot Guns
If you want a break from the high prices of the weapons above, let's look at the ultra-cool Retro Riot Guns from SDS.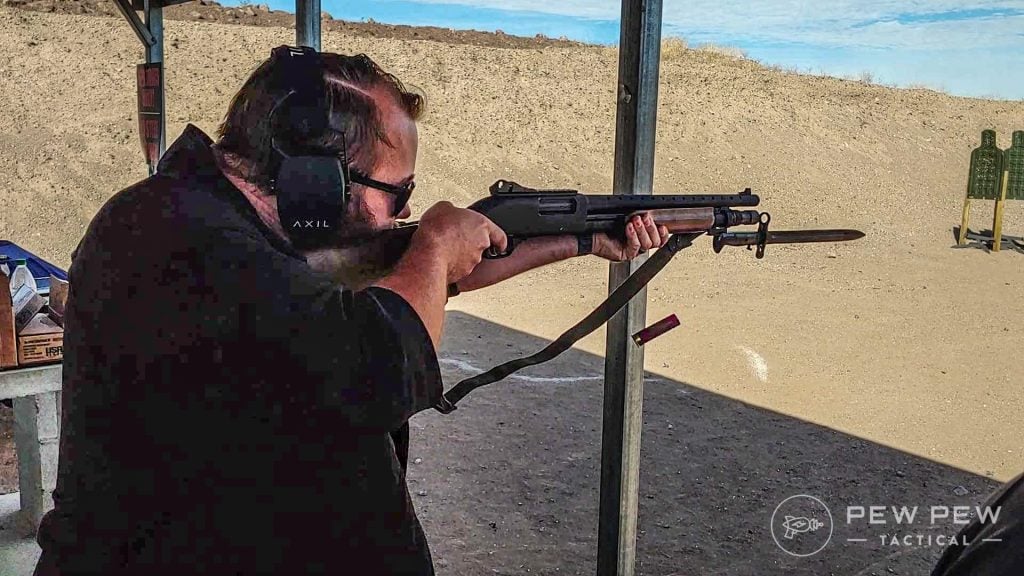 These imported pump-action shotguns have all the riot features you'd ever want – including ghost ring sights, an optics rail, wood furniture, a heat guard, and of course, a bayonet.
I was impressed by the ultra-slick action of these guns. And while they're a little silly, they are a ton of fun.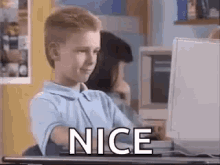 They come in both black and Marine coat. Worth mentioning that the total price hasn't been revealed, but the guys at range day promised a low cost.
14. Kalashnikov USA Chaos
Kalashnikov USA already has a nice, handy little 12-gauge firearm called the Komrad.
With the Chaos, they revisited the firearm, but in a real nutty configuration. It's still an AK-style shotgun but lacks a brace.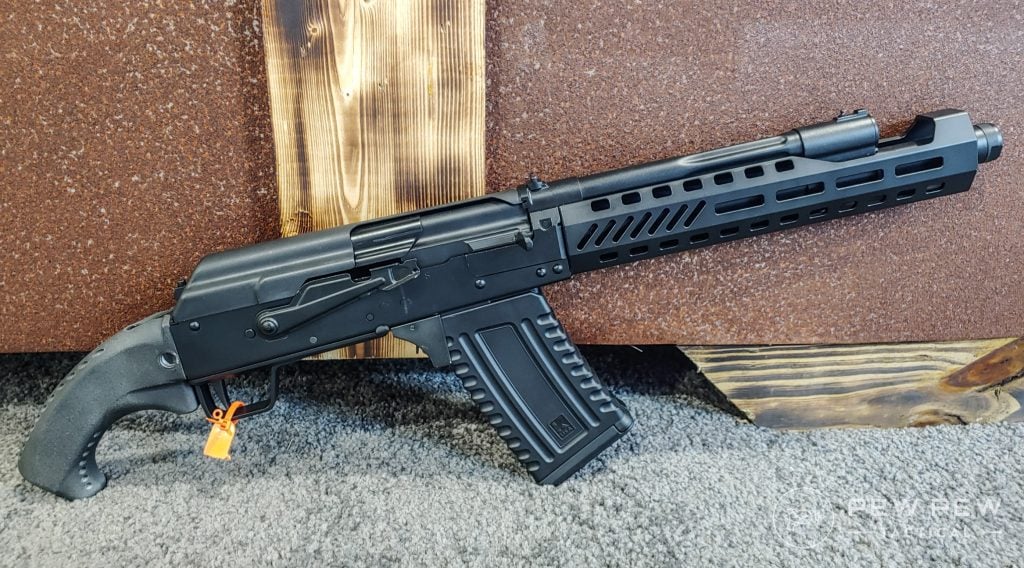 Instead, we get a Shockwave style pistol grip. It's still mag-fed and outfitted with an M-LOK handguard and actual shotgun sights.
I love stuff like this, and it promises to be a ton of fun.
15. Genesis 12
What do the ultra-modern Genesis 12 and the old school Browning Auto 5 have in common?
Well, they both use the famed short recoil action that requires a little movement of the barrel to function.
In the Genesis 12, this results in very low recoil and makes the platform super reliable and easy to handle.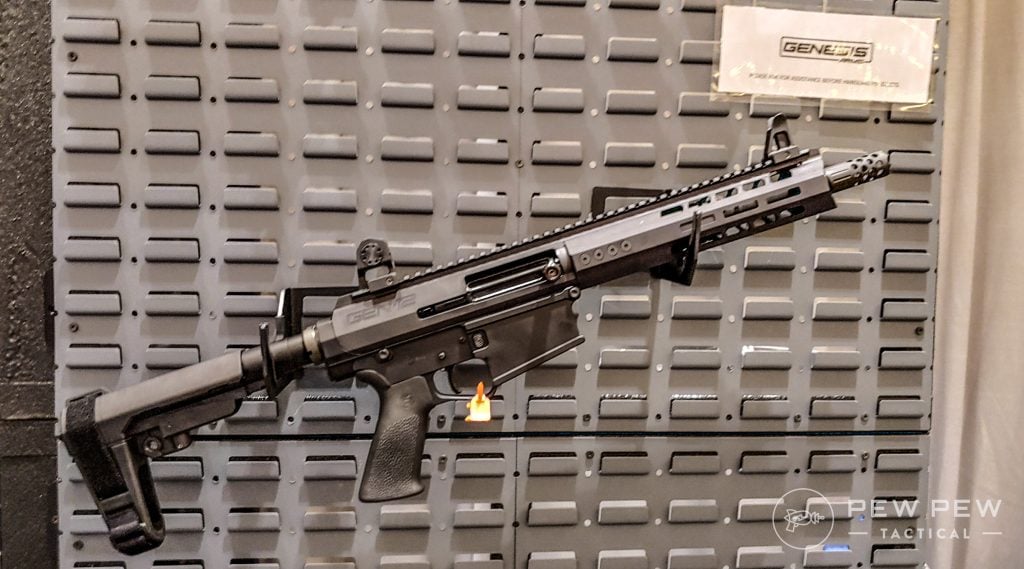 Genesis found a way to mount muzzle devices, including suppressors, to the gun without disrupting the short recoil operation as well.
These are designed and built on AR-10 lowers, so you get all the AR controls you are used to.
They come in various configurations, including firearm models with braces. Beyond that, we get a unique mag that replicates how a more traditional shotgun fires.
It's one of the better thought-out mag-fed shotguns.
16. Savage Renegauge Security
Color me surprised by how much I love the Renegauge.
This gas-operated gun finally premiered in tactical "Security" configuration. It's complete with the D.R.I.V. gas-operated, recoil-reducing system that's positively fantastic.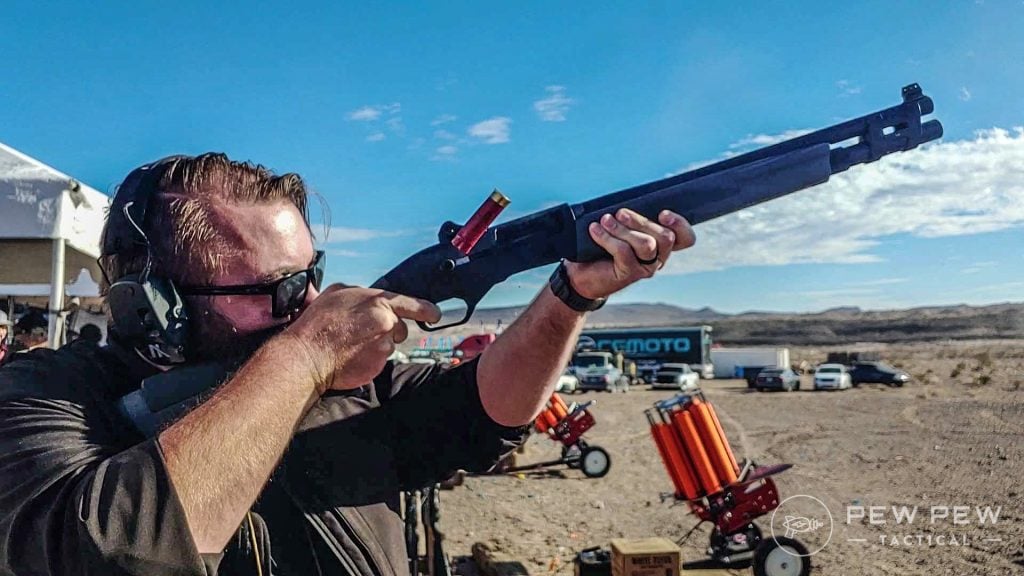 Then Savage was outfitted with a truckload of features.
The stock features an adjustable length of pull via spacers, and the controls are oversized.
It accommodates 6+1 rounds, ghost ring sights, and even an M-LOK barrel to magazine tube clamp for accessories.
17. Aimpoint Duty RDS
Aimpoint released a new optic and has attempted to be a bit more competitive pricewise.
The $500 Duty RDS is a lot like the idea behind the PRO. The PRO is a full-sized dot, and the Duty will be a much smaller optic that works with the Aimpoint Micro mounts.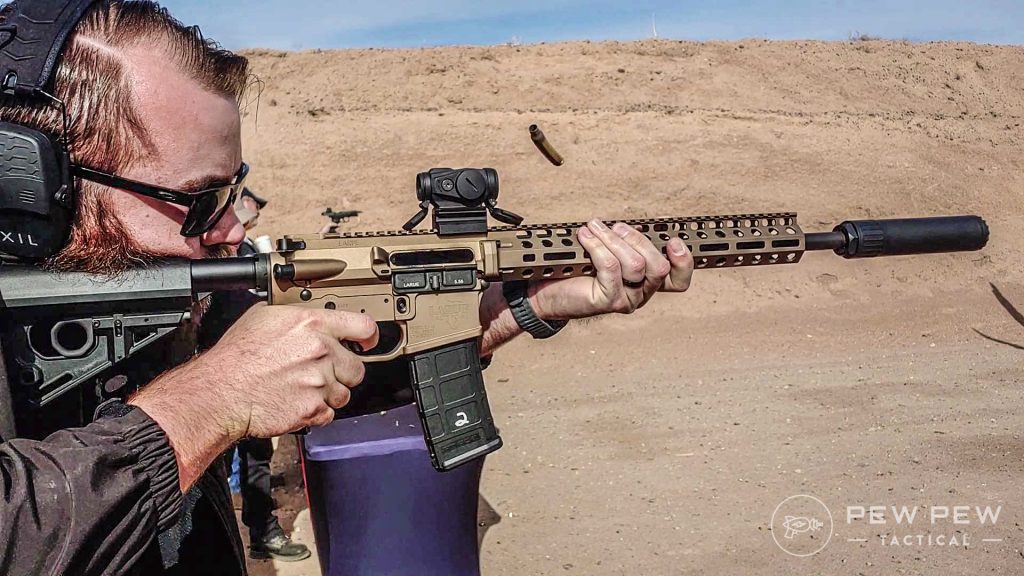 This optic opts for a two MOA dot, a set of flushed turrets with no caps, and a nice digital keypad for adjustments.
The dot is crisp and clear and tough as hell. It's what you'd expect from an Aimpoint, but not at your Aimpoint price.
18. Magpul Maztech X4
Have you heard of these new Fire Control Systems?
The Army's NSGW contest called for a new kind of optic — an optic that blended optical quality and precision with an integrated computer system.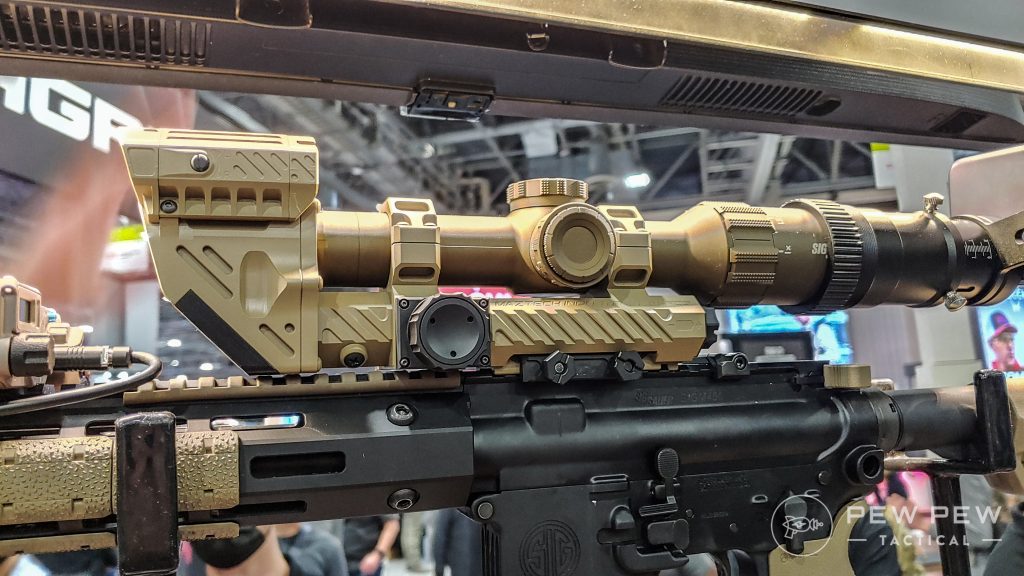 This would allow you to enter ballistic drop info, has a heads-up display, and all sorts of fun stuff.
Well, these systems often cost an arm and a leg. I'm talking about tens of thousands of dollars.
Magpul teamed up with Maztech to bring the system to the commercial market at a much lower price point. This system currently has two main components.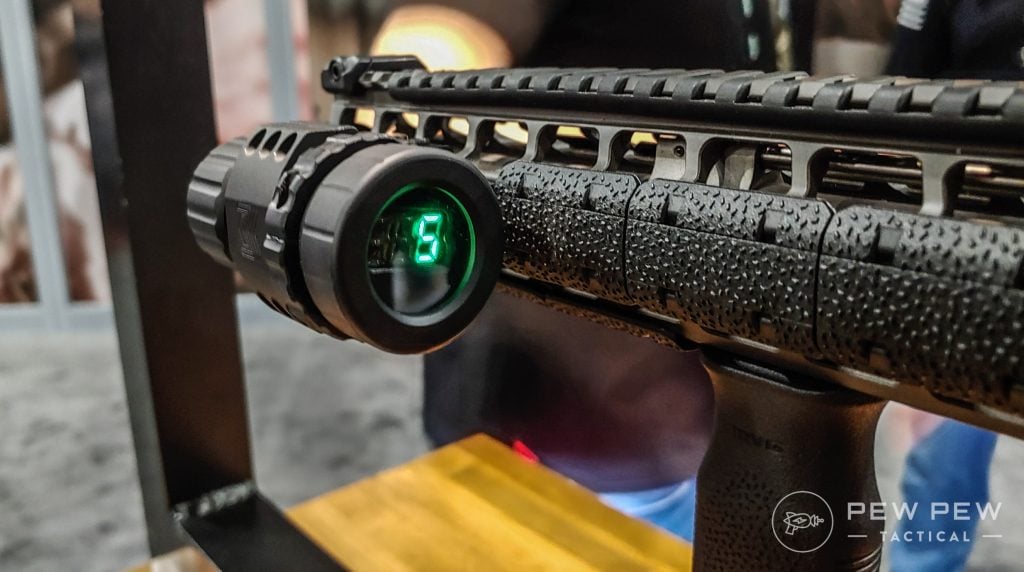 There is the Maztech X4 FCS that attaches to your own LPVO and acts as the centerpiece to provide you with a compass, a round counter, a range finder, and the ability to use ballistic drop overlays onto your optic.
The second part is a pistol grip and special PMAG that provides a round counter. This will be super accurate and provide powered and non-powered options. It can be transmitted to your optic or an outside counter.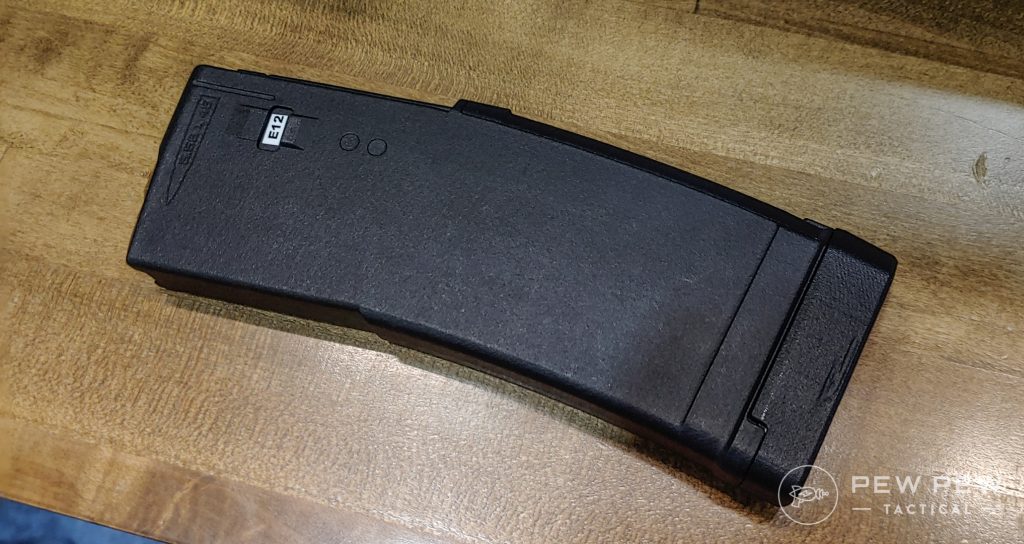 Information can be shared to external devices, including computerized glasses, and I'm sure phones, tablets, computers, etc.
It's an interesting concept, and the X4 might revolutionize the individual rifle.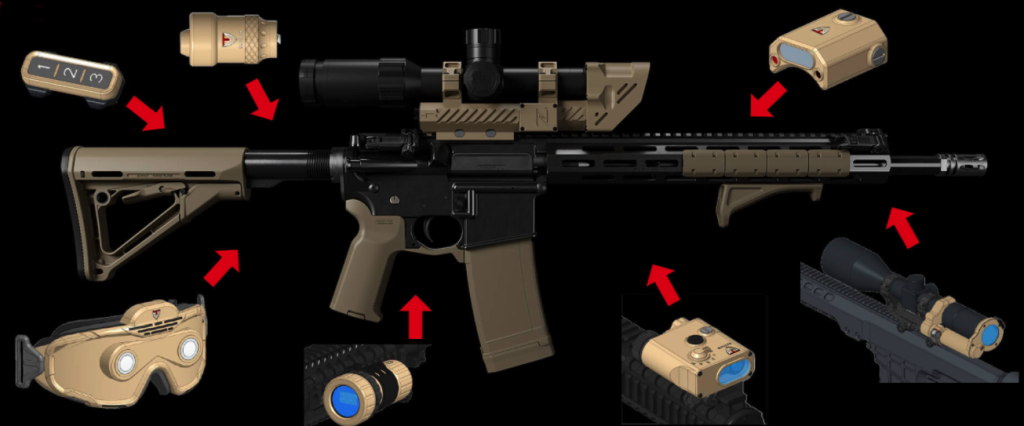 19. Holosun SCS
Last but not least is the very cool Holosun SCS.
This miniature optic is designed for handguns primarily. What's unique is that it uses an internal, solar-charged battery. That battery can last for 20,000 hours on a full charge.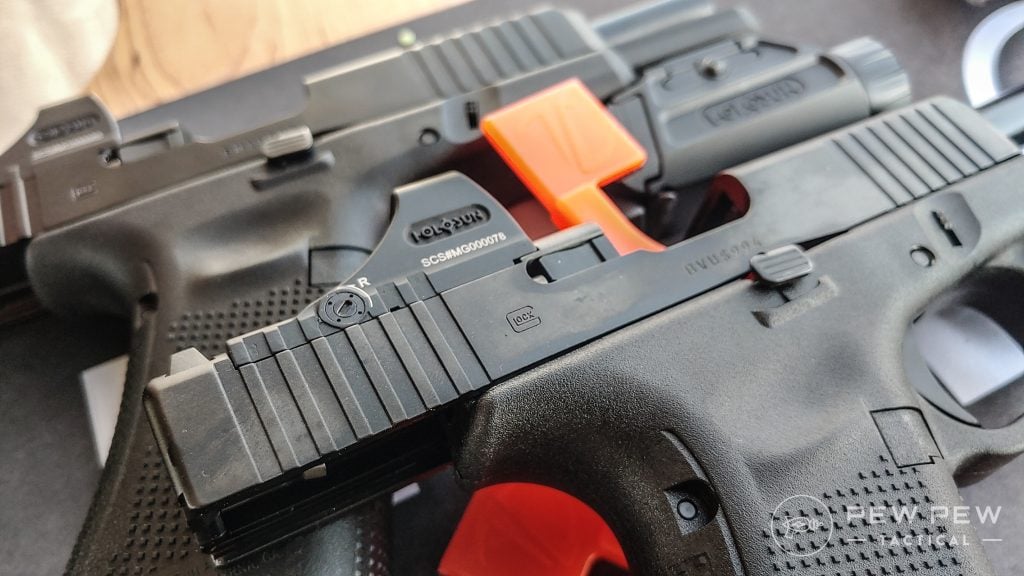 The SCS sits low enough that suppressor height sights won't be needed for co-witnessing. And optics cut will vary and are assigned per optic to each gun.
For example, a specific model is made for the Glock MOS series that doesn't use a plate and attaches to the MOS milling.
Plans are to create a model for the MOS series, the HK, CZ, and many more in the future.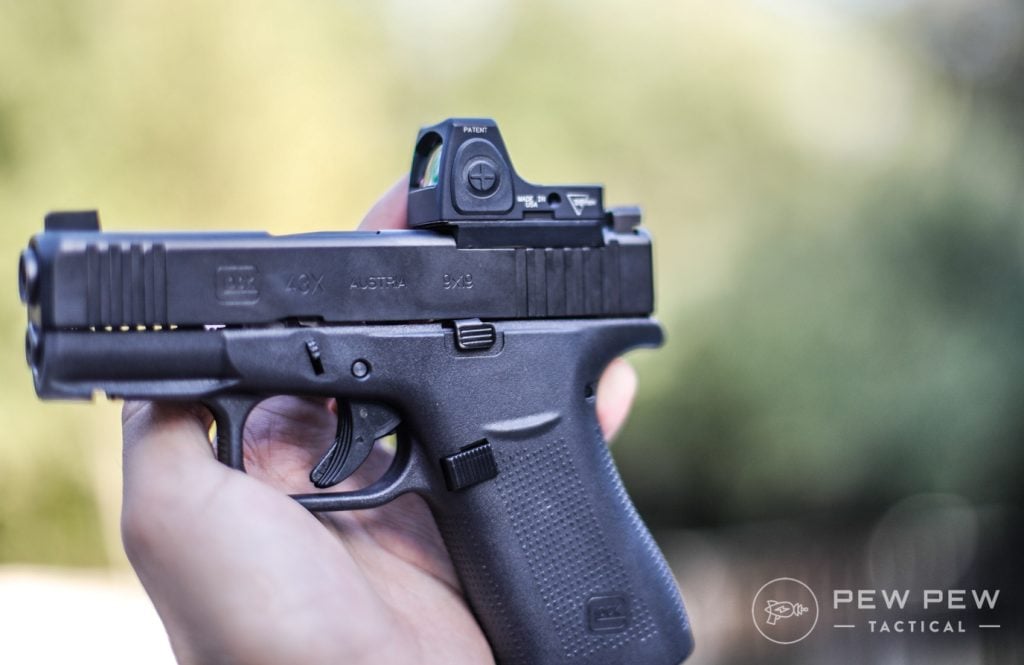 The optic has a 2 MOA dot and a 32 MOA circle. A single button allows you to swap the reticles.
Brightness is automatically adjusted, and Holosun accounted for weapon lights.
The optic uses multiple sensors to determine light in front, above, and behind. This ensures the transition is accurate and quick.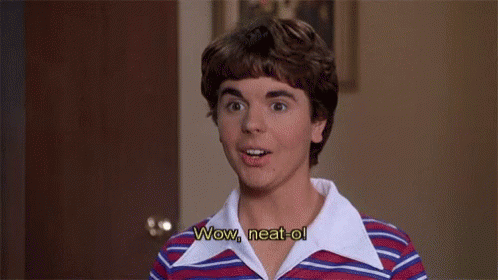 We shot in the bright Nevada desert but sat under a shaded tent. The Holosun SCS still shone brightly and was easy to see and hit with.
Conclusion
SHOT Show is over, but despite the smaller crowds, there were still plenty of products worth seeing — from optics to guns and everything in between.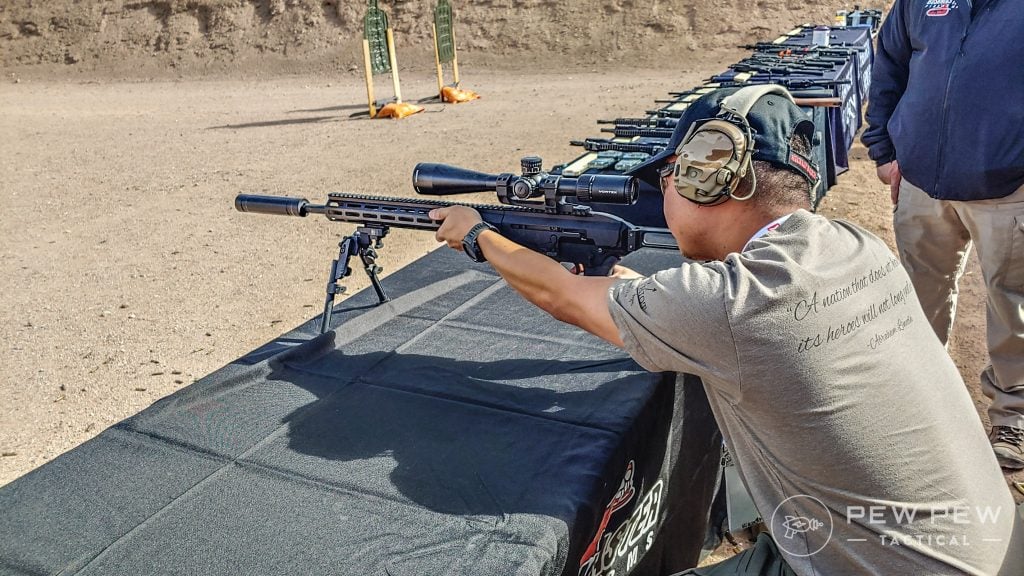 Did you go to SHOT? If so, what was your favorite part? Let us know in the comments. Want to see which guns were introduced last year? Check out the Best New Guns of 2021.