SHOT 2020 is over and our numbers are improving, this time only 4/5ths of the team are sick!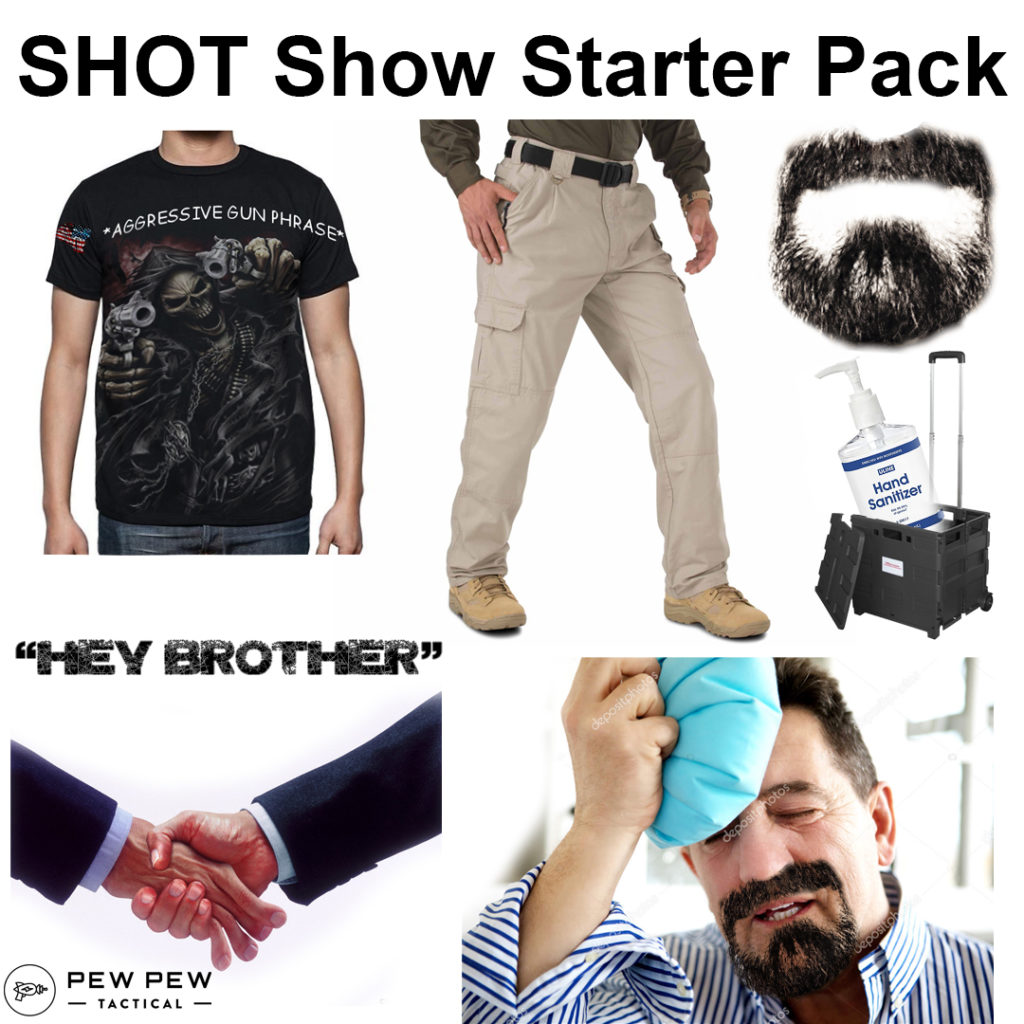 Between playing Frogger with people and their carts and being offered stickers and patches like they were going out of style, we found some awesome new products for 2020.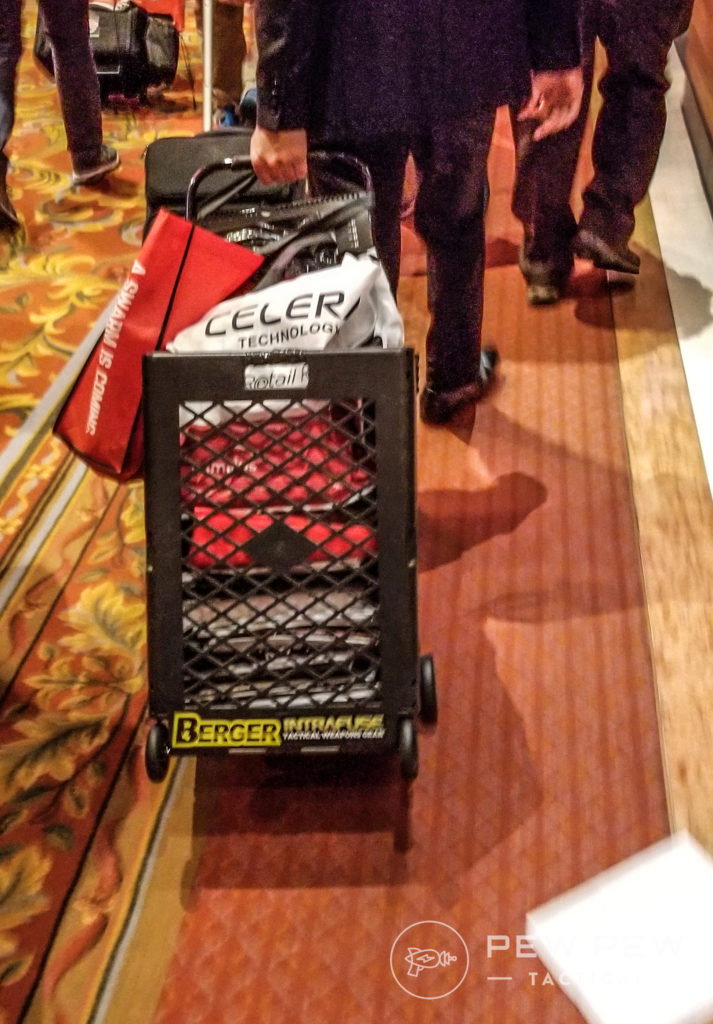 It's safe to say that SHOT 2020 had a lot more new stuff than in 2019 and while we each had a list of things we're looking forward to, these are what made the top of the list!
Oh…and some cringey stuff.
Eric
Sig Sauer Cross
Sig's first bolt action in a LONG time.
The Cross is a "cross"-over between a precision rifle and a hunting rifle.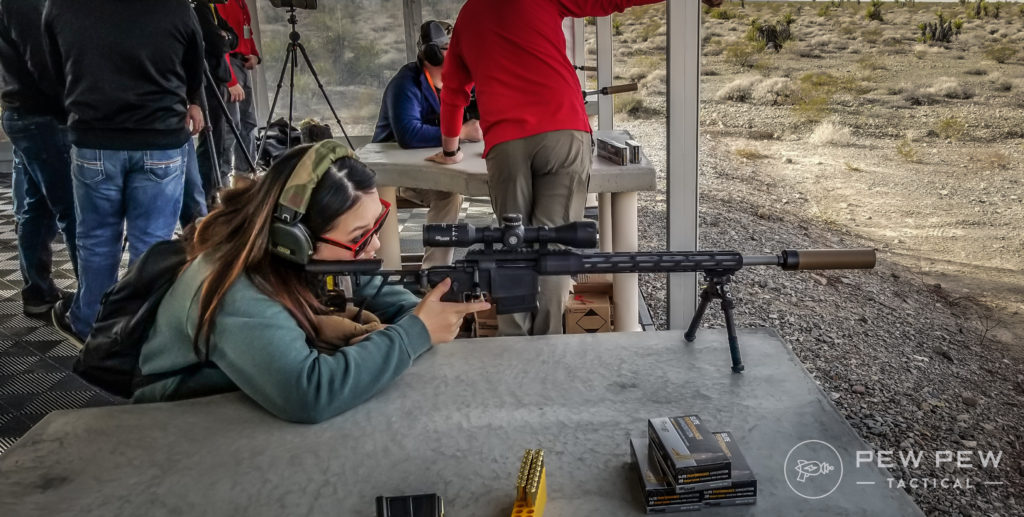 We had the chance to shoot several Cross rifles with cans chambered in 6.5 Creedmoor and .308 Winchester. Bummed they didn't have the high-pressure .277 Sig Fury to try.
Combo-ed with Sig's BDX Scopes it was ridiculously easy to hit from 100 to 500 yards.
See it in action…
And we're going to get our hands on some for an in-depth review!
Flux Defense Brace
It might not be completely new for 2020…but it was a blast to finally try.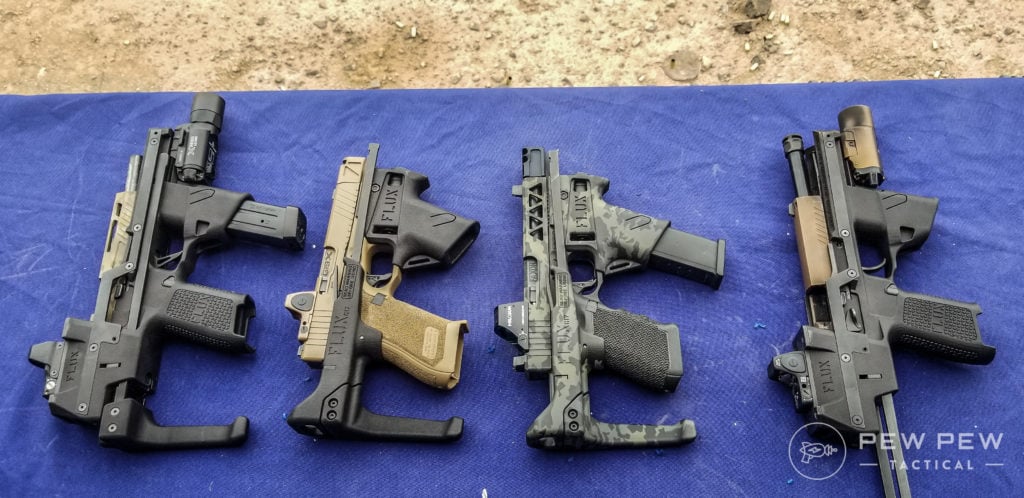 The team (and FB page) had a good laugh at their original video but the latest iteration for the M17 was highly effective once you realized you had to really hunch forward.
Safe Life Armor
There seemed to be a lot of armor advances this year from super light plates to Safe Life's bendy-boi rifle rated vest.
This demo one is a little larger than needed for my size…but you get so much more coverage than with regular ballistic plates.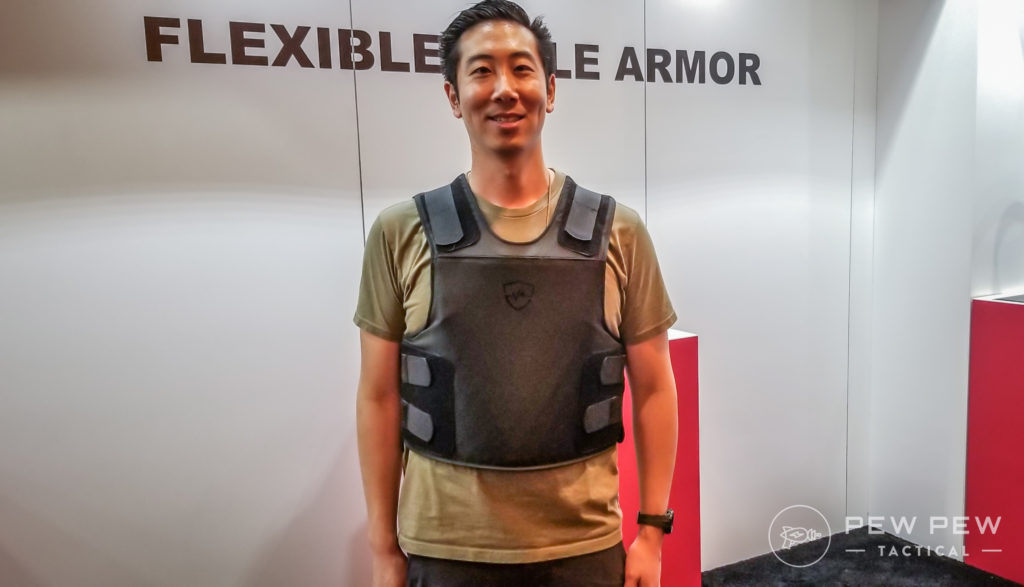 Very comfy and form-fitting at ~15 lb.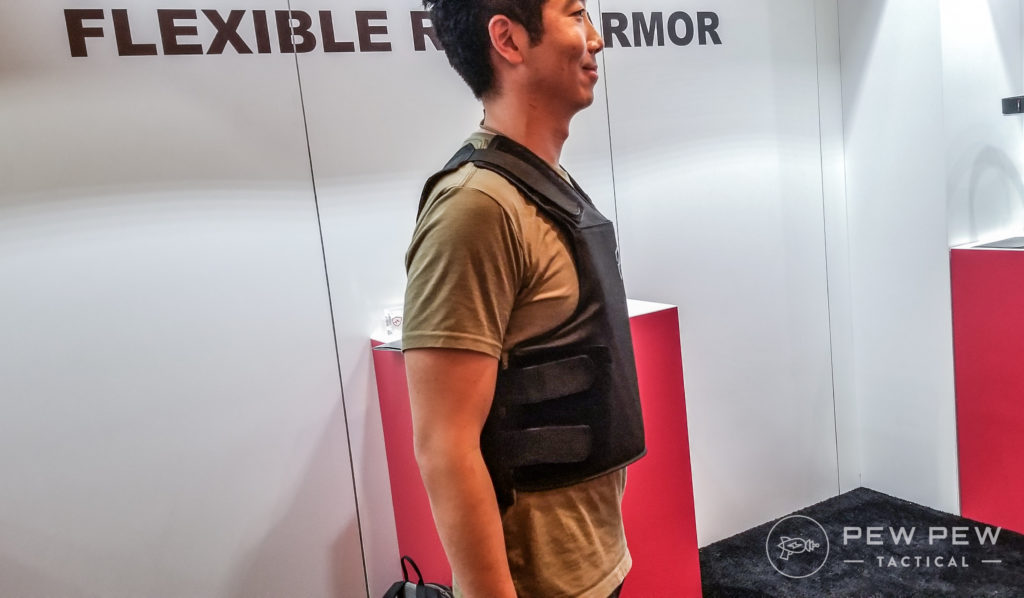 Can't wait to try it out in hand!
Cringey Stuff
John's got some more…but great slogans guys.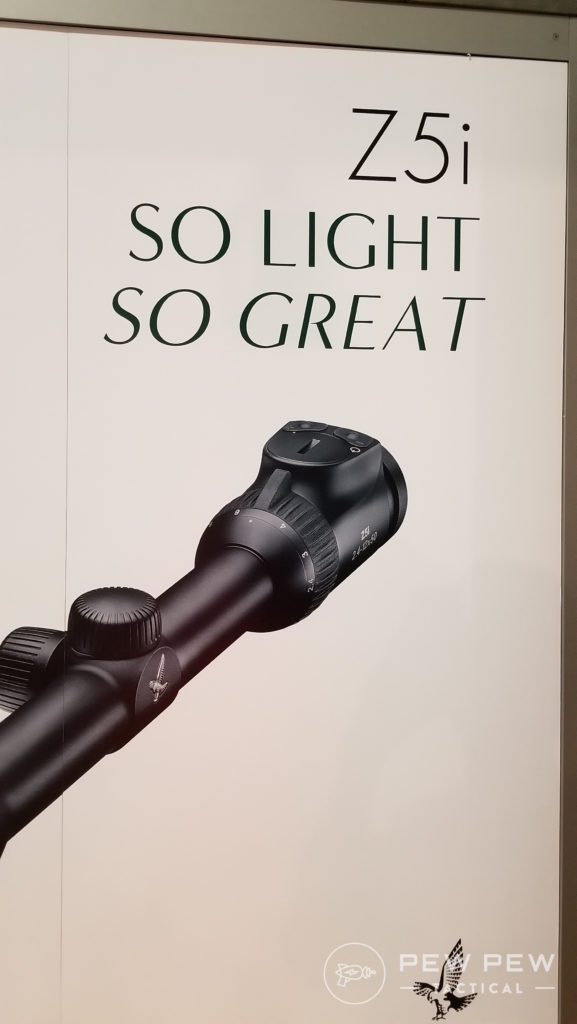 Uhh…is this the macho dude's version of Marilyn Monroe's quote? Also…100 proof is 50%?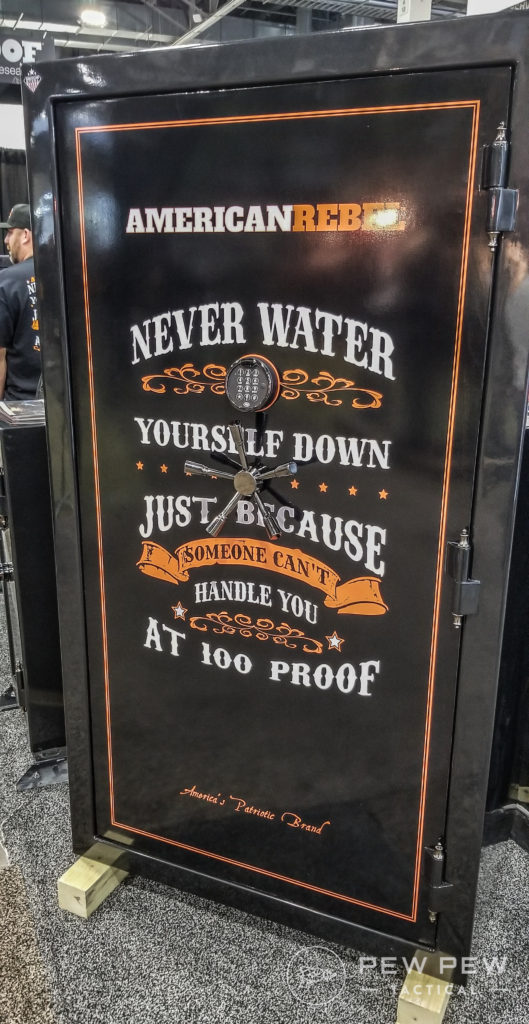 Love their gun mats…but why venture into door mats? Full disclosure…Johnny already found these before.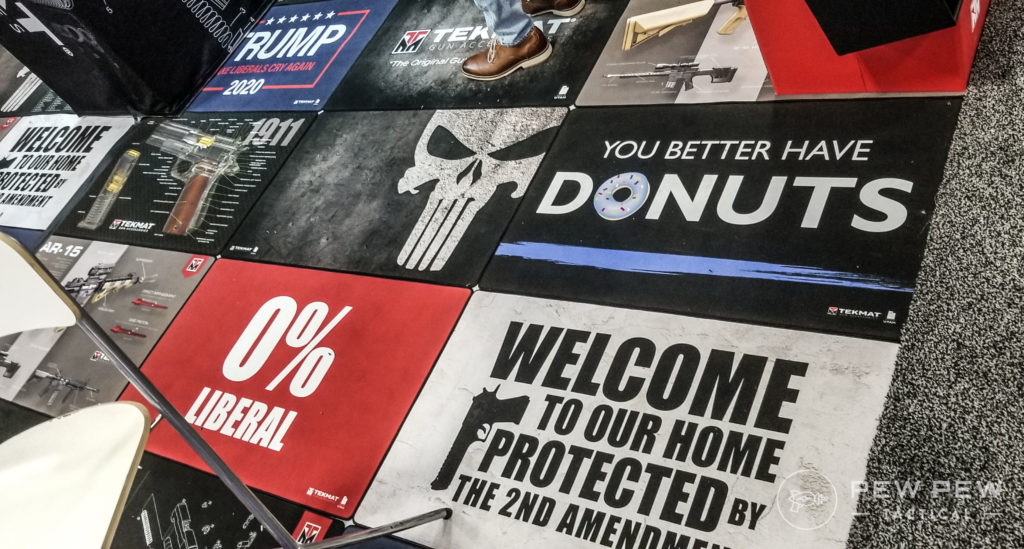 But I have finally experienced them in person.
How about some really aggressive police product photos?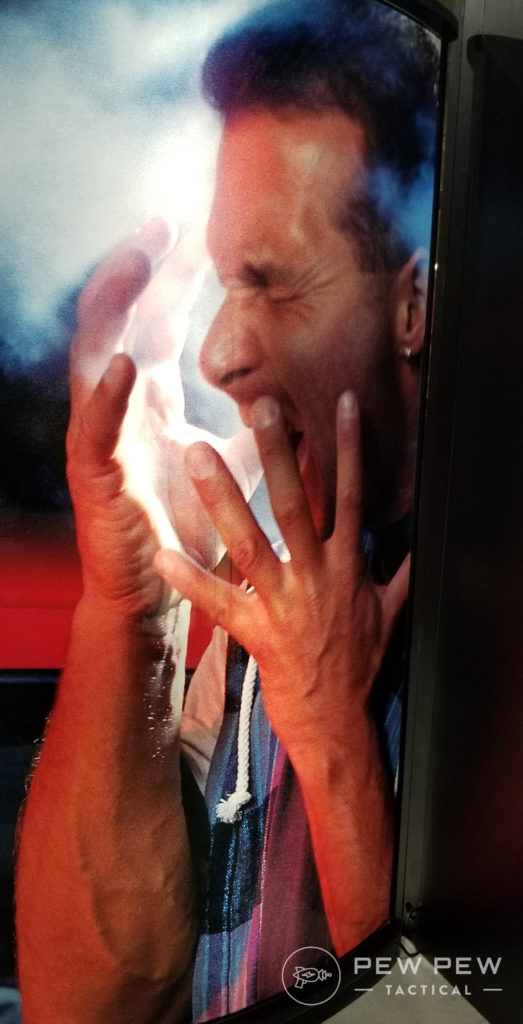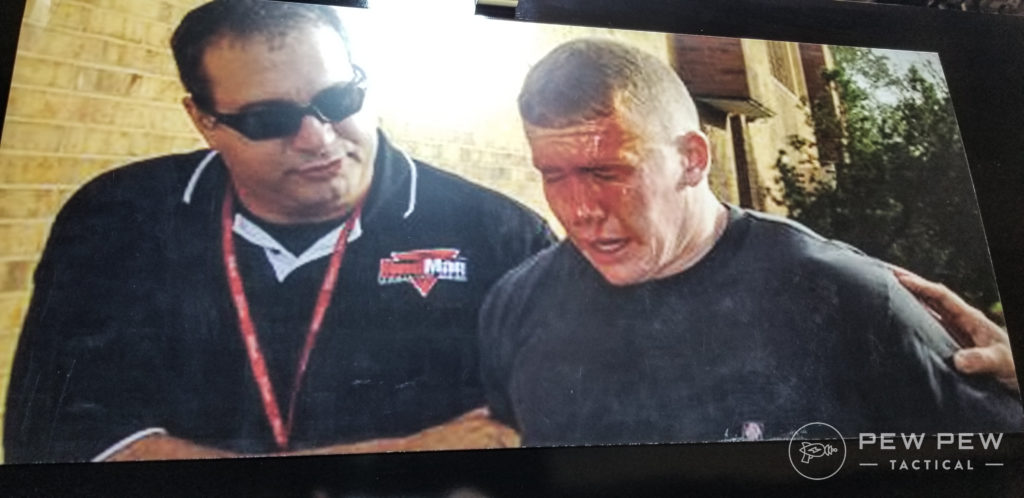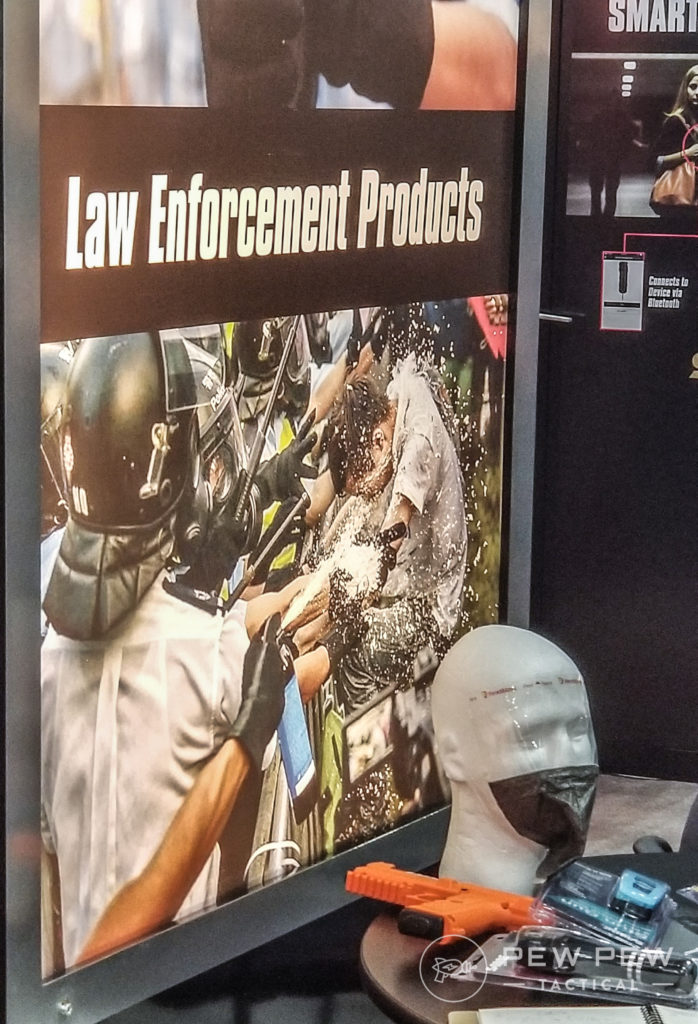 And finally something good inside the bathroom stalls…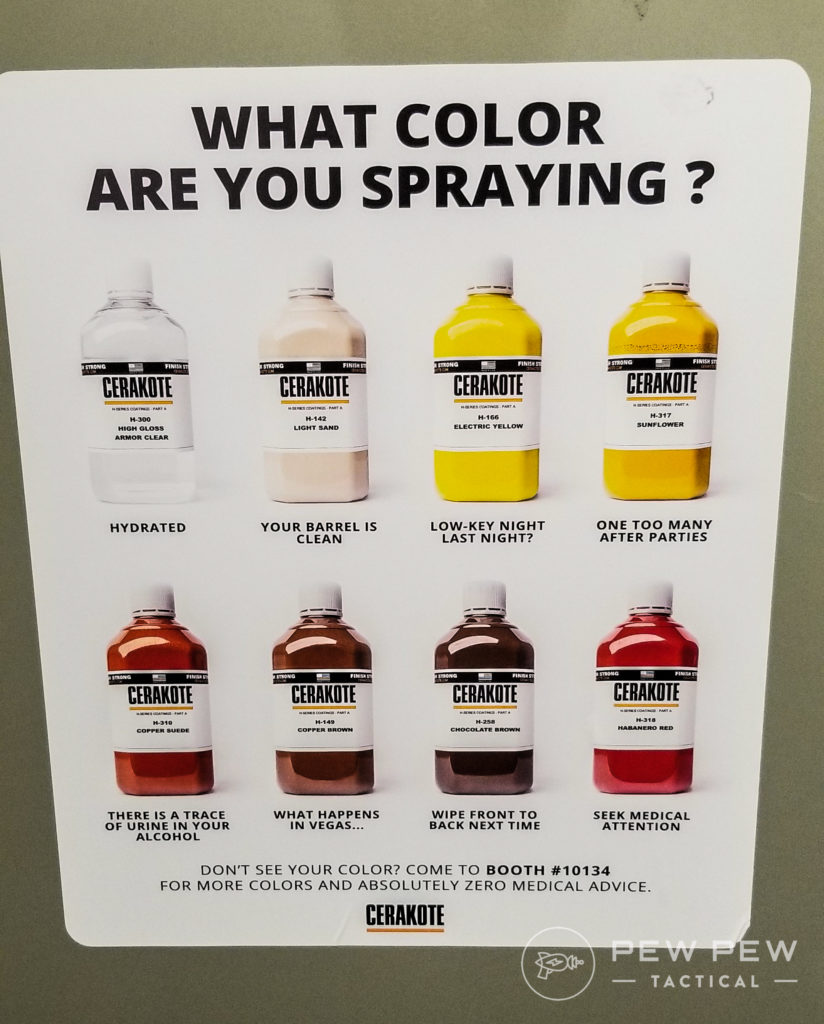 David
There was a surprising number of cool and new things to see this year at SHOT, much more than in 2019.
While things like PSA's AK line and Sig Sauer's new Cross rifle are high on my list, the two I'm interested in most is the CTX-1 Rifle Chassis from Advanced Shooting Analytics (ASA) and Brownell's AR-180 clone stock and BRN-180 AR-180 clone lower.
CTX-1 From Advanced Shooting Analytics
The CTX-1 Rifle Chassis is… different. First, it has all of the great features you want in a good precision chassis, Arca rail, M-LOK, adjustable LOP and cheek rest, and even an adjustable bag rider!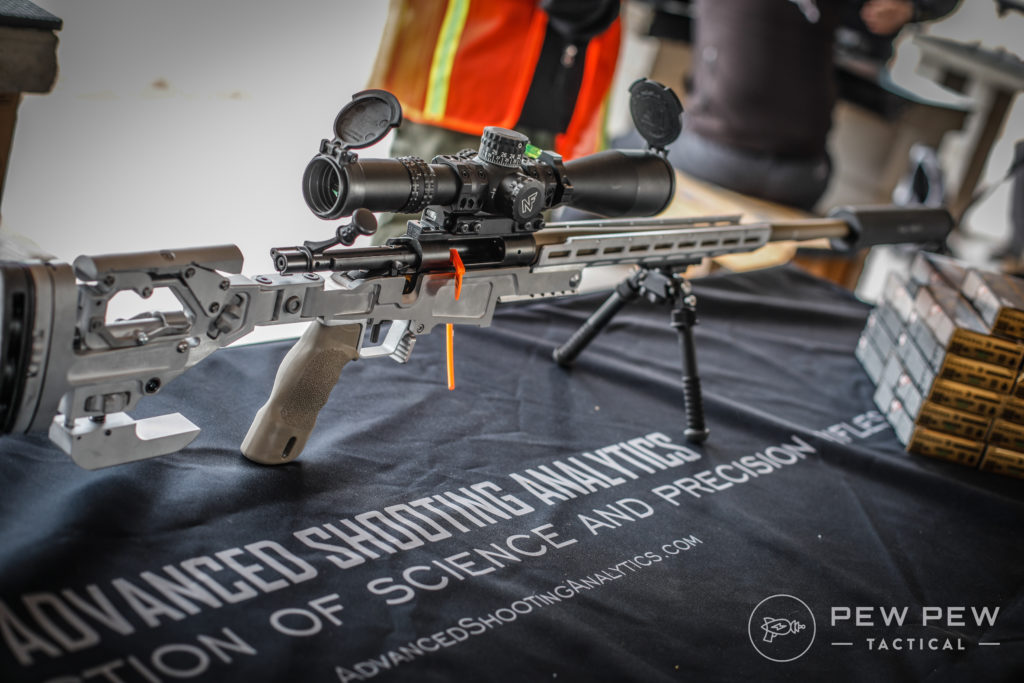 What sets it apart from the pack is that instead of being made with wood, polymer, or aluminum–the CTX-1 is made out of steel in critical areas that can impact accuracy, the same steel that your receiver is made from, while the rest is made from aluminum to keep the overall weight to a reasonable poundage.
This, according to ASA, improves accuracy due to there being no thermal shift between the two metals. What they mean by that is that normally the two metals expand at different rates due to temperature, thus causing non-uniform flexing.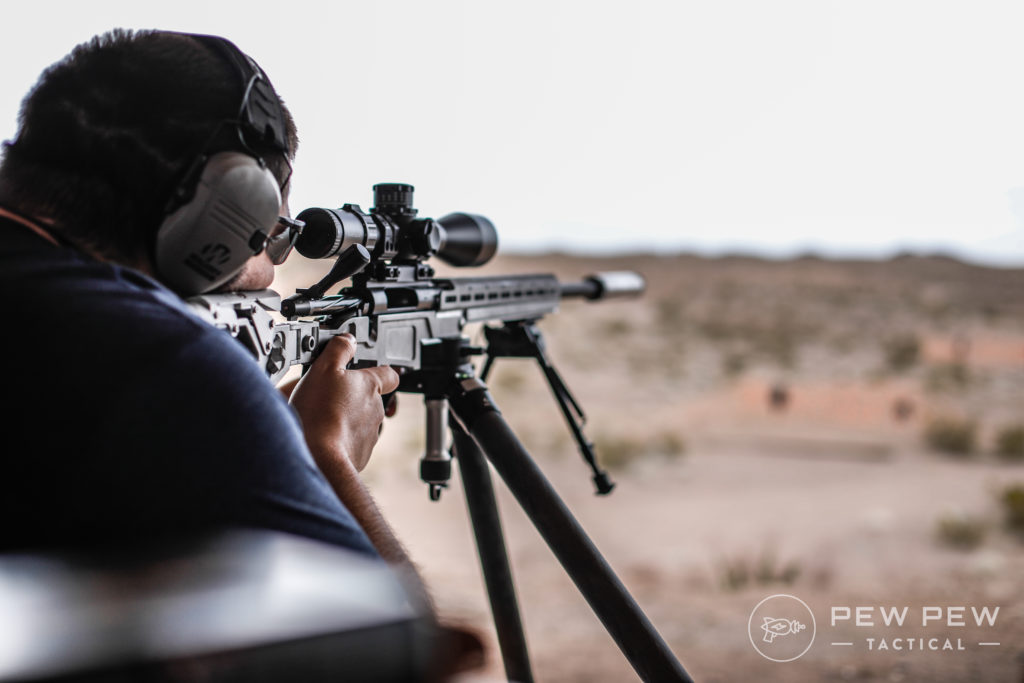 ASA says this can cause as much as 1.5 MOA shift depending on temperature. But making the chassis out of the same metal solves that issue.
Frankly, I don't know enough about material science to know if they are correct or not. But it does make sense, we know that thermal shift is an issue with other rifles, once recent case being the G36, so it logically tracks that this could be the next step in hyper precision chassis.
Even ignoring that part of it, it's a great chassis. Period. Shooting it was awesome! If possible, I would love to get my hands on one and test it out.
Brownell's BRN-180 Stock And Lower
Last year, the BRN-180 upper was my favorite thing from SHOT. And I still love this upper, it's flat out awesome.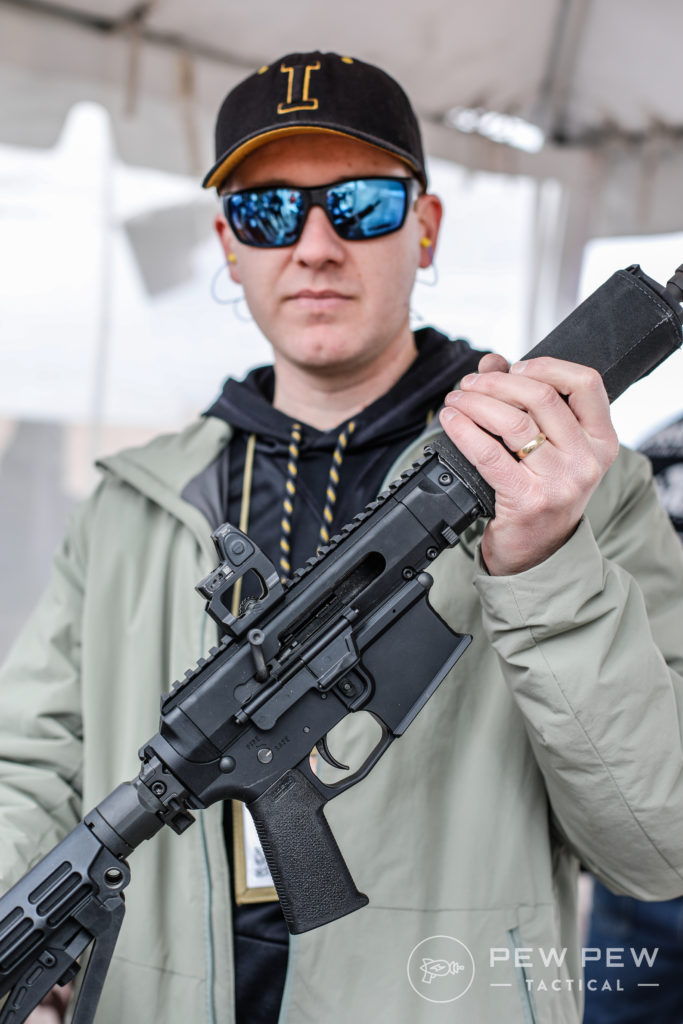 Brownell's is coming out with even more goodies for it though with their own clone side folding stock AND a lower that is designed for the BRN-180 upper.
169
at Brownells
Prices accurate at time of writing
Prices accurate at time of writing
The lower features NO buffer tube, since the BRN-180 doesn't need one, but does have an integrated Picatinny rail built into the rear of the lower so that you can attach folding stocks like the Sig MCX line or (coming soon) Brownell's clone stock.
I love everything AR-180, so I'm excited for all of these. Plus, the lower is coming in at a great price. If you haven't gotten to try the BRN-180 out yet, I really recommend it!
John
Sig Sauer MG-338
Sig's next-generation medium machine gun was on display at Sig's private range day event, and we were lucky enough to run a short belt through the gun just before cocktail hour.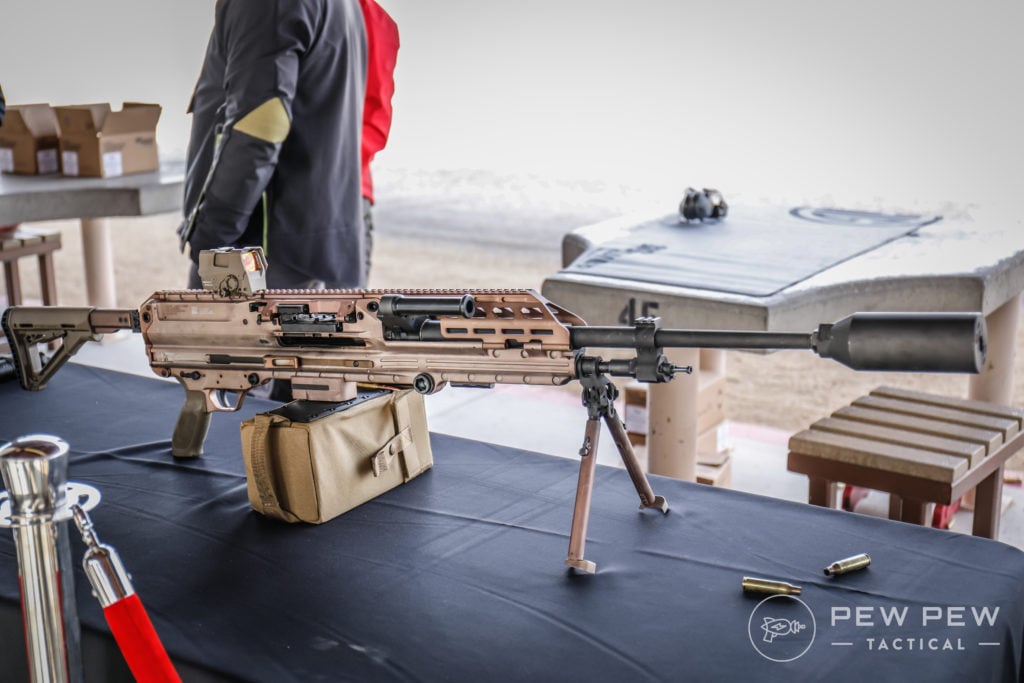 There's something magical about belt-fed full auto, and the MG-338 doesn't disappoint!
Chambered in .338 Norma Magnum, the MG-338 aims to bridge the gap between the M240 / MK48 machine guns and the M2 .50 caliber HMG – delivering a squad portable weapon that weighs less than the M240 (approximately 20lbs unloaded) while delivering similar effective range as the M2.
The gun has just been safety approved by USSOCOM, and is apparently now in the field testing / eval phase by MARSOC.
Featuring a side-folding and telescoping stock, AR-style fire controls, and the ability to feed a belt into the chamber without opening the feed tray if necessary.
To say the least, this was an absolute blast to shoot during the limited time we had with it, and that .338 Norma Mag packs a damn hard punch.
The system is also swappable over to traditional 7.62×51 as well — in what's likely a contingency plan in the event the US government isn't easily sold on replacing the likely vast amount of 7.62 NATO we've got stockpiled.
Plus…suppressed!
As a military small arms nerd, I tend to geek out about prospective future weapons – and getting our hands on a gun currently being tested by SOCOM is hands-down cool.
Palmetto State Armory AK74s & AK103 Clone
Although everyone on the internet has mostly been discussing the apparent finalization of PSA's long-awaited MP5 clone, several other guns entirely were what caught my eye while visiting PSA's booth at SHOT this year.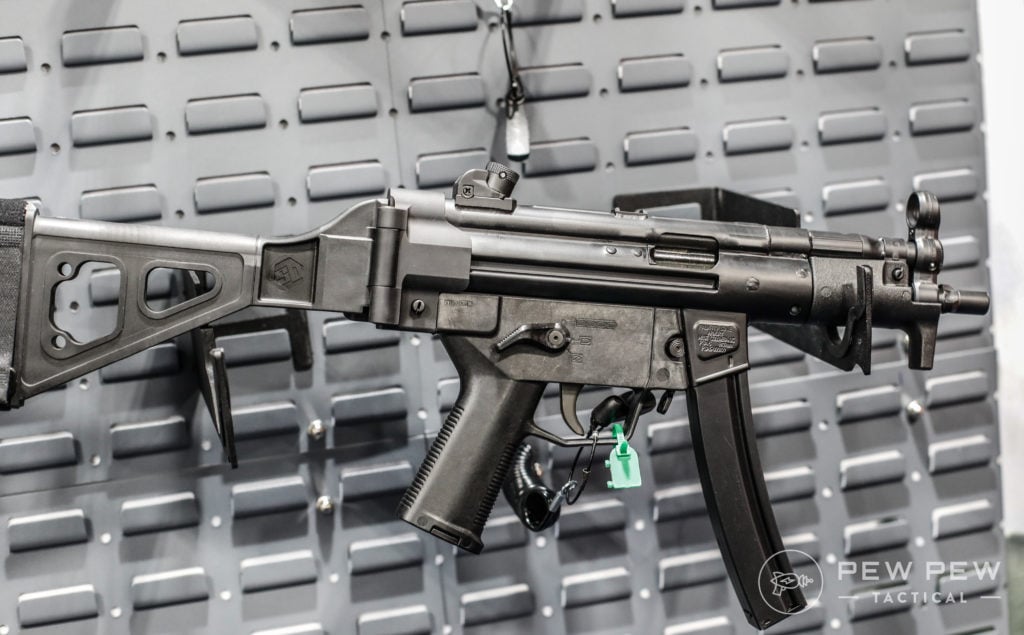 While staring at one of their Gen 3 PSAK47s mounted on the wall, I noticed the curvature of the magazine in the gun just below it – standing in contrast to the more aggressively curved 7.62×39 magazine above.
"Wait–is that a 5.45 Pmag?" I said aloud to no one in particular, nerd senses tingling.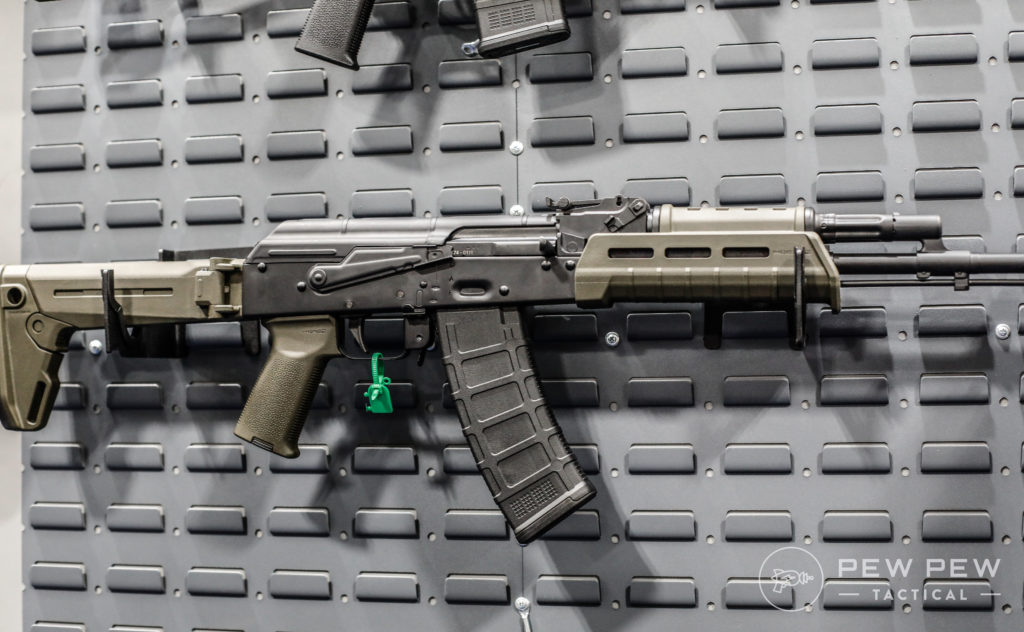 Upon closer inspection–I was correct! It appears that PSA is also quietly launching American made AK74s this year, chambered in their OG 5.45x39mm. As far as I'm aware, this is a first for the domestic American market!
Thus far, it appears we've got a standard AK74N (although PSA had it displayed with OD Magpul Zhukov furniture) and an AKS74U featuring a side folding triangle brace. A pretty interesting solution to owning the iconic 'Krinkov', if you ask me.
While geeking out about the AK74s, another AK derivative caught my eye on a separate piece of grid wall real-estate.
A side-folding, full polymer stock found on the AK-100 series rifles? Sure enough, I was correct again!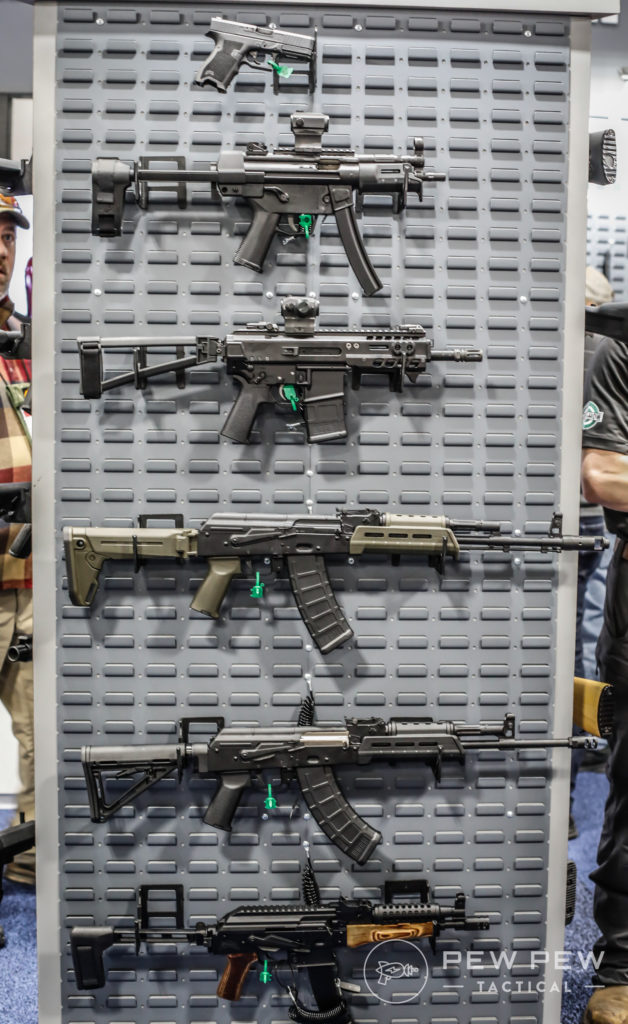 Someone on the PSA R&D team is apparently as much of a Russophile as I am when it comes to small arms, and it appears PSA is geared up to produce an AK-103 clone this year as well.
The AK-103 is essentially an AK-74M that's still chambered in 7.62×39, and features a full-length barrel with a 74 style muzzle brake, side-folding polymer stock that butts up against the optics rail, and the black polymer furniture native to all modern AK74Ms and AK-100 series rifles.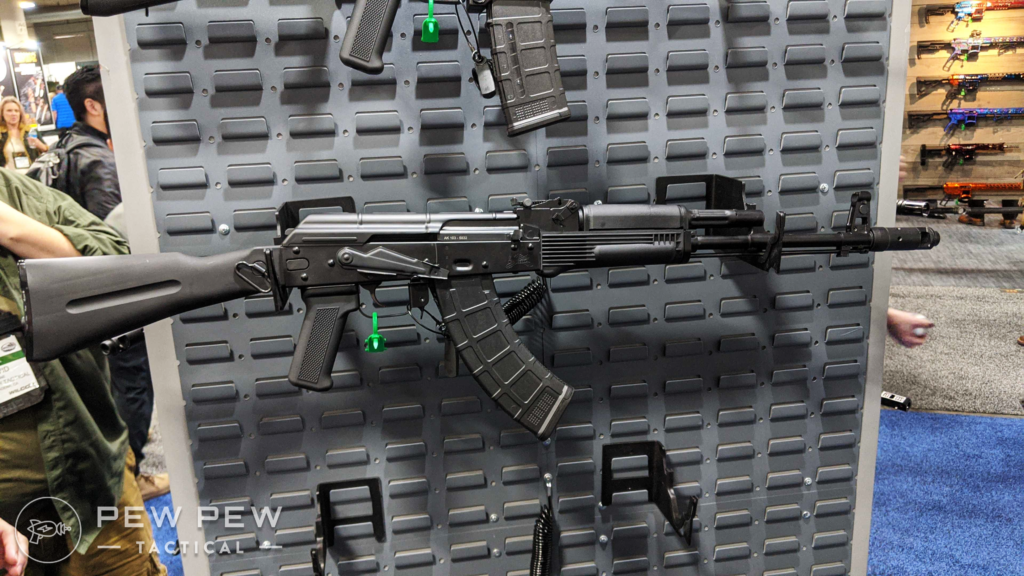 Notably, the gun is way less in-your-face with the Palmetto State Armory logos and stamps as well – featuring only one PSA stamp on the underside of the receiver, which is sure to make clone builders happy.
Again – as an AK guy, it's really cool to see PSA stepping in to fill the gap left by a lot of the modern importation bans – and likely at a reasonable price point to boot.
Cringey Gun Marketing
There's nothing quite like being inundated with tactical marketing buzzwords for an entire week to make your eyes sort of glaze over every time you're handed another business card with "Dynamic Land Warrior Threat Solutions International, LLC" emblazoned on it.
From the endless sea of boomers using "Make _____ Great Again" as a slogan as if they're the first to try to ride those low-effort coattails, to brands that seemingly couldn't find a photo larger than 400×400 to blow up into a pixelated mess and put on a sign at the booth they probably paid several thousand dollars to rent.
Seeing Ruger's borderline insulting tagline for the Ruger 5.7 plastered on a banner bigger than your house just screams that the firearms industry desperately needs help from creatives, imo.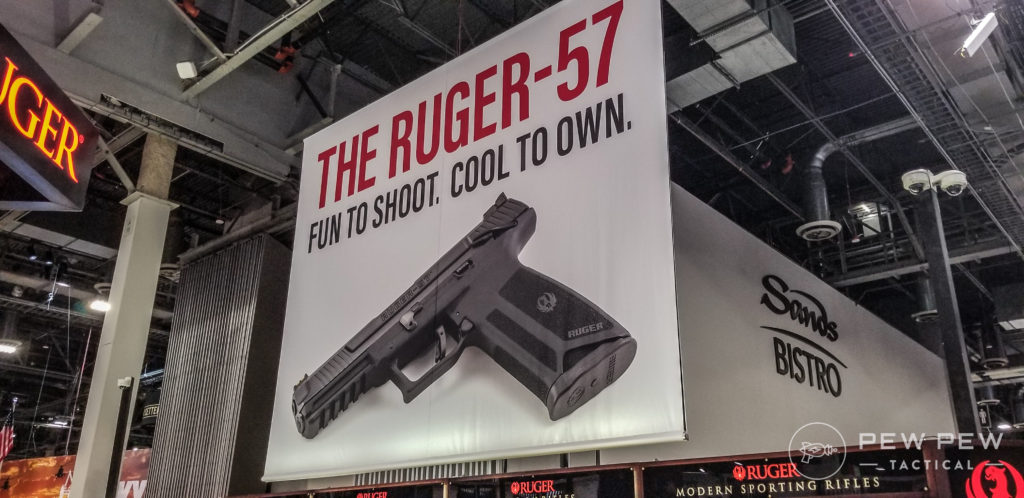 Fun to Shoot. Cool to Own.
This is seriously the catchphrase for a gun launched by a multi-million dollar a year firearms company in the year of our lord 2020, and it's so half-assed that it makes me want to die.  
Allison
First off–let's be clear that this was my first-ever SHOT Show, and as a noob to the industry, I didn't know what I was walking into (besides a surefire way to come down with the SHOT Plague, which I managed to dodge thanks to my hand sanitizer obsession).
That being said, I was pleasantly surprised at how much was there that even I could geek out over, even as a casual shooter.
Sure, I might have been mistaken as a girlfriend a few times but as we say in 4-H, "I learned a lot and I had a lot of fun."
PSA JAKL (Or Jackel, if you don't spell tactically)
Truth be told, there were a lot of guns at SHOT. I know, surprising.
But as someone who's only been in the industry for nine months it is a little hard to tell what's actually new and exciting, and what's old news to the rest of the shooting world, but came out after last SHOT Show so it had to take up space in a booth.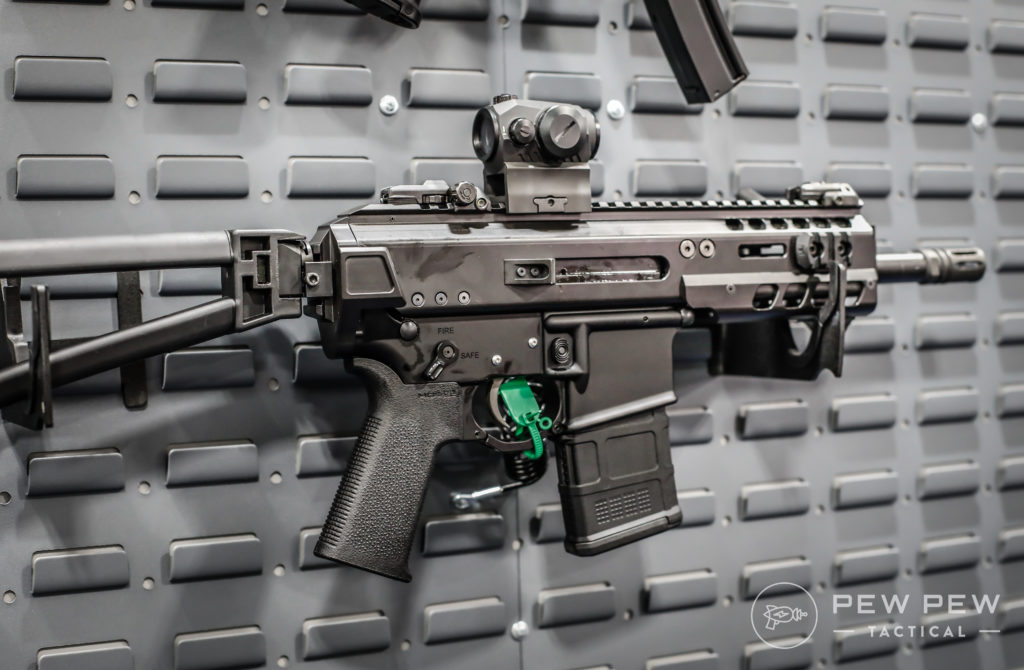 From the sheer amount of geeking this gun attracted, even I could tell that the PSA JAKL was new and exciting.
Palmetto State Armory was really proud to show off their new take on the AR-15 platform, chambered in .300 Blackout and using a long-stroke gas piston and a captured bolt, which mitigates the need for a long buffer tube.
What does this mean for you? Four words: folding stocks and braces.
Overall, the barrel is 7.5 inches, with a 1/8 twist, which makes it handy for subsonic loads. The floor model weighed about 5.5 pounds, and while it's not complete, PSA is looking to keep the weight under 6 pounds.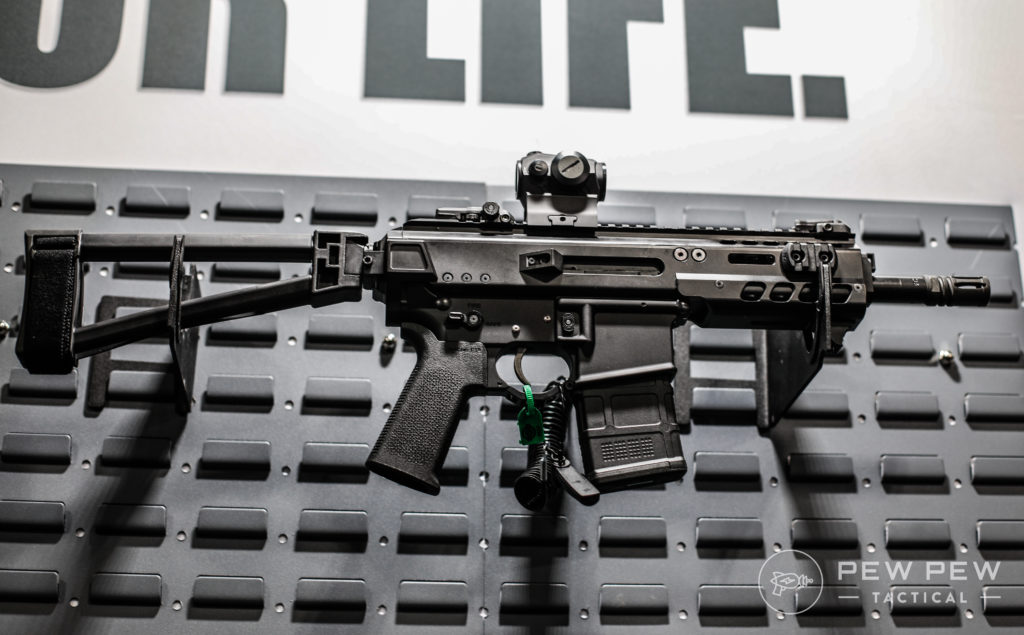 It's mounted onto a slightly modified AR-15 lower and used the internals that was similar to an upside-down AK fused with an H&K G3 or MP5.
It sounds confusing and weird, but totally makes sense once you look inside. Sadly, PSA wasn't ready to publicly show the insides just yet so you'll have to take our word for it… for now!
Cheeterz Ammo Podz
Okay, so I know there's like, a million and one mag loaders on the market, so what makes Cheeterz Ammo Pods stand out? Well, for one–it's pre-loaded. That means no messing around with trying to load bullets into a speed loader.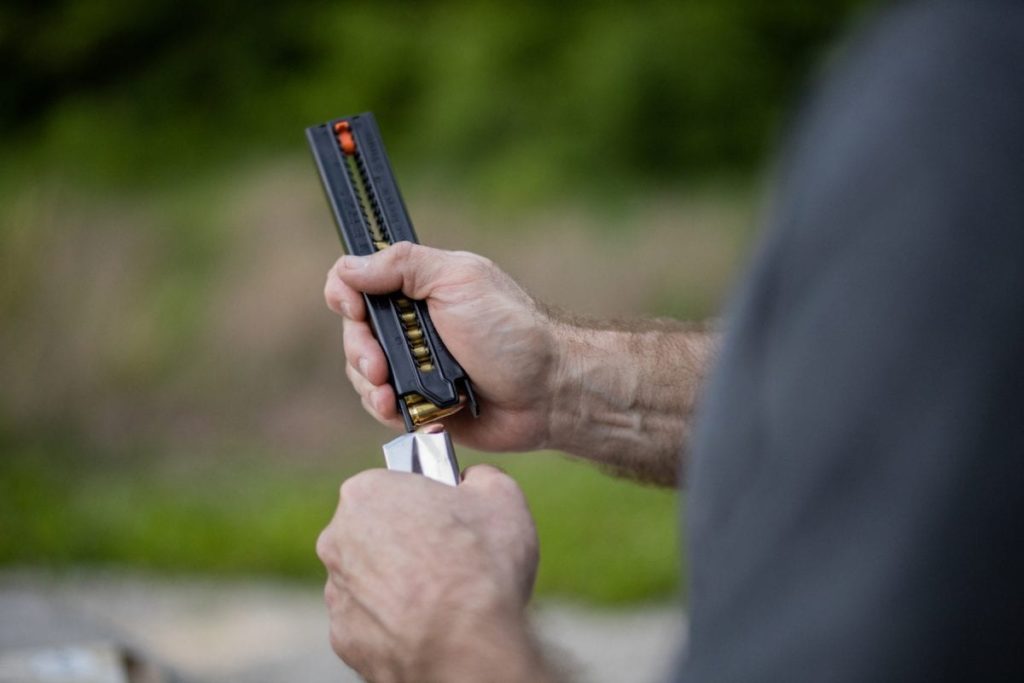 Secondly, they're meant to be recycled after a single use, so you don't end up landfilling them after use. Sure, a box of pods is a teeny bit more expensive than a regular box of 9mm, but you're paying for convenience.
After trying the Podz, I gotta say, this is the easiest time I've ever had loading in my life. They require almost zero dexterity and use the muscles of your arms–not your hands–to operate it.

This makes Cheeterz awesome for disabled shooters who may have limited strength or dexterity (or don't want to waste their energy on loading mags when they could be shooting). And honestly, if you've ever seen me try to load a magazine, you'd see just why I loved these weird lil things.
Sadly, they only come in 9mm loads right now, but the company is looking to grow their line soon!
Travis
Dan Wesson DWX Compact
I shouldn't be surprised that I found my favorite gun of SHOT at the CZ booth. I'm a big CZ nerd and have always appreciated CZ firearms. The brand rocks and are always forward-thinking from what I've seen.
My pick is the DWX Compact. The DWX Compact combines the best features of two very legendary firearms, the 1911 and CZ-75.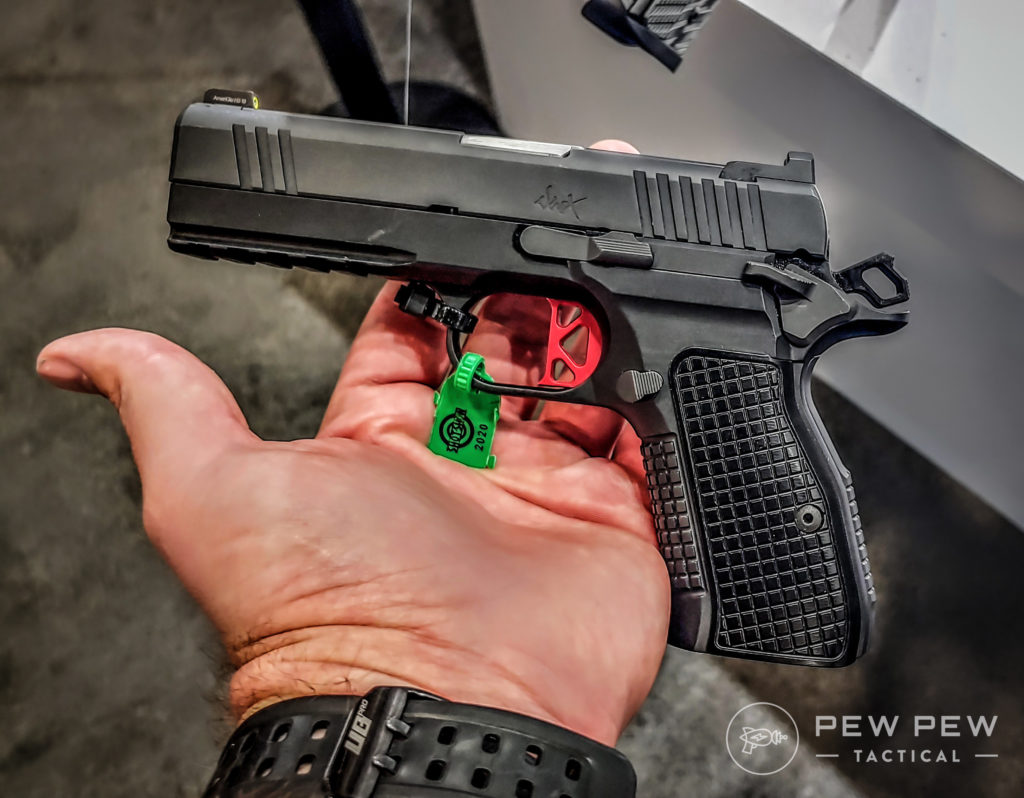 This is the Compact model, so realistically it's a combination of the compact variants of both these guns. The frame uses the legendary CZ ergonomics as well as the CZ magazine profile.
CZ compact series is like the Glock and can accept any full-sized CZ-75 magazine as well. The CZ frame ergonomics are legendary for a reason. The gun fits the hand oh-so-comfortable and gives you a very nice and very strong grip.
Thankfully, CZ magazines are widely available due to the gun's fame around the world and can range anywhere from 10 to 26 rounds.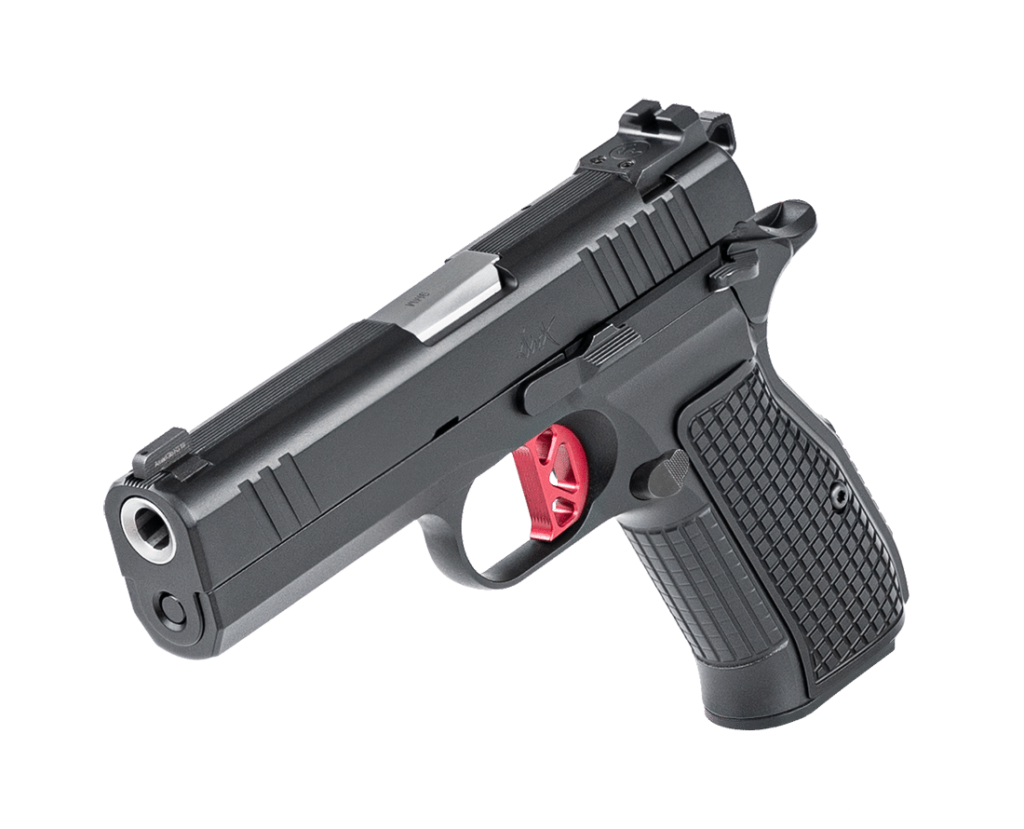 It can also accept any CZ-75 compact grips so your options are quite expansive. Oh, and you can attach any CZ-75 magwell to the gun.
The top side of the DWX compact is a 1911 slide and this includes the single-action design and excellent 1911 trigger. The gun uses a 1911 style frame-mounted safety and has an amazing single-action trigger. The DWX Compact is perfect for concealed carry, albeit it's a heavy all-metal gun with an equally heavy price tag.
The sights are also a mix of CZ and 1911. The front sight is Dovetail 1911 sight and the rear sight is a CZ Shadow 2 rear sight. The front sight is a high viz design with a tritium insert for night time use.
The rear sight is blacked out and makes it easy to find the contrast between the front and rear sights.
Unfortunately, CZ doesn't come to range day, so I couldn't take this gun to the range. I imagine it handles incredibly smoothly, just like any metal frame CZ series firearm.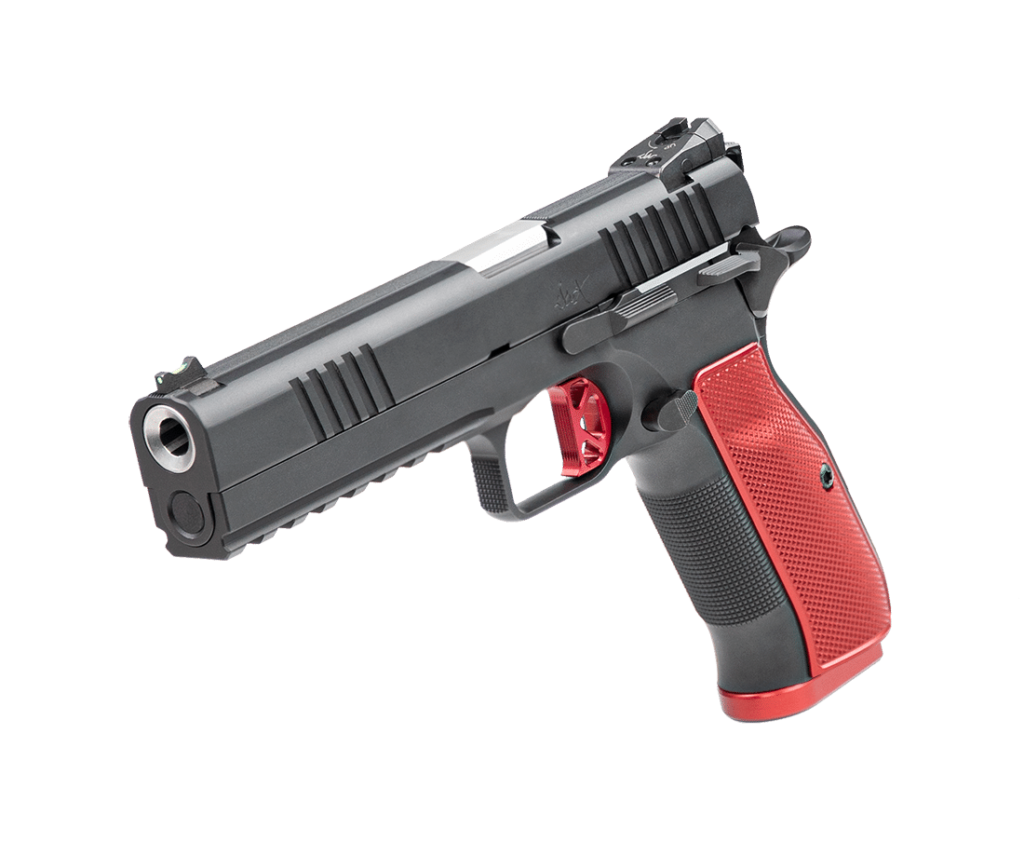 They also make a DWX full-sized, but the compact appeals to me for concealed carry use.
The Compact also comes with the option for a rail or no rail depending on your preference.
I'm personally torn because the rail is handy, but the non-railed version looks so smooth. Either way, I'm hoping to get my hands on a DWX Compact sooner than later.
Sean
Laugo Alien
"Have you seen the Alien?" was an oft-repeated question at SHOT Show's Industry Range Day.
Finally, I did. Stopping by the range section housing Laugo Arms Czechoslovakia, I received a pretty detailed breakdown and got to shoot the impressive looking weapon.
It performed even better than it looked.
First off, let me start by saying the Alien is being marketed as a revolutionary competition gun. It is very different than most pistols I've experienced before.
First, it has a super low bore axis, reportedly the lowest in the world according to the Laugo. The bull barrel is fixed in the frame and the top of the slide is stationary also.
Only the sides of the slide reciprocate and take care of ejection but there is also a gas-driven piston brake that slows the slide down to help with recoil.
One pin in the front of the pistol gets pulled to tear the gun down.
So how did the Alien stack up to the hype? It was impressive.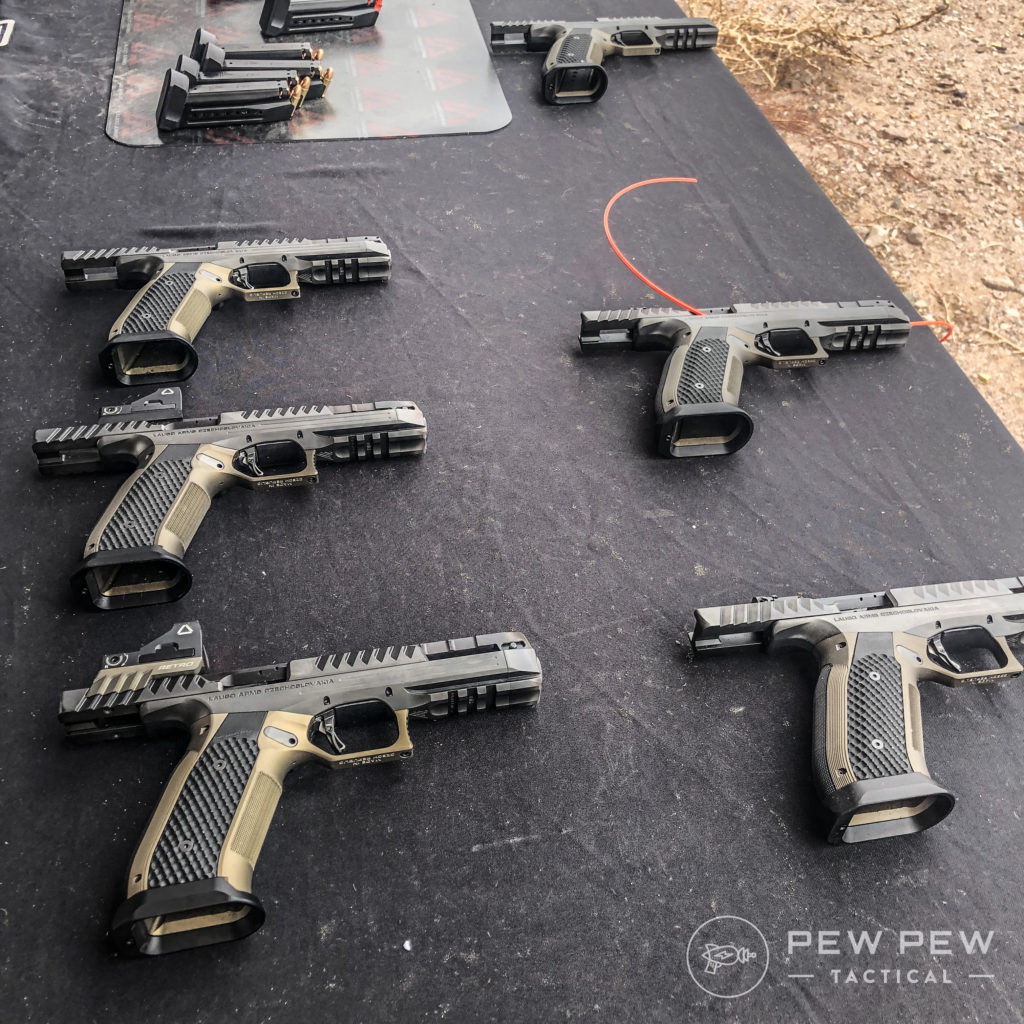 The grip angle was one of the most ergonomic I've felt and the magwell was cavernous. The barrel sits so low in the frame, it's level with your finger when you index.
On picking it up, it felt heavy. The website lists fighting weight at 2.2 pounds unloaded. The trigger was good and I quickly found myself emptying the mag while enjoying a rapidly returning sight picture.
The gun shot really flat and was extremely accurate.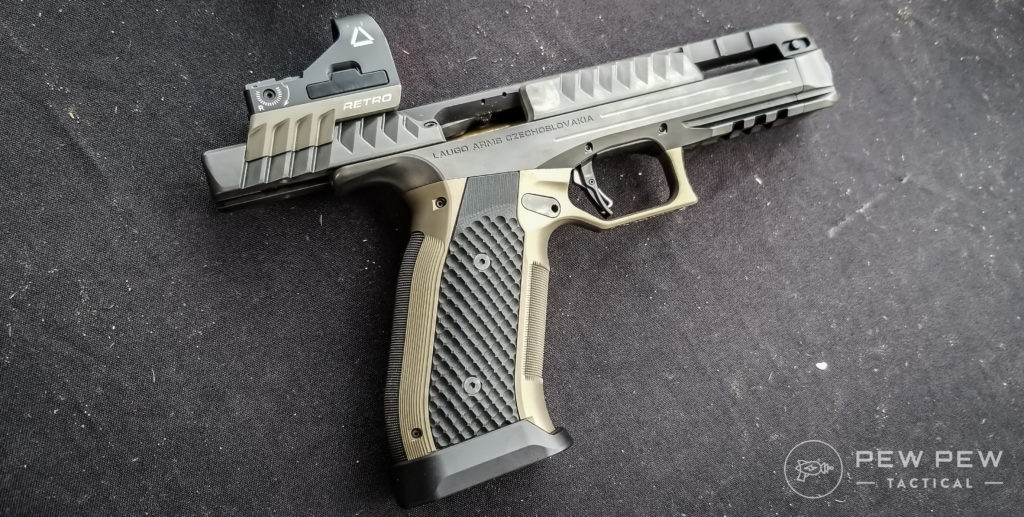 Lancer is importing the Alien at an initial cost of $5,000.00 in a collector's edition package.
It remains to be seen what MSRP might settle to after this release. The Alien is the most innovative gun I've seen in a long time and it performed extremely well during the brief time I tried it.
Parting Shots
Many of these picks we'll be covering in more detail later in the year, we're looking forward to them!
We have a big list of great content for 2020 and are looking forward to more new releases as they come, both here and on our awesome YouTube channel — if you haven't see it, check it out!
Which was your favorite out of our favorites? Anything else we should have seen? For our hands-on tested best guns & gear… check out our Editor's Picks.