I've covered my RE Factor Advanced Slickster before, and that's still the base I use for the current iteration of my rig.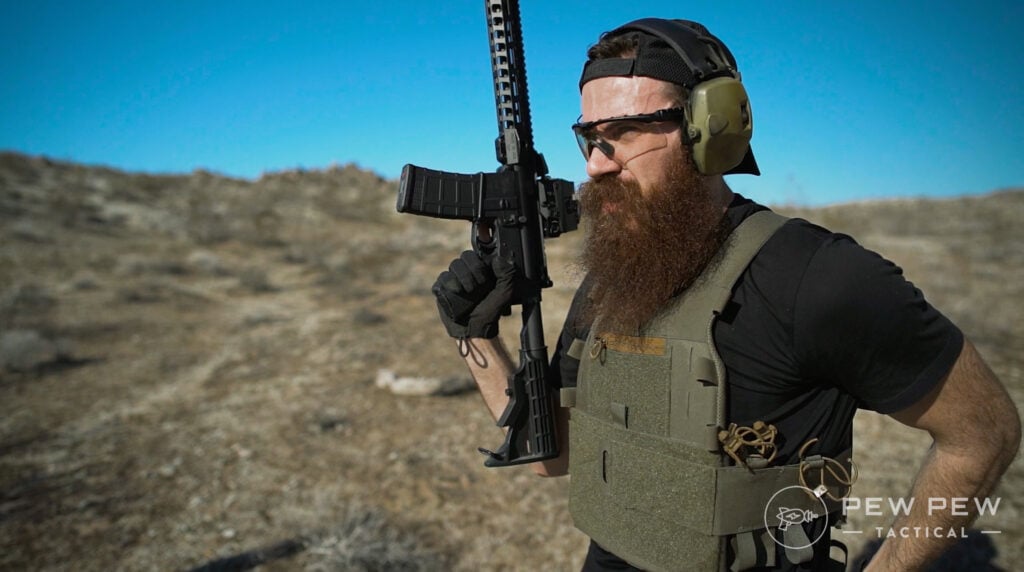 But…I've also been jealously eyeing some of the new features found on Ferro's FCPC V5 base – the newest carrier in Ferro Concept's lineup.
Let's be real though, most of the features and add-ons are small enough that buying a completely new rig feels pretty silly.
So, what's a gear nerd to do?
Fortunately, and rarely for this industry, Ferro released a lot of standalone adapters.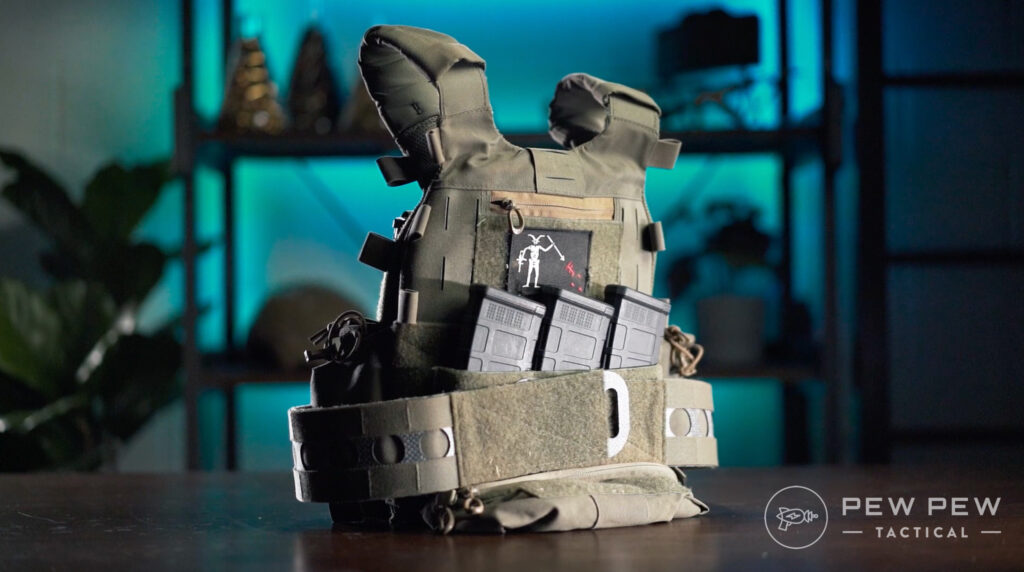 These adapters offer backward compatibility with older iterations of their carriers — basically bringing them up to speed.
And that's what we're tackling today – that newer Ferro stuff that has a new home on my old ass rig…for better or worse.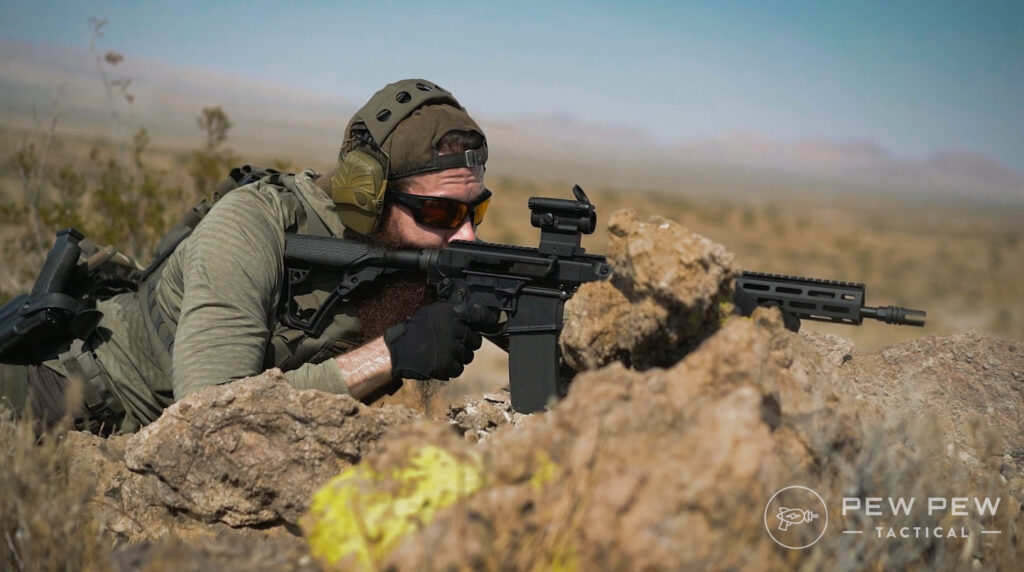 Join me as I take you through what I have, what I like, and what could be better.
Tired of words? Just watch the video below for the full look of my sweet, sweet setup.
Also, make sure you check out the rest of our videos on the Pew Pew Tactical YouTube channel.
Table of Contents
Loading...
Ferro ADAPT Cummerbund
Before we get too far, if you want to see what I'm working with, make sure to check out my other article here to get the lay of the land.
Now, to start this project, I've ditched the stock elastic low profile cummerbund that originally came with the RE Factor Advanced Slickster.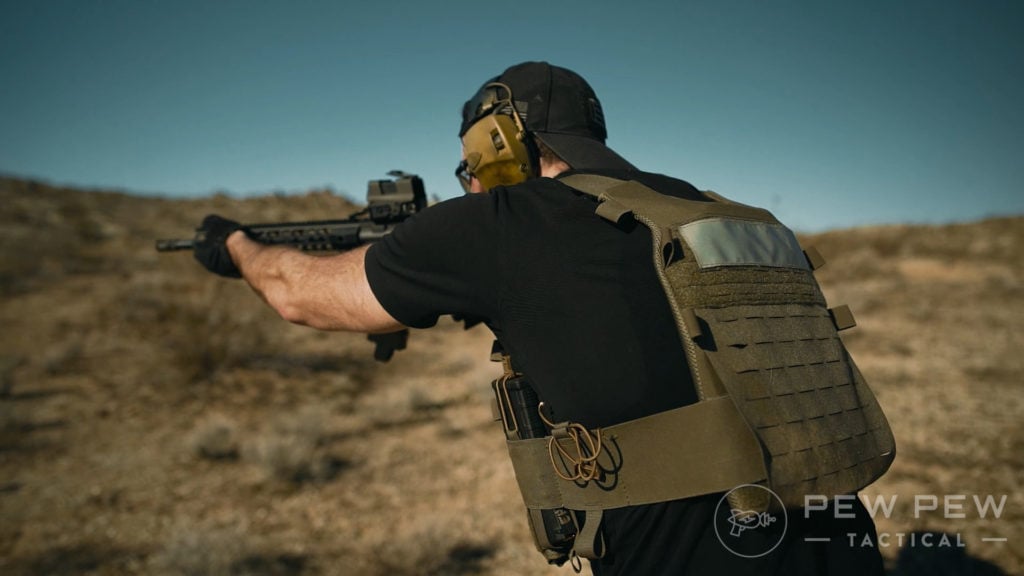 I did this for a few different reasons – though primarily because I've yet to encounter a situation where concealing an armor carrier has ever been a concern for me.
Obviously, your mileage may vary.
319
at Refactor Tactical
Prices accurate at time of writing
Prices accurate at time of writing
I noticed that some of the elastic cells on the old cummerbund started to show wear from repeated drawing of mags and general use.
And there was just enough give that my plate bags shifted side-to-side when moving vigorously.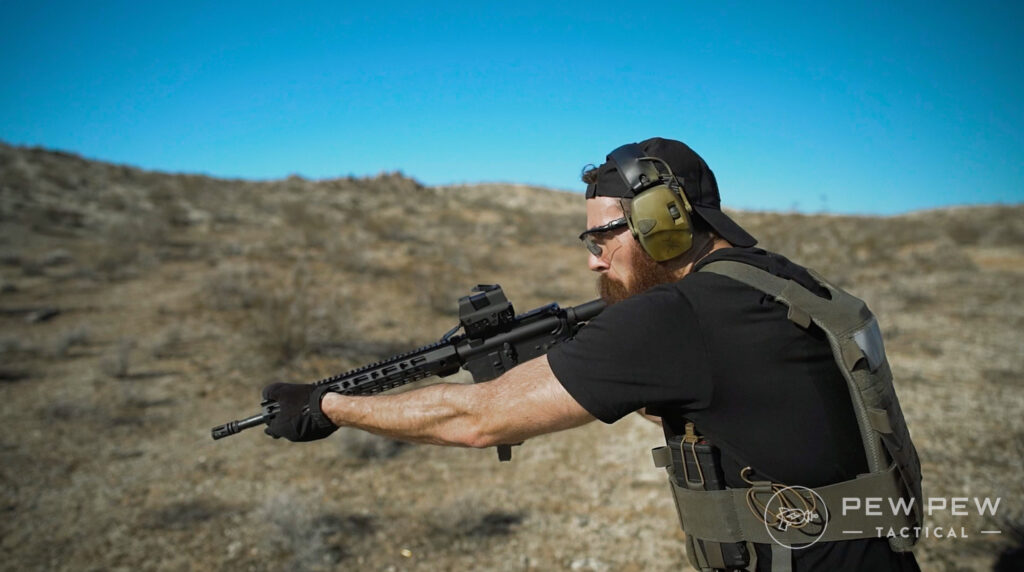 I did enjoy the low-profile design I had going and didn't want to add anything that would take it out of that territory.
Traditional bulky plate carrier? No, thank you.
Luckily, the Ferro ADAPT Assault Cummerbund was exactly what I needed.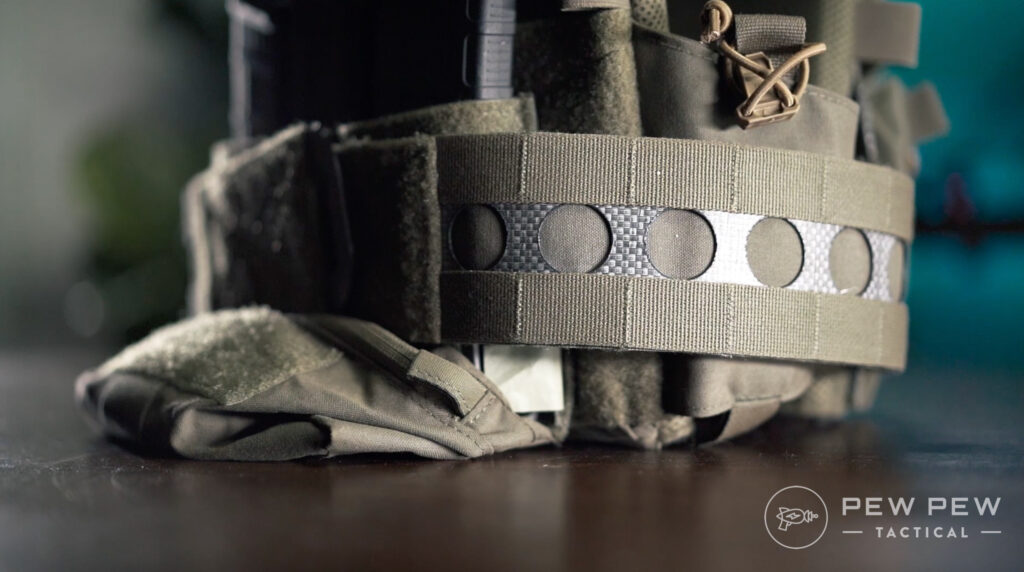 The ADAPT cummerbund retains the low-profile design you expect from the brand but adds a fair amount of rigidity.
The secret sauce is in that laser-cut carbon fiber laminate material.
At only 3-inches tall, the ADAPT cummerbund is much slimmer than many similar offerings on the market.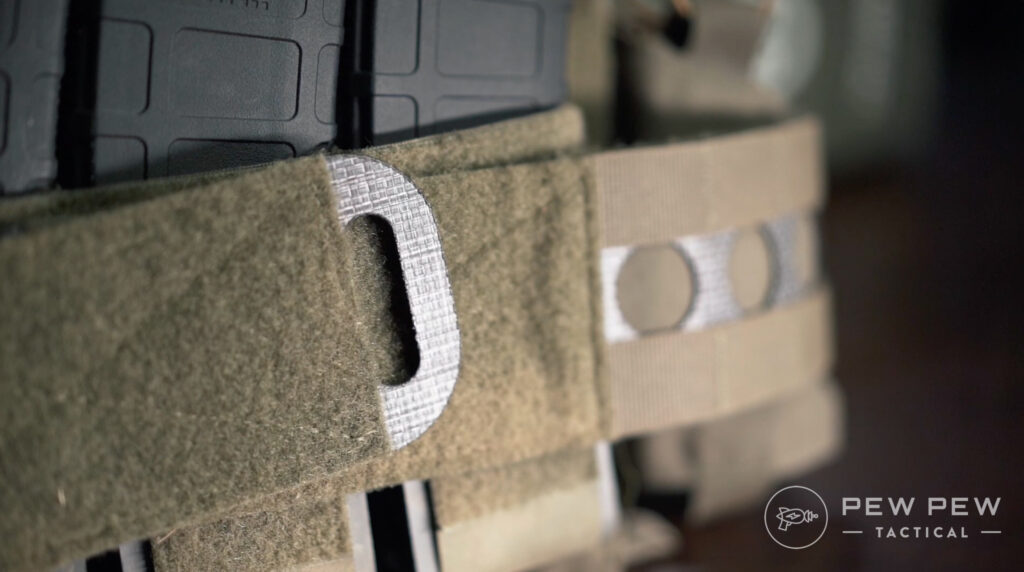 Not to mention, the innovative cuts in the material allow for attachment of other MOLLE pouches as well.
I generally prefer to keep my flanks more or less slick, but it is nice to have the option to swap my kit up if I need to.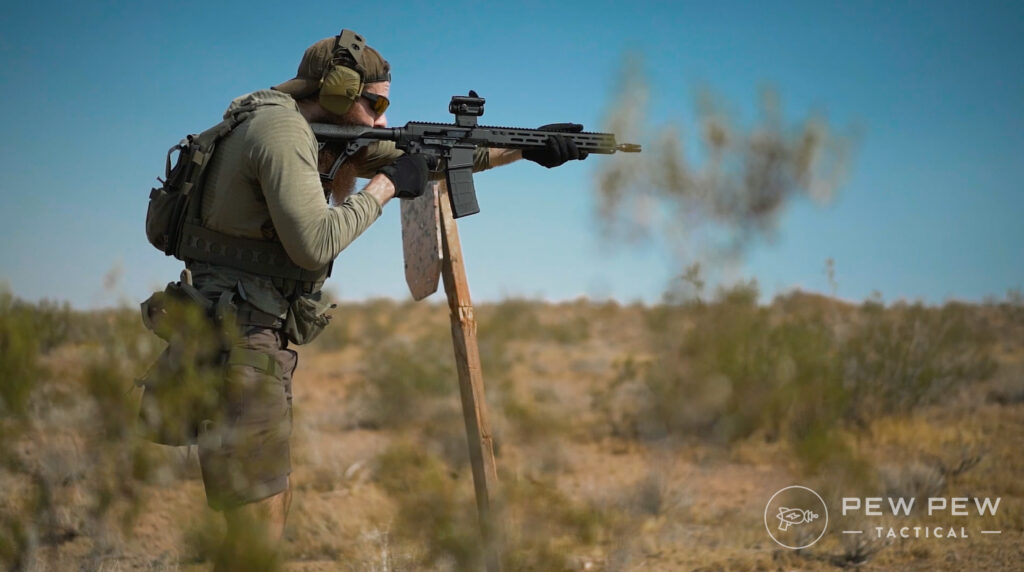 The ADAPT cummerbund is also loop Velcro-lined, allowing you to add side armor plate bags if extra protection is something you need.
Lastly, it's got a hidden section of elastic built in at the rear of the cummerbund itself, which means that while rigid, it's going to move and "breath" with you…once you've got it adjusted properly.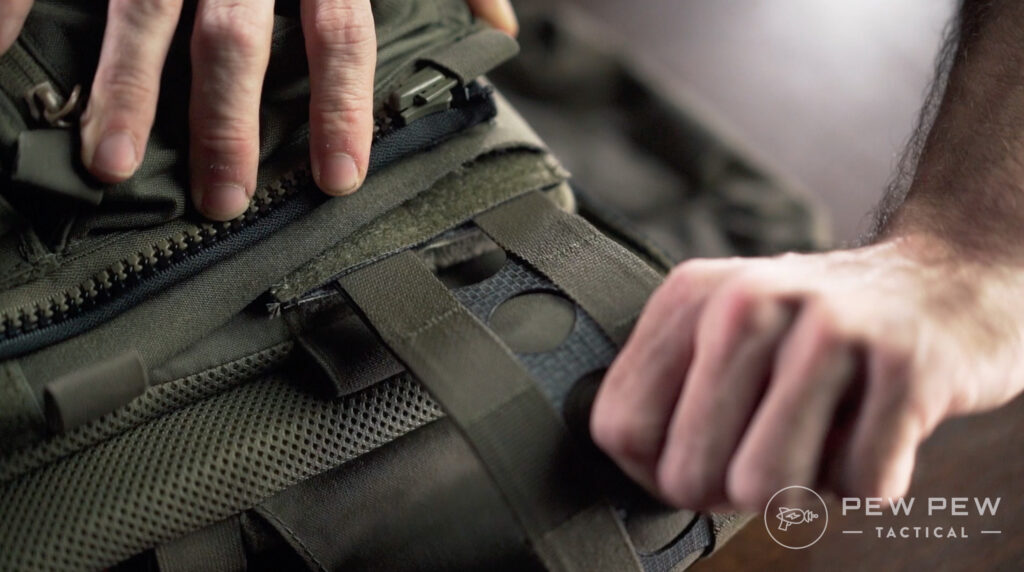 That's a pretty cool improvement over occasionally floppy elastic solutions of old.
Strap Socks…For Those Shoulders
Next up is a real small add-on, but I dig it a lot in terms of comfort.
I've finally thrown some proper shoulder pads on the rig and opted for Ferro's Strap Socks as the way to do it.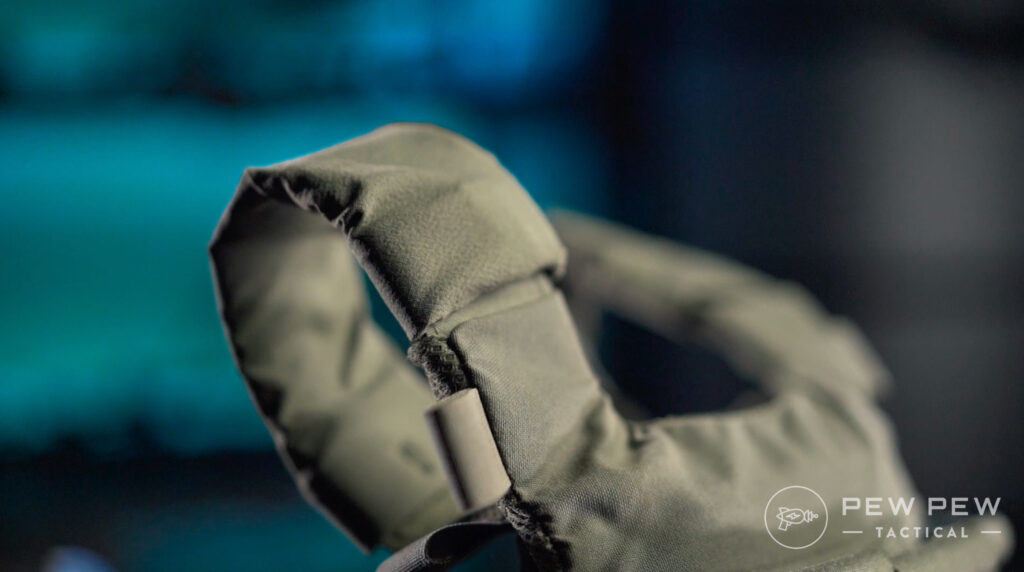 They're lightly padded and constructed of a pleasantly stretchy fabric.
This means you can slide the exposed shoulder harness through when you have the two plate bags separated.
And it's just the right amount of padding.
It alleviates the weight of plates and mags while still remaining low-profile enough not to get in the way.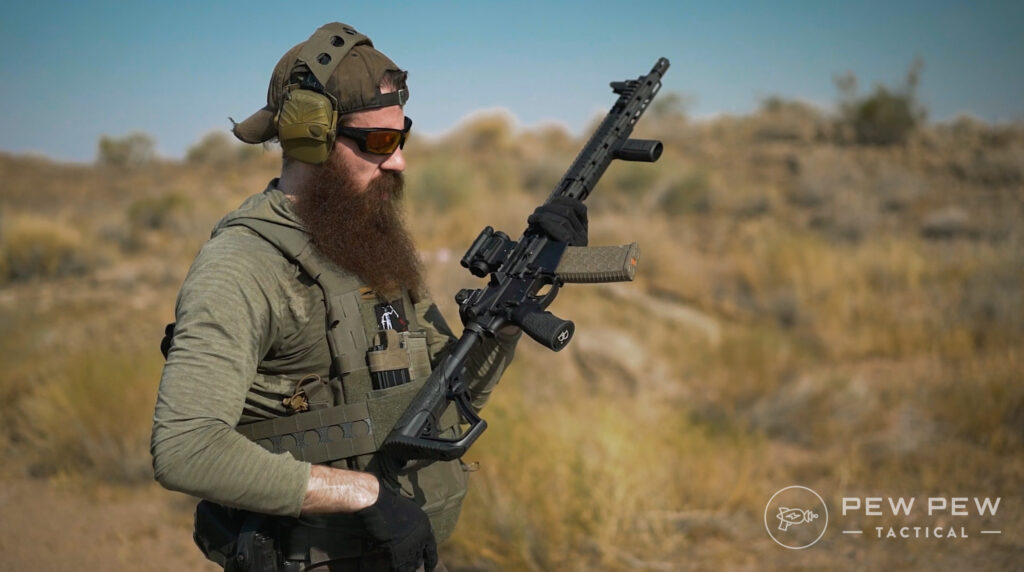 The design also hugs the carrier quite well and doesn't have the effect of 'lifting' the plate bags away from your body as some larger designs do.
Zipper Panel System
Probably the addition I was most stoked on, however, is Ferro's new zipper panel system.
This feature allows for quick attachment of several different rear panels to increase configurability.
As the name suggests, this requires the presence of zippers to work.
Thankfully, there are adaptors that allow older plate bags to be configured to accept the new ADAPT back panels.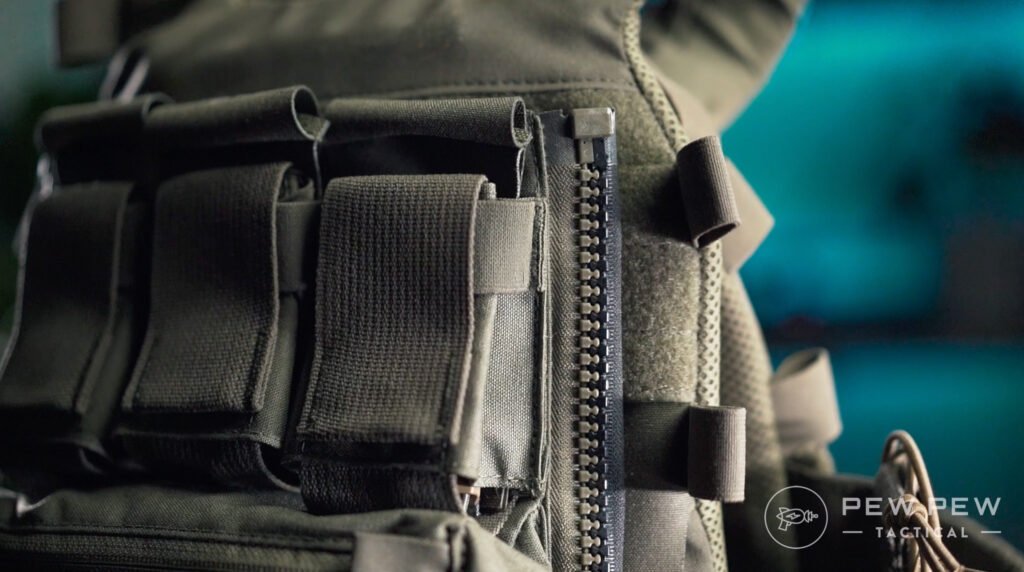 The installation is slightly confusing but slick as hell once you've got it figured out!
Essentially, you've got to weave the single MOLLE strap in and out of the carrier and adapter, then tuck in the excess at the bottom.
But the newer, laser-cut MOLLE material might be a bit baffling to work with if you're used to older MOLLE setups.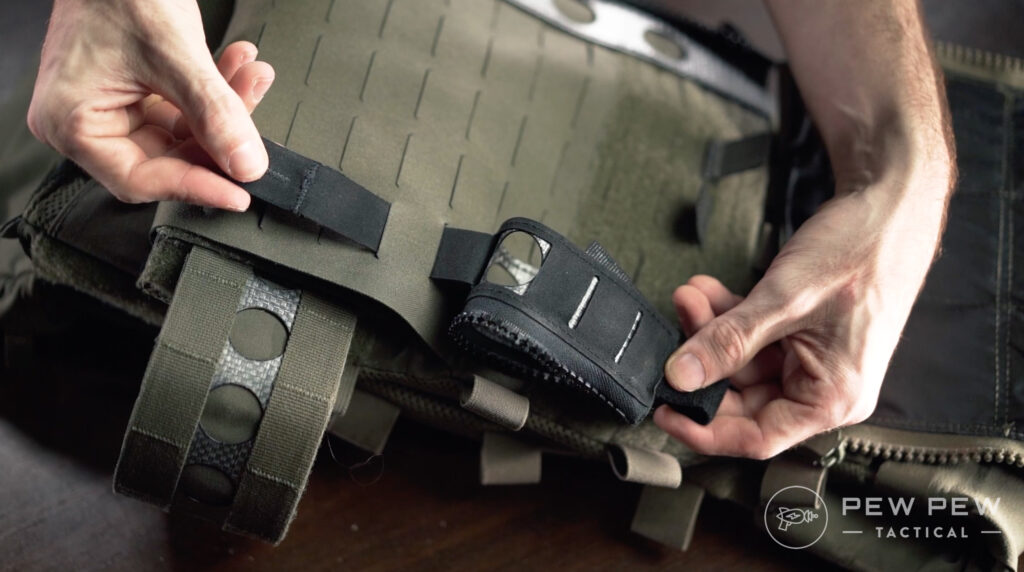 Regardless, once installed properly, you can now throw an entirely new back panel right on.
This is a godsend as compared to weaving old-gen MOLLE stuff to a rear plate bag. Your fingertips and hangnails will thank you.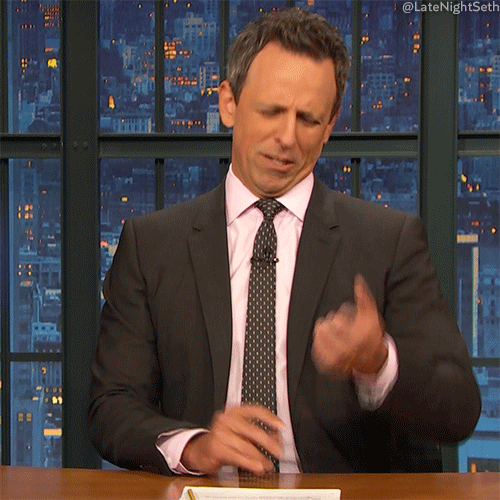 I originally intended to talk about this setup earlier in the year. Truth be told, I wanted to show off this rad new zipper upgrade.
But the only panel I could find in stock anywhere was the Assault variant.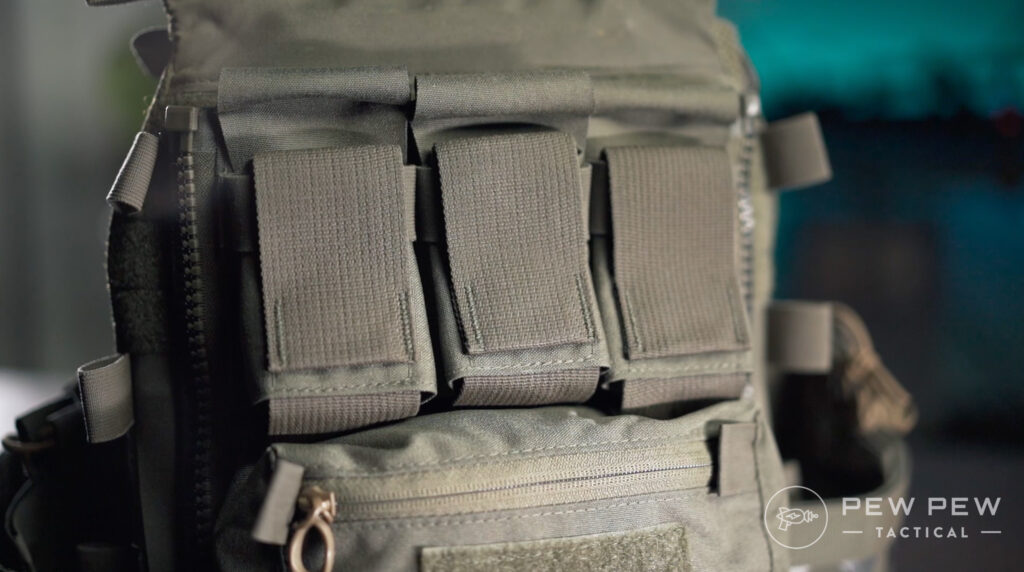 Now me being me, I'm not really ever going to have a use for high-rear mounted flashbangs meant to be accessed by the teammate behind me when exploding doors.
I'll likely swap the assault panel out for the more utilitarian style that consists of two large GP pouches for various bits and bobs.
The panel does hold White Claws pretty perfectly, though, just in case you're wondering.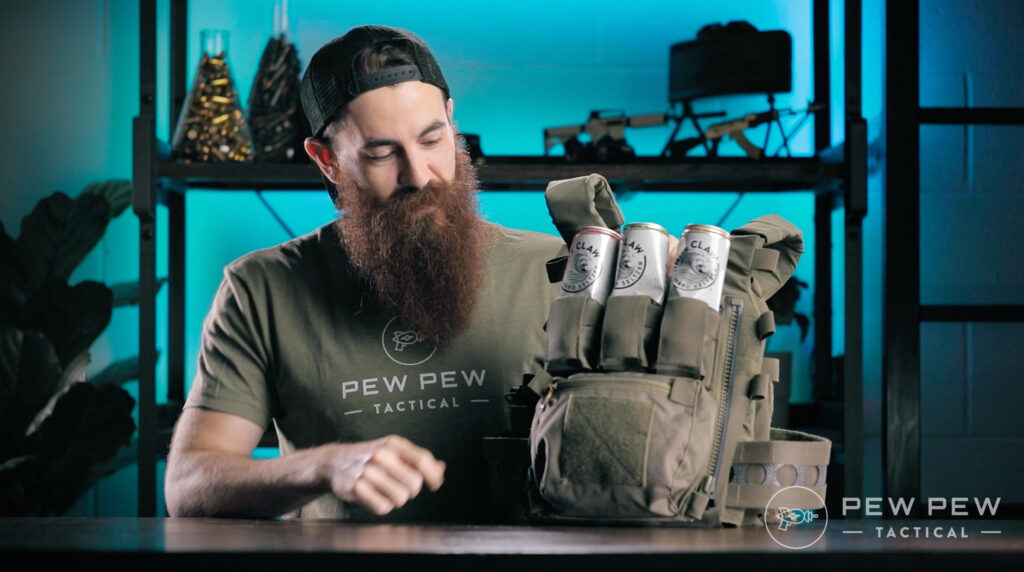 Mini Dangler
Lastly, I've thrown a Ferro Mini Dangler on the front of the rig. This gives me just a tiny bit of extra space for random items – medical stuff, multi-tools, loose rounds, etc.
I enjoy that the Mini Dangler isn't quite as tall as other, similar pouches on the market.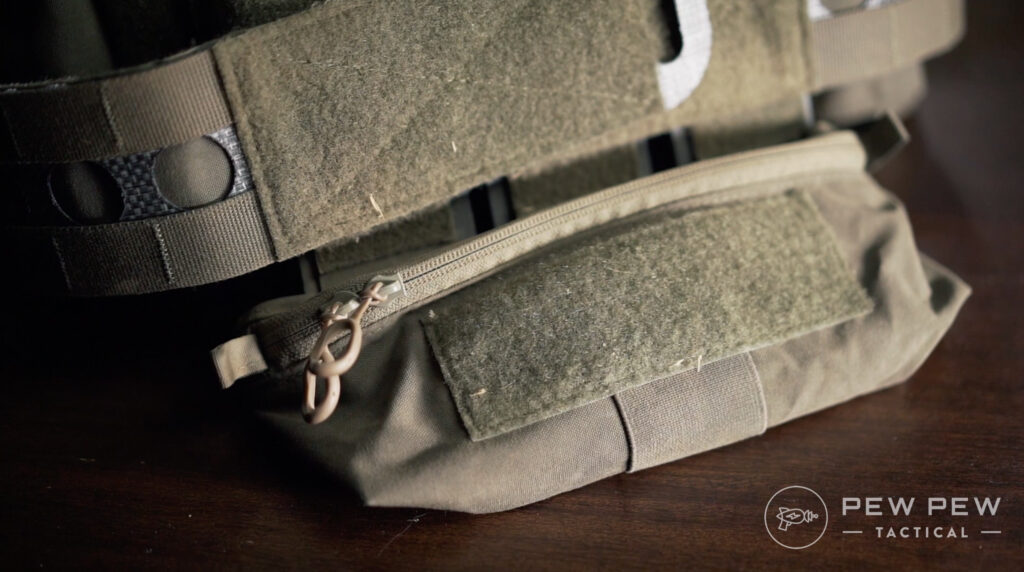 Instead, it chooses to stretch its legs horizontally, giving you ample space for small items. It does all this without potentially interfering with your belt kit or otherwise getting in the way.
I've since ditched my older Spiritus Fanny Sack just to streamline that space as best as possible.
Honestly, there's no real reason to run a thing with a strap and buckles when you can integrate it right onto the rig if possible.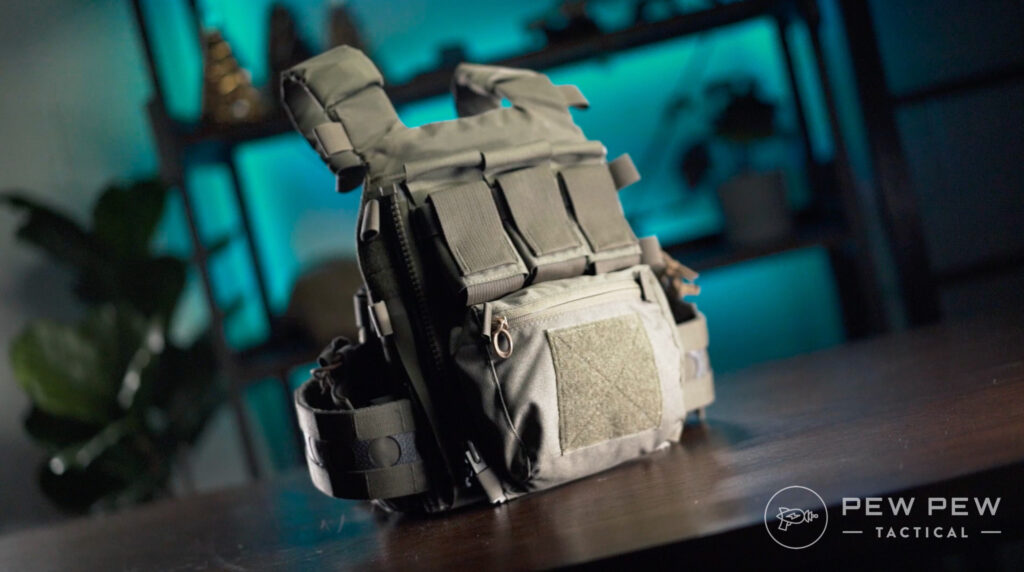 If you want to see even more Mini Dangler action, check it out on my Crye Precision Rig write-up.
Have you tried the Mini Dangler? Rate it below!
Conclusion
Ferro Concepts deserves a little light spotlight shined on its gear. The ability to make new gear retroactively work with older generation kits is commendable. Quality and a not too terrible price tag, make Ferro alright by us.
Bonus points are also awarded to Ferro, who tries to stock items regularly.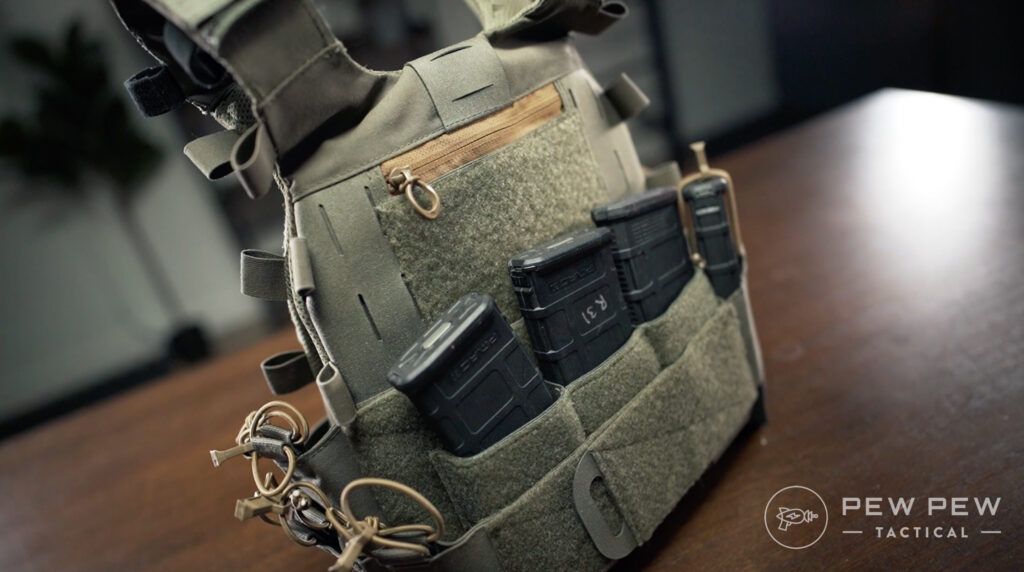 If you're in the market for some ultra-configurable Gucci kit, I'd definitely check Ferro Concepts out if you haven't already.
And don't forget to check out the video for an in-depth look.
319
at Refactor Tactical
Prices accurate at time of writing
Prices accurate at time of writing
What do you think? Have you tried out Ferro? Let us know in the comments below. Need more gear? Check out our review on the Crye Precision Airlite Convertible Chest Rig and the Ferro Concepts Advanced Slickster & Spiritus Systems Micro Fight Chest Rig.