We LOVE to customize our rifles–especially when the upgrade is not only easy to install, but affordable to boot!
That's why one of our favorite upgrades on our rifles is an amazing stock, like the Boyds AT-One Thumbhole stock.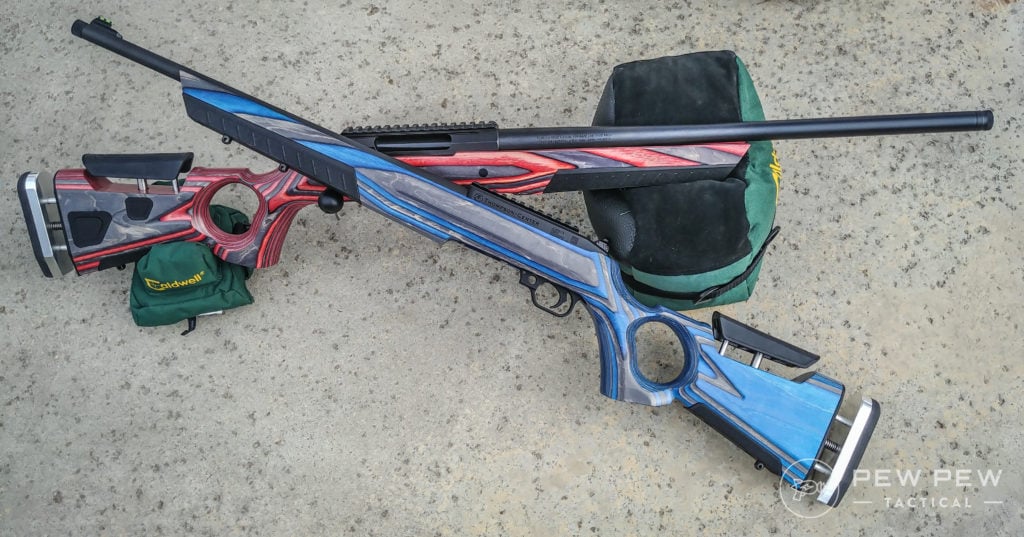 Announced right before SHOT Show 2019, the Boyds Thumbhole AT-One stock is basically a combo of two of their most popular designs.
Through their powers combined, they turned a good stock into a great stock.
After reviewing Boyds standard AT-One stock, I was excited to get my hands on this new and improved version and to test it out using two very different rifles, a Tikka T3x CTR and a Thompson/Center R22.
Here's what I think you should know about this fantastic new stock from Boyds.
It's the Same, But Different…
If you've ever used a Boyds stock, then you know the fit and finish of them are outstanding. Rich color, warm wood, and everything just feels right.
This is the exact same feeling that their newest iteration comes with, plus having the benefits of two already proven designs.
The AT-One Thumbhole really feels like a seamless combination of two stocks, everything great about the AT-One and everything great about a Thumbhole are melded together to create a highly appealing new stock.
I had a lot of good things to say about the AT-One stock I reviewed several months ago, but after getting to use these for a while now…I like the AT-One Thumbhole better in almost every way.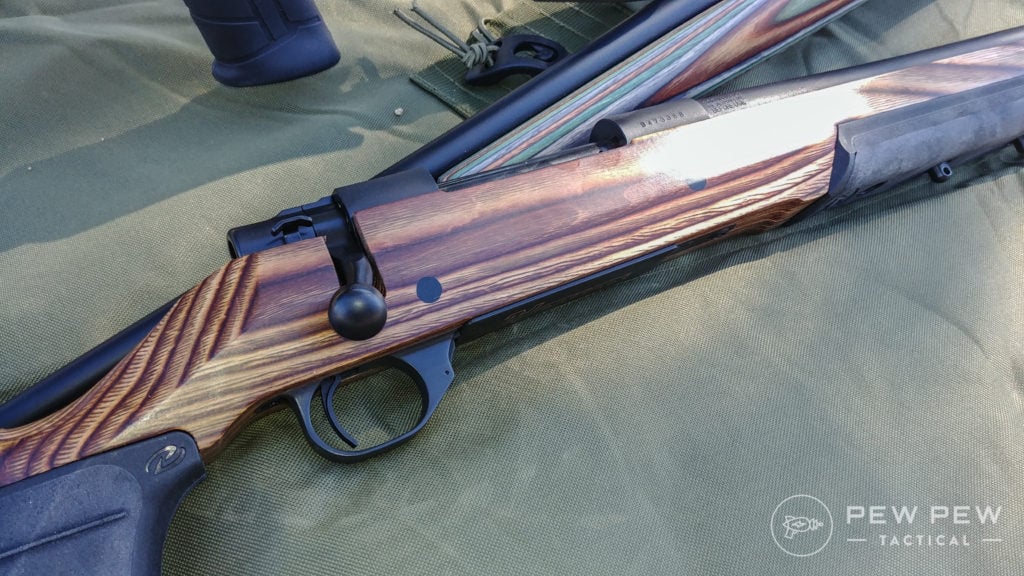 Show Me the Rifles!
Boyds new stock came out at the perfect time for me and I happened to have two rifles that were perfect subjects for experimentation.
For a totally unrelated project, I recently bought a Tikka CTR in 6.5 Creedmoor. Since I hadn't started the other project yet, this was perfect for a minor redirection and getting to test out Boyds stock in a larger platform.
I had also just gotten a Thompson/Center R22 that I planned to turn into a birthday gift for a family member. But since their birthday isn't for another couple of months, this sounded like a great opportunity to try Boyds stock on a small platform.
Boyds makes the AT-One Thumbhole for the Ruger 10/22 and the T/C R22 is compatible with Ruger stocks, so getting a Ruger 10/22 AT-One was an easy choice to make.
Learn From My Mistakes
Both rifles, in the end, work awesome and feel great in their stocks.
My Tikka installed with zero effort and fit perfectly.
The T/S R22 also installed perfectly… the second time. Since the T/S R22 is basically a 10/22 clone with some upgrades, it has the same cross-bolt safety. And, as it turns out, that safety is something you need to be mindful of when you replace a stock.
If I had that information beforehand, everything would have been fine…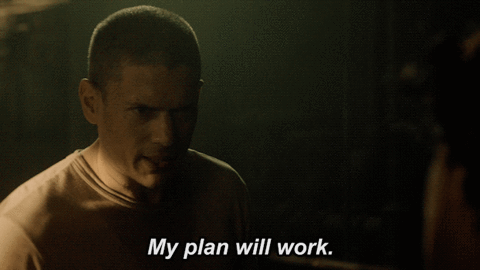 But since I'm a real man, I don't need none of that "research" or "instructions" that wimps rely on. No, instead I just muddle through and… break my safety.
After I heard the snap, I knew I needed to turn to that big workbook in the sky–Google. If you know 10/22s, then you know where this is going. The cross-bolt safety can rotate and if that happens it will disengage from the d-tent holding it in place.
If you over rotate it even more, you can snap the spring behind the d-tent. And that is what I had done…
Thankfully, Thompson/Center has a great customer service team and was able to send me a pre-paid packing slip so I could return the rifle for repair. A few weeks later and I had the rifle back in hand!
The Moral of the Story is…
When you install a 10/22 or R22 into a new stock, do so with the hammer down and the safety off. You have to press it in a little for it to clear the stock, but if you do so with the hammer down and safety off, it will help prevent it from being able to move freely and should install quickly and easily.
And as always, don't force it.
To be clear: this wasn't T/Cs fault, it wasn't even Ruger's OG design's fault, and it clearly wasn't Boyds… this one was on me.
Fit, Finish, Feel, and Usefulness
Honestly, there isn't much to say when nothing is wrong. Everything just… works. Once the adjustments are made to fit you, both rifles settle perfectly into your form and feel natural. That's a hard thing to describe but feels amazing.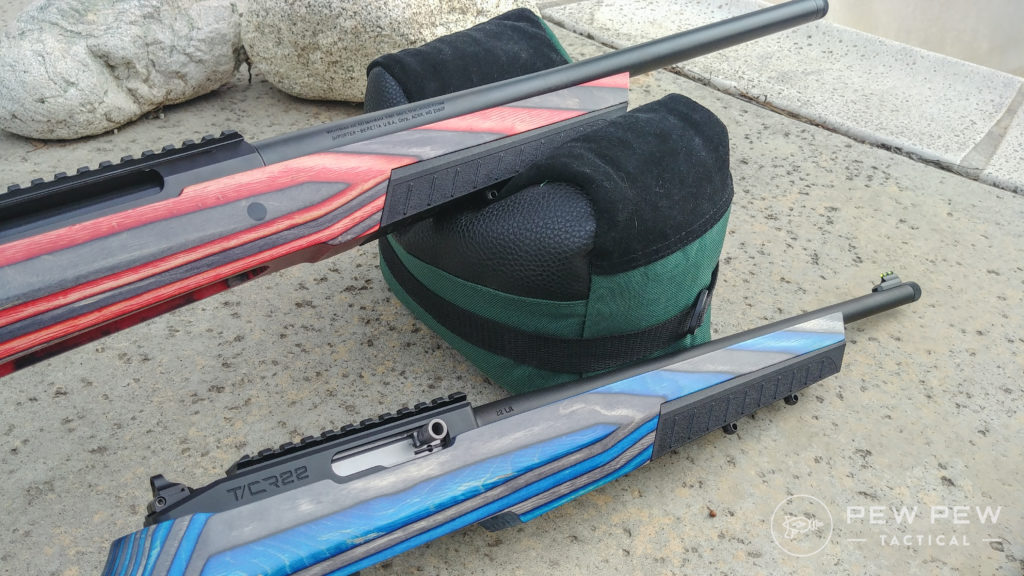 Accuracy was spot on with the Tikka shooting slightly under MOA and the T/CR22 shooting as you would expect for a .22LR, the function was flawless, and then there is of course just how amazing the stocks look.
I highly recommend both the rifles and the stocks!
Pros
Let's get the obvious out of the way first–Boyds stocks are awesome. If you've never handled one, you're missing out on one of the best products in firearms. If you have handled one, then you know exactly what I'm talking about.
Using layers and layers of laminated wood, Boyds is able to create a durable, lightweight, and fairly inexpensive wood stock for nearly any kind of rifle and action combination you can think of.
Plus they come in awesome colors.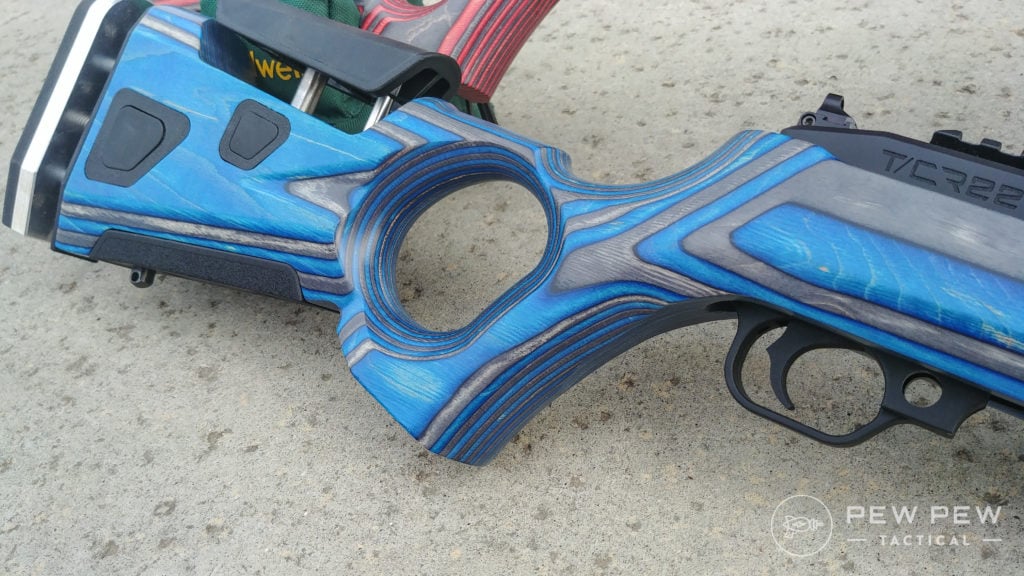 This version of the AT-One has all the benefits of the standard AT-One, adjustable comb, length of pull, great fit in the hand, plus sling/bipod attachment points.
It then layers on top a thumbhole design that does a couple of things better than a standard AT-One. For me, thumbholes are often not very comfortable because I have huge hands. All too often, the hole is cut just too small and either rubs or crushes the top of my hand/knuckle.
Thankfully, Boyds cuts their thumbhole in a more oval shape with plenty of room at the top to allow for a large hand. Even bench shooting hot 6.5 Creedmoor loads, I had zero discomfort at all while using it.
If you want to get more grip on a rifle without having a true pistol grip, a thumbhole design is a perfect compromise for you.
Cons?
Since this is literally a combo of two types of stocks, it still retains some minor deficiencies of its parent designs. On the thumbhole side, I don't have any complaints. Everything about it worked as it should and felt great.
The AT-One though still has one flaw, but only for a fairly niche application. Many adjustable stocks are built with precision shooting in mind and as such have very fine adjustments so that you can get the LoP and comb hight perfect right down to the millimeter. Boyds adjustments though are grosser in nature.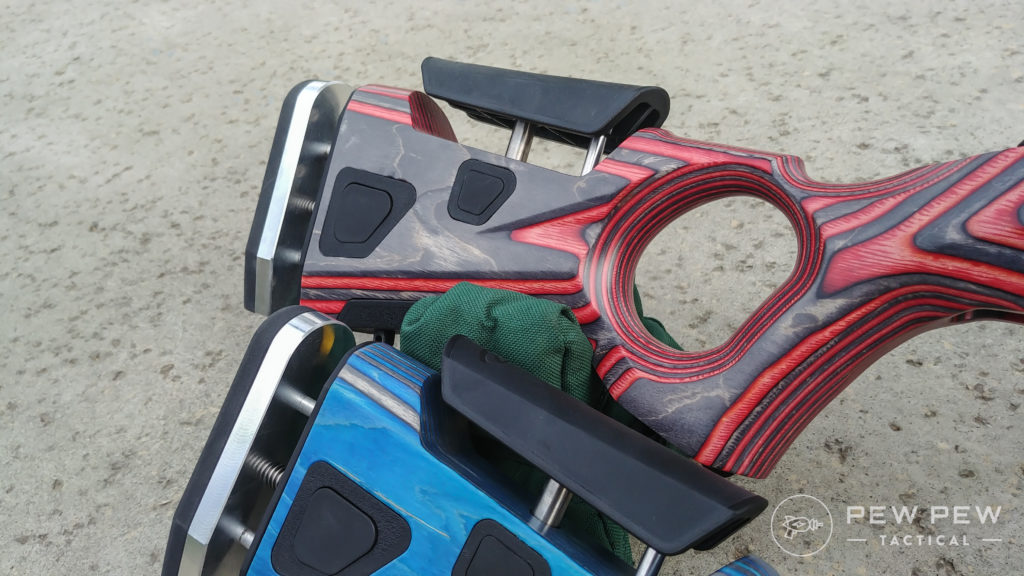 They still provide a lot of options and are great for improving the fit and feel of the rifle, but the adjustments are too widely spaced to really be considered precision. Is that a bad thing? For me, no. This is what I would consider perfect for hunting, plinking, casual target shooting, etc. And due to the ease of the adjustments is perfect for sharing between people.
By The Numbers
Reliability 5/5
Perfect. More due to the rifles' base design, but still. Perfect.
Accuracy 4/5
Zero issues and as expected. I think the CTR will tighten up once I make some tweaks to it and find the ammo it loves most, but the stock did as much as the stock could. If you want to use this as a hunting stock–DO IT!
Ergonomics 5/5
Adjustments provide enough options that it was easy to find what felt right for me and what felt right for friends that used it. While they aren't perfect, they are more than enough for the vast majority of shooters and situations.
Looks 5/5
One thing Boyds never misses one is the looks. Both versions I picked are vibrant and pleasing to the eye!
Customization 5/5
Colors, shapes, engravings, and a lot more are customizable when you order your stock. Take your time and pick out all the options you want!
Bang for the Buck/Value 5/5
Starting at $200 this is the most expensive stock in Boyds line-up, but for a stock that is still very cheap (keep in mind that another stock in my safe cost over $1,000…). $200 for a great stock with the options and quality that Boyds brings is, in my opinion, a tremendous value.
Overall Rating 4.5/5
Parting Shots
I've never tried a Boyds stock that I wouldn't recommend, they know what they are doing and they make a great product. If you like thumbholes and want the adjustability of the AT-One stock, this is perfect for you!
While my Tikka will find a new home in an MDT chassis soon (the project I bought the Tikka for in the first place), the T/S R22 is going to stay in the Boyds stock for life – the fit and feel is wonderful and the rich coloring is great for a fun range plinker.
Do you have a Boyds? Do you love thumbhole stocks? And don't forget, if you want more .22 LR goodness, take a look at our Best Ruger 10/22 Models article!