Ruger Mini-14 is an incredibly well-known and popular rifle among sport shooters, hunters, law enforcement, and the military alike.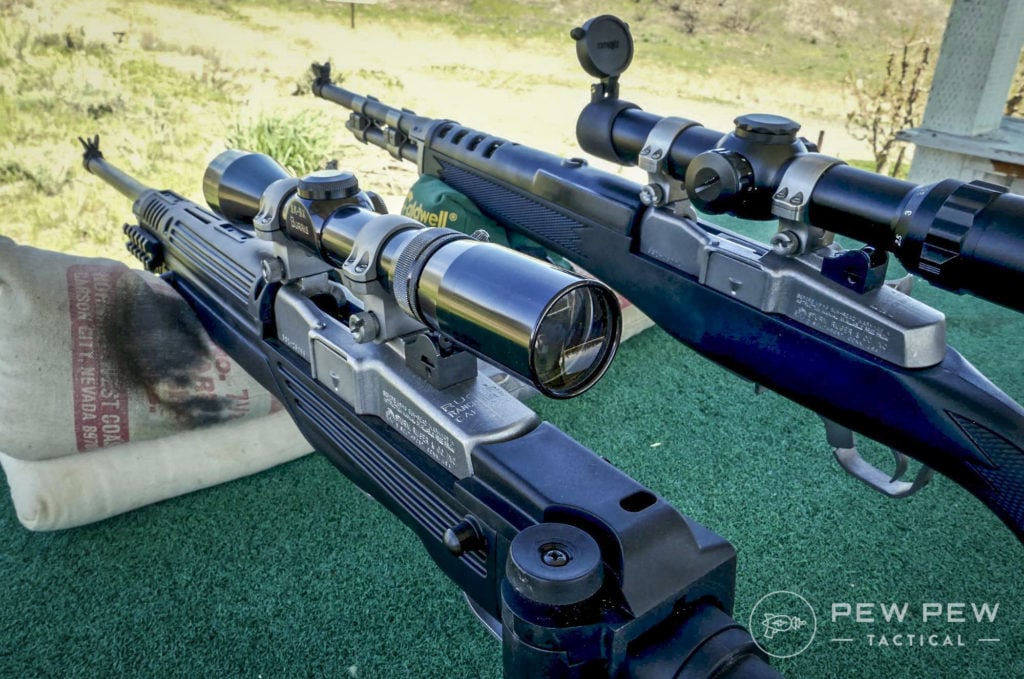 It offers almost the same durability, reliability, and ease of use as an AR-15 or M1, but with the traditional looks of a Garand or classic hunting rifle.
There are some features that all Mini-14s have in common, but you also get to choose among various configurations to get the Mini-14 that's best for you.

The Mini-14 comes in three main variants: the Ranch Rifle, the Tactical Rifle, and the Mini-30. Within each variant, there are a handful of different models that you can choose from.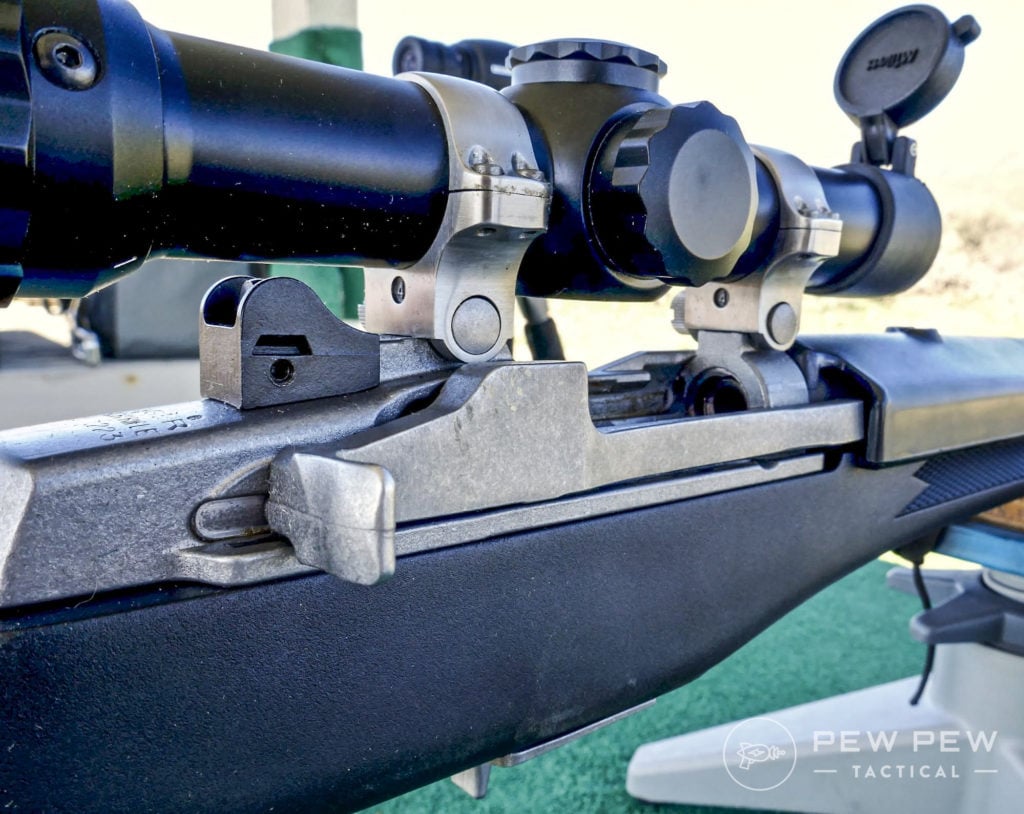 But what are the differences between these models?
Glad you asked…we're going to talk about the Mini-14 and Mini-30 and look at their models. By the end, you'll know some history, along with the best choice for you in either Ruger 14 or 30 flavor.
So keep reading!
Summary of Our Top Picks
Table of Contents
Loading...
Best Ruger Mini-14
Ranch Rifles
The Ranch Rifle is the standard version of the Mini-14 and comes in eight different flavors, including one Talo Distributor Exclusive.
These rifles are chambered for both .223 Remington and 5.56×45mm NATO ammo and for the most part (there's one exception that I'll tell you more about below) feature 18.5-inch tapered barrels and are available with either 5 or 20 round capacity magazines.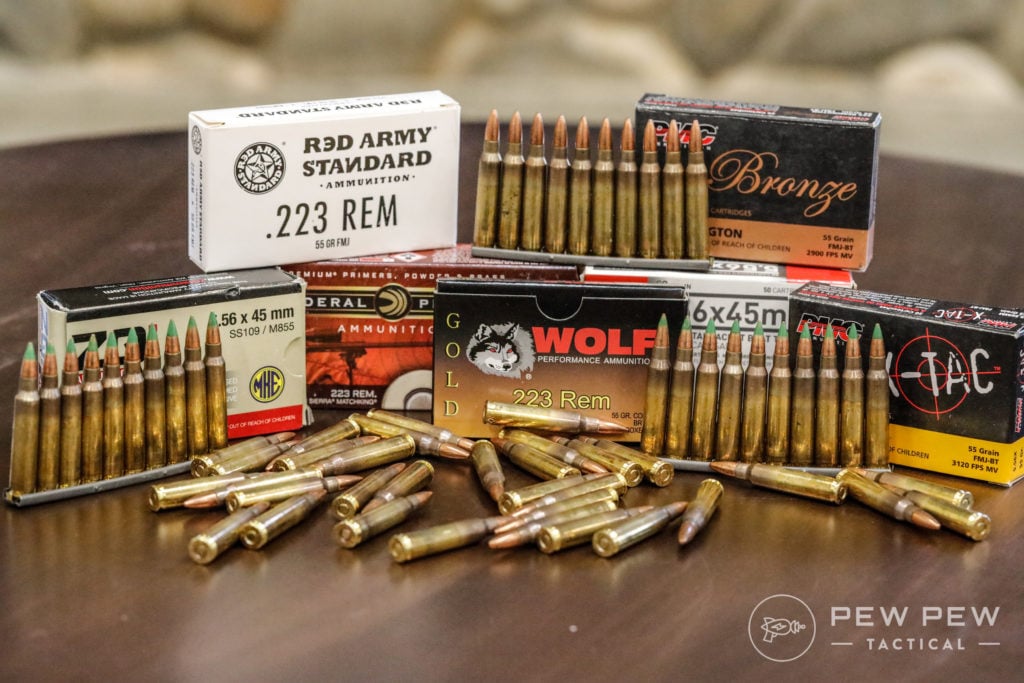 The Ranch Rifle comes in both hardwood stock and synthetic stock versions with either blued or matte stainless steel finishes.
Models with synthetic furniture are lighter, slightly shorter, and have a slightly shorter length of pull. If you're not too concerned about aesthetics, the synthetic version might be the better way to go for shooters with small frames.
Now that you've been introduced to the Ranch Rifle, let's talk some recs.
1. Mini-14 Ranch, Model 5801
I like the Model 5801 because I'm a sucker for a classic-looking rifle. There's not much else to say about it.
Classic Style
770
at Palmetto State Armory
Prices accurate at time of writing
Prices accurate at time of writing
The Model 5801 Ruger Mini-14 has a hardwood stock and blued finish with a 5 capacity magazine.
If you're looking for a matte stainless finish, you can get the 5802 model!
Now…we also have a hands-on review of a couple of Mini-14 Ranch rifles.
2. Mini-14 Ranch, Model 5820
A little different from the rest of the Ranch Rifles is the Model 5802.
It has a shorter barrel than the others, just 16.2 inches like the Mini-14 Tactical Rifles that I'll talk about next.

It's styled more like the Tactical Rifles as well, with a synthetic stock and matte stainless steel finish, with no counterpart models available with a hardwood stock or blued finish.
There's also no 20+1 capacity counterpart.
The main difference between the Model 5802 is the lack of barrel accessories.
What am I talking about?
Let's move on to the Tactical Rifles to make it more clear.
Ruger Mini-14 Tactical Rifles
The Mini-14 Tactical Rifle variant was introduced in 2009 and is distinct from the standard Ranch Rifle in a couple of ways.
First, the Tactical Rifles has a shorter 16.12-inch barrel. Second, the barrel comes equipped with a factory-installed flash suppressor.
The Tactical Rifles also have a more, well, tactical aesthetic and are only available with the black synthetic stock, though both blued and matte stainless steel finishes are available.
There are five models of the Tactical Rifle available, but here are a couple of my favorites:
3. Mini-14 Tactical, Model 5846
The Model 5846 is perfect for those of you that love an AR-style rifle.
Tactical Style
950
at Palmetto State Armory
Prices accurate at time of writing
Prices accurate at time of writing
Sporting the ATI 6-position collapsible and folding stock with a 7-inch Picatinny rail mounted on top, plus additional 2-inch rails on each side and the bottom of the stock. The six sling attachment points (yes, you read that right) on the stock, plus the forend sling attachment point give you plenty of options for how to position your sling of choice.
The 20+1 round capacity rounds out the utility of the model, while the blued metal finish on all external metal parts adds the finishing touch to the model's great looks.
4. Mini-14 Tactical, Model 5864
All other Ruger Mini-14 Tactical Rifle models are chambered for both .223 Remington and 5.56×45mm NATO ammo, but the Model 5864 is chambered for .300 BLK.
.300 BLK Option
1339
at Palmetto State Armory
Prices accurate at time of writing
Prices accurate at time of writing
5.56 is great, but 300 BLK more effectively penetrates and is more easily silenced, making it ideal for hunting. It's also specifically designed for shorter barrels, but burns at max potential in a 9-inch barrel.
What's your take on the tactical model? Give it a rating below.
Best Mini-30 Rifle
the younger brother of the Mini-14, the Ruger Mini-30, introduced in 1987, is chambered in Russian 7.62×39mm, the same round as the AK-47.
(Don't forget to stock up on some 7.62×39!)
The Mini-30 is an excellent deer rifle, especially since in many places it's illegal to hunt deer with calibers smaller than 6mm.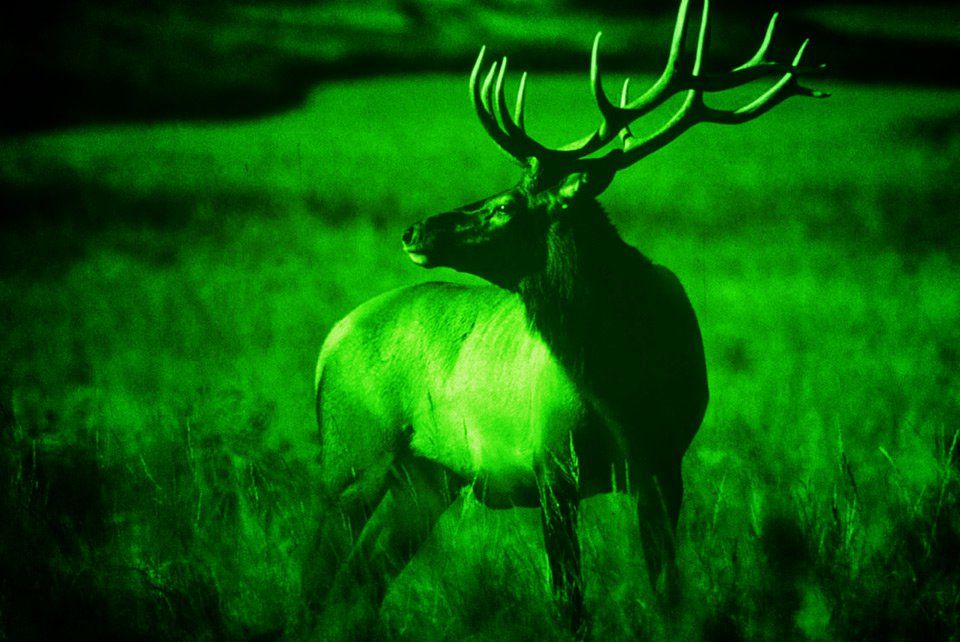 With models based on both the Ranch Rifle and Tactical rifle, but chambered for 7.62x39mm.
There are six models of the Mini 30 in total, but here is a couple that I particularly like:
Mini-30 Ranch, Model 5804
The Model 5804 is a Ranch Rifle-style version of the Mini 30. Like the Ranch Rifle, it has an 18.5-inch barrel and a tapered barrel with no flash suppressor.

It has a hardwood stock for a classic look, though I will say I wish a blued finish version was available; the Model 5804 has a matte stainless steel finish.
Mini-30 Ranch, Model 5853
Also in the more Ranch style of the Mini-30, it has an 18.5-inch barrel, synthetic stock, and a nice matte stainless steel finish.
Great for Hunting
964
at GrabAGun
Prices accurate at time of writing
Prices accurate at time of writing
Great option for a lightweight rifle for hog hunting or protection against wild critters.
About the Mini-14
The Ruger Mini-14 was introduced in 1973 as a miniature version of the M14 (hence the name "Mini-14"). But it's been redesigned a few times over the years.
Note that there are also a few law enforcement and military-only versions, as well as some distributor exclusive models, but I'm just going to talk about models that are widely available to civilians here.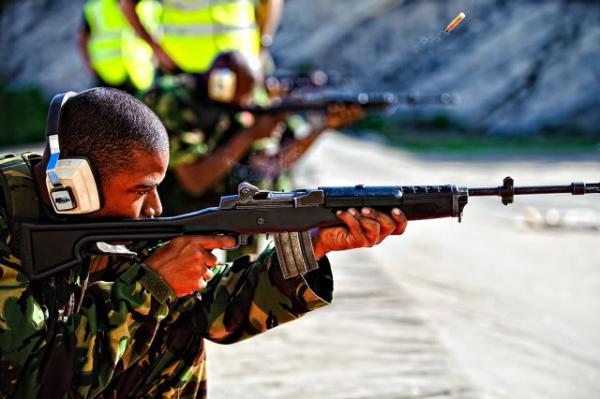 Starting in 2005 the classic standard Mini-14 was renamed the Mini-14 Ranch rifle, so keep that in mind if you choose to buy a secondhand Mini-14.
966
at Guns.com
Prices accurate at time of writing
Prices accurate at time of writing
Features
Regardless of the model or variant you go with, there are certain things you can expect from any modern Mini-14.
It will have a cold hammer-forged barrel for higher precision rifling, which lends accuracy, extends the barrel's life, and makes cleaning easier. Mini-14 barrels are also tapered, which also improves accuracy.
Moving back on the gun, every Mini-14 opts for a Garand-style action. The action includes a breech bolt locking system and a fixed-piston gas system with a self-cleaning moving gas cylinder.
All of this works together to create an action that functions reliability in virtually any conditions — and reliably cycles blanks, which has led the Mini-14 to be incredibly popular in film.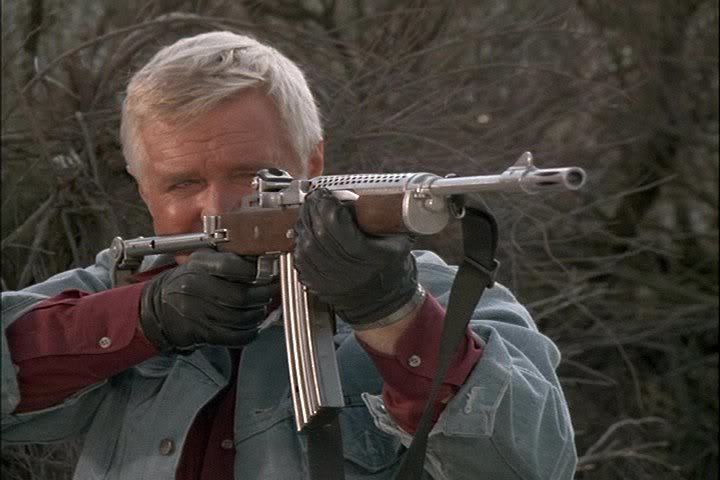 You can spot Mini-14s throughout the television show, The A-Team, as well as in films like The American, in which it was handled by George Clooney's character, and Romancing the Stone, where it can be spotted in the hands of Michael Douglas's character.
Anyway, back to the features of the rifle itself.
The solid steel receiver is drilled and tapped, ready to mount the included Picatinny rail. The receiver has also been machined with patented integral scope mounts for an ideal mounting surface for the included scope rings.
289
at Primary Arms
Prices accurate at time of writing
Prices accurate at time of writing
You don't necessarily need a scope, though. The Mini-14's sighting system includes a non-glare blade front sight and a ghost ring adjustable rear aperture sight.
In addition to the scope rings and Picatinny rail, the rifle also includes two magazines.
Conclusion
So there you have a few options that you can choose from when picking out a Ruger Mini-14.
The Mini-14 is an excellent rifle, so no matter which one you go with, it's a good choice. Just choose the one that most matches your needs and wants.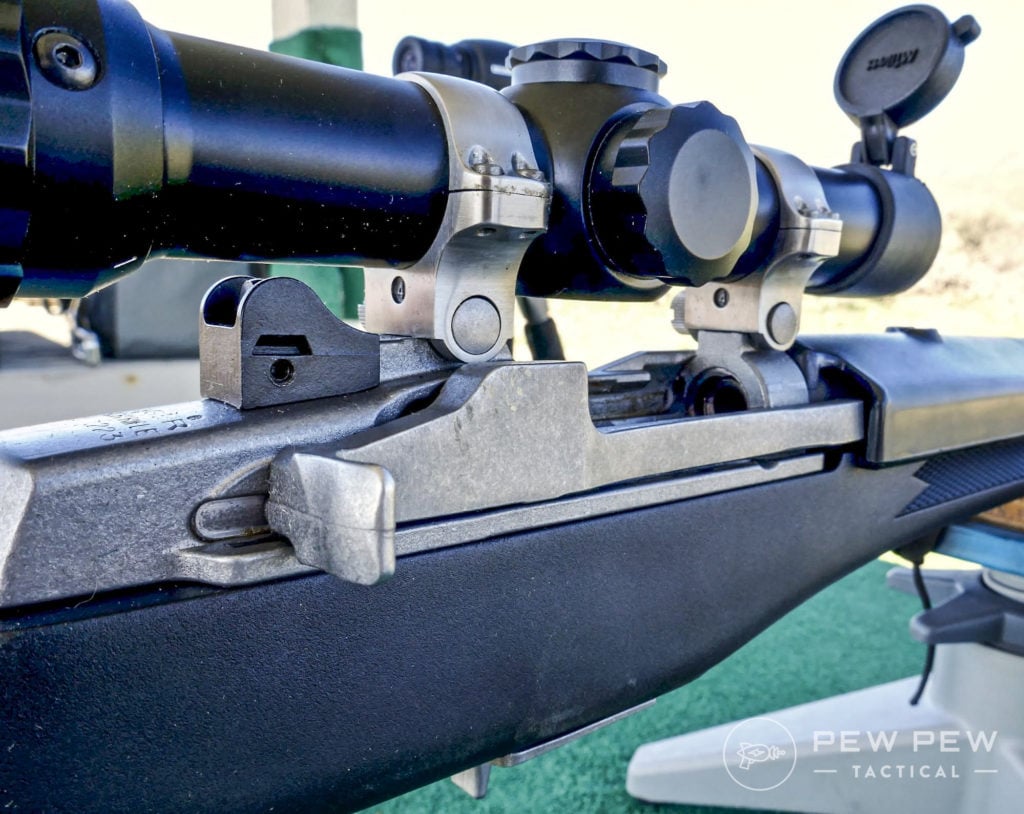 So which model of the Ruger Mini-14 did you go with? Let us know in the comments below. Ready for more Ruger? Check out our suggestion for the Best 10/22 Models.