Hunting season is upon us, and that means it's time to get your first rifle or start thinking about upgrading.
Whether you're new and getting your feet under you or you want to see some other options available, we've got you covered.
In this article, we're going to look at some of our recommended hunting rifles to help you stock your freezer this season.
Summary of Our Top Picks
Table of Contents
Loading...
Why You Should Trust Us
Travis is a firearms instructor, prior Marine infantryman, and hunter out of Florida. He's put in an extensive amount of time researching, analyzing, and testing various guns for Pew Pew Tactical and other publications.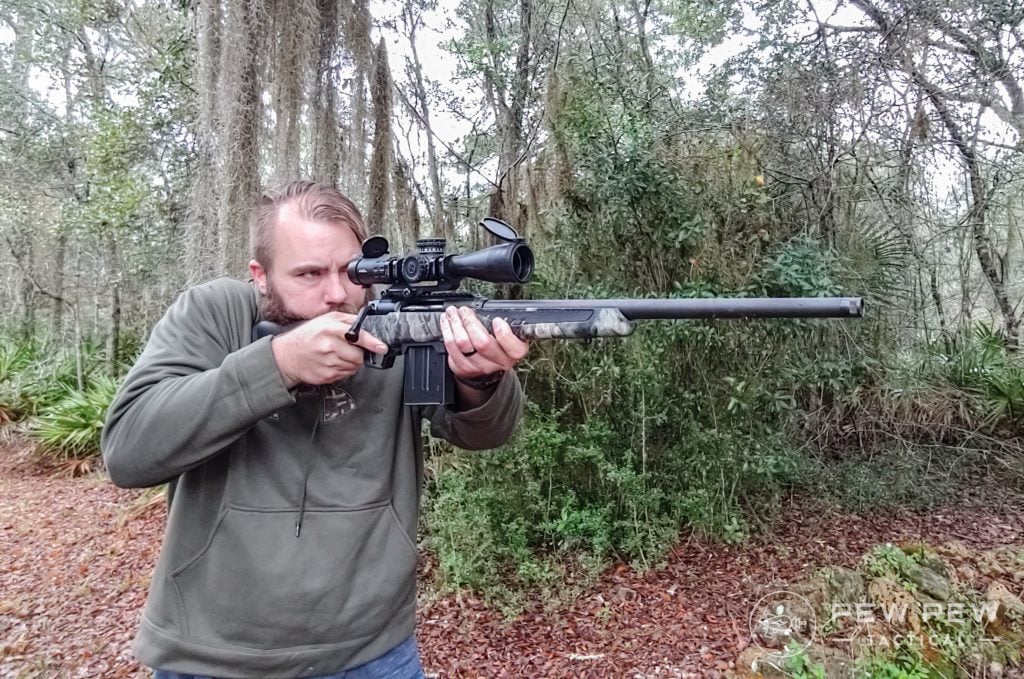 Additionally, the PPT editorial team has a combined 30+ years of shooting experience that extends into concealed carry, hunting, competition, and law enforcement. We tested hundreds of products, to include long guns over the years.
This article is a combined effort to bring you some of our favorite models over the years.
Best Hunting Rifles Under $1,000
1. Mossberg Patriot
Sometimes you don't need something super fancy. You need something accurate, reliable, and affordable.
In that case, Mossberg has you covered with a Made in America Patriot series. The Mossberg Patriot is a simple, basic, but capable bolt-action rifle.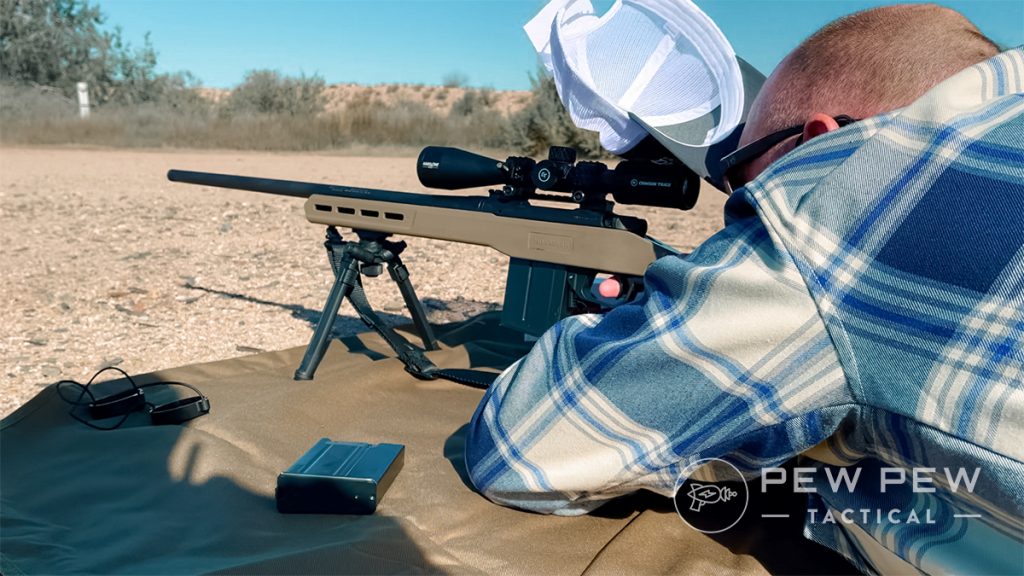 The Patriot comes in numerous calibers and configurations that open it up to nearly anyone who can legally hunt with a centerfire rifle.
This includes Predator options with calibers like .22-250. There are straight-walled options like .450 Bushmaster. Of course, we have the old classics like .308, .243, and .30-06.
Mossberg's configuration also includes various barrel lengths and stock options. This includes tactical options, Bantam stocks, and everything in between. Mossberg makes the price even more attractive when you consider the built-in scope mount and sling swivels.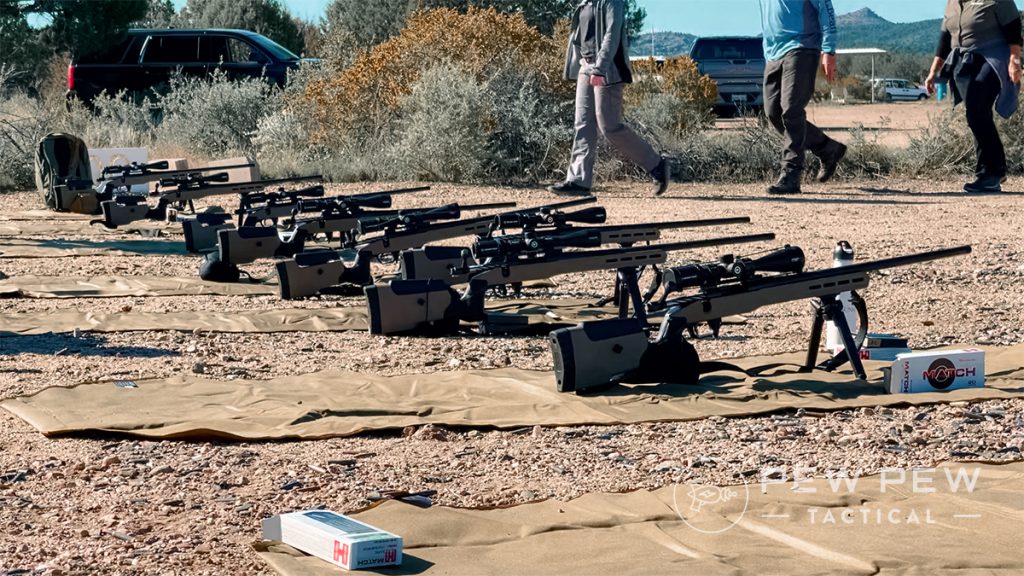 Heck, Mossberg even sells models with Vortex optics to really save you some dinero. Patriot provides hunters with a very accurate platform capable of achieving 1 MOA with proper ammo. It's more accurate than your average hunter needs it to be.
It's a simple bolt action design, so reliability is no problem, and the simplicity of the design makes maintenance easy.
Best Budget Bolt Action
368
at Kygunco
Prices accurate at time of writing
Prices accurate at time of writing
We reviewed the Mossberg Patriot LR Tactical, so check that out for more deets!
2. Tikka T3X Lite
The Tika T3X series of rifles have become quite popular in the United States. The Finnish are well known for their rifles, and craftsmanship and quality are finally being appreciated by American audiences.
Tikka's T3X is their flagship rifle, or at least the flagship rifle here in the United States.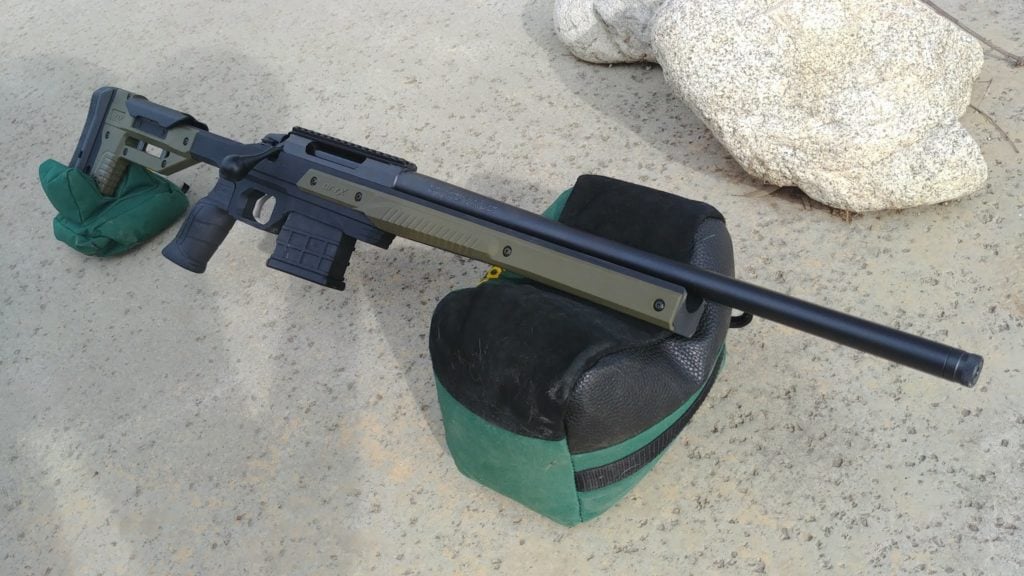 The T3X Lite lives by its name and is a mere 6.6 pounds in its .30-06 long action configuration. Not bad, and I think any hunter can appreciate a light and handy platform for their adventures in the bush. This series uses a lightweight synthetic stock that is modular.
Users can swap variable pistol grips and forend designs to make the rifle fit a bit better. Comfort matters; the better a rifle fits, the easier it is to shoot accurately.
To help with that accuracy, Tikka packs a brilliant trigger into their rifles.
Best Do-It-All Bolt-Action
749
at GrabAGun
Prices accurate at time of writing
Prices accurate at time of writing
Tikka designs the bolt to be manipulated rapidly, and it moves smoothly and cleanly. The rifle features a larger ejection port for reliable ejection and very smooth feeding.
Tikka doesn't mess around with their bolt action rifles; they are brilliant options for modern hunters.
3. Weatherby Vanguard
Weatherby rifles are top-notch firearms well-known for their high quality. While the PPT staff loves the Mark V series, we have to give props to the Vanguard for its more budget approach.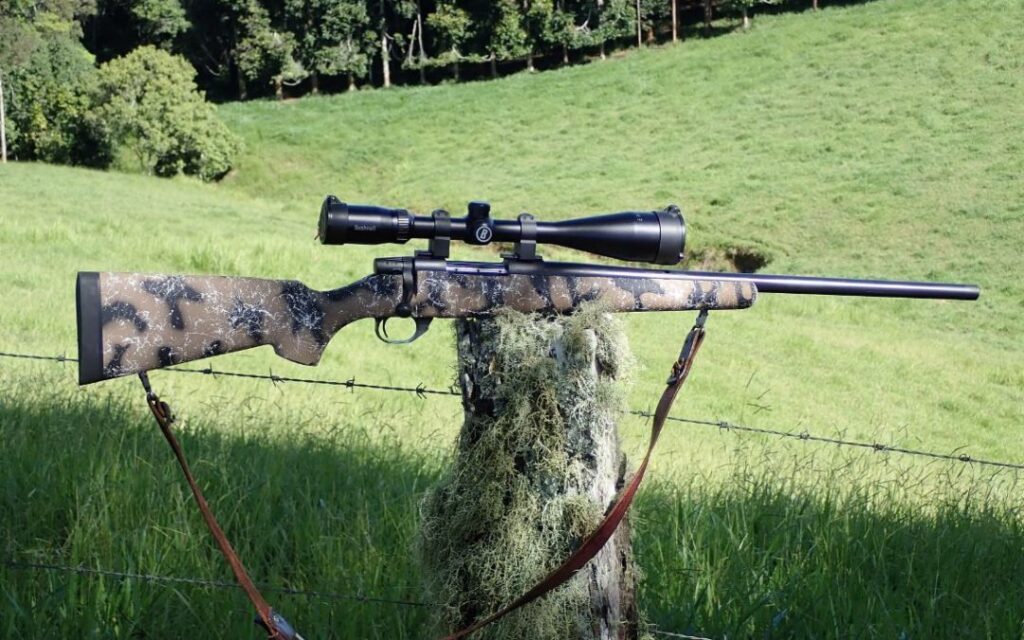 Weatherby outsourced some manufacturing to Howa and opted for a two-stage trigger instead of the true zero-creep break in the Mark V. This helped drop that price down to a more affordable area.
But you still get a quality rifle perfect for the outdoors. The company guarantees sub-MOA accuracy with the Vanguard and it's proven to be a reliable, durable model.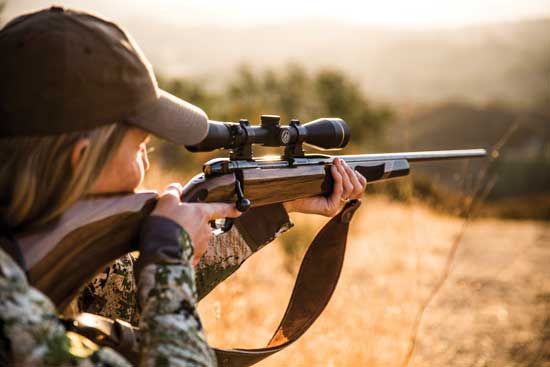 Not to mention, Weatherby has lots of styles in the Vanguard series so you can pick the one that speaks to you the most. Chamberings are plenty — .22-.250 Rem, .223 Rem, .240 WBY Mag, .243 Win, .25-06 Rem, .257 WBY Mag, .270 Win, .30-06 Sprg, .300 WBY Mag, .300 Win, .308 Win, 6.5 Creedmor, 6.5 PRC, 6.5-300 WBY Mag, 7mm Rem, and 7mm-08 Rem.
Best Selection
552
at GrabAGun
Prices accurate at time of writing
Prices accurate at time of writing
We think the Vanguard is a great option to start on, build your skills, then move up if you find you want something with more oomph.
4. CZ 600 Lux
The CZ 600 Lux series of rifles is what happens when you want to channel your inner aristocrat when you go hunting. I joke, but CZ did find a great way to combine function and form with the 600 Lux series.
The base 600 series rifles are CZ's latest bolt action line, with the Lux variants being the higher-end option.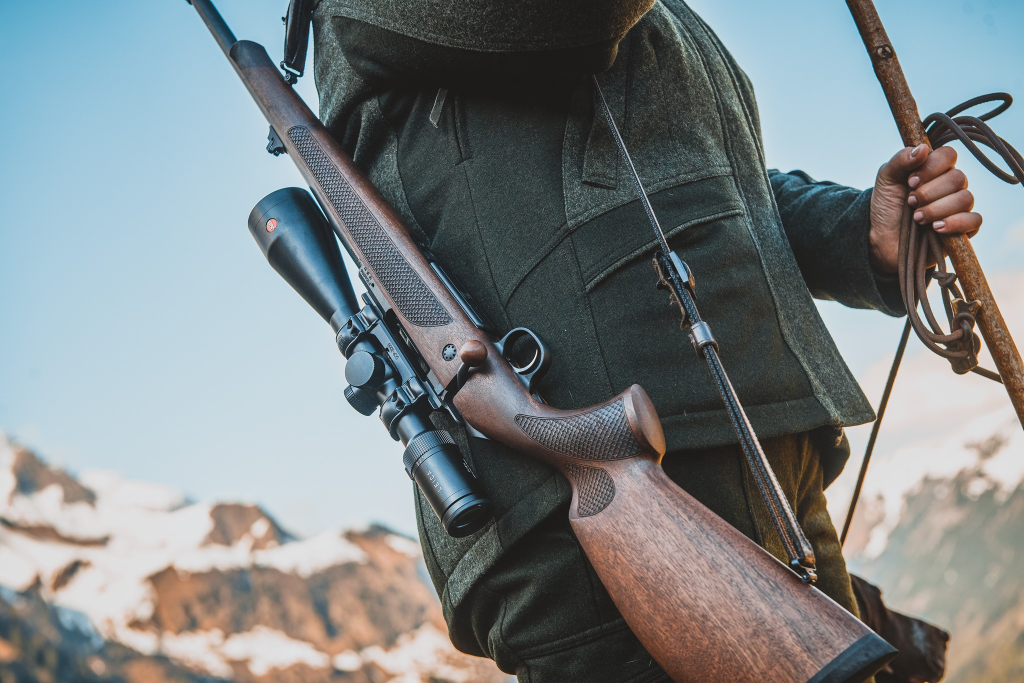 With the Lux, hunters get a remarkably smooth bolt-action design that is a tactile experience everyone should try. The rifle sports a cold hammer-forged barrel for remarkable accuracy.
These rifles feature a built-in set of open iron sights identical to the safari sights of old.
It uses a European-style stock with a very pronounced pistol grip and accommodating stock for a nice cheek weld. CZ uses some gorgeous wood to outfit these rifles, and a fish scale checkering looks good and gives a great hold on the gun.
Best Euro Stock
909
at GrabAGun
Prices accurate at time of writing
Prices accurate at time of writing
The CZ 600 Lux series comes in a wide variety of calibers that range from .223 Remington to .300 Winchester Magnum, so there is something for most hunters.
From front to rear, the CZ 600 series looks good, has an MOA guarantee, and can hunt anything in North America.
What do you think of the CZ? Rate it below!
Best Hunting Rifles Over $1,000
5. Savage Impulse
The Savage Impulse does things a little differently than most bolt-action rifles in the United States. It's one of the rare straight pull bolt action rifles.
While these tend to be fairly popular in Europe, they didn't catch on much in the U.S.A. The Impulse has certainly captured its fair share of the market.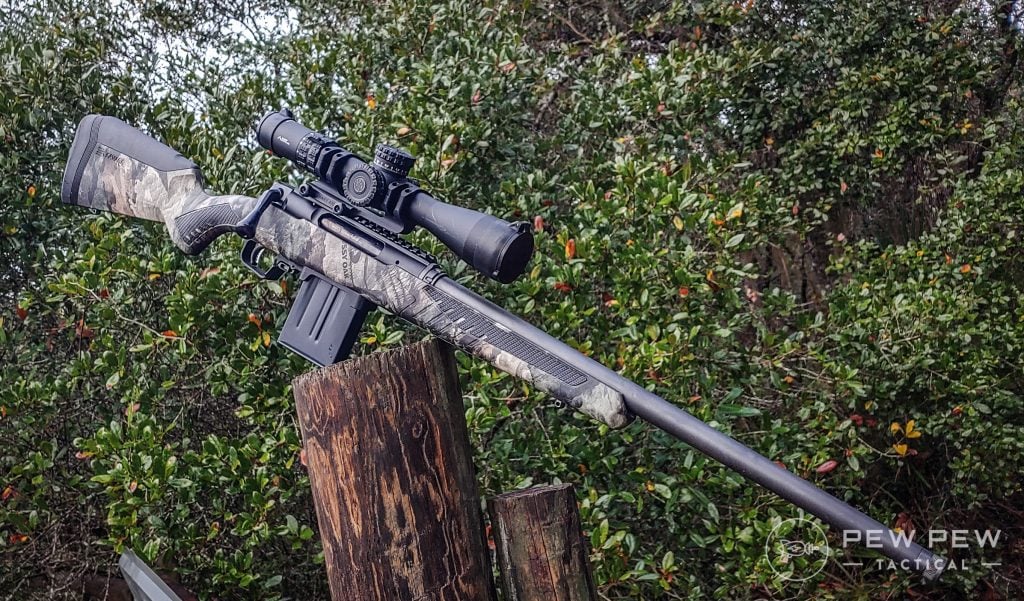 Not only does it provide a faster bolt action design that's somewhat novel to American hunters, but it's a darn solid rifle.
A straight pull bolt action rifle makes follow-up shots quick and easy. Straight pull guns have a rearward, then forward press, which makes it super easy and fast to cycle.
It comes in all sorts of calibers and barrel lengths, with some aimed at Predators and others aimed for use over the plains, and more.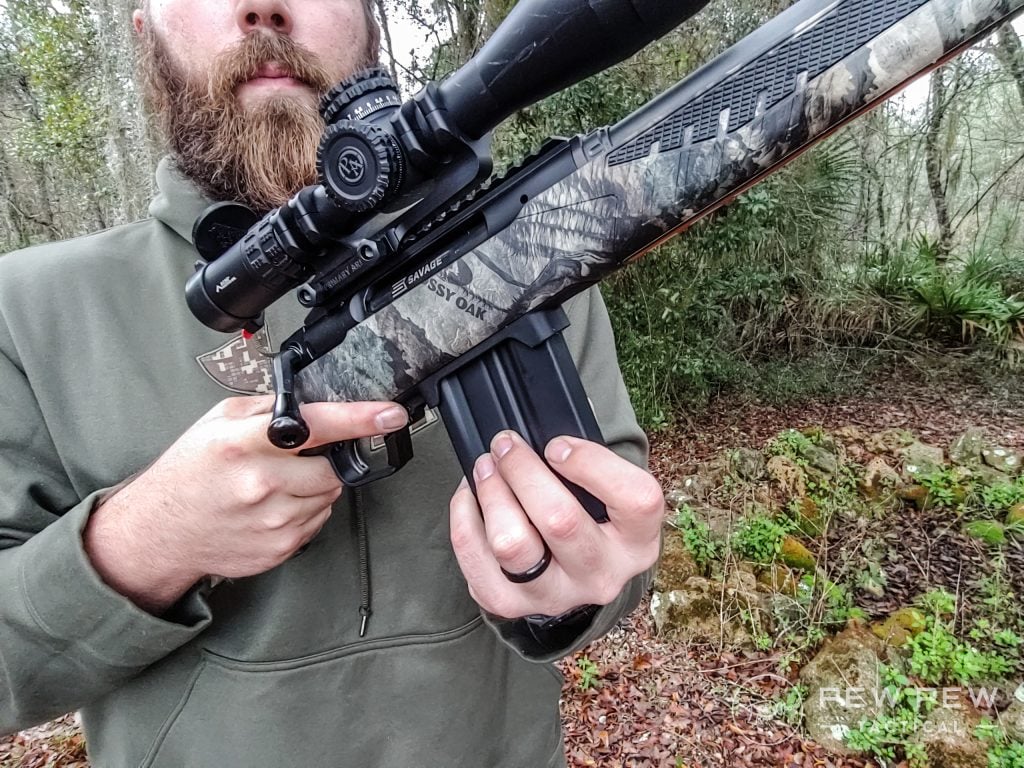 The Impulse has a great trigger that lives up to the Savage Accu-Trigger reputation. Savage even includes a machined optics rail.
The Savage Impulse delivers an excellent and accurate rifle. If you don't want to use the same old same old, then the Impulse might be for you.
Best Straight Pull
1085
at GrabAGun
Prices accurate at time of writing
Prices accurate at time of writing
Looking for a hands-on review? We have one! Head to the Savage Impulse Review for more!
6. Bergara B-14 HMR
The Bergara B-14 HMR is a favorite around the PPT office.
It comes chambered in .308 Win, 6.5 Creedmoor, .22-250, 450 Bushmaster, 6.5 PRC, .300 Win Mag, or .300 PRC and blends value with features based on the Remington 700 action.
That means you have plenty of options for customizing and accessorizing this rifle.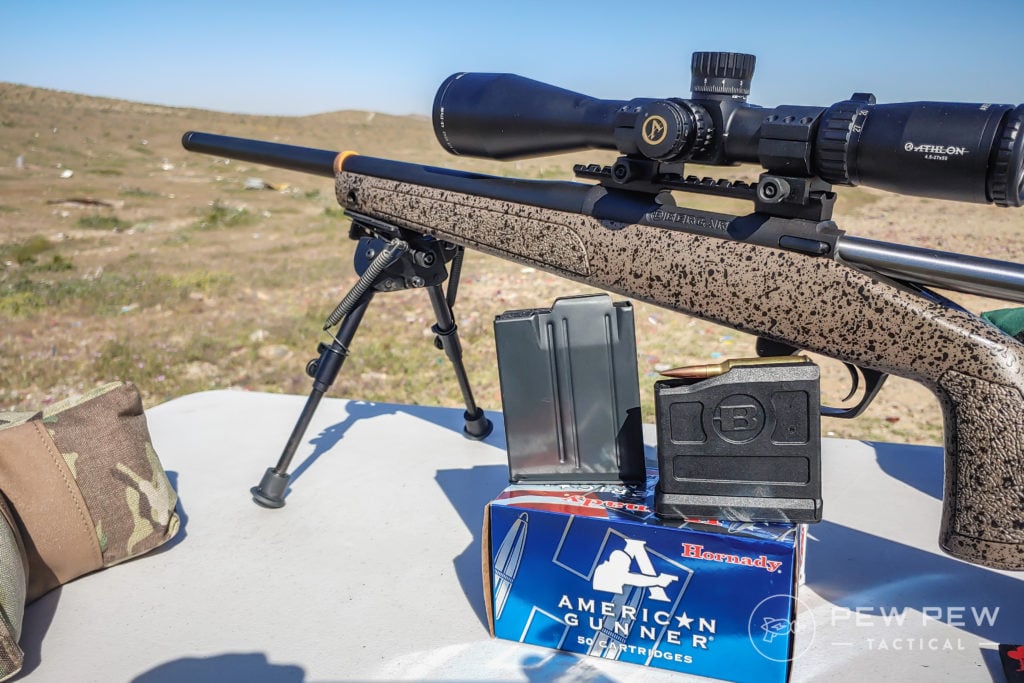 The B-14 HMR also benefits from a high-quality barrel. The finish is really nice on it and it's free-floated in the stock. Topping it off is some 5/8-24 inch threads and a metal thread protector.
Opting for 3-sling swivels and 2 QD cup mounts, the rifle gives shooters a lot of variety when it comes to bipods and slings.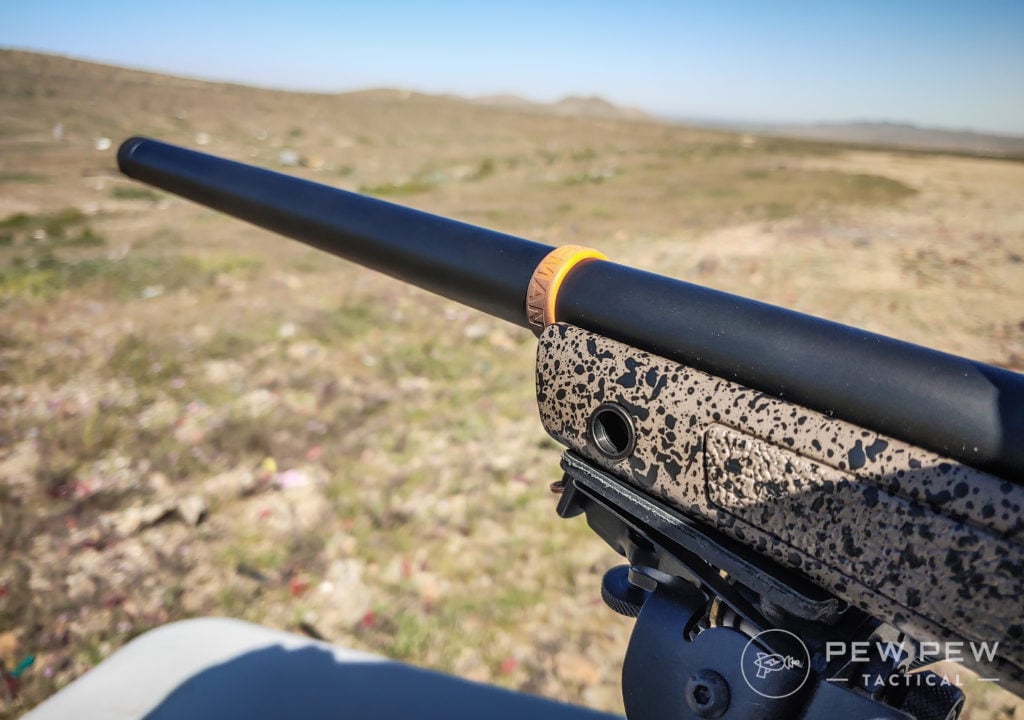 We shot this off a bipod, a bag, and prone, and we're happy to report it shoots extremely well. Groups were great, the bolt was smooth, and the rifle worked with various ammunition.
All in all, this gun is a great option for long-range plinkers!
1049
at Sportsman's Warehouse
Prices accurate at time of writing
Prices accurate at time of writing
You can read more about the Bergara B-14 HMR in our review!
7. Christensen Arms Mesa
We had to toss Christensen Arms into this list because this company makes some really nice rifles.
For this, we chose the Mesa. It arrived on scene in 2016 and has continued to perform well. Some of our favorite features is its carbon fiber composite gunstock and lightweight design at 6.5 pounds.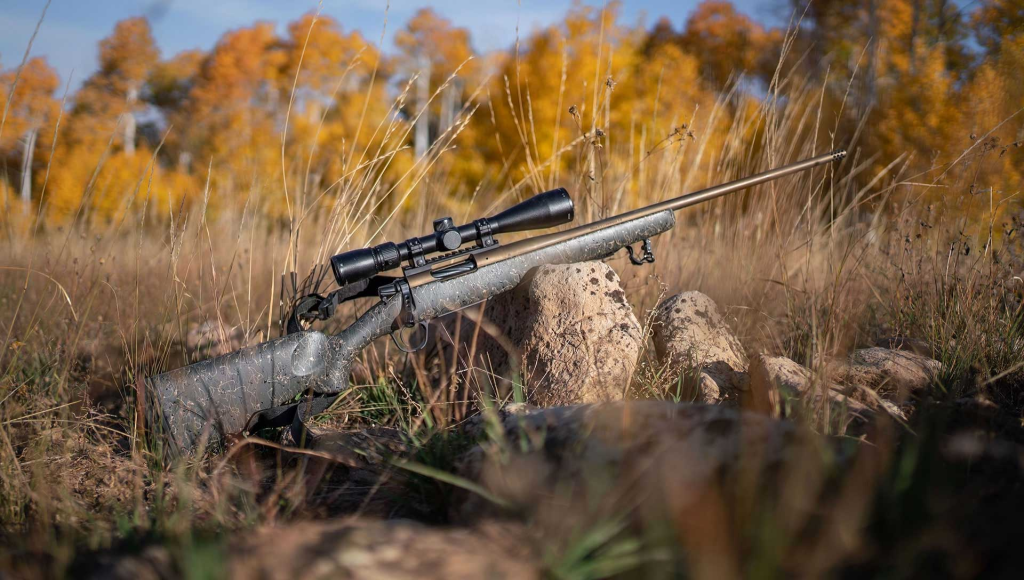 The Mesa comes with a featherlight contour stainless steel barrel and removable radial muzzle brake. Also, you get some choices when it comes to finish.
As far as chamberings, Christensen Arms offers .450 Bushmaster, 6.5 Creedmoor, 6.5 PRC, 7mm-08 Rem, .300 Win Man, .308 Win, .300 PRC. Lefties will also be happy to hear that a majority of those calibers come in left-handed configurations!
Best High End Hunting Rifle
1299
at Sportsman's Warehouse
Prices accurate at time of writing
Prices accurate at time of writing
The Mesa is a top-of-the-line offering that delivers solid results, all wrapped in a lightweight build. Can't go wrong with that!
Final Thoughts
There are plenty of rifles on the market, and though we favor these, that doesn't mean there aren't others to choose from.
But hopefully, we've given you a good starting point.
What's your go-to hunting gun? Let us know in the comments below. For more rifle recommendations, check out the Best Rifles. Need glass for that rifle? Head over to the Best Rifle Scopes.