When was the last time I got excited about a bolt-action rifle?
Don't get me wrong…I love historical rifles, especially various World War I and World War II rifles. Modern bolt-actions don't do it for me, though.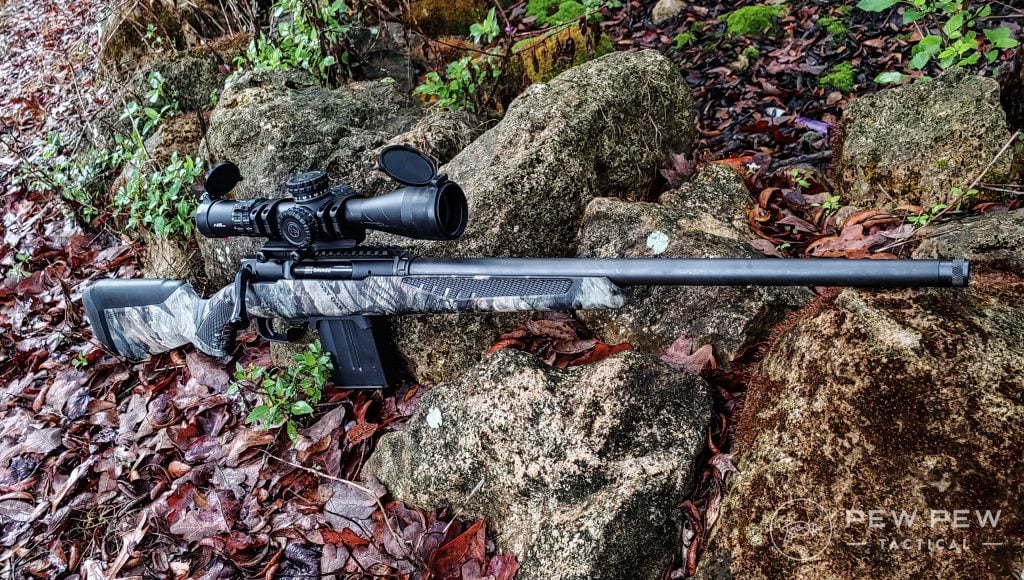 Well, that is until the latest Savage rifle hit the streets. What makes the Savage Impulse so special?
Well, there's a lot I could say. Savage makes solid rifles with a long history of success in the United States. This includes the Accutrigger, the Accubedding, the adjustable stock, and more. 
1085
at GrabAGun
Prices accurate at time of writing
Prices accurate at time of writing
However, as most people know, it's all about that straight-pull bolt-action.
So today, we're going to look at the Impulse and talk about why I think it's one of the coolest bolt-actions out there. We'll also cover all the important details like specs, features, and range performance.
Keep reading!
Table of Contents
Loading...
What's a Straight Pull Bolt Action?
It's all in the bolt, specifically the straight-pull bolt design that defies what most Americans think is a bolt-action. A normal bolt-action goes up, rearward, forward, and down, so four motions total.
A straight-pull bolt-action simply goes rearward and forward. It's rapid, smooth, and delivers the fastest bolt action design possible.
In the United States, straight-pull bolt actions have never been particularly popular, except for the great (and underrated) 6mm Lee-Navy.
They are more expensive to produce, often heavier, and more complicated. That said, the primary advantage of a straight-pull bolt action is the rate of fire and caliber availability.
You can almost instantly cycle the action and get a quick follow-up shot on target. In the U.S., this isn't a big deal because we have easy access to semi-automatics.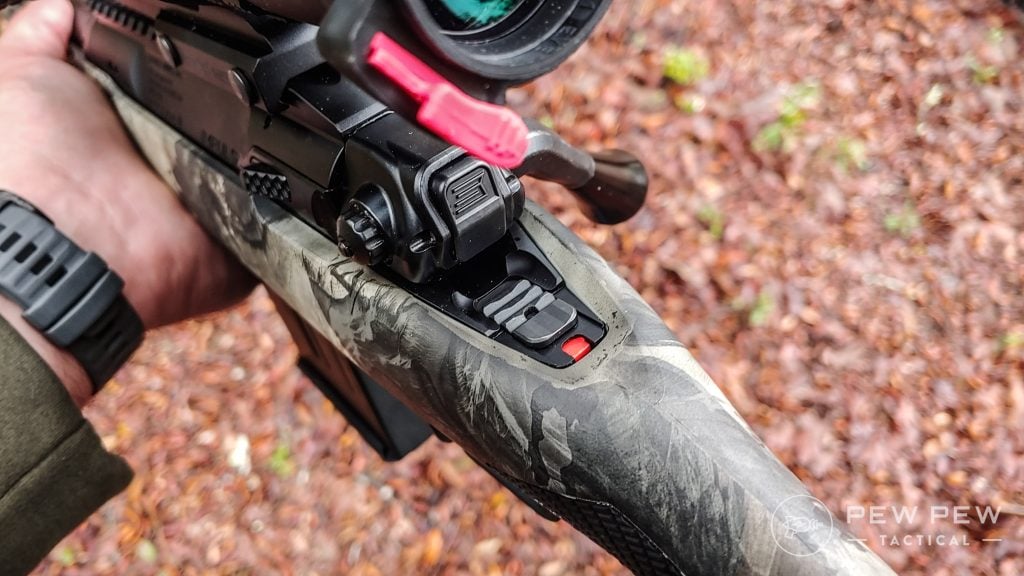 In a lot of other countries, semi-autos might be restricted heavily, but bolt-actions might be easier to acquire and hunt with.
The fast firing rate of the follow-up shots can be invaluable when you can't access a semi-auto rifle.
Specifications & Design
I got my hands on the Savage Impulse Predator for this review — chambered in .308 Winchester.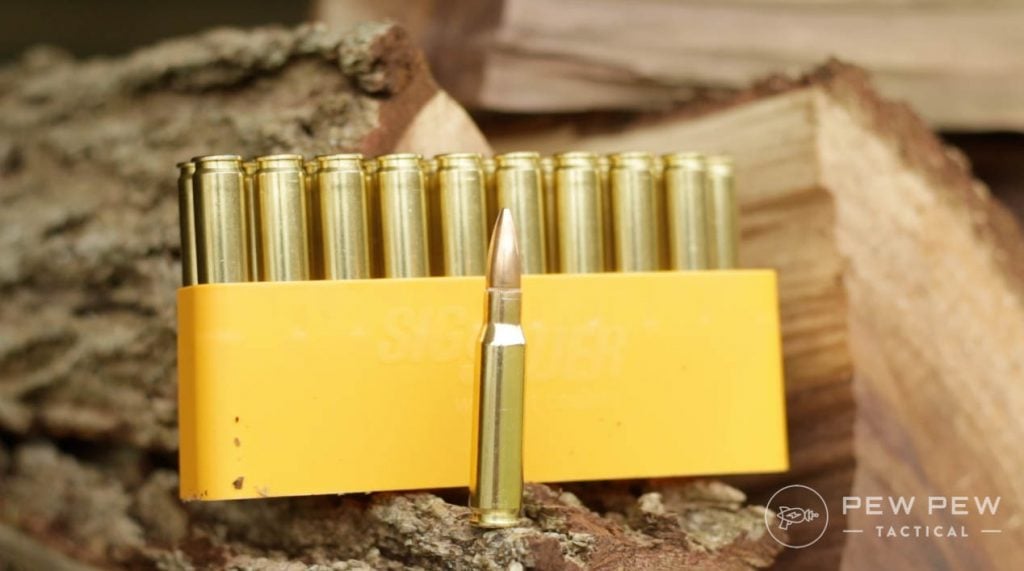 The Predator comes with a 20-inch barrel with an overall length of 41.5 inches. There is a little wiggle room in the overall length because there is wiggle room in the length of pull.
I love that companies are acknowledging that people are of various sizes with their stock weapons.
Savage includes the ability to remove or add a spacer to change the length of pull from 12.5 inches to 13.5 inches. On top of that, you can add an adjustable comb to make it comfy to user higher mounted optics.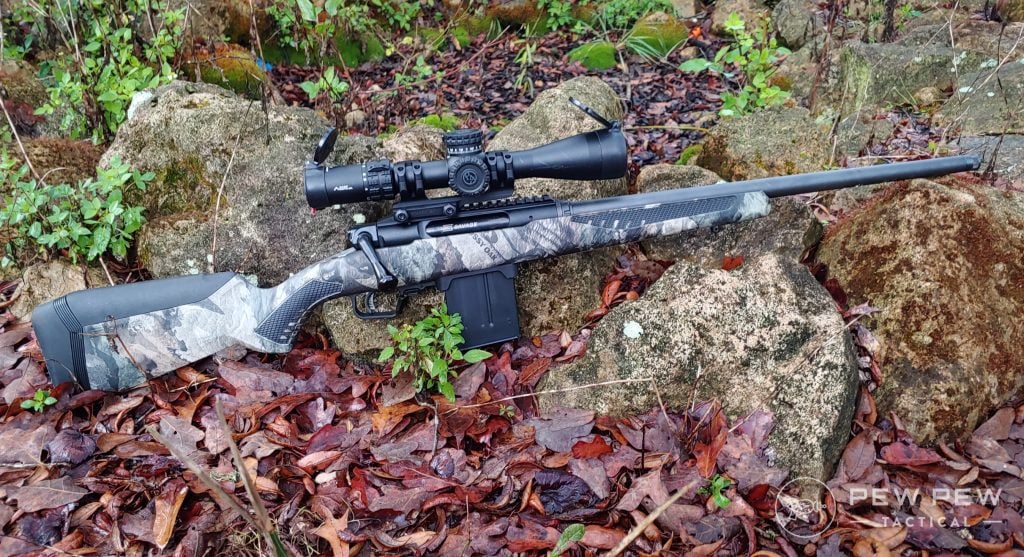 Savage even milled a Picatinny rail into the top of the receiver to make mounting optics easy. It's a 20 MOA mount that gives plenty of room for tossing on optics.
Of which I used to install a Primary Arms GLx 2.5-10X rifle scope.
749
at Primary Arms
Prices accurate at time of writing
Prices accurate at time of writing
The detachable magazine holds 10 rounds of .308. But if you're restricted to states that limit your capacity for hunting, then it's not hard to find 5-round magazines.
This is a beefy rifle, weighing 8.64 pounds without an optic or ammo. With the optic in place and a loaded magazine, the gun weighs 10 pounds!
It's certainly a better option for a tree stand or deer blind than a stalk.
Breaking Down the Ergonomics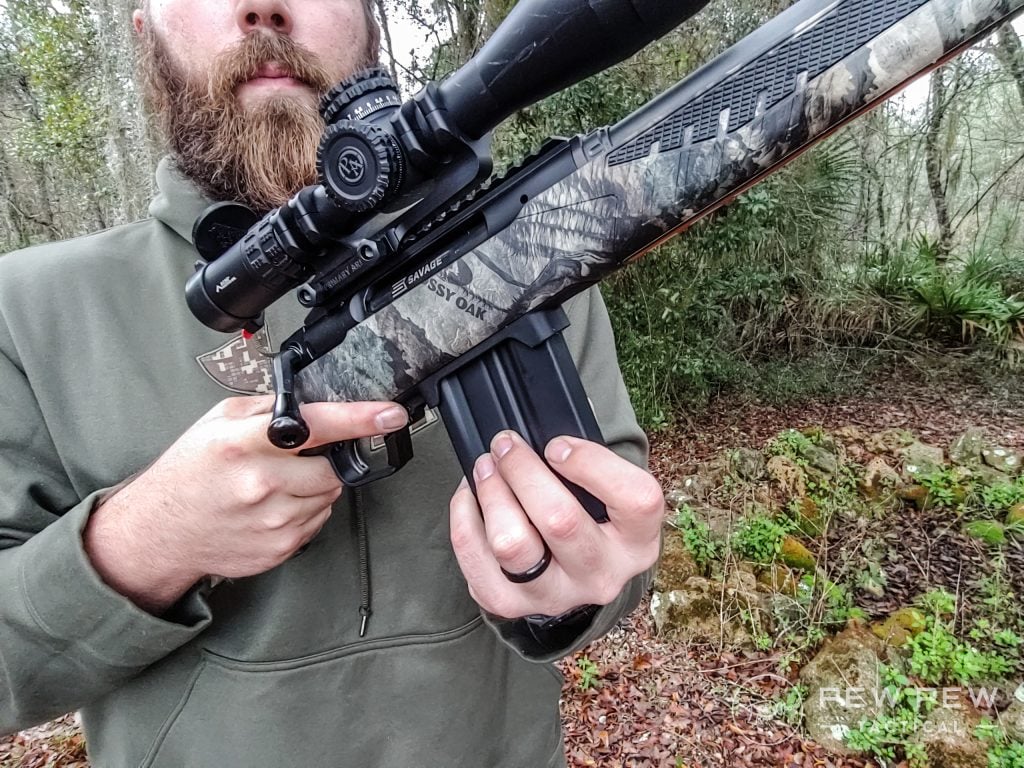 The Savage Impulse's straight-pull bolt doesn't change the ergonomics much.
Its ability to adjust the length of pull and comb height is a fantastic addition to the gun and makes it much easier to wield for a wider variety of shooters.
The safety is a rear, ambidextrous design that is heavily textured and easily pushed in and out of place. It's a very tactile system that's super easy to use. Above the safety and on the bolt sits a small button.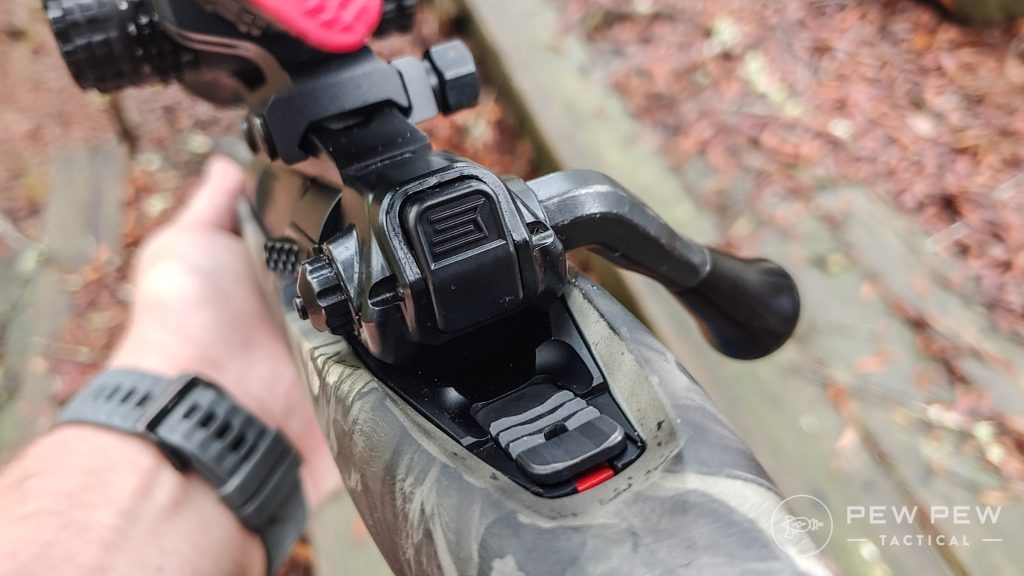 That allows you to cycle the bolt freely. When fired, the bolt automatically unlocks, so the button isn't needed, but if you need to clear the weapon, you press the button and pull the bolt rearward.
Press and pull, and you can eject a live round and clear the weapon.
The bolt handle uses a long, wide handle that's easy to grip and rip, and that's pretty dang important for a fast cycling action. It allows you to grip the bolt with cold hands, wet hands, or gloved hands as well.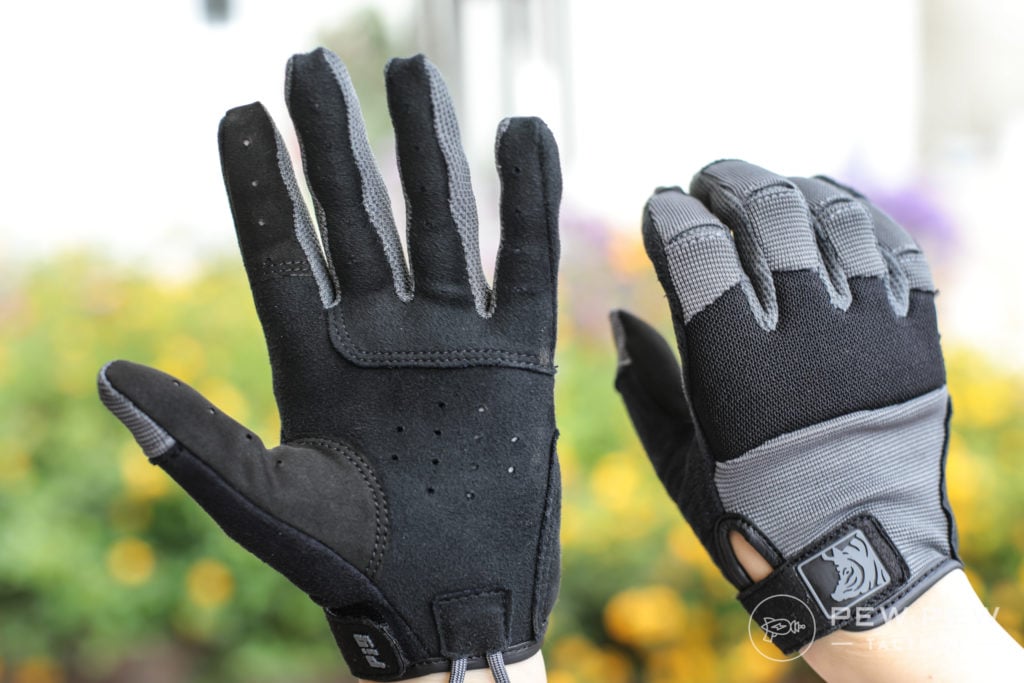 Savage installed a rubberized texture on the pistol grip and forward end. This allows for a very sure and comfy grip that allows you to get a rock-solid hold on the gun.
That forward texture allows you to grip the gun securely when ripping that bolt rearward and shoving it forward, and trust me, you'll be ripping and rocking when buck fever hits.
I wouldn't call rapid mag changes a big necessity with bolt action rifles, but that didn't stop Savage from installing a nice ambidextrous magazine release in front of the trigger.
Press it forward with your trigger finger, and bam, you can drop the mag and reload on the fly.
At the Range
To the range we go, loaded down with some Winchester White Box and Atlanta Arms match-grade ammunition.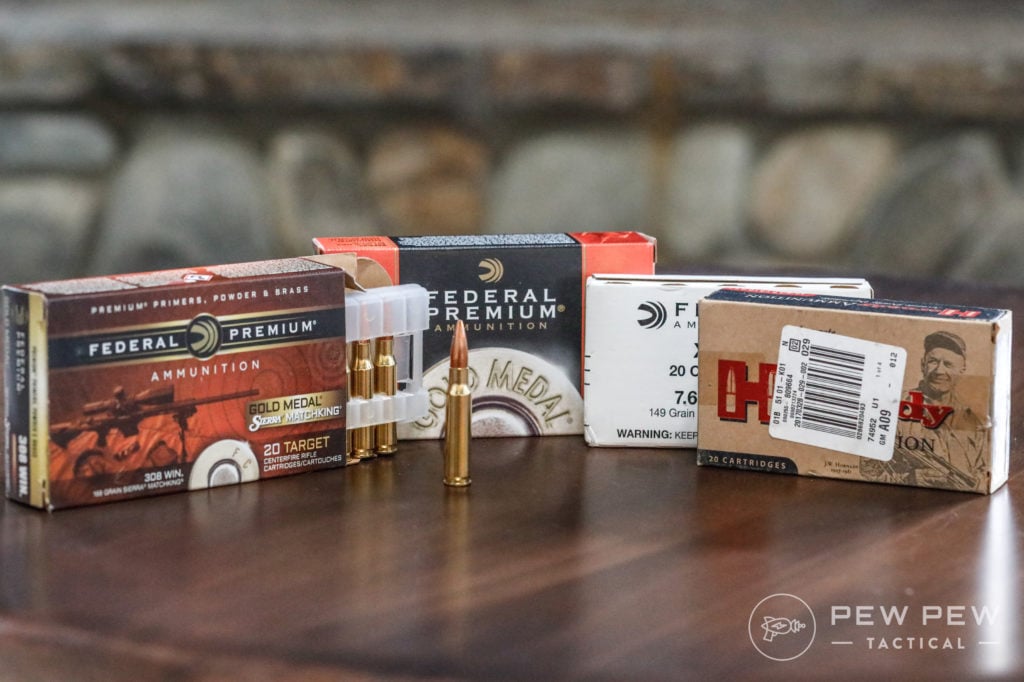 After a quick zero at 100 yards, I did remove the spacer and shortened the length of pull. At 12.5 inches, it's about the same as my favorite shotguns.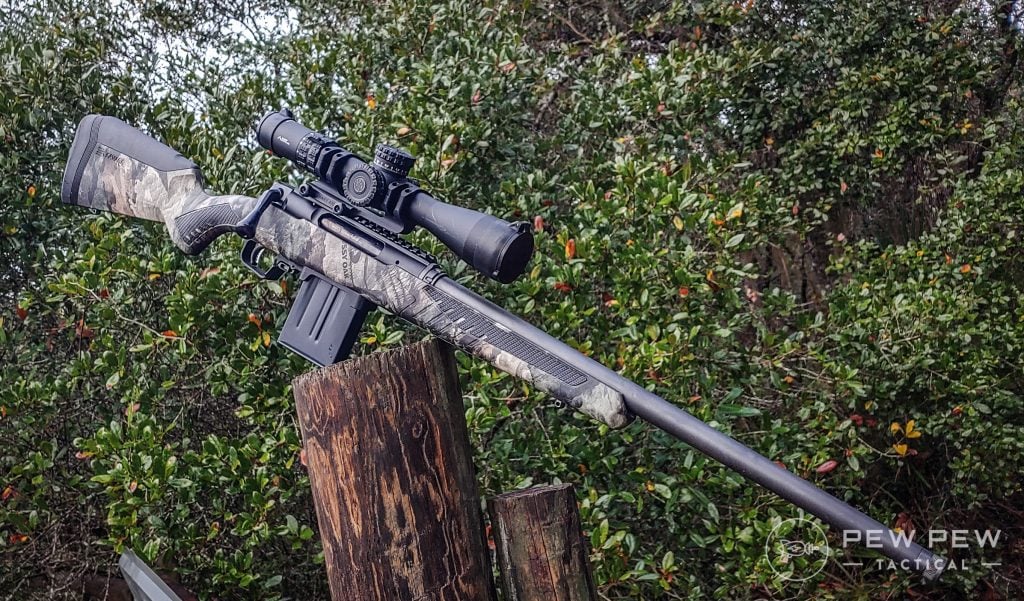 The 13.5-inch LOP wasn't terrible, but I found the shorter length of pull a little more comfortable. I went back to 100 yards once more and did a little accuracy testing with the match grade goodness from Atlanta Arms.
My target is an accurate representation of a deer's side.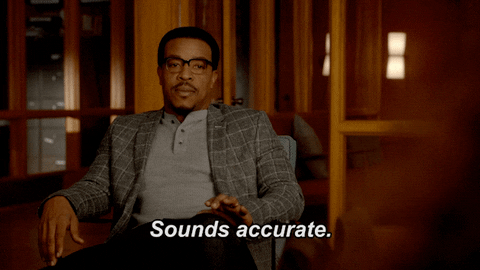 My actual target is that deer's vital area right behind the front leg. It's a 6-inch sized target, and the Impulse is way more than accurate enough to land shot after shot into the deer's vital area. At 100 yards, I was in the prone but didn't use any kind of bipod.
A good supported prone delivered me a 0.65 inch five-shot group. With my support, a bipod or sandbag would make it easy to score even smaller groups. The Accutrigger delivers a very crisp trigger pull with zero take-ups and a very nice break.
It's one of the better stock triggers out there, and the Savage Impulse benefits from it.
Speedy Follow-Ups
Do you wanna go fast? Cause I sure do! I loaded the Savage Impulse down with some cheaper ammo, lowered the magnification, and let the lead fly.
I set up a 10-inch gong and an 8-inch gong and took the rifle to 25 and 50 yards to practice taking shots rapidly in the standing, sitting, and prone positions.
My goal was two shots in under two seconds in the standing. Well, I'm not quite that fast.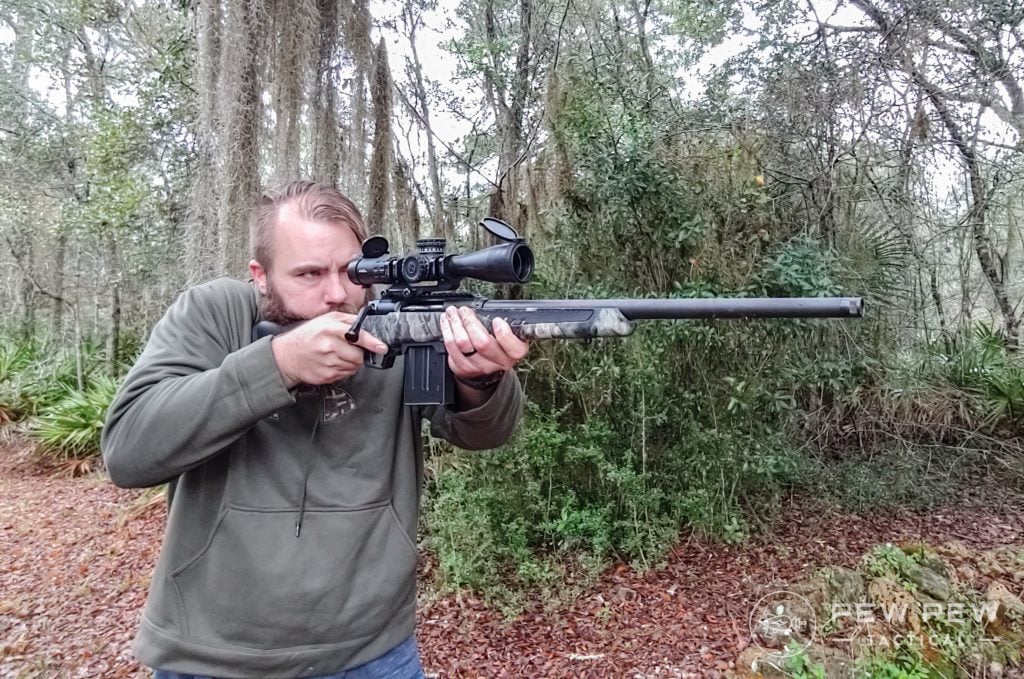 At 25 yards, I got close, but no cigar. I hovered around 2.5 with some dips into the 2.75 territory. With a bigger target, like Eurasian hogs, I'd get two hits in two seconds with ease.
Those gongs are fairly small, but I still scored accurate and effective shots quicker with the Impulse than most. In fact, I would say it's faster than a lever-action gun. Pulling the bolt doesn't require me to break my sight picture.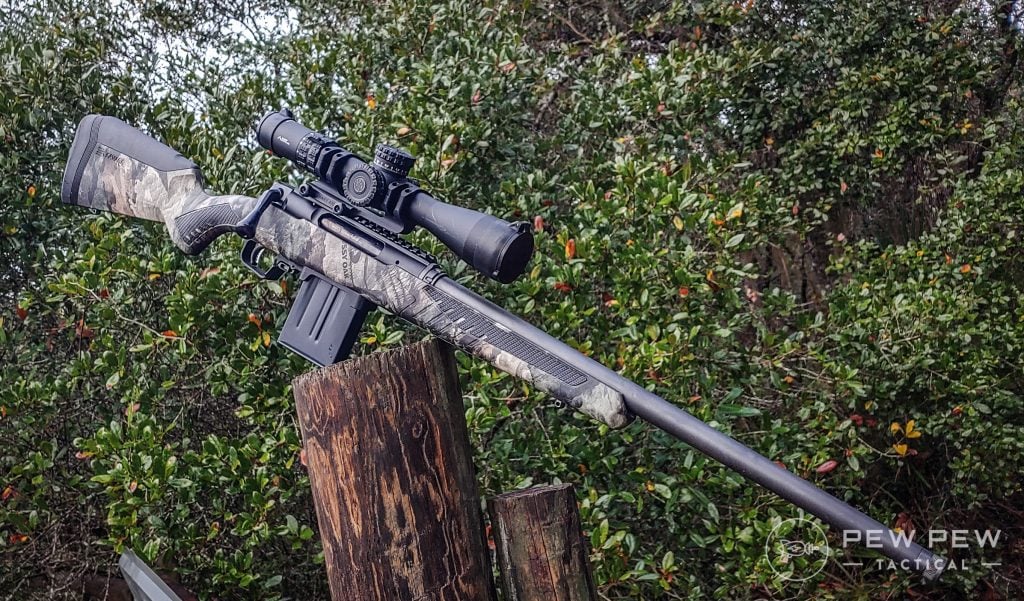 The bolt doesn't travel far enough rearward to smack me in the face, and it runs rearward smoothly.
Unlike a lever-action, I can use the rifle in a prone or lower supported position. Plus, I'm not restricted to using round nose bullets with a magazine-fed bolt action.
How's the Recoil?
The .308 Winchester is a full-powered rifle round, so the recoil can be stiff. However, the Impulse isn't a shoulder-kicking, butt beating rifle.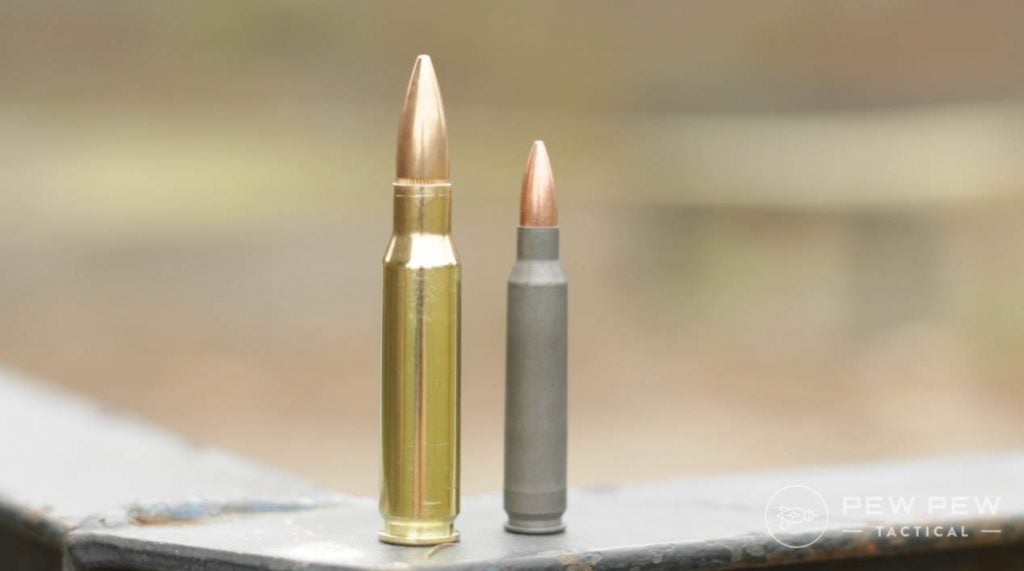 All the weight has to have some advantage, and that advantage is reducing recoil.
After firing dozens of rounds, the Impulse never beat me up or left me feeling sore or tired. I controlled the weapon with ease between shots.
I wasn't the only one. My dad, a long-time hunter and dedicated Winchester Model 70 fan, loved the Impulse. He sent a lot of my expensive and hard-to-find ammo downrange.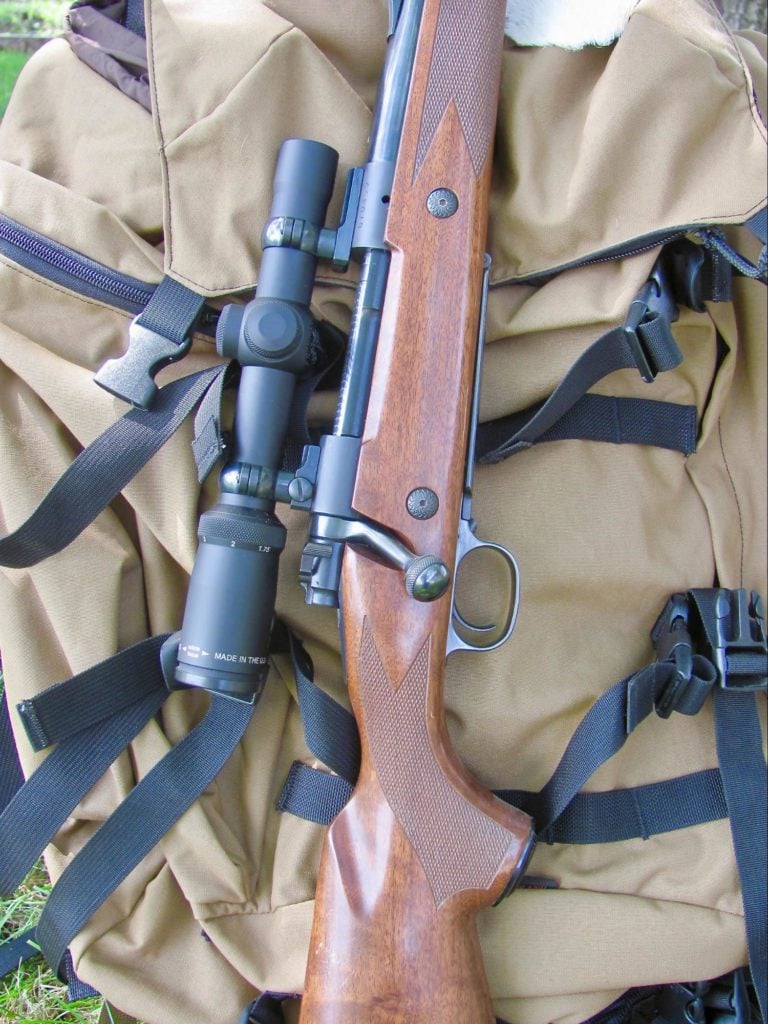 I honestly expected a fair bit more recoil and was surprised by this little soft shooting straight-pull bolt-action rifle.
The threaded barrel has plenty of room for you to fit a muzzle device if you want to tame the recoil a bit more or toss on a can to make things a little more comfy to the ears.
The Savage Impulse provided my dad and me with an awesome experience. It's a fantastic rifle that's a ton of fun to shoot and handle.
It's a different kind of thrill — a well-made firearm, perfect for hunting.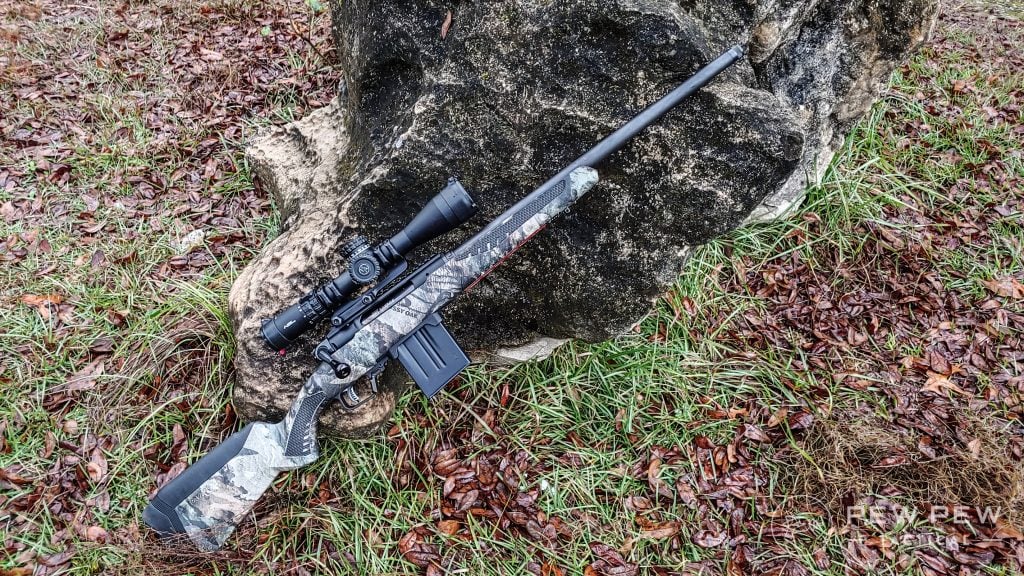 Who Is It For?
Hunters, most likely. Sure, semi-autos are fun and more efficient, but from a sporting perspective, the Savage Impulse creates a greater challenge for taking follow-up shots.
This is especially true when it comes to hunting animals like hogs.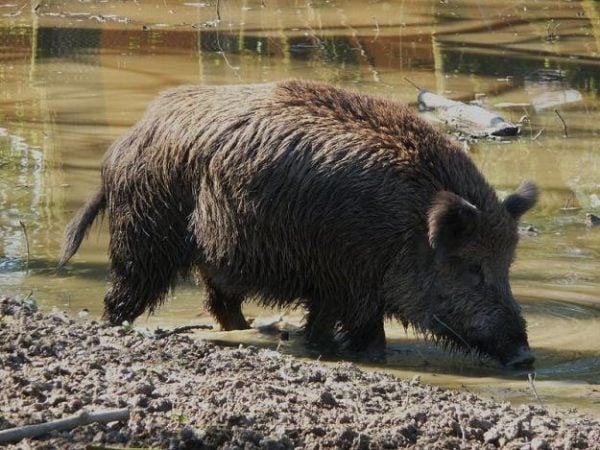 Being able to bag two hogs with a straight-pull bolt action provides plenty of challenge, and with that challenge comes plenty of thrill.
But the Savage Impulse is more than just its straight-pull bolt.
Like most Savage rifles, the Impulse comes out of the box both accurate and reliable. The polymer stock features Savage Accufit to help enhance accuracy and the famed Accutrigger to eliminate human error.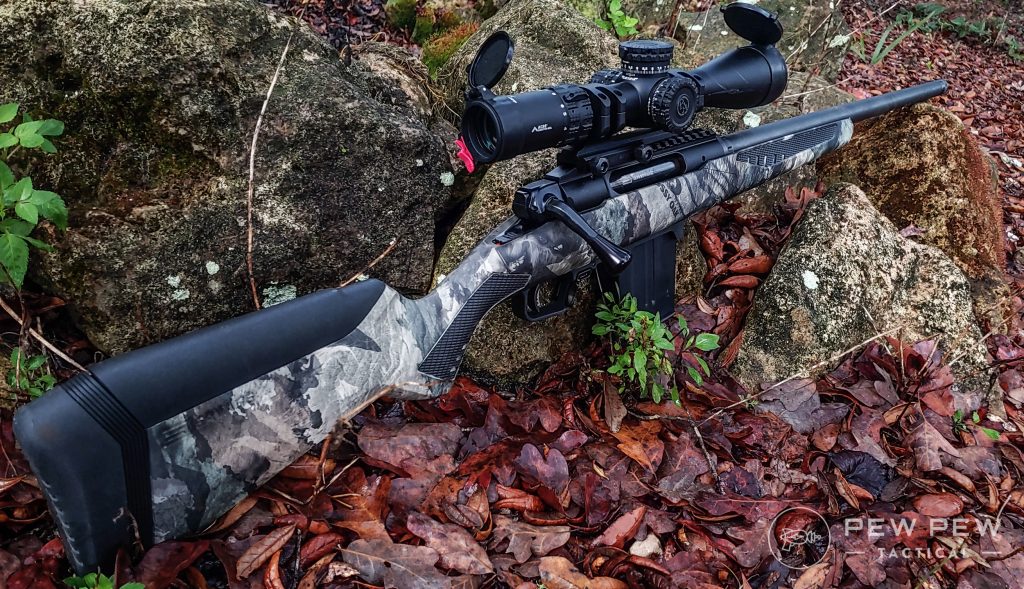 It's also for shooters like me who are nerds for different technology and different operating systems. The only straight-pull bolt I'd handled previously was a K-31 surplus rifle. I was curious to see how a new design would handle it.
I don't think I've ever taken a modern bolt action to a range just to have fun, but I keep taking the Savage Impulse to the range and enjoying the hell out of it.
Impulse Models
Savage didn't produce one Impulse rifle and call it a day. Instead, they produced three models of various calibers. We have the Hog Hunter, the Big Game, and the Predator. Though I took a look at the Predator, the various models bear mentioning.

The Hog Hunter has barrel lengths ranging from 18 to 24 inches depending on the caliber and comes in everything from .243 Winchester to .300 Winchester Magnum. It uses a detachable, 4-round magazine.
1275
at Guns.com
Prices accurate at time of writing
Prices accurate at time of writing
The Big Game model comes with barrels ranging from 22 to 24 inches and in calibers from .243 Winchester to .300 Winchester Magnum with the same detachable magazine design.
Its longer barrels are fluted for a bit lighter weight even though they are a bit longer.
1449
at Guns.com
Prices accurate at time of writing
Prices accurate at time of writing
Finally, the Predator hits us with a 20-inch barrel in calibers including .22-250, .243, 6.5 Creedmoor, and .308 Winchester. It's also a weapon that uses AICS magazines and comes with a 10-round magazine.
I went with the Savage Impulse Predator because it better matched my environment in the Southeast.
We don't have big game opportunities, and deer and hogs are the most common creatures to hunt around here, followed by coyotes and then small game.

The Predator just made sense for this environment, and I see it as a good mix between the Hog Hunter and Big Game.
By The Numbers
Ergonomics: 4.5/5
Almost everything about the ergonomics is fantastic. The controls, the big, long bolt, the magazine release, and especially the LOP. The downside that takes the half-point away comes from the weapon's weight. It's a beefy beast.
Reliability: 5/5
It's a bolt action. It goes bang, cycles, extracts, and ejects very well. There isn't much that the gun could fail at, and it hasn't.
Customization: 2/5
It's a new gun. There isn't much you can do. Toss on a sling and an optic, and that's about all you can do right now. Maybe Magpul will make a stock for it, but for now, we don't have much.
Value: 3.5/5
For a bolt action rifle, $1,379 is a lot of money. However, when you compare it to other modern straight-pull bolt action rifles, the Impulse is priced affordably. It's a unique rifle, and the costs are quite high.
1085
at GrabAGun
Prices accurate at time of writing
Prices accurate at time of writing
Overall: 4/5
Yep, it's a pricey and heavy gun, but the Savage Impulse provides a rock-solid, accurate, and easy handling rifle. The recoil is low, the action is smooth, and the trigger is great. Overall, the weapon operates brilliantly.
Conclusion
Though I've never been a huge bolt gun guy, the Savage Impulse ignited a passion for bolt-action rifles in my heart.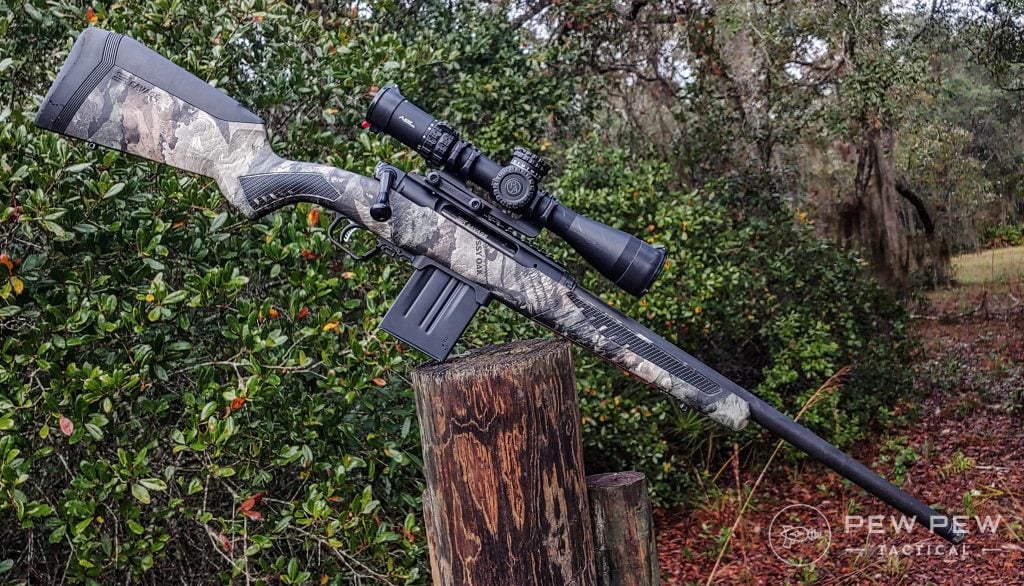 Seeing my dad's joy at shooting the rifle tickled me. We had a good time with the rifle and each other…so much so that I've since purchased the rifle from Savage.
What did you think of the Savage Impulse rifle? Let me know about your experience in the comments below. Want more Savage? Check out the Best Savage Rifles & Shotguns.