Here's a hard truth of being a female hunter: I have a lot of gear made for men.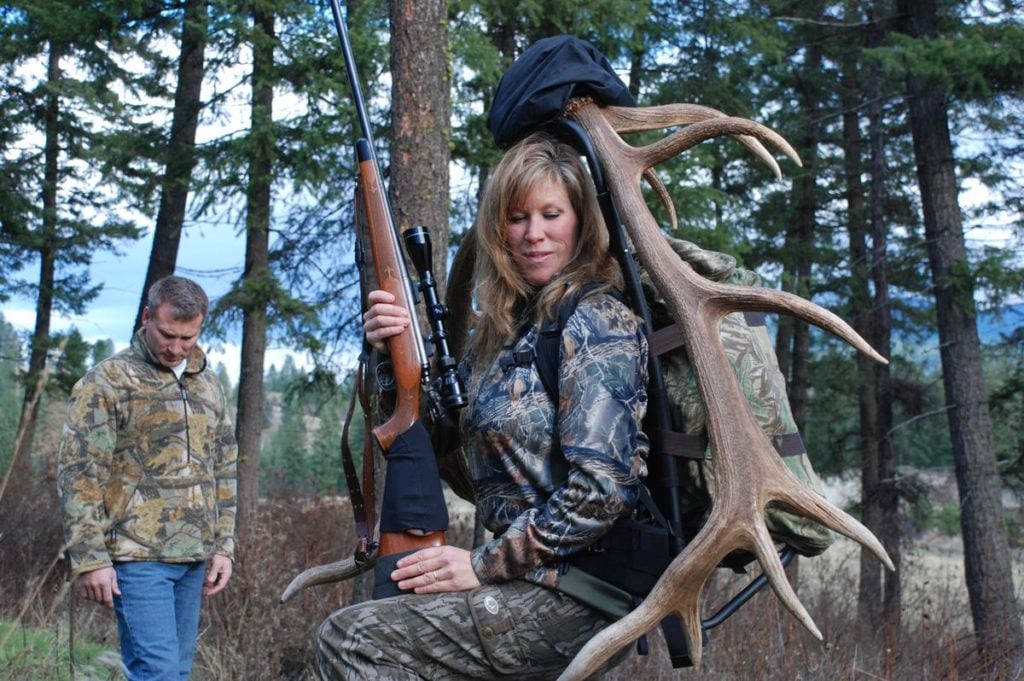 While it does get the job done it flat-out doesn't fit my curves ideally because let's face it–it was not made to do that.
Finding comfortable gear does get to be a bit of a challenge for women; we just aren't shaped like guys and the waistbands that rest on male hips tend to cut into ours.
That, or we have to up-size until the waistband fits and the rest is baggy like unwanted parachute pants.
Good news, though. There is well-made hunting gear out there for women who identify as hardcore hunters.
Read on to find out what does and doesn't work.
Best Hunting Clothing for Women
Nomad just happens to make some of my favorite camo. Their women's line is fairly young and still growing but does include hats, gloves, shirts, a couple jackets, and pants.
Their clothing fits, it's comfortable, and their base layers do a stellar job of protecting me from the wind.
And as a hoodie fan–yes, I also swipe my boyfriend's hoodies –it's fantastic that the Nomad Women's Southbounder Camo Hoodie is both comfortable and offered in three patterns: Mossy Oak Break Up Country, Realtree Edge, and Realtree Timber.
Oh, and the stitching highlights on their women's gear is not pink–it's blue. Like my hair. I love it.
But wait, there's more! Nomad is also one of the few companies with men's camo I wear by choice.
Their new Nomad Bloodtrail Pants are perfect for deer season and come in both Mossy Oak and Realtree and I have yet to find a pair of their pants I don't like.
That's pretty unique considering I'm talking about their men's pants.
I'm also a huge fan of their jackets. The Nomad Dunn Primaloft Jacket has been my favorite winter coat for years–I don't only use it for hunting–and some tops like the Nomad Strickland Early Season Hoodie also have angled, extended cuffs to cover the back of your hands. They rock.
178
at Amazon
Prices accurate at time of writing
Prices accurate at time of writing
This is one of the few camo companies I recommend in its entirety. I've worn Nomad since the company launched and have yet to be disappointed.
What's your take on Nomad gear?
This one I'm mentioning with a bit of a disclaimer: it is designed more for women with narrower hips.
For hunters like myself who are more Marilyn Monroe and less Twiggy, it does not work quite as well. But it is a popular women's hunting apparel line.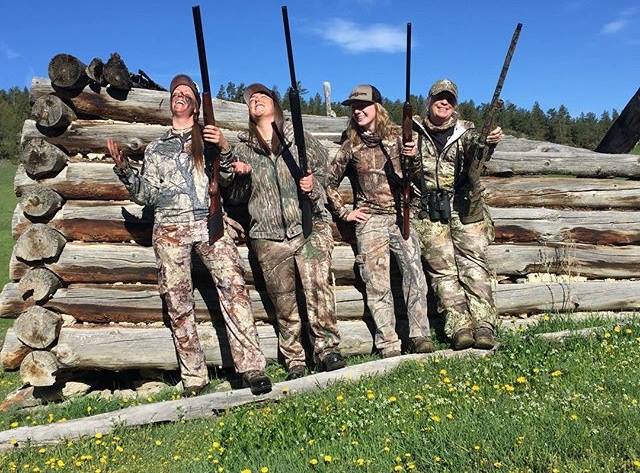 It's well-made and the women behind the line put a lot of thought into it. Best of all, they all hunt.
This is not a camo line created by women who just wanted to broaden their fashion industry roots into the hunting world (you know who you are). Prois is made by women who hunt for women who hunt.
Period. End of story.
A bit of an honorable mention here for Legendary Whitetails. When I'm not hunting I wear a lot of leggings and skinny jeans.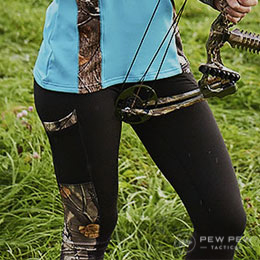 Legendary Whitetails Women's Big Game Camo Leggings are excellent if you want some camo flair in your at-home wardrobe.
22
at Legendary Whitetails
Prices accurate at time of writing
Prices accurate at time of writing
The company's Women's Saddle Country Shirt Jacket is also nice for setting up and checking trail cameras and comes in Dark Army (green), Tarmac (gray), and Rusty Maroon (red). Their fleece pullovers rock, too.
80
at Amazon
Prices accurate at time of writing
Prices accurate at time of writing
Just saying they make comfy outdoor clothing.
Best Hunting Boots & Waders for Women
I have a confession to make. There are untold numbers of hunting boots in my house. I'm not talking half a dozen pairs in a corner I'm talking dozens upon dozens on racks, in boxes, in closets… it's a problem.
The boots that never let me down, though, are from Irish Setter. If you're looking for eight-inch boots, specifically Irish Setter Vaprtreks.
155
at Amazon
Prices accurate at time of writing
Prices accurate at time of writing
Vaprtreks are eight-inch-tall waterproof camo boots made using 400 gram PrimaLoft Gold Eco insulation and the company's Scentban scent control technology. They come in Mossy Oak and have blue highlights.
If you're in the market for good snake boots I also have two pairs of Irish Setter Vaprtrek 16-inch Waterproof Leather Camo Snake Boots, one in Mossy Oak and one in Real Tree.
200
at Amazon
Prices accurate at time of writing
Prices accurate at time of writing
After spending years' worth of hunts sporting these boots I am completely comfortable recommending them. They're lace-up snake boots, not slip-on, and fit well. You'll be totally at ease wearing them all day long for however many days you're hunting in a row (at least I am).
And if you are hunting in a snake-populated place like Texas or Arizona you're going to want these boots.
Because who doesn't love duck hunting? Of course, if you're going to be a waterfowler, you need good waders. Waders are another item I have more of than I need thanks to the ones that flat-out didn't work for me (yes, I hoard hunting gear).
Banded's Women's Redzone 2.0 Breathable Insulated Waders have worked well for me during long flooded timber hunts. They keep me warm and dry which is exactly what good waders should do (but don't always deliver).
These waders are made with faux over-the-boot pantlegs, a style you may or may not like, and have an adjustable, removable Clinchfit belt.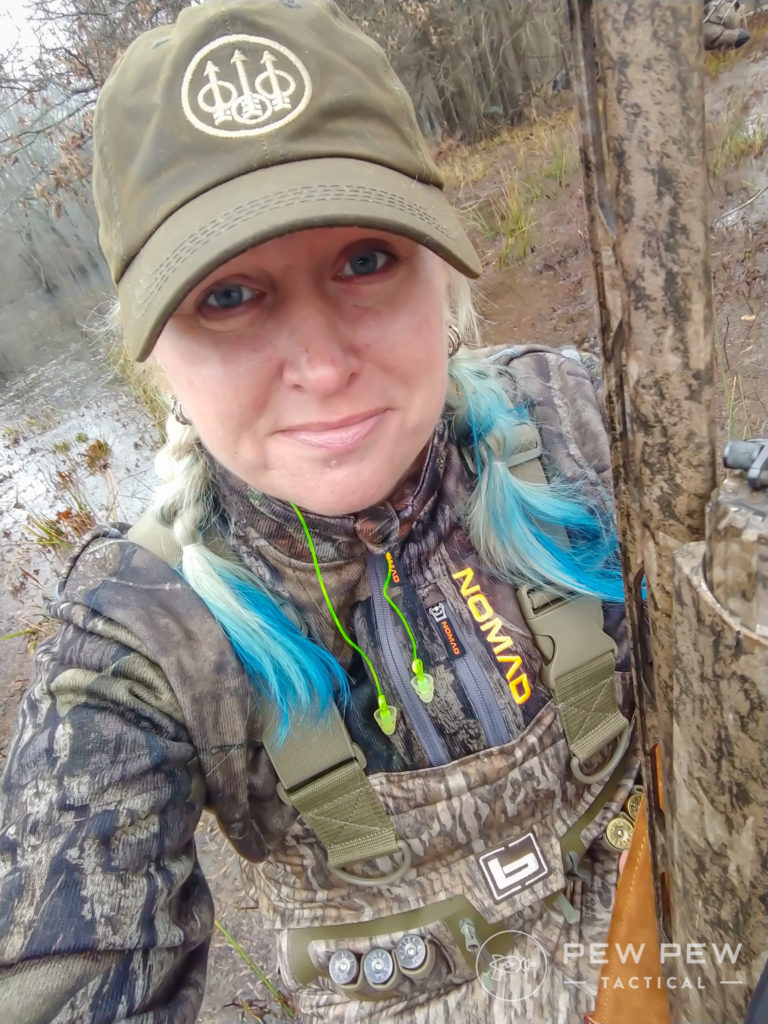 Shotshell holders are positioned mid-body and there's also a cell phone pocket. Trust me, you do not want to risk dumping your phone in the water. It never ends well.
400
at Amazon
Prices accurate at time of writing
Prices accurate at time of writing
Other cool features include G03-layered fabric for serious durability and RZ-Traction boots with deep-fluted soles for superior traction and stability. My preferred pair of Banded waders are in Mossy Oak Bottomland but you can also get them in Realtree Max-5.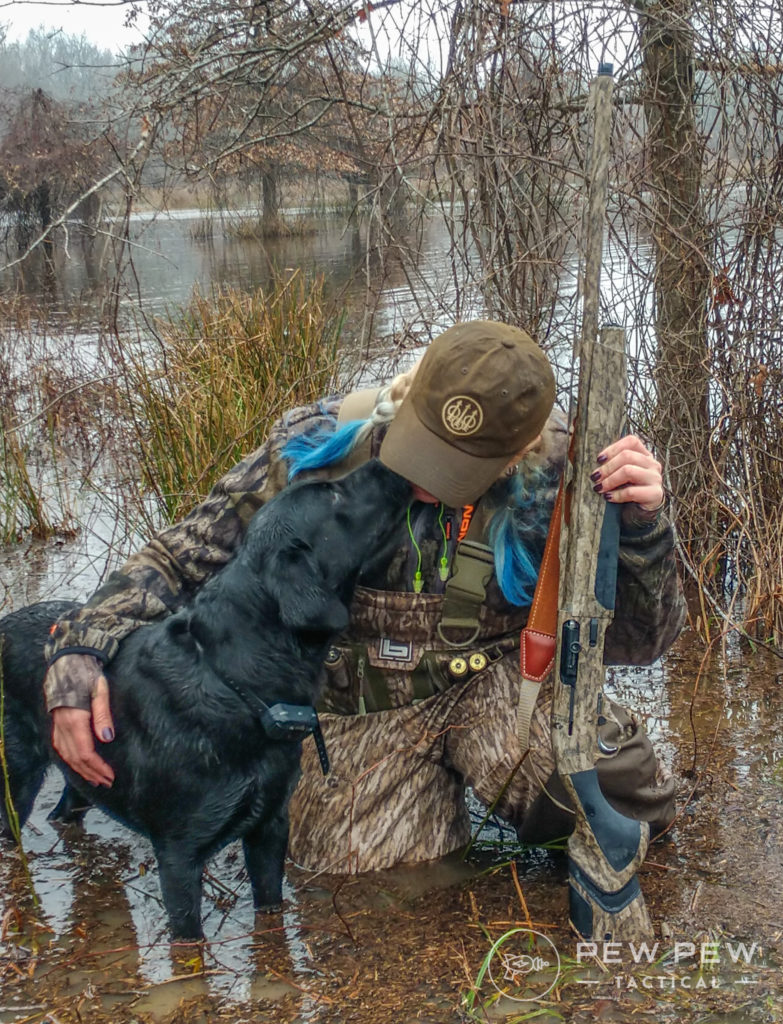 Side note: I also love the rest of the Banded women's line. Hats, gloves, jackets. Their Women's Tec Fleece ¼-zip Pullover has kept me toasty on countless hunts.
Oh, and the Banded Women's Windshield Headband both keeps my ears warm and holds my curls out of my face. The struggle is real, especially on windy days.
Yes, a second pair of waders. This pair from LaCrosse is uber-comfy, warm, and made using a one-piece pant-leg-and-boot design instead of the over-the-boot faux leg found on the aforementioned waders.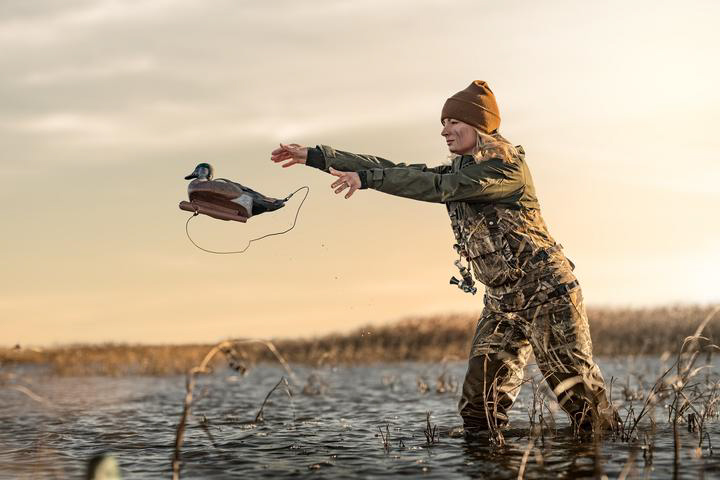 They're insulated, breathable, and lighter-weight than heavy neoprene waders. LaCrosse uses 1600 gram Thinsulate Ultra so you stay warm even when it's snowing and colder than a you-know-what and these are specifically cut for a woman's shape.
Plus they're pretty simple to get on and off, move well as you walk and wade, and you can roll them up or down for use as chest or pant waders. Y-back suspenders are included.
330
at Amazon
Prices accurate at time of writing
Prices accurate at time of writing
These waders are made in Realtree Max-5 so you'd better be cool with that pattern. They really are high-quality and fit well. Totally recommend.
Best Hunting Packs for Women
Full disclaimer: you cannot go wrong with Alps Outdoorz. I may or may not have a massive collection of their gear.
The Alps Outdoorz Huntress pack is made to fit women's bodies with an altered frame, waist belt, and shoulder straps. Torso length on the Huntress is shorter than what is found on most packs which does make it a better fit for a lot of women.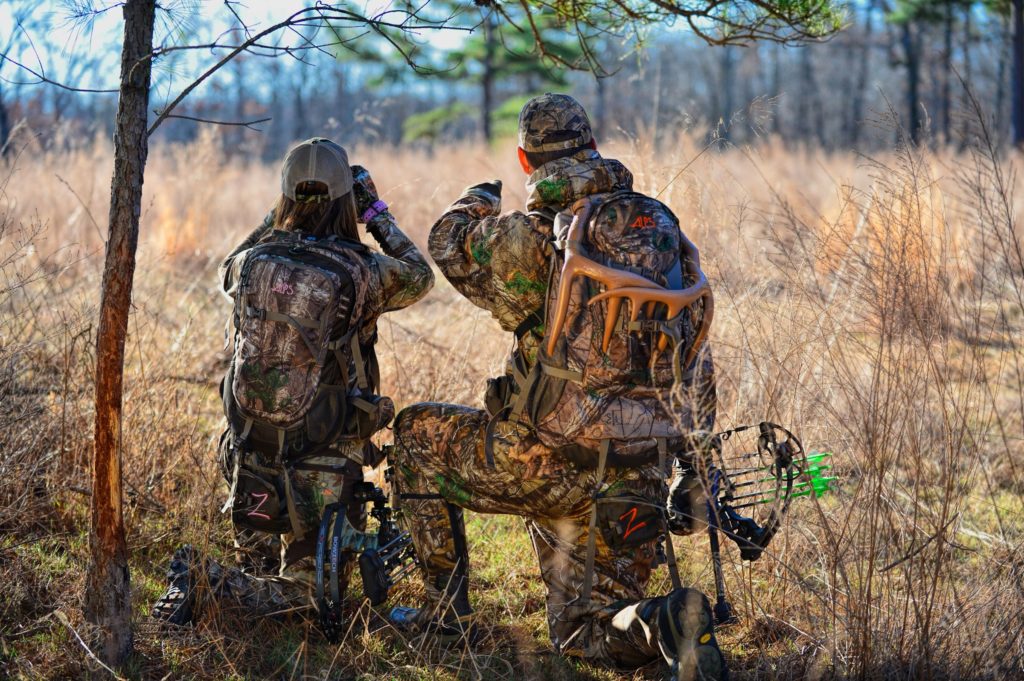 It's a day pack with 2200 cubic inches of space; you'll have no problem fitting what you need in its compartments.
76
at Amazon
Prices accurate at time of writing
Prices accurate at time of writing
Features include a drop-down weapon pocket that fits the majority of compound bows and rifles, a front pocket for mouth calls and smaller accessories, and mesh water bottle pockets on either side.
There is also a blaze orange rain cover, something found on a lot of the company's packs that is perfect.
Alps Outdoorz Monarch X is also an awesome pack made for women. This one is made specifically for packing out meat and let me tell you, it gets the job done nicely.
It's made using 1680 Denier Nylon Ballistic Fabric, Hypalon reinforcements, and molded foam suspension. It's big enough for whitetail or elk and thanks to the sturdy frame and rugged design it makes packing out game meat and that gorgeous rack easier to accomplish without tweaking your shoulders.
220
at Amazon
Prices accurate at time of writing
Prices accurate at time of writing
The compression and lashing straps make it possible to adjust as needed and the built-in meat shelf is a handy tool, too.
Finally, although it is not technically made for women, there's the Alps Outdoorz Extreme Crusader X.
If you're a waterfowler, you want this bag. It can be carried like a duffle or morphed into a backpack and it's waterproof.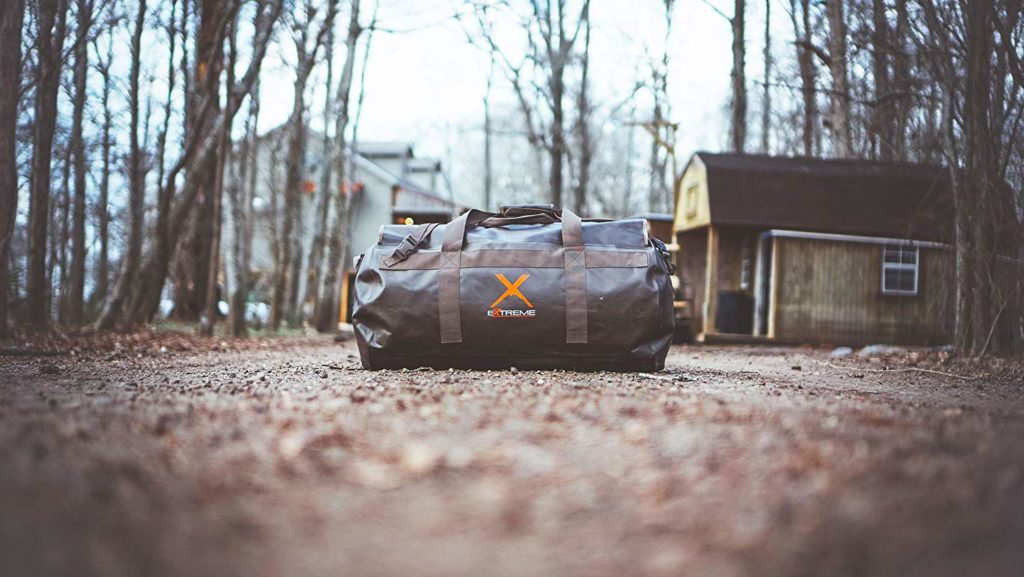 The Crusader X is a rolltop duffle-style bag with compression straps to tighten the load for comfort's sake and is pretty much the ideal bag when you're hunting birds from a pit. It's dark brown and comes in standard and large sizes.
120
at Amazon
Prices accurate at time of writing
Prices accurate at time of writing
Other Women's Hunting Must-Haves
Okay, so we know this article is about gear and clothing, but there are a few particularly stellar tools that we think you should consider adding to your hunting load out.
Obviously, a good knife and a great rifle will make all the difference in your hunt, so we wanted to share our favorites.
No, this isn't made for women, but it is amazing.
You need a good pocket knife on hunts and Bear and Sons' entire lineup is great. The Bear and Sons Aluminum Assisted Opening Sideliner has a three-and-a-half-inch 440 stainless steel, powder-coated blade and has ball-bearing washers.
It's spring-assisted which is a feature I particularly love–yes, it is legal in most of the country, but do check your laws, cough, Chicago–and it is durable.
I've used mine for more than just cutting paracord and small branches, too. Mine has field dressed turkeys and taken the head off a raccoon (hey, I wanted a euro).
38
at Amazon
Prices accurate at time of writing
Prices accurate at time of writing
Pattern 103 of this knife has a sideliner lock to keep the blade in place and a lanyard space as well as a pocket clip.
It's rare for me to recommend a gun that's marketed to women. As a general rule, guns designed for women follow the "shrink it and pink it" philosophy.
More importantly, guns don't give a crap about your gender. They either fit you or they don't.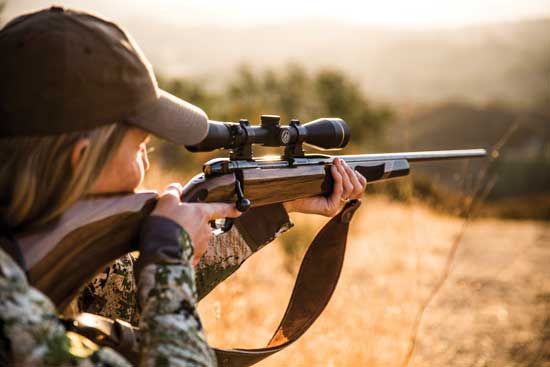 That said, Weatherby did a good job with the Vanguard Camilla.
The Weatherby Vanguard Camilla is a bolt-action rifle with features designed by women who hunt and shoot.
Perhaps its coolest feature is the angled buttstock; thanks to its unique angle the buttstock can be shouldered more easily and precisely against our differently-shaped bodies. This is one of those times it does matter.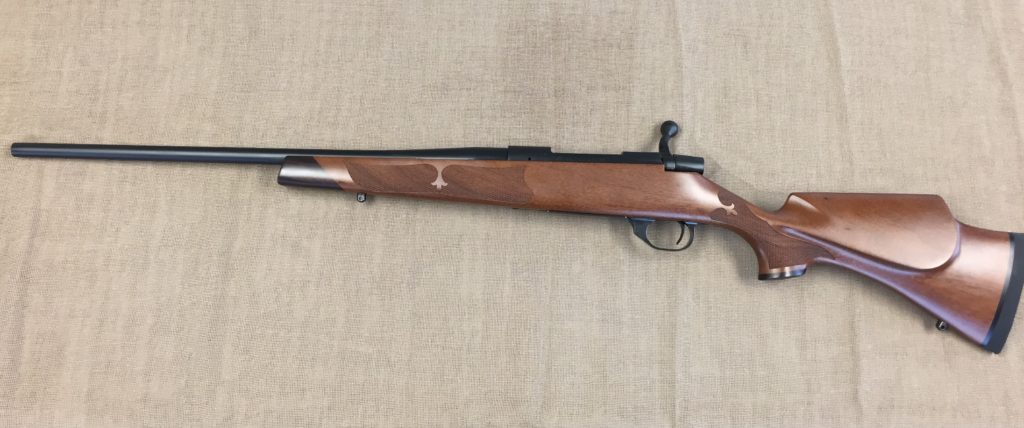 Other differences include a slimmer, angled pistol grip which works well for women with smaller hands–mine are not small, so that doesn't include me but might be an upside for you–and a shorter length of pull (13 inches).
My teenage daughter is five inches shorter than me and the Camilla fits her exceptionally well.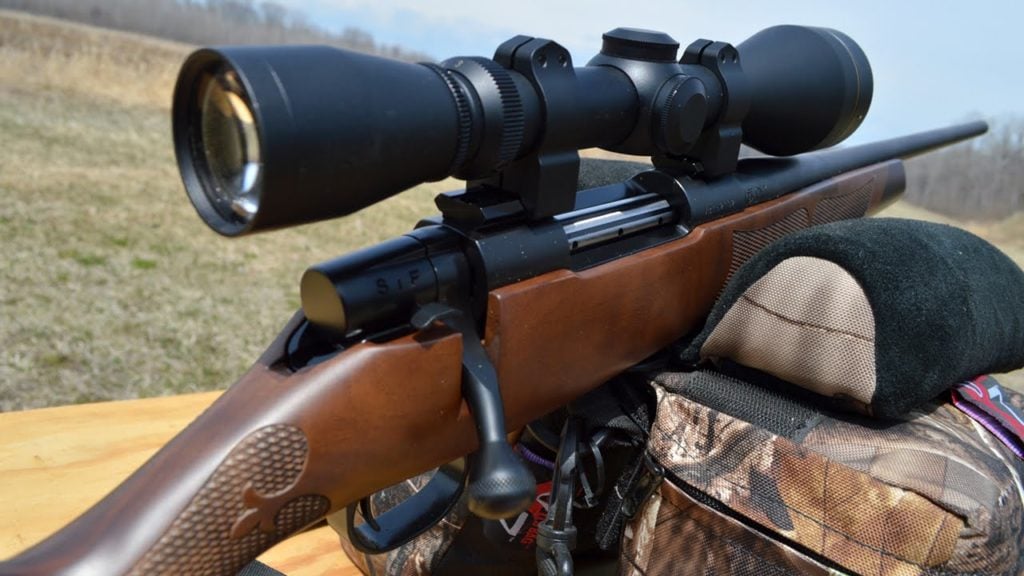 A quick rundown of specs. Weatherby guarantees SUB-MOA performance–and yes, the Camilla delivers–specific to three-shot groups, not five-shot groups.
The rifle has an adjustable match-grade, two-stage trigger, a fluted, one-piece machined bolt body, and a fully enclosed bolt sleeve. The twenty-inch barrel is cold-hammer forged.
616
at Palmetto State Armory
Prices accurate at time of writing
Prices accurate at time of writing
It also has a three-position safety, integral recoil lug, and hinged floorplate. This really is a nice gun. You can get one chambered in .243 Win, 6.5 Creedmoor, 3.08 Win, or 7mm-08 Rem.
The Final Word
Just because I didn't mention a product in this article does not mean it isn't good. And just because a product is marketed to women does not mean it's going to work for you.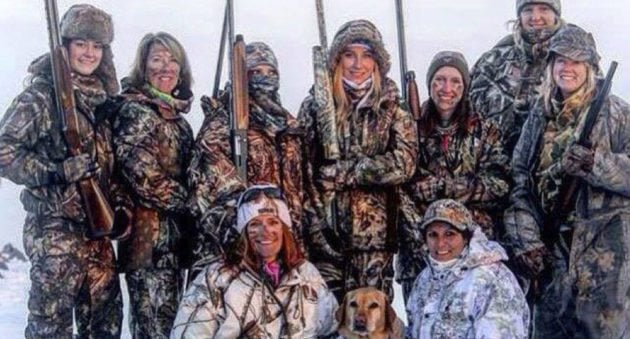 Just like for men it all comes down to your particular height, shape, and hand size. You might find the slimmer, straighter-cut camo from Prois and Sitka's women's lines work well for you or you might need more room for your chest and hips, which Nomad offers.
Whatever else you do make sure your gear fits well and functions as it should. The last thing you want on a hunt is to be uncomfortable, cold, or stuck with lousy gear.
What's your favorite hunting gear? Anything I missed on my list? Tell me about your favorites in the comments. Don't forget to check out the Best rifles and Shotguns for Women!