Are you looking for a way to comfortably carry your firearm & help you quickly switch between a rifle and sidearm?
If so…you need a good 'ole rifle sling.
Rifle slings are perfect for ensuring a steady and accurate shot, which is why they're a favorite among many sharpshooters.
But there's a bazillion of them out there.
So to help you out, I'll go over choosing the right material, types of sling, and sling mounting systems. Oh…and, of course, some specific models.
We also have a video going over the benefits of 2-point slings and our favorite ones…
And now, after years of using all the slings out there, we've come out with our own.
We're focusing on the AR-15 since it's America's favorite rifle…but a lot of these options will also work for other long-guns and even precision rifle rigs.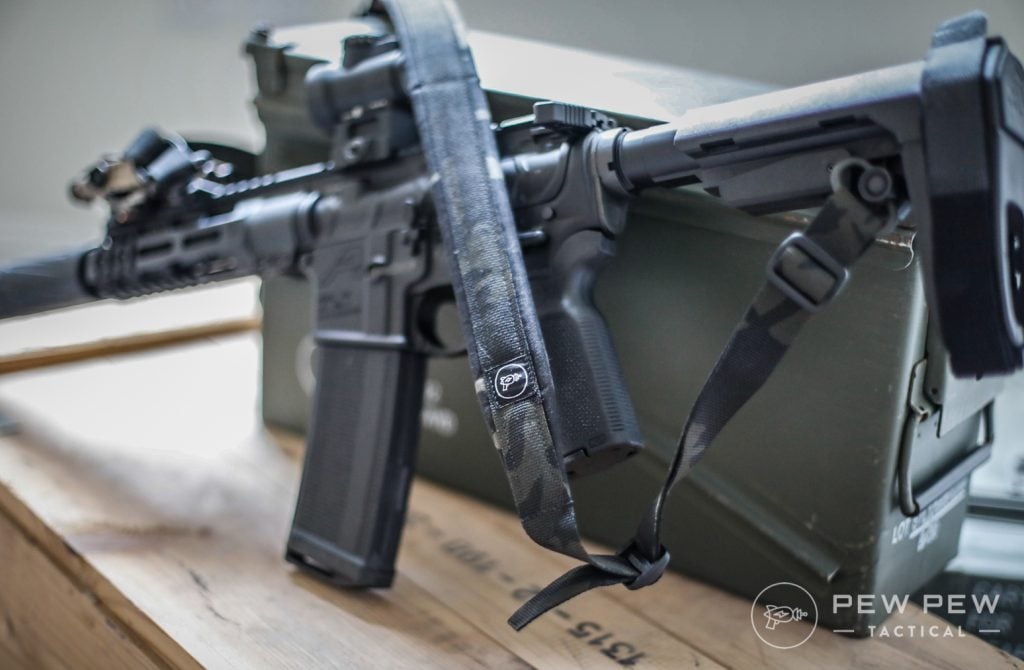 Summary of Our Top Picks
Best AR-15 Rifle Slings
1. Pew Pew Tactical Flatline Sling
We know what we wanted in a sling:
not TOO long so you have to deal with excess
stupid simple length adjustment
a nice pull-tab
just the right amount of padding
MULTICAM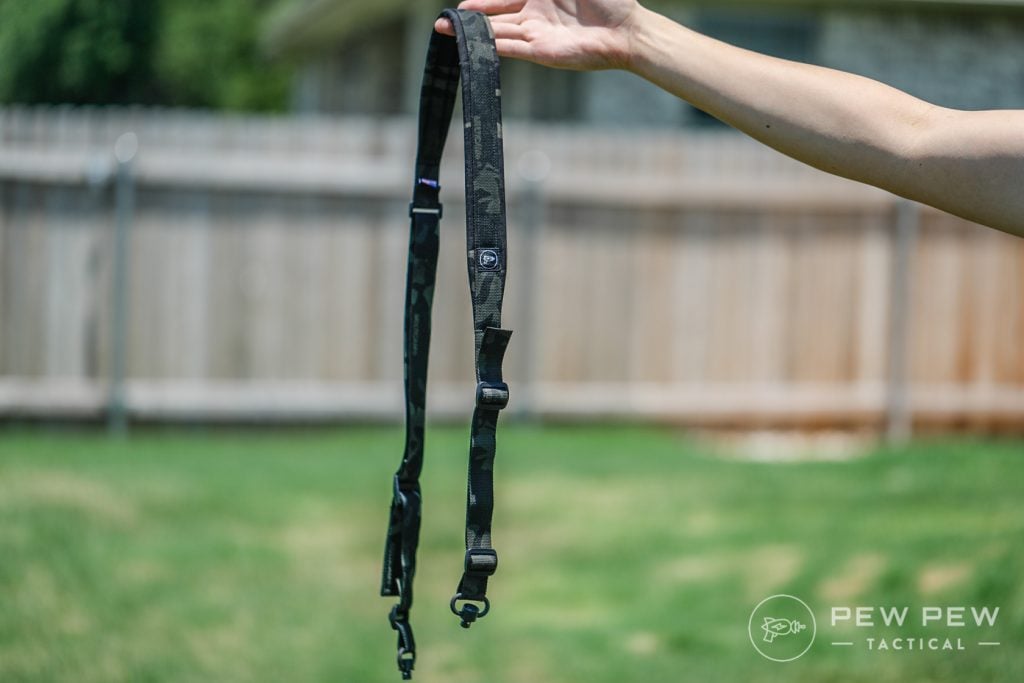 We would obviously sew our fingers together so we began our search of new manufacturers out there that were making a name for themselves.
We went with Flatline Fiber to create the Pew Pew Tactical Sling.
Made by hand in Georgia…and with plenty of stellar reviews to boot. Us being one of them.
We have our PPT laser gun logo on Multicam, both regular and black, of course.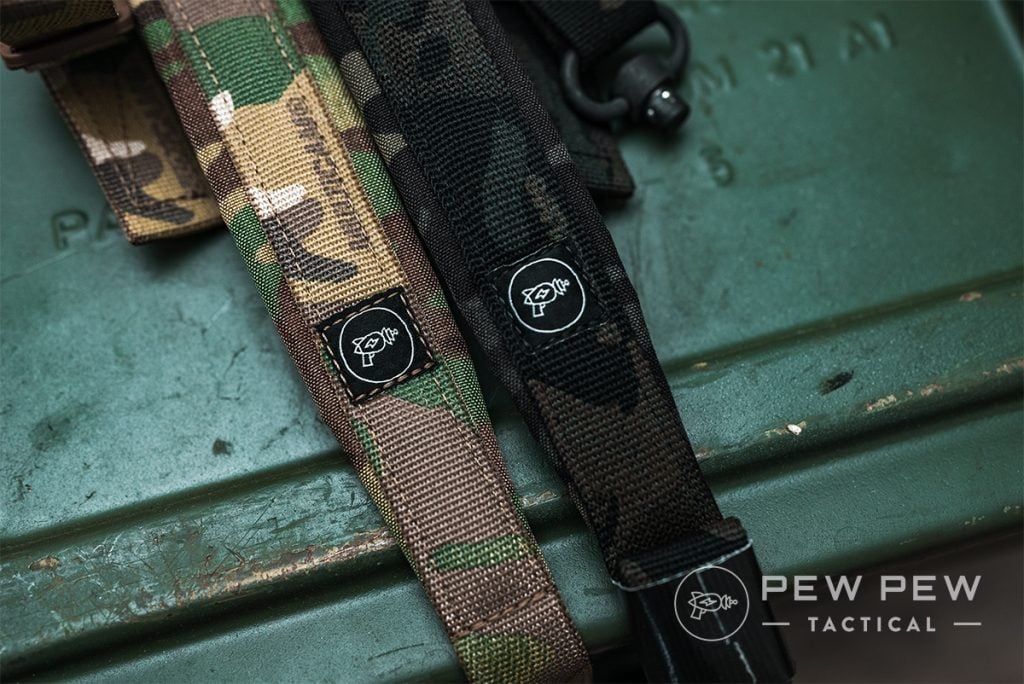 A very nice pull tab…these things make a big difference.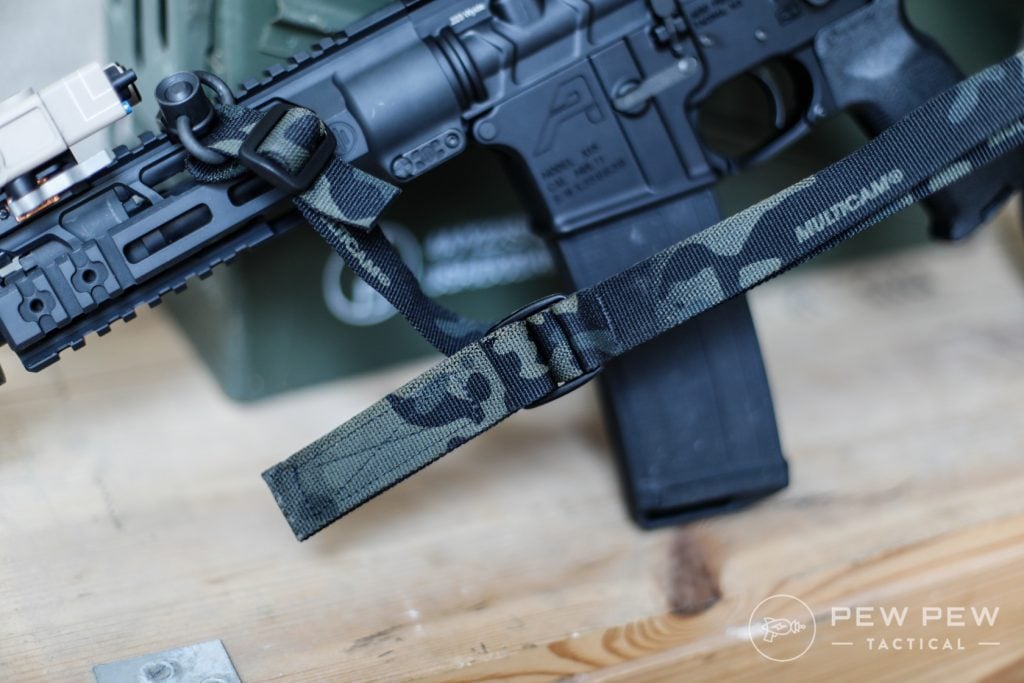 And just the right amount of padding that's slightly less than the Vickers padded version. If you're not on sentry duty with a 15-pound behemoth this amount of padding is perfect.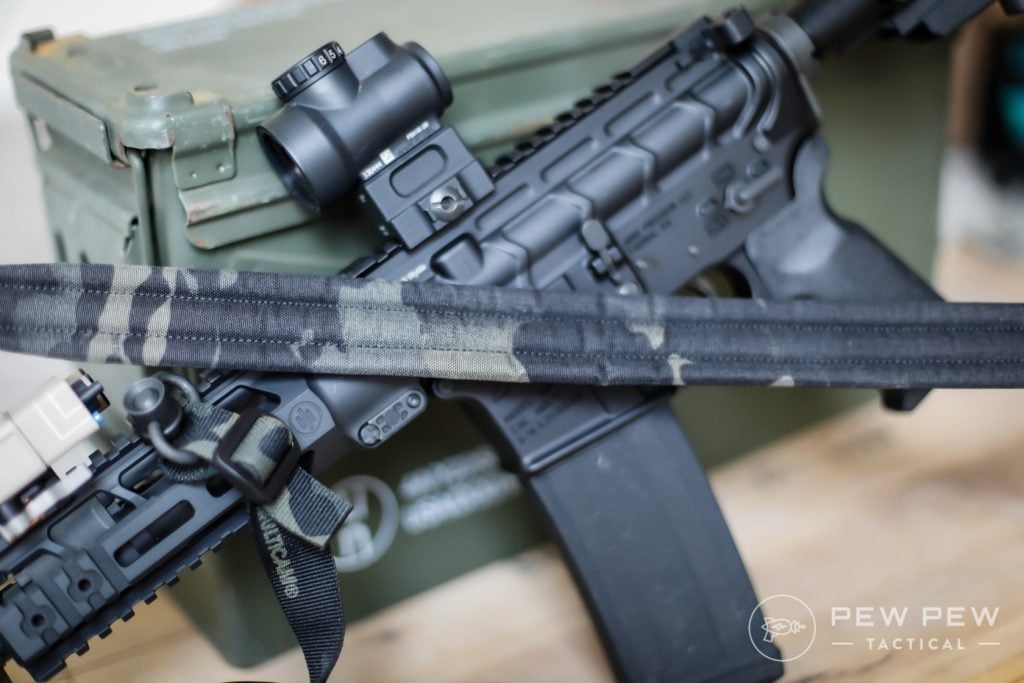 Also one thing that's overlooked…it has the right amount of length so you're not ending up cutting material when attaching.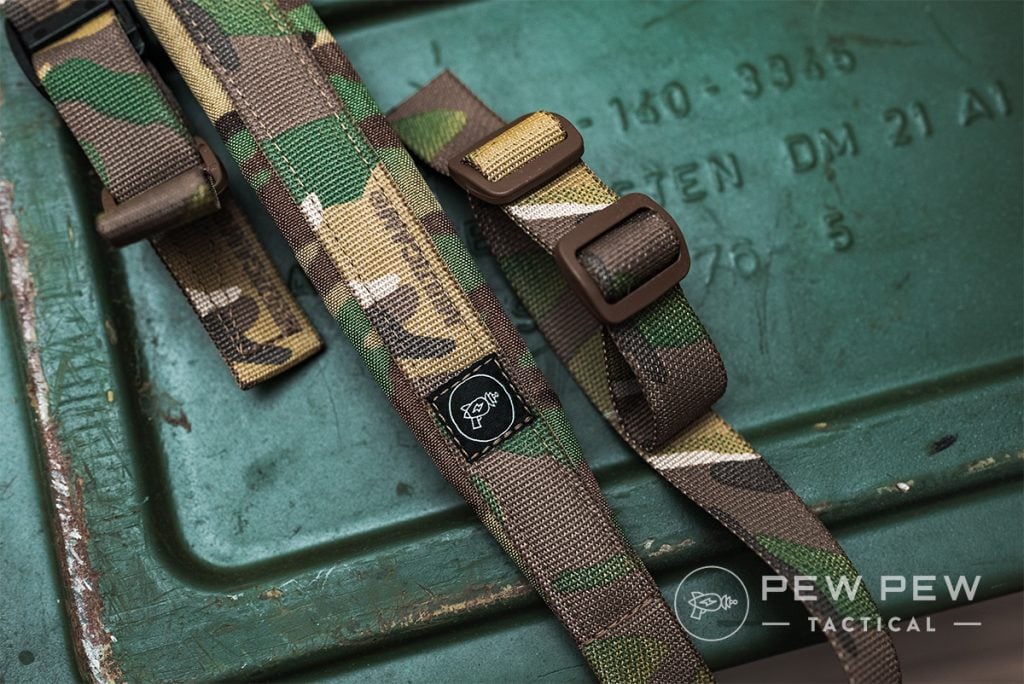 Check them out at TriStar Trading where you can find more of our goodies…as long as it's Multicam!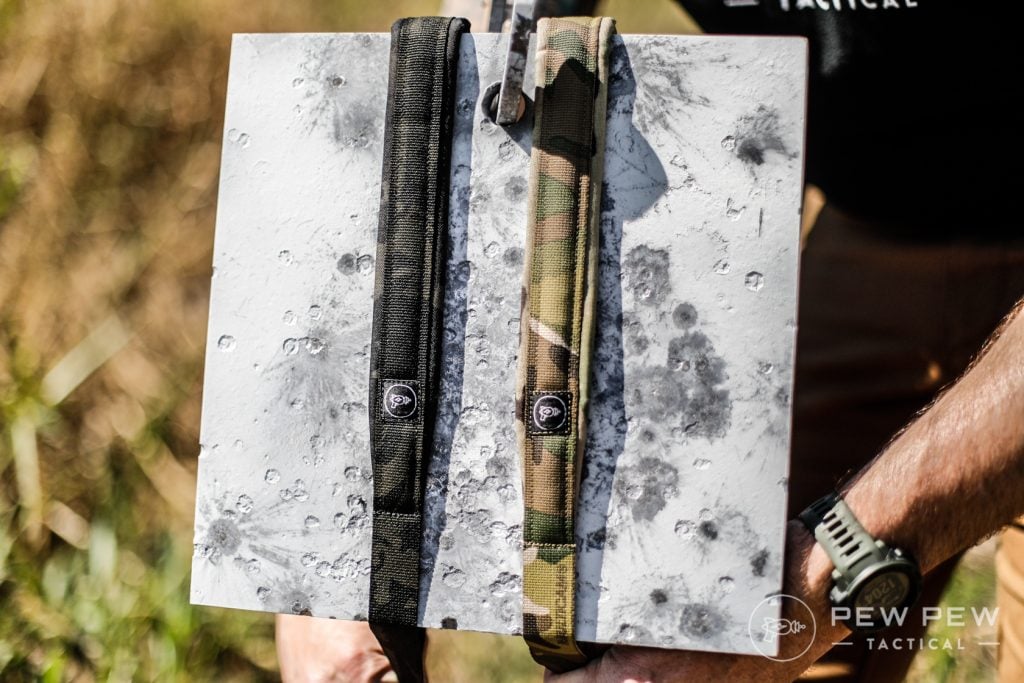 And don't forget the Quick Detach Sling Mounts!
2. VTAC Sling
The Viking Tactics is a popular two-point sling that's designed to boost comfort and freedom of movement.
The upgrade/hybrid version has stronger hardware and feels lighter. Used by tons of U.S. troops.
One common complaint is that it is built for an 8-foot monster. However, that's because the extra length is set for people wearing armor or using it on a long shotgun.
I follow Kyle Lamb's advice and use some duct tape to tape off the excess…never know when it might come in handy.
One thing that sets it apart from other slings is that it feels light but still super strong.
Also, there are two pull tabs you use to adjust the length — one to cinch it and one to let it go.
Highly recommend watching this video of Kyle Lamb for install and use.
And also highly recommend going with at least something padded if you're going to be standing around for a few hours on patrol (or even a class).
The VTAC's padding is thin but makes a world of difference. Especially if you're going to be standing around a while with your rifle at your side.
My specific version that I use is the padded upgraded/hybrid multicam.
3. Blue Force Gear Vickers Sling
Another used by tons of US troops is the Vickers Sling by Blue Force Gear.
There's also a padded version for enhanced comfort.
Check it out in action…
Note that it only has one tab to deal with…
The length is also more manageable…no duct tape is needed but you might not be able to put it on very long shotguns (or if you're huge and/or wearing a lot of gear).
The padding is also a little thicker than the VTAC.
But the nylon of the sling itself feels stiffer and is definitely thicker.
And given the choice between padded and not padded versions, definitely go with padded.
What's your take on the Vickers?
4. Magpul MS4 Dual QD Gen2
If you're looking for a single-point sling that's comfortable, durable, and easy to adjust, try the Magpul MS4 Sling.
Its 1.25-inches wide nylon material is strong enough to resist wear and tear from constant use but soft enough to prevent chaffing and discomfort.
Additionally, it can be converted to a two-point sling when you grow tired of hitting yourself in the nuts.
The newest Gen2 model has two heavy-duty QD sling swivels and a better quick-adjust slider.
5. Specter Three Point Sling
When it comes to three-point slings, comfort is key.
You don't want to have something strapped to your body that feels excessively tight or restricts your movement more than it should. Many people prefer Specter Three Point Slings because they're less likely to cause chafing or affect the wearer's range of motion.
However, like we go over down below…unless you're already trained in three point slings and don't want to try something else…we'd forego this for a two-point option.
6. Ching Sling
It is made up of two straps, a standard two-point sling and an additional smaller strap connected to the gun's center stud.
Think of the Ching sling as a two-point sling that was optimized for the "hasty sling" method of shooting.
As you're carrying a rifle with the Ching sling, the small strap can be slid up and out of the way. When it comes time to shoot, simply loop your arm through the first loop, between the first and center studs, to get a steadier aim.
Works for the AR platform but used more for hunting or precision rifles.
Andy's Leather Ching Sling is a great version of this iconic sling that's easy to adjust and doesn't cause discomfort.
I use a variant of this in NRL22 competition shooting to make unsupported standing shots a little easier.
7. Cuff Slings
Cuff sling variations are a favorite among sharpshooters because they allow you to get a stable and accurate shot without the use of a bipod.
They're easier to set up than loop sling methods like the "USGI sling" and are an excellent way to improve your aim.
The Tactical Intervention is a popular cuff sling that's developed with military-grade nylon and is able to withstand regular wear-and-tear.
Again…geared more towards non-AR rifles and precision rigs. We see these more and more in rifle competitions such as NRL and NRL22.
Choosing the Right Material
Gun slings are typically made from one of two options: leather or nylon.
There is no clear-cut answer when it comes to which sling material is better.
Some people believe that nylon slings are better because they're not as heavy, while others prefer leather because they feel it gives a slight elastic feel that nylon doesn't.
I personally go with the nylon slings.
If you are someone who prefers the traction and style that comes with a leather sling, it's important to note that they can stretch over the years.
Types of Gun Slings
There are three main types of gun slings: single-point, two-point, and three-point slings. Then some more specific ones applicable for sharpshooting.
I'll give a brief explanation of each type first then list the pros and cons of each type of sling so that you can get an idea of which type suits your specific needs.
Single Point Slings
The single-point sling receives its name because it uses one connection point to attach to the gun.
The single-point sling is a favorite for a lot of gun enthusiasts.
The sling wraps around the user's body while the point attaches to the rear of the weapon.
Pros
What makes the single-point sling a favorite among tactical shooters is that it makes dropping and picking up your weapon simple.
The beauty of the single-point sling is that it always sits directly in front of you (and most likely pointing in a safe direction down).
This makes it ideal for situations where you need to go quickly hands-free, but also must have the ability to quickly grab your weapon at a moment's notice.
Another benefit of using the single-point sling is that it allows you to perform a wide range of movements such as transitions due to a barrier.
Additionally, your gun doesn't have to be in front of you with a single-point sling.
You can also wear it in a way that keeps your weapon at your side or on your back. However, those options aren't ideal for scenarios where you need quick access to your gun.
Cons
Despite the convenience and easy accessibility that comes with single-point slings, they aren't without their drawbacks.
For starters, single-point slings provide little shooting support. Your aim with a single-point sling won't be much better than it would be with no sling at all.
Another con of the single-point sling is your gun will sway a lot when you're not holding it.
For some people, moving hands-free with a single-point sling can be especially annoying because they constantly get knocked in the groin or knees with their gun.
Here's an example of a loose two-point sling but you can imagine it with merely one.
Once you find the proper tightness adjustment for your body, your single-point sling shouldn't move as much.
And overall, it's a great tactical piece for anyone who's not in situations that require a lot of running.
Two Point Slings
The two-point sling is one of the most commonly-used gun slings and is sometimes known as a carrying strap.
As you may have guessed, two-point slings are named because they are attached to the gun with two connection points.
They are my favorite and the most versatile for the AR-15 and other rifles.
This sling connects to the rear and front of the firearm, on the bottom of the stock. It's perfect for carrying a long gun over the shoulder during long hunting treks.
Pros
Not only are two-point slings great for carrying your weapon, but they can also be used to improve your aim.
There are three ways to carry a gun using the two-point sling:
American carry – slung over back of the shoulder, muzzle up.

European carry – slung over the front of the shoulder, muzzle up.

African carry – slung over the back of the shoulder, muzzle down.
Some people prefer the African carry because they feel it makes it easier to grab and aim your weapon. The downside to the African carry is that you risk clogging your muzzle with dirt and debris as you walk.
Remember when I said it can improve your aim?
Simply loop the sling around your non-dominant arm and use the tension to keep your weapon stable. This is called the "hasty sling" method.
Another type of shooting modification that can be used with the two-point sling is the "loop sling."
This is achieved by disconnecting the rear portion of the sling and pulling a loop through the adjustment slide. Then, slide your arm through the loop and pull tightly:
This will help stabilize your long gun and provide you with the opportunity to shoot more accurately. This tactic is referred to as the "USGI sling."
Cons
The downside of the two-point sling is that it can be difficult to retrieve your gun in a situation where time is of the essence.
It's also a little harder to transition from side to side unless you leave some extra length to free up your neck area.
Three Point Slings
The three-point sling also connects to the front and back of the firearm like its two-point counterpart. However, the three-point sling differs in that it has an additional loop that goes around your torso.
When it comes to the three-point sling, I find that people either love it or hate it.
Pros
Overall, I think it's a good sling that keeps your gun within reach, just like its single-point counterpart.
In addition, the three-point sling has more control than the single-point sling when you're moving hands-free. That means you don't have to worry about having your gun bang up your shin or groin area as you move.
The biggest benefit of the three-point sling is that you can easily transition from a rifle to a sidearm without having to fumble between guns.
Cons
However, the three-point sling doesn't come without its own set of cons. Some shooters complain that three-point slings tend to get caught on bolt release mechanisms and block ejection ports of rifles.
Also, this…
In case you're wondering…yes that rifle was loaded and no this was not a drill/test/skit. This is, in all its glory, the three-point sling in the field.
The Ching sling is a special shooting sling that incorporates principles of the "hasty sling" and two-point slings. It requires three connection points and can be used for carrying and aiming.
The Cuff sling is a shooting sling designed to help marksmen get an accurate shot without the use of a bipod.
Sling Mounts and Hardware
Once you've got the sling, you've got to make sure you can attach it to your rifle.
Almost all of the slings mentioned will hook into your butt stock without any additional hardware…whether into the slits or using a QD (quick disconnect) mount.
If you don't have that…or like having a connection on your end place…check out the BCM QD End Plate (perfect for single point slings).
You might need something for your handguard if it doesn't already come with QD holes…however I found the factory ones are either too forward (gets in the way of lights) or too rear (too short for slinging on your back).
In that case you'll need something like a Troy Rail Mount ($33).
However, my current favorite is the Magpul RSA QD ($28) since it is adjustable and keeps the sling on one specific side. My loadout below gives me space to activate my light.
It also has anti-rotation so your sling doesn't get jumbled up
And for actual QD mounts and swivel combos…
We go with Magpul QD Slings (exposed for easier pressing).
or the Midwest Industries (flush fit for added security).
My preference is the flush model since I don't take on/off my slings that much…and having something accidentally disconnect your sling would suck.
Conclusion
For almost all users…you're probably good to go with a two point sling. Our favorites are the…
VTAC Sling: great for lots of adjustment, thinner straps, and two pull tabs
Vickers Sling: great for regular-length guns/gear/dudes, thicker straps, and one pull tab
Pew Pew Tactical Sling: what we think is the best of all worlds if you're carrying a regular weight rifle
Check them out in action in our video…
When using a leather shooting strap, mark the notch that is the most comfortable for you. That way, you don't lose that perfect adjustment point.

Don't over-tighten your sling when using a "cuff" or "loop sling." If you can't slip two or three fingers in the cuff, it's too tight.

Practice makes perfect, especially when wearing a new sling. Practice raising your gun quickly into firing position until you feel comfortable with your sling.
Remember, a good gun sling can work wonders by increasing your accuracy or helping quickly switch between your long gun and sidearm. Check out more of our essential gear and guns such as Best Weapon Lights or Best Scopes/Optics.
What sling did you end up getting? How do you like it? Let us know in the comments! For more AR gear, check out our round-up of the Best AR-15 Furniture & Accessories.