Want to get your AR-15 California compliant today?
If you're not going the featureless route…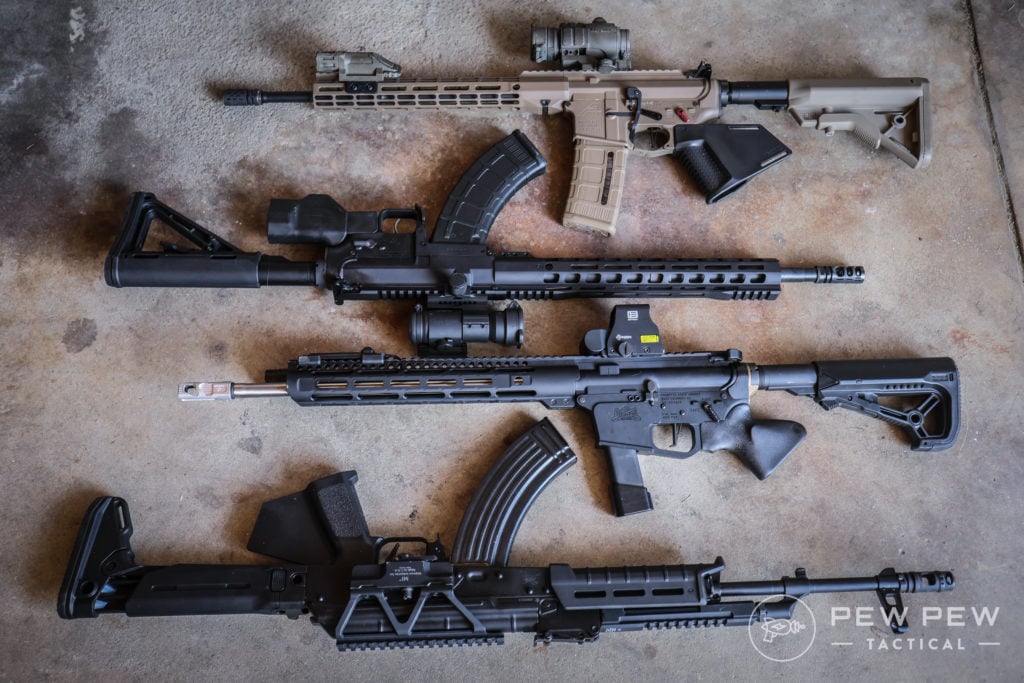 Then you've got to go the fixed magazine route.
But the rules have changed starting from 2018…
We'll tell you all we know…and our favorite California compliant solution (since there's a lot).  The AR Maglock with the Patriot Pin.
We'll cover how it works, why it's still pretty fast, and how to install it.
Disclaimer that this is not legal advice and you should double-check everything, especially since the laws surrounding this always seem to be in flux.  Also the installation instructions are for entertainment only.  Always have a qualified gunsmith work on your firearm.
Table of Contents
Loading...
Current California Assault Weapon Laws
It used to be that with a simple "tool" you could release your fixed magazine.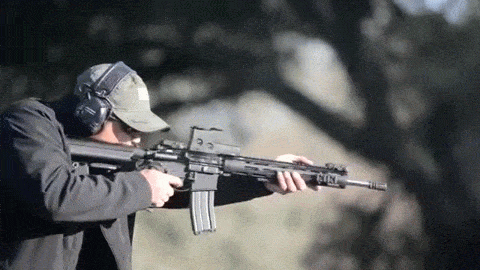 But thanks to SB880…a fixed magazine is when a "feeding device contained in, or permanently attached to, a firearm in such a manner that the device cannot be removed without disassembly of the firearm action."
So now you have to open up the upper and lower halves before the magazine release can be used.
Read more in our SB880 article where we talk about registration too.
But you had until June 30, 2018 to become featureless, have a new fixed mag system, or register.
Enter…AR Maglock & Patriot Pin
One thing about these kinds of laws…the ingenuity of determined people shines.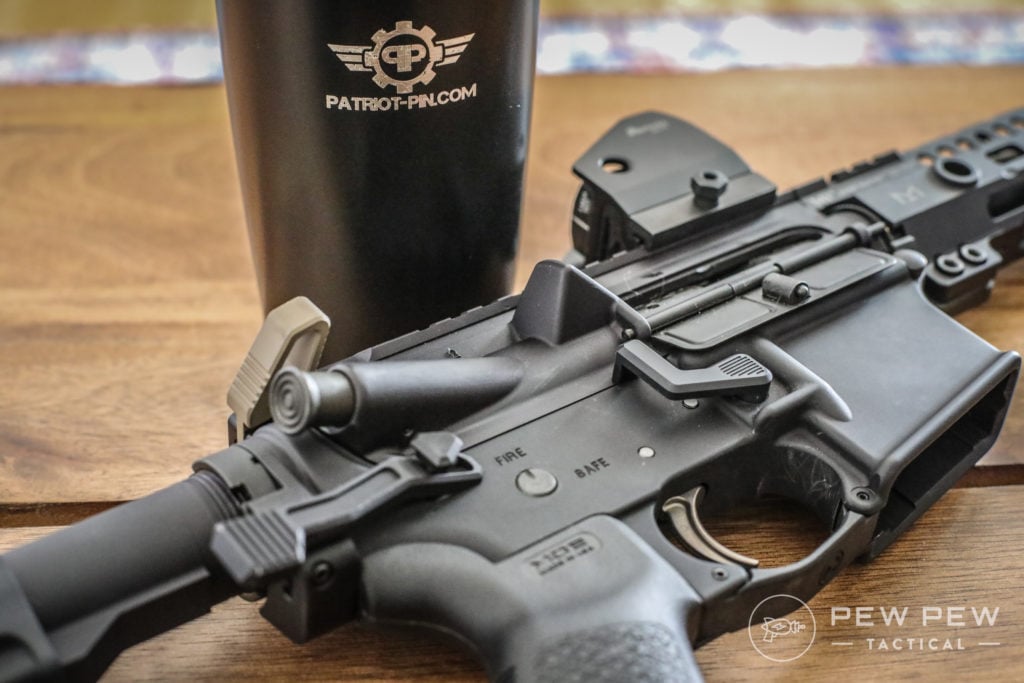 Check it out…the AR Maglock ($55) replaces your entire Bullet Button or standard magazine release.  It adds a little arm so you can't press it in if the upper is in place.
So simple it's GENIUS!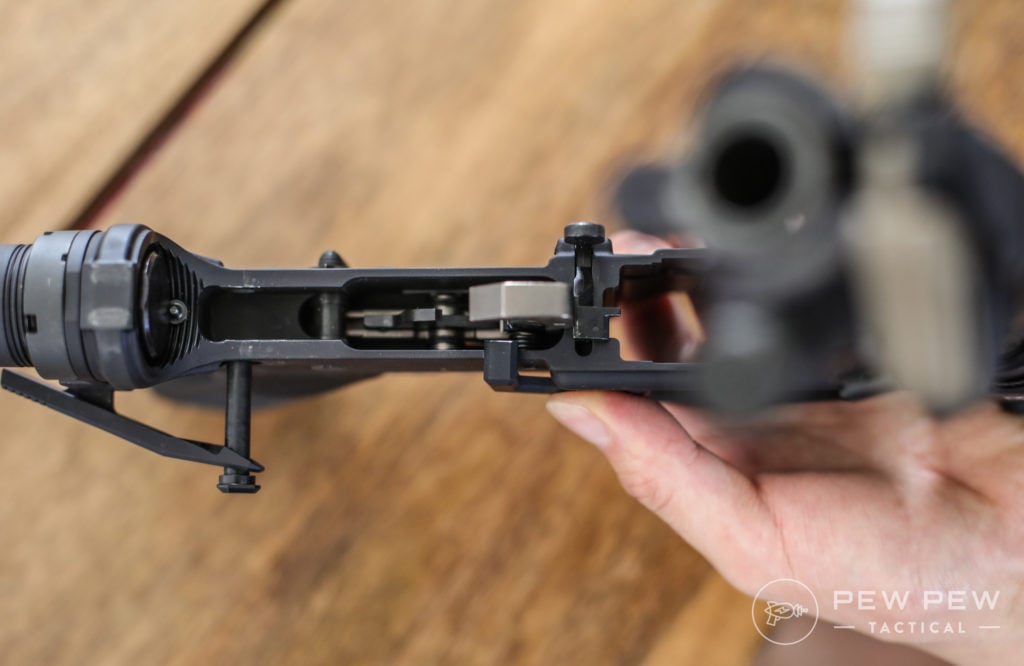 Once the rear takedown pin is released and you open up the upper and lower halves…you can now press the magazine release button.
But pressing in the takedown pin one side…then pulling it out the other side gets annoying if you're shooting a lot.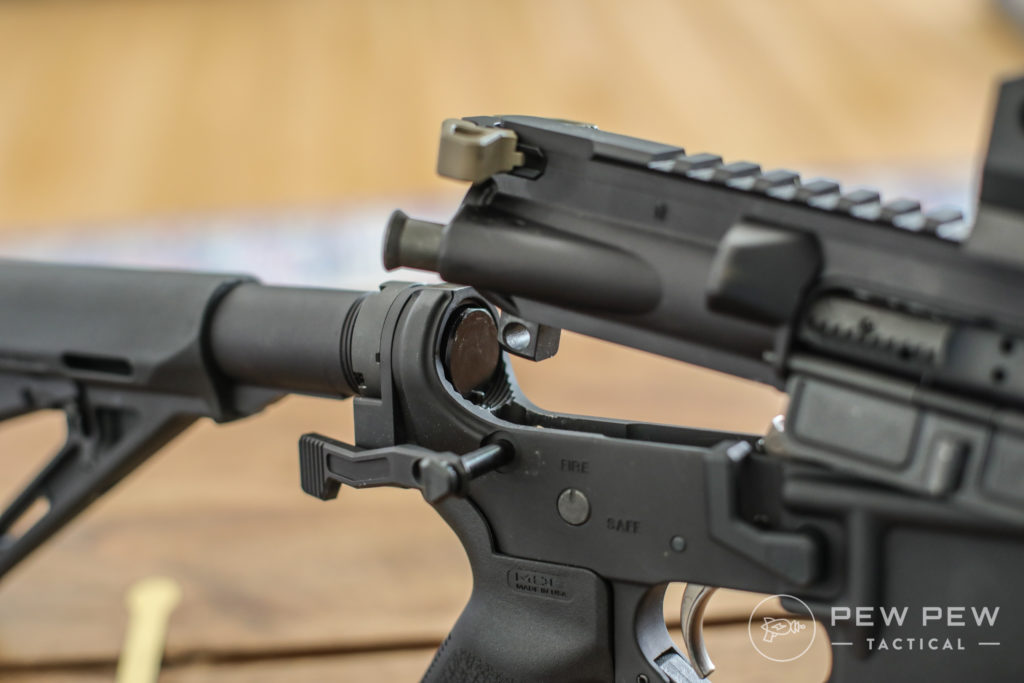 BOOM!
The kit comes with an extra takedown pin and ring that you can use to pull easier…but still…
That's where the Patriot Pin ($89) steps in…it replaces the endplate and rear takedown pin so you have a lever to easily press with your firing hand that releases the upper and lower.
Plus the pin is made of Delrin (plastic) so there's no excessive wear on your aluminum parts with the regular steel pin.
Here it is in action again with a tactical reload (round in the chamber):
There's a new version 2.0 of the Patriot Pin which we go over too.
Pros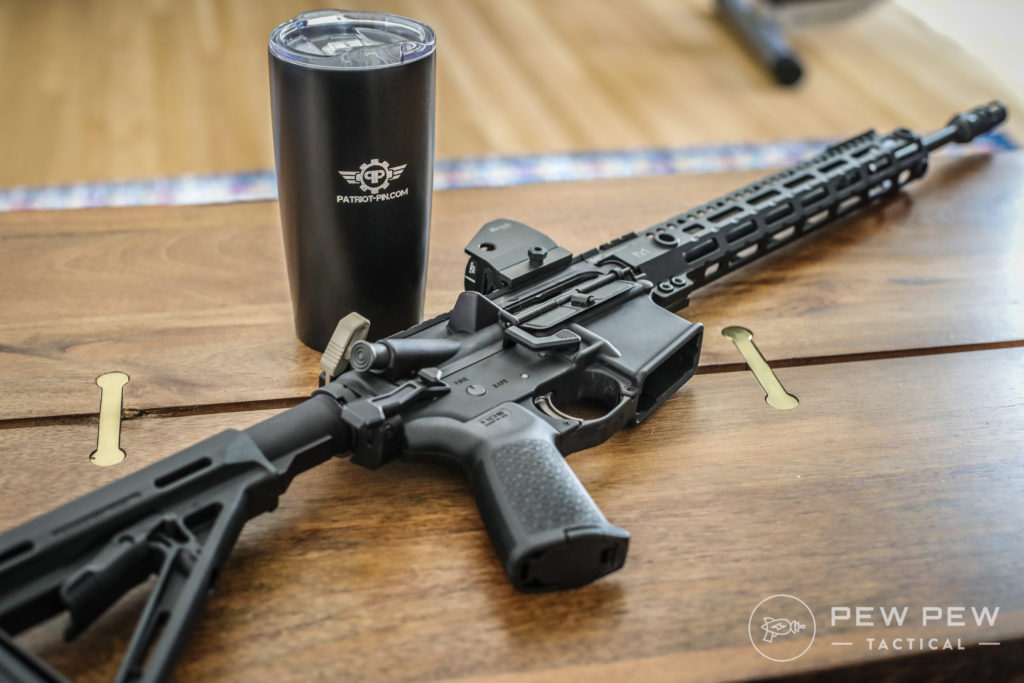 No registration required
Reasonably fast reloads…especially if a round is in the chamber (make sure to put it on safe first though)
Cons
Still not as fast as a regular magazine release…if you're competing you'll probably go the featureless route
Little more annoying on an empty magazine bolt hold open situation since you can't open the upper/lower halves if the bolt is to the rear.  You've got to release the bolt, open it up, drop the mag, put in a new mag, put the upper/lower together, and use the charging handle.
Double-feeds will suck since you can't easily release the pressure by removing the magazine.  You'll have to disassemble the AR Maglock (pretty easy…just need an Allen key) or disassemble your magazine from the bottom.  I wouldn't recommend using permanently modified mags.
A little pricey with the AR Maglock at $45 and the Patriot Pin at $79.  However…there's a Combo which brings it down to $119 for both.  Or even a bigger Compliance Kit with all the tools and extra goodies.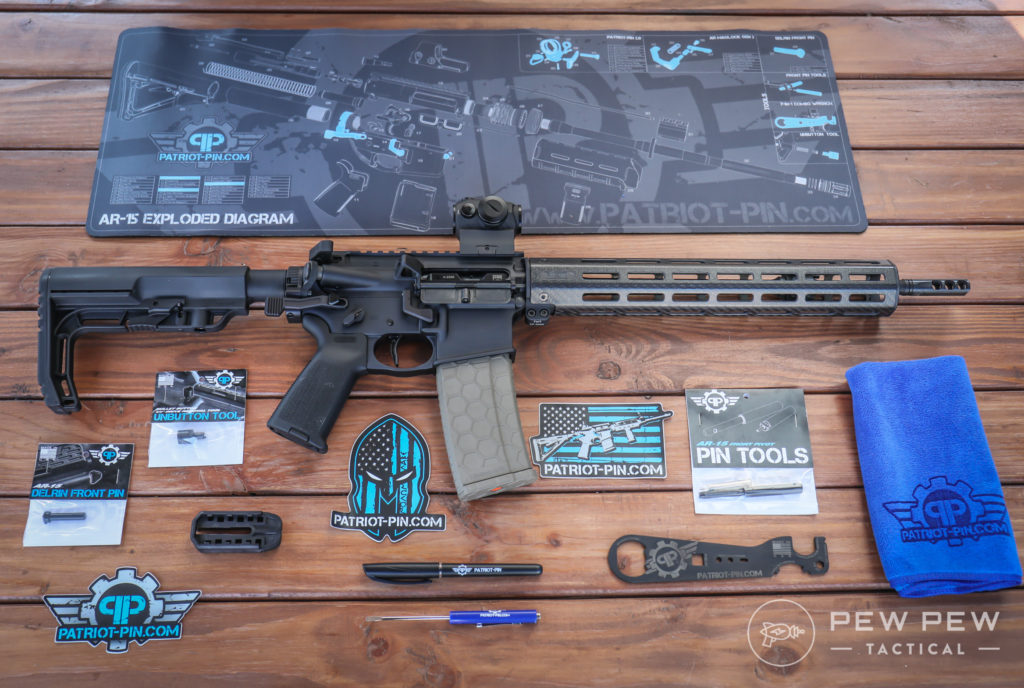 Worth it for some compliance peace of mind…
Best CA Fixed Mag
55
at Patriot Pin
Prices accurate at time of writing
Prices accurate at time of writing
Version 2.0
The first iteration above was great and worked flawlessly.
But you still had to install the backplate normally (fiddling with the detent and spring that want to disappear).
Now…with Version 2.0 you can simply add in the rear pivot pin and spring from the back.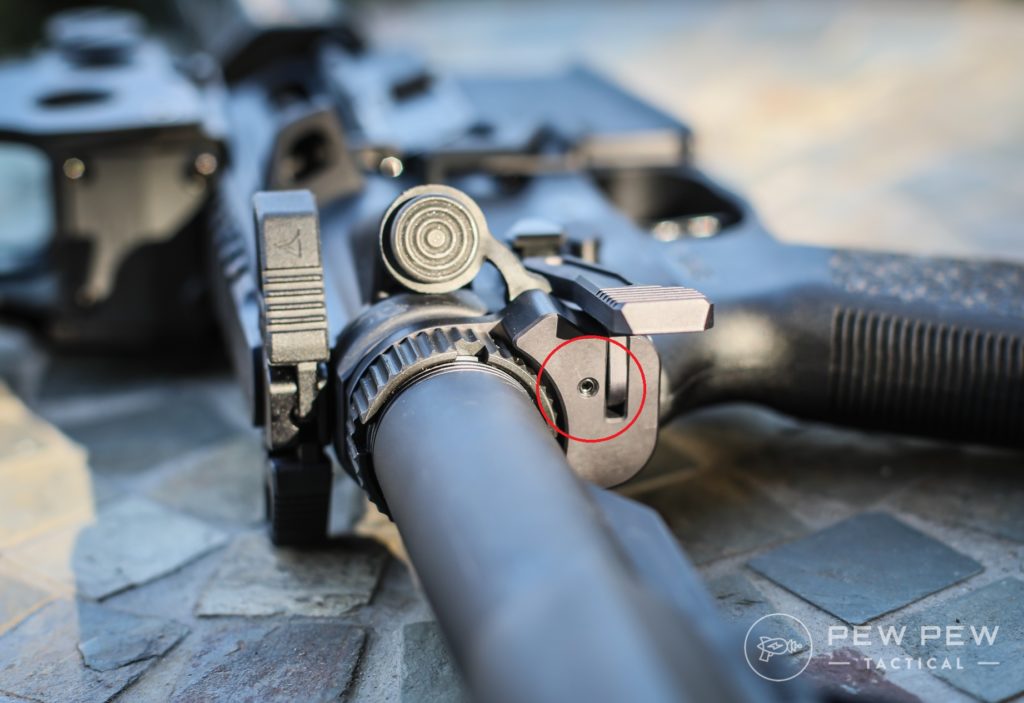 And they threw in a castle nut locking pin so you don't have to stake your nut to really lock it in place.  Oh…and check out that QD sling mount too.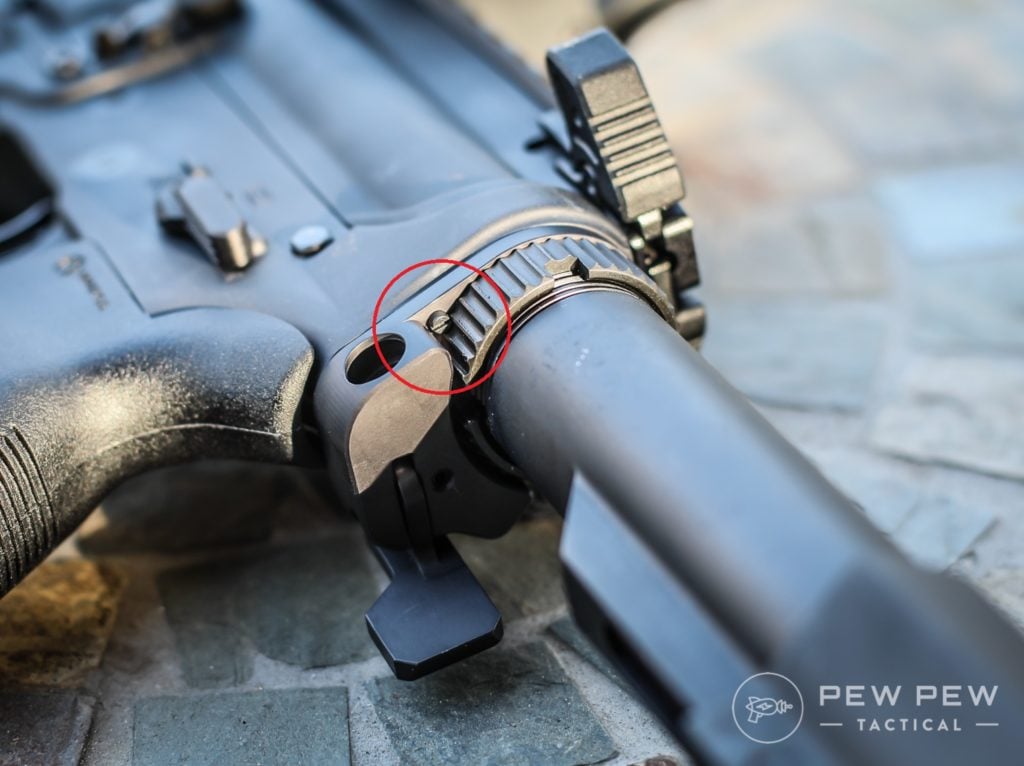 One more goodie…they added a rubber band thing which attaches to your forward assist so the two halves don't go flying when you activate the Patriot Pin.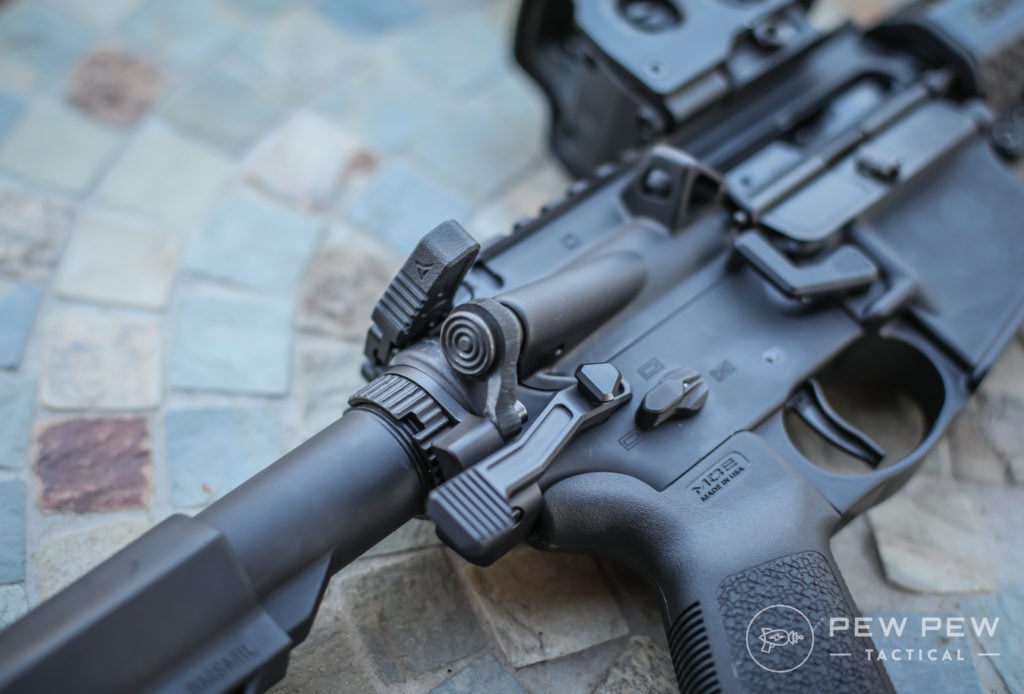 Here it is in action…
I also really like their Compliance Kits if you don't have a bunch of AR tools lying around.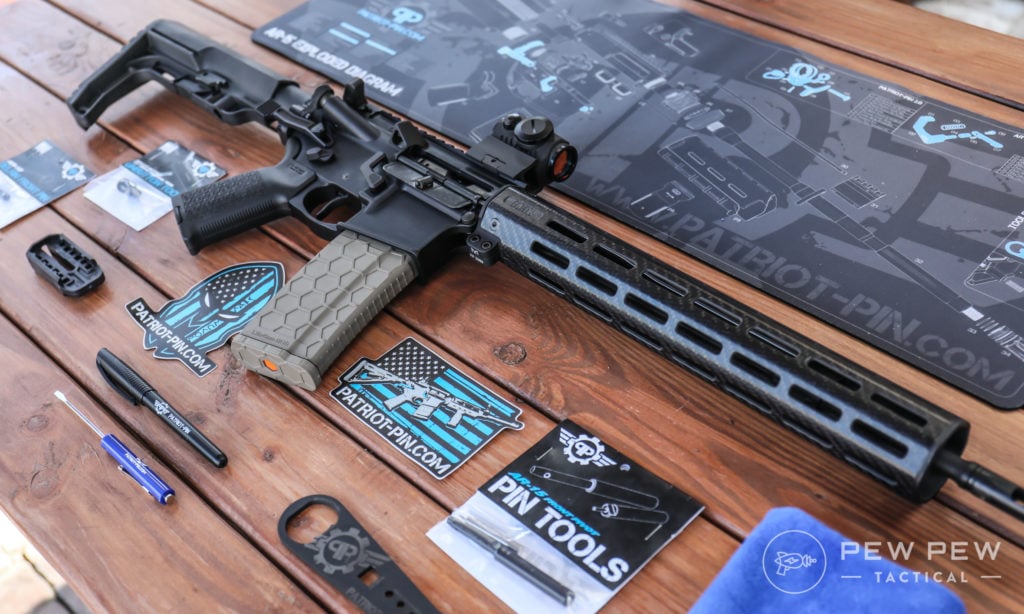 It comes with some helpful tools like:
combo wrench (to take off your castle nut and other stuff)
unbutton tool (if you have an older Bullet Button)
front pin tool (so you don't lose those pesky small pins)
Plus some other goodies like:
front Delrin pin (Delrin is a plastic so it doesn't cause unnecessary wear from opening and closing your upper/lower halves all the time)
mag coupler
NICE gun mat
some sweet swag
ARMagLock Generations
So far I've tried out the Gen 1 and Gen 3.
Gen 1 is what is shown in the videos and what I've shot the most.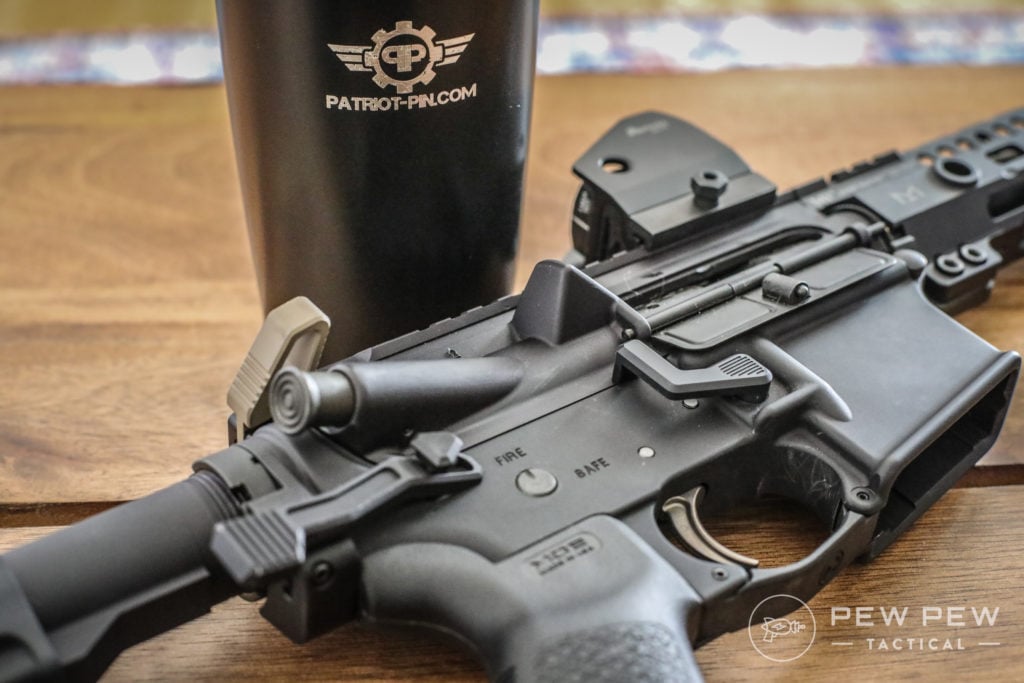 It works.
Gen 3 promises auto-drop capability but it takes some finessing of screw tension and positioning.
I can get it to work for a period of time with one specific magazine.  But then it stops working.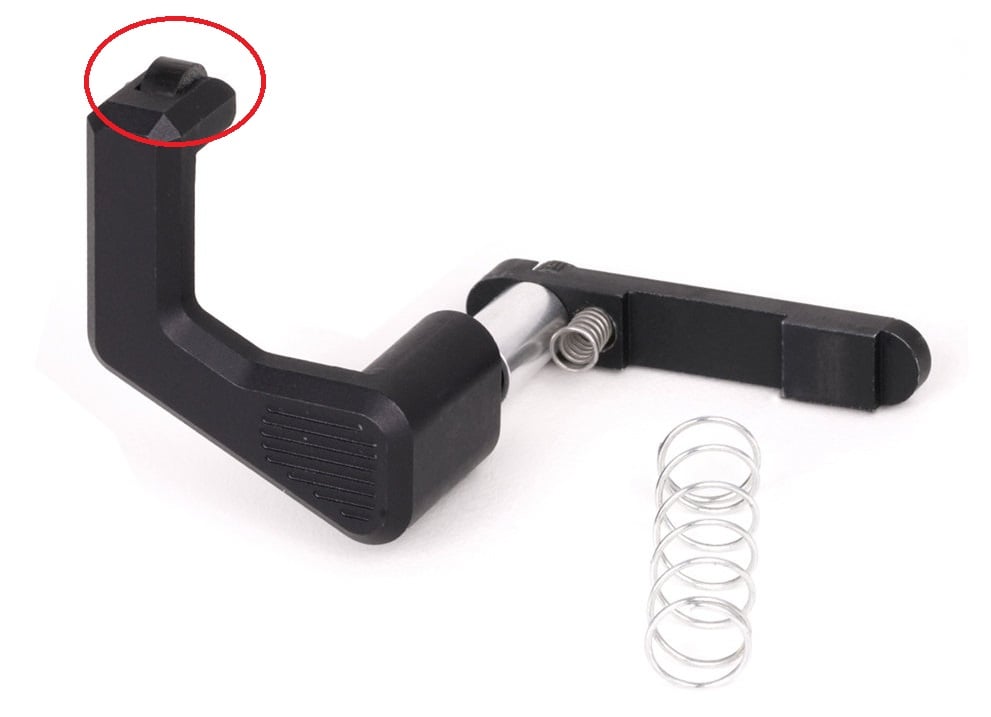 However, it's backwards compatible, so if your specific lower and mag combo doesn't work well, you can always make it Gen 1.
Another great thing is that it also comes with a nifty polymer roller where it touches your upper (instead of metal touching metal).
Installation
Now that you've gotten your kit…how do you install it?
It's easy…and I've got tons of pictures to help you through it.  If you've assembled an AR-15 lower before…it's even easier.
First…remove your current bullet button.  This one only requires a screwdriver.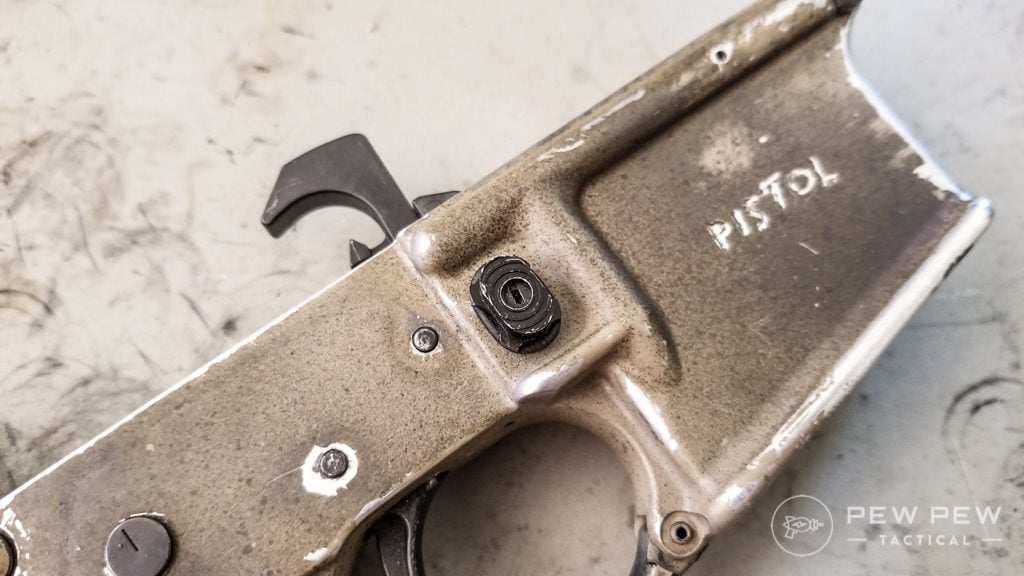 While the other more popular one requires a "rabbit ear" tool that you probably lost…but the kit comes with one!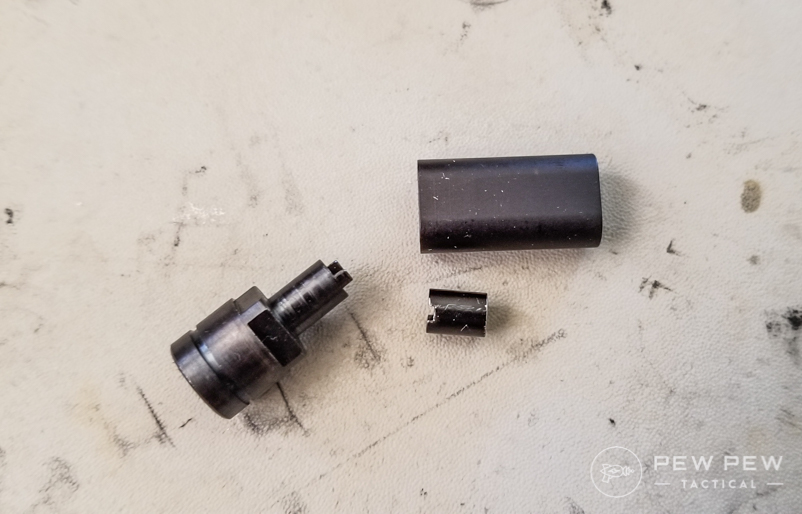 Lay out everything in the AR Maglock bag.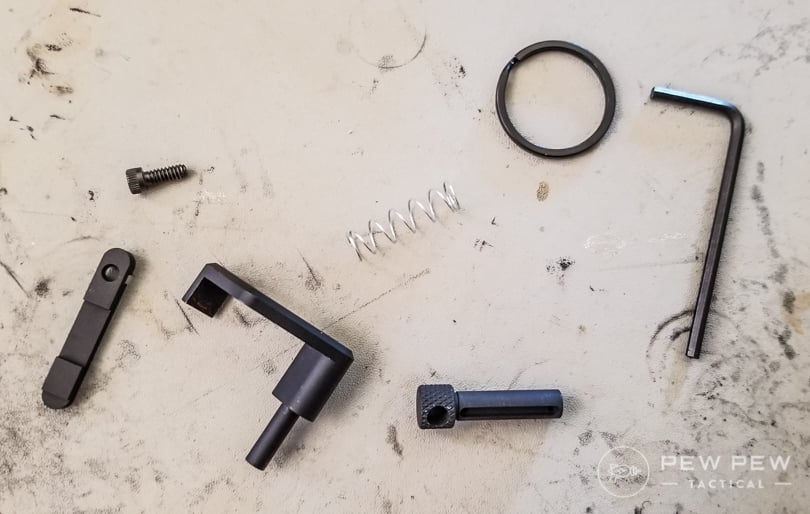 This is roughly how it's going to be assembled.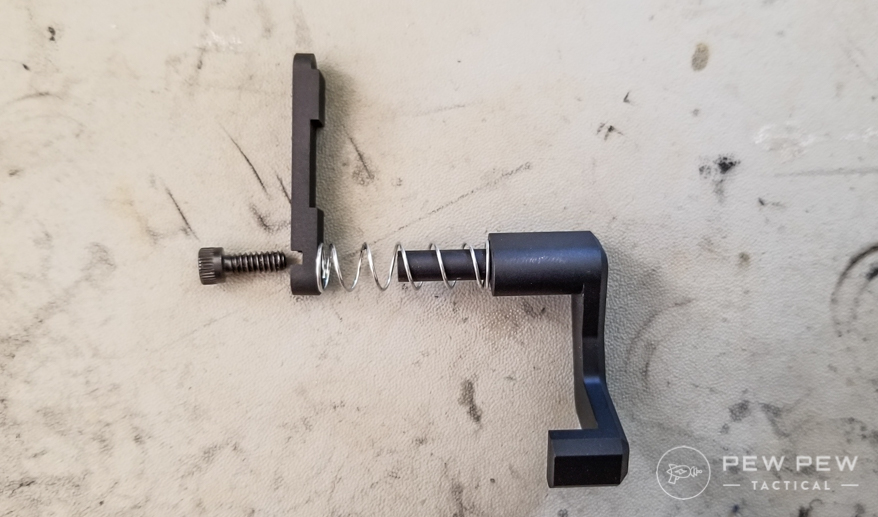 Position it into the normal magazine release well.  Make sure to put the spring in there first.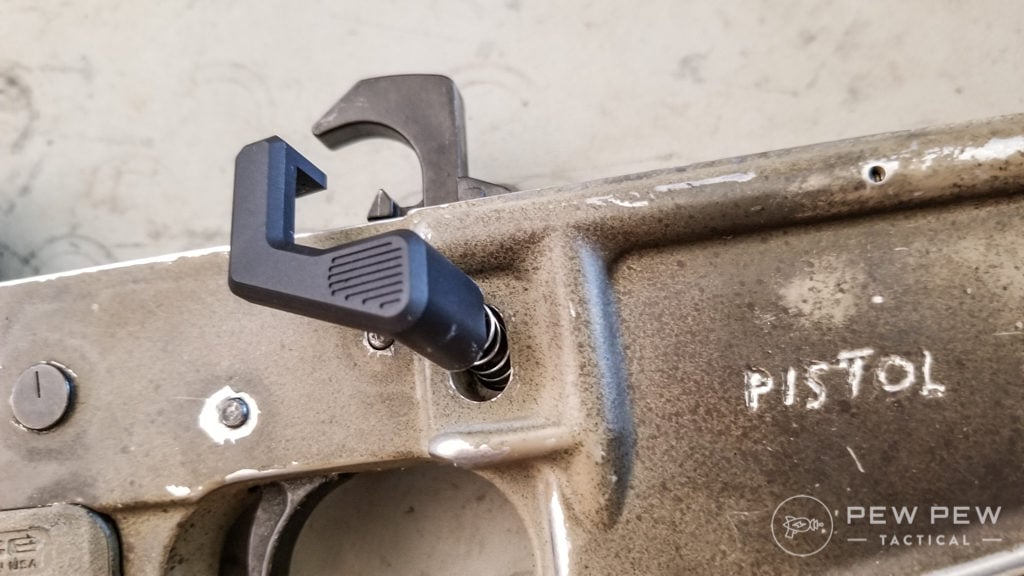 Doublecheck that it will clear your lower.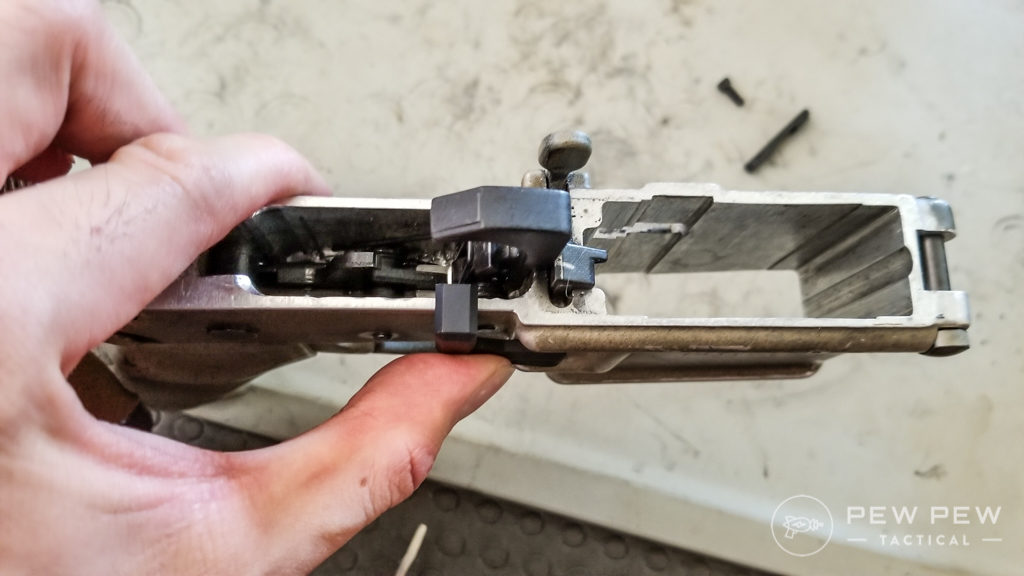 Now go to the other side and put in the mag catch.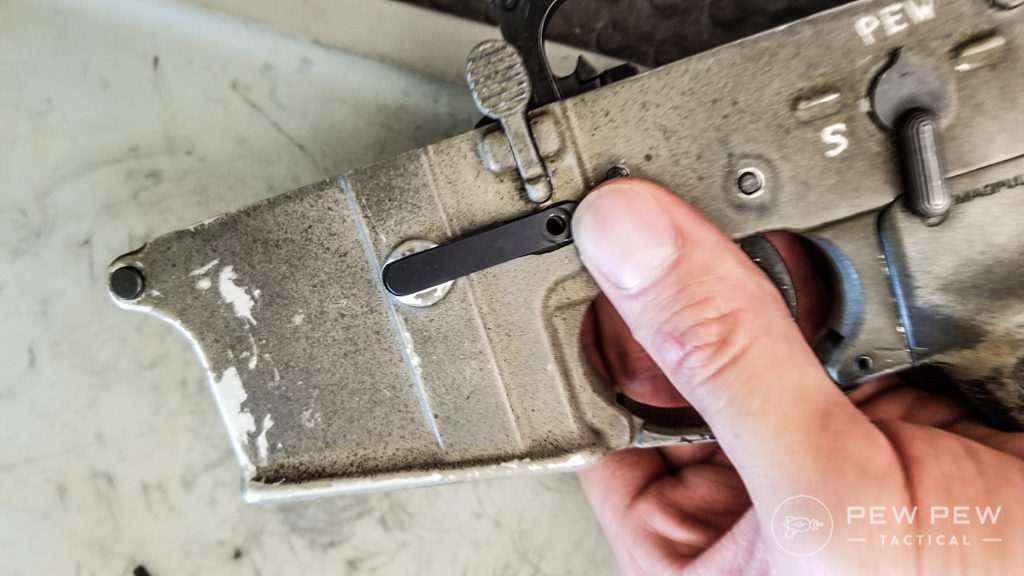 And screw it in.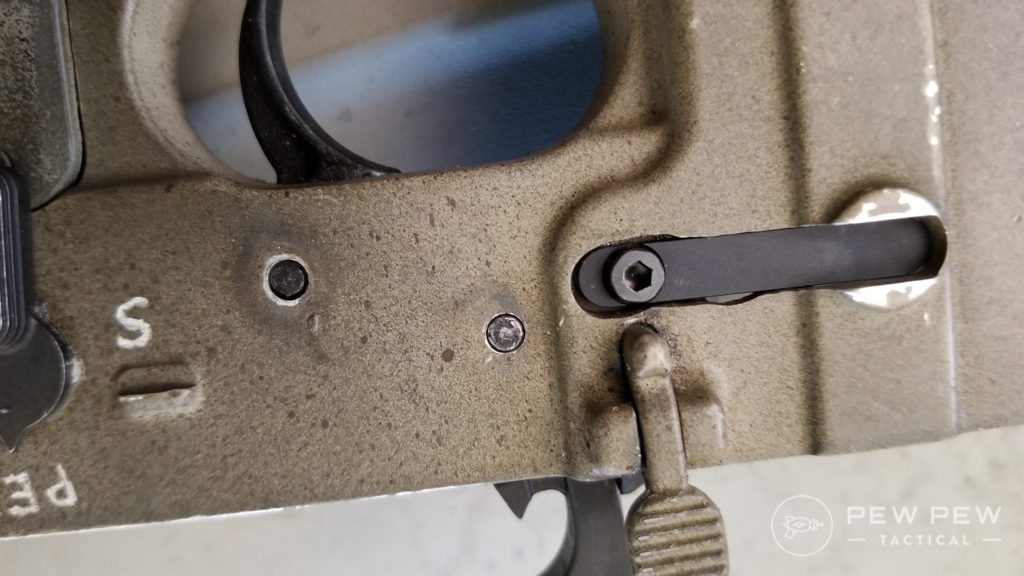 Function check…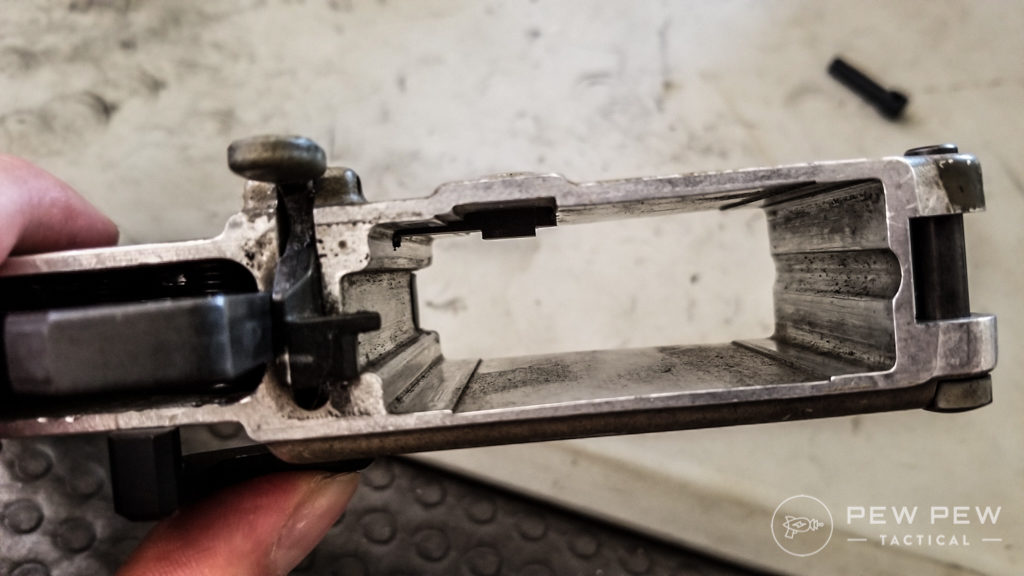 And…it works!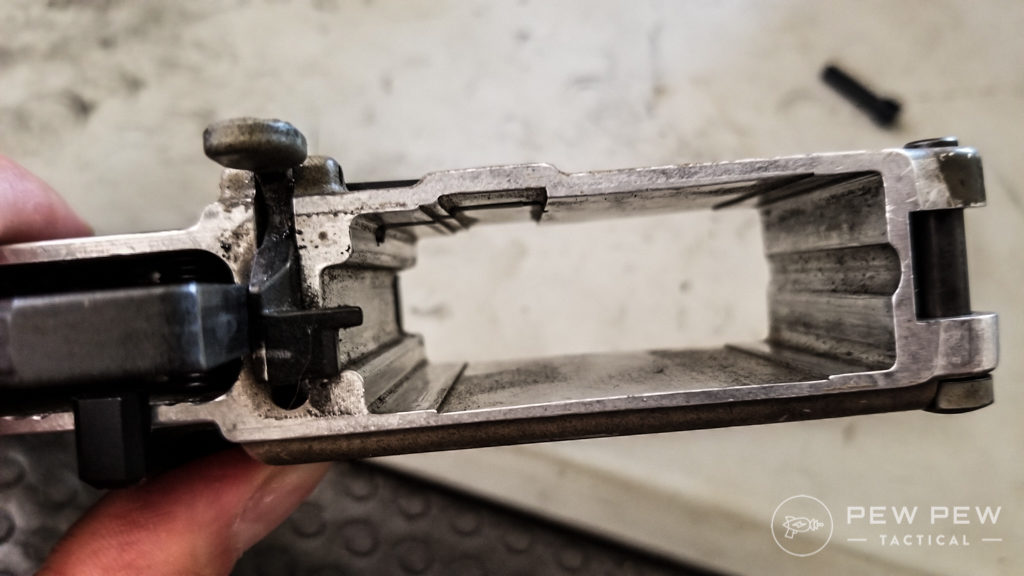 Now onto the Patriot Pin!
A little more difficult but the kit comes with all the tools.  V1 below.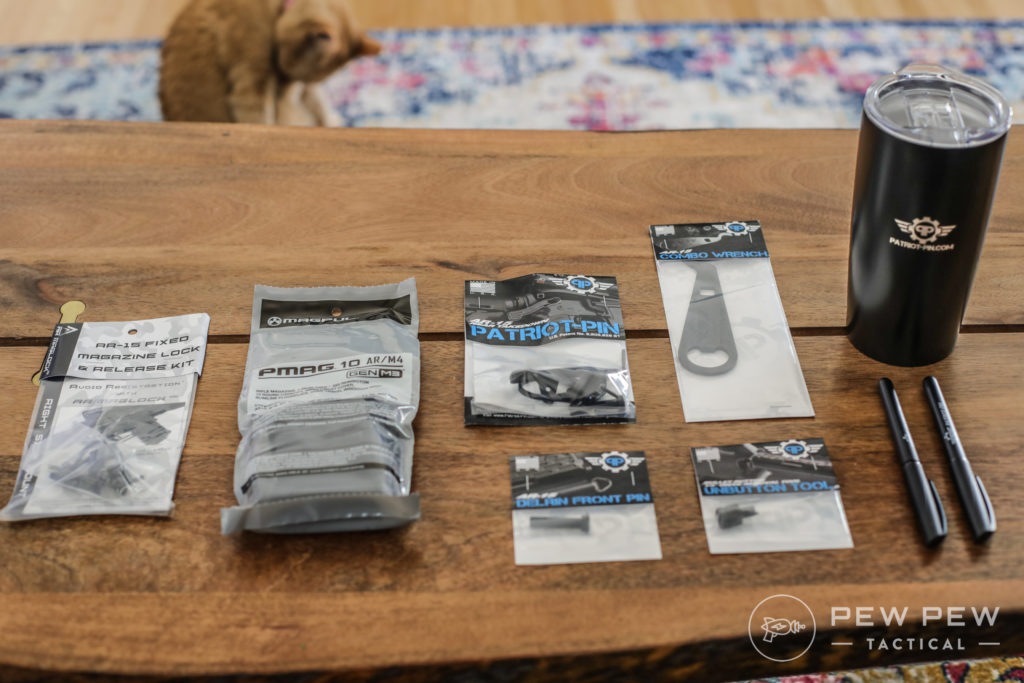 First press down on the buffer detent…
And remove the buffer and spring.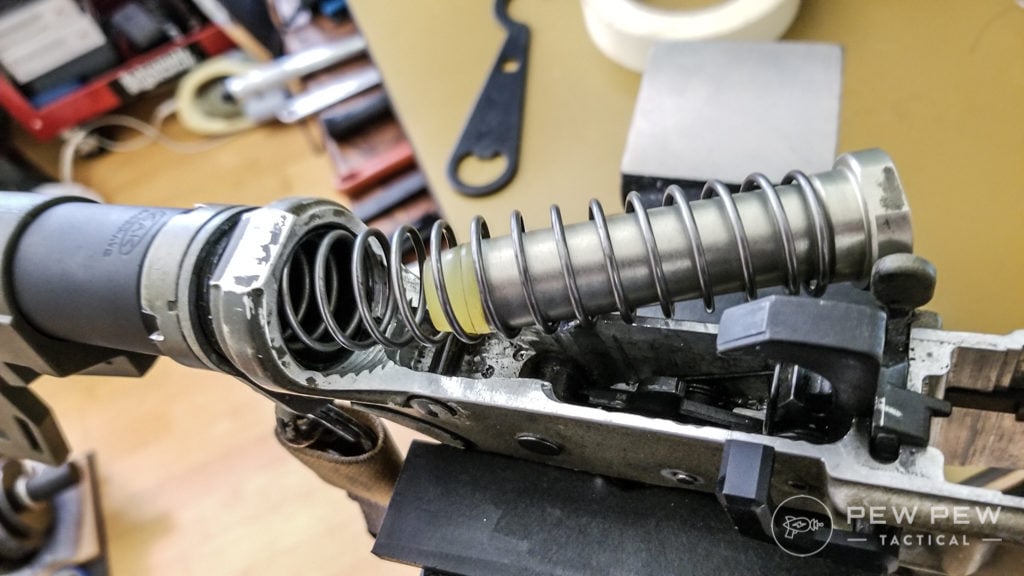 Use the castle nut tool to loosen the nut.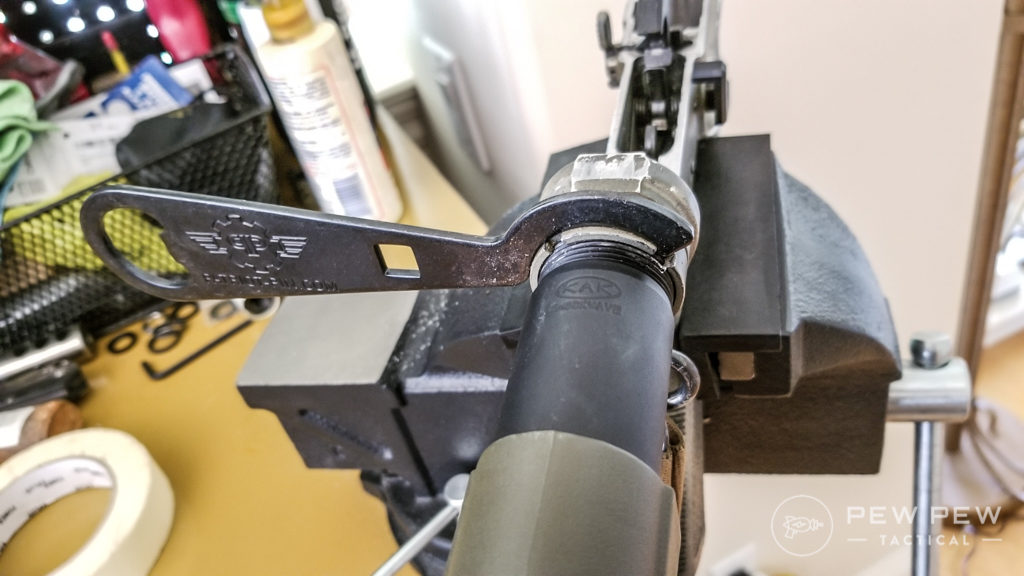 While being careful the detent spring doesn't launch out.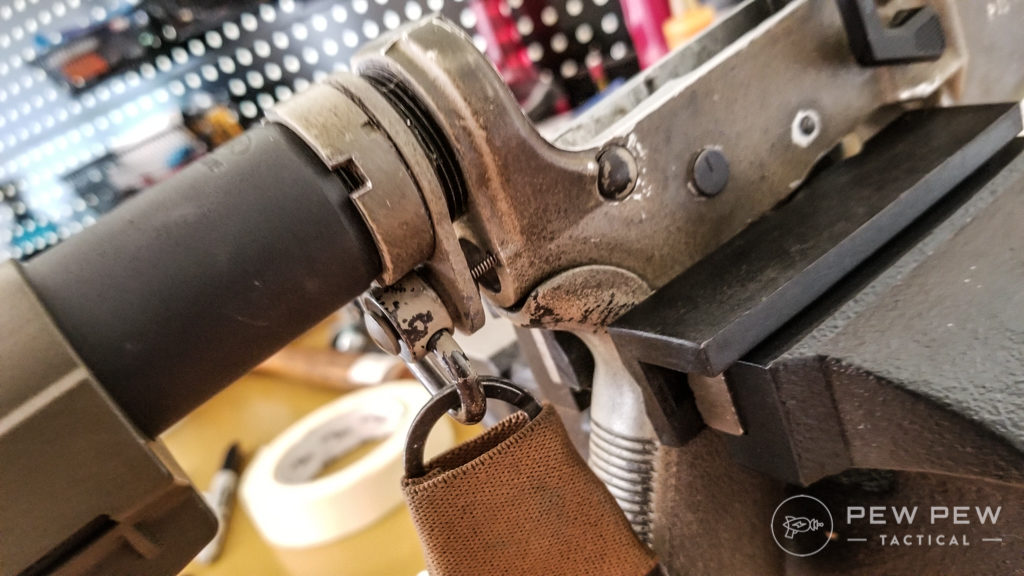 Carefully take out the spring and the takedown pin.  I left the detent in there.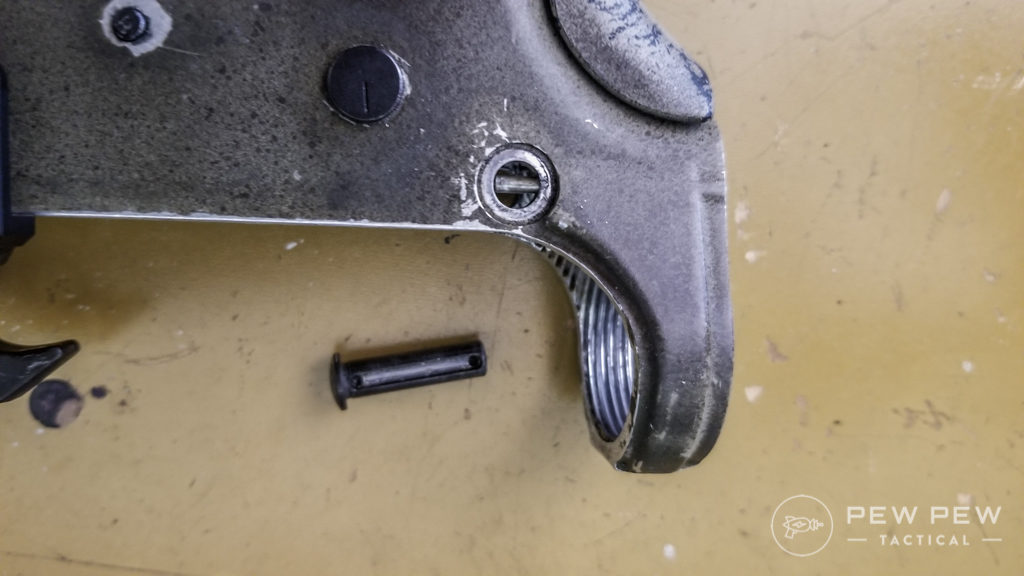 Put in the Delrin pin and the lever and make sure the channel in the pin matches up with the detent.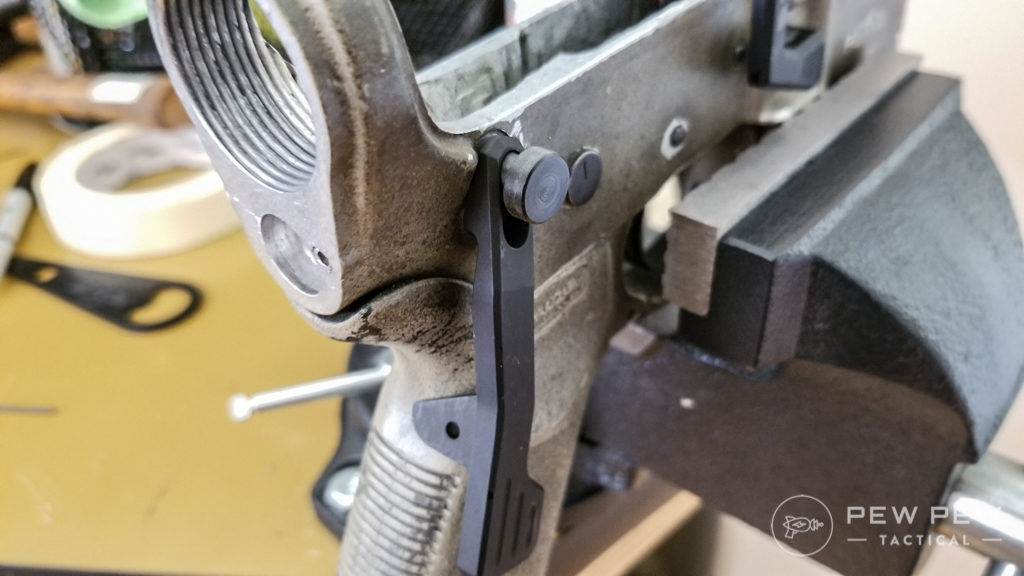 Thread on the new endplate and put the buffer detent back on (with the spring).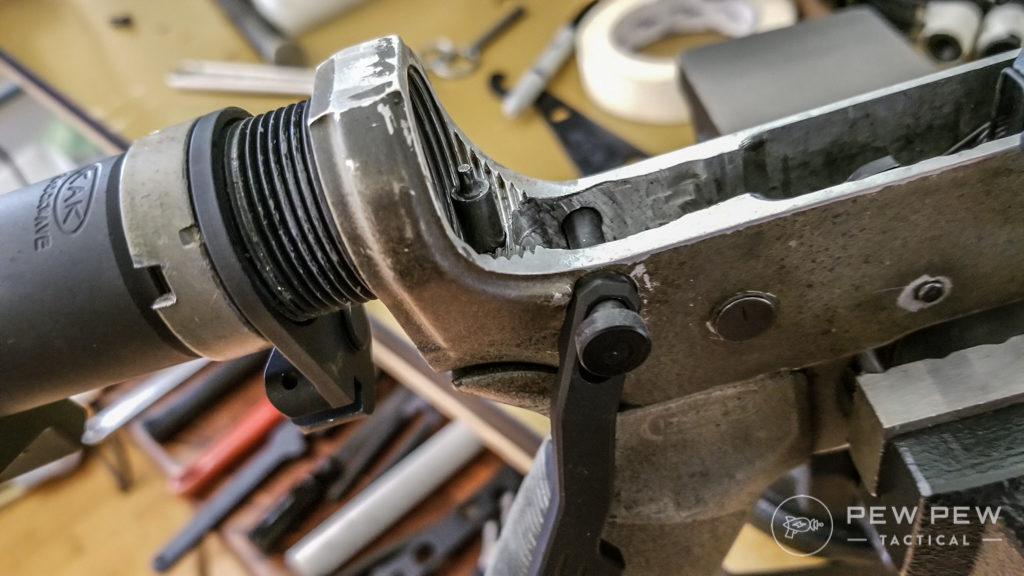 Capture the buffer detent but screwing the buffer tube in enough…then put back the other spring.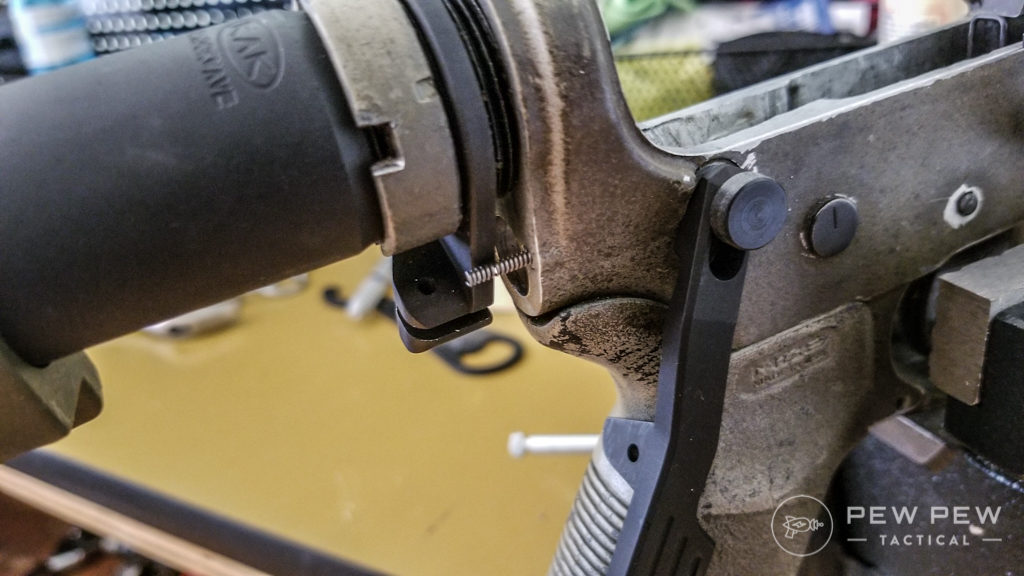 Press in the spring against the endplate.
*Patriot Pin 2.0*  This is the step you get to avoid!
Then press in the endplate until it matches up with the cutout in the receiver.  And screw in the endplate.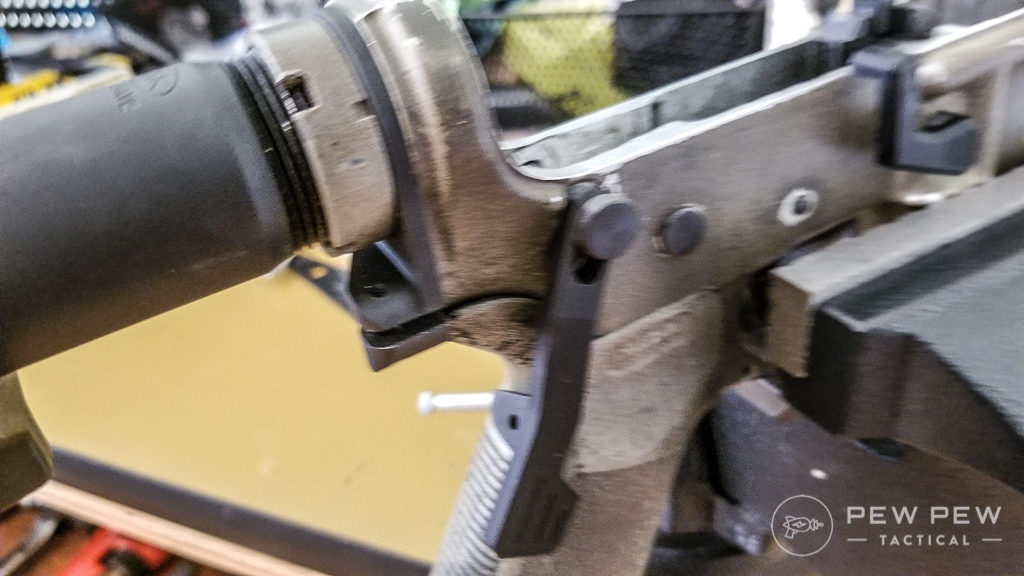 Match up the Patriot Pin lever with the endplate.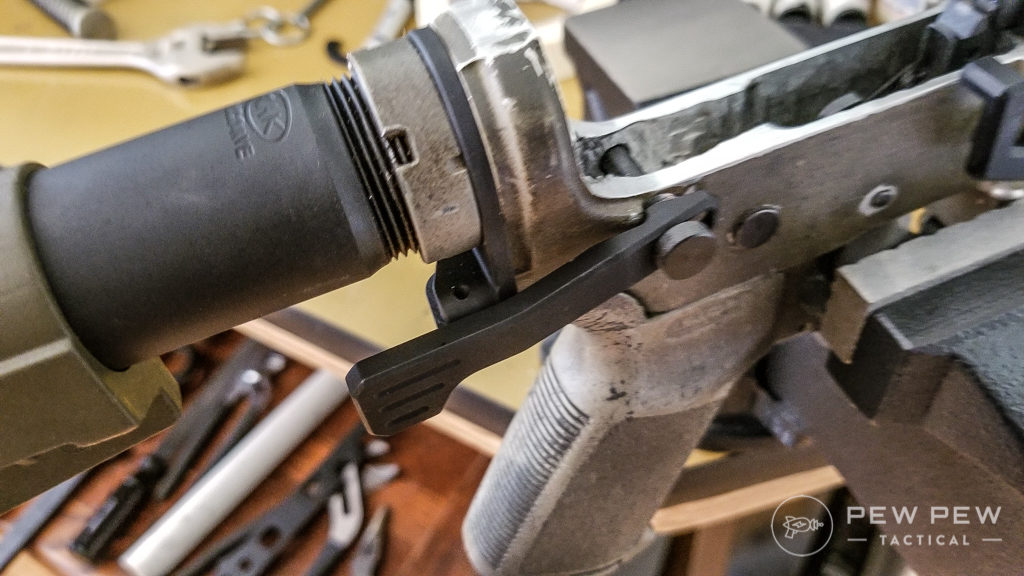 Screw in from the bottom.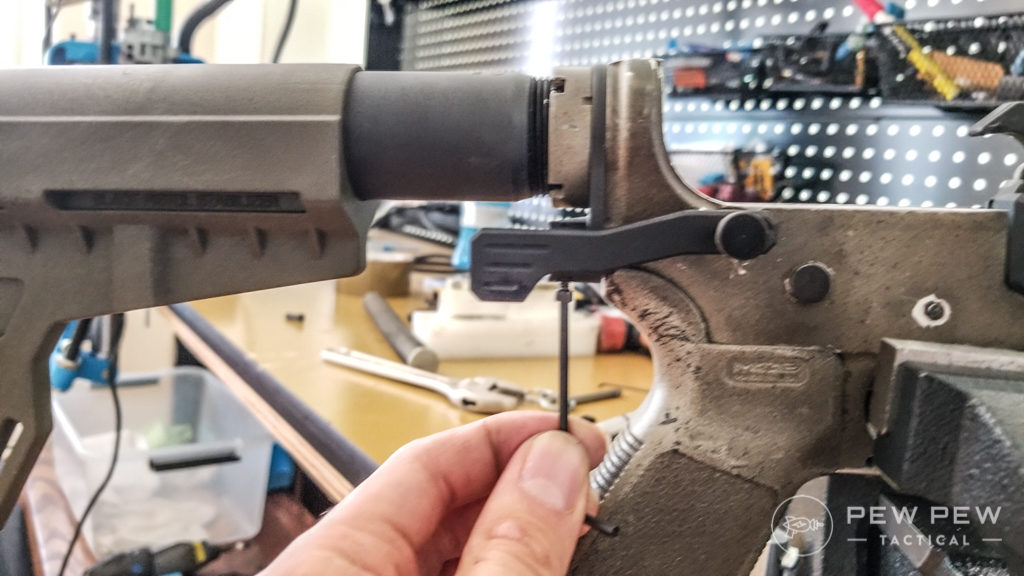 And…you're done!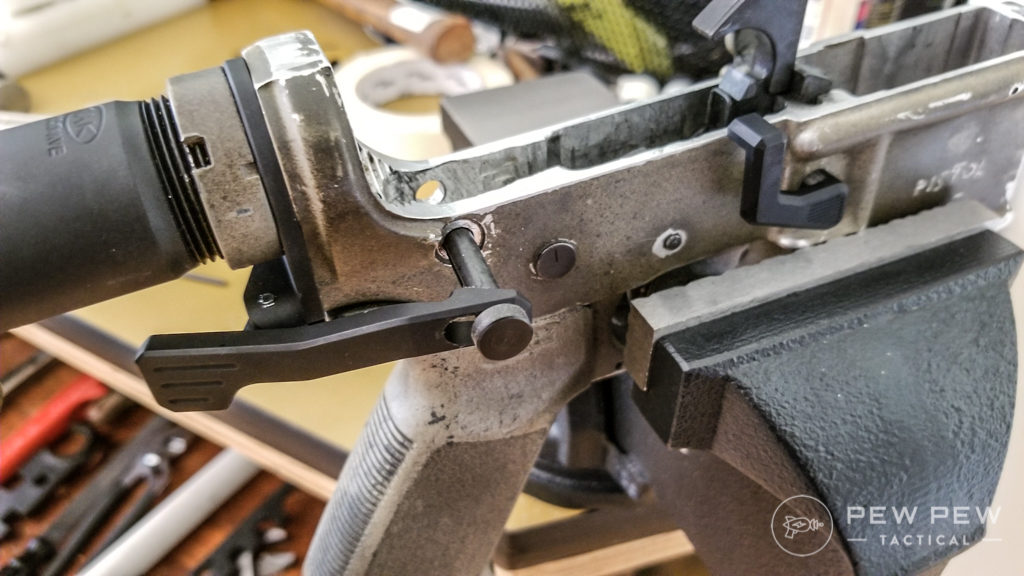 Conclusion
What do you think about the AR Maglock and Patriot Pin 2.0 combo?  I give it 5 stars for its ingenuity.
It's pretty fast and allows for disassembly of the mechanism in case of a double-feed.
My Editor's Pick for the best current fixed magazine solution for California.
55
at Patriot Pin
Prices accurate at time of writing
Prices accurate at time of writing
Want to go the featureless route…check out the best muzzle brakes, grips, and fixed stocks in our complete Featureless Guide.  Or if this is bumming you out…check out Editor's Picks for the best guns & gear.