SHOT Show is over!
After days of walking the floor, and over 35 miles walked the Show is now long past.
After handling, shooting, and asking dozens of questions about different guns I've poured over my photos, videos, and notebooks trying to figure out what weapons I saw were my favorites.
It's a tough call.
I saw a lot of cool guns and to make this list I've decided to include new weapons for 2019.
I also only chose guns I would own, albeit the price tag of some will make that prohibitive. Other than that there is no rhyme, reason, or theme to my list…
Top 10 New Guns of 2019
The Walther PPQ isn't a new gun, and neither is the Q5, but this particular model is entirely different than those two. It has a steel frame. This adds weight to the weapon, but it also adds control.
More weight means less felt recoil.
The Q5 Steel Frame design and the Q5, in general, is designed for competition use. This means the extra weight isn't an issue and is a helpful addition to the gun.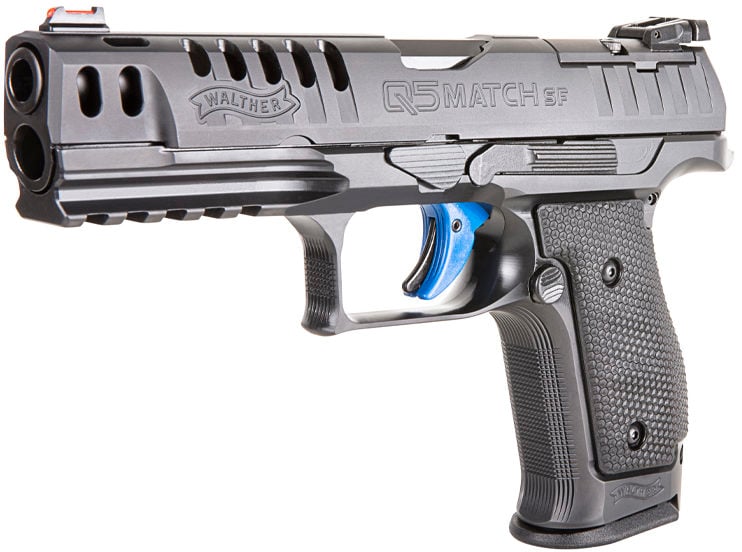 Admittedly I am not a competition shooter.
Closest I do to comp shooting is sucking hard at trap and skeet. I certainly would love to hear a comp shooter's opinion on this gun.
My opinion is that this is a classy handgun. At range day I fell in love with it. The gun was buttery smooth and so effortless to control when firing rapidly.
The ergonomics and feel of the gun in hand were brilliant, and the grip design is fantastic. It fills the hand, is easy to point and the trigger is outstanding. The weapon itself is optics ready, and the optics mounting platform is modular, and it can attach a multitude of different optics.
The Walther Q5 Steel frame is a bit pricey for a defensive firearm, but it could indeed serve in that role.
The gun has a Picatinny rail for lights or lasers, and the stock iron sights are high visibility. The magazines have a 17 round capacity, and that's plenty for most defensive encounters.
The Walther Steel frame was probably my favorite gun to handle and fire. I'm also a super big fan of the PPQ so maybe I'm biased, but the Steel Frame is a brilliant idea, and I might have to come off 1,400 bones to buy one.
It takes a lot to get me excited about a .22 LR handgun.
I already have an old SW 22A, and that's all I need right? Well, until the CP33 that is what I thought. The CP33 is like a slightly smaller than the PMR 30.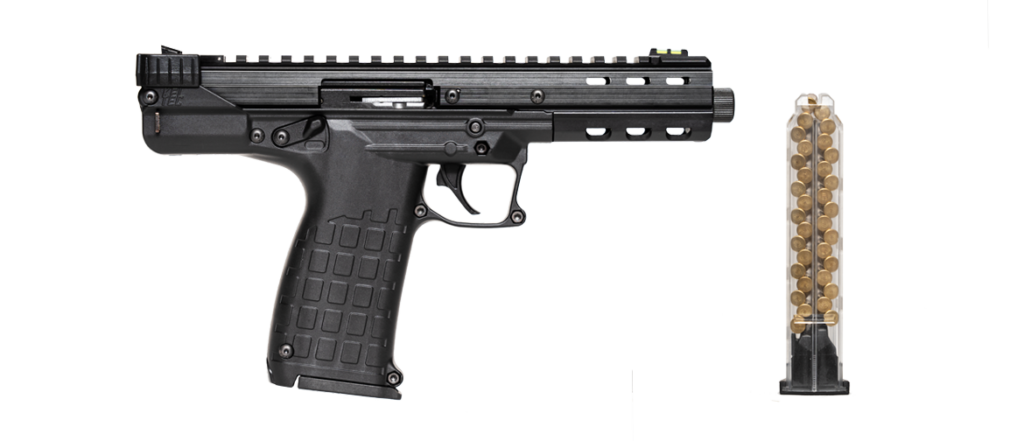 The PMR 30 was a .22 Magnum gun that held 30 rounds of .22 magnum in a flush fitting magazine. The CP33 is a similar idea that fits 33 rounds of .22 LR into a quad stack magazine that is also false flush fitting. Kel-Tec told me they are working on an extended 50 round magazine as well.
The CP33 looks cool and handles like a dream. How do you reduce the recoil of a .22? Put it in a large platform. At Range Day I got to handle a suppressed version and loved it.
Recoil was non-existent, and the suppressor makes it a puppy. It was surprisingly accurate and very reliable through the first few mags I put through it.
This looks like a gun from the future and functions much differently than your standard handgun.
Lacking a reciprocating slide it instead uses a charging handle very similar to the AR 15. It's a grip and rip style charging handle. The top of the gun sports an extra long rail to allow you to mount optics and M-Lok slots allow direct attachment of rails and accessories.
Best of all the CP33 has an MSRP of only $475, not bad for a cool and interesting new pistol.
There is a section of the internet that always screams for Armalite to bring back the AR 18, ignoring that they tried to, once and it failed.
Now is the time for those people to put their money where their mouths are.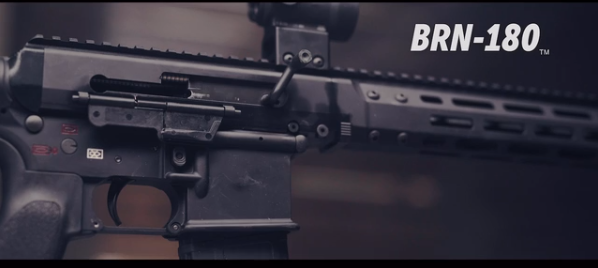 Brownells has teamed up with PWS and FM Products to make an AR 18 upper for your standard AR 15 lower. The upper is completely modernized and features an M-LOK rail system and a flat top upper for easy attachment of optics. Best of all the upper's gas piston designs means no buffer needed.
You can toss it on a standard lower and fill the receiver extension hole with an MCX stock adapter from KNS and attach folding or PDW style MCX stocks. Additionally, you can attach almost any AR stock and side folding adapters and fire with the stock folded.
You'll have a single side charging handle and the gun will handle both 223 and 5.56. A lot of people don't realize just how influential this gun was. Guns like the Bren and SCAR series all utilize a design very similar to the AR-18.
899
at Brownells
Prices accurate at time of writing
Prices accurate at time of writing
This upper gives the average joe the ability to experience an AR 18 at a budget price. The complete upper will cost 799 and is available for pre-order now.
What's your take on the BRN-18?
4. ATI Galil
I am a big fan of the Cold War era rifles.
I love old school M16s, AKs, FN FALs, G3s, and of course the Galil. That being said I can get easily get an AR, AK clone, a FAL from DSA, G3 from PTR but where can I get an old school Galil?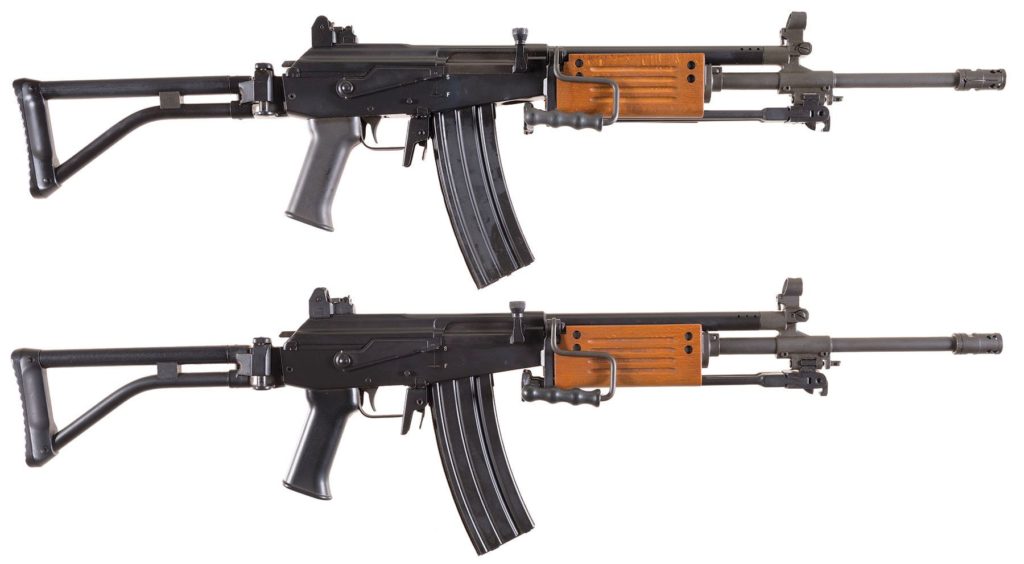 There are new Galil clones from IMI, but I like old school.
American Tactical Imports is now producing Galil clones for an MSRP of $1299 and that's a little rough but street price will be lower. These guns are built with American made barrels and receivers, and everything else is Israeli parts kits.
The Galil is such a cool gun, and I love sending lead down range at range day with it. This was a pleasant surprise, and I fell in love with it. Part of that loves comes from the coolness of Cold War weapons, the other part was getting behind the gun.
From the standing, with a gun I never fired, I was hitting steel targets at 100 yards with ease. Every freaking round hit it, and I loved it. The trigger was excellent, the recoil was minimal, and the gun handled well for its aged design.
The guns will have a folding stock, and come with either a wood handguard or a polymer one. The guns should be coming out mid next year, but SHOT Show prediction dates are typically adjustable and move around a lot.
I'm pretty biased when it comes to guns.
I usually like guns that are big and loud.
I was a Marine, and I was a machine gunner for many years so big and loud is my forte. With the NFA and Hughes Amendment being what they are I'll never get to handles a real machine gun until I hit the lottery or get a rock solid Patreon following.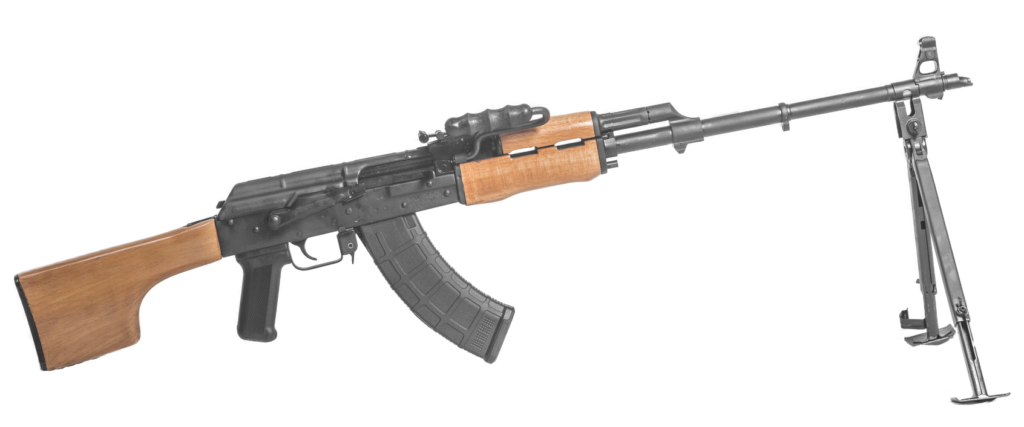 However, as a machine gun enthusiast, as well as an admirer of Soviet Small arms I am excited to see that Century will be providing us with RPKs in semi-automatic configurations. The AES-10B is the least imaginative name for an RPK clone, but it is what it is.
The Century AES-10B has come and gone from the import scene, and this is a direct follow-up from the new PSLs being imported into the country. The RPK is essentially an AK that's beefier and is more of an automatic rifle or Squad Automatic Weapon than a proper machinegun.
However, I loved it and was pumped to see they will be making a comeback this year. It will come with a bipod, heavy barrel, carry handle and a hefty MSRP of $1499. That's a significant number for a non-arsenal AK with a long barrel and bipod.
I'm still pretty freakin' excited to see these come back to the market and I hope the price can drop a bit before they do.
6. Lancer L30 AIR
This choice is the sneakiest and one I didn't see coming.
I love Lancer, from their handguards to their magazines. They make high quality, and great gear and the L30 AIR looks, for lack of a better term, cool as hell.
It takes a lot to get me interested in an AR platform, and Lancer did it quite well. The L30 AIR has a 14.1-inch barrel and features the Nitrous compensator that is pinned and welded to meet the 16-inch requirement to avoid being an NFA weapon.
The L30 AIR is chambered in 308 Winchester and 6.5 Creedmoor. AIR stands for Aerial Interdiction Rifle, and the idea is that this rifle will be used for shooters in a helicopter. The overall design has weight reduction with lighter receivers, BCGs, and a skeletonized rail.
It's super light for an AR-10 platform and remarkably easy to handle. The gun's caliber choices mean a heavier round, more penetration and less deviation due to the wind. The MSRP is a stunning four grand, so this won't be joining the collection, but I can lust over it.
The CZ P-10C wasn't CZ's first striker-fired handgun, but it was their most successful.
The C denominator meant compact, and that lead most people to assume we'd see a full sized and subcompact model. They weren't wrong, CZ Showed us both at SHOT 2019.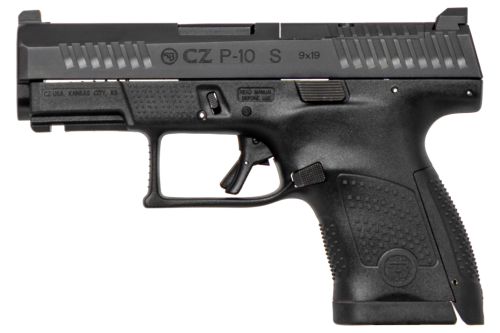 What we didn't predict is the fact that the F, the C, and the S models would all have optics ready options. Optics ready guns are all the rage these days, and CZ is never shy to adjust and upgrade their designs. The fact they are introducing both the F and S models with an optic's ready option is awe-inspiring to me.
The 10C was a great gun, and now we have two different size options, and I'm excited about a 19 round CZ P10F with a mounted optic. Better yet the optic's cut will add less than 100 dollars to the MSRP of these guns, and the MSRP is currently $577.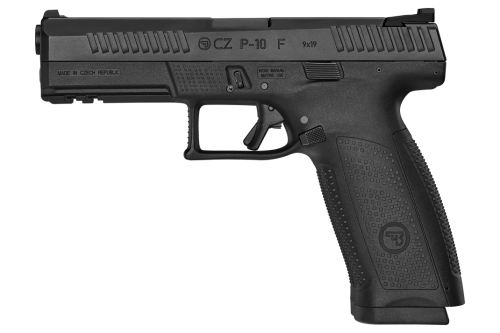 It can be hard to get excited about just another striker fired 9mm, but the P-10 series is overall an excellent gun. The trigger is masterful, reliability is brilliant, and Tim at the Military Arms Channel proved the gun was reliable over a high round count.
With the great price and design, I will certainly be adding a CZ P10F to my collection to compliment my P09.
I knew about the Glock 48 before I went to SHOT and didn't see what the big deal was about the Glock 48.
I honestly thought it was a bit lame. It's a skinny 19, what's the point. However, this came from a space of only considering my point of view.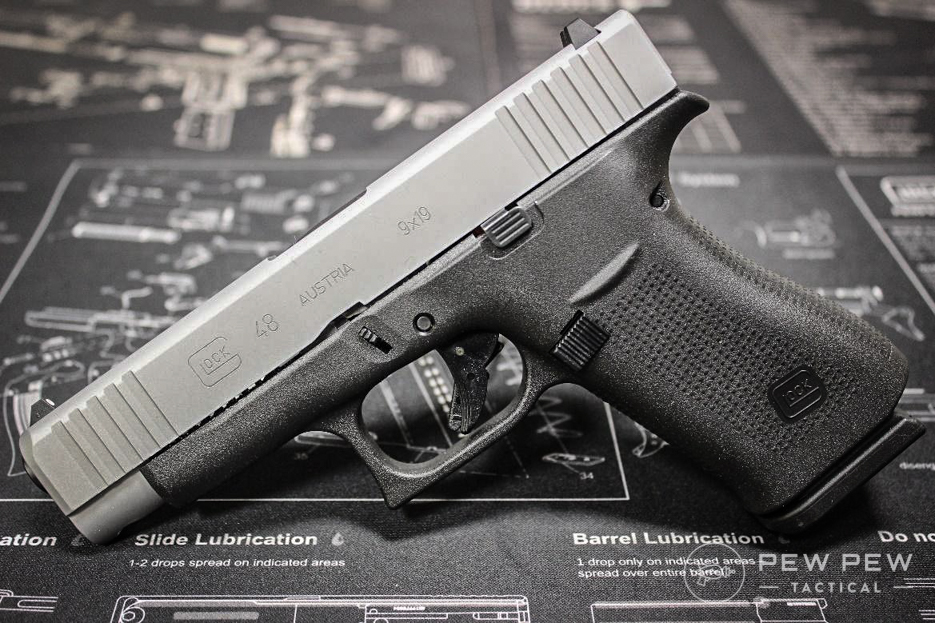 I'm a big dude and concealing a Glock 19 isn't an issue for me. However, I'm not all people. The Glock 19 is often considered the gold standard for design when it comes to having a mix of an easy to conceal pistol and a competent fighting weapon.
The grip is just long enough to fill your hand, and the gun offers a substantial sight radius as well as a low overall weight. The Glock 48 capitalizes on all of that. It's lighter, thinner, but still fills the hand and has the same sight radius.
Also, the gun is perfect for states that have magazine capacity restrictions. The Glock 19 with a 10 round magazine isn't as efficient as the Glock 48. The design also features a slightly longer barrel than the Glock 19, which happens to satisfy a minimal millimeter length for the barrel to make it Canadian legal.
480
at Brownells
Prices accurate at time of writing
Prices accurate at time of writing
I loved shooting the gun at Range day and found it to be quite satisfying and easy to handle. I like the nPVD coating for the stainless steel appearance, and as a Glock, you know the aftermarket will be massive and so will the holster market.
We also have a complete hands-on review on the Glock 48 and G43X, he was lucky enough to get pre-release versions to play with!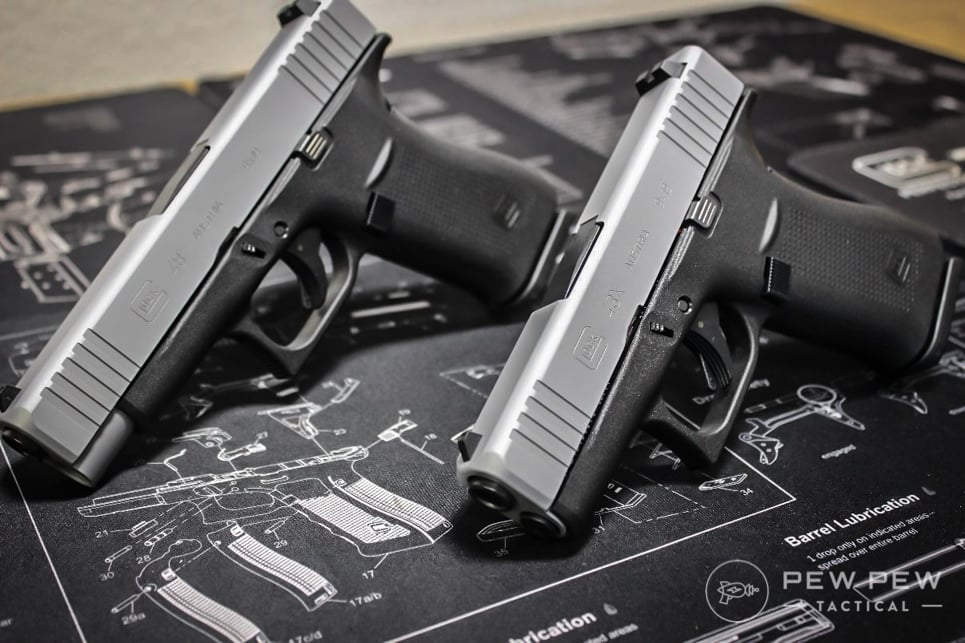 I do enjoy revolvers. There is something to be said for the old school cool of a six-gun, and the Colt King Cobra is an actual six gun. The Colt King Cobra is Colt's second entry into their new modern snake gun line and is the evolution of the Cobra.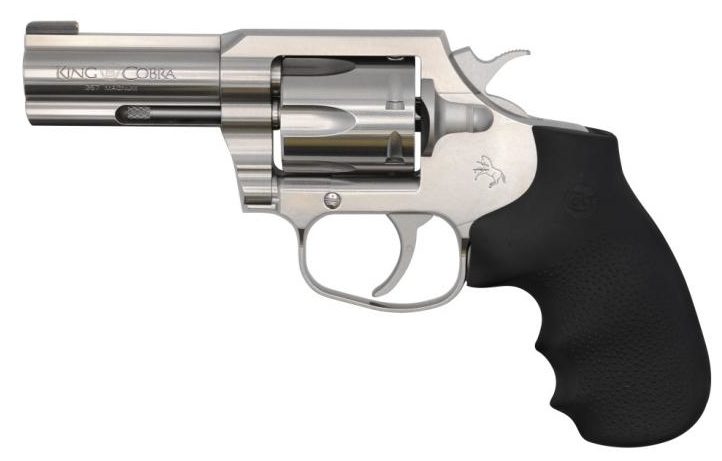 The King Cobra is a .357 magnum compact revolver chambered in .357 Magnum. The Colt King Cobra is a compact revolver, but it's not a snub nose revolver. .357 snub nose revolvers are rough to handle and often lose some velocity from a 1.8-inch barrel.
The King Cobra has a 3-inch barrel but keeps the Cobra's compact frame. It's a little bigger, a little heavier, but it's substantially more powerful. The King Cobra is a sweet small revolver, and it's the Glock 19 of the revolver world.
It's just right when it comes to power, balance, barrel length, and concealability. The Colt King Cobra as an MSRP of $899 and the best news is they are already shipping. The bad news is the prices currently on Gunbroker are crazy high, hundreds over MSRP at the moment.
This is a gun that's worth waiting out, and when the market stabilizes a bit we'll see prices drop, and I might add some class to my concealed carry collection.
In more CZ news we got to see the new Bren pistol. I use the term pistol lightly because this is a rifle that doesn't have a stock so by legal definition it is a pistol. It has a short barrel so adding a stock makes it an SBR.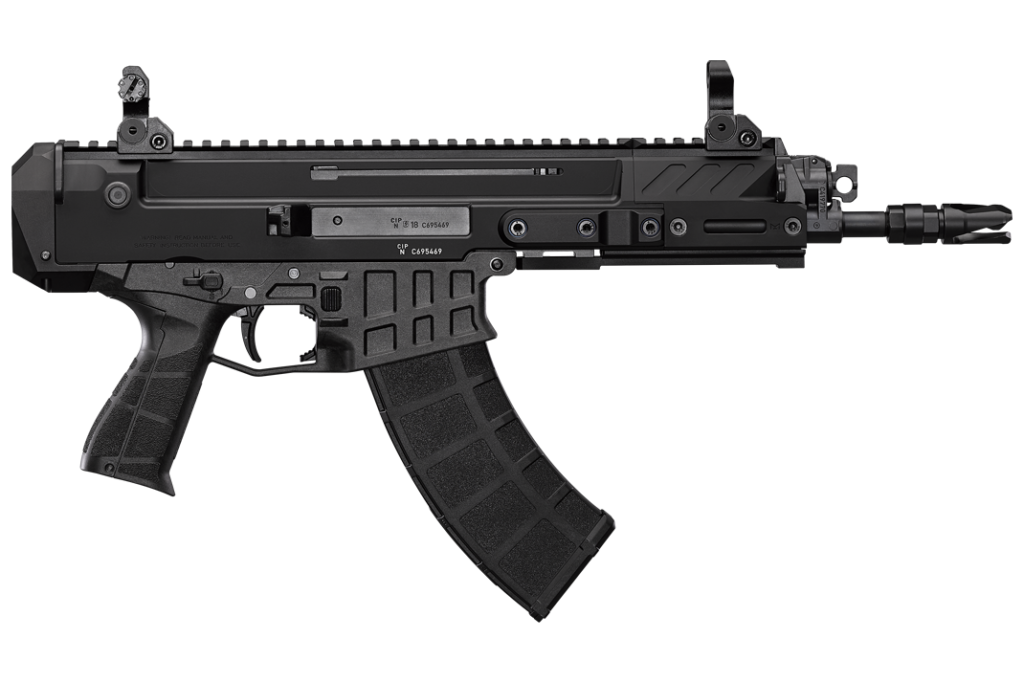 I guess its a rifle caliber pistol. The original Bren was built for a military contract and done to a specific standard. The Bren 2 Ms was designed from the ground up and is a serious improvement over the original Bren.
This includes a non-reciprocating charging handle, an additional chambering of 7.62×39, and multiple barrel lengths. You'll be easily able to swap barrel lengths, and barrel lengths will be 8, 9, 11, or 14 inches. The Bren 2 Ms has a carbon fiber reinforced lower and weighs a full 1.5 pounds less than the original Bren.
It comes ready to attach an AR buffer tube for SBRing purposes, or to attach a brace to make this big pistol a little easier to handle. The Bren 2 Ms will run on AR magazines for 5.56 variants, and the gun will have a proprietary magazine for 7.62×39.
Hopefully, this proprietary magazines will be affordable and easy to find. Like the CZ Scorpion mags. Time will tell, and while I was initially interested in the Bren, I think I'll keep holding out for the Bren 2 Ms.
SHOTs Out
SHOT Show is always a fun event and one that brings out the best in our industry.
The Show brings surprises, disappointments and often it gives us things to look forward too.
With that in mind now that the show is over, what were some of your favorites of SHOT Show? Be sure to check out our Editor's Picks for our top guns and gear (of all years).