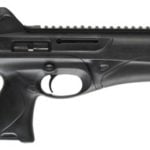 3.5
Editor's Note:
The Beretta CX4 Storm is one of the earlier entries into the world of modern pistol-caliber carbines. Its simple direct blowback system has helped cement its status as an extremely reliable gun. Solid ergonomics make the gun feel slick and easy to point, but the gun is almost 20 years old, and it is starting to show.
Beretta CX4 Storm For Sale - Compare Prices
Palmetto State Armory
Save $300
Beretta CX4 Storm Features

Can take Beretta 92/96 or PX4 magazines depending on model

Cold hammer forged barrel

Full length Picatinny top rail

Safety, magazine release, and charging handle can be swapped for left-handed use

Iron sights are included
By The Numbers - Beretta CX4 Storm
Accuracy
A cold hammer forged barrel helps here, but a poor trigger hurts. Decent is the best way to describe the accuracy.
Reliability
A simple operating system and proven magazines ensure solid reliability.
Customization
There are some upgrades out there for the CX4, and the Picatinny top rail and threaded barrel help with accessory attachment.
Ergonomics
The gun points well and feels fairly good in the hands, but does lack the setup of more modern PCCs.
Overall
Excellent reliability and decent accuracy and held up by the older design, lower capacity, and relatively high price compared to similarly outfitted carbines.
Beretta CX4 Storm Variations & Comparables
final verdict
While the CX4 is a proven gun at this point, it has been largely overshadowed by more recent introductions to the pistol-caliber carbine market. Guns like the Stribog, CZ Scorpion, Foxtrot-Mike FM-9, and even the Ruger PC carbine offer more for either the same money or less. A heavy trigger and lack of ability to take Glock magazines is no longer a winning combination for a carbine that utilizes pistol magazines. These are fun guns, but you will probably be better served with another option unless you have a ton of Beretta 92 magazines lying around.
Community reviews
There are no reviews for this product yet.
Add your own rating and help other Pew Pew users pick the right guns