Get ready to welcome a new family member to Springfield Armory's SAINT™ series of AR-15s.  On June 12, Springfield Armory put out a press release bragging on their new model of SAINT AR-15, the SAINT 5.56 with Free Float Handguard.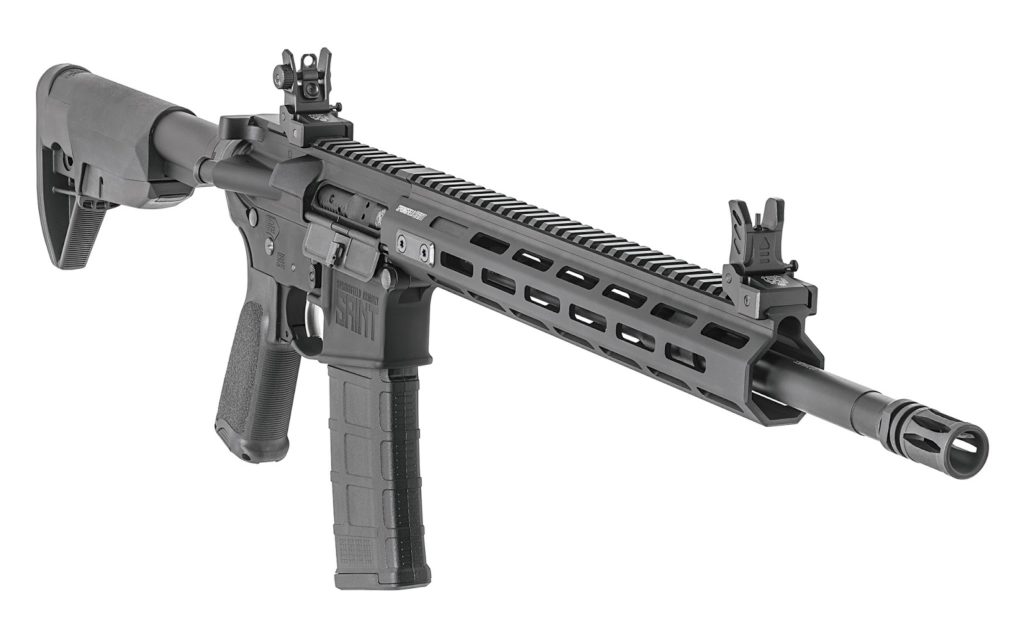 Our Thoughts
The original model of the SAINT lacked a free-floating handguard, and the handguard it came with was a little iffy, in my opinion. I held one at the range and found that it flexed a bit more than I thought was appropriate for a rifle at this price point. If the new SAINT fixes those issues…and early reports indicate that Springfield has indeed made some adjustments, then this will be a solid contender for anyone looking for a solid out-of-the-box rifle for under $1000.
Feature Overview
The new SAINT 5.56 w/FFH provides the same features and moderate pricing of the original SAINT 5.56 model, but with with the addition of (as the name would suggest) a new patent-pending hard-anodized aluminum Free Float Handguard (FFH) system.  This new FFH system is designed with a pinned low-profile gas block to allow the user to easily grip the full length of the handguard, and can be used with M-Lok accessories for owner customization.  
In addition to the new handguard system, Springfield Armory is also boasting about a variety of the new SAINT 5.56's other features.
The new AR-15 features flip-up front and rear sights that can be used individually or together.  The front side is elevation adjustable while the rear side features a dual aperture.  

The single-stage GI trigger is nickel-boron coated and features a Bravo Mod 3 combat refined pistol grip and a Bravo Company trigger guard.  

Forged type III hard-anodized aircraft-grade 7075 T6 aluminum makes up the rifle's upper and lower receivers which fit together using Springfield's Accu-Tite™ system to minimize excess vibration.  

For improved durability, the SAINT 5.56 FFH model also features an M16 bolt carrier group with a shot peened and magnetic-particle inspected Carpenter 158 steel bolt, and the chamber, bore, and exterior of the new SAINT 5.56 are Melonite® treated.

The chrome moly vanadium steel 16-inch barrel has a 1:8 right-hand twist ans is chambered for 5.56 NATO.
Springfield also seems to have designed their new flagship AR-15 with comfort in mind.  The firearm should have a tight, comfortable fit thanks to a broad cheek weld comb, a dense butt pad, and six position stock.  Unloaded, the new SAINT weighs in at 6 pounds, 9 ounces, which is fairly middle-of-the-pack.

The Springfield Armory SAINT 5.56 with Free Float Handguard has an MSRP of $1049, but you'll likely be able to find them around $900 very soon.
Specs
Here are the more detailed specs from the SAINT 5.56 with Free Float Handguard product page on the Springfield Armory website:
| | |
| --- | --- |
| Caliber | 5.56x45mm NATO (.223REM) |
| Length | 35.5″ Fully Extended / 32.25″ Collapsed |
| Weight | 6lbs 9oz |
| Upper Receiver | Type III Hard Coat Anodized Aircraft Grade 7075 T6 Aluminum Flat Top, Forward Assist and M4 Feed Ramps​ |
| Lower Receiver | Type III Hard Coat Anodized Aircraft Grade 7075 T6 Aluminum, Accu-Tite™ Tension System​ |
| Barrel | 16″ Chrome Moly Vanadium, 1:8 RH Twist, Melonite® |
| Gas System | Direct Impingement Mid-Length Gas System, Low-Profile Gas Block |
| Trigger | Springfield Armory® Proprietary, Nickel Boron Coated GI |
| Sights | SA Low Profile Flip-Up, Dual Aperture Rear – 1/2 MOA Windage Adj, Flip-Up Front – 1/2 MOA Elevation Adjustment |
| Trigger Guard | Bravo Company |
| Pistol Grip | Bravo Company Mod 3 |
| Handguard | M-Lok Aluminum SA Patent Pending Free Float w/ SA Locking Tabs |
| Butt Stock | Bravo Company 6 Position |
| Buffer Assembly | Carbine "H" Heavy Tungsten Buffer |
| Receiver Extension | Mil-Spec Carbine Receiver Extension, 7075 T6 Type III Hard Anodized Aluminum |
| Charging Handle | GI Style |
| Bolt Carrier Group | M16 BCG w/ Carpenter 158 Steel Bolt, Shot Peened & Magnetic Particle Inspected |
| Magazine | 1 – 30 Round Magpul PMAG Gen M3 |
| MSRP | $1,049.00 |