A lot of great action movies from the early 1990s get ignored. This includes the incredibly underrated Shane Black-written, Tony Scott-directed film, The Last Boy Scout.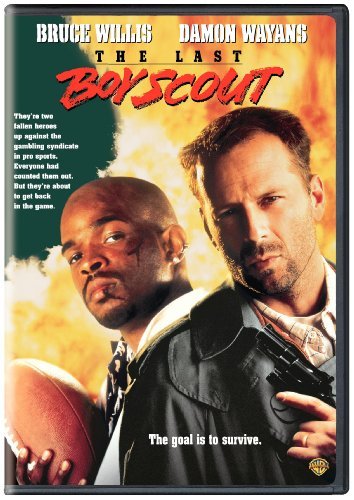 This is an action flick starring Bruce Willis and Damon Wayans, unlikely partners in a scandal invoking the NFL, a congressman, and gambling. It's a bit of a buddy comedy, although it's a little darker than most movies in that genre. 
Willis plays Joe Hallenbeck, a private eye who was formerly a Secret Service agent. Wayans plays Jimmy Dix, an ex-quarterback ejected from the league for sports gambling.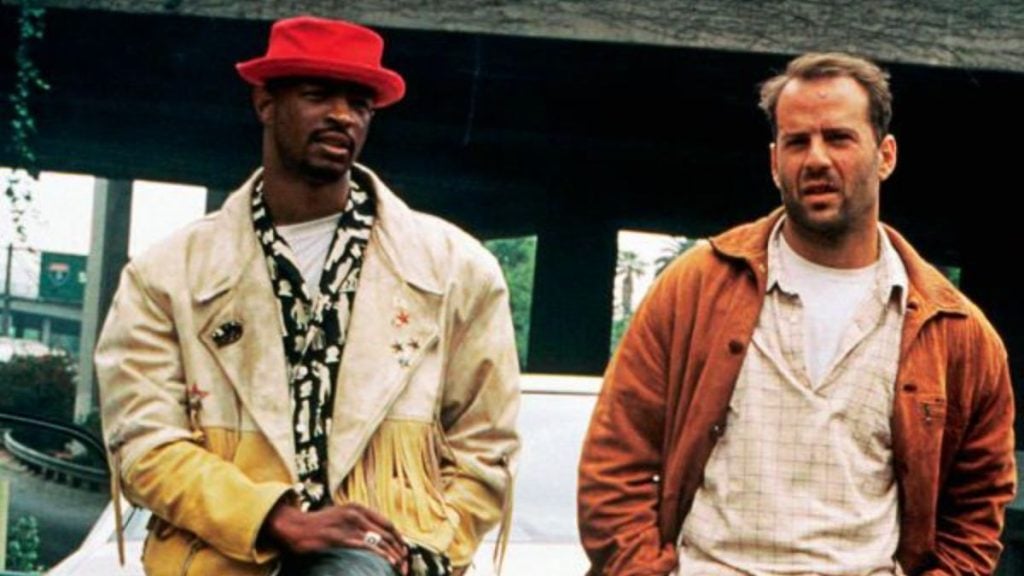 They are connected when Dix's girlfriend, Cory (played by Halle Berry in one of her earliest film roles), who Joe is supposed to be protecting, is murdered.
It's a movie full of awesome guns, including an Ithaca Stakeout, a FAL Paratrooper, and the subject of today's article, the S&W Model 19.
The Model 19 makes a ton of sense in the film for several reasons. First, it's a cool gun. It's a medium-frame .357 Magnum revolver, and in the film, it's a compact 2.5-inch barreled version with Pachmayr grips.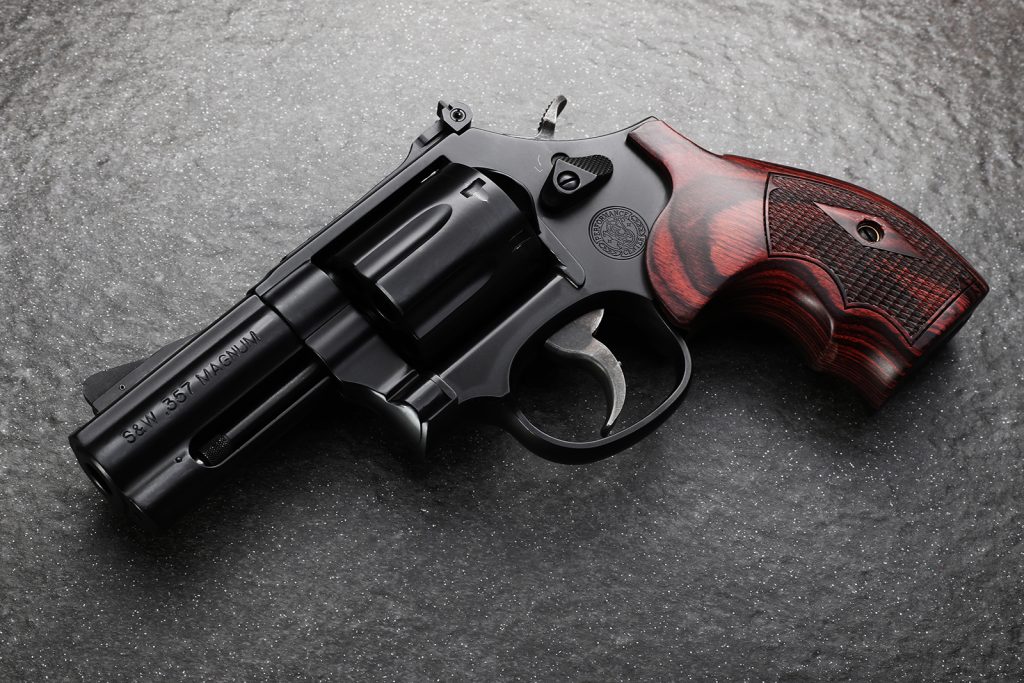 The gun belongs to Joe, which makes sense because it's the revolver used by the Secret Service before they switched to automatic handguns.
Finally, Joe is a P.I., and everyone knows private eyes like their snub nose revolvers. 
The Model 19
The S&W Model 19 isn't the first .357 Magnum revolver, but it's considered one of the best. 
When S&W wanted to build the ultimate combat revolver, they turned to a man named Bill Jordan. Bill Jordan, the retired Assistant Chief Patrol Inspector of the U.S. Border Patrol, is a Marine who served in the Pacific and was a notable gunfighter.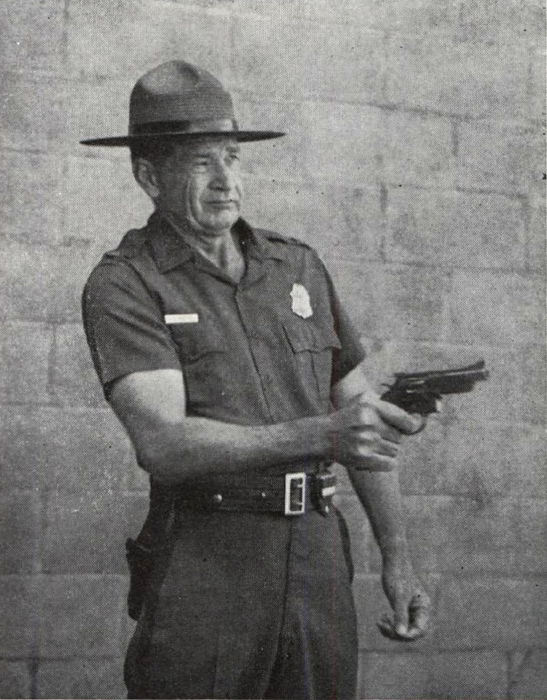 S&W consulted with Jordan about the gun's design, and Jordan proposed what he called the peace officer's dream.
The original design was a K-Frame with a four-inch barrel, but with a shrouded barrel like the N frame guns. Adjustable sights were mandatory, and so was durability.
899
at Gunprime
Prices accurate at time of writing
Prices accurate at time of writing
A lot of magnums of the time were designed for cops to train with .38 Specials and only use .357 Magnums for duty.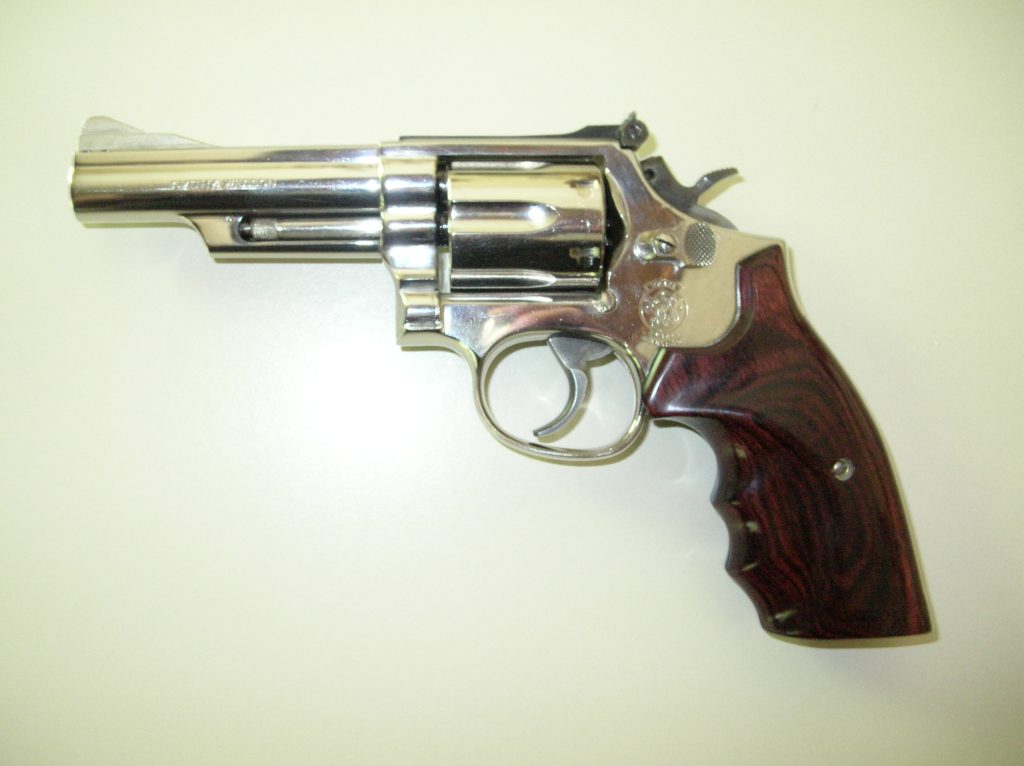 The reason being is that the old guns would beat themselves to death, shooting high volumes of .357 Magnum. The Model 19 would be a durable beast capable of whatever you through at it.
Originally named the .357 Combat Magnum, the Model 19 was first produced in 1955. It became one of the premier police and military revolvers.
As mentioned, the U.S. Secret Service adopted the gun, but they weren't the only ones. The French GIGN adopted the weapon in 1972. INS and Border Patrol adopted the gun, and so did the Navy SEALs in limited numbers.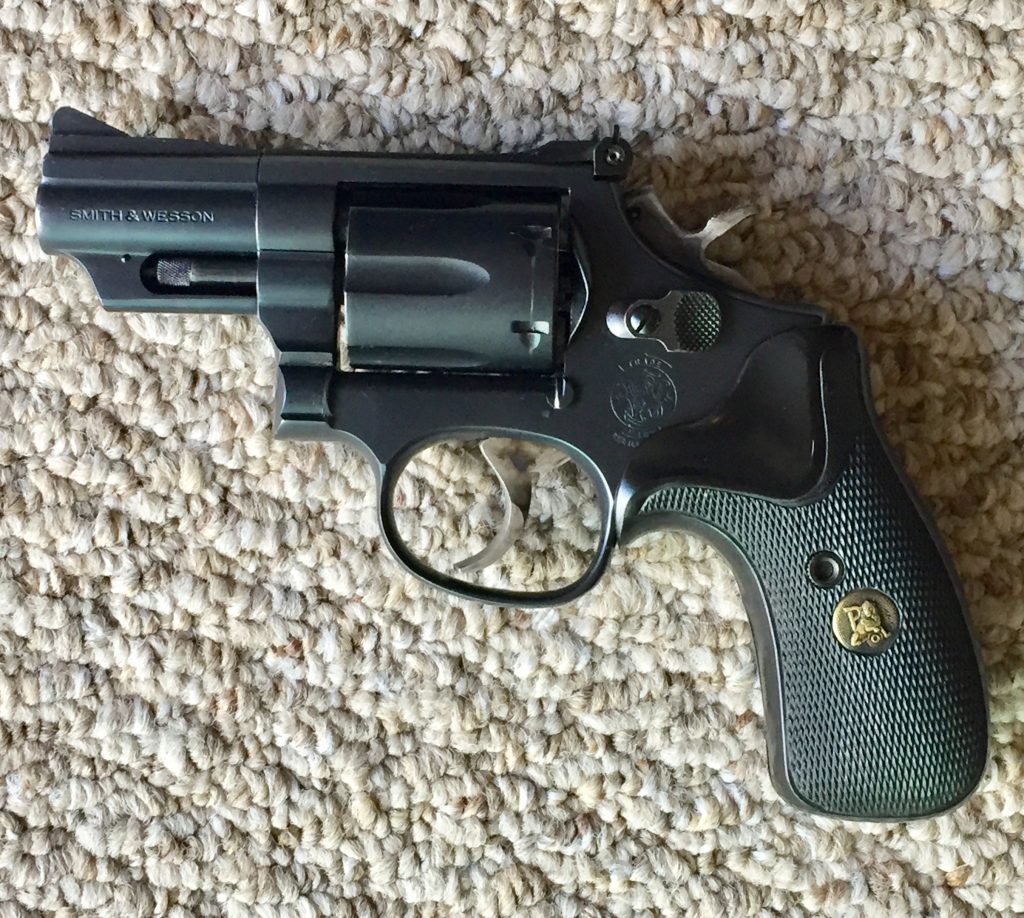 Over time new models were developed as needed, and the 2.5-inch or snub nose version came to be. It's a much more compact and easy-to-carry weapon.
A P.I. like Joe needs to conceal the gun and blend in. He does just that with an old-school, leather Bianchi IWB holster.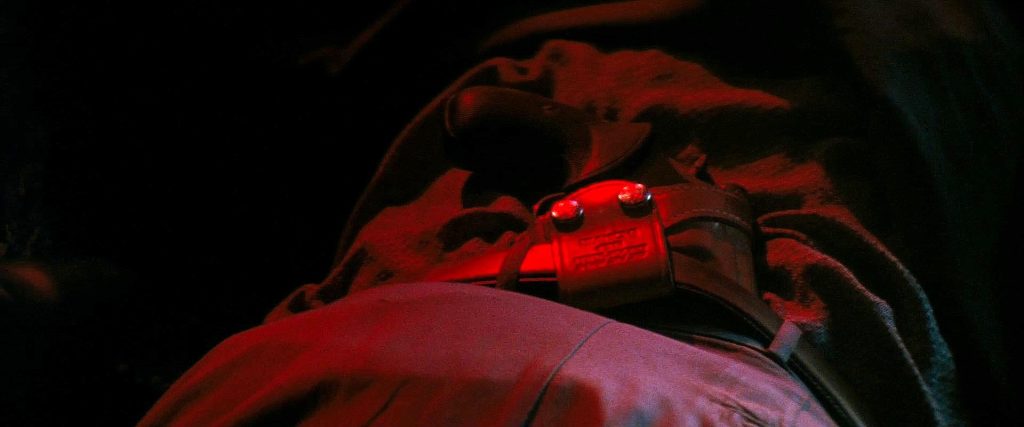 Joe's Model 19 retains the adjustable sights of the original guns, a dark blue finish, and, as mentioned, the Pachmayr compact grips.
The front sight is high visibility orange, and it's about as fancy as revolvers got in the 90s. 
Joe & the Model 19
Sadly, the gun doesn't see a ton of action. It's used by Joe to highlight his failing marriage and in a shootout that sees Dix's girlfriend murdered.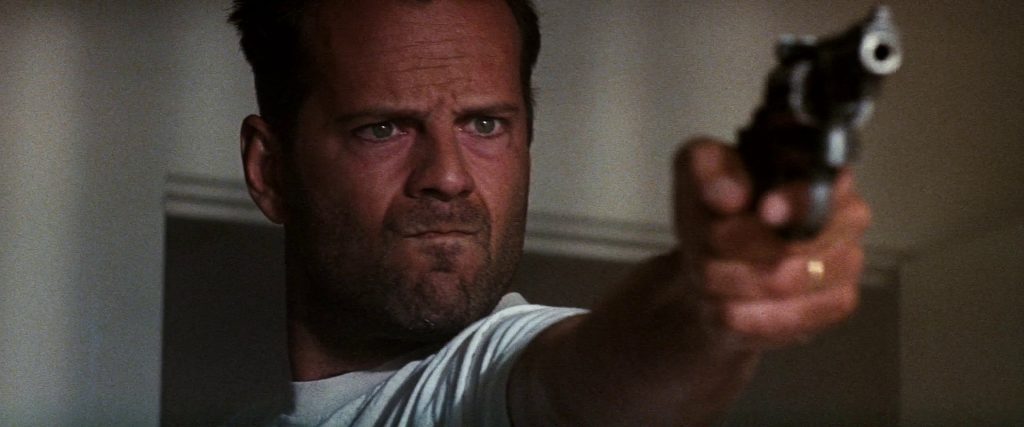 When fired, Joe uses a single hand and squints quite sharply. I think Willis might've been blinded and flinched when firing the gun.
A good two-handed grip would have made the Model 19 a bit more controllable, but sometimes that's not possible. Like when Willis comes in gun blazing in the Street Shootout with guns akimbo. One being the Model 19 and the other a Desert Eagle. 
Both guns run dry, and Willis seemingly reloads the Model 19, although it's cut away just as he opens the cylinder. His reload seems a little slow in the face of all that's going on, but he recovers.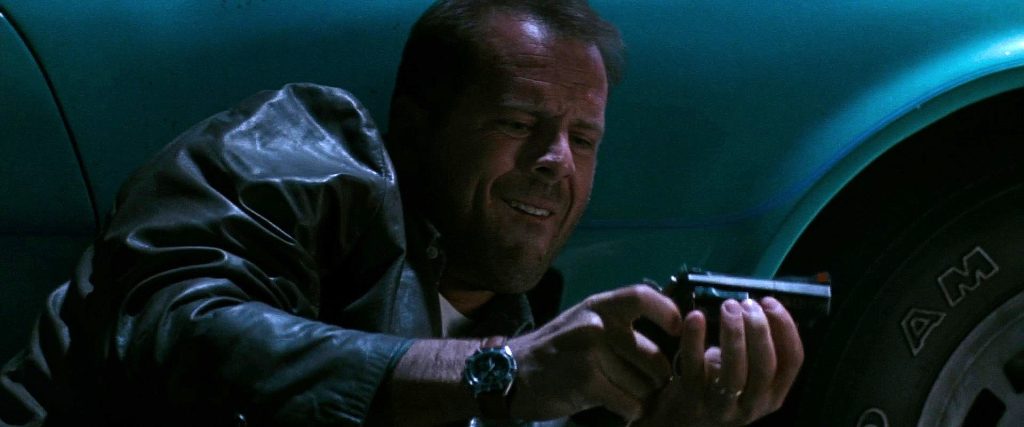 It's not realistic handling, but it's fun and pretty standard for movies of this era.
Final Thoughts 
Both the Model 19 and The Last Boy Scout are underrated classics. If you ever get your hands on a Model 19, I recommend taking it for a spin.
If you ever see The Last Boy Scout streaming, then give it a watch.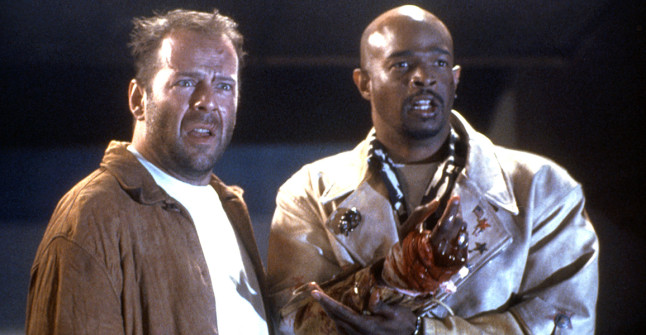 I think I have a version on VHS somewhere around here… 
What did you think of The Last Boy Scout? Let us know in the comments below. To see more Guns of Pop Culture, head to our Fun Archives.