Great news for Glock fans!  
We recently included ZEV Technologies on our list of fantastic aftermarket Glock barrels and our list of the best aftermarket Glock part companies because they make so many great Glock parts, and now is the perfect chance to buy.  
For purchases made from September 16 through October 31, 2017, ZEV is offering a few awesome deals:
Purchase any ZEV Slide Kit, get a free Fulcrum Drop-In Trigger Kit of your choice;

Purchase any ZEV Stripped Slide, get a free Pro Magwell of your choice; and

Purchase any ZEV barrel, get a free Mag Release

and

Starter Spring Kit of your choice.
Any of those three is a hell of a deal on its own, but together they're huge.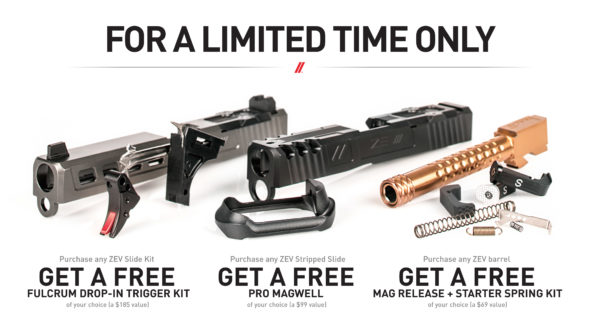 What You Have to Do
Now, this isn't quite a case of going to the store and taking home your free item with you, but that's actually in your favor.  This deal applies to any authorized ZEV Technologies dealer, so you can support your local gun store, buy online from a major distributor like Brownells or Rainier Arms, or anything in between.
All you have to do is purchase your ZEV Technologies item, then either go to their rebate website or fill out and mail in this form, and enter your purchase information and choice of free item.  Then all you have to do is wait for your free stuff to come in the mail.  
No requirement that you have to buy at a particular store, and no spending more money, then waiting for a check.  Plus, if you purchased an eligible item before you knew about the rebate, you can still get the deal as long as you have a copy of the receipt.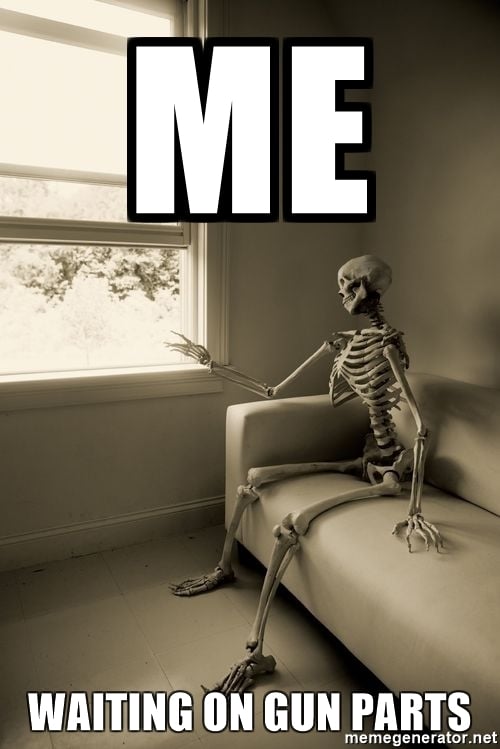 Another bonus is that even though the deal only covers purchases made between September 16 and October 31, you have all the way through December 15, 2017 to redeem your offer, so no rush.  ZEV is warning that it may take up to eight weeks for parts to arrive, though, so you probably don't want to wait until the last minute if you're hoping to score a free present in time for Christmas.  
What to Buy
Like I said, this deal applies with the purchase of any ZEV Technologies slide kit, stripped slide, or barrel from any authorized ZEV Technologies dealer.  That covers a lot of stuff, though.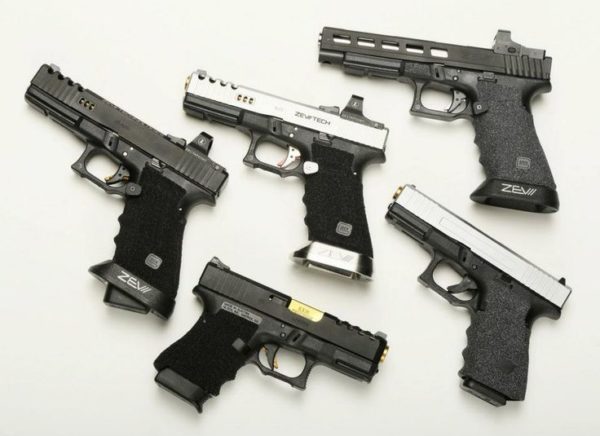 However, here are a few of our favorites from ZEV to help get you started.
Slide Kits & Stripped Slides
Slide kits are a great way to get everything you need in one package, while stripped slides are a good alternative for those who want to mix and match their Glock parts.
The utilitarian Prizefighter slide is a sleek option for Glock owners who want a badass looking glock without too much flash.  The stripped version is available in black and gray for both the Glock 17 ($500) and the Glock 34 ($523).  Kits are available for both Gen 3 ($798) and Gen 4 ($798) Glocks.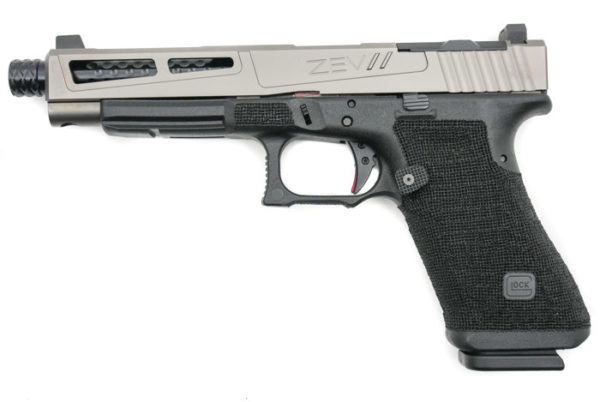 Those who are interested in making a bit more of a statement may like the Hex slide.  A stripped slide for either the Glock 17 ($500) or Glock 34 ($500) can be matched with other statement pieces or allowed to stand on its own with more subdued selections.  The kit comes with black parts and accessories, and is available in options for both the Gen 3 ($798) and Gen 4 ($798) Glock 17, in addition to both the Gen 3 ($798) and Gen 4 ($798) Glock 19.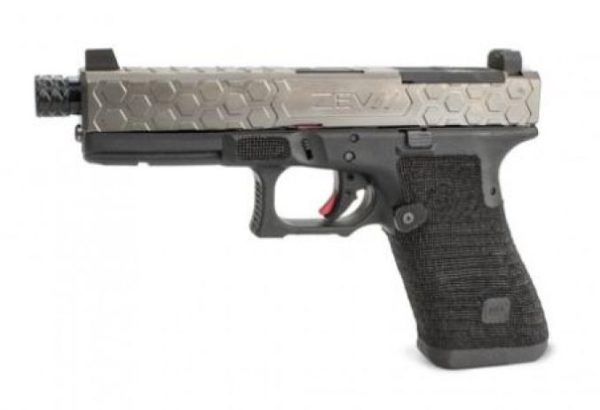 Of course, all of ZEV's slides would do equally wonderfully, and the right one for you just depends on your preferences.
ZEV Barrels
Like with their slides, ZEV has a variety of great barrels.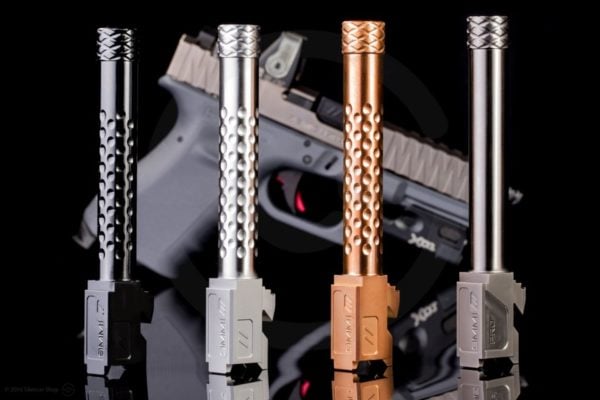 The best known are their threaded and dimpled barrels.  They have an interesting texture to add interest, but those threads make these barrels suppressor ready, making them a practical as well as attractive option.  These beauties are available for the Glock 17, Glock 19, and Glock 34 ($285) in black ($285), bronze ($285), and silver ($285).
For more info on ZEV barrels, don't forget to check out our guide to the best aftermarket Glock barrels.
Are You Excited Yet?
Are you as thrilled as we are about this awesome deal?  Is there a ZEV product in particular that you're psyched to get?  Any other great firearms related deals that you know of?  Have something else you want to share?  Tell us in the comments.