Can you brag about your background and shooting accomplishments so far?
Answer:
I'm a husband to my high school sweetheart, father of two little girls, foreman for a commercial electrical contractor and a 3-gun junkie. I'm a co-captain for the Rainier Arms Shooting team.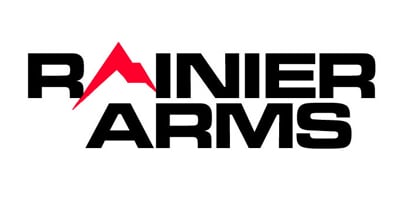 I recently attained a Pro qualification title in the United Multigun League.
How did you first get into competitive shooting?
Answer:
I got started with a Wednesday night bowling pin shoot, my wife actually spotted the flier at a Sportsman's Warehouse gun counter. A few guys at pins shot an "action pistol" match at another range and got me to come to try it out. I met, my now teammate, Steve Bell there and Steve was my gateway to 3-gun and then the rest of the practical shooting world.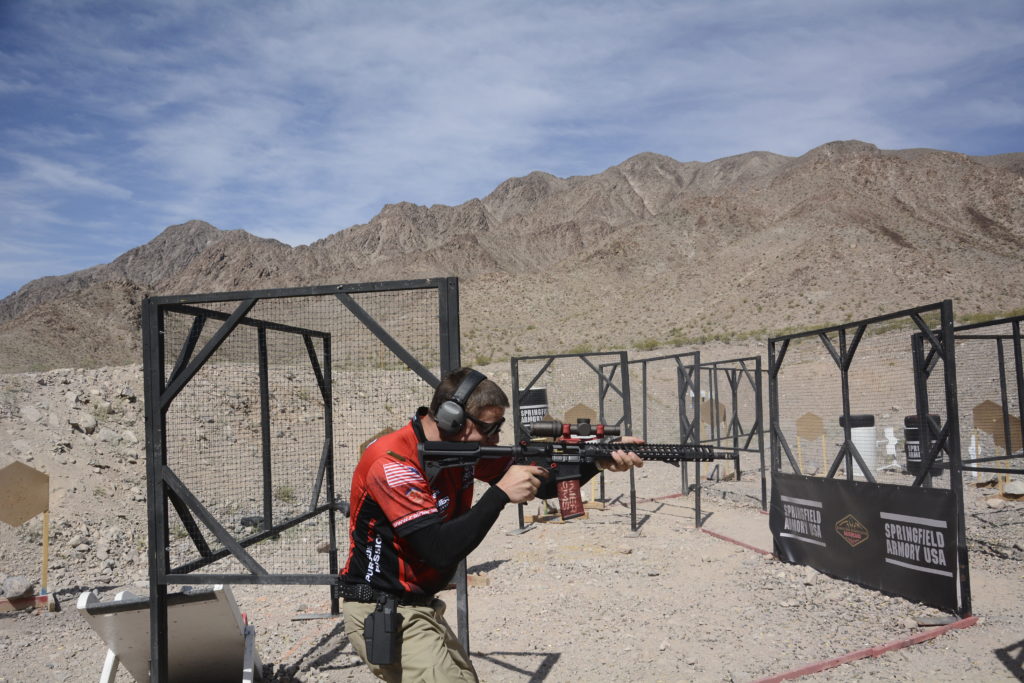 What % is the gear…and what % is the shooter?
Answer:
Your gear needs to run 100% and you need to believe in it. The game is almost entirely mental, but your mental game may need better gear. As the great Patrick Kelly says "if you think it helps, it does."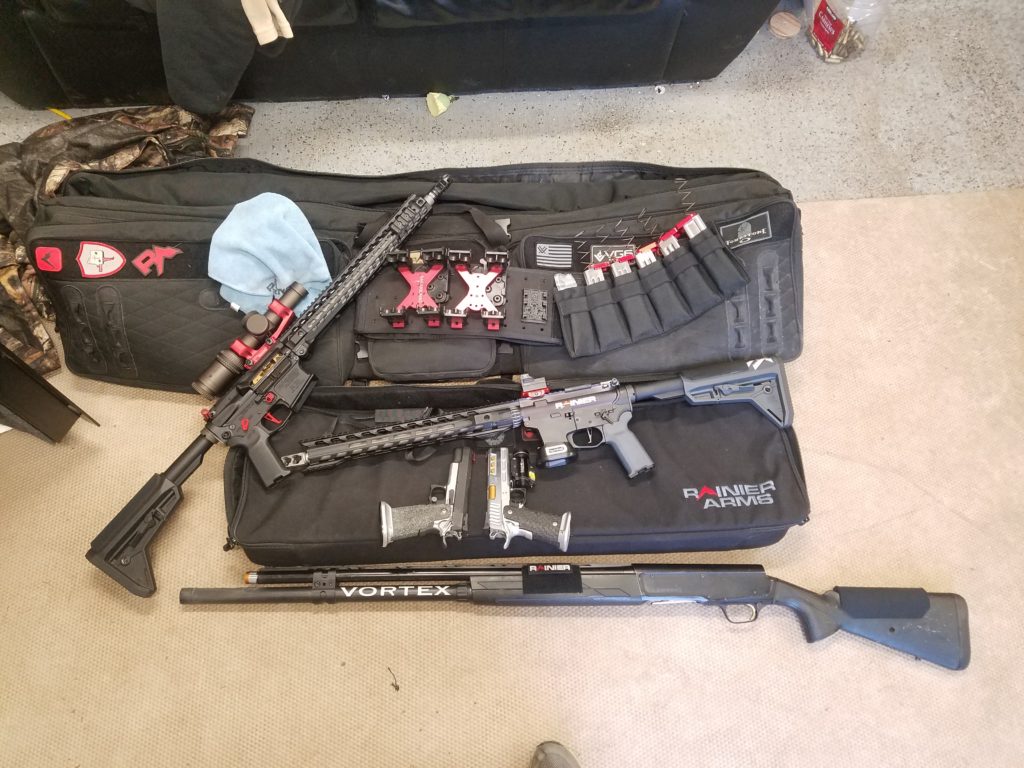 But a stock Glock 34 can also win a major 3 gun match, I've seen it.
What're some of your go-to guns & gear?
Answer:
My competition rifle is a custom Rainier UltraMatch build with a new 16″ intermediate gas Mod 2 UltraMatch barrel, Fortis Switch Rail, CMC 2 lb competition trigger, topped with a Vortex Razor 1-6x.
574
at Rainier Arms
Prices accurate at time of writing
Prices accurate at time of writing
My current go-to pistol is a 9mm 2011 Sight Tracker Akai custom build. My shotgun is a Browning A5 with my own port work and a 12 round Nordic tube. My competition belt is a Safariland rig with an ALS holster and 086 shot shell caddies.
Some of my other favorite gear is my new Vortex Fury HD range finding binoculars, Voodoo Tactical 56″ three gun bag and my Dillon Super 1050.
How much do you practice at home and on the range?  Any specific drills to help our readers?
Answer:
I'm lucky enough to have a range at my house, but I do try to keep the noise down for the neighbors.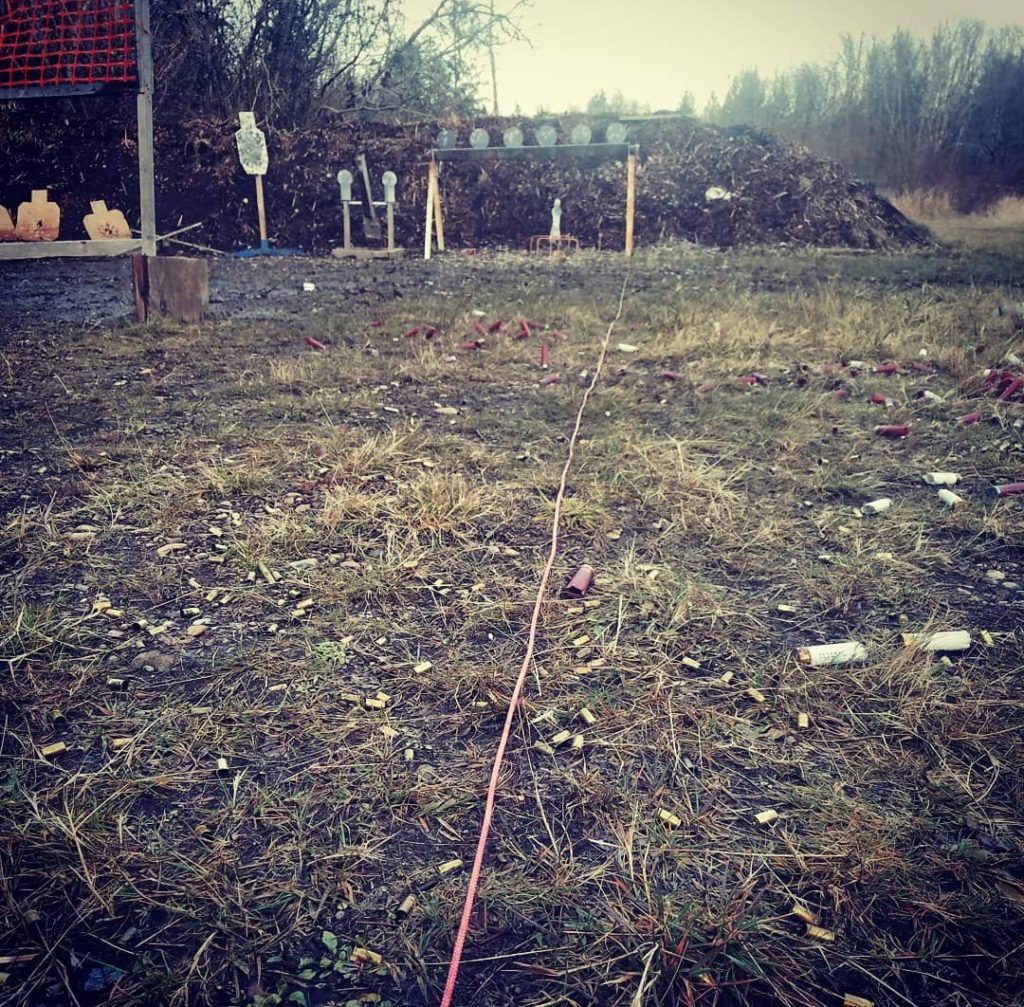 I live fire practice one or two days per week. My dry fire practice is super inconsistent, I'd love to tell you I dry fire every day but can't.
I think the practice should balance improving your weaknesses and your strengths. Your training should end on something your good at, to help build your self-image.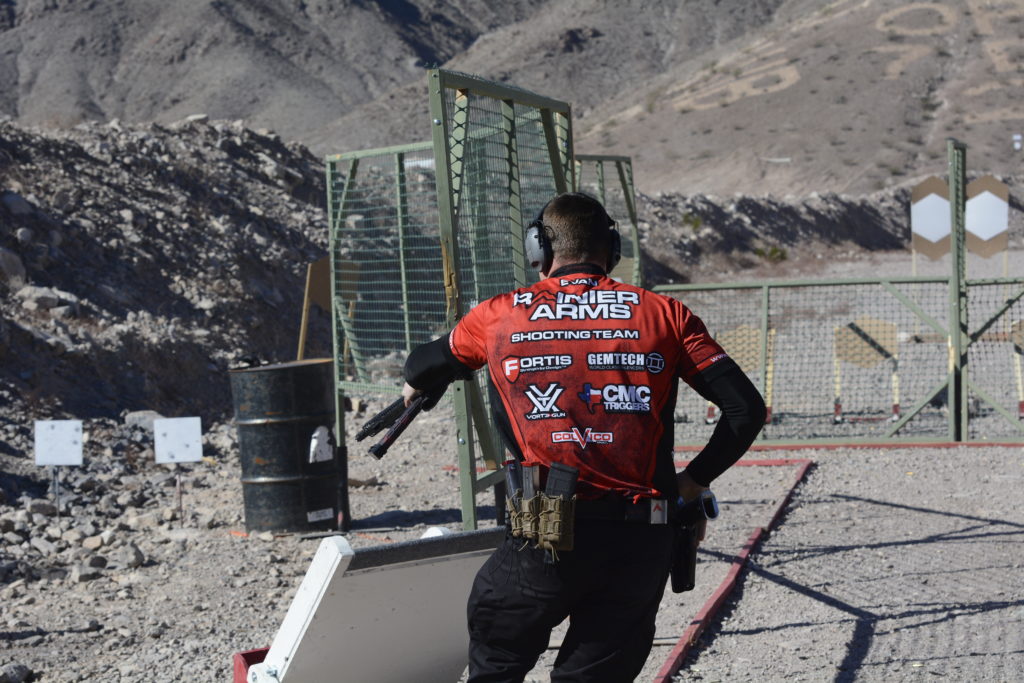 Some of my favorite pistol training is shooting a plate rack at various ranges with hyperfocus on trigger control. It's pretty incredible how poor of a sight picture will get you hit with a proper trigger press.
Any competition match day tips?
Answer:
Visualize, rehearse, and stick to your plan. If you make a mistake or have a malfunction, don't try to get time back, you are already shooting as fast as you can and you will only cause more mistakes. Walk the whole course of fire and find all of the targets, count them.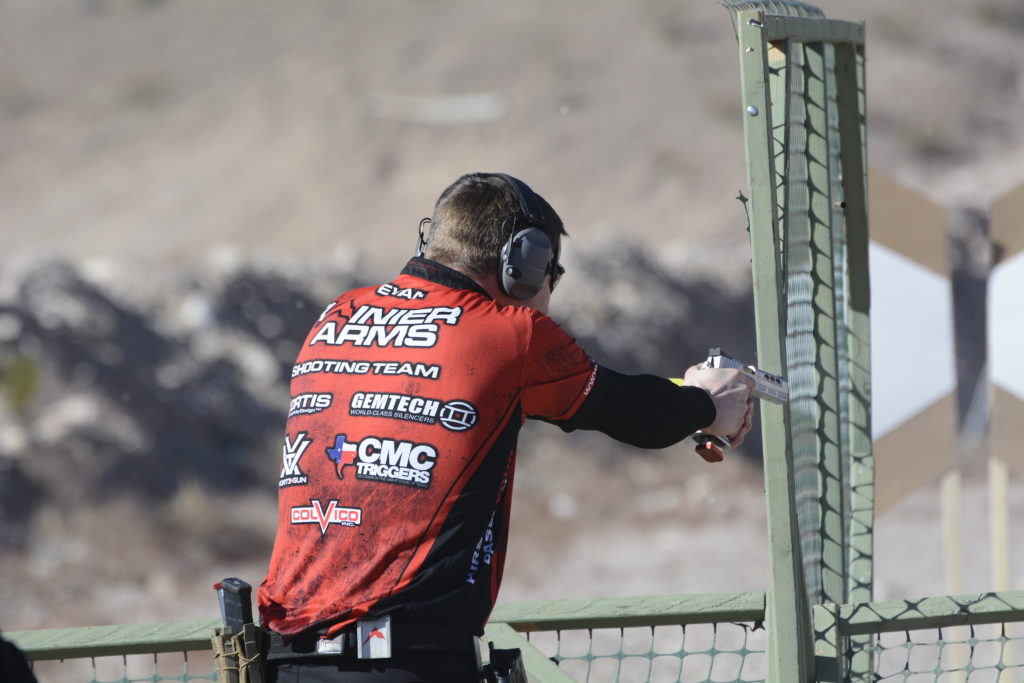 Nothing is worse than the RO telling you that you didn't shoot that target over there.
What advice would you give yourself when you first started competing?
Answer:
Shoot at your own speed.
You will speed up as your skills improve. Don't look at other shooters stage times till after the match, if you set an expectation, a time to beat, you will almost always shoot faster than you can get hits.
Favorite movie with guns?
Answer:
Shooter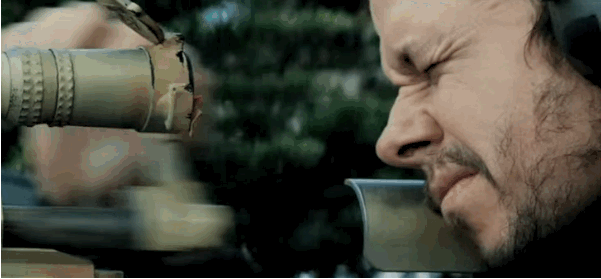 If you EDC, what do you carry?
Answer:
I don't often carry a firearm but usually have a P320 compact in my truck. When I do carry concealed, it is usually an LCP .380 in a pocket holster, not very tactical I know!
My every day consists of a Stream Light Protac 1L-1AA and a Kershaw Leek that often doubles as a wire stripper and small pry bar.
Best For Light-Duty
36
at Amazon
Prices accurate at time of writing
Prices accurate at time of writing
What's a question you wish people would ask you (and answer it)?
Answer:
Why 3 gun?
Two things:
It is the only sport I've found as an adult that has replicated the rush and quiet mind of my sand dune days.

I get to throw really expensive guns.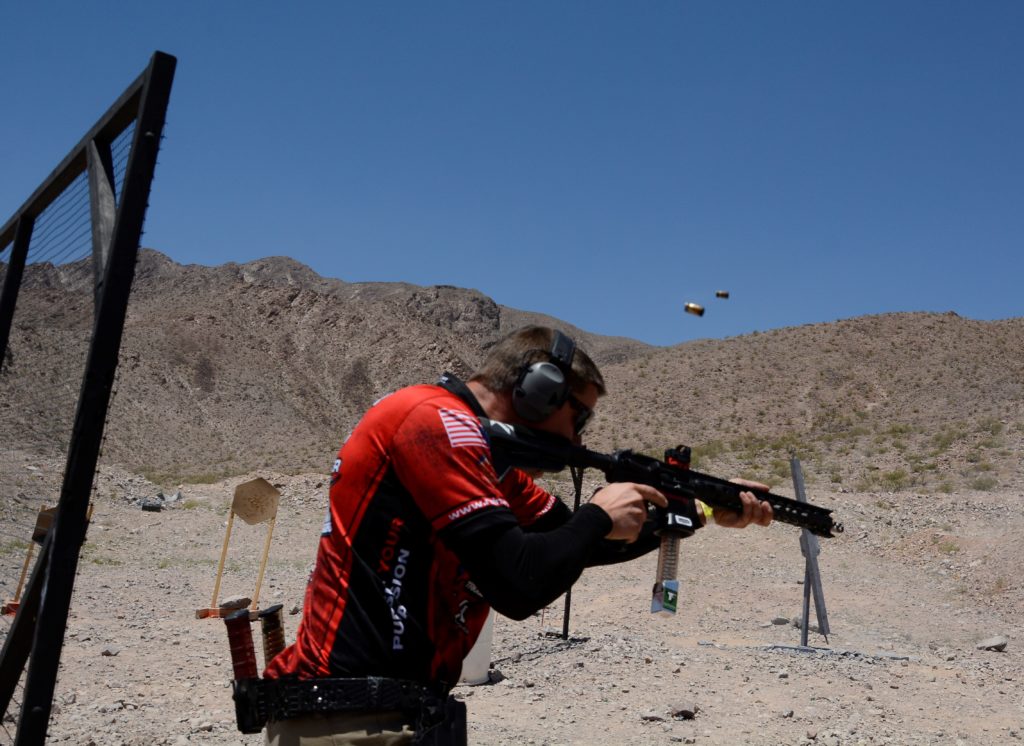 Parting Shots
A big thank you to Evan Tisler and to Rainier Arms for making this interview happen!
More interviews with more professional shooters are coming soon! Got anything you'd like to ask them? Let us know in the comments!