How low should you go for a red dot that will go on a real gun?
The Bushnell TRS-25 has been our go-to recommendation for years as the bare minimum red dot.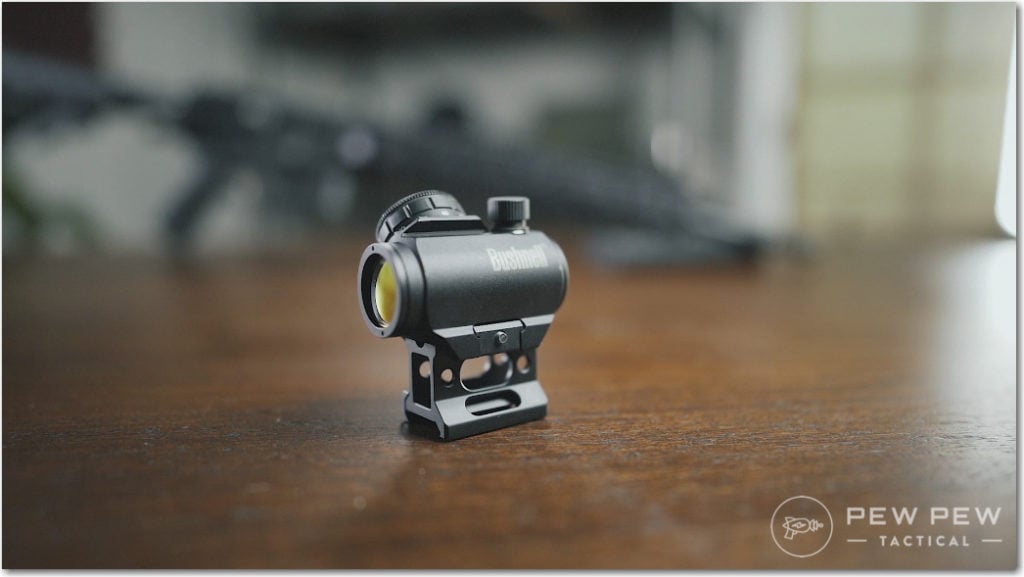 But is it still worth it with a slew of newer optics?
We'll hands-on review the TRS-25 that we've had for years…and that has almost 3000 rounds shot through it. Many in a higher-recoiling AK pistol.
Plus a few view-through videos and of course…a torture test.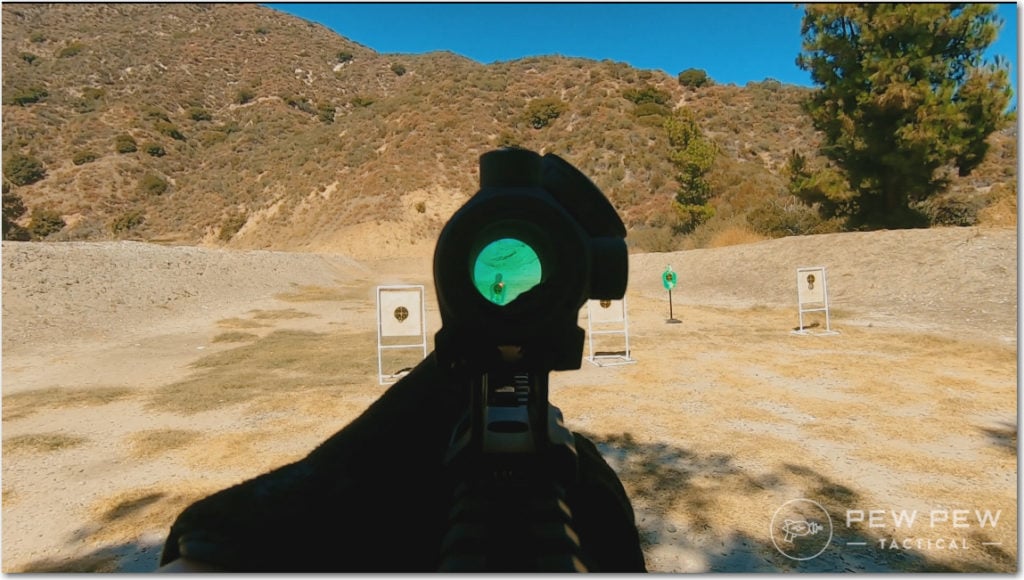 By the end you'll see if it's right for you…or if not…what newer optic is!
Most Affordable Red Dot
64
at Amazon
Prices accurate at time of writing
Prices accurate at time of writing
Table of Contents
Loading...
Why Red Dots?
Since the TRS-25 is a beginner red dot I'd like to quickly go over why you'd even want a red dot vs iron sights.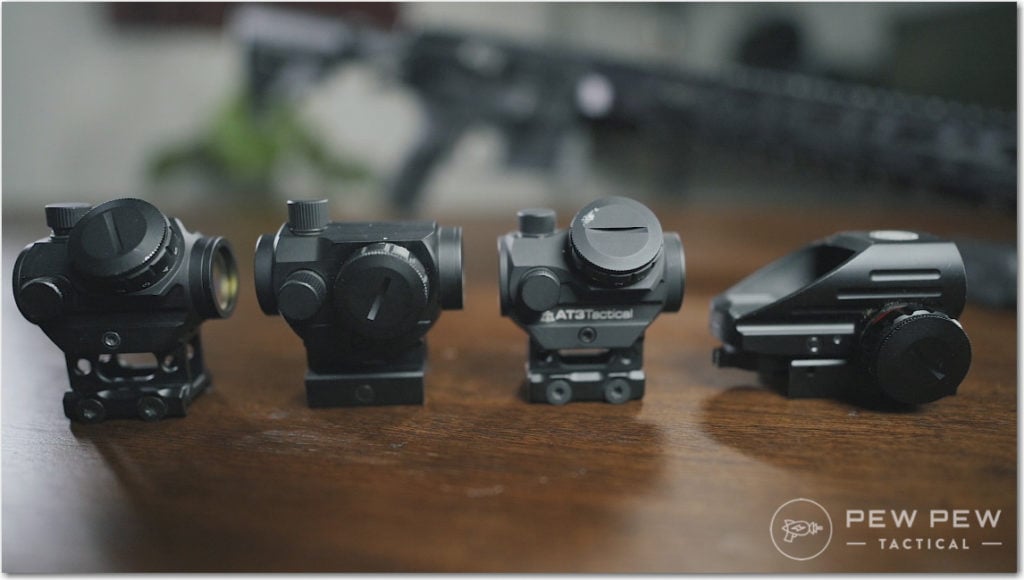 Unlimited Eye Relief: Unlike optical scopes (or even irons) you don't need a specific set distance of your eyes to see the dot
Parallax Free: Move your head around and the dot is still on target
Both Eyes Open: One of the big things…you can keep both eyes open and see more of your surroundings
Co-Witness: Have irons as a backup? You can set it up so you see the dot and irons.
Views Through the TRS-25
Let's just jump into it…how does it look like through the TRS?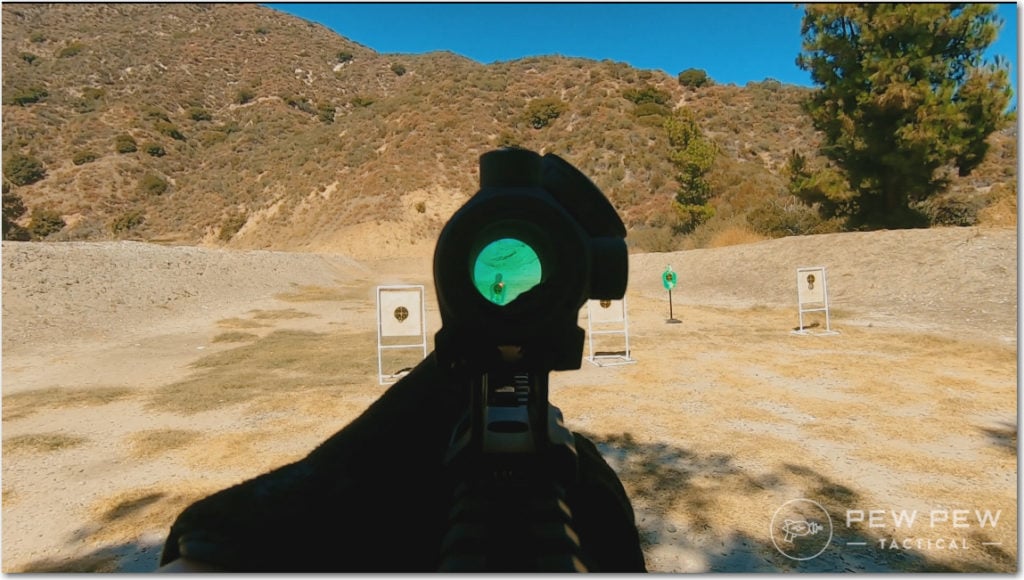 It's pretty green due to the reflective coating from the manufacturer.
However the good thing is once you're running and gunning…you don't really realize it.
But…greener than the competition if it matters to you. Here's the AT3 RD-50 at a slightly higher price range.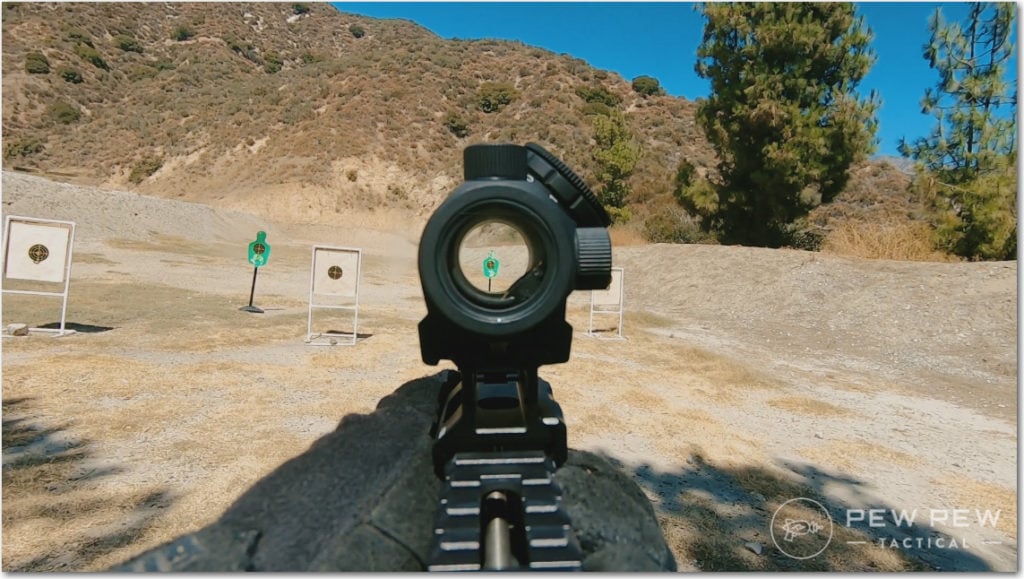 See that glob in the 5 o'clock direction? It's glue that holds in the laser emitter. And it's what you get for "cheaper optics."
You don't escape it in the TRS-25 either.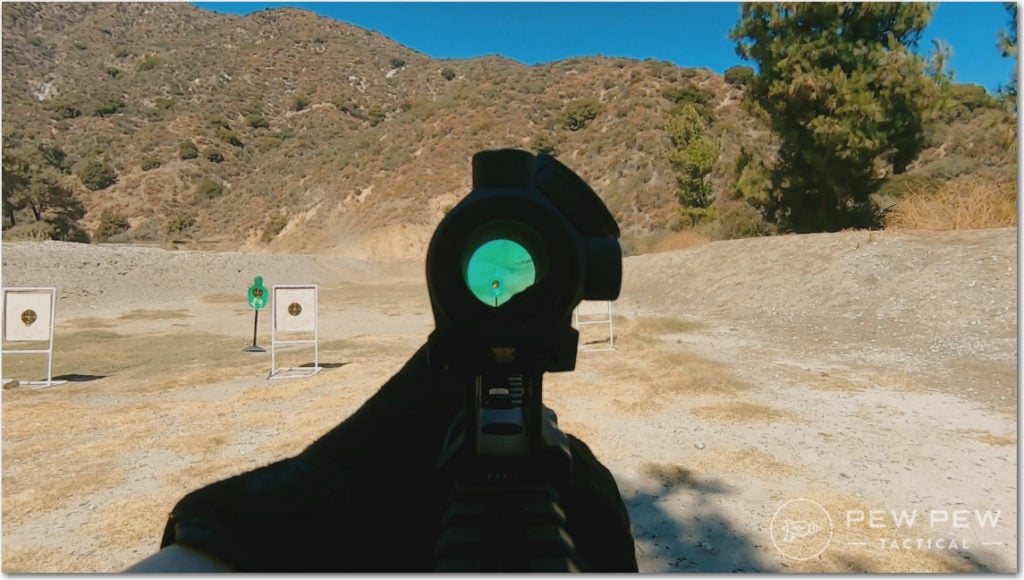 Another thing to keep in mind is that the red dot itself is 3 MOA (minute of angle). That means at 100 yards it will cover a 3-inch target.
Other competitors like the AT3 TD-50 are 2 MOA so it's a smaller dot.
It's personal preference but a larger dot is usually quicker to pick up but might have some detriment if you're going for more accurate shots at range.
How about brightness?
We have the honor of living in the desert so we get to test the max brightness of all tested optics.
And the TRS-25 passes our test.
But note that at the highest levels you might experience some halo effect at some weird angles.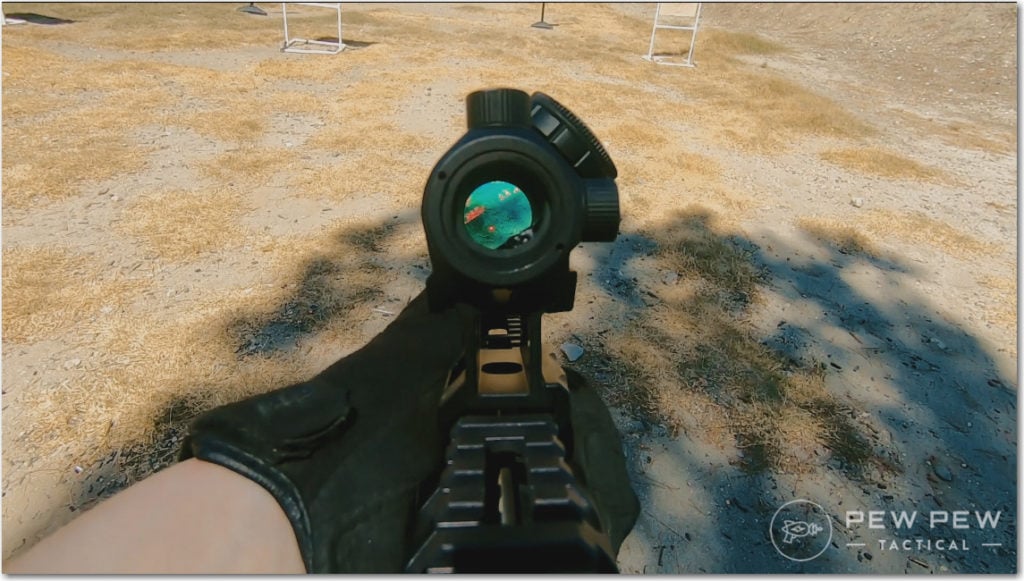 Accuracy & Durability
The TRS-25 has always been great for accuracy.
It holds my guns groups at 50 yards and can ring steel at 100 yards all day long if I do my part.
And for most of its life it has lived on my AK pistol that has much more recoil than an AR's 5.56 round.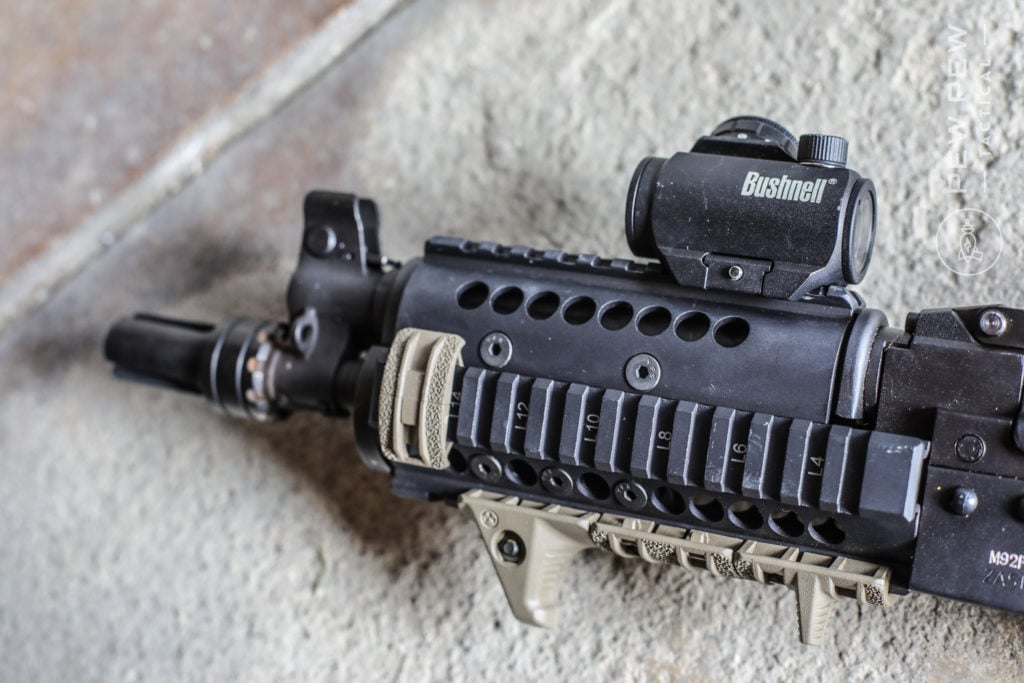 Now…in our Best Red Dots Under $100 article and video…we torture tested a couple red dots.
We dropped the TRS-25 straight onto a rock from waist-high (while attached to a rifle).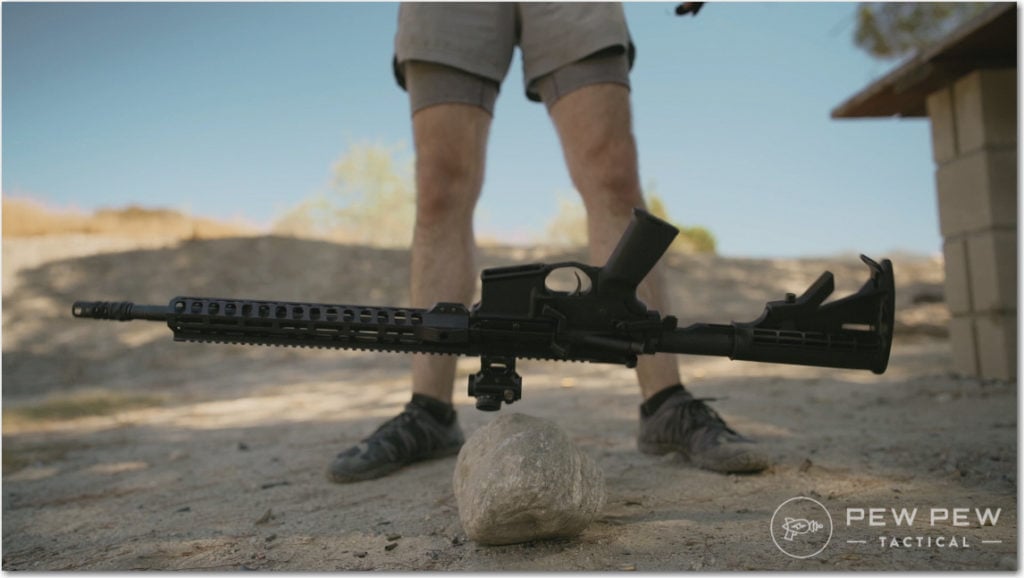 It survived where others didn't with just a little crack on the back glass.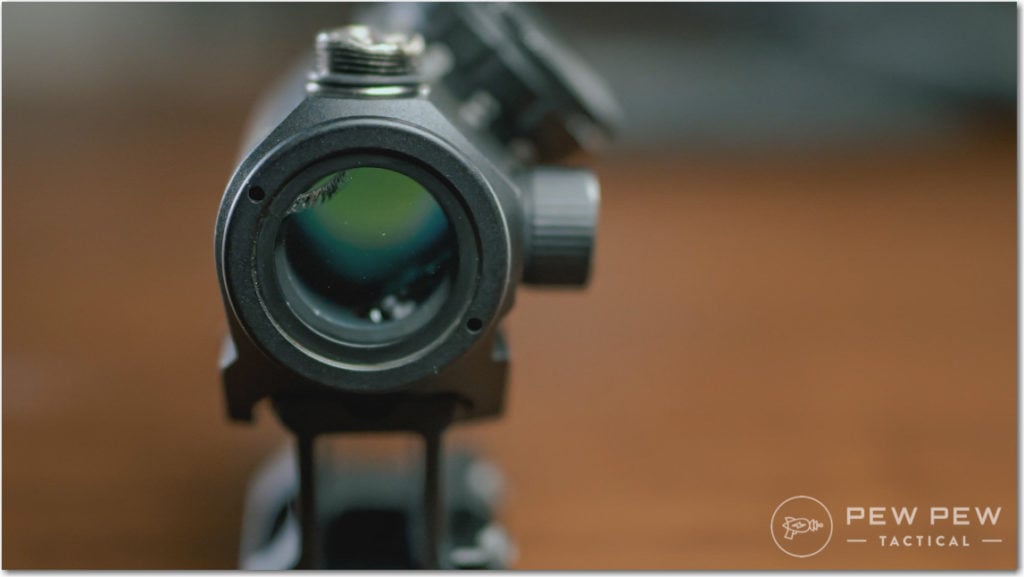 But did have some shift downwards in POI (point of impact).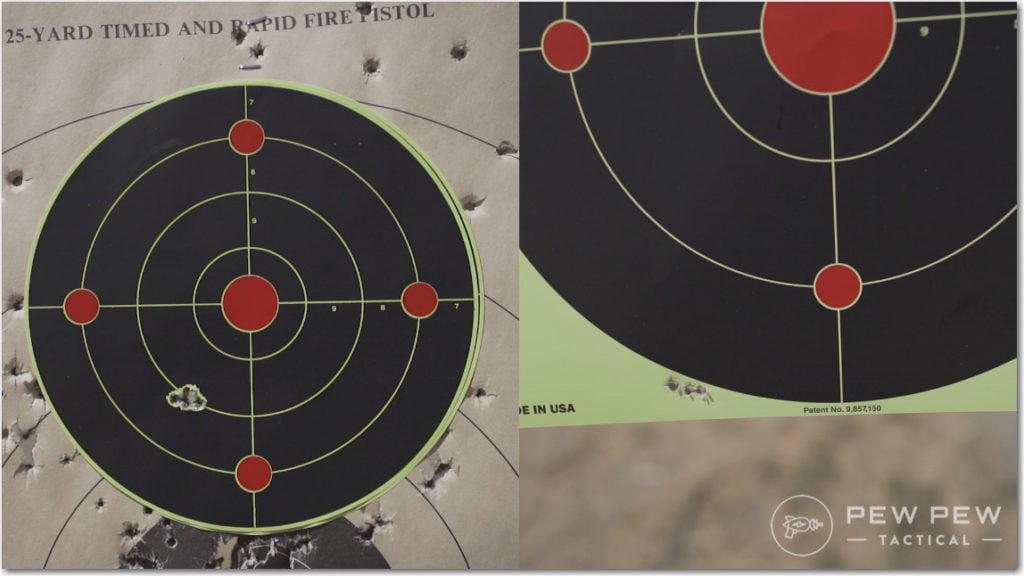 This was due to the fall hitting its top turret adjustment. However, this POI shift would still put you on for torso sized targets.
Not bad for a ~$70 optic!
Ergonomics & Battery
Ergonomics is decent.
I have a pet peeve of brightness adjustment knobs that don't let you go both ways…eg going from off to the brightest and not having to scroll incrementally up.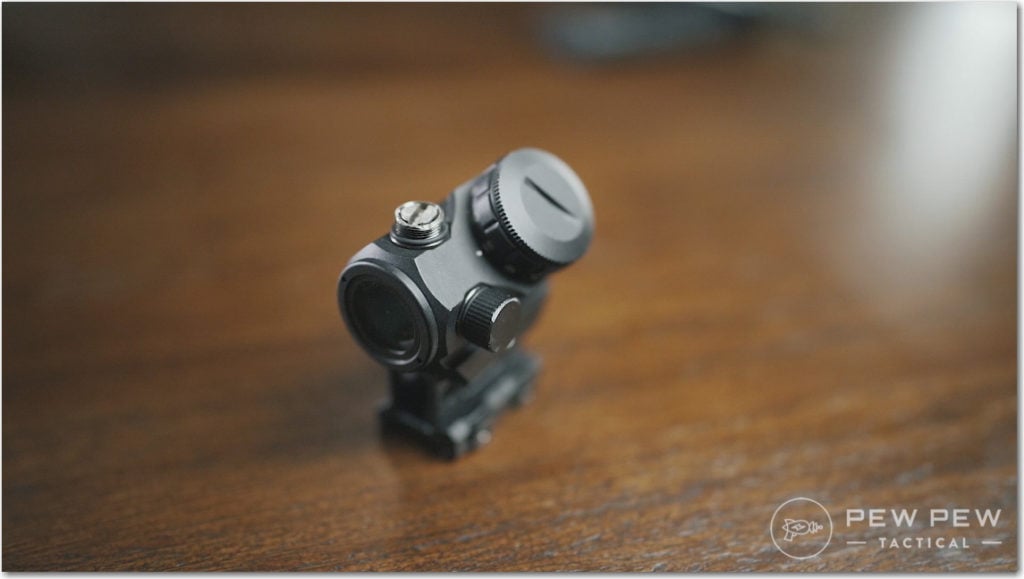 I'm happy to report that the TRS-25 has a nice tactile click to the adjustment knob…and lets you go to max brightness from the off position.
It's the little things!
Now…the battery.
It's not the greatest given some newer red dots in the arena.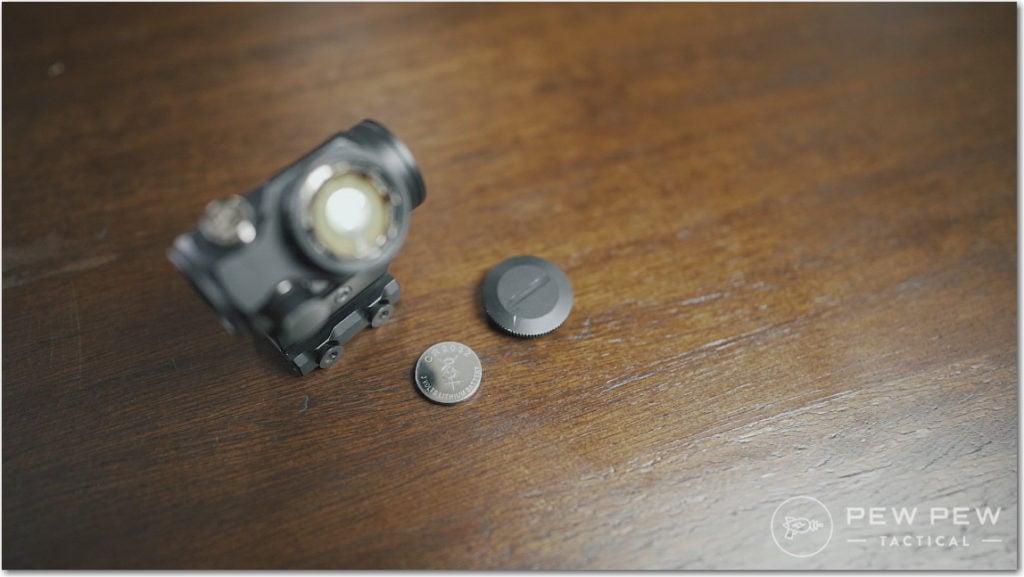 It's around 1000 hours at medium brightness and if you don't use it that much you can probably go 18 months without it draining.
When I was using it decently I had to change it about every year.
Because of the lower hour and draining experience I had with mine…I wouldn't put it on a true duty gun…but rather a range or competition rifle.
Mounts
The earlier iterations of the TRS-25 came with mounts. If you still see the combo…don't get it. Get it solo like the one below.
Most Affordable Red Dot
64
at Amazon
Prices accurate at time of writing
Prices accurate at time of writing
It is terrible and mine broke after one range trip.
You'll want to get a 1″ riser if you want 1/3 co-witness.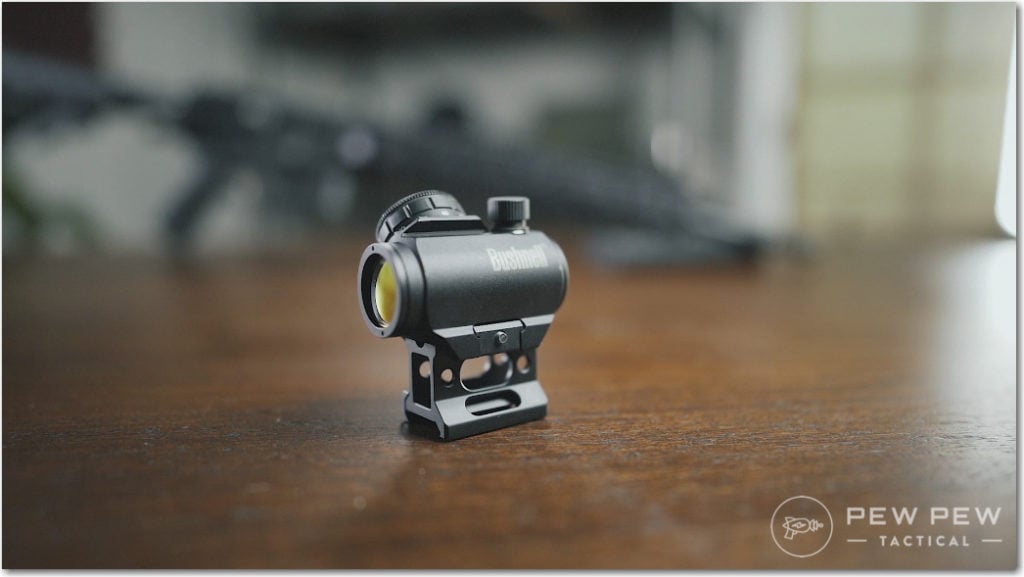 This is my preferred method since irons aren't in the middle of your view…but you can still use them if you want to.
My go-to budget riser that's held zero well is the UTG 1″ Riser.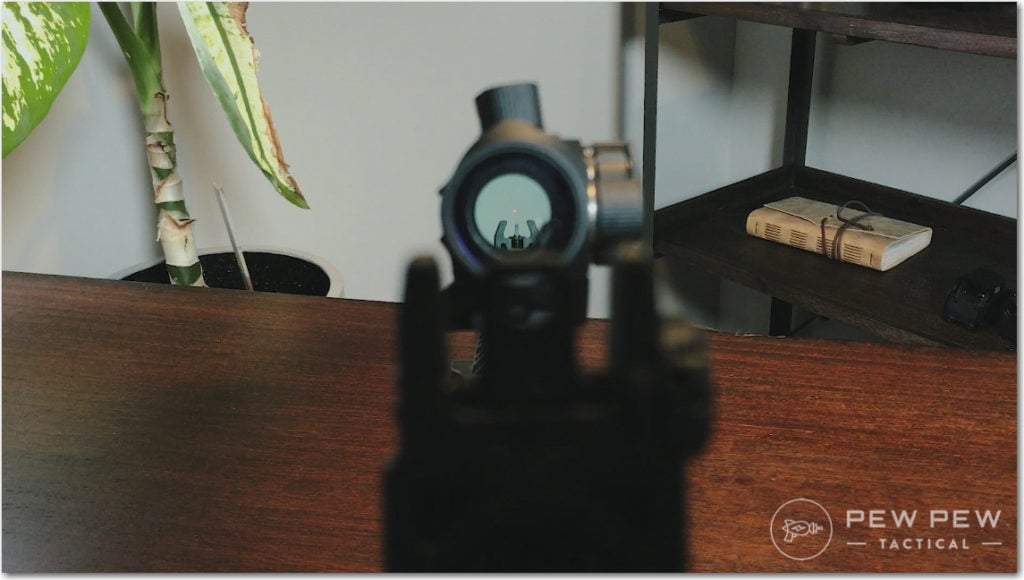 Or go .83″ Riser for Absolute Cowitness.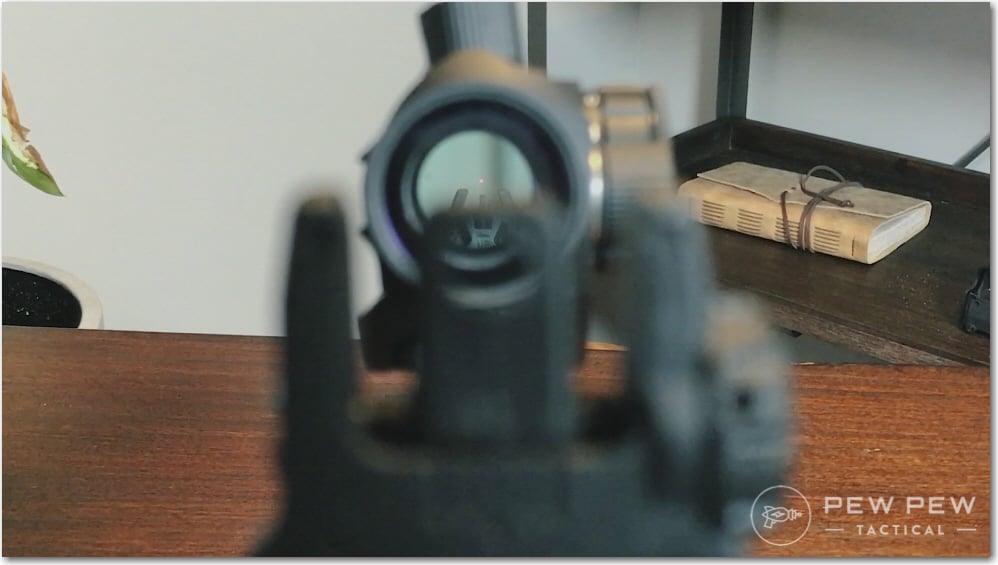 Conclusion
The Bushnell TRS-25 is our go-to recommendation for an affordable beginner red dot that's durable enough for range and competition use. The green hue may distract some but it's ok for the price. If battery life is a big concern you may want to skip it for a newer red dot model.
Right now the TRS-25 is trending around $70 and remember you'll have to add a mount which is around $10-15.
Most Affordable Red Dot
64
at Amazon
Prices accurate at time of writing
Prices accurate at time of writing
If you can spend a little more and want robust battery life…I'd go with the AT3 RD-50 mentioned before which comes with a mount and 50,000 hour battery life!
99
at Amazon
Prices accurate at time of writing
Prices accurate at time of writing
Check out more of our affordable red dot series in Best Red Dots Under $100 or ball it up a little to duty-rated stuff in Best Red Dots (Pistol & Rifle).