It's that time again!
This year we have over 40+ stores and exclusive Pew Pew Tactical deals!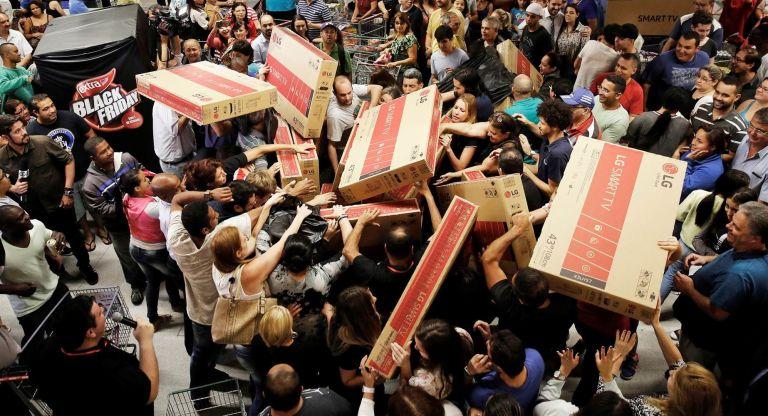 Black Friday is over but we'll be updating this article every few hours from now until the end of Cyber Monday, so check back often!
Also be sure to check out our Holiday Gift Guide which is full of the best stuff 2019 had to offer.
Table of Contents
Loading...
Sales are still rolling along at PSA! Cyber Monday is here and most of the awesome Black Friday deals are still valid.
Plus we got some new deals too!
Uppers, lowers, optics, ammo, magazines! Here are some of the best deals we saw – but take a look for yourself to find it all!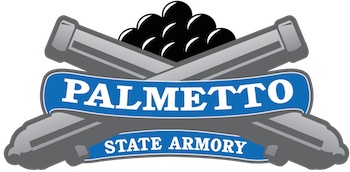 PSA AK-V 9mm AK style PCC is in stock and on sale for $760! Comes with a SBA3 brace.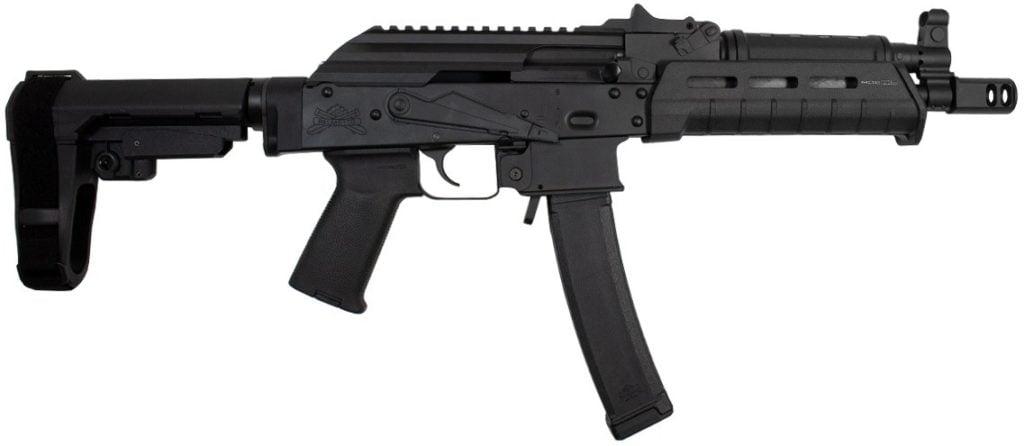 Need something harder hitting? Grab the PSA AK-P Gen 3 with Classic Triangle Side Folding Brace for only $720! Awesome little 10.5″ barrel 7.62×39 AK.

Geissele AR-15 Airborne Charging Handle for only $50! Huge sale for a great charging handle.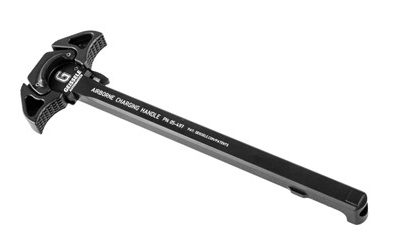 Build yourself an M16A2 clone with the PSA 20″ A2 Freedom Rifle Kit – $380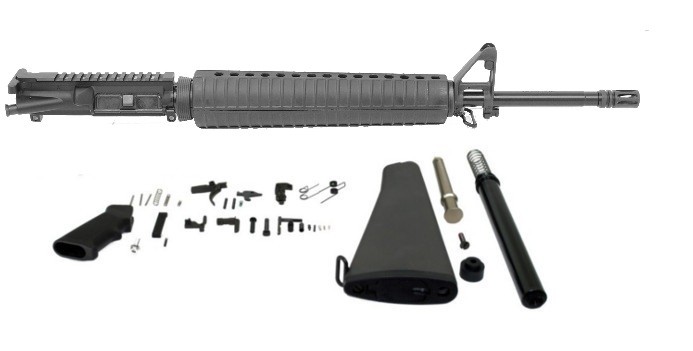 Or go big with a PSA Gen 3 PA10 20″ .308 Win Rifle Kit for $530!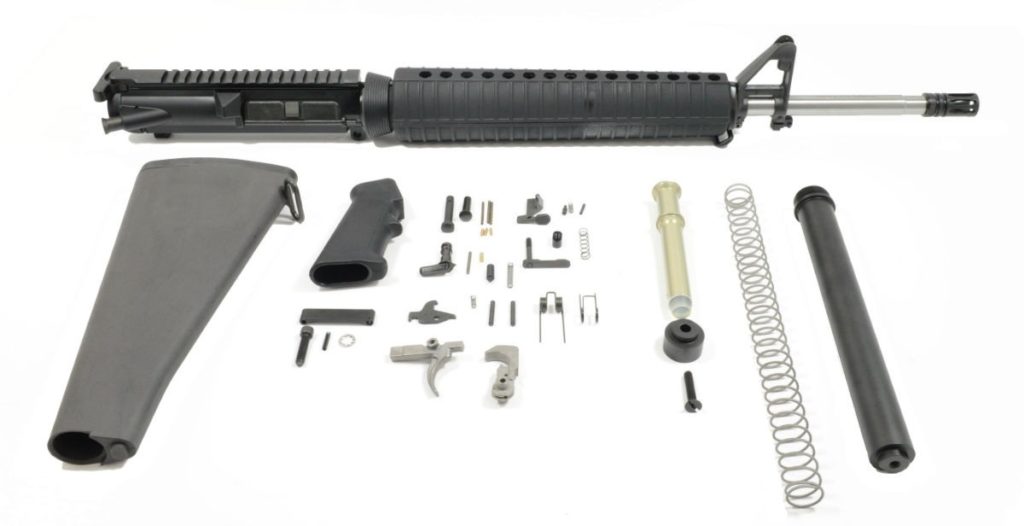 How about ammo?

Get 2+ packs of ammo and qualify for a huge rebate from Federal!
That brings the price per round on 12ga 00 Buck, 9mm, .45 ACP, .380 ACP, .22 LR, and .223 Reming to the absolute lowest we've seen this year!
Federal 115gr 9mm, 250 round box, 14 cents per round after MiR!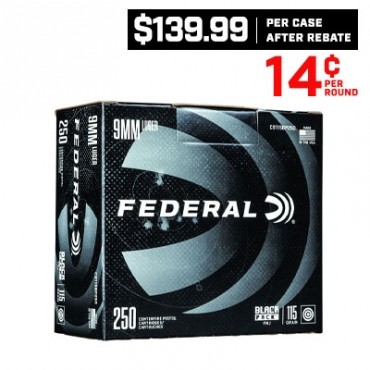 Federal .22 LR 38gr CPHP, 1,100 rounds, 3 cents per round after MiR!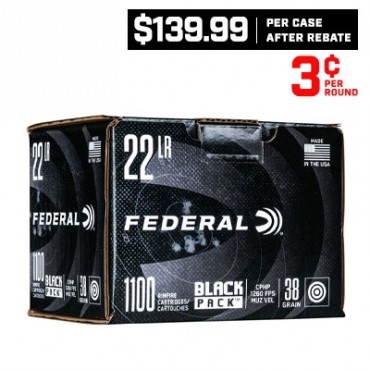 Federal .45 ACP 230gr FMJ, 150 rounds, 25 cents per round after MiR!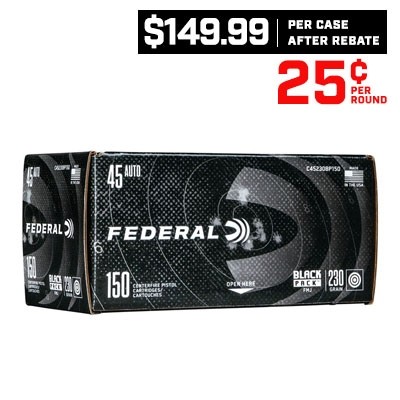 Here's a couple of our non-ammo favorites from PSA's Black Friday sale!:
PSAK-47 GF3 for $519 (normally $799) (out of stock now)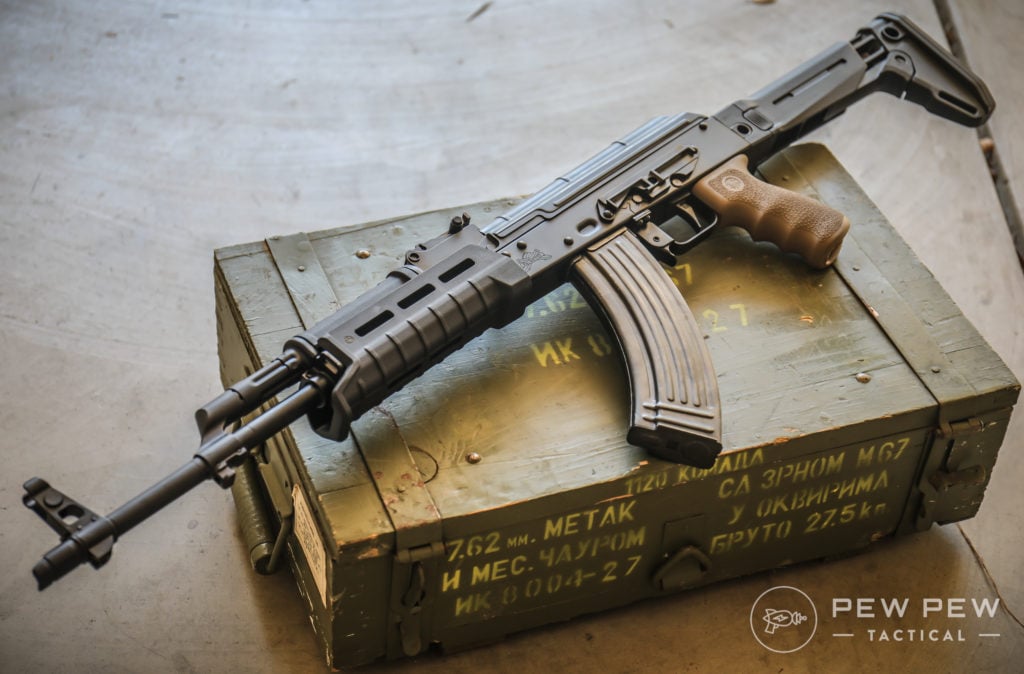 One of the best US-made AK's you can get. Full review right here.
Gen 3 PA-10 Complete Lower for $159 (normally $249)
The newest generation will fit more BCGs but is still propriety to PSA uppers…which now have adjustable gas blocks. We've got our hands on one and so far so good!
Vortex Strike Eagle 1-6x and Vortex Mount for $249 (normally $389)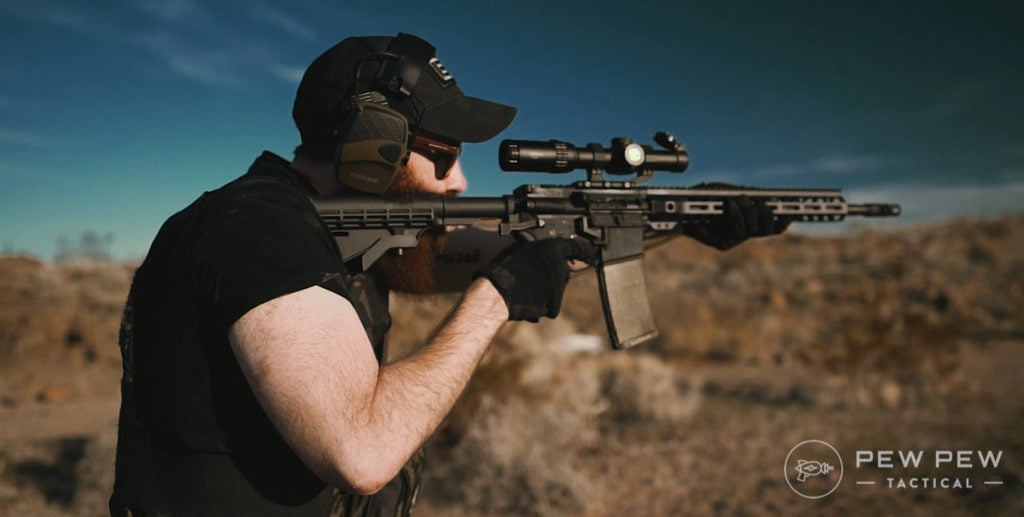 One of our favorite 1-6x low power variable optics now with a crazy deal that comes with a mount. Our full review here.
PSA 10.5″ Shockwave Pistol Kit for $329 (normally $559) (out of stock now)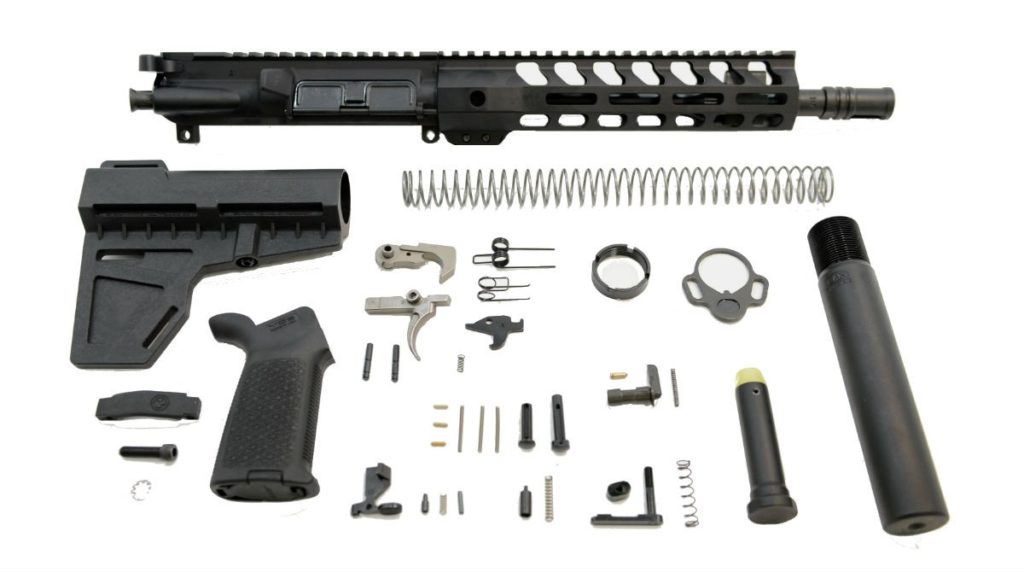 If you're thinking of an AR pistol…this is a SWEET deal. Add in a $49 stripped lower and you're GTG.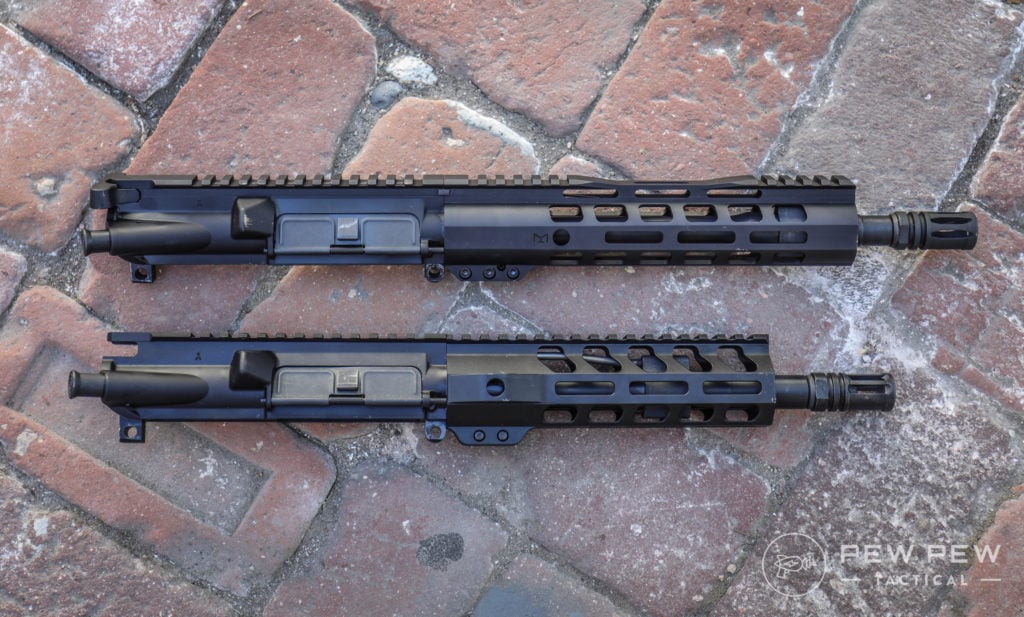 I'm a fan of the 10.5″ version after pitting that against the shorter variants in our full review.
The following Monday (the 25th) will start a huge Federal ammo sale! Don't forget to check back then for the best deals.
We'll keep updating too since it's only just begun. Find all of the PSA Black Friday deals Here!
Aero Precision has some of the best AR-15 Uppers and Lowers, and AR-10 stuff around.
Cyber Monday is HOT at Aero Precision this year, complete lowers for a crazy good deal!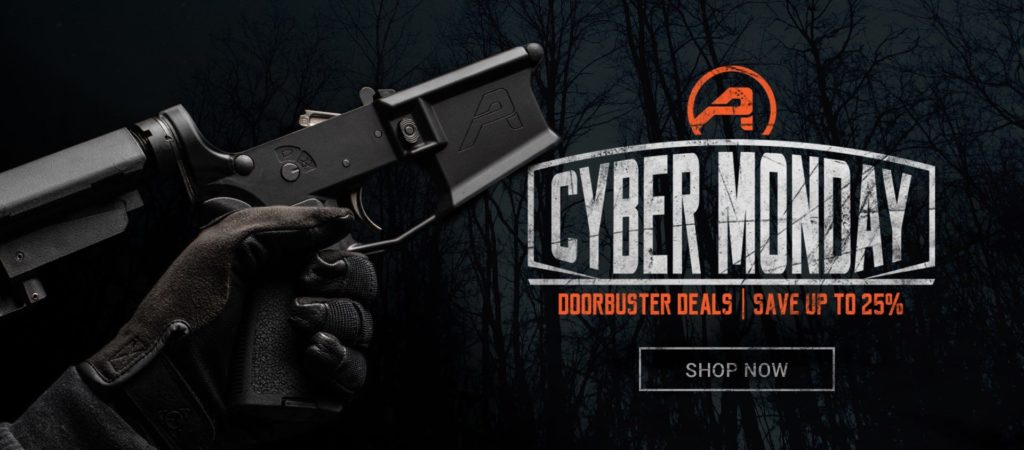 Complete Aero M5 .308 Win Lower Receiver – $200!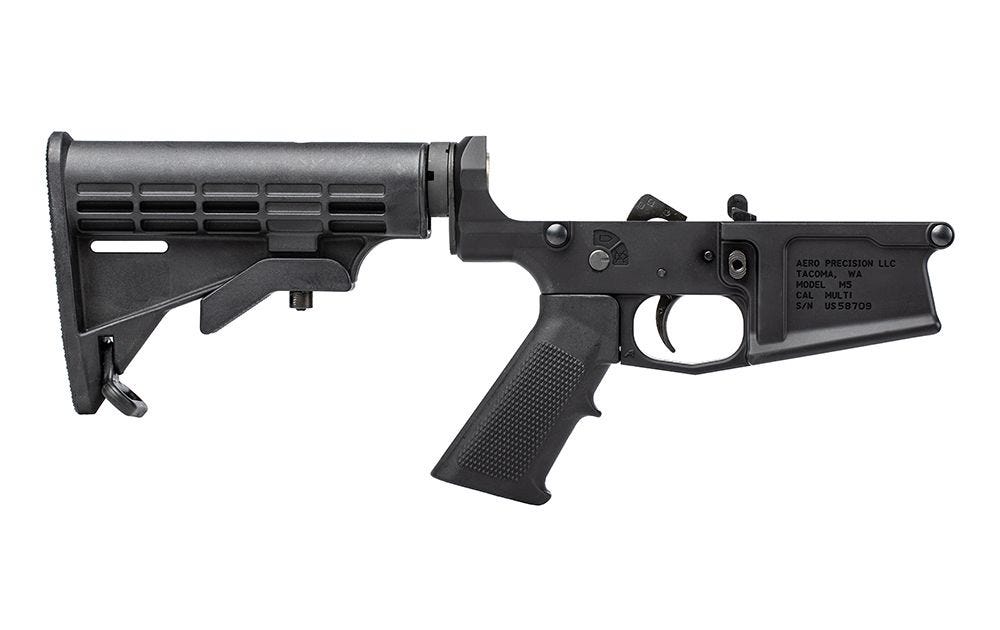 Complete AR-15 Lower – $150!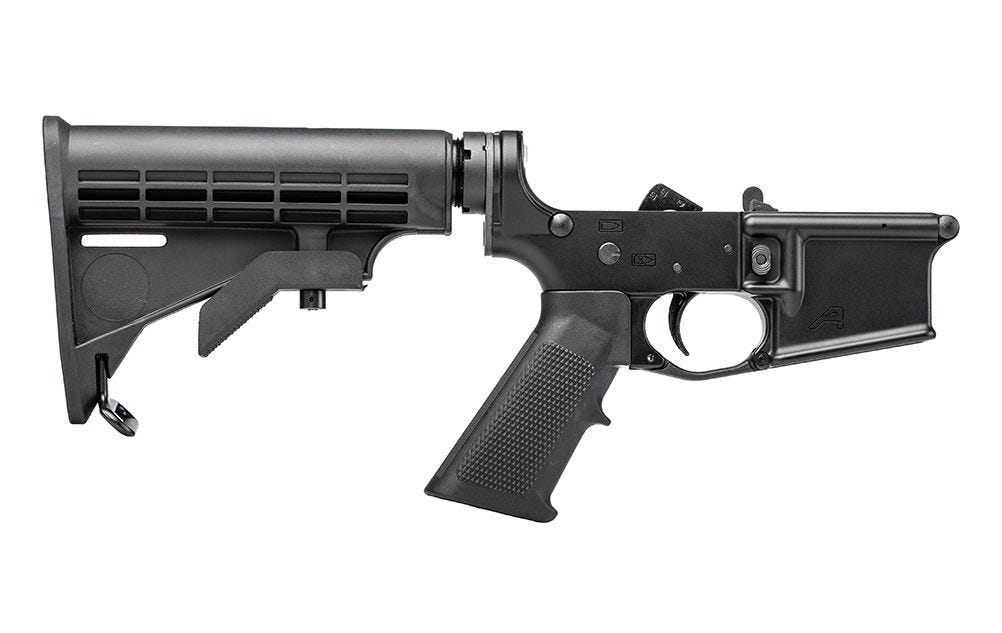 Versions of these are also available with upgraded triggers, check it out!
Get 25% off all VG6 muzzle devices, 20% off stripped lowers, stripped/assembled uppers, scope mounts, complete uppers/lowers, handguards, and combo sets, 15% EVERYTHING ELSE!
They have a lot more on sale, take a look!
We really like their stuff. Full review of their M4E1 series here.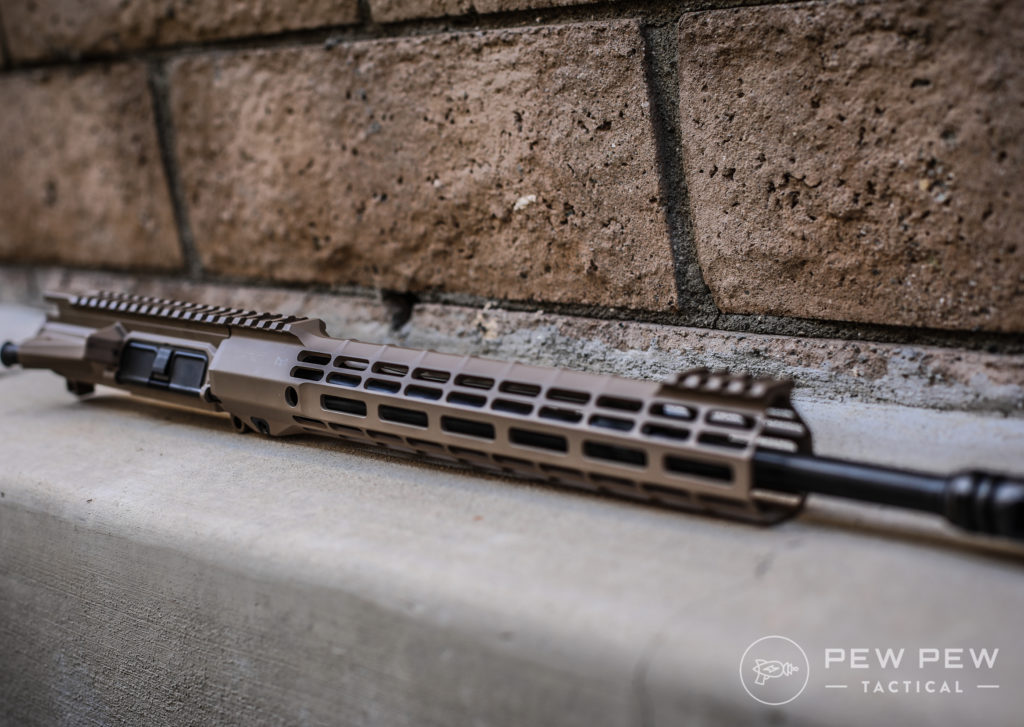 It's here!
The Cyber Monday sale is mostly the Black Friday sale, but with an even BETTER coupon code!

Two awesome coupon codes also:
12% off orders $49+ with code "WBN"
13% off + Free Shipping on orders $49+ (Brownells Edge Members only) with code "WBP"
If you haven't looked at Brownells Edge before, now is the time! For $50 per year, you get FREE 2-day shipping, special deals and discounts, and no FFL free on firearms from Brownells!
Here are some of the best deals we've found:
Hornady American Gunner 6.5 Creedmoor 140gr – $40.50 per 50-round box (81 cents per round!) w/ code "WBN" This is one of the best prices I've ever seen on this ammo, stock up!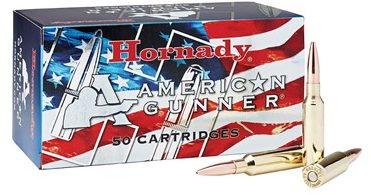 Magpul PRS Gen 3 Stock – $177 w/ code "WBN"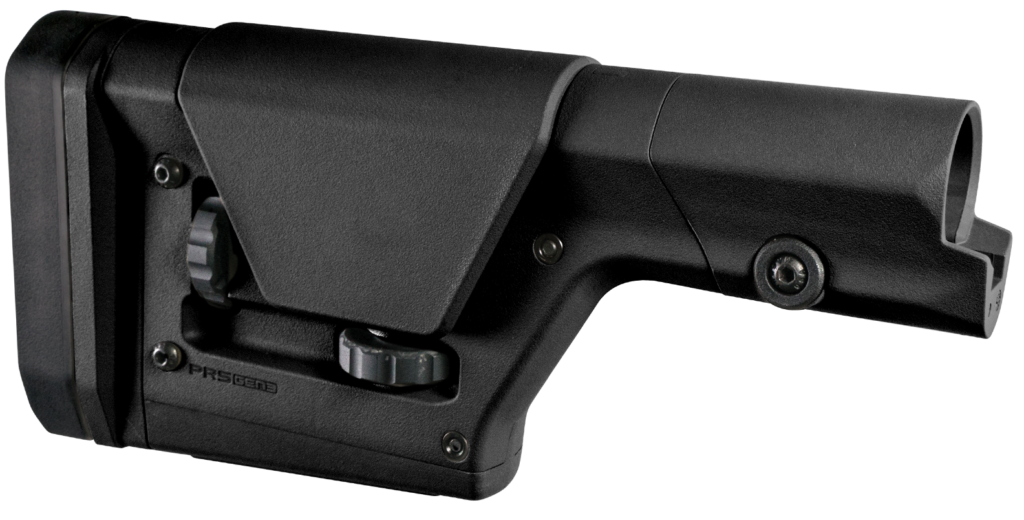 We have reviewed a lot of AR-15/AR-10 stocks and the Magpul PRS Gen 3 is our top pick for precision shooting. It's solid, adjustable, and amazing. Highly recommend it!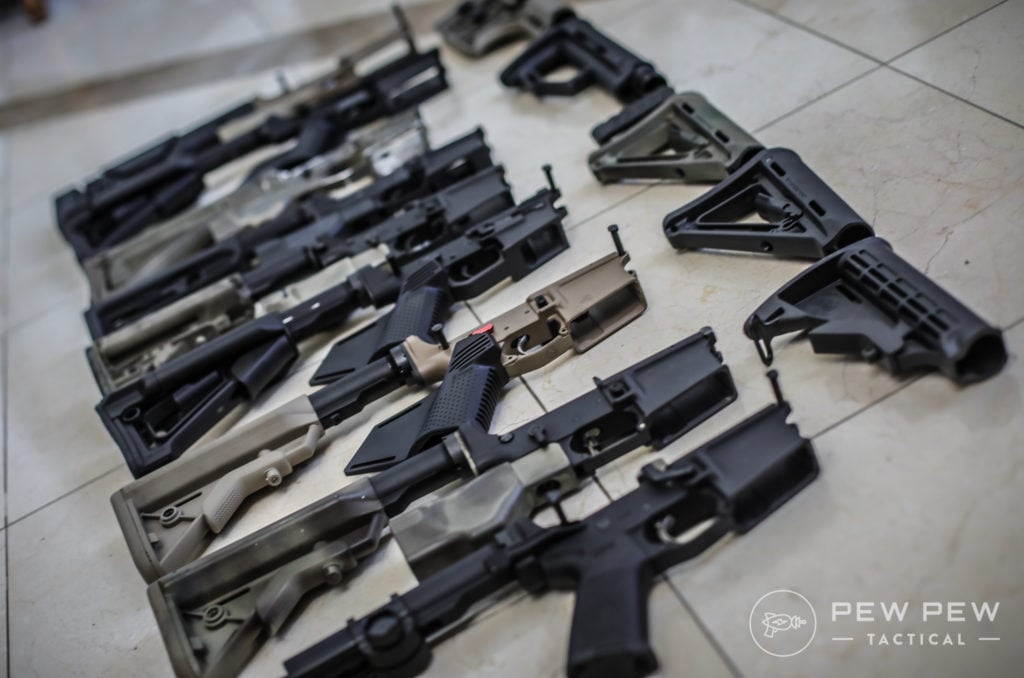 Aero Precision M5 AR-10 Stripped Lower – $88 w/ code "WBN"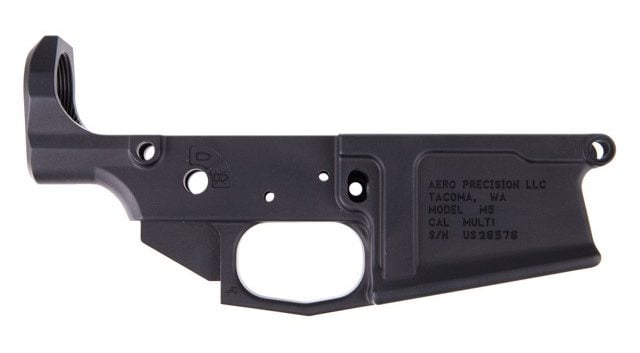 Aero M5 AR-10s are top of the line for their price. We love them, and so will you! Building your own is a lot like building an AR-15 but upsized a bit. At this price, you might want to do one in .308 Win and one in 6.5 Creedmoor!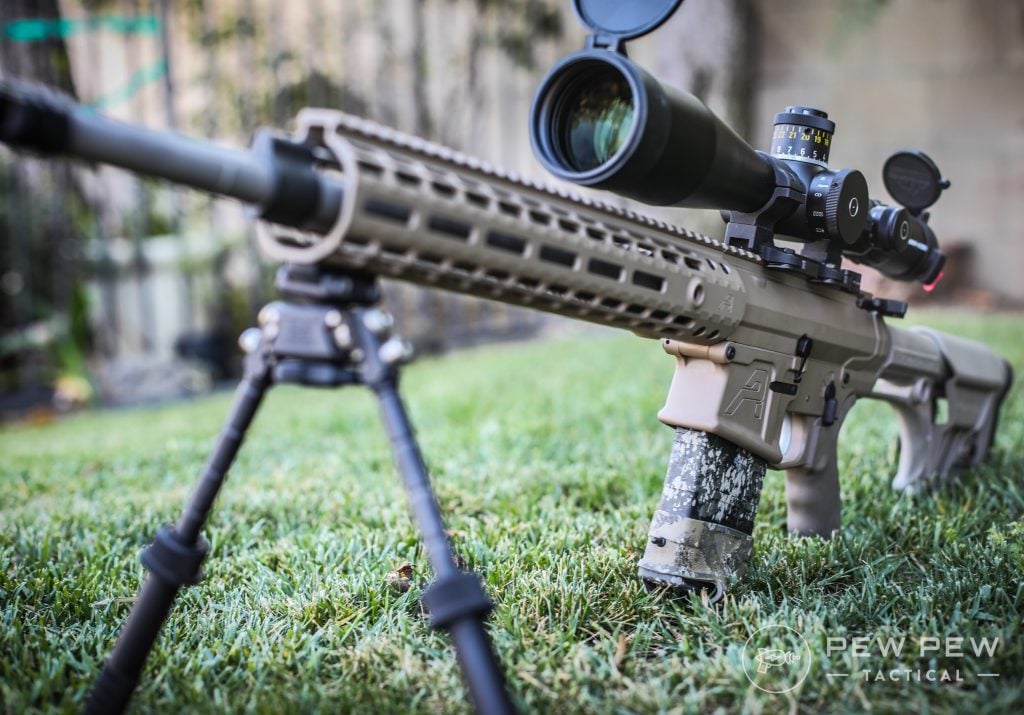 Brownells Exclusive Geissele Enhanced AR-15 Triggers – $133 w/ code "WBN"!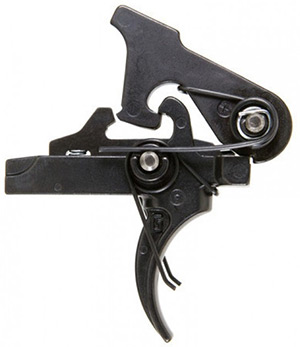 Looking for a really awesome Christmas gift, take a look at Brownells Retro line of AR-15 and AR-10s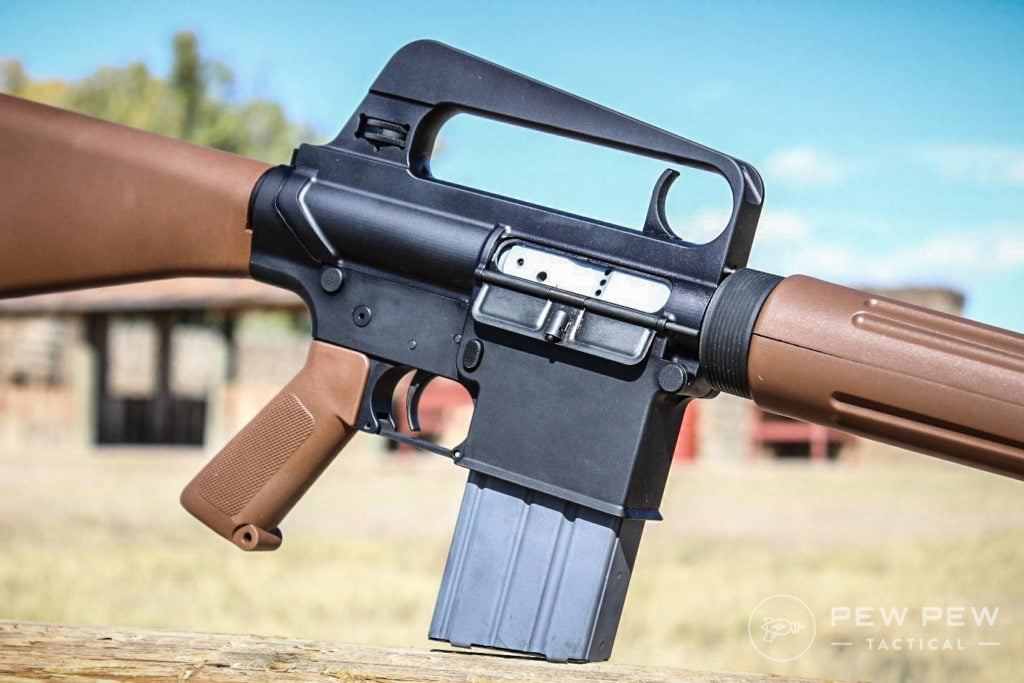 Colt is exiting the civilian AR market…so now you can snag their LE6960 upper for $450 with code "WBN"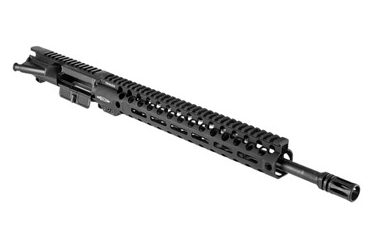 See all the rest of Brownell's Black Friday Deals here.
Black Friday sales are live and still active as of Sunday.
Get a Bravo Company Complete Lower Receiver [blem] for $290! $50 off a BCM lower is a GREAT deal.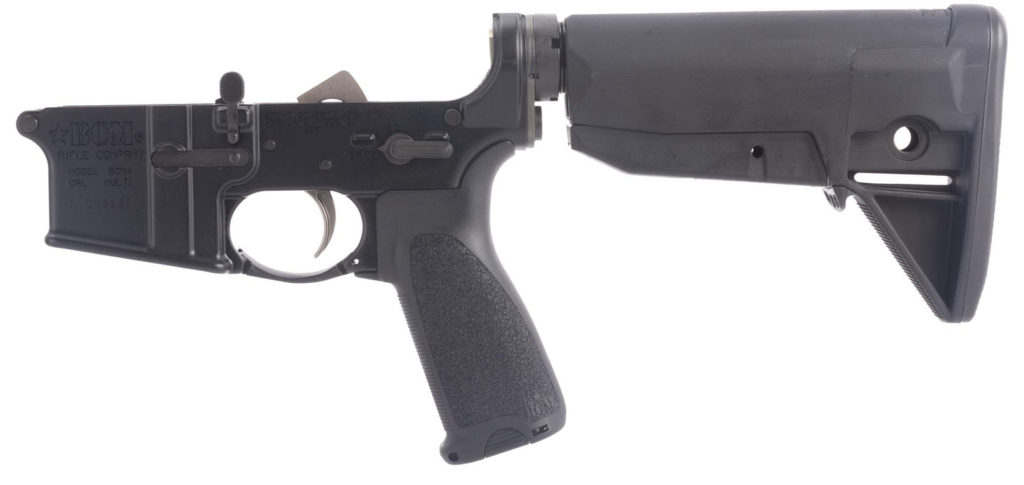 Select Primary Arms scopes are on sale for MAJOR discounts!
Grab an SLx 2.5x32mm Compact Prism Scope with ACSS CQB Reticle for only $120!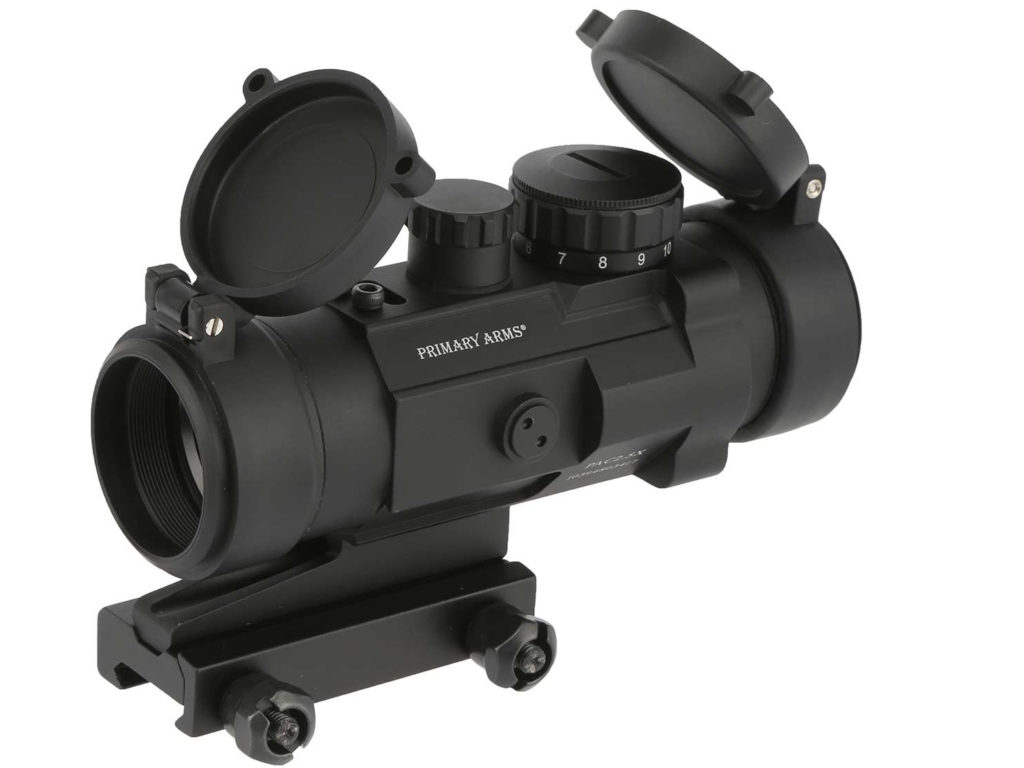 Get Magpul D-60 Drum Magazines for 5.56 NATO AR-15 for $95!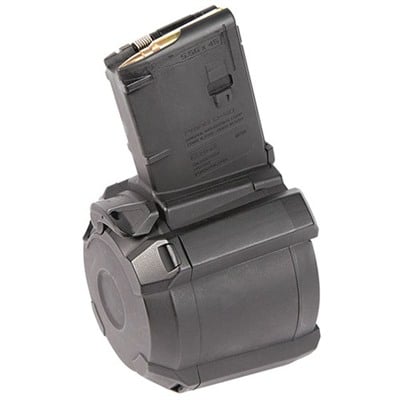 VG6 Prevision Brakes are on a HUGE sale starting at $34! This includes both Gamma and Epsilon models in 5.56, 7.62, 6.5mm, Slim, .300 Blk, AK, and more!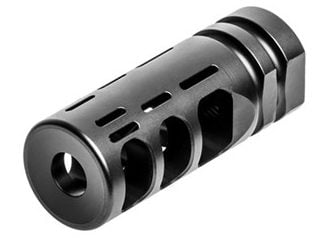 Need to feed your AK? Magpul AK 30-round magazines are on sale for only $11 each!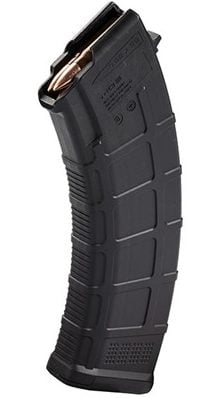 Awesome deal on an EOTech 512-0 Holographic Sight! $280 after Mail-in Rebate!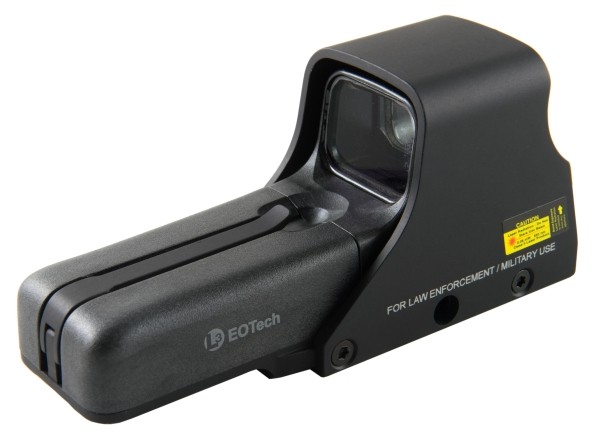 We've reviewed some of their scopes before and really like them, keep an eye out for some great deals coming this Black Friday!
80% Arms (Receivers & Jigs)
Our favorite AR-based 80% completion jig is the Easy Jig 2 from 80% Arms.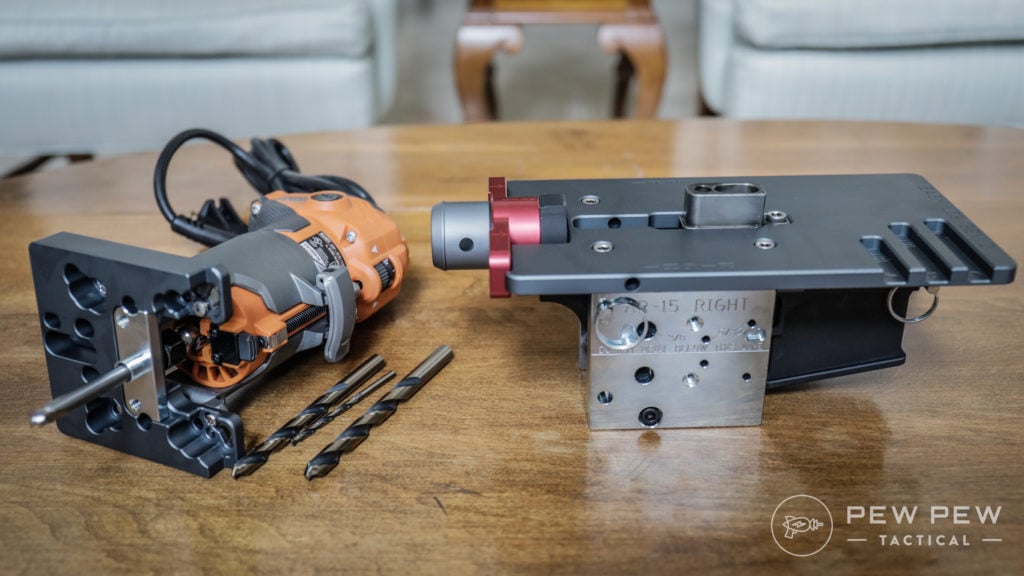 No need for a mill or even a drill press. Just a wood router and power drill.
And now they have 15% off everything with code 2019BF15 through Tuesday 11:59 PM…but don't wait!
Check out our full review of it in action plus our overview of the Best 80% AR-15 Receivers & Jigs.
250
at 80% Arms
Prices accurate at time of writing
Prices accurate at time of writing
Last year there were a few good deals on hearing protection and ammo cans, and of course all of the awesome Amazon products.

Here's some great deals on their Kindles/Echos/Fires and other electronics:
For gun/tool related stuff they now have: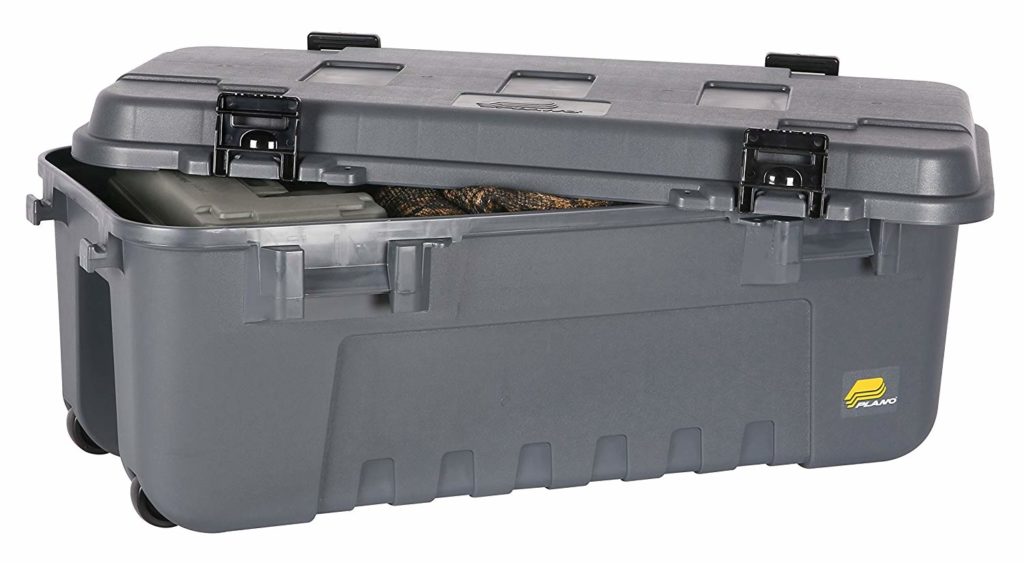 We'll keep updating through Cyber Monday…but here's all their deals so far.
15% Site Wide Savings and Free Shipping for Black Friday through Cyber Monday!
We might see even better deals this year since Stag recently announced they plan on moving their company from their home state of Connecticut to the more gun-friendly state of Wyoming.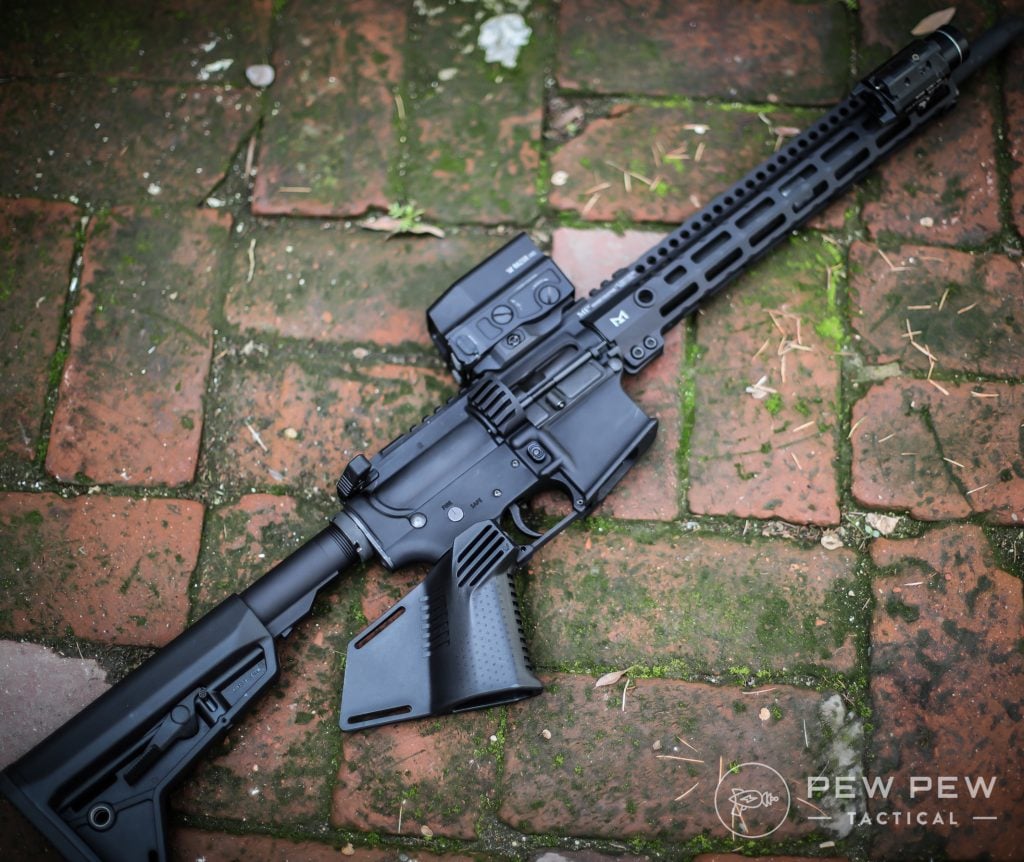 If we're lucky, maybe Stag Arms will have some blow-out sales this Black Friday to reduce what they have to ship during the move!
The BIG Black Friday sale is back on at Rainier Arms and still active!! If you're looking for top-tier gear then now is the time!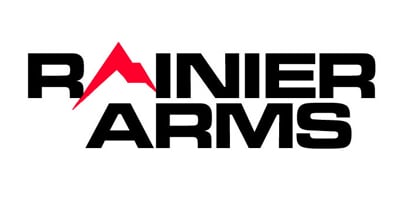 Two awesome deals are the Devil Dogs Hard Charger Side Charging Conversion Kit and the Killer Innovations Glock Compensators BOTH are only $105 each!
We'll have a full review of the Devil Dogs Hard Charger soon, but for now we can already say that we really like it. If you're looking to turn your AR-15 into a side charging upper, this is an awesome system for making that happen.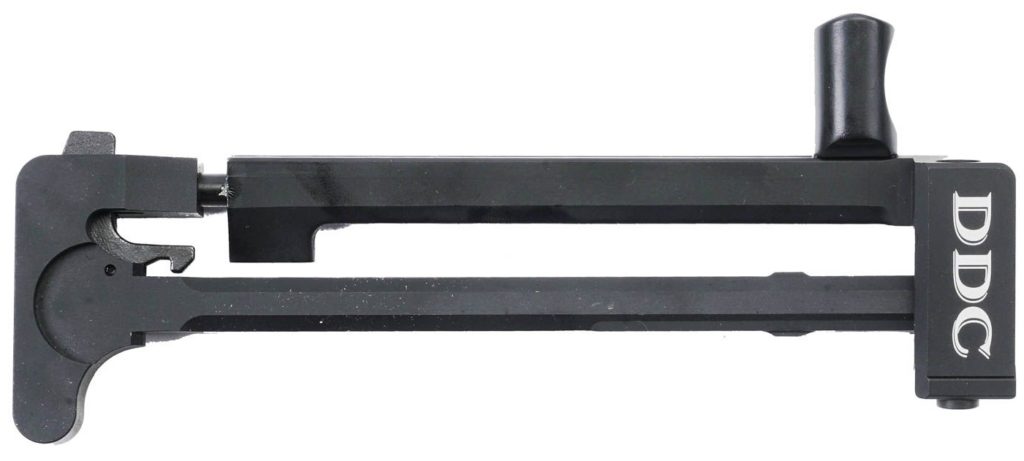 Killer Innovations has a lot of awesome products, their Glock compensators are some of our favorite on the market due to their mounting system that locks securely, but still allows for easy removal for cleaning and super easy timing!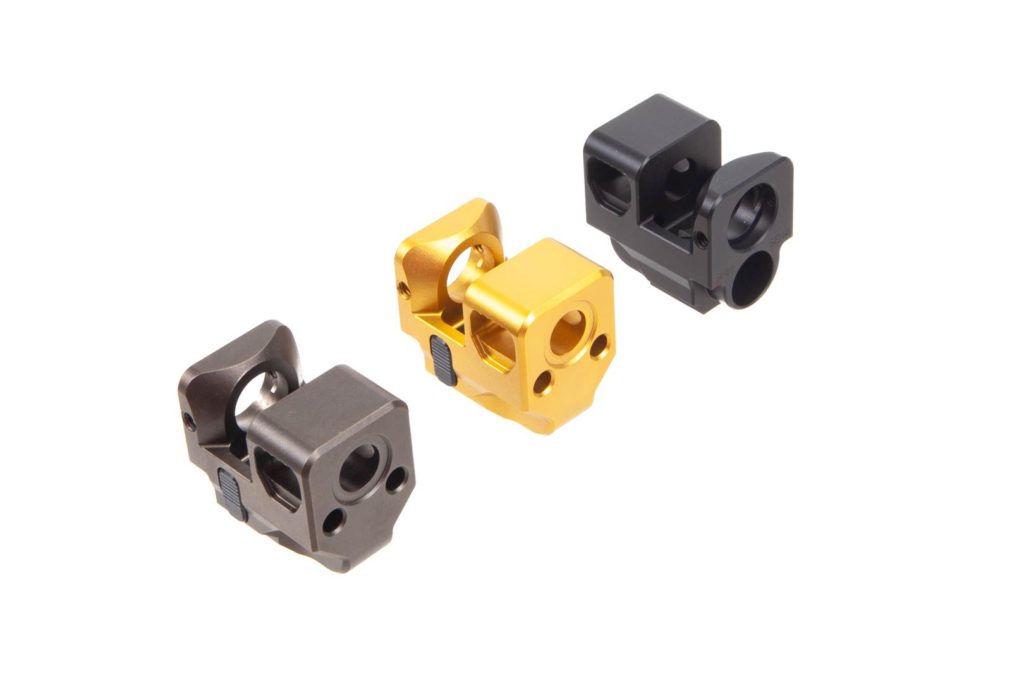 If you're looking to build a new 9mm AR-15 upper, Rainier Arms has an exclusive Black Friday deal on a 10.5″ Faxon 9mm Barrel and Faxon 9mm BCG for only $220!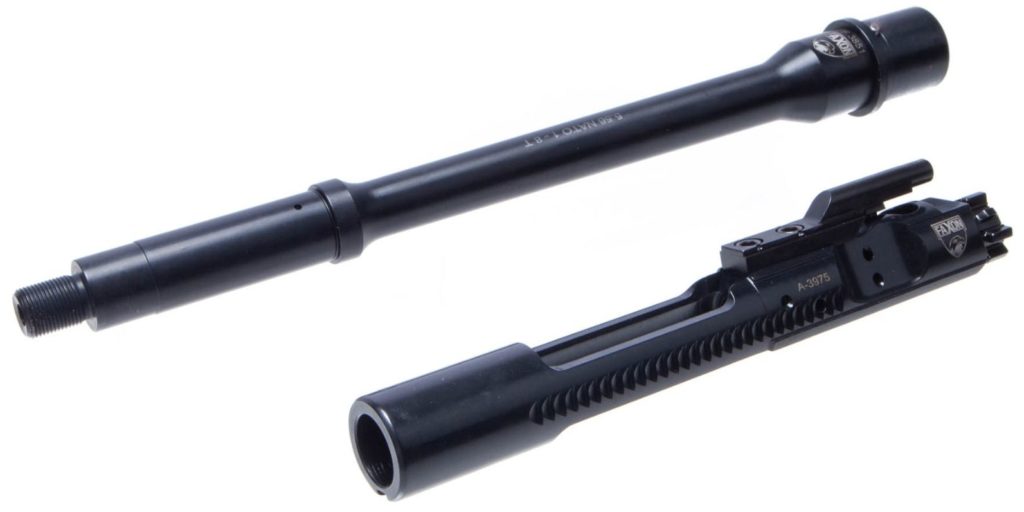 Get all of the Rainier Arms Black Friday Sales Here!
Faxon has launched their Black Friday sales with up to 50% off!
5.56, .223 Wylde, 9mm, .350 Legend, and more! These are top tier barrels for great prices – we have reviewed their Gunner barrels, Pencil barrels, Glock barrels, and the FX-19 Hellfire and Patriot pistols. All of them are great offerings and at this Black Friday prices they are MUST buy for your next build!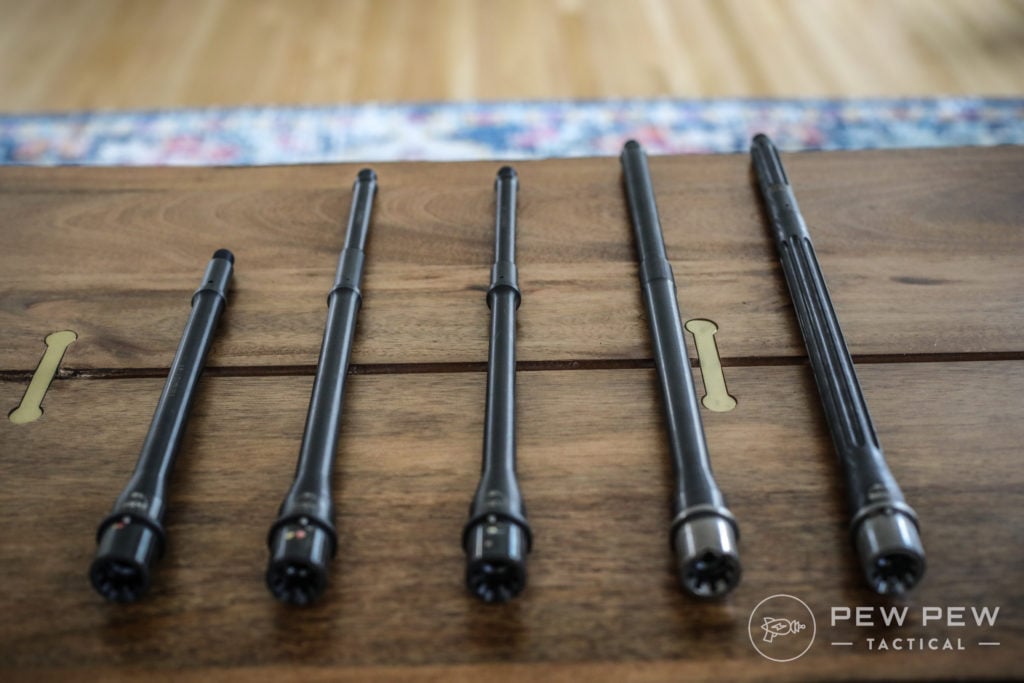 They've also launched two new lines of AR-15s, the First Line and Summit Lin. Both are on sale and looking at the specs, both are great deals right now!

Also in stock are limited edition TiN PVD coated barrels! And my personal favorite, limited edition Chameleon PVD barrels!! Sold out now tho…

Something to keep in mind, Faxon is now making 350 Legend barrels in 12″, 16″, and 20″! We'll have a review coming soon, but we've been hearing great things about them so far.
Ready to build your AR-10? Grab a limited edition 20″ Big Gunner .308 Win barrel for $155! (normally $260)

Find all of the Faxon Black Friday deals here!
Massive sales on happening at Shoot Steel! No coupon needed, no codes required, just lots of awesome deals.
They even hooked us up with an EXCLUSIVE Pew Pew Tactical AR500 Steel Target Starter Bundle!
Pew Pew Exclusive Deal
92
at Shoot Steel
Prices accurate at time of writing
Prices accurate at time of writing
That's not all though, Shoot Steel has a bunch of other awesome deals going on this Black Friday through Cyber Monday.
For all of your chassis needs, MDT is one of our top picks.
40% off all Factory Seconds and Overstock items
50-60% off select items!
10% off the entire store
This is MDT's ONE sale of the year and it is always a HUGE savings. Chassis, bipods, grips, magazines, and a lot more – don't miss out!

If you're looking for a Chassis, wait for this sale because it is AWESOME. Their ACC chassis is our favorite, but the ESS and LSS-XL are awesome also depending on what you're looking for.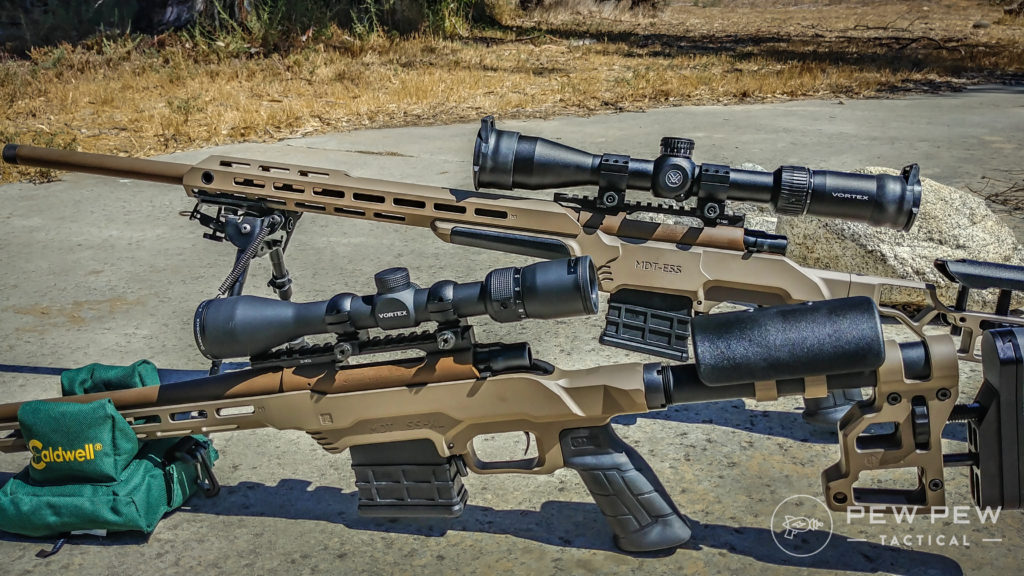 Keep an eye out for their scope rings, bipods, muzzle devices, magazines and more!
Black Friday and Cyber Monday are here at Cabela's! Huge savings across their site right now and in-store. PLUS Get Free Shipping through Dec 2nd!
LOTS of optics are part of this sale, Sig Sauer, Cabelas, Nikon, Leupold, Swarovski, and more are 20%+ off right now.

Gifts for the whole family from Sig Sauer pistols to comfy winter clothes and toys for the kids!
Kimber Micro 9, Satin Stainless Steel with Checkered Rosewood grips only $499 (down from $630!)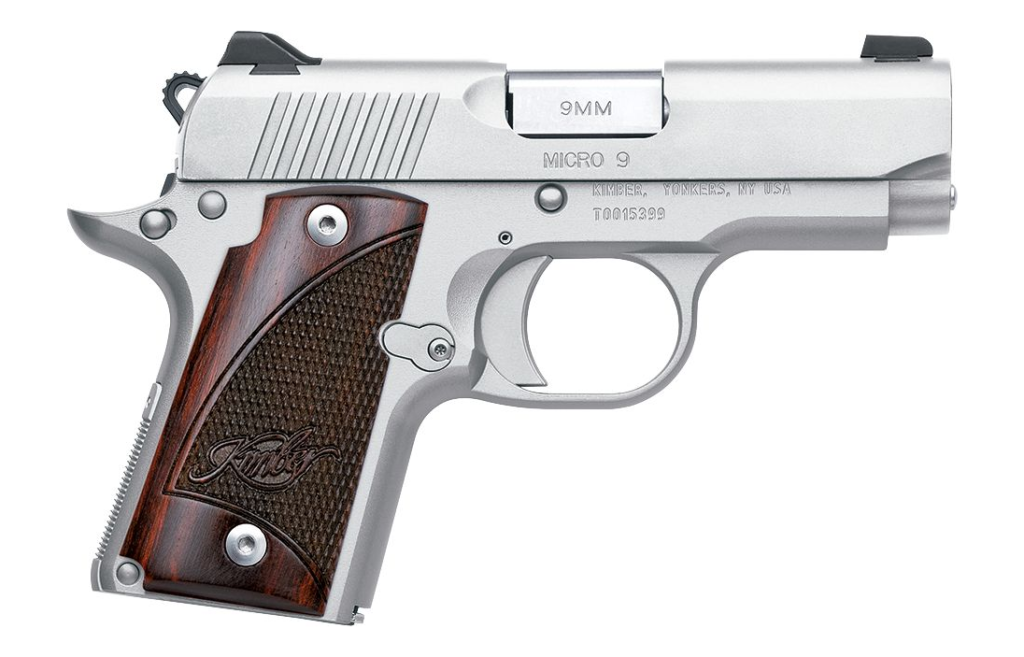 Bedding and clothes up to 45% off! Grab some White River Bear Plaid Flannel Sheets for $30 (normally $45+)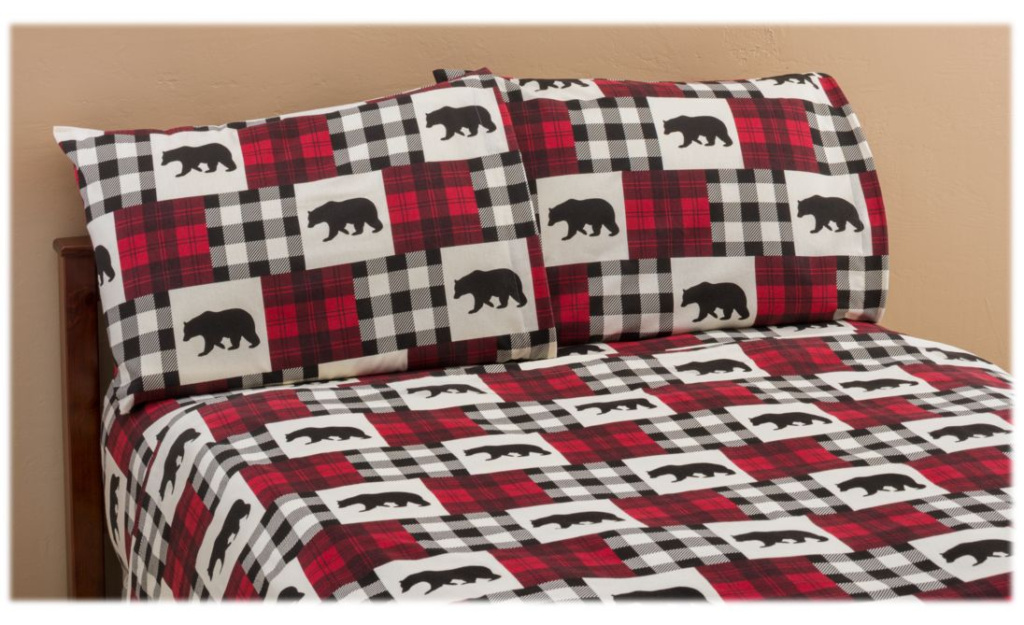 If you've got your eye on something there…use code CYBER for 11% off.
Grab a Vortex Razor AMG UH-1 for $311 PLUS get a $25 Optics Planet Gift Card!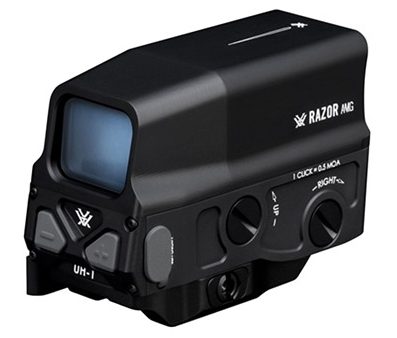 They are doing a promotion for a FREE Sig Sauer KILO Rangefinder with select Sig Sauer Scopes!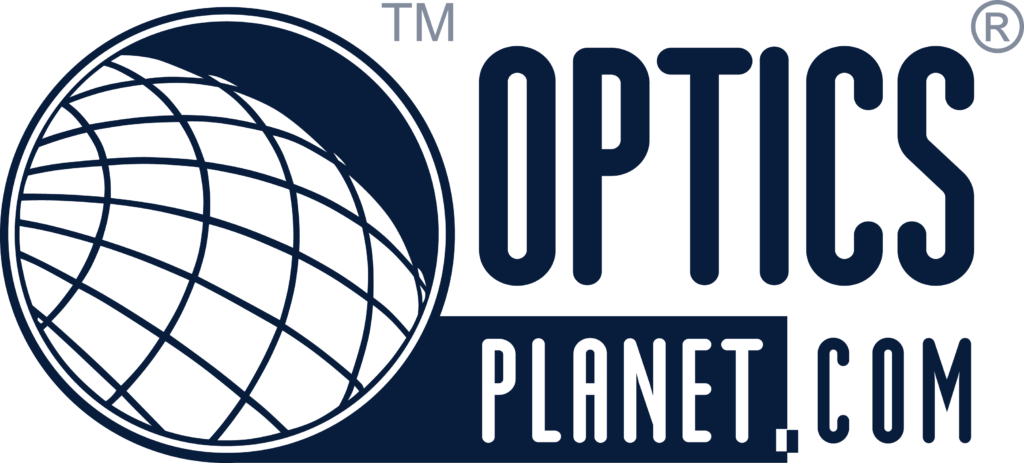 The offer is good for select Sig Sauer Tango6 and Whiskey5 scopes, both offer outstanding glass, tracking, and clarity.

We've used Sig Sauer range finders a bunch also and really like them, this is a great deal!
Another great deal is for the Holosun HS510C red dot with the "EOTech" reticle. One of our favorites in our Holographic Sight Review.
Use the coupon to make it $235!
Want to build an AR-15 pistol? Check out the deal on the SB Tactical SBA3 for $99. One of our favs in Best AR-15 Braces.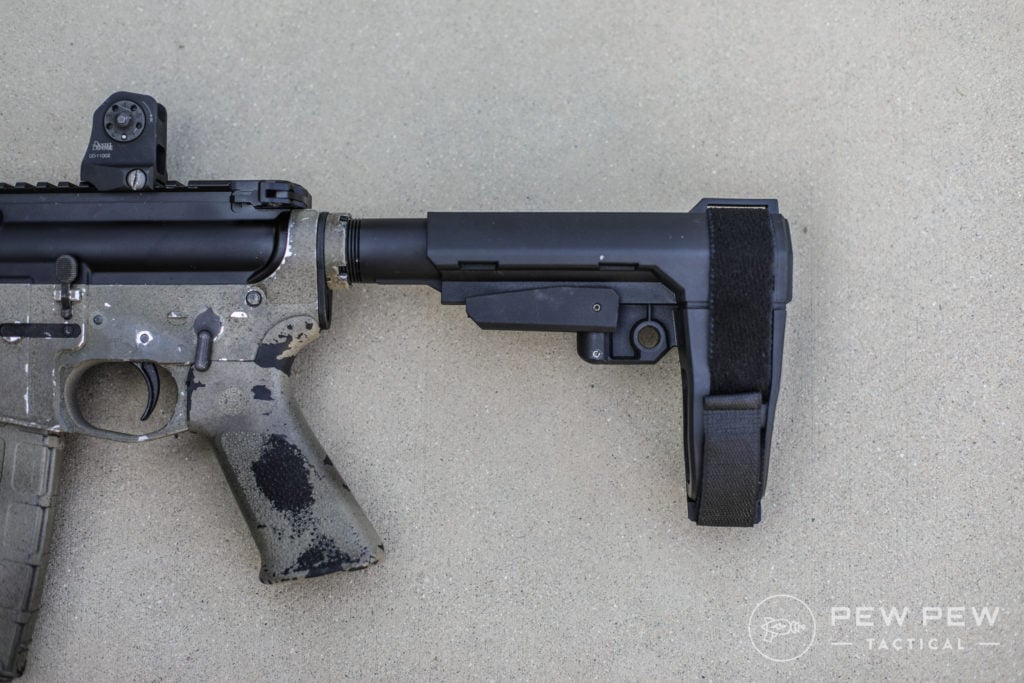 See the rest of their Black Friday and Cyber Monday Deals here.
Use code "CYBER" for 30% off all non-promo deals!
Speaking of promo deals though, the Testudo Carrier and Curved Plates package is a MASSIVE 52% off right now! Get the Testudo and armor for only $162!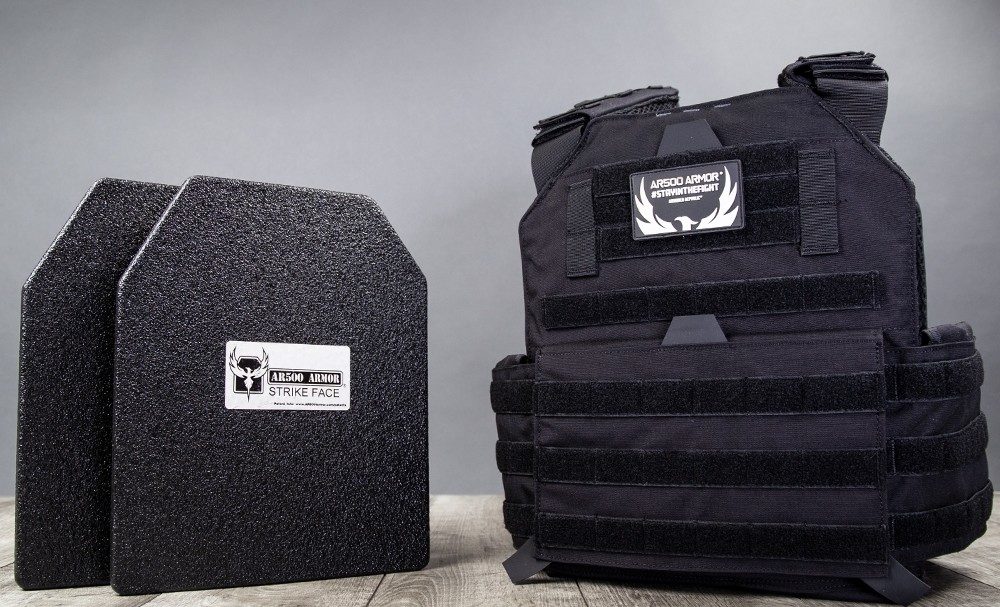 A little confused on levels and different cuts? We cover all of them in our AR500 Armor Review.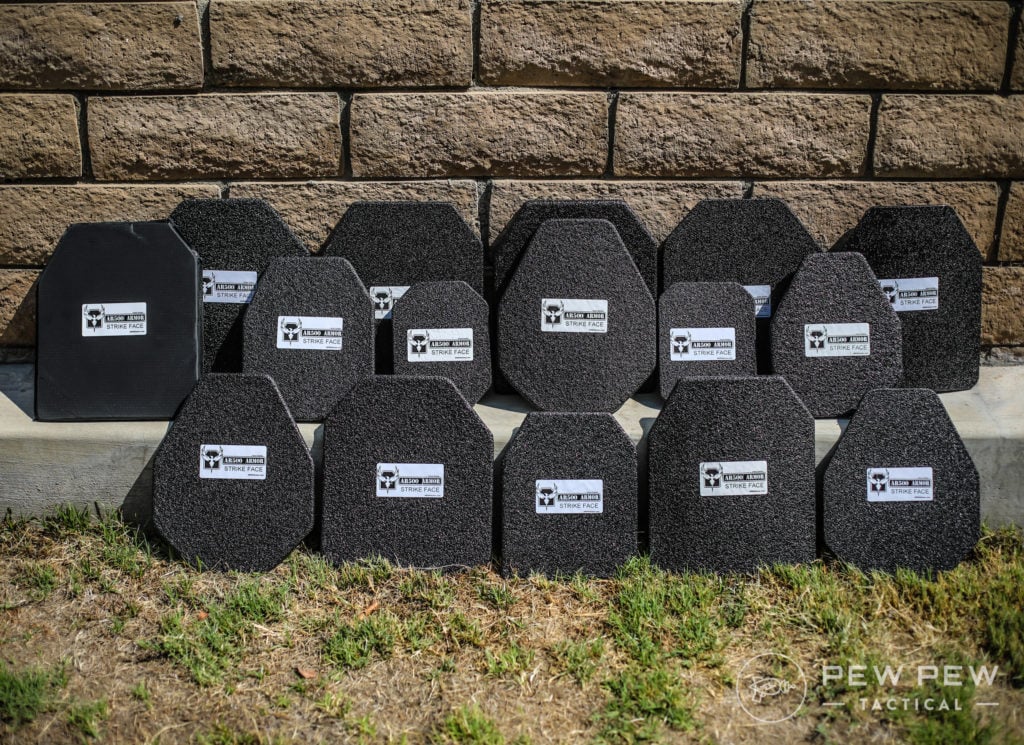 Last year at Euro Optic was AMAZING and the deals are still active here.

For now though, they are running a great sale on Nikon Tactical Optics!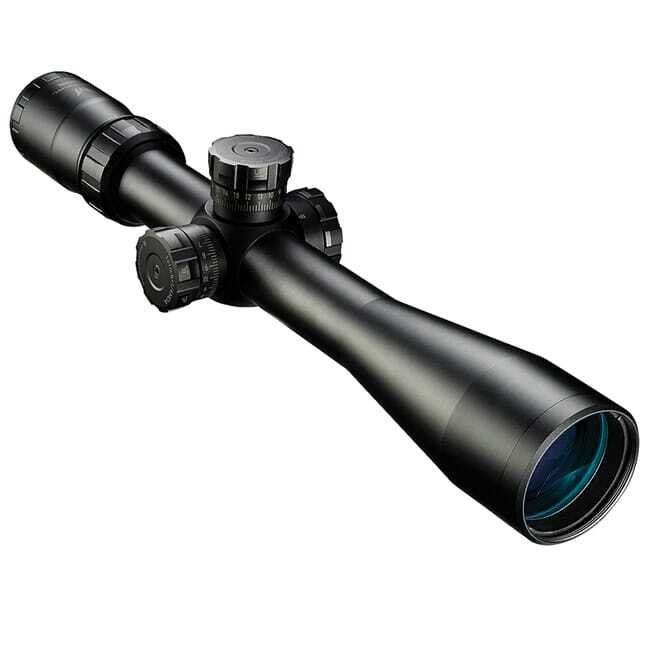 And they have a closeout sale on the Zeiss Conquest V4 1-4x24mm ZQAR Illuminated Reticle Rifle Scope – $430 (normally $900!!)

Black Friday count down deals are back! These are nice sales too, get 15% SITEWIDE, Free Shipping – upgraded to 2-day for only $8, and a free t-shirt!

Find out why we love them plus others in our Best Concealed Carry Holsters article.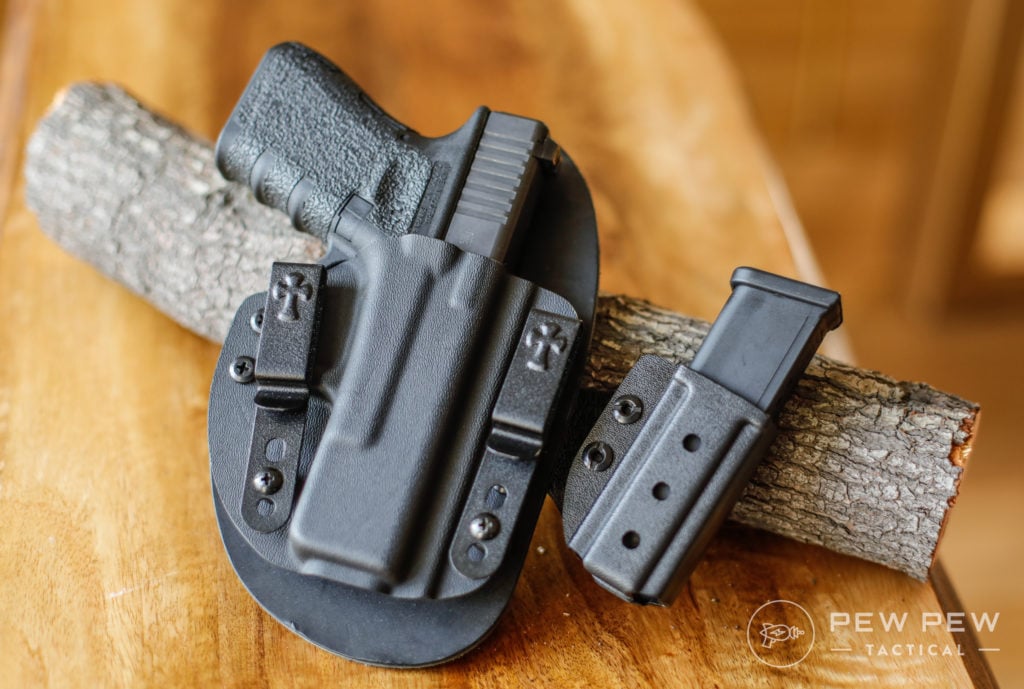 One of our favorites in our Best Gun Safes article… SecureIt has 10% off SITEWIDE with code "BLACKFRIDAY"!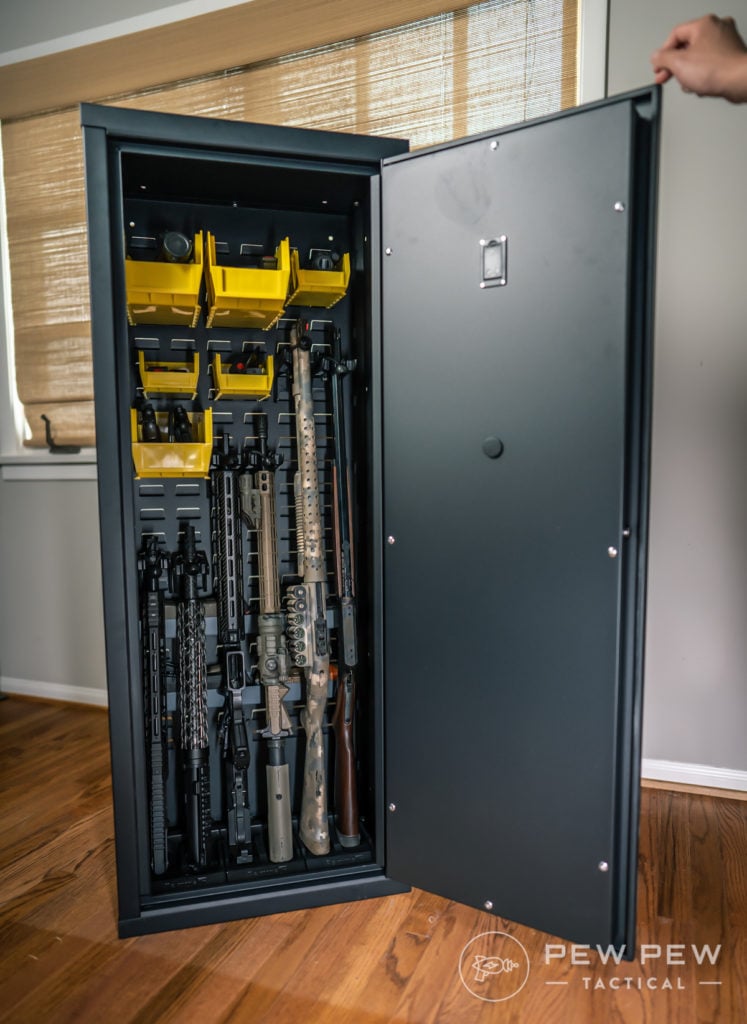 Why do we like them?
Unlike other safes which are a hassle to install…the Agile comes flat-packed (so you can get it into your room) and all assembly is internal.
Take a look at the full review and video below.
Some decent options at sales from Black Friday through Cyber Monday from Natchez.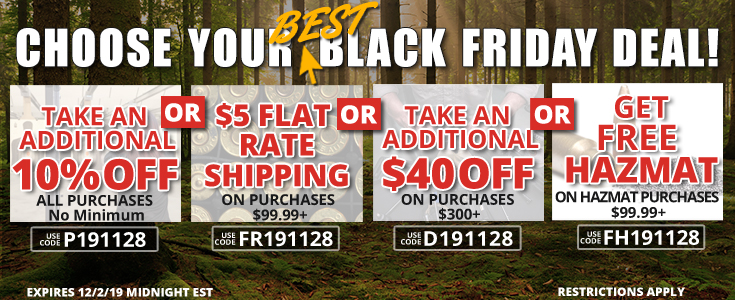 HUGE Black Friday weekend sale has started! Buyer's club members get extra savings on a large range of items PLUS Free shipping.
For all your hunting and outdoor needs, take a look!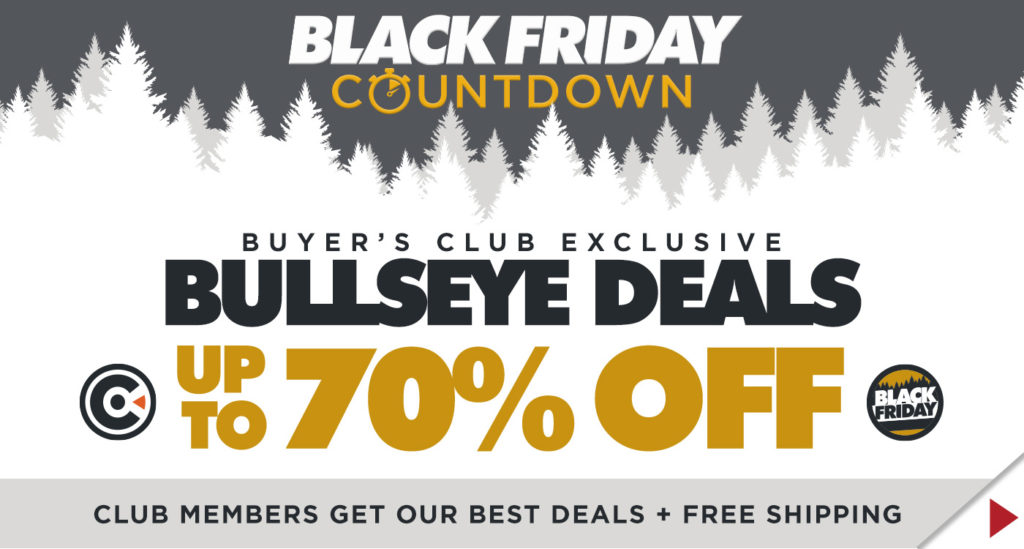 Last Blade HQ had some awesome prices for Kershaw, Gerber, Benchmade, and lot more!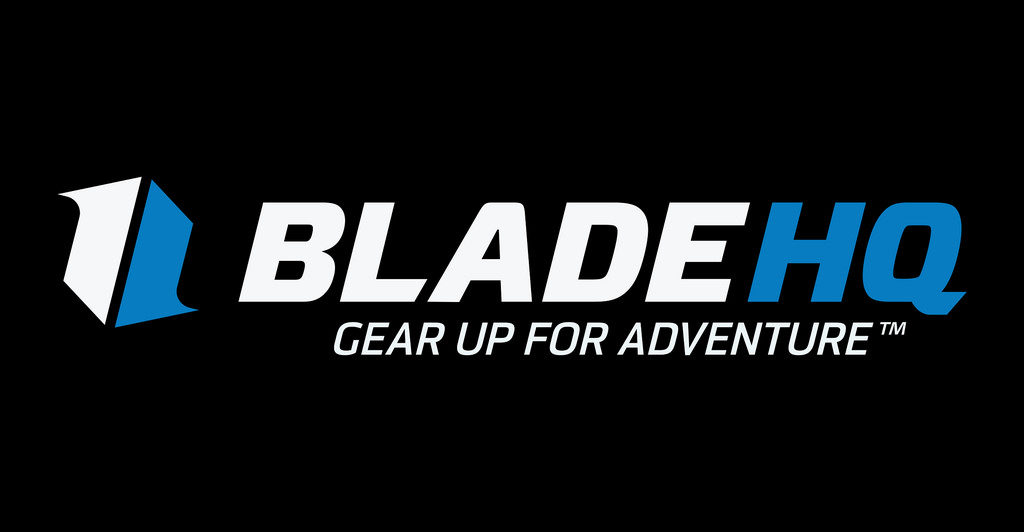 Right now they have their first ever sale on Zero Tolerance Knives!

With all of these ammo deals happening, you'll need some mags to hold it all!

Their deals are live…see all of them here!
Need some badass stocking stuffers? GOAT Guns has you covered!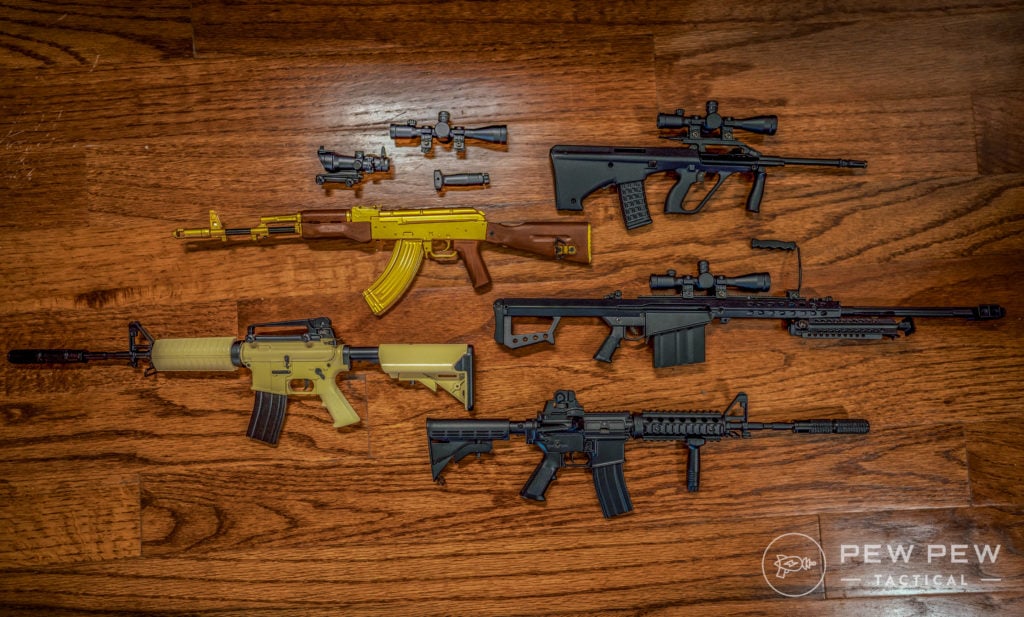 These mini-non-firing replicas of rifles like the AUG, M4, AK-47, and more are super cool!
Huge sale starting Thanksgiving day! Discounts, free shipping, free SWAG, and more – get it now!
Check out our full review of them too.
Discounts added automatically!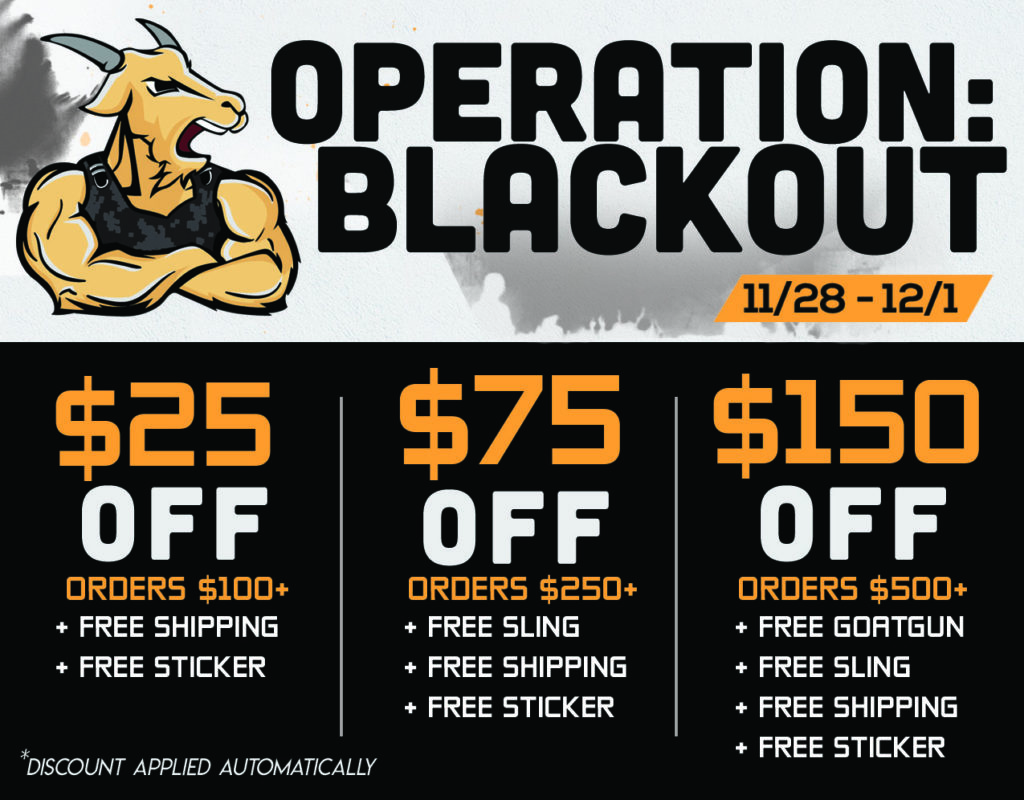 We've reviewed Urban Carry's G2 (and now they have a G3) and really liked it, but currently still no Black Friday deals.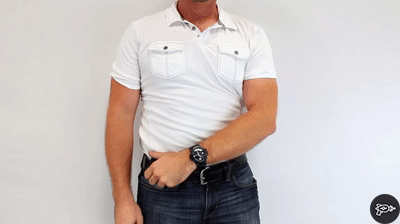 If you're looking for a great hybrid leather-Kydex holster, our top pick is Hidden Hybrid for durability and comfort.
They have a great deal right now on orders $99+ get Free Shipping AND a pistol bag using code "BF2019"!
You need to add the pistol bag to your cart manually, here is the link!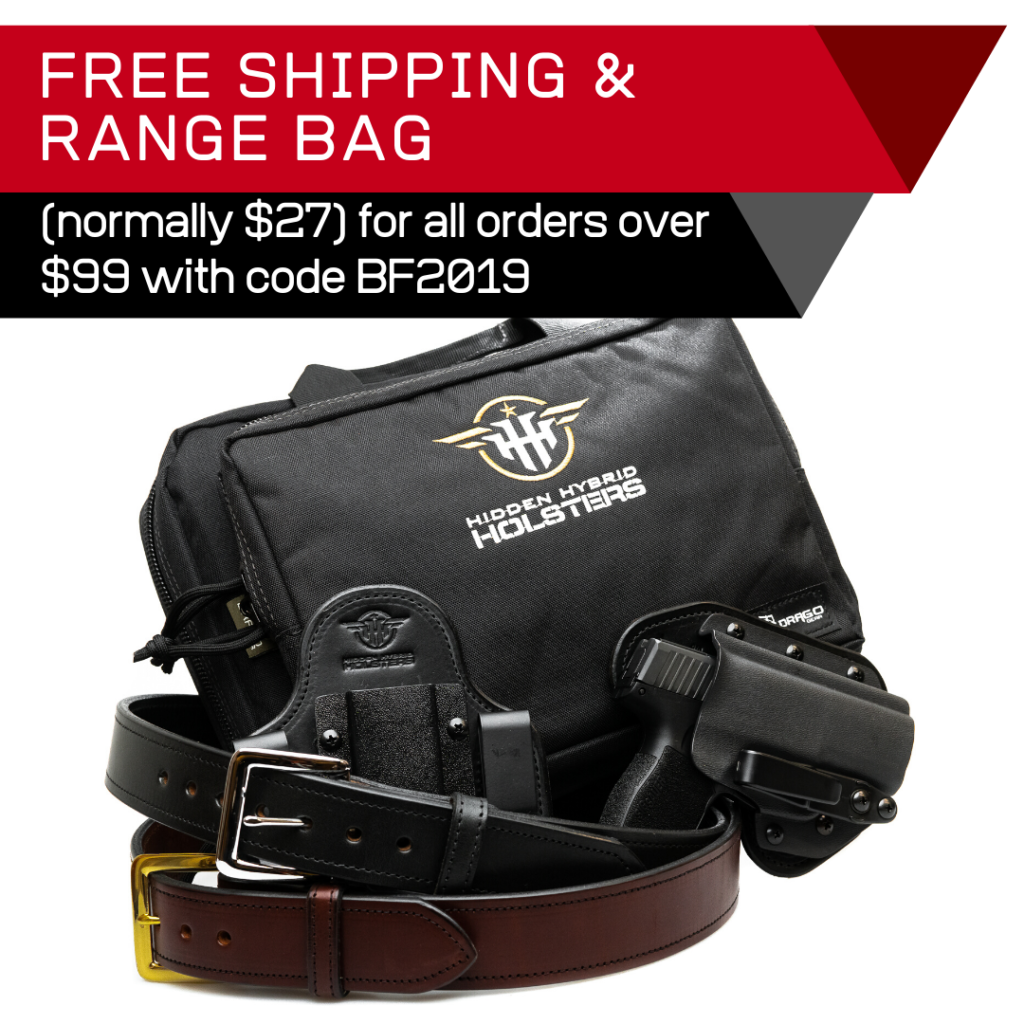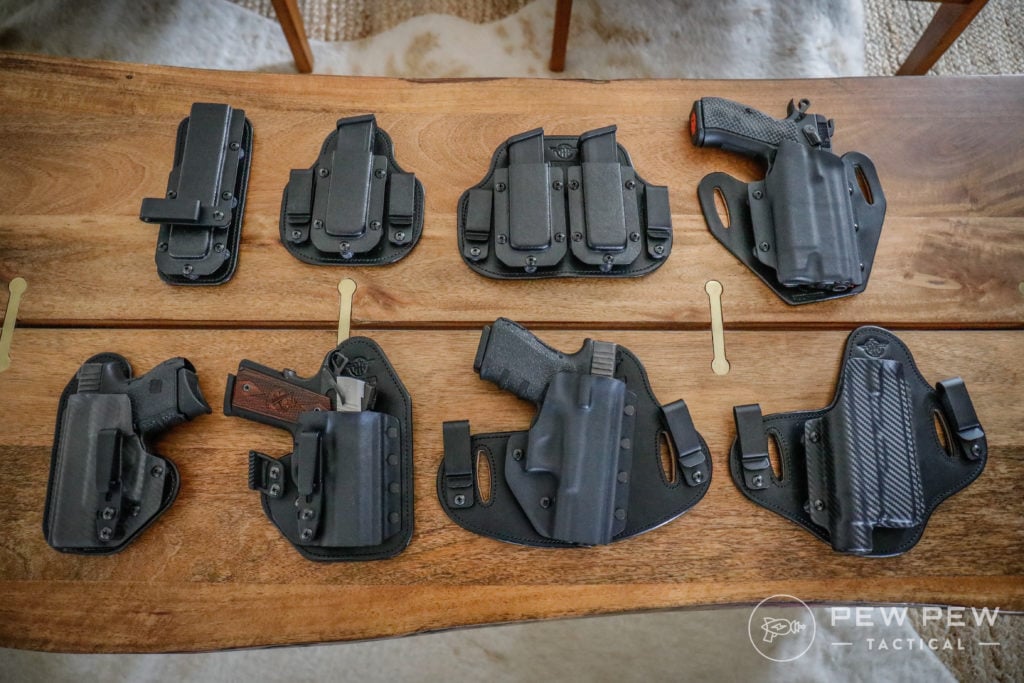 See our full review and our overall Best Concealed Carry Holsters article.
Their great Black Friday deals on weapon lights are done but they have a new Cyber Monday deal for EDC…
S1R Batton II in Red plus a tinier i3 in OD Green for $50.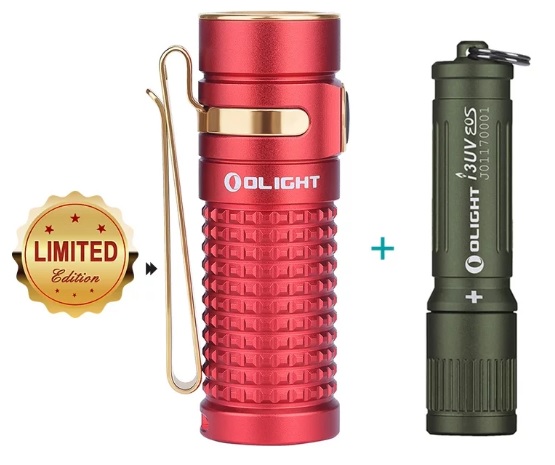 Tactical clothing is durable, well made, and designed to be ready for anything. We're keeping an eye on U.S Elite Gear for some great sales this holiday season, but they have already started it off with a Salomon Sales Event with up to 25% off!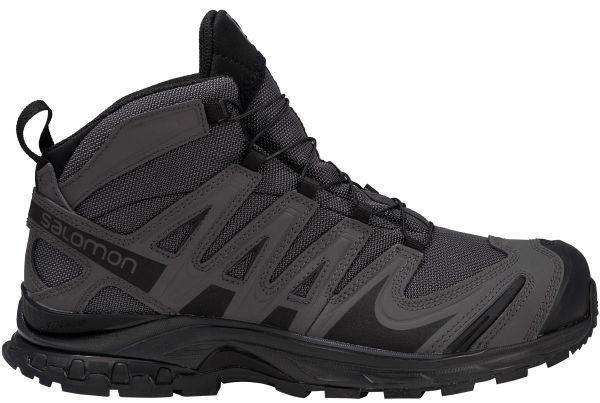 Some of the coolest looking and best feeling AR, Glock, and Sig accessories around – Tyrant Designs mills all of their parts for the best fit, finish, and feel possible.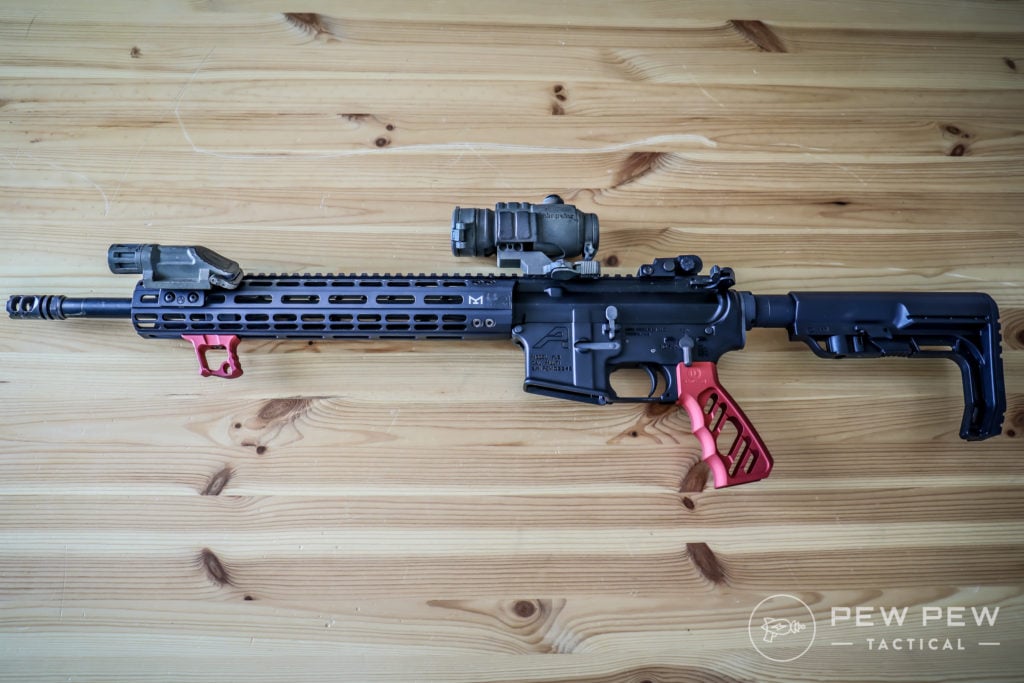 Plus we like their newest foray into Glock mods…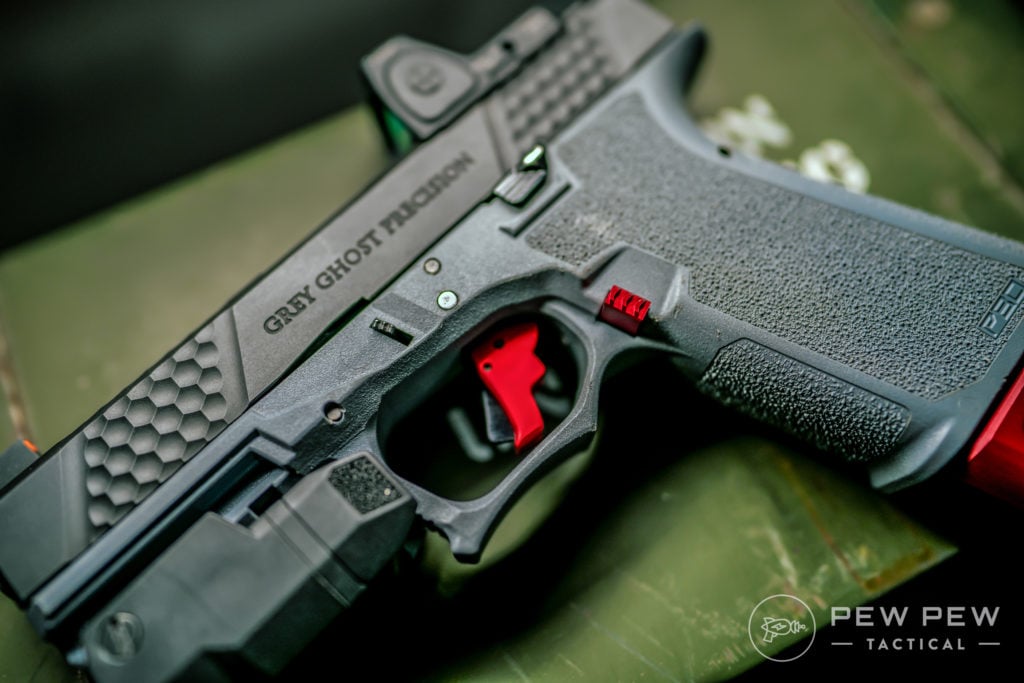 Not a huge sale, but it is their Black Friday/Cyber Monday sale – 10% off their most popular designs! Get the MOD Grip + Foregrip Combo, $180!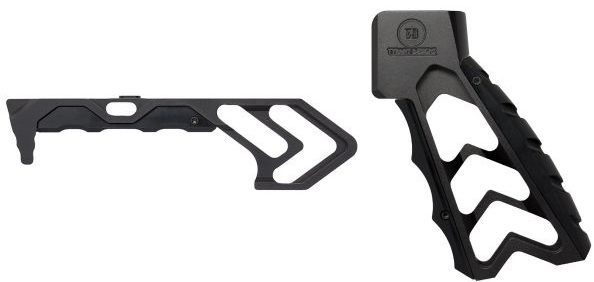 One of the newer retailers for new and used guns, Guns.com is running some crazy deals this Black Friday and Cyber Monday.
Right now they have huge discounts on their used guns and a lot of these are ones you need to see.
Grab a Glock G22 Gen 4 for $338! (sold out)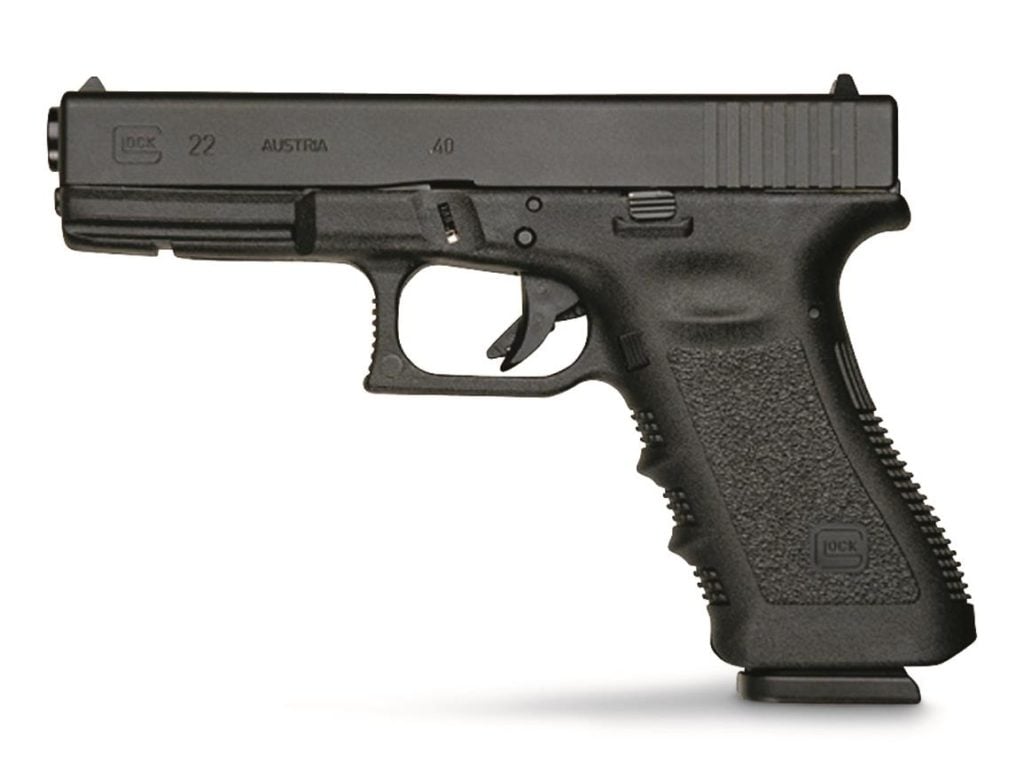 Or an ArmaLite AR180B for $1,050!

Check out the rest of their Black Friday and Cyber Monday deals here.
For some of the best Ruger 10/22 and other rimfire gun upgrades on the market, Tandemkross is where you need to shop!
While their big sale has not kicked off yet, it should be here soon!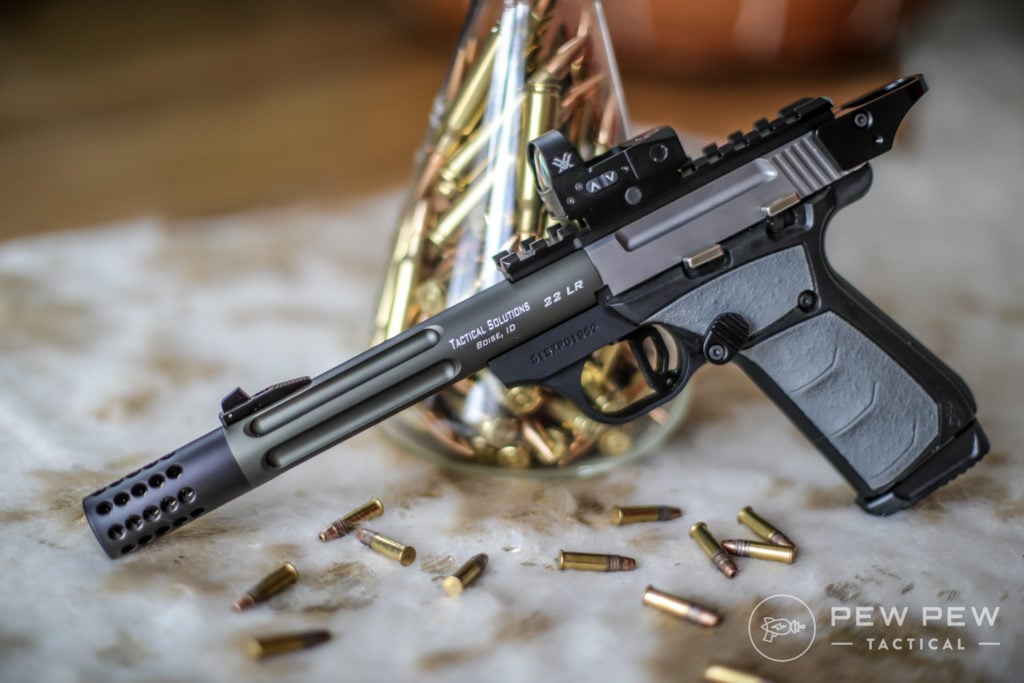 From Buckmark to Victory to the 10/22 and more, Tandemkross has upgrades for it all!
The Black Friday + Cyber Monday sale is in full force at Sportsman's Warehouse!
They have some major deals on rifles, pistols, ammo, clothing, and a lot lot more.
Got a family member ready for their first rifle? Get a Savage Rascal Bolt Action Rifle in .22LR for $155!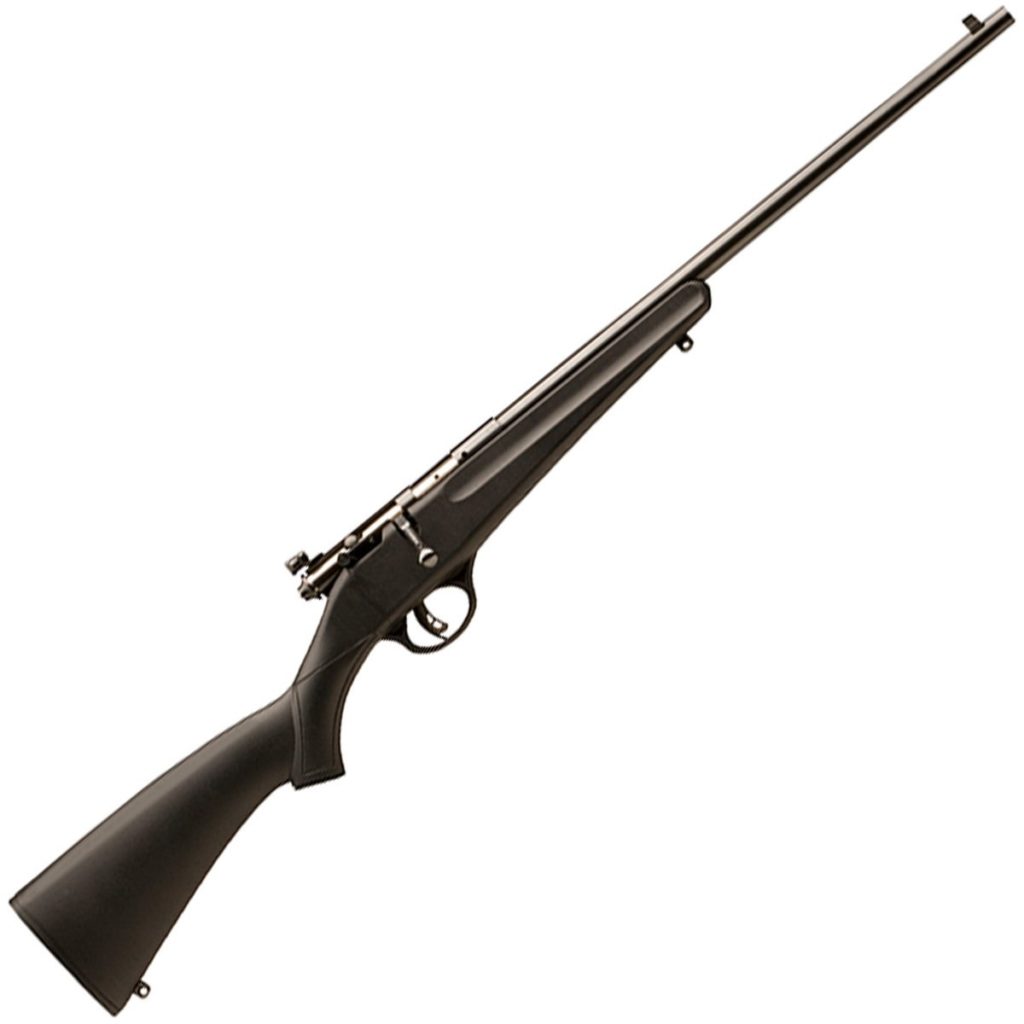 Maybe the holiday crowds are a bit much for you this season, Sportsman's Warehouse is offering some great deals on ammo if you buy online and pick-up in store!
Federal Auto Match Target Grade .22LR – get 325 rounds for $15!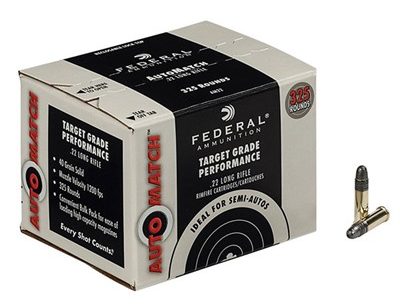 Federal Target Load Shotshells – 12ga, 2-3/4″, #7.5 or #8 shot, 25-rounds for $5.50 (only 22 cents per round!!)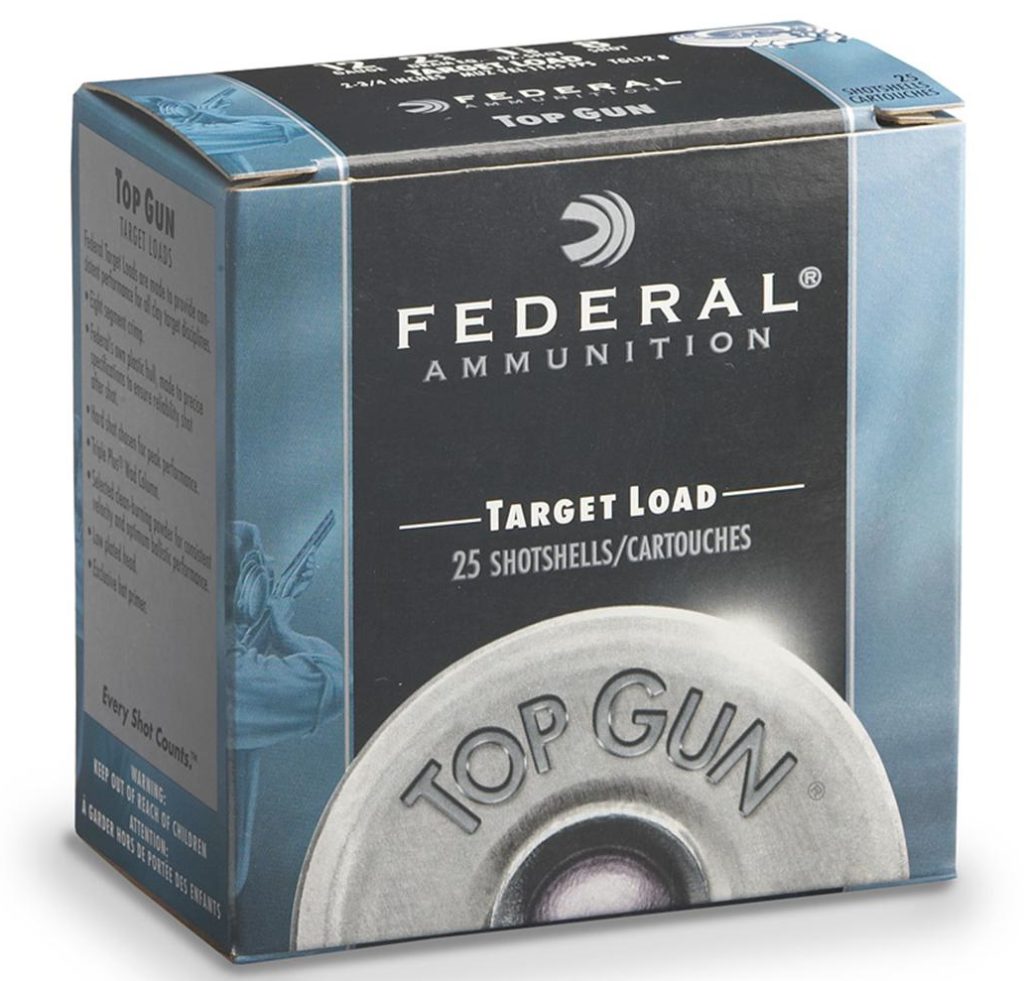 Check out all the Sportsman's Warehouse deals here.
Still waiting on their Black Friday sales to start, but if you're looking for a great leather belt or holster – check back often! Well made, well fitted, and built to last.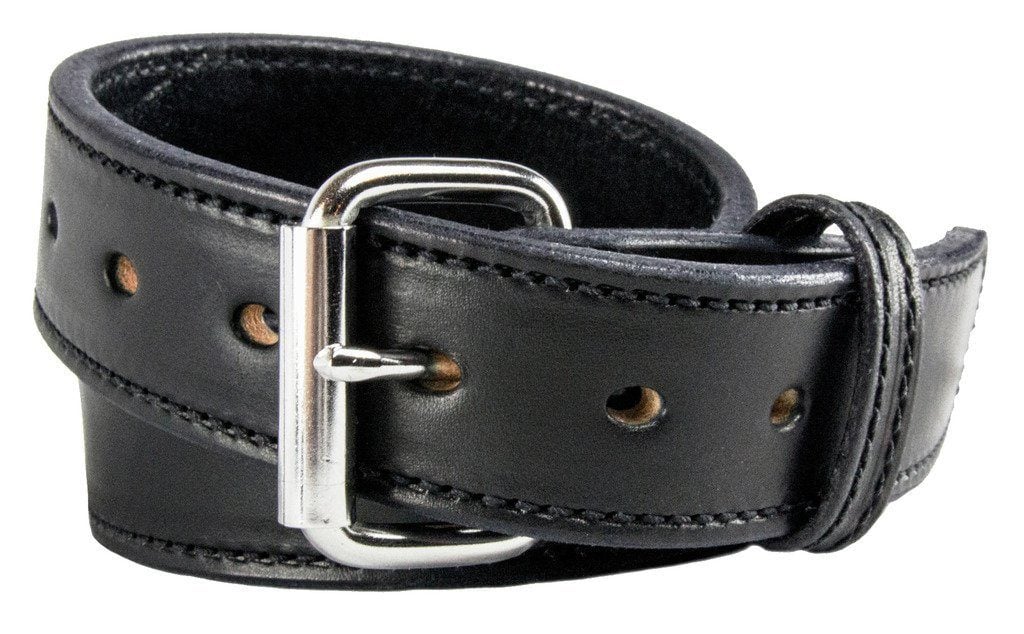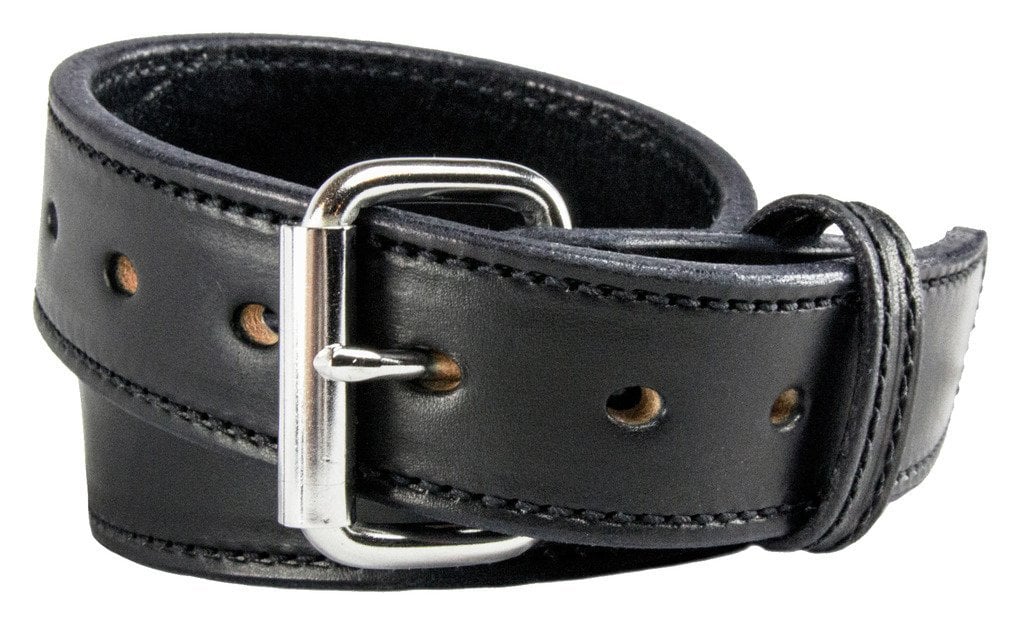 No big sales yet, but we're checking often!
These people have some awesome tactical gear that we've reviewed before, but they also have great training gear and targets, plus some wicked cool moto posters!
My personal favorite poster from RE Factor is the Colonial Maritime Raid Force!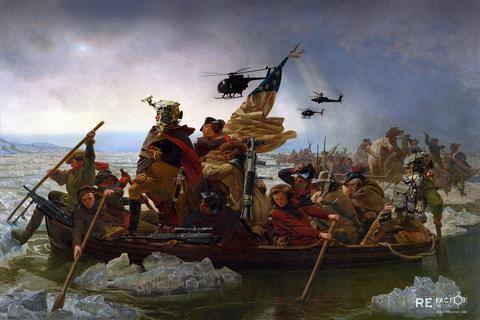 Some of the Best Tactical Pants on the market right now come from Propper! Even if you're not a high-speed operator, a good pair of pants for everyday wear or for the range really help.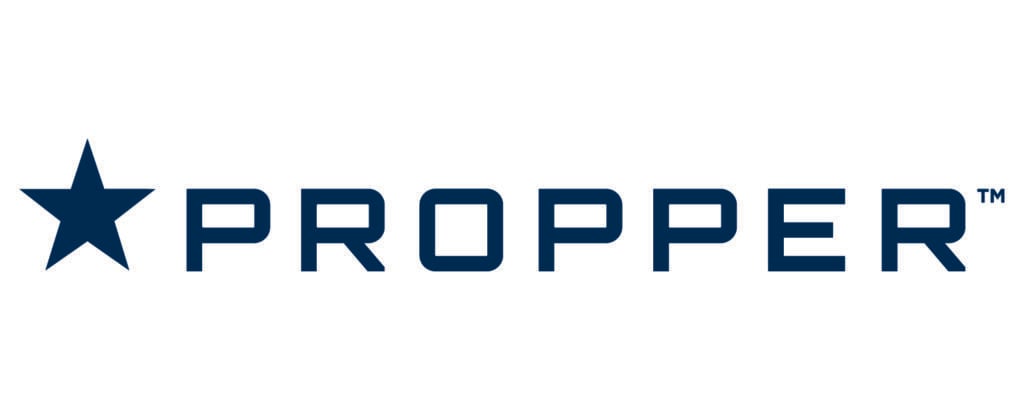 We're hoping to see some great sales from them later in the week, but for now, their Black Friday hasn't started yet.
While you might not be SCUD hunting in Iraq any time soon, gas masks and personal protective equipment still have a place in every emergency kit.
From gas attacks to smoke from wildfires, protecting your lungs by filtering the air you breath can save your life.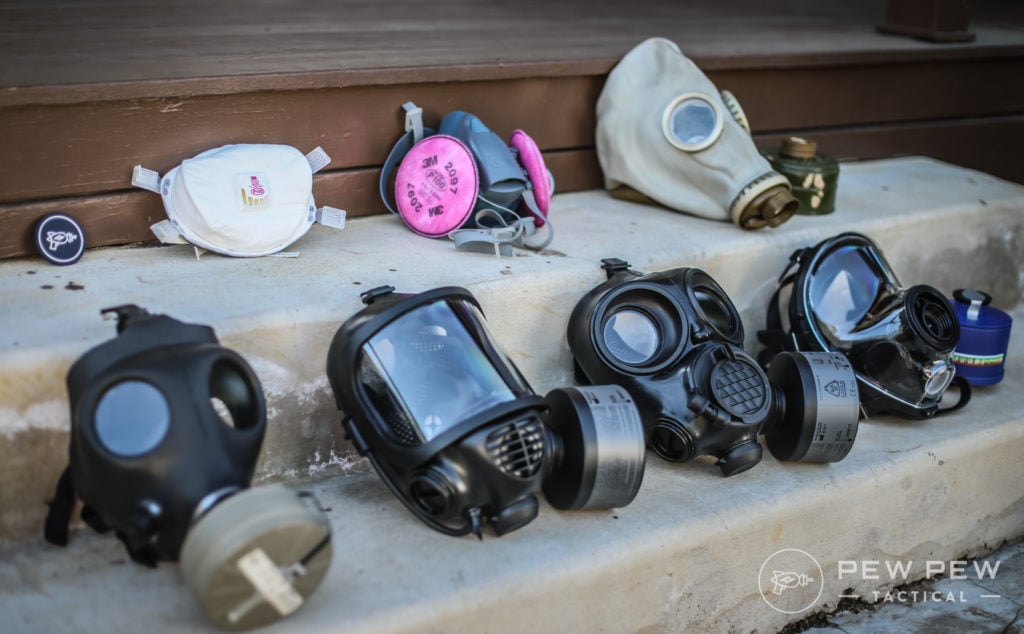 We've tested a bunch of gas masks before and really like what MIRA Safety has to offer.
They'll be launching their Black Friday deals this coming Monday with custom code "PEWPEW20" for 20% off everything.
Some big-time sales will be happening at Maven this year starting on Black Friday, Nov 29!
For Black Friday they have $150 off their 10x50mm or 12x50mm C.3 Binoculars with code "C3150-BF" or if you have Amazon Prime you can order through the Maven Amazon store and get the discount automatically applied AND free Prime shipping!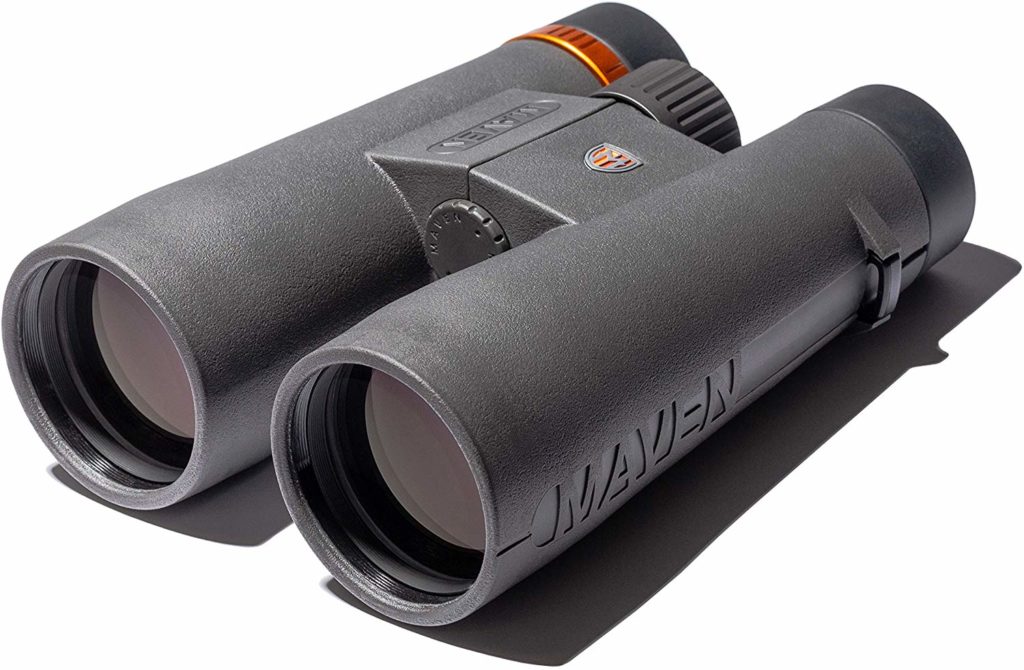 Maven has some more awesome deals coming in December for their spotting scopes and binoculars, so check back for those!
Awesome Glock triggers, barrels, parts, and more! The big sales have not started yet, but last year was great! Check back soon for all your Glock upgrade needs.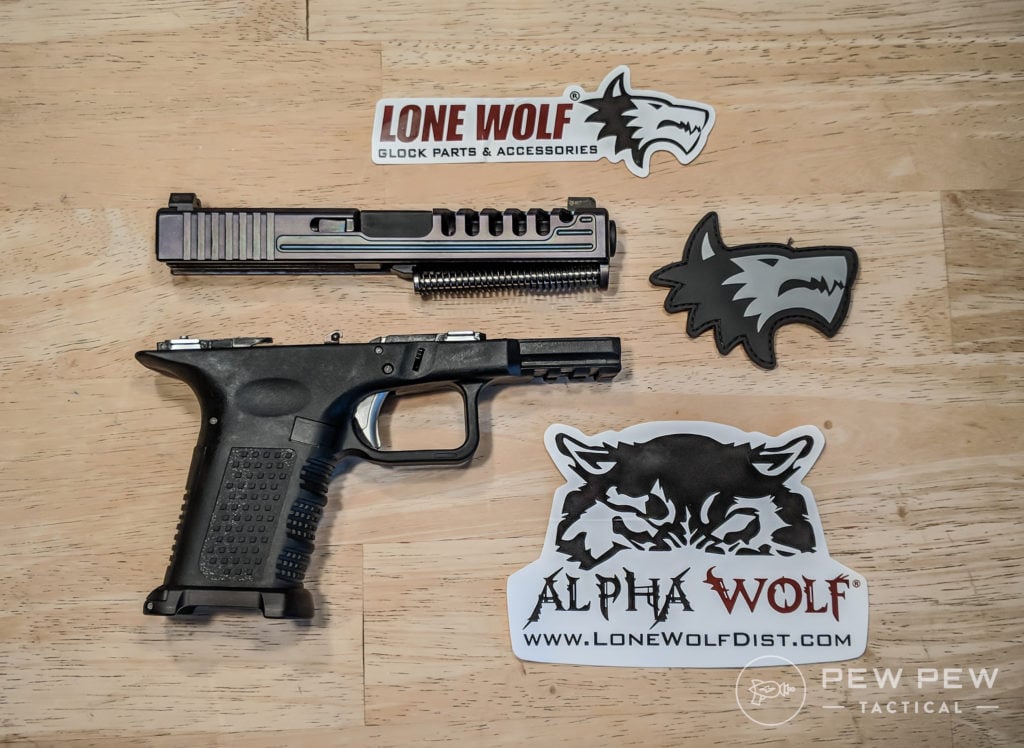 Another one of our go-to retailers for AR-15 parts and accessories, E-Arms had some amazing deals last year!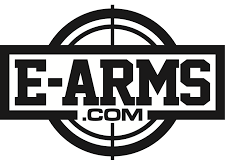 Check back soon and often once their Black Friday deals kick-off!
One of the best Black Friday sales happening right now, get 30% off all orders of $100+! Automatically applied at checkout, this cannot be stacked with coupons.
Holsters are everywhere these days, but finding a good one is still one of the hardest parts of carrying!
Concealment Express has a great line of IWB and OWB Kydex holsters – we've used them for EDC ourselves.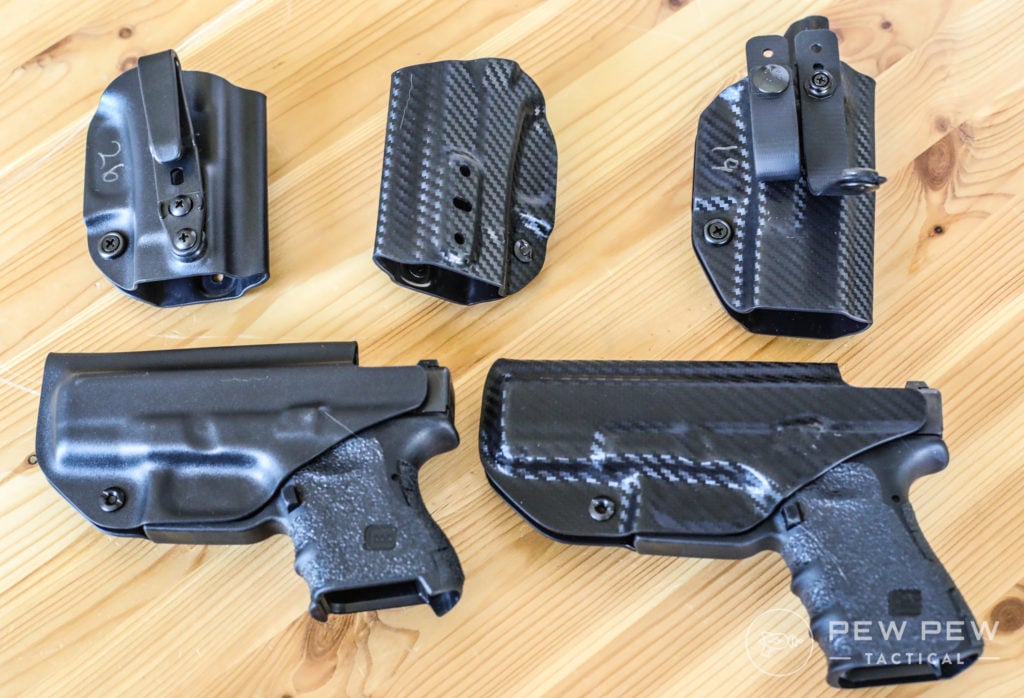 Awesome barrels for a great price is what Ballistic Advantage is known for! We've reviewed their Hanson Profile barrels before and REALLY liked what we got.
For Black Friday they have a whopper of a sale – 30% off SITEWIDE on in-stock items!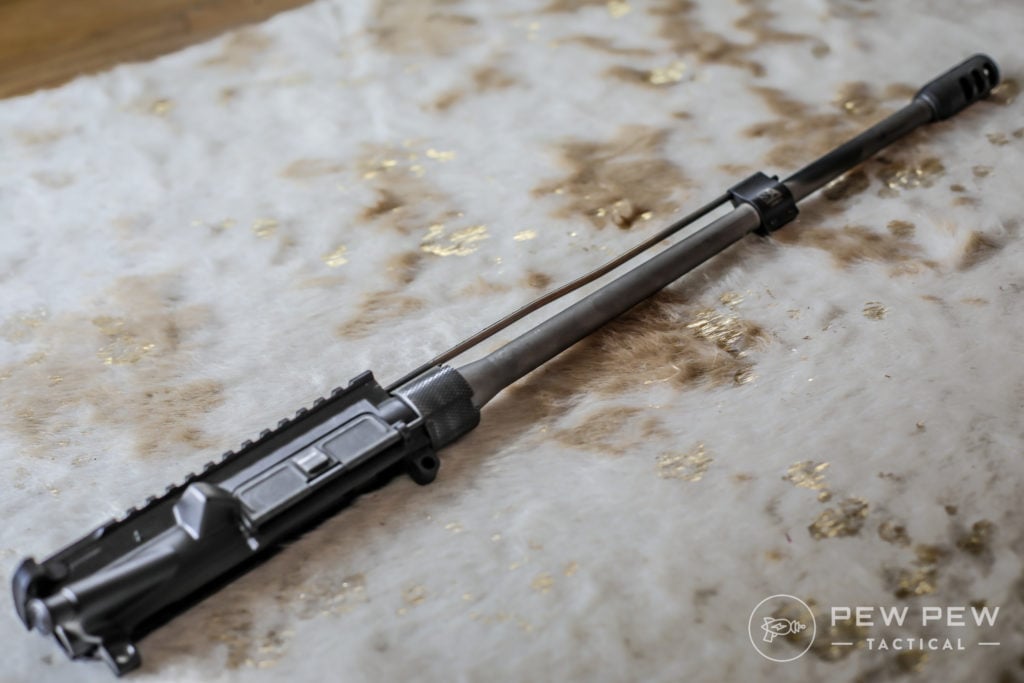 Thermal optics are not cheap normally, but ATN has some great starter options AND some outstanding top tier optics if you're looking to really go big this year.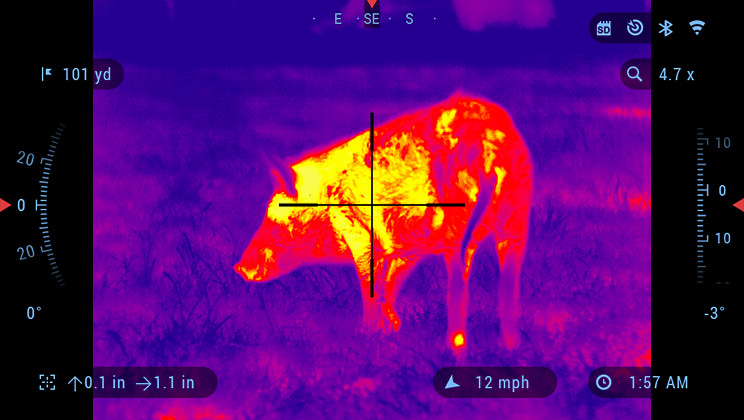 There's some good savings for Cyber Monday and you get a free QD Mount (over $100 value) if you get a X-Sight 4K, Thor 4, or Thor LT series.
Check out all their deals here.
Pants, shirts, belts, bags, and a whole lot more – 5.11 has a LOT of great stuff to take your pick from!
And for Black Friday from now until December first they are having 25% off EVERYTHING in-store AND online!
Get a RUSH MOAB 10 for $75!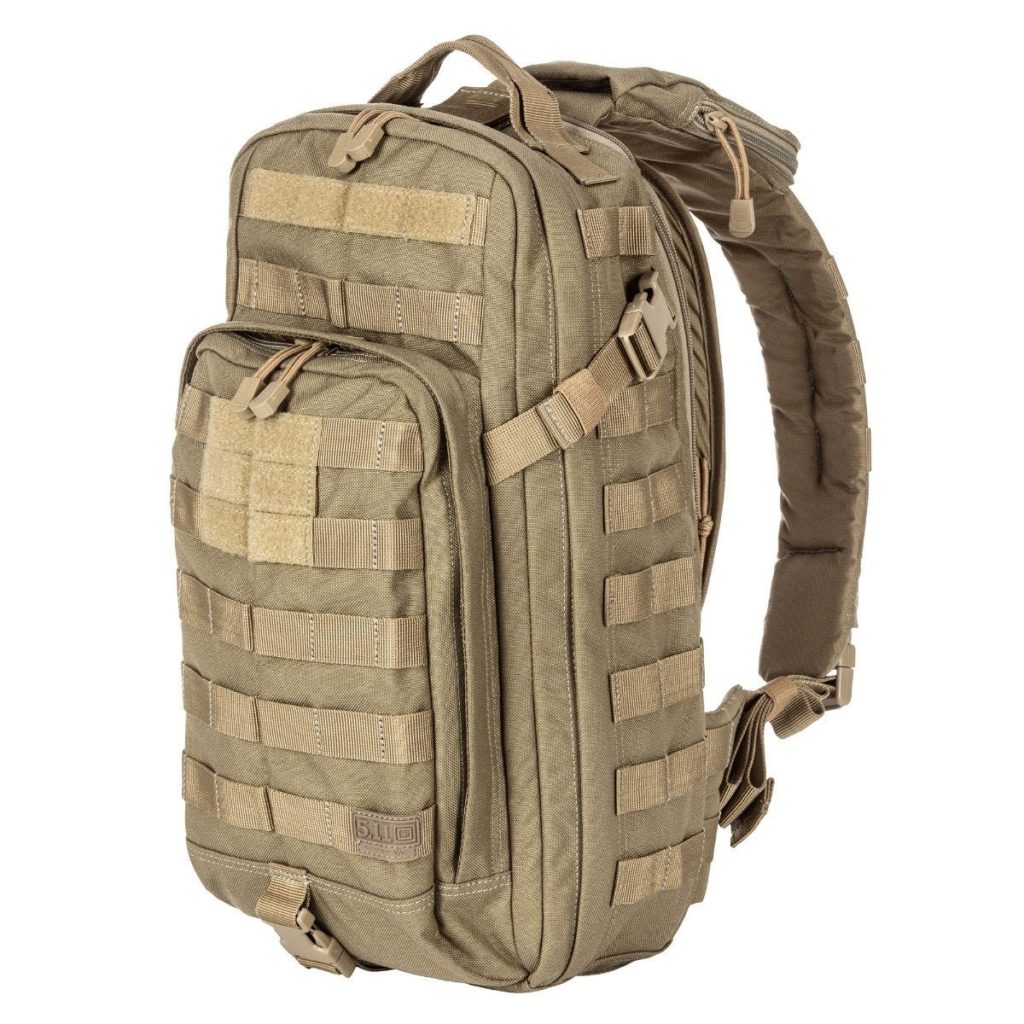 Or grab a 5.11 Range Ready Bag for just $75!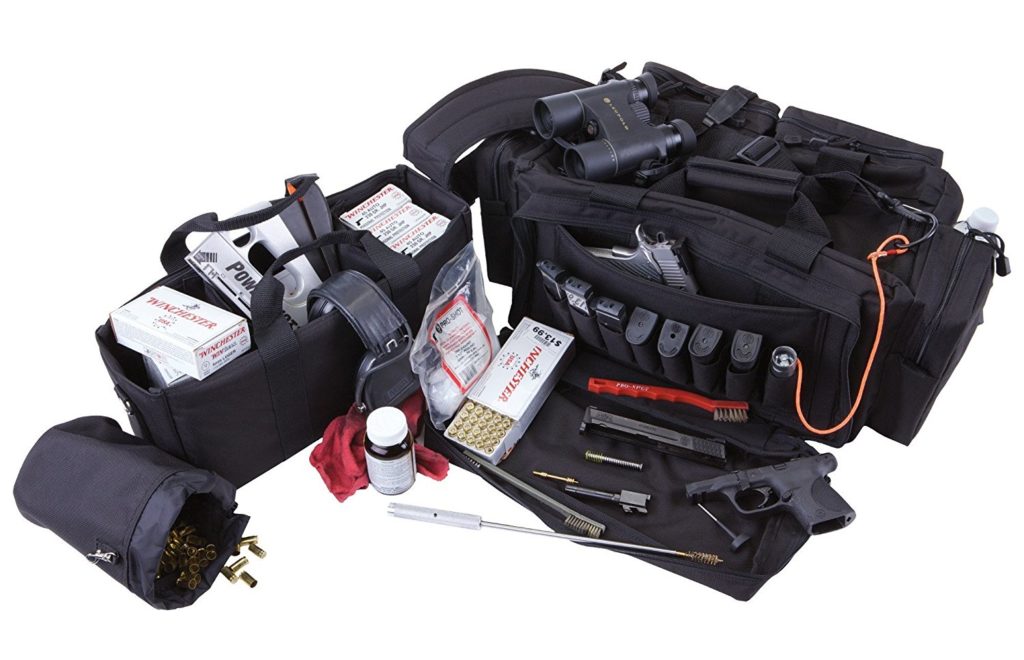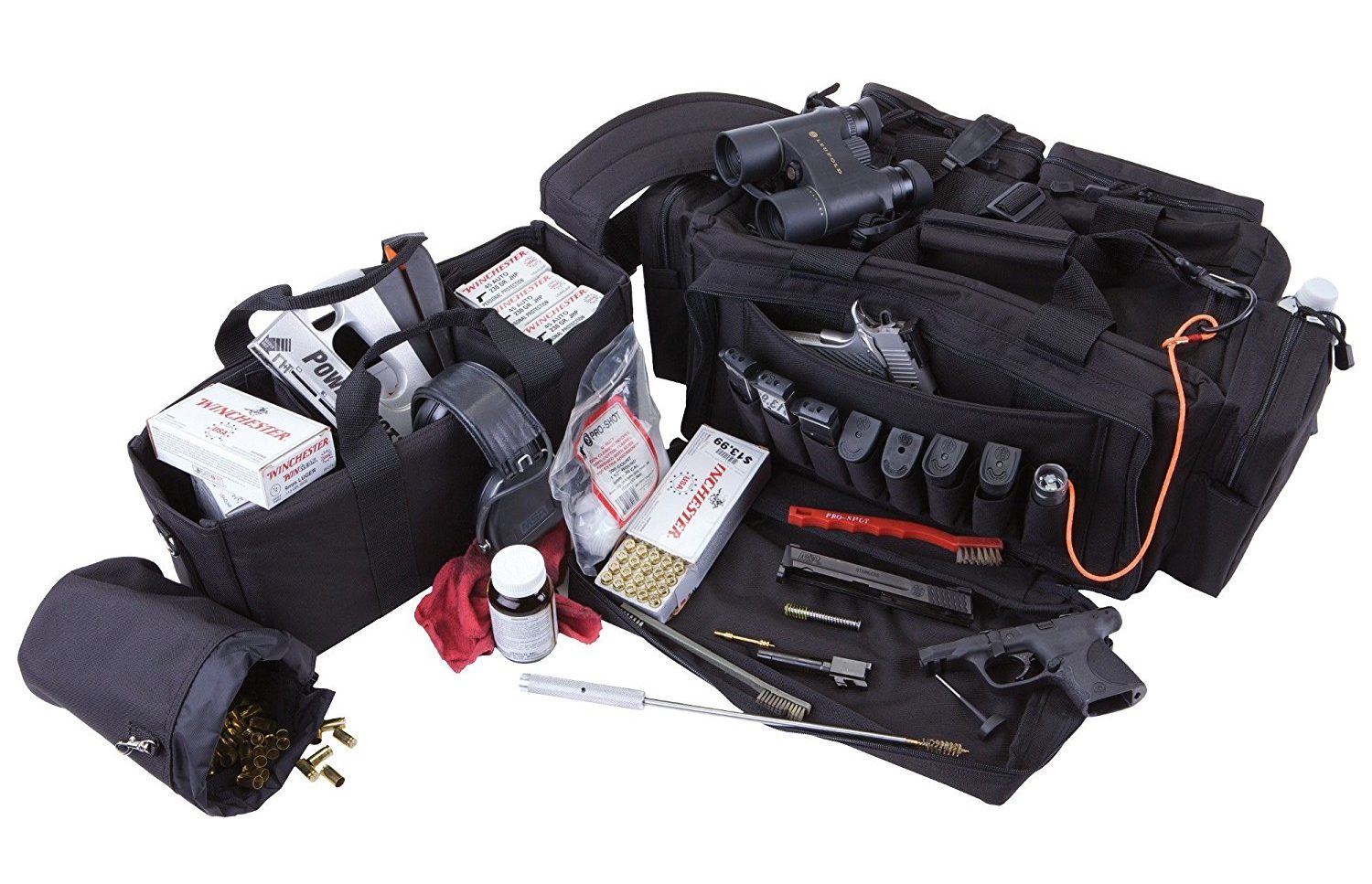 They have lots of awesome stuff and every item from 5.11 we're tried, we've really liked. Take a look at our review of their Low Profile bags:
Great for people in ban-states, the Resurgent Arms grip is one of our favorite for "Featureless" AR-15 builds. Full review here.
Black Friday +Cyber Monday deals are live! AND they have an exclusive Pew Pew Tactical coupon code! Get 10% off your order with "pewpew10"
There's some additional savings added automatically and our exclusive code "pewpew10" gives you the max/same as their Black Friday sales.
Basic kits, bundles, and grips are $5 off,
Endplates are $3 off,
Single-side safeties are $5 off,
Ambi safeties are $6 off
40
at Resurgent Arms
Prices accurate at time of writing
Prices accurate at time of writing
Another ban state compliance option, the Patriot Pin is a great way of converting your standard AR-15 into a fixed magazine rifle.
55
at Patriot Pin
Prices accurate at time of writing
Prices accurate at time of writing
Last year had some solid sales!
Got a little prepper in you?
Wise has some of the best bulk survival food solutions out there.
The last couple of years the Wise sales have been awesome, take a look here for up to 70% off!
Another great source for emergency rations, kits, and more BePrepared.com have lots of tasty treats from 2-Week Survival In A Pail to 1-Year+ emergency packages!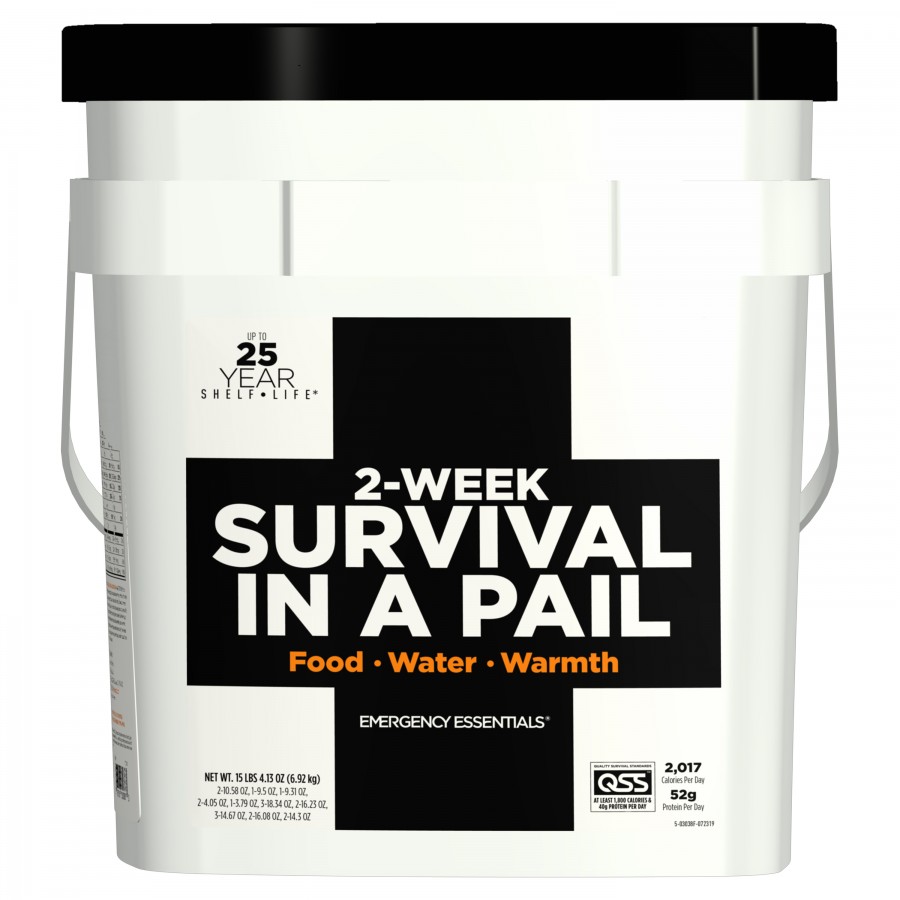 No huge Black Friday sale yet, but they are holding some great flash deals in the meantime!
Saving the best for last… Though we're a little biased here!
50% off our Gun Noob to Gun Slinger video course which brings it down from $67 to $33.50.
Now until the end of Cyber Monday. Code is "BLACKFRIDAY19" but any of the links will auto-add it.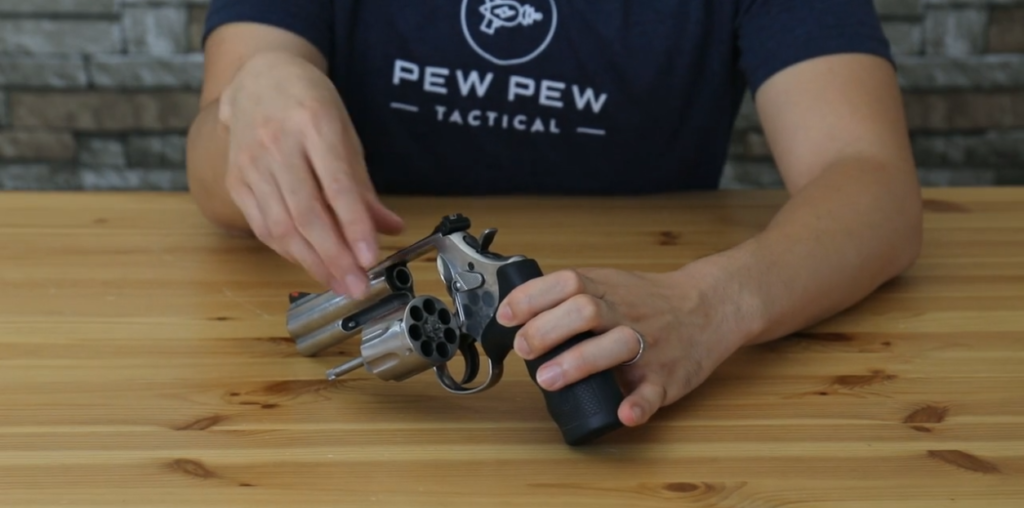 We'll teach you all the important stuff about handguns in ~2 hours…with none of the attitude. So you'll be comfortable and safe for your first range day!
Several sample videos to watch and a 30-Day Money Back Guarantee (that no one has asked for yet)! Check it out here.
Parting Shots
Alright, thanks for sticking with us, and happy hunting.
Like I said, we'll be updating this as the sales go on, and be sure to let us know in the comments if you find an awesome deal we haven't mentioned so others can save too.
Thanks, and enjoy your Thanksgiving!
Want to see our favorite guns and gear? Check out our Holiday Gift Guide and Editor's Picks.